As natives of Ontario, we always took the beauty of Canada's most populous province for granted.
I remember the slogan on our license plates growing up was "Ontario, keep it beautiful." I never really thought about what that phrase meant.
I grew up on a large piece of land in the middle of the country surrounded by farms, forests and fields.
Ontario was beautiful. I just never knew it.
Having travelled the world for the past decade has made us appreciate our home province even more.
It took discovering the beauty around the world to open our eyes to the beauty at home.
We hope you enjoy this photo journey through Ontario. It's your's to discover.
Best of Ontario in Pictures
Canoeing in Ontario is a right of passage for young people. I remember taking a canoe trip to Algonquin Park in high school and every summer, we dusted off the canoes and took a trip on the river at our cottage.
There is nothing more Canadian than going on a canoe trip in the great Ontario Northern wilderness.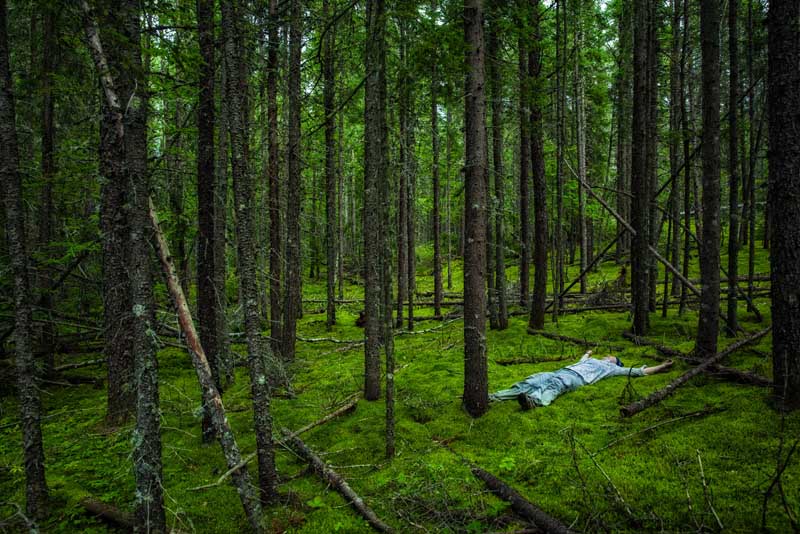 Canada is known for its pristine wilderness. The Pukaskwa Coastal Trail is one of the quintessential Canadian experiences.
Here you will completely go off the grid to one of the most remote backcountry trails in the country.
Camping and hiking, there's nothing more Canadian.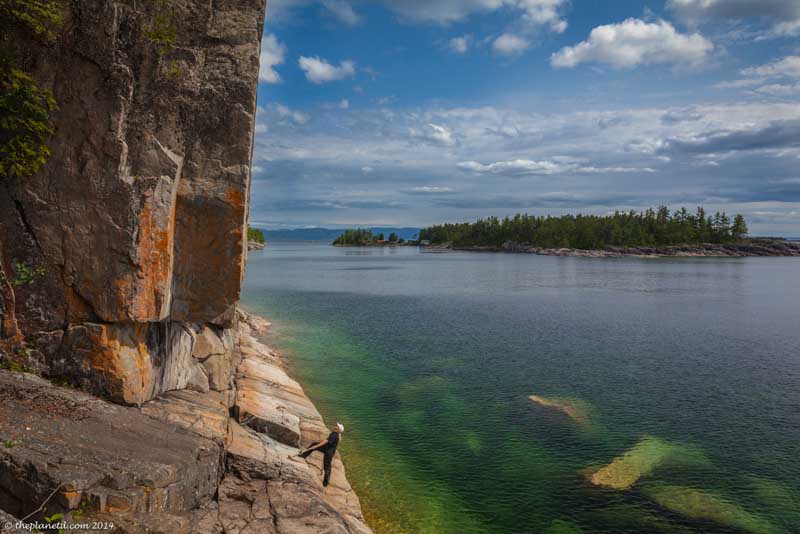 As you make your way along the north shore of Lake Superior in this is a stop you should definitely make.
Just a short walk from the parking lot and at the end of the trail you come out to this magnificent view of Lake Superior.
I
f you dare you can actually walk out and hang on to some anchored ropes to get a closer look at the Pictographs.

This is a sacred site where generations of Ojibwe came to record their dreams, visions and events and is a great insight to the past.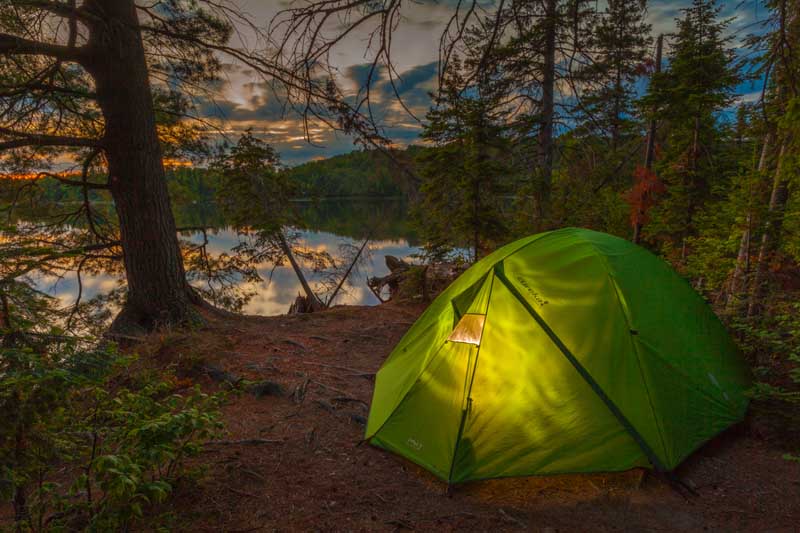 I think Canadians camp more than anywhere else on earth. Be it car camping, camping in the backyard or heading out to the backcountry, camping is a way of life for families and adventurers in the summertime.
This scene captures a great Canadian tradition.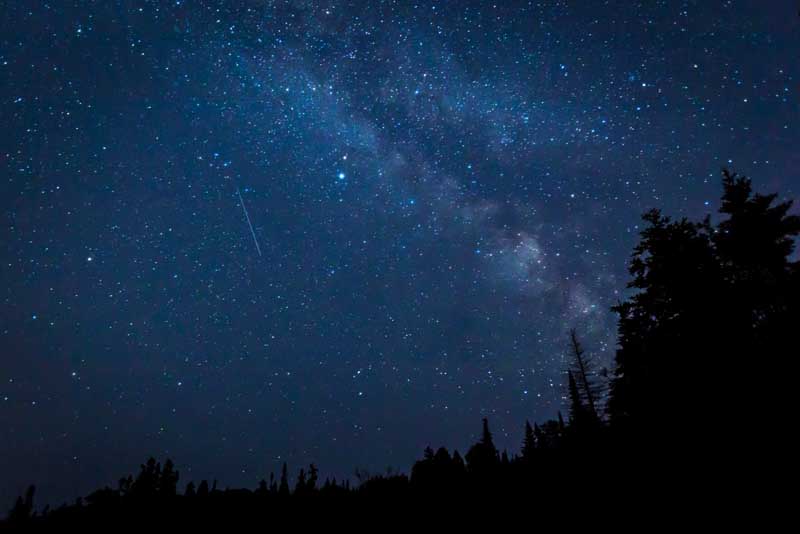 The beauty of the Milky Way is only visible on a cloudless night with no light pollution.
The Slate Islands are not only an amazing place to kayak they also offer some of the most beautiful clear skies for stargazing.
There is just something peaceful about staring up at a sky full of stars and breathing in the northern Ontario air that instills a feeling of calm within your soul.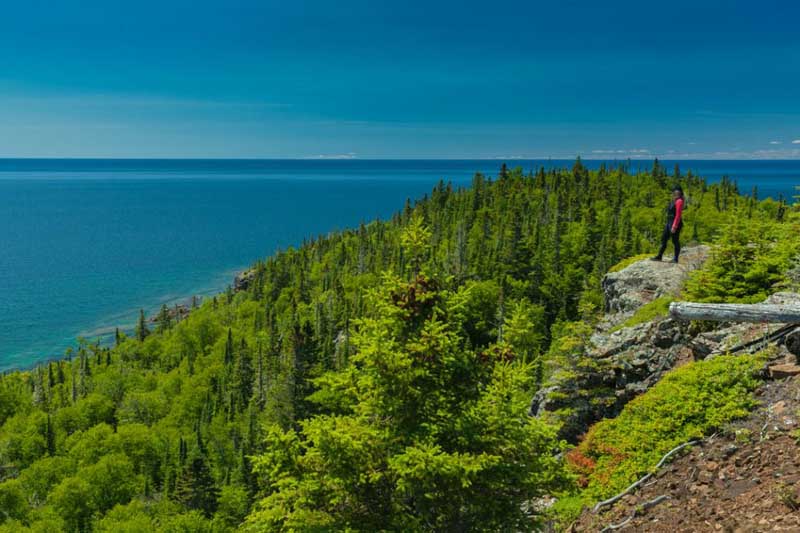 12 Amazing things to see on the Slate Islands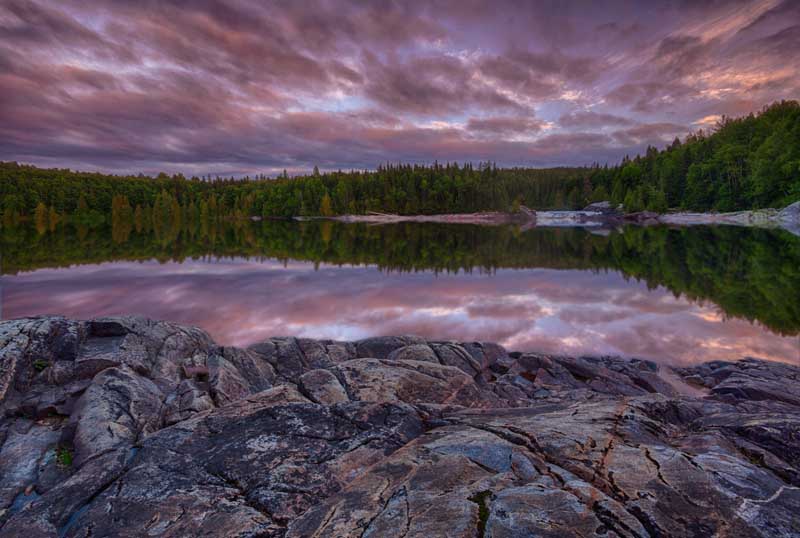 As we closed in on the end of our Pukaskwa adventure we looked for our campsite.
My jaw dropped as I rounded the corner and saw this beautiful sight unfold in front of me. This is where we would be spending our last night in Pukaskwa National Park.
The water was calm and as the sun began to set the colours of the sky exploded into a combination of pink and blue.
The rocks on the shore absorbed the skies hue and it seemed like we were on another planet.
Canada's Aboriginal People's are fascinating. Right in our own backyard we can learn of their ancient customs as we travel the Great Spirit Circle Trail.
With traditions handed down from their ancestors, many of the First Nations Peoples practice and perform song and dance from generations past.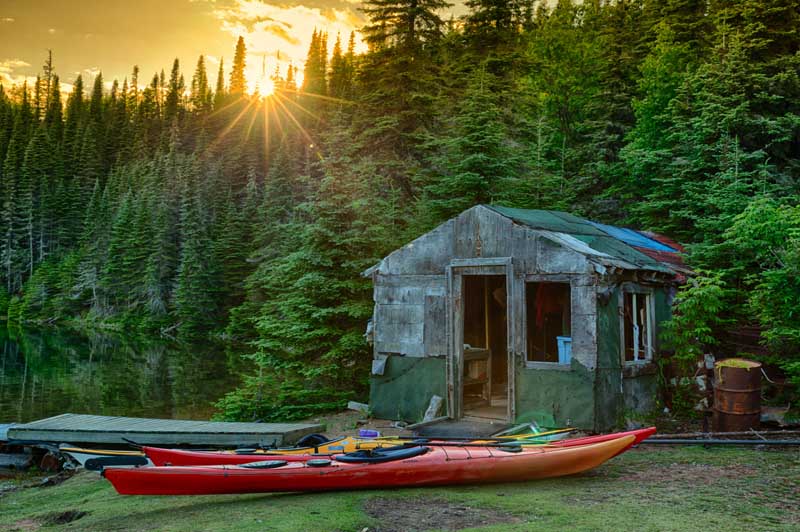 Our kayaks take refuge on the calm shores of Lake Superior. After an exhilarating day of paddling the inner Slate Islands, we were treated to one of those perfect Ontario sunsets.
Sitting by the campfire staying dry and warm we reflected on what a perfect kayaking day it had been. No wind, calm waters and history all around us.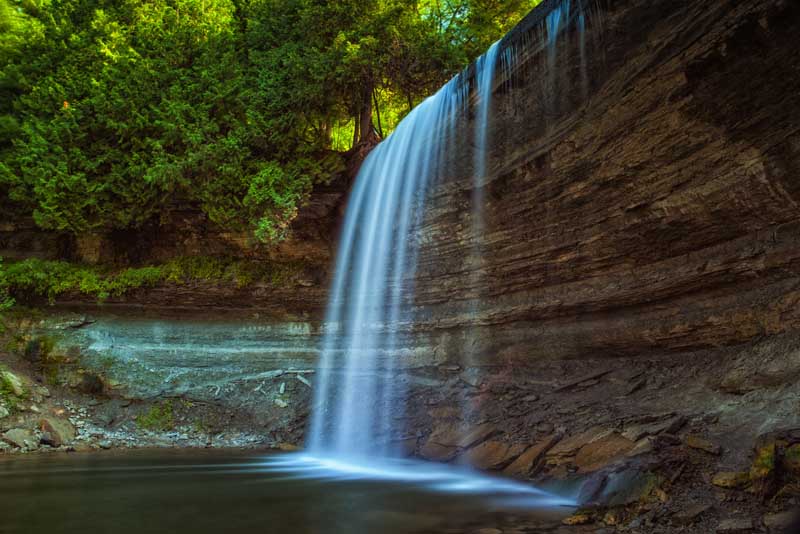 Bridal Veil Falls is located right off the road and just a short walk down well-maintained metal stairs.
It's a perfect spot for a dip when visiting the worlds largest freshwater island, Manitoulin Island.
Kids loved playing under the falls and Dave and I loved walking behind them to take photographs.
Since it's so popular it's quite crowded, but we waited around for the people to clear out and by late afternoon we had it all to ourselves.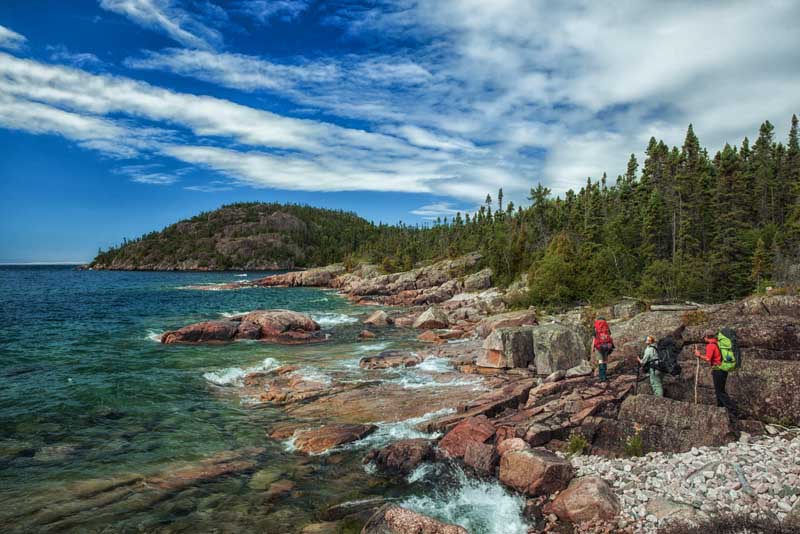 Walking the coastal sections of the Pukaskwa trail was one of my favourite parts of this hike.
Watching the crystal clear water crash against the rocks of Lake Superiors north shore reminded me of what it would have been like before man discovered this beautiful location. 
Lake Superior can be a fury in bad weather but in the calm cradle of a perfect summer day there is no place I would rather be.
Whenever Dave and I travel, we always want to learn about local culture and traditions.
We are fascinated with a country's heritage and history. But when it comes to our own country, we've neglected to open our eyes and see what's right in front of us.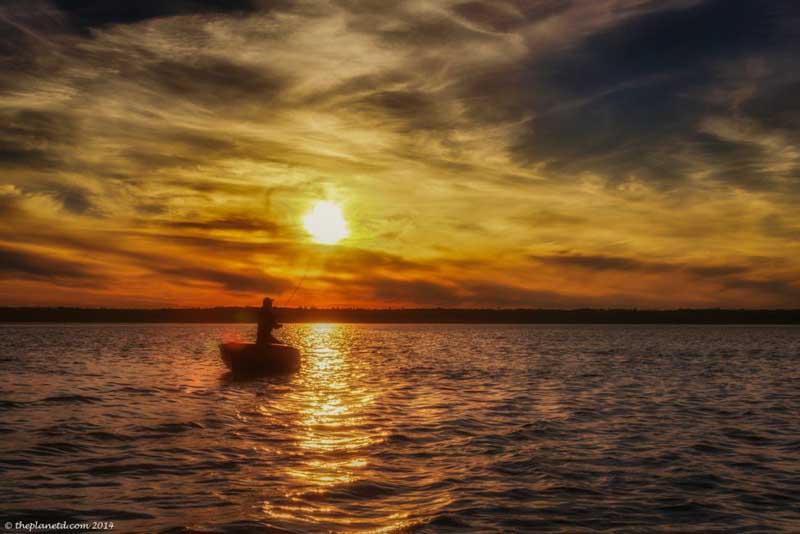 Nearly everyone we know who loves to fish has gone to a fly-in lodge in Northern Ontario. We always fantasized about going to one even though we aren'…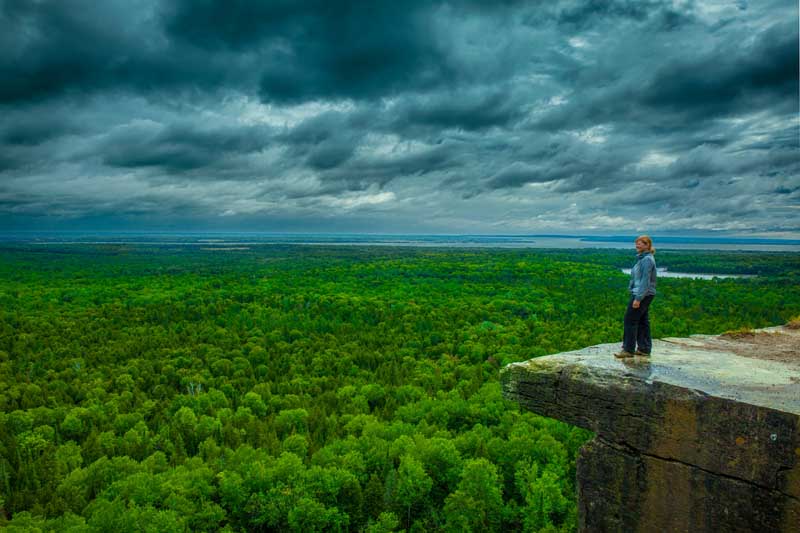 Not even an incoming storm can dampen the beauty of Ontario's North. The Cup and Saucer trail, on Manitoulin Island, takes you through the beautiful Canadian wilderness and ends with this magnificent view.
Northern Ontario is full of surprises like this and offers a glimpse of the untouched wilderness that Canada is famous for.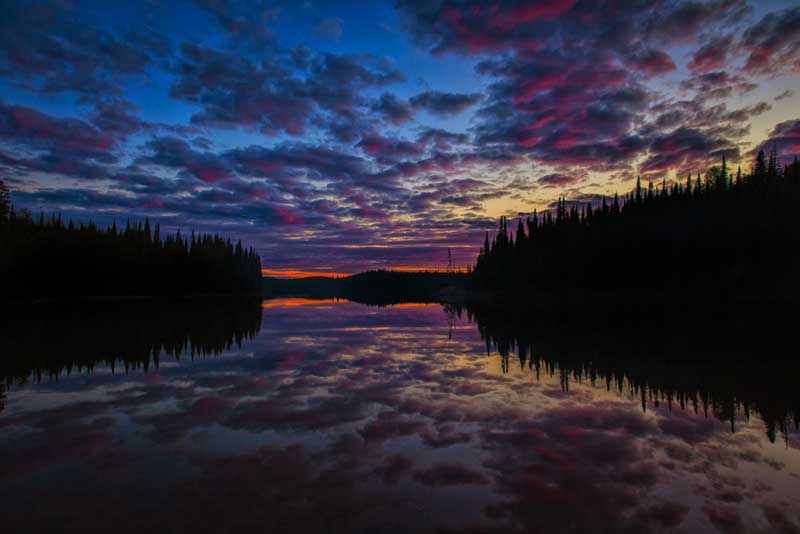 Calm waters make for great sunsets. Every night that we spent on the Slate islands was so calm it was like you could hear the trees growing.
Sitting at our campfire and watching the sky change colour is a memory that I will not soon forget.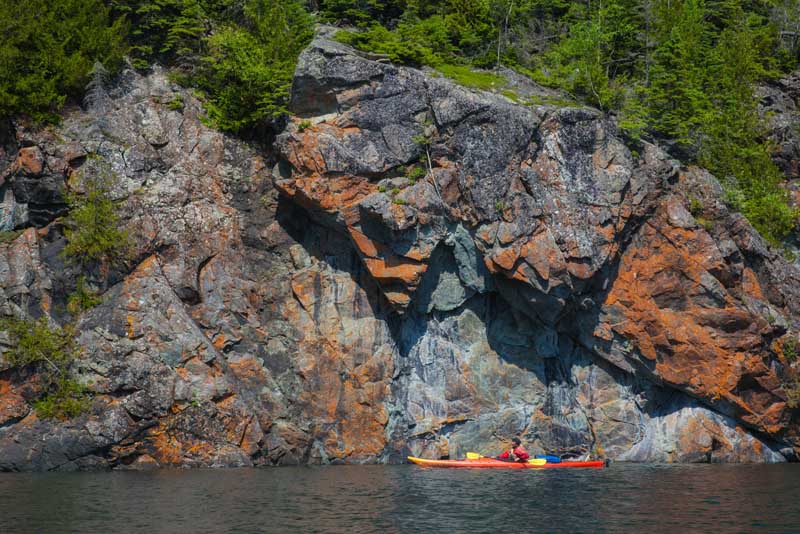 Kayaking among the rock formations on the Slate Islands was one of these times.

There is just something magical about dipping your paddle in the crystal clear water as you are surrounded by beauty. An unforgettable feeling.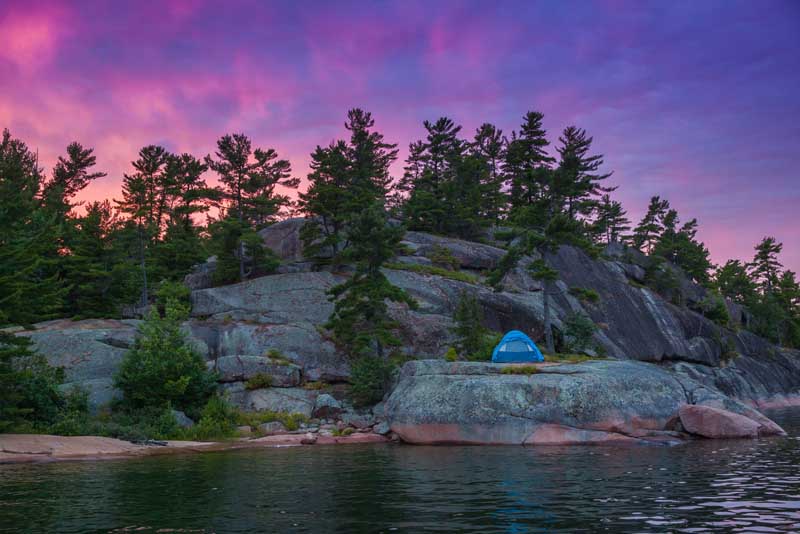 The islands, just a 2 hr boat ride from Manitoulin Island, are unique in that they glow pink when hit by the sun.
I love how the colours contrast with one another. Just one more reason why we love Ontario.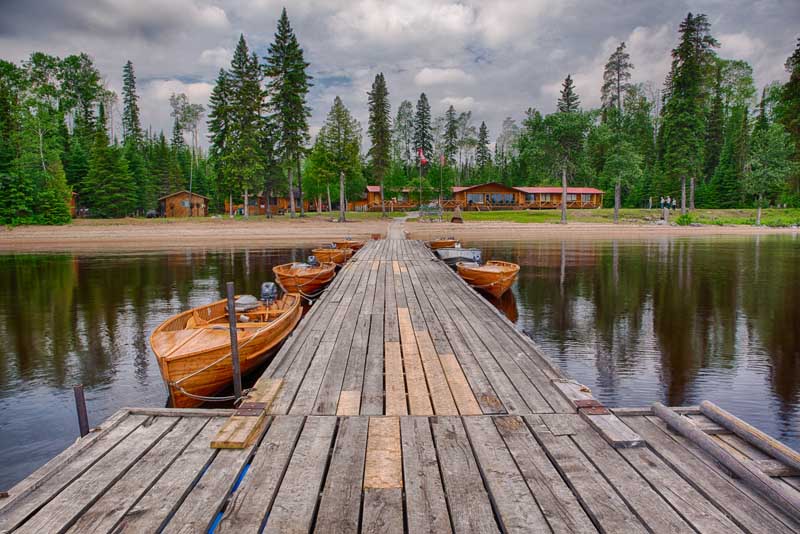 If you happen to not feel like fishing one day, you can relax at the lodge as well.
There are magazines to read, horseshoes to play and an incredible view to be had on the front porch overlooking the lake.
This is a place that is meant for relaxing. I could spend days here enjoying the silence of nature free of distractions like Internet and cell phones.
When you come to Timberwolf Lodge, you will be forced to unplug and let the stresses of life melt off your shoulders as you take in the splendour of Mother Nature.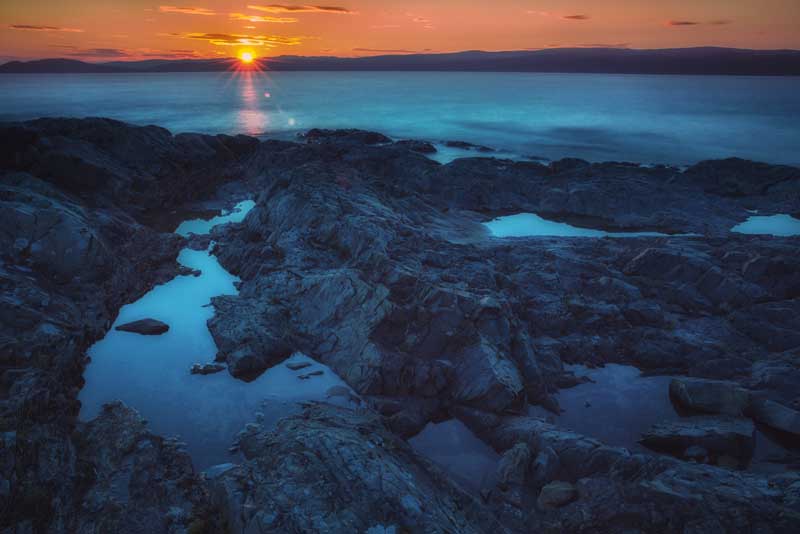 An epic sunset on the shores of Lake Superior.
Even though the water temperature may be 3 degrees Celcius that doesn't mean you can't be warmed by the beauty of magnificent sunset.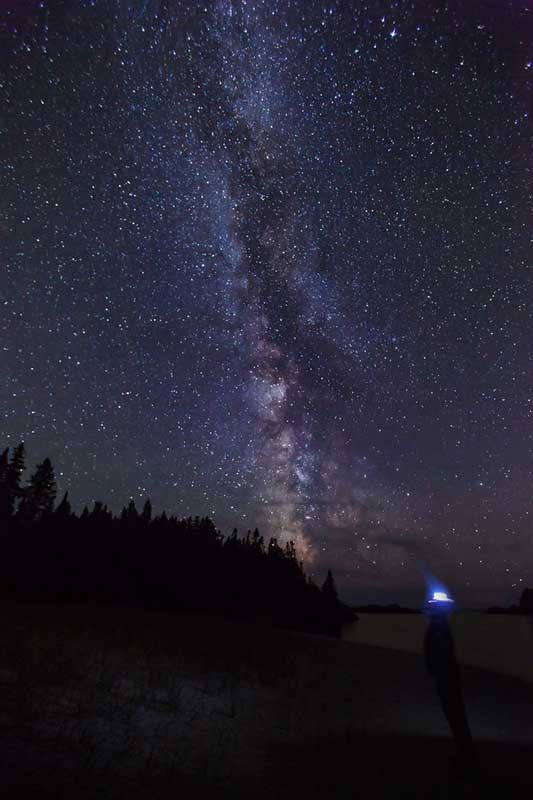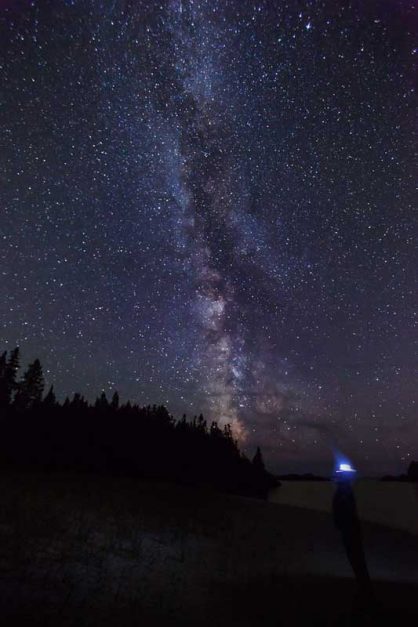 It was 3am when my alarm went off and I peered out of my tent to see the sky full of stars.
We were in Pukaskwa National Park in Northern Ontario and almost finished our 7 day hike.
As I wandered down to the beach I could actually see the Milky Way with my eyes.
That was a perfect night.
Deb joined now and after a half an hour of shooting we just laid back and enjoyed the view! Ontario, just full of beauty.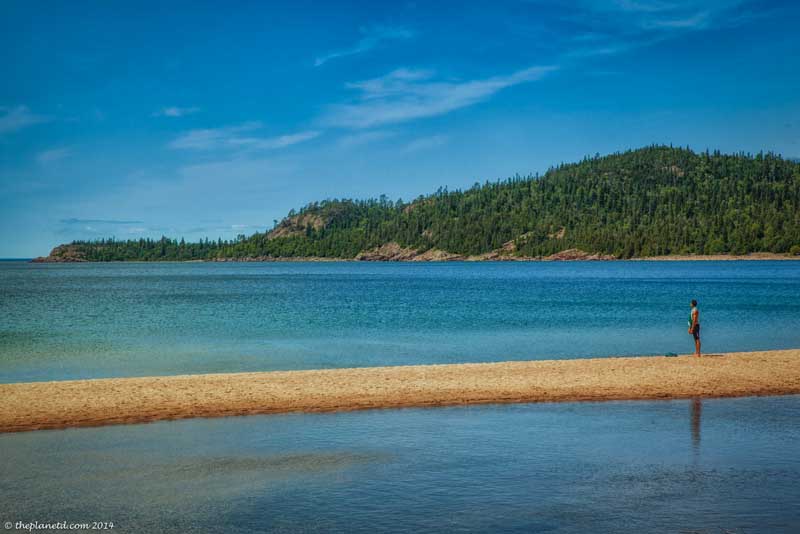 As you make your way to Sault Ste. Marie from Thunder Bay along the Trans Canada highway there is a stop that you should not miss.
You can see the view from the road but if you drive into Old Woman's Bay you get a better sense of what the Northern Ontario landscape is all about.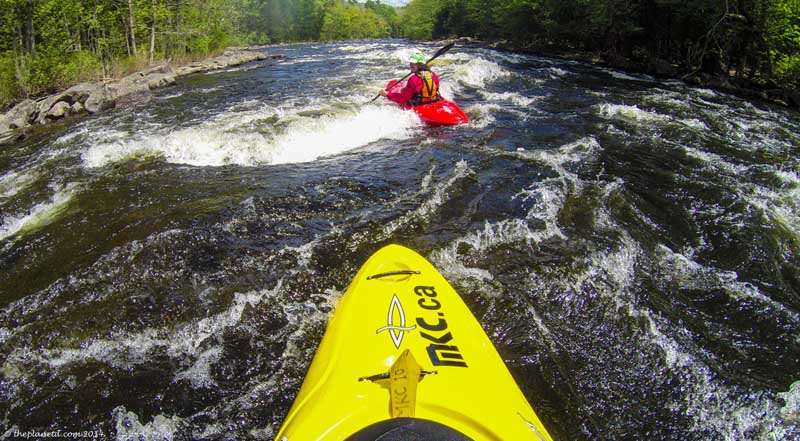 Learning to whitewater kayak was one of our greatest adventures. Braving the waters of the Madawaska River we faced our fears of being trapped in a tiny boat while trying to navigate the rushing waters of the river.
By the end of our 5-day course, we had fallen in love with yet another adventure activity here in Ontario.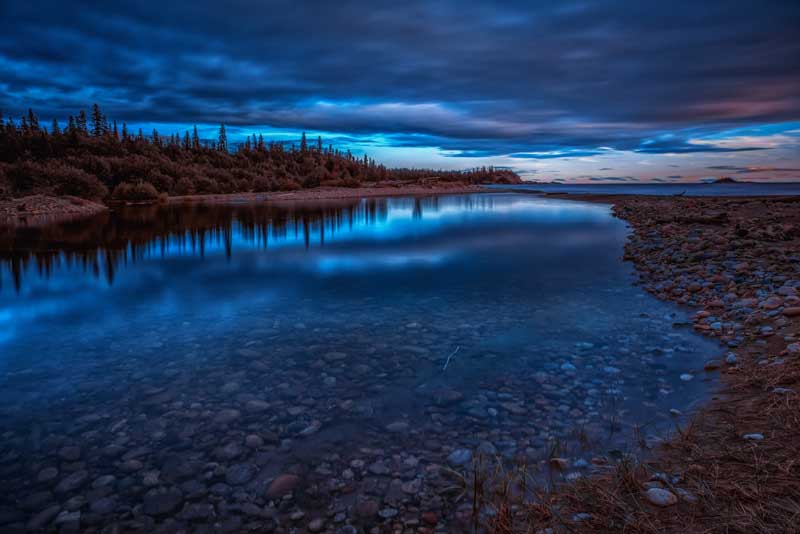 Blue hour creeps along the shore of Lake Superior.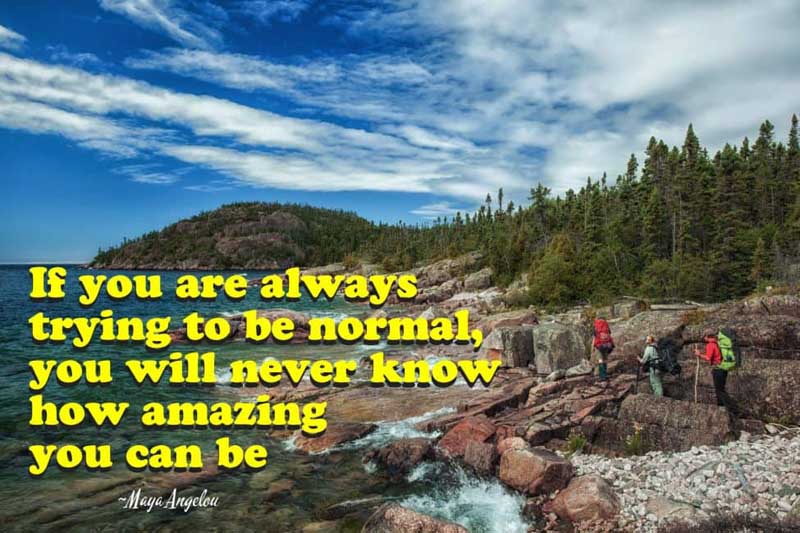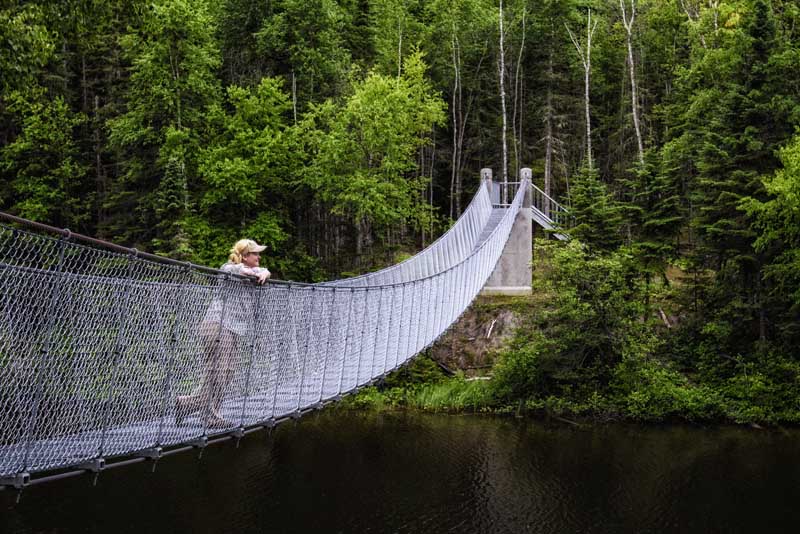 Taking in the beauty of Ontario from a suspension bridge in Ontario.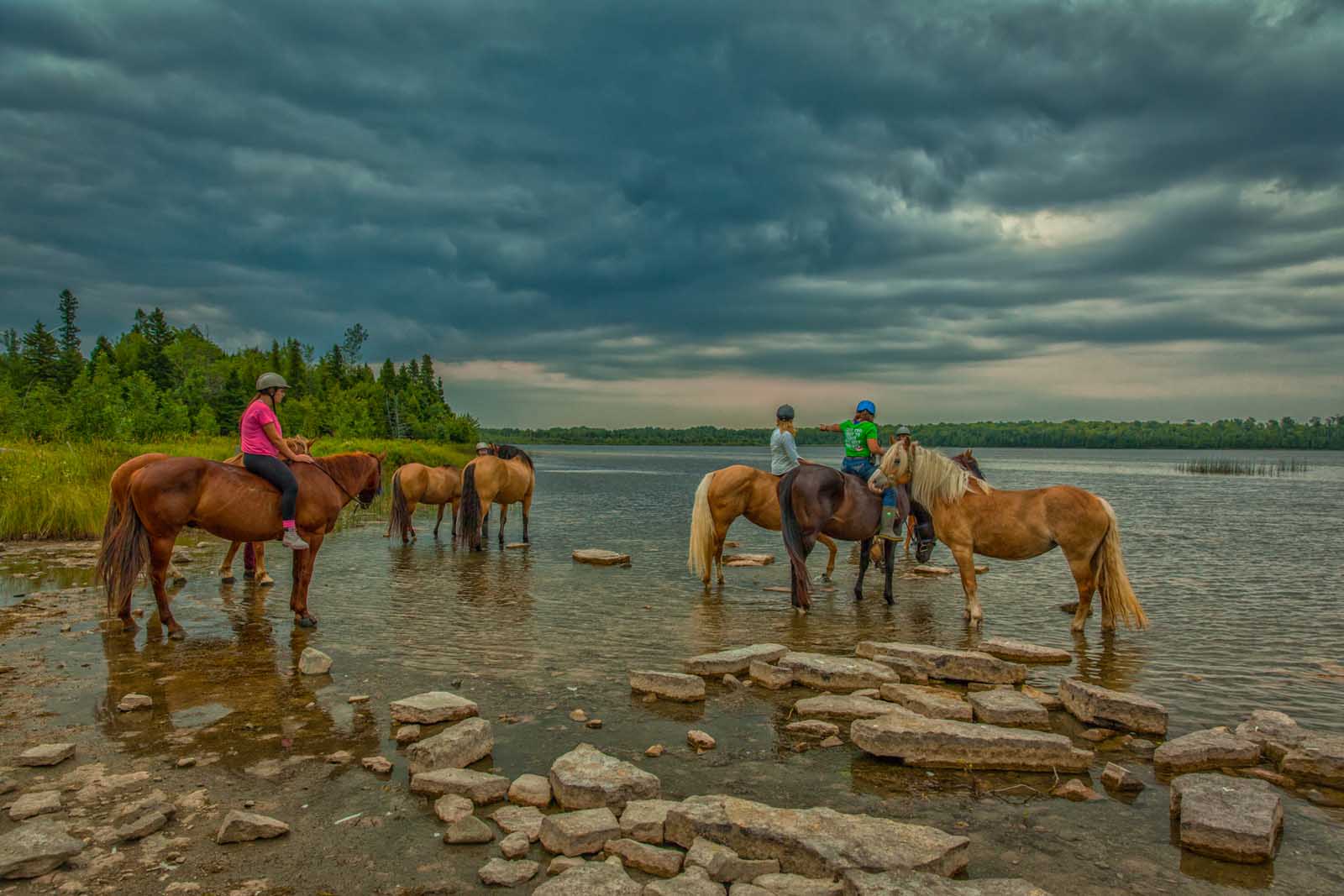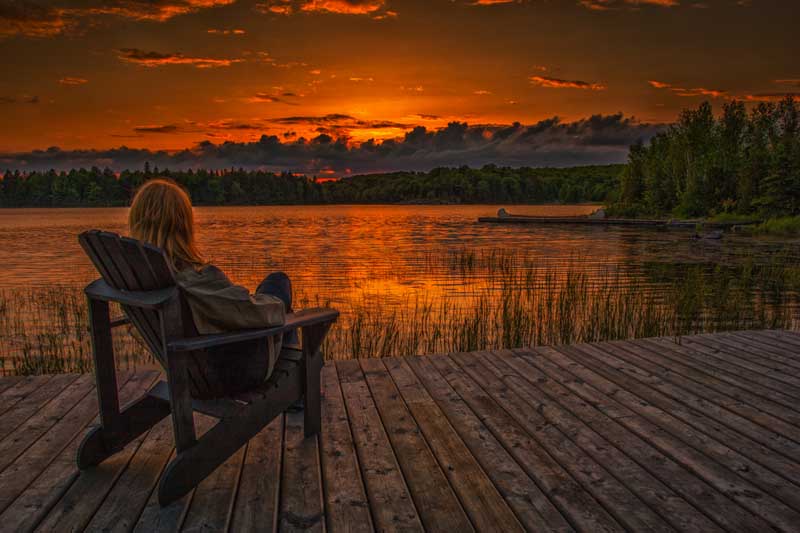 There is nothing like an Ontario sunset. Especially when it is as beautiful as this.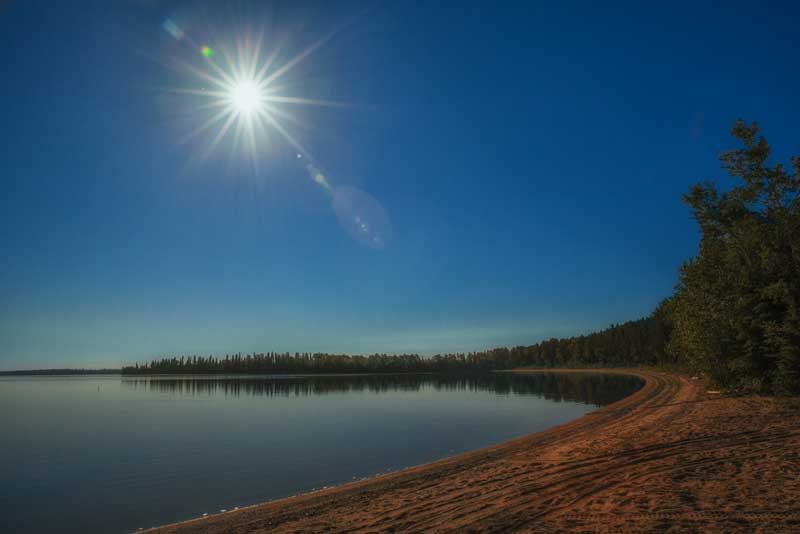 Ontario is full of peaceful lakes and beautiful scenery.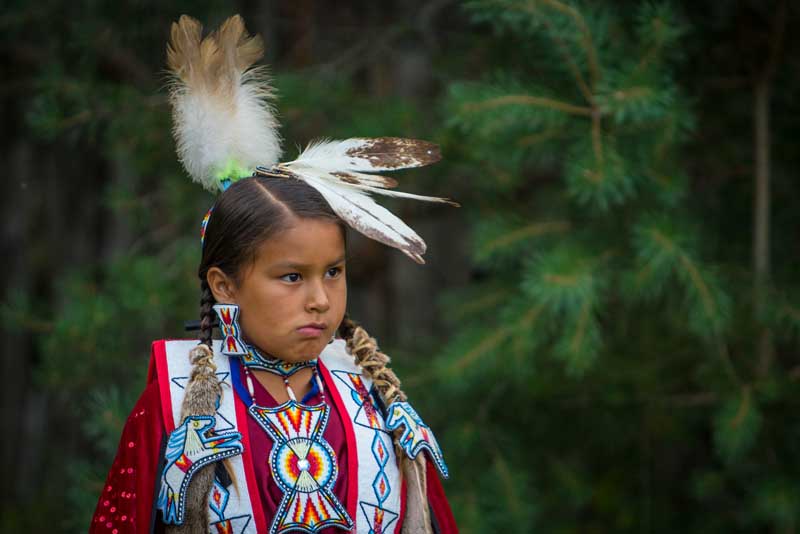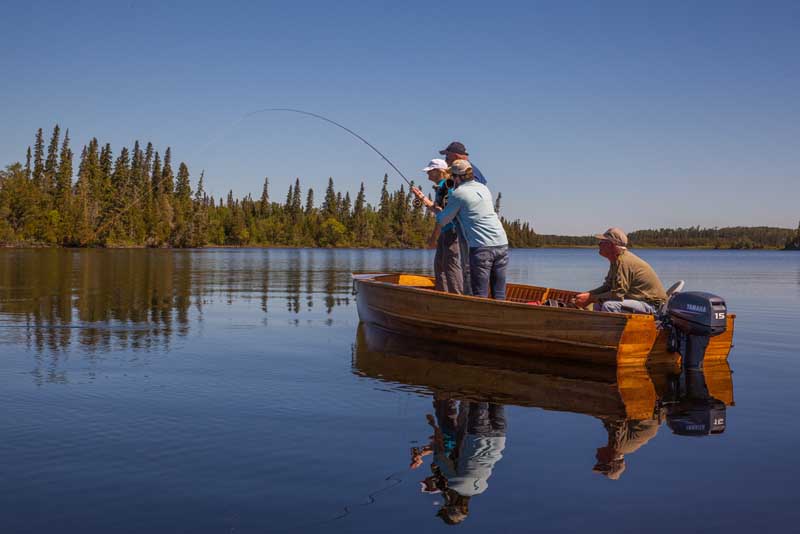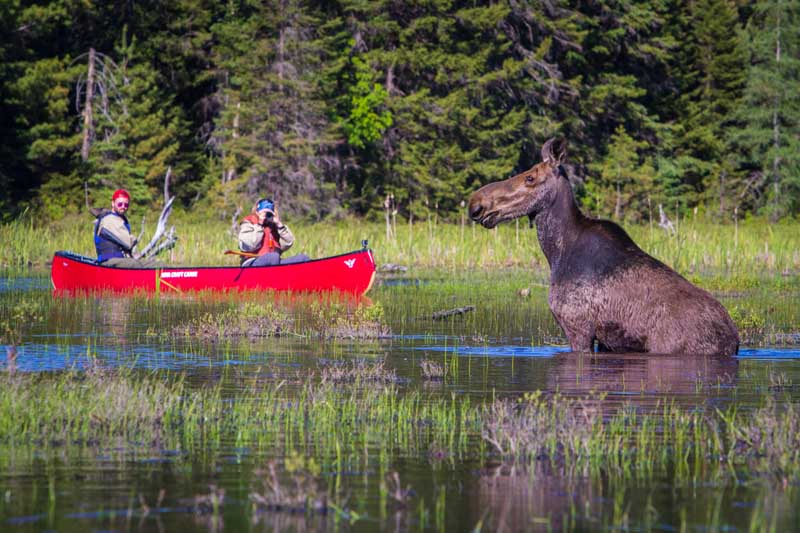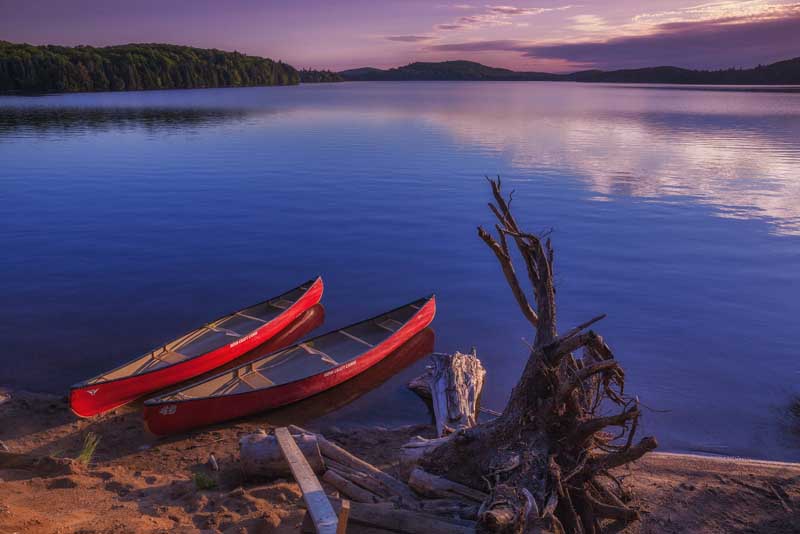 Read more:
Hooked on Fly Fishing in Northern Ontario
You Might Also Enjoy