I can't remember the last time we constantly smiled so much while visiting a destination. There are so many things to do in Whistler in winter that you'll need an entire season to do it all!
There is something about Whistler, that makes you happy. Everyone in the village is friendly and welcoming and their happiness is contagious. When you sit at a bar or a table in a restaurant, conversations start with your neighbours and you soon become fast friends.
Things to do in Whistler in Winter
We had a fantastic week! We did pretty much all the things to do in Whistler in winter that you can think of. And here's our Whistler guide to help you make the most of your trip!
Come for the Winter, Stay for the Summers
Everyone in Whistler told us that summers are extraordinary here. You will have people tell you time and time again that "People come for the things to do in Whistler, winters, but they stay for the summers." We met up with our friend Kevani from the UK who we met in Malaysia 10 years earlier while traveling South East Asia.
We had kept in touch via Facebook all this time and were excited to finally catch up again a decade later! She is one of those people who came for the winter, but stayed for the summer. It's now been four years and she is a permanent Canadian resident! Whistler is contagious and I wonder if we manage to come back during the summer, will we join the many people who call Whistler their home?
Winter vacations can be fun! It was our intent to snowboard our hearts out for a solid week, but with the help of Whistler tourism, we had the chance to experience a lot of crazy adventures around the village too. After sending an email asking for some suggestions, they showed us that there is so much more to do in Whistler beyond the slopes.
We learned a lot on how to make the best of a week in Whistler. Whistler is exciting and we kept busy doing everything, not just skiing and snowboarding. Although that is what attracts tourists to Whistler in the first place, there are so many other things to do off the slopes. So, we would give you some tips on visiting Whistler in a fun Do and Don't post. What to do in Whistler and a few tips of What not to do in Whistler. You'll get the idea.
The Dos and Don'ts of all the things to do Whistler
Do Ski or Snowboard – Whistler Blackcomb is the largest ski resort in North America with 200 runs, 38 chairs and 16 alpine bowls spread over 8100 acres of terrain, there is a lot of ground to cover. Read about our Snowboarding adventure
Don't – just ski for one day. Make sure to get at least a three day pass to truly explore all there is to see.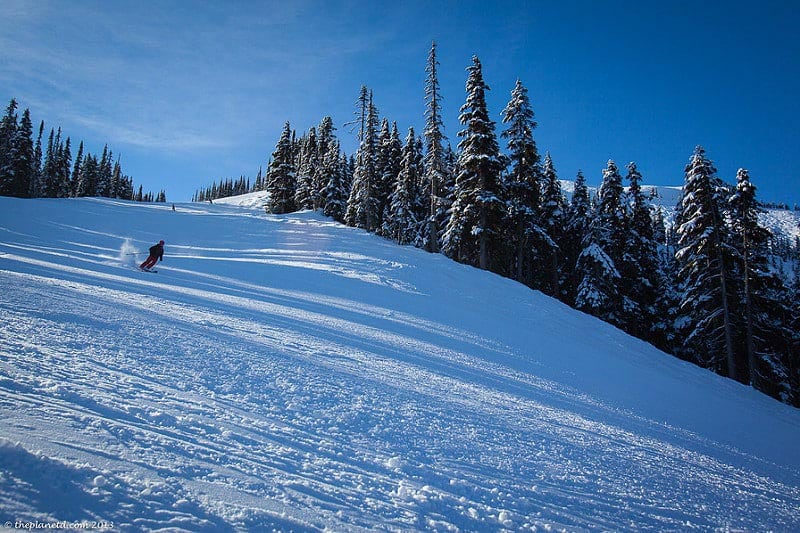 Do – Take advantage of the free mountain host guided tours starting every day at 11:30 on Whistler and Blackcomb at the top of the gondolas. It will help you get your bearings and they'll take you to trails that are gems and not as busy as others giving you insider tips to make your time in Whistler the best. Food?
Don't – Eat during lunch time – The restaurants are crowded with people and you're missing prime time on the slopes. Lunch is the best time to steer clear of crowds. Eat earlier or later, but not during.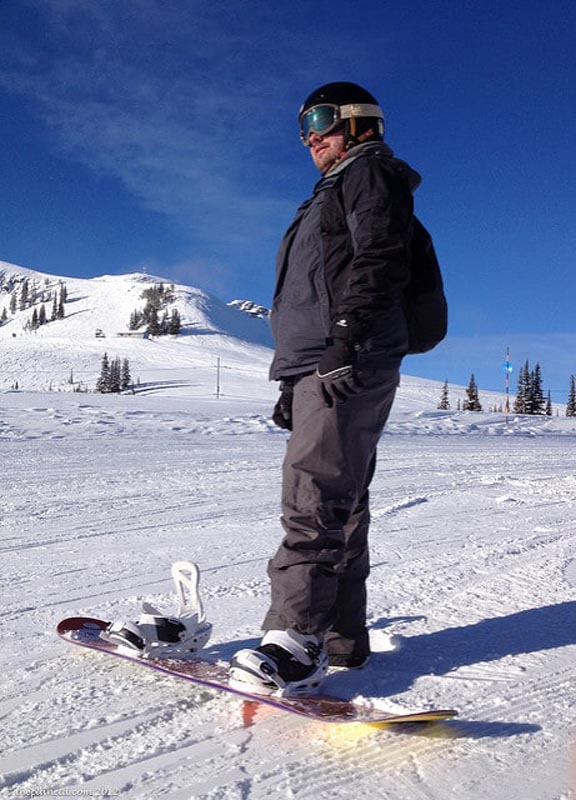 Do – Give Fresh Tracks a try. When snowboarding in Whistler, be sure to pay the $20 fee to be first on the hill! It is worth is for the buffet breakfast alone. But the chance to be the first up the gondola and ski down the slopes before anyone else is priceless. See what we thought of Fresh Tracks
Don't – arrive late for fresh tracks. Get in line early so that you can be at the front of the gondola allowing you to eat first without having to stand in line and be ready to ski the minute the horn goes off signalling that the slopes are open. Find out when the gondola opens for Fresh Tracks at the Whistler Blackcomb ticket office and arrive at least 45 minutes early with a coffee in hand to pass the time.
Do – Backcountry Skiing – If you want to try one of the most quintessential of things to do in Whistler, try backcountry skiing. Whistler offers backcountry courses that teach you how to read the conditions, use your emergency beacon, dig someone out of an avalanche and enjoy unforgettable powder skiing. See how well we fared backcountry skiing in Whistler.
Don't – Backcountry Ski without Experience – There is a very real danger of avalanche and getting lost. If you have never backcountry skid before, Stay in Bounds and enjoy the over 800 acres of terrain on Whistler Blackcomb.
Things to do in Whistler besides skiing
Do – Get off the slopes and explore the area. There is so many more things to do in Whistler than just skiing and snowboarding. Home to the 2010 Winter Olympics, there is still a working bobsled track that allows visitors to go for a spin.
Try your hand at bobsledding and reach 125 km per hour or if you are really brave, give the terrifying skeleton a try.  Or explore the area and follow a guide through the back trails of Cougar Mountain. Snowmobiling is a great Canadian tradition and it's something you should definitely try out. Read more about our bobsledding and snowmobling
Don't – be afraid of the cold – In Canada we embrace the cold. Bring your warmest clothes possible, bundle up and get outside. If you pack for it, wear proper footwear and cozy jackets with hat and mittens, you'll have an amazing time in Whistler in Winter.
Dining in Whistler
Do – Enjoy the fine cuisine in the village. Many people cook indoors as most hotels offer kitchens, but take a night to splurge and experience that Whistler hospitality. For award winning dining in a quiet atmosphere, we suggest Araxi ,voted best restaurant in Whistler 10 years running.
For an epic evening that will turn your dining experience into an event we suggest Bearfoot Bistro and for the ultimate winter dining experience, we suggest the three course fondue at the Chalet of Fairmont. Read about our time at Bearfoot Bistro, we often say it is the best dining experience we've ever had!
Don't – Rent a car and drive from the airport. If you are not planning on going anywhere else but Whistler. Whistler has direct airport busses from the arrivals to your hotel and once you arrive at the village, there are plenty of free shuttles to take you around. Why pay for parking? Pamper?
Do – go Backcountry Snowmobiling. Whistler has great snow conditions for snowmobiling. You can take a tour into the backcountry to rev your engines in the snow. It's a great way to explore the wilderness while having a bit of a thrill ride!
Don't go by yourself – When doing anything in Whistler, it's important to go with a guide. Conditions can be dangerous in the wilderness and mountain backcountry on your own. If you don't already have survival skills, hire a guide, the guides in Whistler are skilled and passionate about their jobs. Plus, you'll have a much better time than having to figure things out on your own.
Pamper Yourself in Whistler
Do – take a sleigh Ride – Nothing says winter more than taking a sleigh ride with Clydesdale horses. A shuttle bus will pick you up and take you to the Fairmont chalet where hot chocolate or hot apple cider is waiting for you by a camp fire.
Don't forget to dress warm – even though they give you a blanket and hot chocolate, you still need to wear yoru winter gear. The entire point of enjoying winter in Whistler is dressing for the occasion. See our winter layering tips to help you pack for your Whistler adventure.
Do – have a fondu – The best winter food is warm and delicious. Have a fondu dinner with cheese to start, broth for your main course to cook fresh meats and finish it off with a chocolate fondu for dipping fruit, cakes and marshmallows.
Don't Worry about you weight. You'll be doing so many activities each day  you'll work off everything you eat!
The Ultimate of Pampering Things to do in Whistler
Another great option for pampering things to do in Whistler is to spend a day at the spa. We've always wanted to go to a Scandinave Spa. There's one in Collingwood Ontario which we've yet to visit and even after many trips to Mont Tremblant we never managed to put a spa into our itinerary. While in Whistler, we were determined to experience the luxury and decadence of relaxing in the thermal baths in the middle of a forest.
Do – Pamper yourself. Most hotels have hot tubs and spas. After a day on the slopes, make sure to take advantage of this. There is nothing more nordic than sitting in an outdoor spa as the snow falls. If you want to take it one step further, try out the Spa Scandinave located five minutes from the village. There are shuttles that will take you from your hotel to the spa and you can slip away for a few hours while basking in their saunas and steam rooms. See how we pampered ourselves in The Romance of Whistler
Don't – Hesitate to book your next vacation to explore all the things to do Whistler winter yourself! It's a great destination for everyone and you're gonna love it!
---
Read More:
Snowmobiling Thrills for Amateurs
Beyond Our Limits in the Backcountry
SaveSave
You Might Also Enjoy