It's 6:00 am and we're preparing for Fresh Tracks. We're finally having a Whistler snowboarding adventure and we want to be on the hill when nobody else is there.
Whistler Snowboarding Adventure – Fresh Tracks
Everyone has been raving about the fresh tracks experience, so as soon as we arrived at the village, we picked up our gear and set off to the ticket booth to buy our pass giving us early access up the gondola where a sunrise buffet breakfast awaits.
It's been four years since we've been snowboarding. We were worried we'd have lost our skills and end up spending most of our time on the green runs trying to relearn an activity that we loved so much.
We had long ago sold our snowboards so we had to rent all our gear upon our arrival. Luckily, Whistler Blackcomb rents packages and makes it super easy.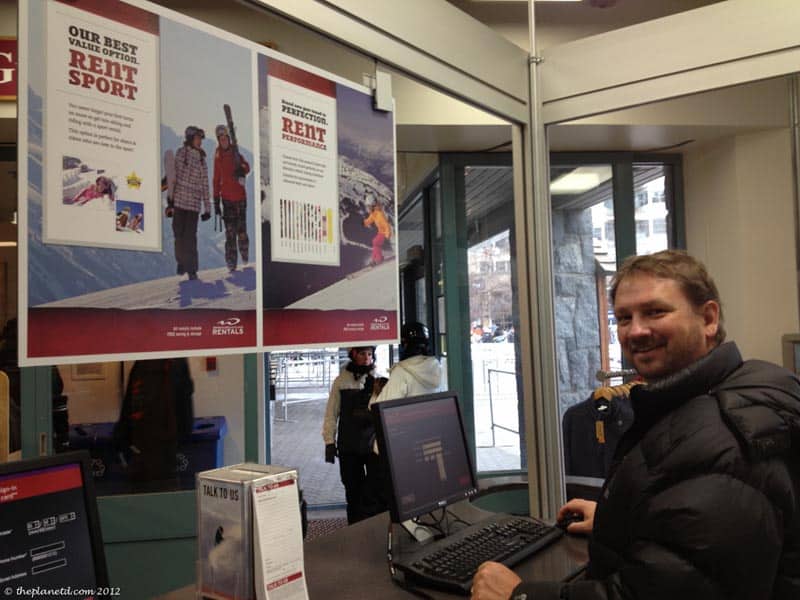 We set out to the base of the Whistler Gondola and filled out our paperwork lickety split.
We prebooked our gear online and it's all computerized. Within minutes we were in the back with Sam, a super friendly guy from England who fitted our boots and boards.
Quick Tips:
Free Tours – Whistler can be overwhelming, that's why at 11:30 each and every day, free guided tours are offered on both Whistler and Blackcomb mountains. We highly recommend taking advantage of these if it's your first time in Whistler. They offer different levels from intermediate to advanced and you can join the group that you're comfortable with.
Food – There are plenty of stops all over the mountain for food and drinks. We suggest skiing through lunch time and eating earlier or later to take advantage of people free lifts and runs.
Snowboard Rentals at Whistler
The guys at Whistler Blackcomb have skills and within minutes our boards were fitted to perfection for our height and preference and we were on our way out the door with big grins on our faces.
Friendly Whistler!
If you are feeling intimidated, don't be. Everyone who works in Whistler are the friendliest most laid back people on the planet.
You'll be surprised to hear Aussie and English accents everywhere offering a good day or proper hello mate. Those who choose to work at the village, work here because they love it.
They don't judge your skills, they are so excited for you to be here experiencing their favourite mountain and they are so happy you can't help but leave with a smile on your face.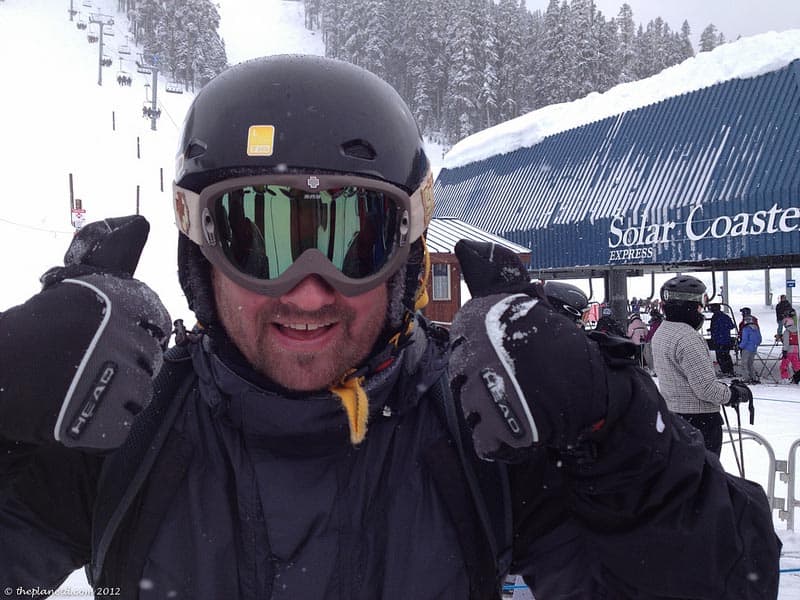 All You need to know about Whistler Snowboarding Tickets
Right next door to the lift is where you can pick up your tickets and fresh tracks passes.
We got a 4 day lift pass that could be used over 5 days. Y
ou need a day of rest after riding these mountains, especially when you're as rusty as we are.
The Fresh Tracks pass can be used one time at anytime.
We bought it when we picked up our pre-booked passes, but decided to use them later in the week when we felt comfortable on the boards again.
Westin Whistler
We stayed at the Westin Whistler and it was the perfect choice. Located directly beside the gondola, we only had to walk out of our room to get on the slopes.
And better yet, we could store our gear in the snowboard and ski locker room.
Now that we were all set, we took our gear to The Westin's storage room.
If you rent from Whistler Blackcomb, gear storage is free. They're located right at the base of the mountain and once you're done for the day, you drop off your boards and don't have to deal with them again until morning.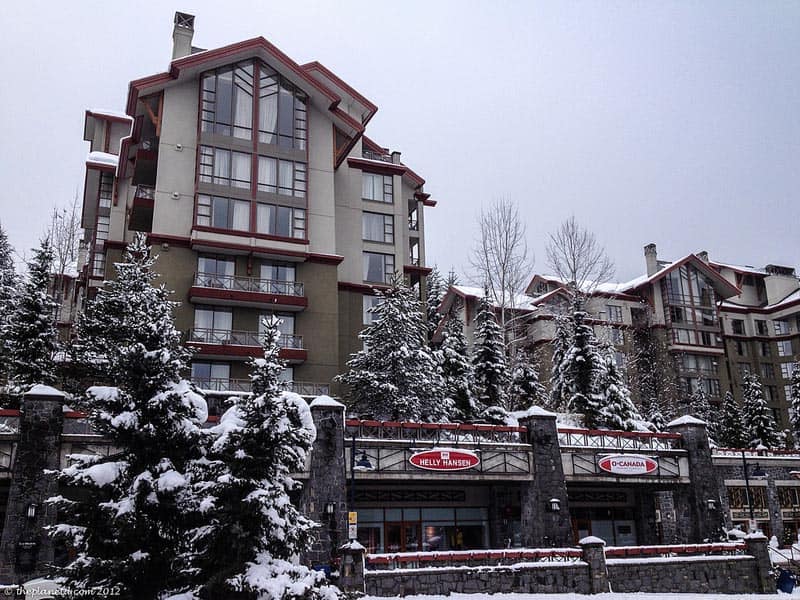 Note: Storage opens at 7:00am so if you are doing Fresh Tracks, be sure to leave your gear with the bell room for early pick up.
Book your stay at the Westing Whistler and check out reviews on TripAdvisor
Snowboarding Whistler – Tips
Instead of catching the gondola in the morning and having to stand in a long line, we grabbed the Fitzsimmons Express chairlift.
It takes you almost as high as the gondola but you don't have the long wait and you won't be starting at the same spot as all the crowds.
There's a quick transfer to another lift "the Garbanza Express" But on a beautiful day like we had, it's great to start off outdoors.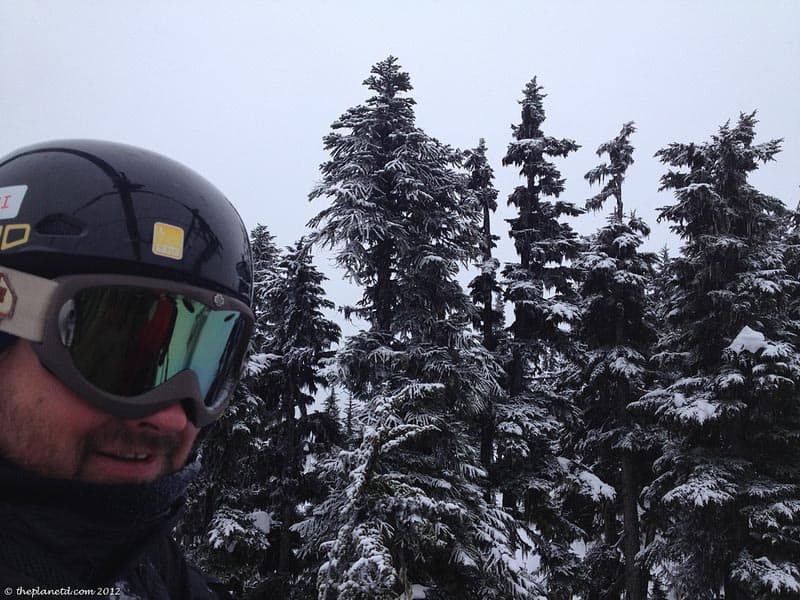 We took it easy on a blue run to get our legs back and see how we rode after a four year sabbatical. To our amazement, it was just like riding a bike!
Sure, we weren't as fast and daring as we used to be, but we were comforted to know that we'd be able to tackle this mountain and enjoy the week!
We had a mountain host take us around and I won't lie, I felt pretty good when he said to us that he thinks we were fibbing when we told him we hadn't snowboarded in four years.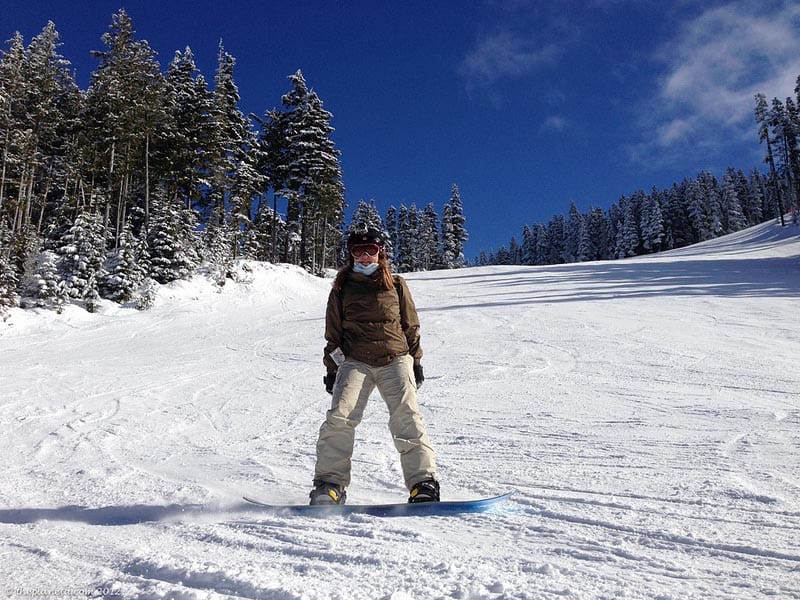 We were doing so great, that he decided to take us on the Olympic Runs.
Olympics and Whistler
We love the Winter Olympics.
Most Canadians are more excited over the Winter Olympics than Summer ones. It's more exciting than the boring and stale summer Olympics that are always filled with controversy.
From freestyle skiing to the zany and crazy snowboard cross to half pipe and alpine skiing, it's an Olympics filled with adrenaline pumping daredevil activities.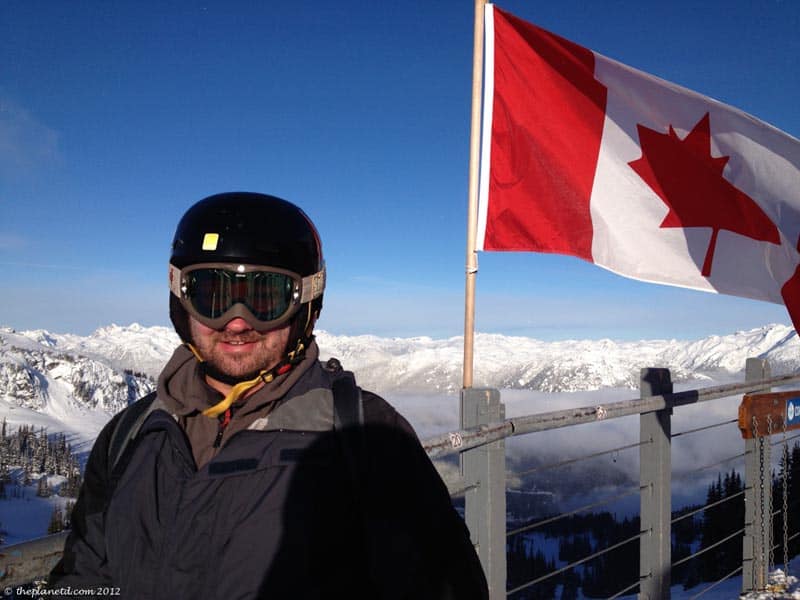 Whistler hosted the 2010 Winter Olympics and now it was our turn to zip down the men's olympic run designed by a Crazy Canuck, Dave Murray.
It is considered one of the best downhill courses in the world and the 3.5 km run with over a thousand metre elevation drop made our thighs burn.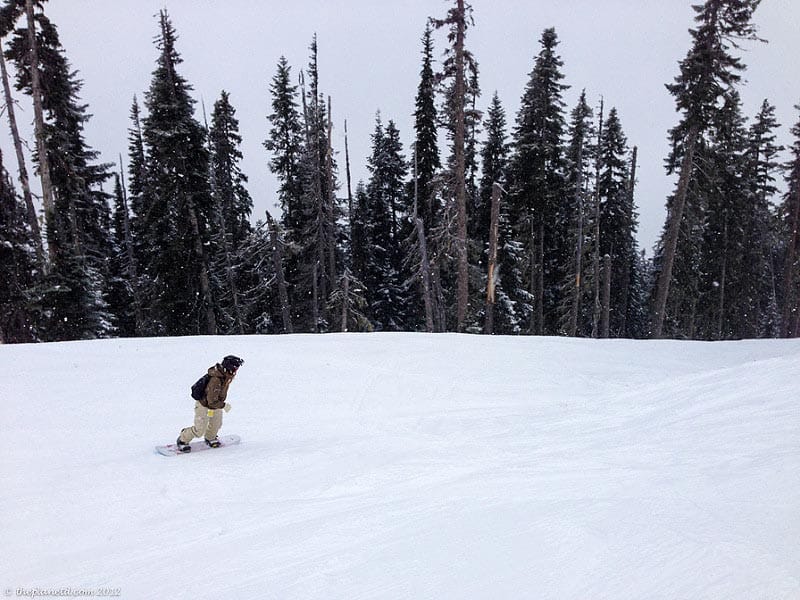 Ending at Creekside, the original village of Whistler Mountain, there are plenty of places to grab a bit or hot chocolate before catching the gondola back up the mountain.
From Whistler Snowboarding to Blackcomb Snowboarding
After playing around on Whistler Mountain and testing out the female Olympic run which was just as, if not more exciting than the men's downhill, we hopped on the Peak 2 Peak Gondola for some time on Blackcomb.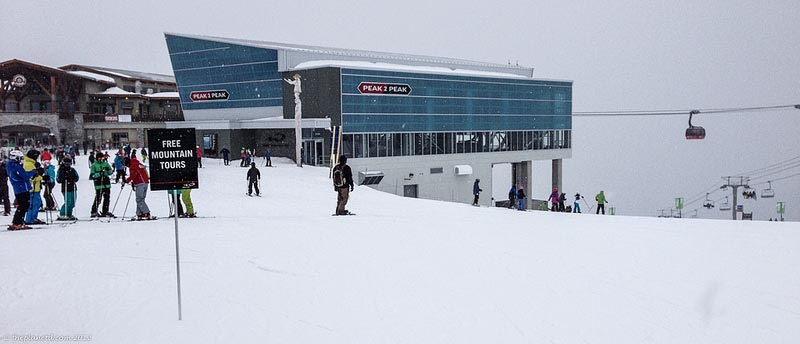 The Peak 2 Peak is an engineering feat connecting Whistler and Blackcomb mountains spaning 3.03 kilometres (1.88 miles) in mid air with the highest point being 436 metres (1,430 feet.) above ground.
The ride is free with your ski pass and it opens you to an entirely new set of trails for your skiing and snowboarding pleasure.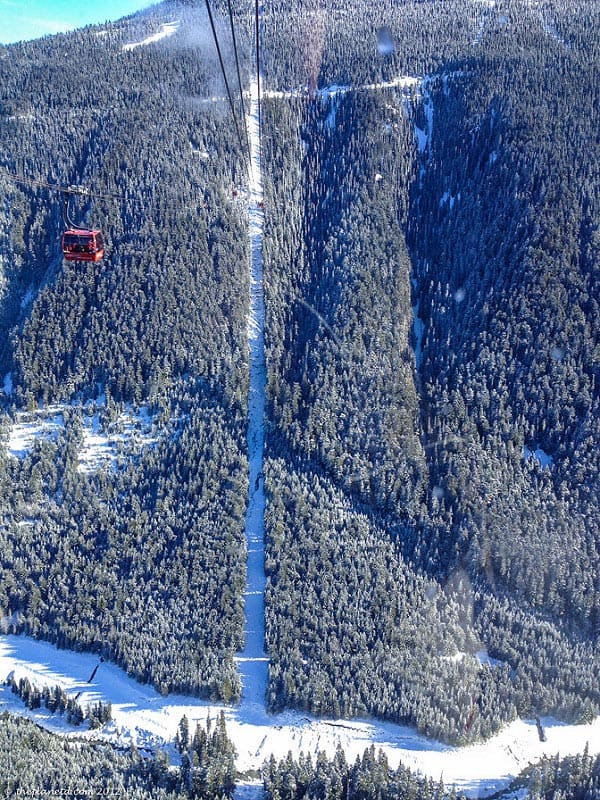 Whistler Blackcomb's various ski lifts and gondolas can accommodate 65,507 skiers per hour! We were told that it can can easily accommodate 29,000 people on the mountain at once.
It's a massive complex, with the next closest resort in North America being 50% smaller and it's fit for every single level of skiing.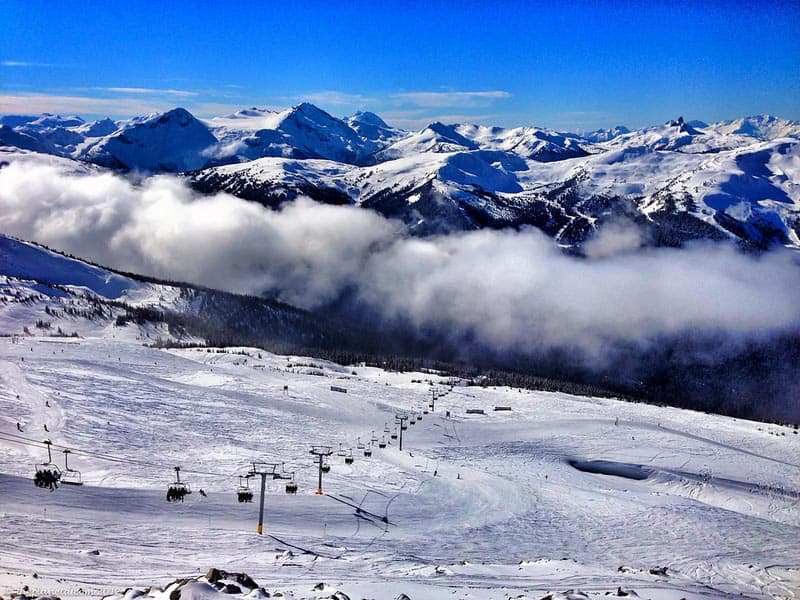 Because of it's size, the amount of lifts, runs and bowls, even at the highest of peak season, you'll find yourself standing alone on a run with nothing but you, the falling snow and the evergreen trees lining your way.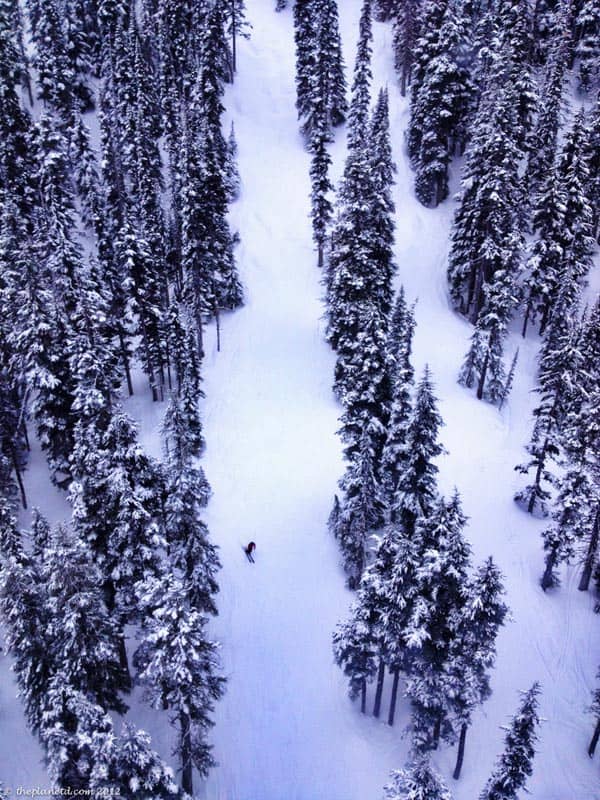 If you decide to ski or snowboard in Whistler, give yourself more than a day. It takes a lifetime to discover all the hills and runs that there are, but a few days will definitely give you a taste of the mountain life and leave you wanting to come back for more.
For more articles
As many staff said to us "We all come for the winters, but stay for the summers in Whistler." See for yourself, the beautiful of Whistler Canada.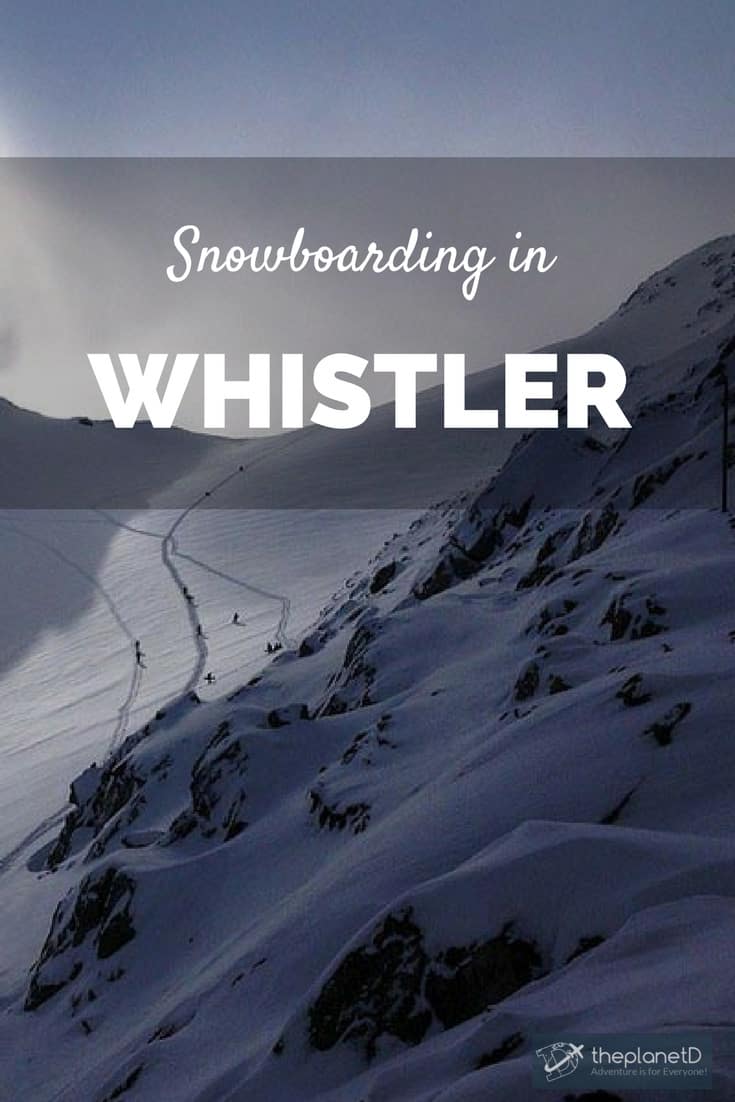 For more on our Whistler adventure check out: