Canadians know how to embrace the cold. There is no better place to celebrate winter than in Whistler, British Columbia. After a fresh snowfall in Whistler, tourists and locals alike hit the trails not only to ski and snowboard, but to snowmobile Whistler is a thrill as well!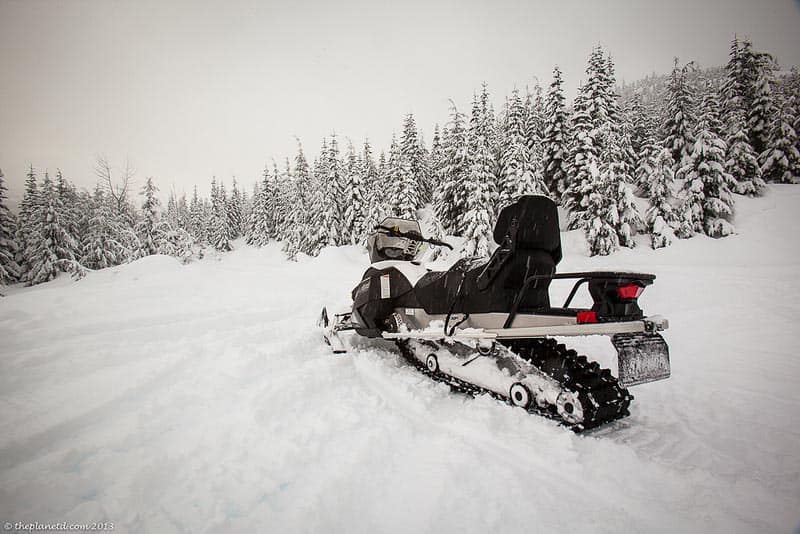 Imagine getting on a machine and heading into the backcountry of the Rocky Mountains. Snowmobiling in Whistler is like nowhere else we've ever driven a sled. With fresh powdery snow, high climbs and deep valleys, it was a tour that kept us on our toes and satisfied the adventure love in us.
Snowmobiling in Whistler
It had been a great snowfall the night before and now that it was the weekend, we were warned that the trails on Cougar Mountain were going to be busy today. Surprisingly we barely saw another soul.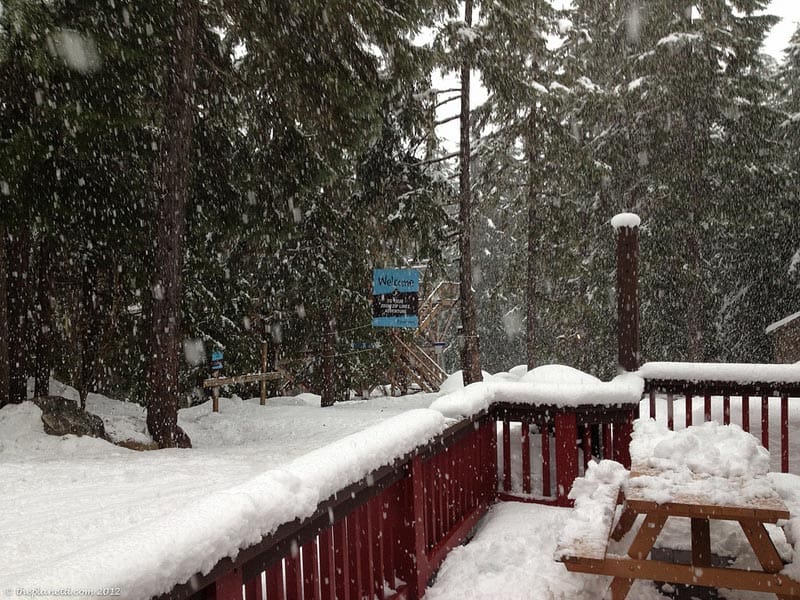 We had booked our snowmobiling trip with The Adventure Group (aka TAG) located in the heart of Whistler Village. A shuttle picked us up at a central location and whisked us out to the middle of the forest to begin an enchanting trip through snow covered evergreen trails. We arrived at the lodge just as giant snowflakes started to fall making the scene feel even more like a fairytale than it already was.
The weather was balmy, the snow was accumulating quickly and we were excited to get on the sleds and enjoy the afternoon.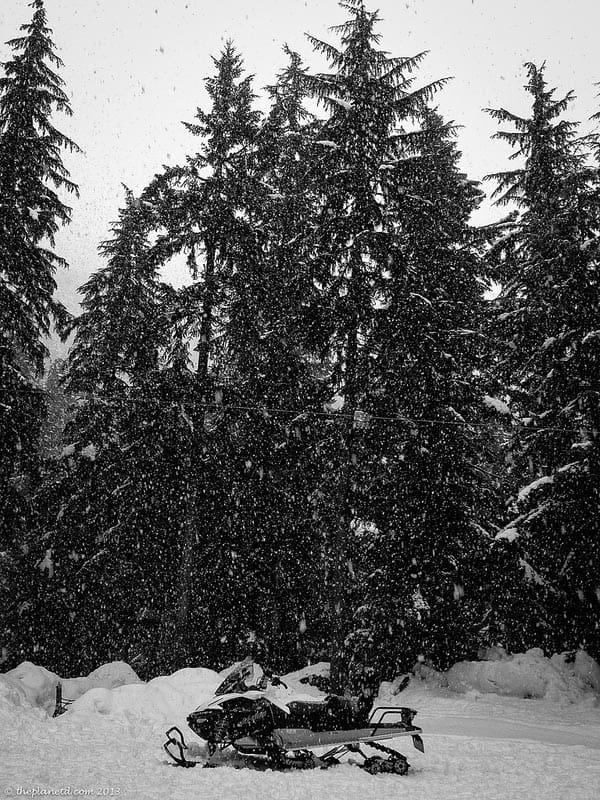 The Snowmobiling Tours in Whistler offer trips for all abilities. Neither Dave nor I had been snowmobiling since we were teenagers, but we've had our fair share of motorized vehicle adventures in recent years.
From driving quad bikes, to dune buggies and driving zodiacs in the Alaskan waters, we felt confident behind the wheel of a sled, so we signed up for an intermediate trip through the trails.
Snowmobiling Whistler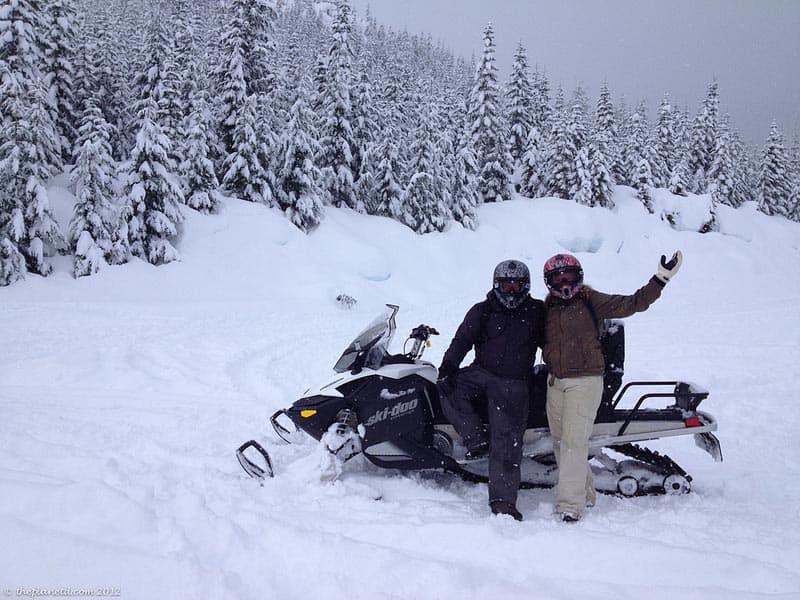 The intermediate ride was an excellent choice as there were some great climbs and super descents and we reached great speeds. This wasn't your average trail ride puttering along at 10 km an hour, this was a thrill ride through the mountains man.
We didn't feel that we needed more from our snowmobiling adventure at all – Except for more time because we had so much fun!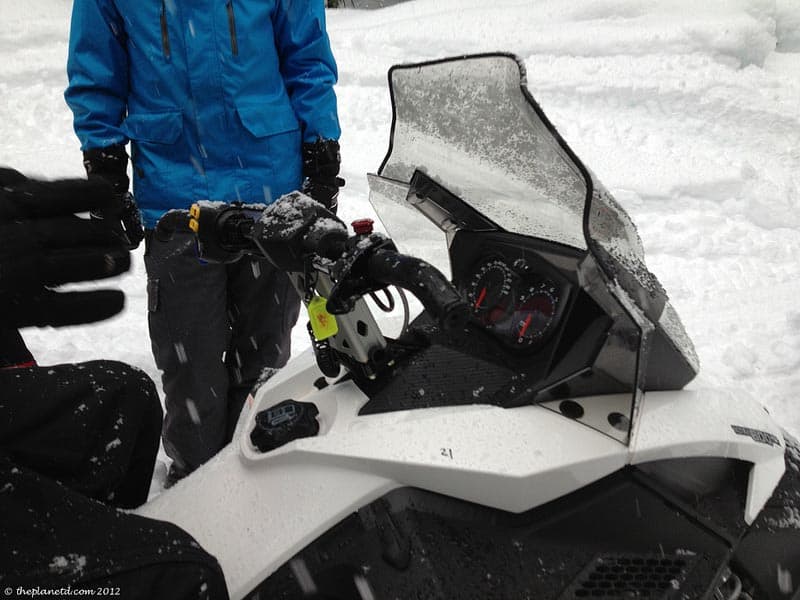 We started with a quick refresher course on how to start and stop the machines and within minutes we were on the trail. I loved the fact that the guide didn't take it easy. We've been on a few ATV tours in recent years where we put putted along bored out of our minds. In Whistler though, the snowmobiling was fast and furious and we weren't stopping unless someone got stuck.
One time that someone happened to be me. I was at the front of our line of 4 following our guide and he went over a bit of an intimidating snowbank. He made sure to hit all the snow banks, hills and slopes that were in his way, so I followed suit.
One was just a little too steep and a little too deep and I chickened out half way through. Oops.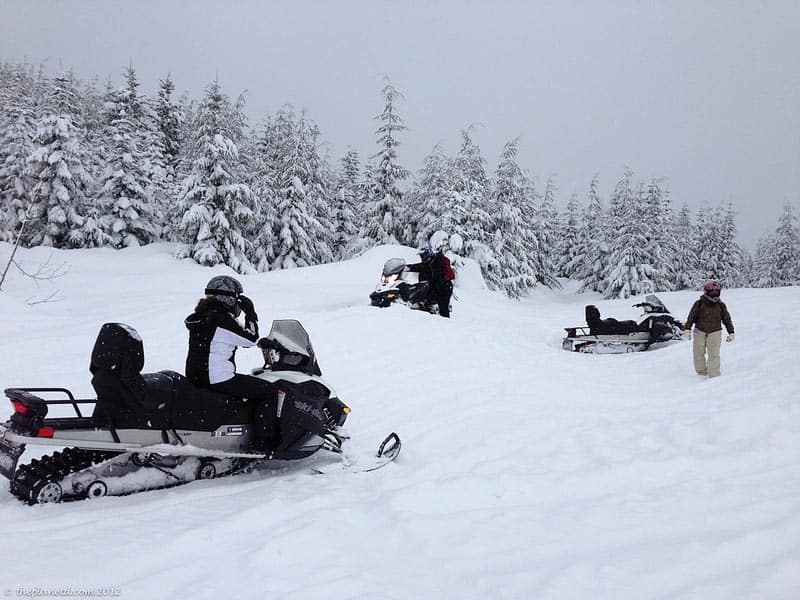 If only I would have committed to going through, but instead I let go of the gas and got stuck. I had to flag down our guide for him to come back and push me out. I felt a little foolish, but at least I didn't roll the thing.
Dave naturally went over every obstacle with ease.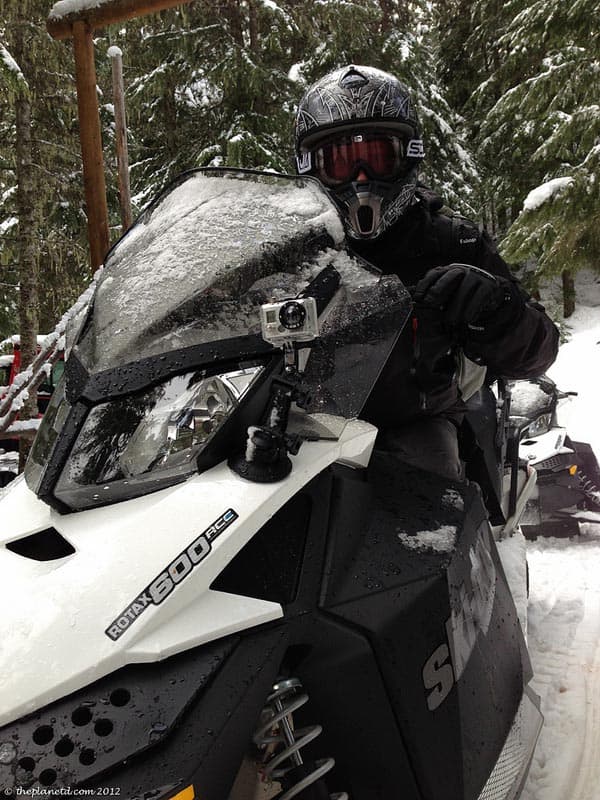 The scenery was absolutely beautiful but because the snow was coming down so hard, we didn't get the huge mountain vistas that one would normally see on this excursion. That's alright by me though, I loved snowmobiling through the thick flakes. It felt like Christmas, only better!
To find out more about snowmobiling in Whistler visit the Adventure Group. Prices start at $129.00 per person
Our trip to Whistler is brought to you by Expedia.com Winter holidays can be just as exciting (if not more) than a Caribbean vacation. Check out all their winter trips and give a ski or snowboard vacation a try during your next holiday.
Read More
Beyond Our Limits in the Backcountry