With winter just around the corner, we thought that this was the perfect time to post Vinay's fabulous guest post.  Instead of dreading that first snowfall, embrace the white stuff and take up a new hobby or sport. This post will give you all the ideas you need to enjoy the great outdoors in the true north. Don't forget to bundle up!
Winter Activities in Canada You Just Cannot Miss!
Canadian winter is a manifestation of nature's harshness. In most parts of the country, people trudge through the snow for almost six months of the year, from November to April. Though some may prefer to hibernate, there are others who do not wish to fall prey to the boredom of cabin fever during the long winter season.
The sense of fun coupled with the spirit of adventure of winter enthusiasts has given rise to diverse outdoor activities that are truly entertaining. Hence, to experience the excitement of Canadian winter, you need to participate in the following activities…
Caving and Canyoning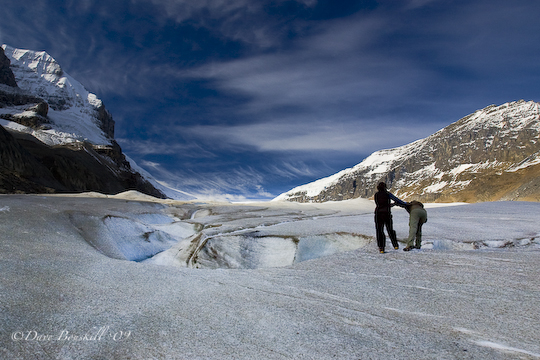 The sub-zero chill freezes the canyons, caves and crevasses in the regions of Banff, Lake Louise and Jasper in Alberta. Winter transforms these resort towns into gateways of icy wonderland. Climb the glistening canyon walls and walk across vast sheets of ice to explore the beauty of locations that are seemingly inaccessible during summer.
Ice Fishing
As the temperature drops, the fishing action heats up across Canada. Ice fishing presents a unique fishing experience to locals and visitors alike. Stepping on a frozen lake, drilling a hole in the icy water, inserting a fishing line and waiting in anticipation to catch a trophy fish can be a rewarding experience.
Depending on the region, you can fish for trout, walleye, northern pike, whitefish, black crappie, perch and lot more! Lake Simcoe (situated 60 miles north of Toronto) is popular among anglers. During winter months, lakes in Alberta, Manitoba, Ontario, British Columbia and Quebec are also good for ice fishing.
Dog Sledding
Dog sledding is a legendary Canadian winter adventure. It is so popular that you can go mushing in all thirteen Canadian provinces and territories. However, the sledding period is determined by the climatic variations across the country.
For instance, Whitehorse in Yukon enjoys dog dog sledding from November to March, whereas Quebec's mushing season runs from January to March.
Ice Climbing
Ice climbing is gaining increasing popularity among winter thrill seekers. It is a challenging and vigorous activity that demands sound physical fitness. If you feel the urge to scale new heights on frozen waterfalls and towering slopes of ice, head to the Canadian Rockies. TheGhost River Valley, Bow Valley, Stanley Headwall and IceFields Parkway in the Rockies have attracted climbers from across the globe to scale the glittering ice in picturesque surroundings.
Skiing and Snowboarding
Canada is blessed with some of the best locations for skiing and snowboarding in the world. In addition to the beautiful snow-clad mountains, visitors can also check illustrious ski resorts that offer excellent accommodation and facilities that complement the outdoor fun.
You can have the best skiing and snowboarding experience between Alberta and British Columbia, on the west coast of Canada. Mont-Tremblant, Quebec is another favourite skiing destination.
Watching the Aurora Borealis
The Aurora Borealis, also known as the Northern Lights, is a natural display of light in the night sky. This phenomenon is only visible in the Northern Hemisphere. The native Cree people called it "the dance of the spirits".
It will cost you nothing to gaze at the beautiful Aurora Borealis. Head to Yellowknife, Goose Bay, shores of Hudson Bay in Manitoba, and the prairie provinces of Canada to get the best view of the Aurora Borealis.
Cross Country Skiing
Canadian cross country skiing (also known as "XC skiing") is a sport as well as an entertaining activity. Since its inception over a century ago, cross-country skiing has earned its reputation as a significant component in the national tourism industry.
Cheered by professional athletes and winter enthusiasts alike, this activity is well-suited for races and competitions as well as for family fun and leisure. Moreover, it is inexpensive compared to mountain or alpine skiing.
Popular cross-country skiing trails stretch from British Columbia to Nova Scotia, with branches extending into Yukon and Newfoundland. Lappe Nordic Skiing Center and Stokely Creek Ski Touring Center in Ontario, as well as the Huberdeau Trails and Parc National de la Mauricie in Quebec are considered as prime cross-country skiing locations.
Snowmobiling
If your legs cannot take the strain of skiing, you can gear up for snowmobiling. Over the past decades, snowmobiling has etched its mark among popular winter activities in Canada. Though it is physically less challenging compared to skiing or snowboarding, you can enjoy the speed and adventure of riding a snowmobile (also called as "skidoo") in the vast snowy terrain.
From Newfoundland to Vancouver, there are numerous trails that offer the perfect snowmobiling experience. Canada has gone beyond short trails by constructing the Trans Canada Trail, which connects one part of the country to the other over a 21,500 kilometer long trail.
Snowshoeing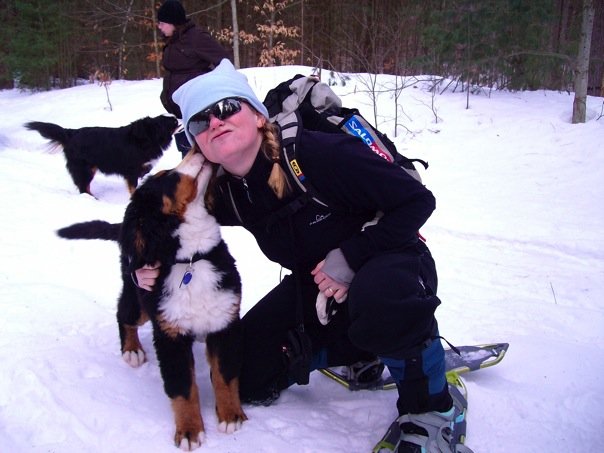 Snowshoeing is a popular activity among families, couples and fitness enthusiasts. The technique of snowshoeing is easy to learn and it is an inexpensive activity. Plan a hike in the winter forest, snowshoe across frozen lakes and ascend mountain slopes.
As a bonus, it acts as a great workout too. As a matter of fact, many walkers, runner and hikers are choosing snowshoeing as their preferred winter activity because it burns many calories. The most famous snowshoeing destinations are Callaghan County in Whistler, the Canadian Rockies, and parks of Northern Ontario.
Skating and playing Pond Hockey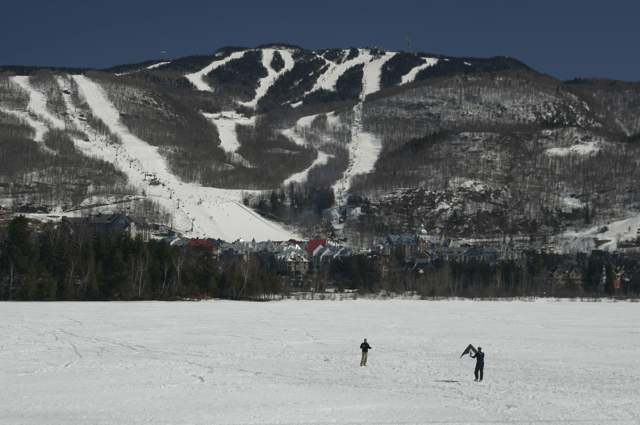 By late December, most of the lakes and ponds in Canada are frozen. Public skating rinks and ponds are present in almost all Canadian cities. The best part is that skating in public rinks is absolutely free. You can also skate on the lakes and lagoons located in parks.
Whether you are gracefully sliding on the ice floor or playing a game of hockey, you are sure to have fun on the ice. Just watch out for the 'Thin Ice' signs. To have a memorable skating experience in a public rink, visit the Rideau Canal in Ottawa, Ontario. It is the biggest outdoor skating rink in the world and Canadians simply love to skate on this canal.
Building a Quinzhee or Igloo
Building a quinzhee from a pile of snow or constructing an igloo from blocks of ice with your friends and family can be a unique and fun-filled experience. Though it would take you hours in the snow to build your own cozy quinzhee or igloo, there is an overwhelming blissful feeling of crawling inside and resting within one.
They also make ideal forts during snowball fights. Moreover, you can keep yourself warm in the freezing outdoors.
Author Bio –
This guest post is written by Vinay Shingornikar. He is a distinguished writer and has having authored a numerous articles across a wide spectrum of publications. Currently, he is happily employed with Flight Network. Founded in 1998, Flightnetwork.com has grown to become Canada's second most visited online travel agency, specialising in offering highly discounted prices for domestic and international flights.
Read More
Backpacking around Toronto and Vancouver
Embrace the Cold in Explorer's Edge Ontario
9 Best Winter Activities in Alberta
You Might Also Enjoy