We've had the luxury of visiting Banff on three different occasions during our travels so we know a thing or two about where to stay in Banff.
We've visited Banff National Park in winter and summer and have sampled many different lodges and inn during our time in Alberta.
Since many people are planning their ski vacations and winter holidays, we thought it would be a good time to share our opinion of what the best hotels in Banff are. 
 Where to Stay in Banff
Besides the Banff Springs and Lake Louise Fairmont hotels, there are plenty of other options for where to stay in Banff. So without further ado, here you go!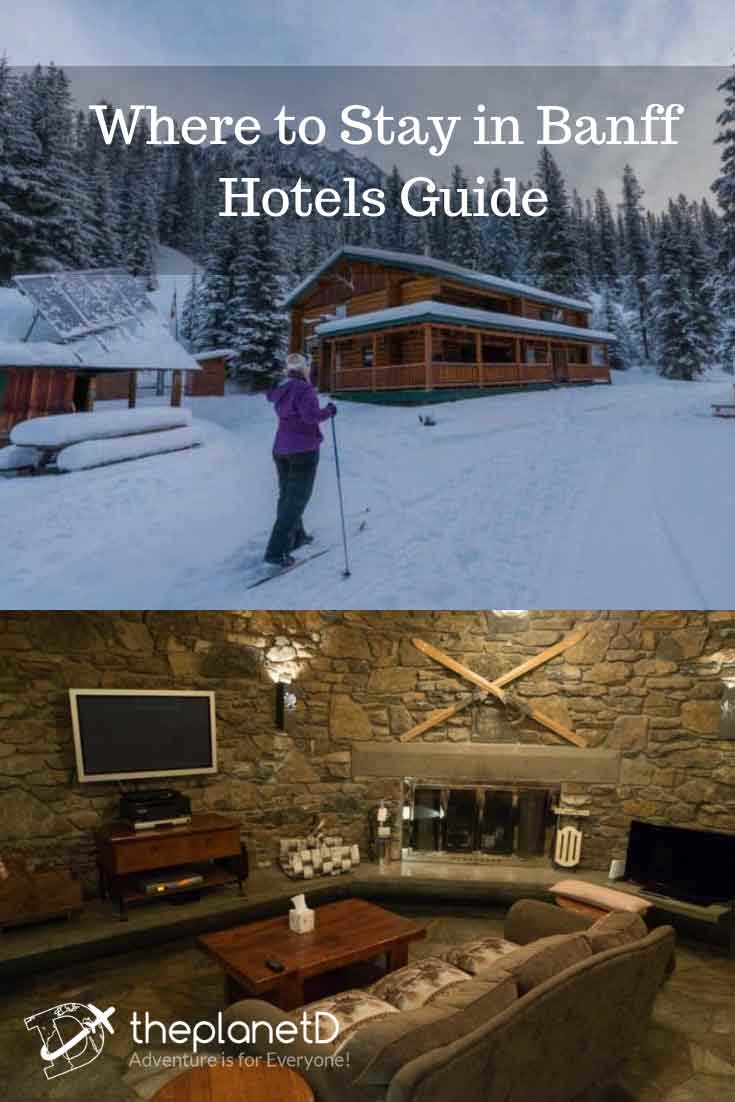 Traveling this winter? Check out our Packing Tips for Winter Travel
Whenever anyone asks us where we think the most beautiful place is in the world, Banff always springs to mind. It's no wonder we jump at any chance to return.
1. Buffalo Mountain Lodge
If you want to be in the heart of the action of Banff proper.Buffalo Mountain Lodge is a great choice for a hotel in Banff.
Situated just minutes from downtown, Buffalo Mountain Lodge offers free shuttles for guests to go out for dinner, drinks or downtown shopping.
We loved building a fire in our room as we overlooked our Rocky Mountain view.
Staff provides kindling, newspaper, matches, and wood to create the perfect fire for a romantic or cozy atmosphere.
The Sleeping Buffalo Dining Room is a great choice for dinner featuring local fruits, vegetable, and grains plus hormone and antibiotic free bison and elk raised on their own game ranch.
For an authentic Alberta meal, this is the place to dine. By the way, we had deer and elk walking through our backyard. How incredible is that?
Check out prices at Buffalo Mountain Lodge
2. Juniper Hotel
Our room at theJuniper Hotel was to die for with whirlpool bath, wood burning fireplace, and leather couch propped in front of a big screen TV.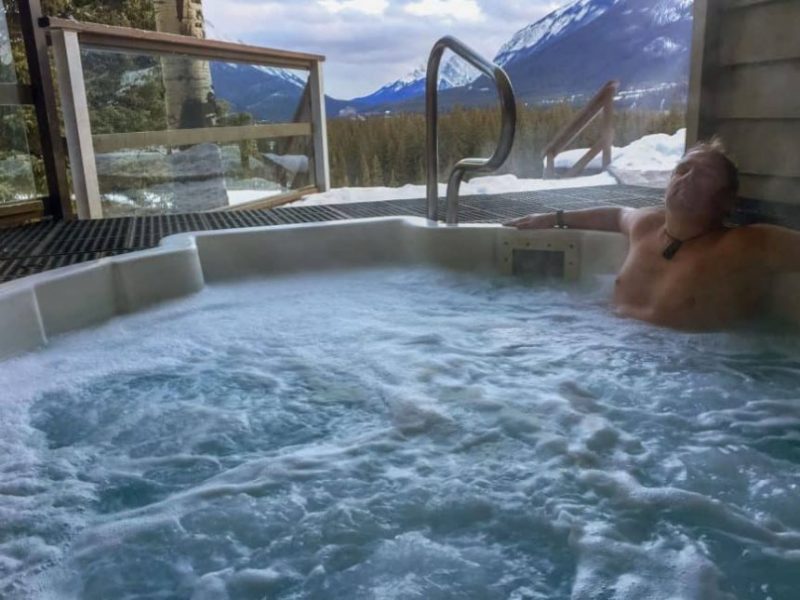 But its the outdoor hot tub looking at the striking Rocky Mountain view that sticks with us.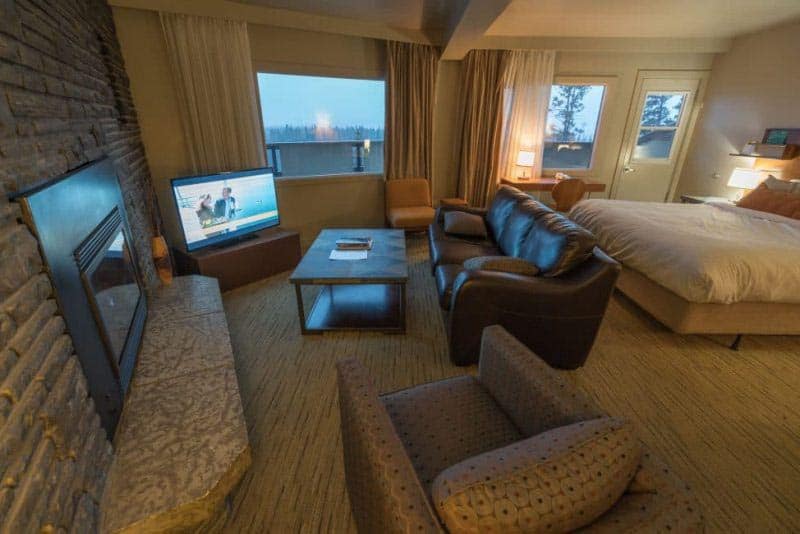 Juniper sits at the foot of Mount Norquay making it the perfect getaway for families wanting to ski nearby.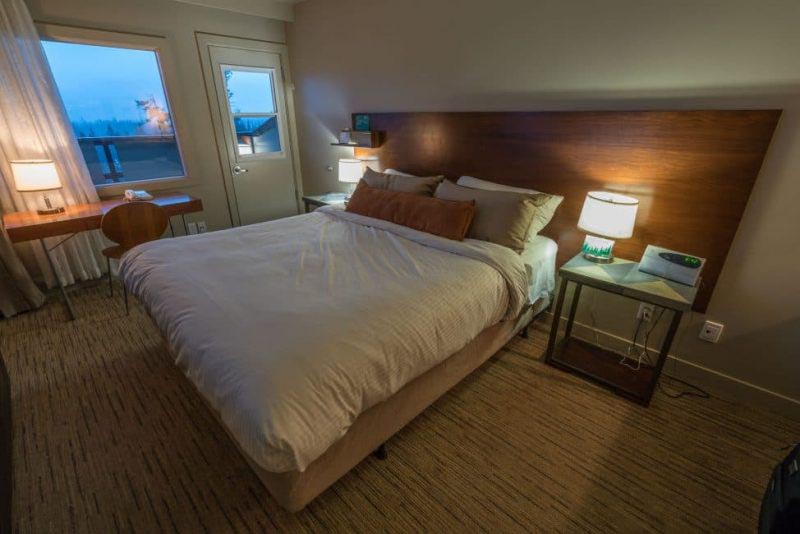 There's a trail leading into the woods from the hotel that we took a great little hike on spying a family of deer, and the Juniper Bistro offers delicious home-cooked meals straight from the farm to table.
Check out prices at The Juniper Hotel
Looking for things to do in Banff? Check out The Best Place to go Dog Sledding in Banff National Park
3. Sunshine Mountain Lodge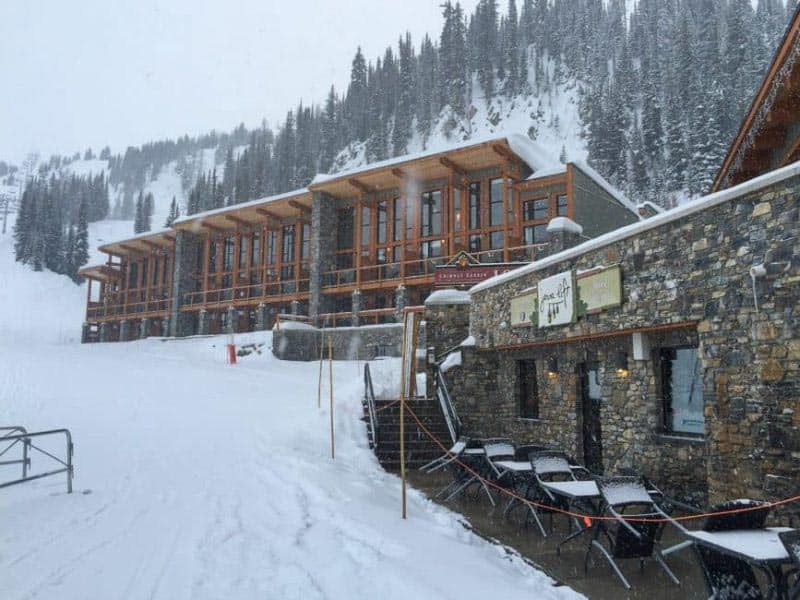 For serious ski lovers,Sunshine Mountain Lodge is the top choice. It's the only slopeside hotel in Banff.
This luxury hotel is located at the top of the gondola giving guests the unique opportunity of being first on the hill.
With spa service, ski and snowboard lockers, and Banff's largest outdoor hot pool, Sunshine Mountain Lodge is a full-service winter retreat.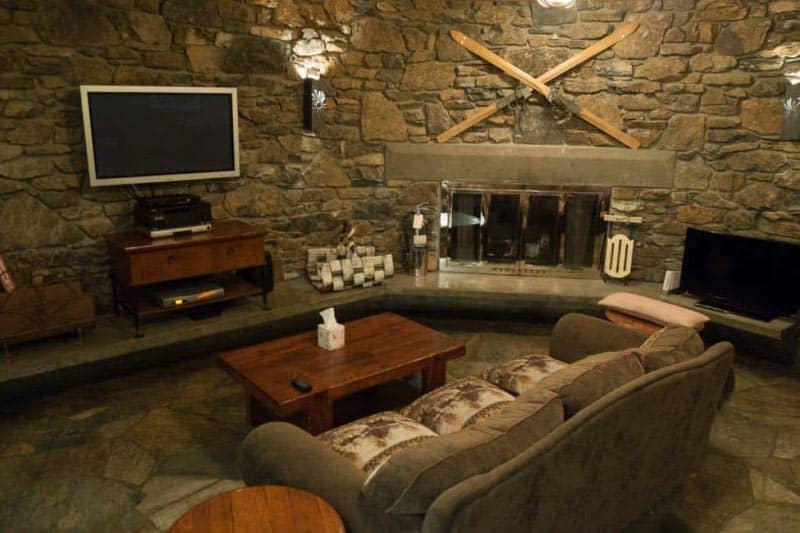 Their restaurant offers Albertan beef and vegetarian options, and the loft rooms overlooking the ski hill are outstanding.
We turned on the gas fire and ate fresh local cheese as we looked over the ski lifts while staff groomed the trails for our day on the hill.
Check out prices at The Sunshine Mountain Lodge
4. Sundance Lodge
It may not be a typical hotel in Banff, but when visiting the National Park, you really need to get out to the backcountry at least once.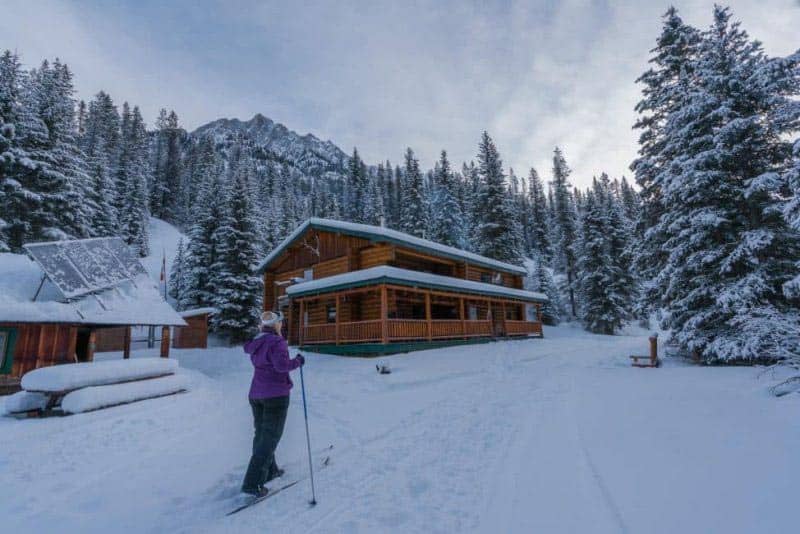 Sundance Lodge is a cross-country ski or snowshoe in during the winter months, or a horseback ride or hike in the summertime.
10-room log cabin is nestled on the bend of Brewster's Creek in the valley of the Sundance Mountain Range.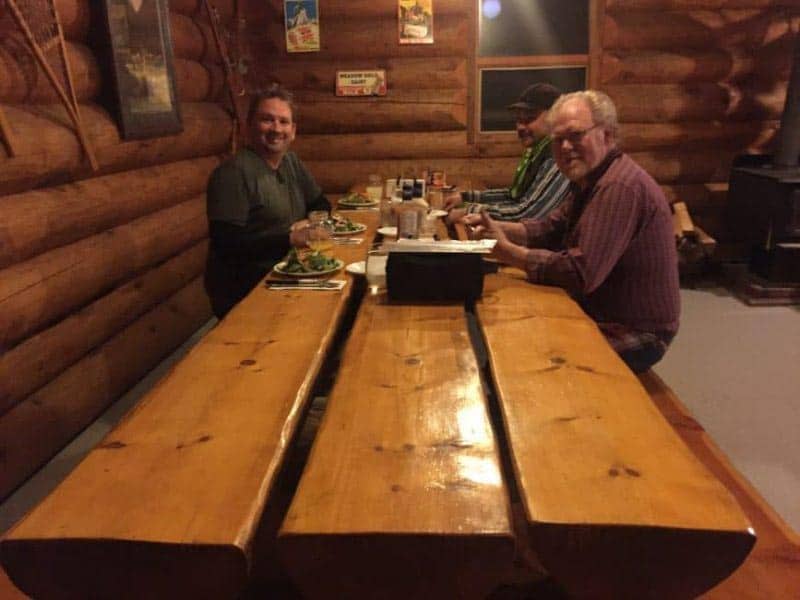 Located 16km from Banff, it takes you away from it all where you can truly get away from cell service, noise and light pollution.
You are in the true Canadian wilderness but you're not roughing it.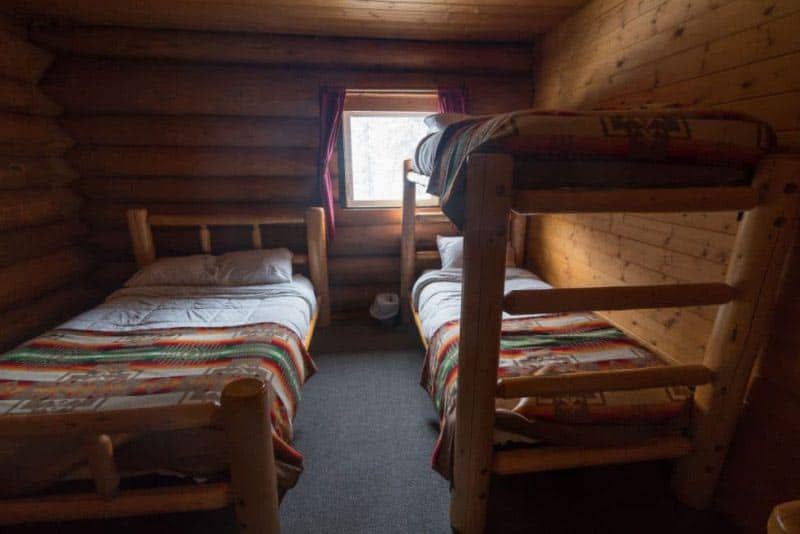 Your stay offers a personal chef, wood-burning fire, hot showers and solar heating. A great Rocky Mountain escape awaits.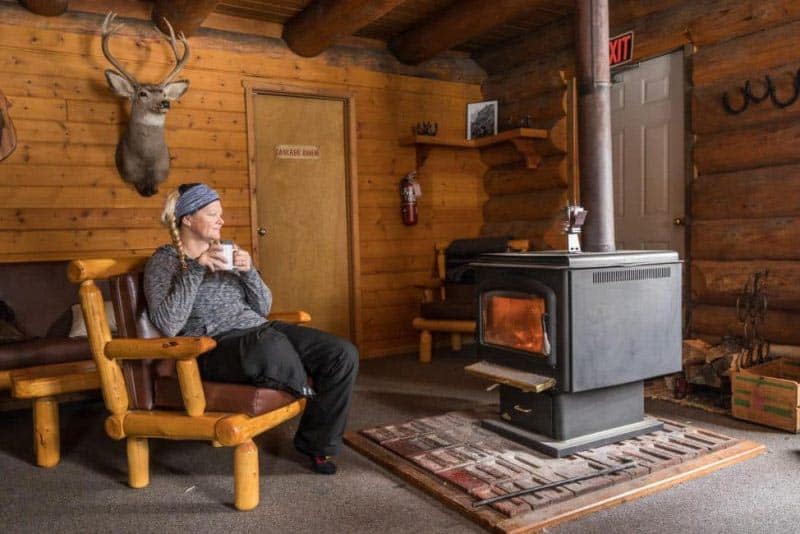 For backcountry tours, trail rides and lodge information visit the Banff Trail Riders Website
5. Storm Mountain Lodge
For the truly romantic getaway,Storm Mountain Lodge is our top choice.
Guests stay in private cabins ranging in size for couples to families with a spectacular view of Storm Mountain.
The lodge was originally built as a way for the Canadian Pacific Railway to attract more tourists to the Rocky Mountains in 1922.
Eight log cabins which are still used by guests today. Storm Mountain Lodge is completely self-sufficient with water, power, and sewer creating a sustainable green environment.
Our cabin had a fireplace and sofa where we sipped wine reminiscing about our day before dining at their all Canadian menu.
It's fine dining in a forest setting, nothing could be more superb. It's a bit away from it all and that is exactly the way we like it.
Check out prices at The Stormy Mountain Lodge
Looking for Romantic things to do in Banff? Enjoy our post Romantic Lake Louise, a Perfect Couple's Getaway. 
6. Deer Lodge
The sister lodge to Buffalo Mountain Lodge,Deer Lodge is located just a short walk from Lake Louise.
If you are snowboarding or skiing at Lake Louise, this is a great nearby choice. During ski season, daily complimentary shuttles run from Deer Lodge to the ski resort.
Originally built in 1923 as a teahouse, it has grown and expanded over the years to a four season lodge.
The accommodation is rustic yet elegant offering fine dining at one of the most noted dining rooms in the Rockies.
There is an incredible rooftop hot tub that looks out at Victoria Glacier and new traditional dry wood sauna.
Check out prices at Deer Lodge
Check out our snowboarding experience at Lake Louise Ski Resort
6. Fox Hotel and Suite
Located downtown Banff, Fox Hotel and Suites is walking distance to all the main dining and hot spots.
What sets Fox Hotel and Suites apart from other hotels in Banff is the large hot pool modelled after the Cave & Basin hot pools.
The original Cave & Basin was Canada's first national park. We had a two bedroom suite that echoed the perfect ski lodge setting.
For roadhouse dining we ate at Chilis Restaurant located in the lobby. When you've had a busy day of adventures in Banff, sometimes a quick meal at the hotel restaurant is in order.
Check out prices at Fox Hotel and Suites
7. Num Ti Jah Lodge
We last stayed at Num Ti Jah Lodge on Bow Lake back in 2009, but we visited it again this trip to take some winter photos of the mountain setting.
Num Ti Jah is closed during the winter months, but I wanted to put it in this round up because it really is one of the legendary hotels in Banff.
Surrounded by mountains with the Crowfoot Glacier towering overhead the lodge is as rustic as it is historic.
Founded by Jimmy Simpson in 1898, you really feel that time has stood still here.  If you want to get away from it all, this is the place to be.
The main lodge has a cozy fireplace with simple rooms keeping with traditional virtue the simple life.
The Elkhorn dining room has many elk, bears, moose, wolverine and deer trophy's hanging on the walls but never fear, they were hunted and killed during the early 1900s.
But that shouldn't stop you from sampling some of the elk or bison on the menu!
Check out prices at Num Ti Jah Lodge
There are many choices of accommodation in Banff. From Inns to lodges and full blown hotels in Banff, there's something to suit every need and budget.
We've had the good fortune of testing out several hotels in Banff and can attest that whatever you choose in the list, you won't be disappointed.
Our latest trip to Banff is in partnership with Banff Lake Louise tourism more information on hotels in Banff, visit the Banff Lake Louise Tourism Website.
---
Read More:
Romantic Lake Louise – A Perfect Couples Vacation
A Winter Wonderland in Banff Lake Louise
Snowmobiling Thrills for Amateur Riders
SaveSave
SaveSave