Call me crazy, but I never knew that Lake Louise was in Banff National Park.  Hey, Canada is a big country.  Anyway, After our rock climbing adventure, we were off to canoe on the emerald waters of Lake Louise.
Canoe Lake Louise in Banff National Park, Alberta
It is a beautiful setting surrounded by the Rocky Mountains and we were glad to be able to fit our second item on the itinerary into our Chevy Equinox Rocky Mountain Adventure Drive.
We were running short on time so we had to make our canoe ride quick, but I am glad that we managed to get out on the water. Now if we were paying for it, that would be another story.
Canoe Lake Louise
The price to canoe on Lake Louise in front of the Chateau Lake Louise is outrageous. $50 for 1 hour, or $40 for a half an hour. We only had a half an hour until we had to leave for our interview with TheRealBanff, so we paid our two twenty's and paddled our hearts out.
They make a killing on overcharging tourists. People lined up continuously to give away their $50 to hop into a canoe.
It was non-stop and the boardwalk was cluttered with people even at this late hour in the day. Luckily the lake is pretty large so you didn't feel like you were taking part in a bumper boat ride on the duck pond at an amusement park.
Unfortunately, evening is not the best time to visit Lake Louise.  The glacier is completely back lit making photo's almost impossible. So I suggest going early in the day for optimal picture taking opportunities.
Once we were out on the water we really wished that we had more time.  We paddled like mad to make it to the other side and situate ourselves under the shade of a mountain.
Dave managed to take some great shots of the Glacier from a different angle. People stuck on the boardwalk could not have gotten this view.
Also, looking back towards the hotel was quite beautiful, and having the structure in front of the hills and forests gave a great perspective of just how large the land is.
Authentic Canadian Moment
While paddling Dave commented on what an "Authentic Canadian Moment" we were having – Canoeing in the Rocky's on the majestic Lake Louise. It was nice.
We also could not get over how cold the water was. It is a glacier fed lake after all and once we dipped our hands into the water we realized why they were so strict with their rules before we started paddling.
If anyone fell in the water in the middle of the lake, they would be in serious trouble.
So we managed to cover quite a lot of ground and we only came back to the dock a little over 10 minutes late. The boys were very sweet and didn't charge us any more money for the extra time. In peak season however, I don't think that we would get away with it.
Interview with Tourism Board
We hightailed it in our Lovely Chevy Equinox and tried to make it to our lodge Num Ti Jah at Bow Lake where Reality was patiently waiting to interview us for Banff/Lake Louise Tourism. The temperature dropped quickly and we were shivering a bit during the interview, but I am very glad that we did it outside because the views were stunning.
We laughed when the interview was over because a squirrel ran by. It was the BanffSquirrel after all that runs the Banff Tourism Website and set up our interview through twitter, so we enjoyed the little reminder that he was there with us in spirit.
That night we settled into our rustic accommodations and met down by the fire in the dining room to talk about the days events. I got to know Leslie Crowell from the YummyMummyClub and what a fireball of a lady.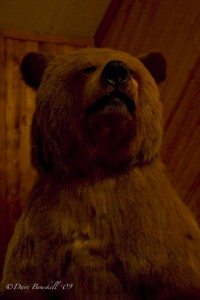 We had a great time talking about her white water rafting experience with her husband Alex and we all enjoyed some pre-dinner cocktails and appetizers.
We all had a great laugh that writer and photographer Chris and Drew from Outpost Magazine decided to go golfing for their Rocky Mountain Adventure. They said that it was some of the best golfing that they had ever done with stunning views and difficult holes.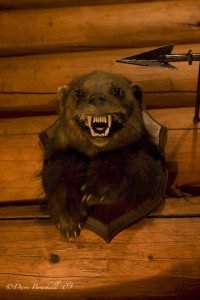 Elkhorn Dining Room
So after catching up, we were dining in the grand Elkhorn Dining Room, where we kept the adventure going…Dave and I ordered the Elk for dinner. Oh, we could feel the souls of the dozens of trophy's from the bygone days of Jimmy Simpson staring down at us in judgement.
Wolverines, Badgers, Moose, Elk and Bear hides and heads overlooked the dining room.  You couldn't help but think about how barbaric the human race can be.  And yet, I was being a hypocrite because I ordered the elk!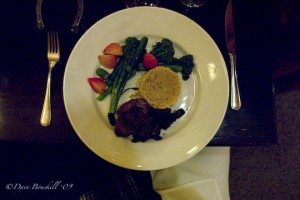 It was during that meal that I seriously considered going back to my vegetarian days and talked about how my dad is completely vegan, healthy and running everyday! We should all follow his lead.
So we collapsed in our giant king size bed with a thick and cozy duvet where we slept like babies after our jam packed day on the Chevy Equinox Rocky Mountain Adventure Drive. Whew!
Read More
Hotels in Banff – Our Top 8 Picks for Where to Stay in the Rockies
9 Best Winter Activities in Alberta
A Winter Wonderland in Banff Lake Louise
You Might Also Enjoy