Just south of Cape Town in South Africa, you will find a colony of Penguins in the picturesque village of Simon's Town.
Simon's Town Penguins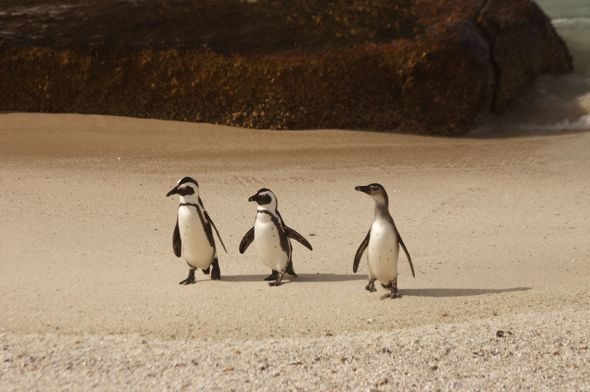 If you are anything like us, we are suckers for Penguins. They are simply the cutest little things and we can watch them for hours waddle and swim.
The Simon's Town Penguins are known as the African Penguin or the Jackass Penguin on account of the braying sound that they make.  Numbers are slowly coming back thanks to conservation efforts.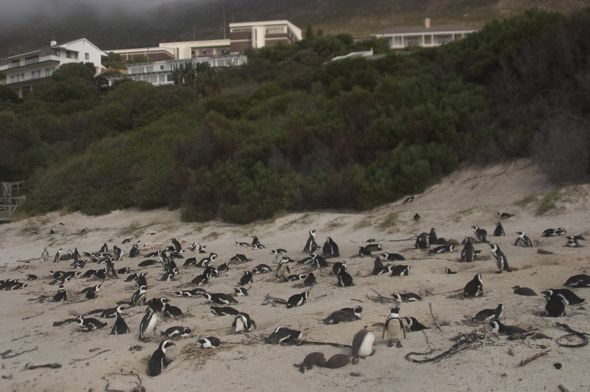 It is hard to believe, but for decades these little guys were hunted for their meat and were considered a delicacy.  Add to oil spills and a decline in their food supply they have fallen from several million to less than 200,000.
Boulders Beach
Venture down to Boulders Beach where you can walk the boardwalk to get a great view of the colony that settled here in 1985 and has been continuously growing ever since.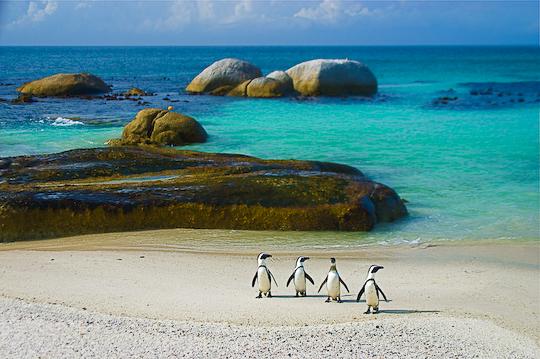 Nobody knows why the penguins decided to colonize this portion of the beach. The large human population should have been a deterrent, however the abundance of fish in the waters due to a ban on commercial fiction probably played a role.
My opinion is that they saw a beautiful beach with great rocks and boulders for sunbathing and relaxing.  Hey, penguins like a great view too!
Winter in South Africa
It was South Africa's winter while we were there, but in the warmer months, you can actually swim with the penguins as they play and frolic on the public beaches around town.
Give yourself more than a day to visit Simon's Town.  It is a beautiful seaside village filled with restaurants, cafés and beautiful scenery.
You can go sea kayaking, take boat trips, Cape Point is a short jaunt from the town and if you happen to find yourself there between June and November, you can view the majestic southern right whale.
Read More
All the Pretty Penguins
You Might Also Enjoy