South Africa is fast becoming the adventure capital of the world. We've had the pleasure of visiting the country a couple of times and have discovered many things to do in South Africa.
From the first time we cycled down the West Coast all the way from Namibia to Cape Town to driving the entire East Coast from St. Lucia to the Cape of Good Hope, we've covered a lot of distance.
We want to give you a round up of the best things to do in South Africa for when you plan your vacation.
From safaris to caves, marine life to scenery, South Africa has it all! Enjoy.
What to do in South Africa
St. Lucia – African Wetland Safari, Horse Safari, Hippo River Cruise, Kayak with Crocodiles, Braai
Durban – Microlight Flight, Canopy Tour, Oyster Box
Garden Route – African Safari, Cango Caves, Ostrich Farm, Cage Dive with Great White Sharks
Cape Town – Table Mountain, Sandboarding, Robben Island
Kruger National Park – Wildlife spotting best safari destination in South Africa
Check out our Guide to South Africa for more great ideas!
Your Journey Starts in Richard's Bay
We caught a connecting flight from Johannesburg and drove our way down the Garden Route. This route offers excellent wildlife safaris, beautiful beaches, jungle adventures and amazing scenery.
Before you leave Johannesburg, you can spend a couple of days to go on Safari at Kruger National Park.
Renting a car is the best way to take in the full experience of seeing South Africa. It gives you the freedom and the chance to meet the people.
Plan Your Trip to South Africa
Booking.com has over 4,000 properties in South Africa. You get free cancellation on most rooms and a best price guarantee.
St. Lucia
We flew from Johannesburg to St. Lucia: A World Heritage Site in the iSimangaliso Wetlands. The wetlands are filled with many things to see and do, and these are a few suggestions for you to check out.
1. Oldest Game Reserve in South Africa: Safari in Hluhluwe & Imfolozi National Park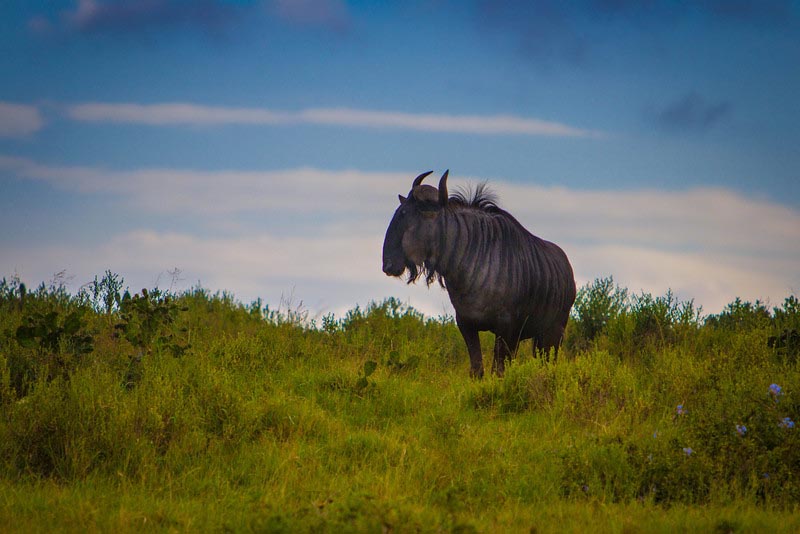 It's the oldest Game Reserve in South Africa.
Known for it's white and black rhino population, Hluhluwe & Imfolozi have the largest in all of Africa! That's an amazing thing because rhinos are being slaughtered at an astonishing pace.
It's good to see that conservation efforts are being put into effect. But we are worried that it is too little too late.
Book your tour with Heritage Tours and Safaris and enjoy a braai lunch while you overlook the valley.
2. Hippo River Cruise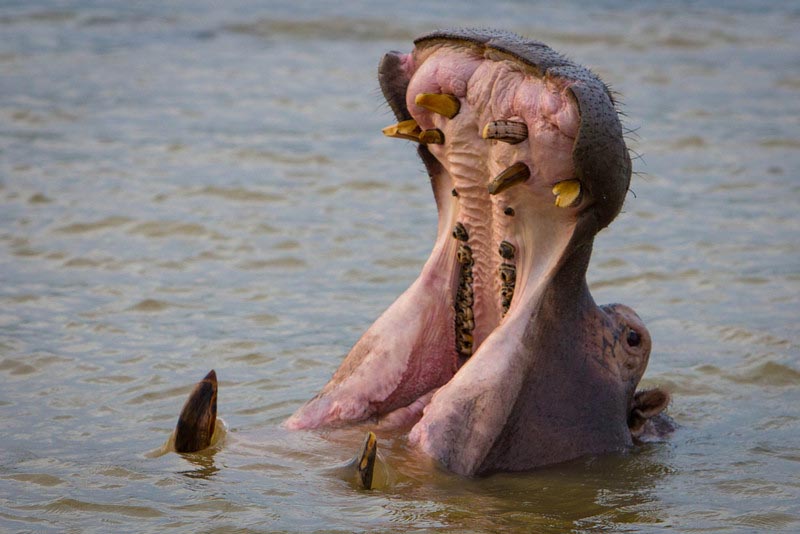 Check out the hippos and crocodiles from the safety of your platoon boat.
Book your tour again with Heritage Tours and Safaris and you'll enjoy enjoy hot chocolate or cider while the hippos stretch and yawn as the sun sets overhead.
3. South African Braai
We stayed at Umlilo Lodge where we enjoyed our very first Braai dinner with our fantastic hosts.
A Braai is South African for Barbeque but for some reason a bbq in South Africa is so much better than a bbq at home.
In St. Lucia there is an amazing amount of choices for excursions.
4. Kayak with Crocodiles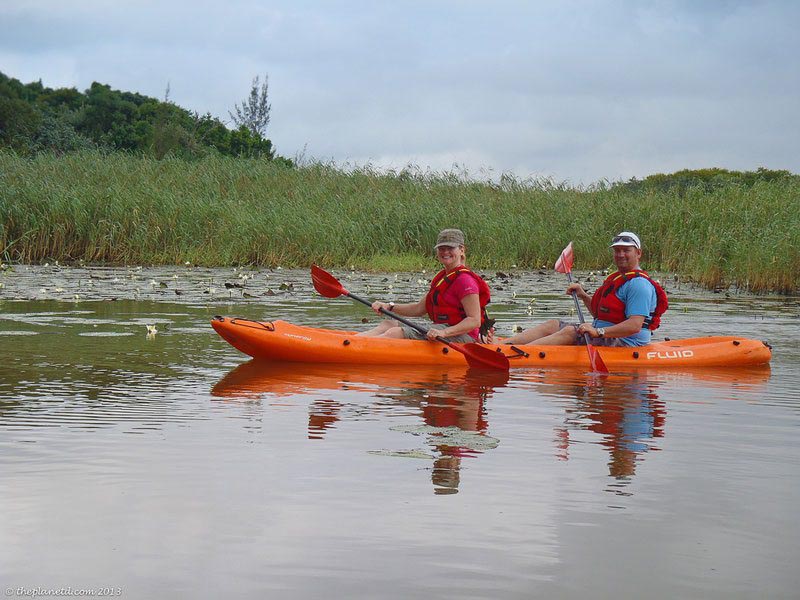 If you are feeling adventurous, skip the platoon boat and kayak in the river instead.
There's nothing but fibreglass separates you from the crocodiles below. The water in the estuary is an average of 1 metre deep and with 1200 crocs and 900 hippos you can be sure they are lurking below, even if you don't spot them right away.
We booked our tour with Kayaking tours with St. Lucia Kayak Safaris start at R 290 ($32 USD).
Read more about our kayaking adventure at Kayaking, Hippos and Crocs Oh My!
5. Wildlife Safari on a Horse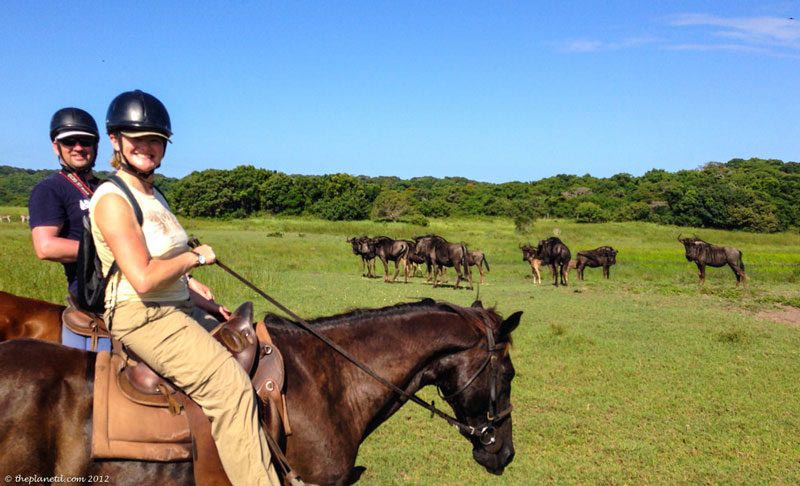 Nothing feels quite as awesome as having wildebeest and giraffes run beside you as you sit atop a horse and look on.
You feel at one with nature and get closer to the wildlife than you ever expected!
While watching wildlife, we had a herd of zebras surround us showing off to our horses. It was like they wanted us to join in as they ran at full speed. The horses were pretty excited too!
Read more about our horse safari at A World Heritage Horse Safari We booked our Safari with Bhangazi Horse Safari and Tori will show you a great afternoon.
6. Turtles Laying Eggs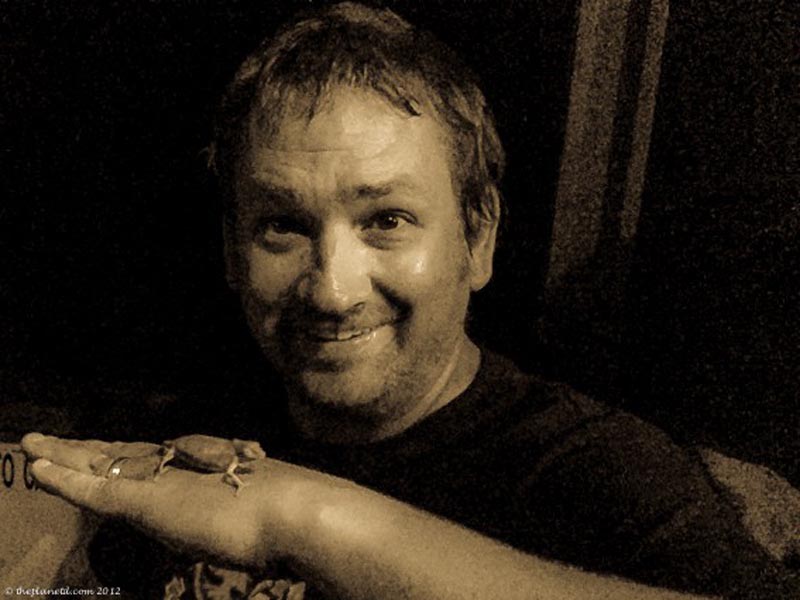 St. Lucia is one of the best places in the world to spot Leatherback and Loggerhead turtles laying their eggs. Your tour begins and 9:00 pm and goes until the wee hours of the morning.
You drive right through the iSimangaliso Wetlands and we saw rhinos, hippos and the world's smallest lizard.
Unfortunately, we didn't get to see a turtle hatching, But we saw Mother Nature's true side, as a jackal had dug up a nest of eggs and was feeding on turtles that were about to hatch.
They were so close to making it out to sea that they were actually still moving when we came across them. The jackal waited in the dark for us to leave and our guide told us it would be back.
Sadly only 1% of newly hatched turtles make it out to sea and it looked very unlikely that any of these would survive.
Durban
7. Microlight Flight near Durban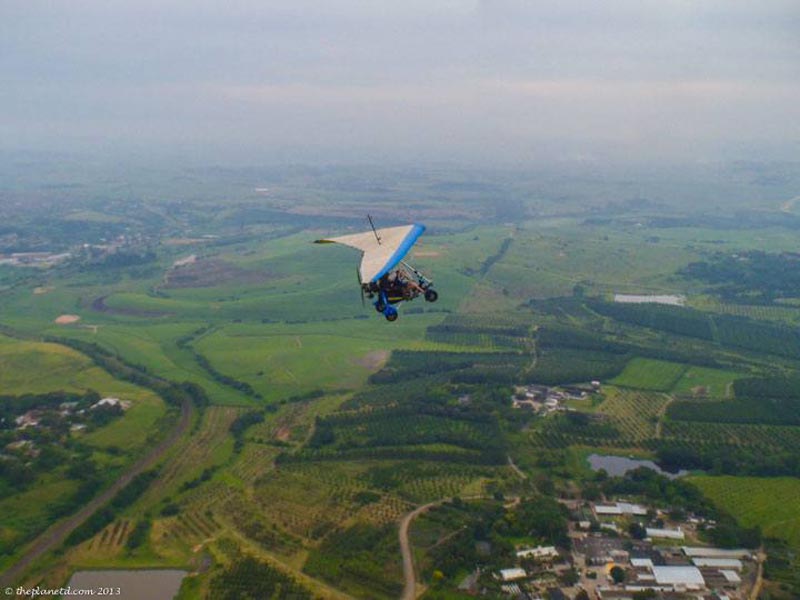 Durban is only 3 hours from St. Lucia and in this thriving city you can swing from the only stadium swing in the world at Moses Mabidha Stadium.
If that is a little too much for you, try a microlight flight over the spectacular coastline. Feel the wind whip your face as you watch dolphins and sea turtles swim below.
If you time it right, you may be there for the whale migration season! We booked our tour with the Ballito Microlight School.
Read more about our trip at Microlight, an Adventure in the Sky
8. Stadium Swing Durban
If you are looking for an adrenaline rush, The Durban Stadium offers a bunjy jumping adventure where you can swing from the roof of the Moses Mabhida Stadium.
It was named the World's Tallest Swing by the Guinness Book of World Records.
9. Canopy Tour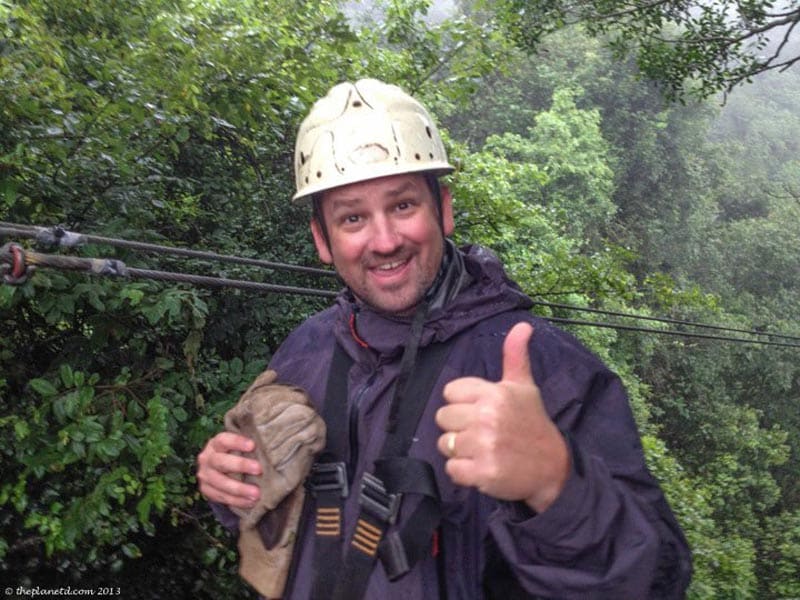 South Africa Canopy Tours has zip lining adventures all around the country. For a beginners zip line adventure, try Tsitsikamma further to the south on the Garden Route.
For the Thrill Seekers, stay in Durban and check out Karkloof Canopy Tours. This was hands down the best canopy tour we've ever taken. (and we've done a lot)
Check out more on what a canopy tour is like at Zipadeedoodah, South Africa – and book your own at Karkloof Canopy Tours. Pre-bookings are a must!
10. Oyster Box Hotel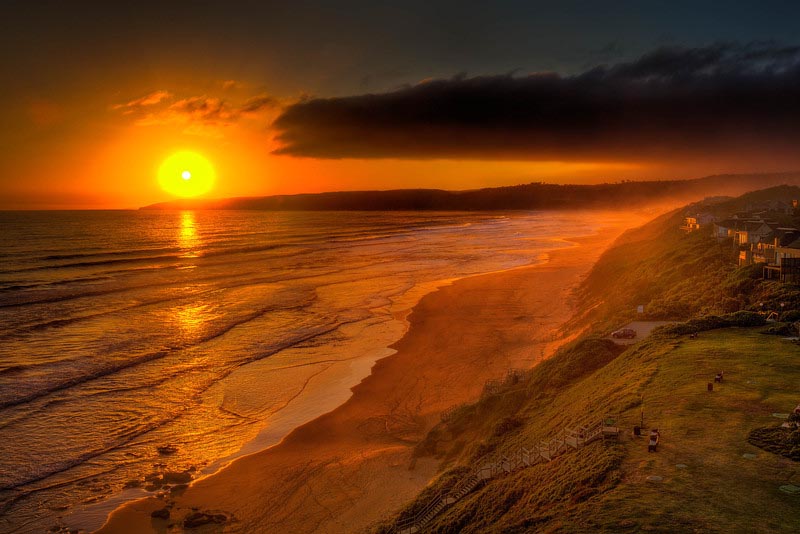 While staying in Durban, the historical Oyster Box hotel is spectacular accommodations.
Located right on the Indian Ocean in the heart of the bustling town of Umhlanga, you are close enough to all the attractions but quiet enough to enjoy a proper relaxing vacation.
With swimming pools, spas, gymnasium, restaurants and cafés, it is a resort to definitely spend time in.
Suggested Durban Hotels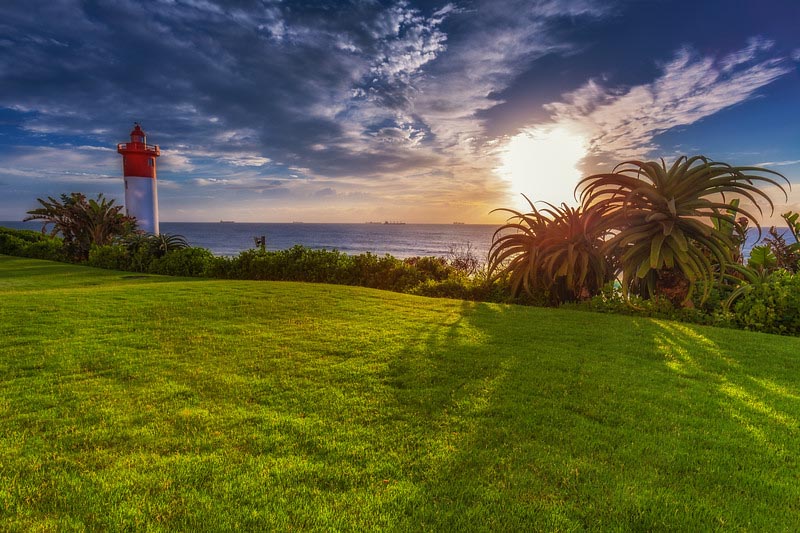 Oyster Box Hotel – This was an absolutely stunning hotel in Durban located on the ocean
Check out Availability & Prices Trip Advisor / Booking.com
Durban Hilton– Located in Durban business district close to major sights.
Check out Availability & Prices Trip Advisor / Booking.com
Garden Route
The Garden Route is South Africa's ultimate road trip. It starts in Port Elizabeth and weaves it way down the Eastern Cape towards Cape Town.
It is probably the most popular route to take in South Africa as there is everything to do here. From game drives to diving, mountain adventures to world class wineries, this is our favorite part of the country.
11. Game Drive and Safari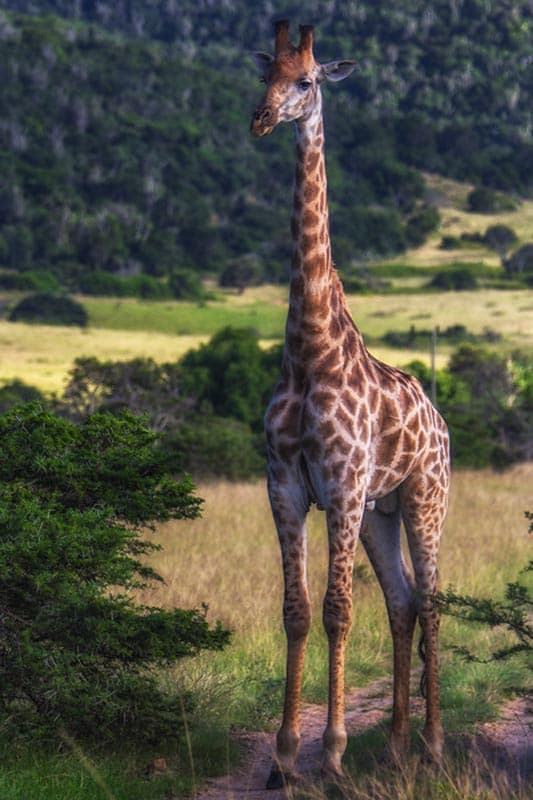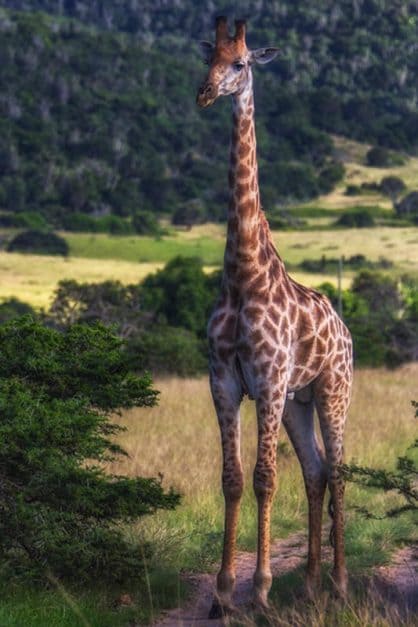 A person can't go to South Africa without going on safari.
In South Africa you have an excellent chance of spotting the Big 5 animals while on safari and so much more!
Along the Garden Route there are many private lodges to choose from and we stayed at the spectacular Kariega Game Reserve.
12. Kariega Game Reserve

The Kariega Game Reserve is a luxury reserve with four different lodges. We stayed at the River Lodge where we were surrounded by the reserve and wildlife.
Our mornings and evenings were spent watching wildlife like lions, rhinos, hippos, giraffes, and elephants while our days were spent in the lovely lodge reading books, sipping wine (all spirits, food and drink are included in the safari package) and relaxing on the dock.
We definitely needed more time here.
For more information on the Kariega Game Reserve, visit their website. See our photos of the wildlife we spotted while on safari in South Africa.
Adventure in South Africa's Garden Route
13. Cango Caves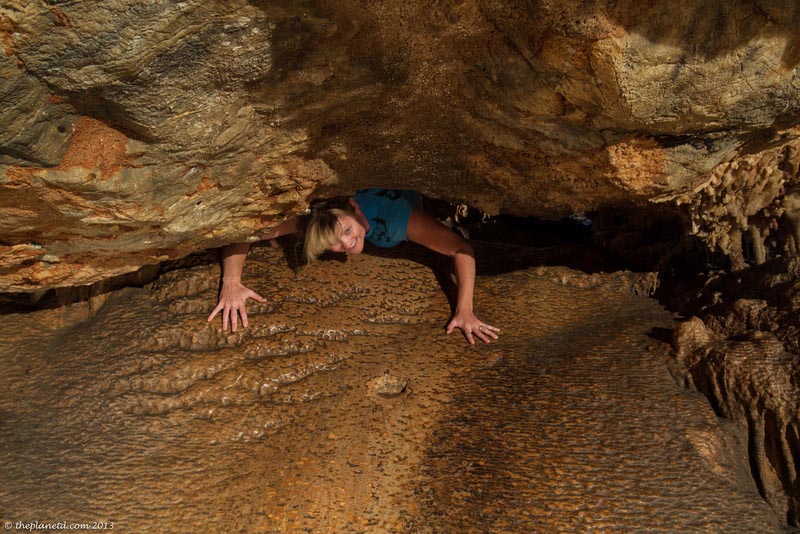 The Cango Caves are the oldest tourist attraction in South Africa and one of the best cave systems we've ever visited.
The standard tour is an easy and beautiful walk through massive chambers, but if you are up for the challenge, take the adventure tour. The adventure tour takes you through narrow passageways with openings as small as 26 centimetres.
It's not for the faint of heart, but great bragging rights after the fact.
Visit the Cango Caves Website for more information. Read more about our time at the Cango Caves in Claustrophobia at the Cango Caves
14. Ostrich Farm
Ostrich are not an endangered animal and if you visit the Cango Ostrich Farm, you'll learn about how ostriches are raised, what they are used for and you be able to get up close and personal with the largest bird on earth.
You can get an ostrich massage and feed the ostriches that are held in captivity.
Find out more information at the Cango Ostrich Website.
15. Dive with Great White Sharks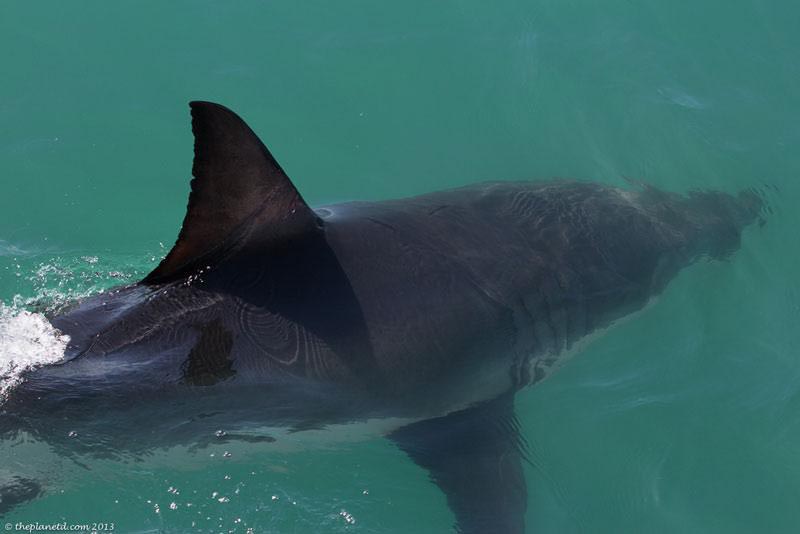 Our Number 1 Choice for things to do in South Africa is to go Cage Diving with Great White Sharks!
We have seen it on Shark Week, we've watched it on National Geographic and here we are doing it in South Africa. Anyone can cage dive. You don't need to be a certified diver, heck you barely even need to know how to swim.
You are in a cage attached to the side of a boat. It's the easiest diving we've ever done, but it is also by far the most exciting.
Imagine having a great white shark bump the cage you are standing in. Watch it breach over and over again as it jumps after the fish head used as bait to attract the shark
Sharks are an endangered species and the more people understand the shark and learn to love them rather than fear them, the better off the entire ecosystem will be.
Read more about our adventure and watch the video at Shark Diving, In the Cage with Great Whites we went with White Shark Projects in Gansbaai.
You can book your own adventure from Cape Town through Get Your Guide Great White Sharks Tour
Suggested Garden Route Hotels
Birkenhead House – One of our favourites, right on the beach near Hermanus
Check out Availability & Prices Trip Advisor / Booking.com
Views Boutique Hotel – Luxury with stunning views. Great place for a base on the Garden Route.
Check out Availability & Prices Trip Advisor / booking.com
Cape Town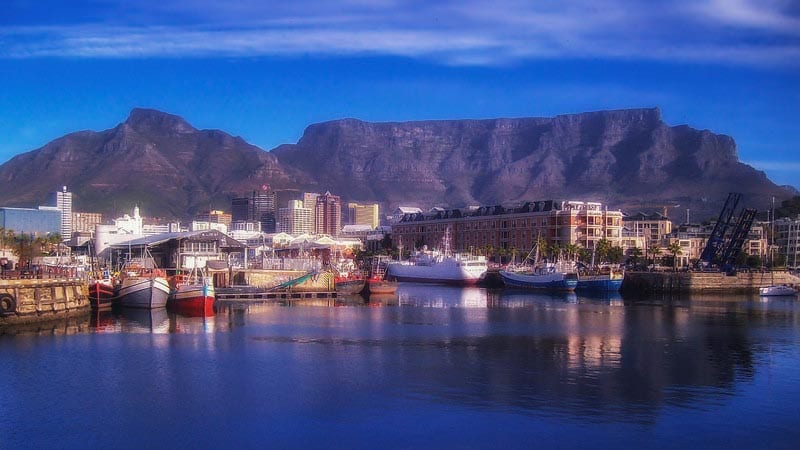 Cape Town is one of those amazing cities where you find yourself saying "I could live here!"
It's beautiful, it's filled with culture and modern living, it has everything from markets to boutiques and it has adventure.
There are so many things to do in Cape Town, you could spend a week just exploring the city.
From whale watching to enjoying the endless beaches, it's a sea lovers paradise.
Cape Town has something for anyone. From cultural experiences to adventure and beach time, here are a few ideas for visiting Cape Town.
16. Robben Island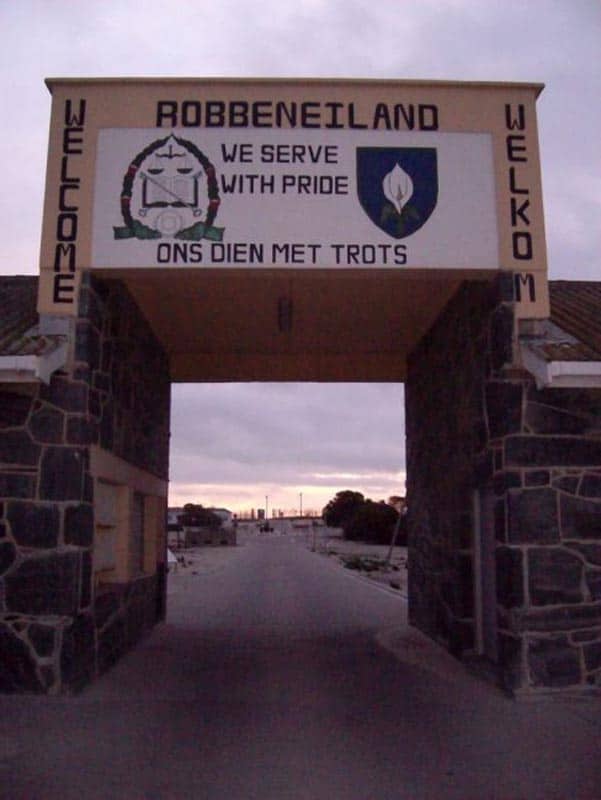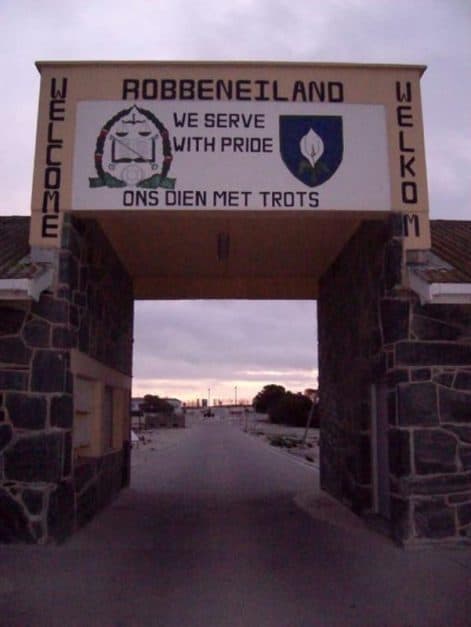 Robben Island is a must do when visiting Cape Town. It was where Nelson Mandela was imprisoned for 29 years.
Take a boat out to the island and see how political prisoners were treated during the Apartheid.
17. Table Mountain
Table Mountain is the backdrop of the city and it is magnificent. You can take a cable car up Table Mountain or you can hike.
There is paragliding off Lions Head and Abseiling (rappelling) off Table Mountain.
You can hike around the top and enjoy the views!
18. Sandboarding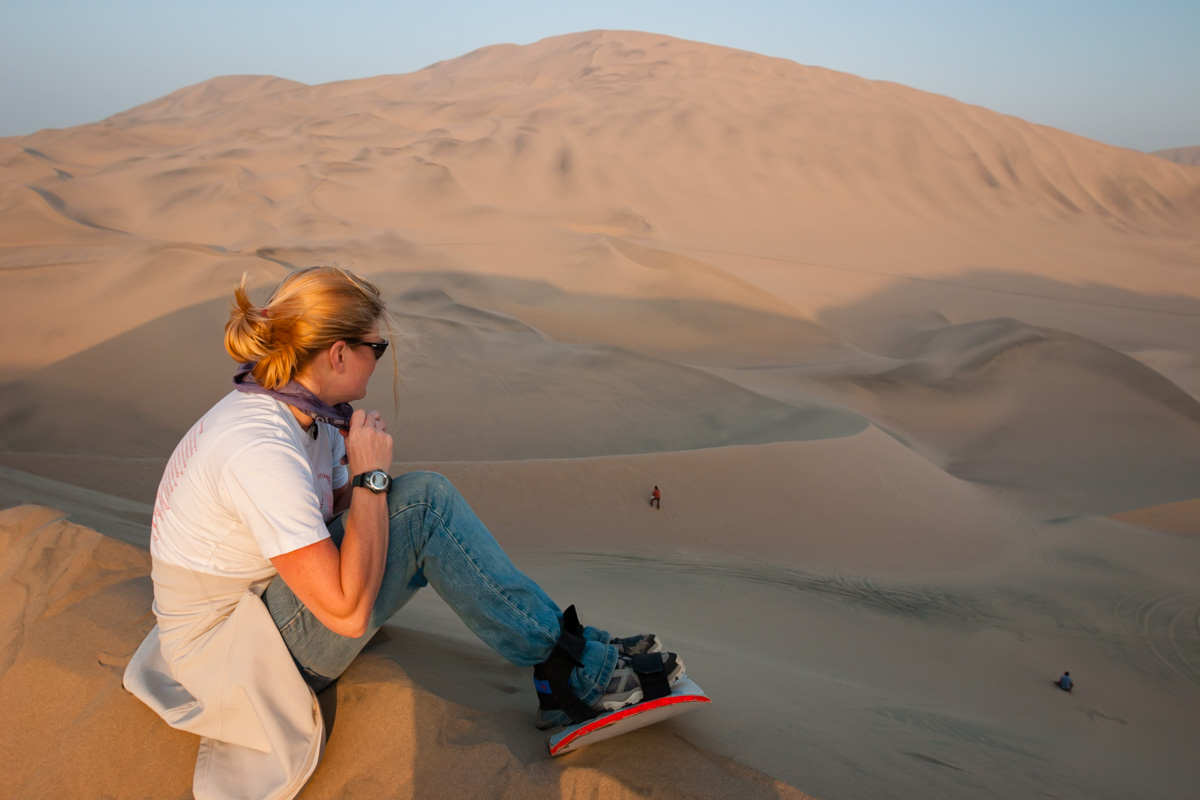 We went sandboarding at the dunes and enjoyed t
19. V&A Waterfront
A great place to make a base is at the V&A Waterfront. There are plenty of dining options, lots of shopping, theatres, street vendors and boardwalk.
It's the cosmopolitan pard of the city.
20. Simons Town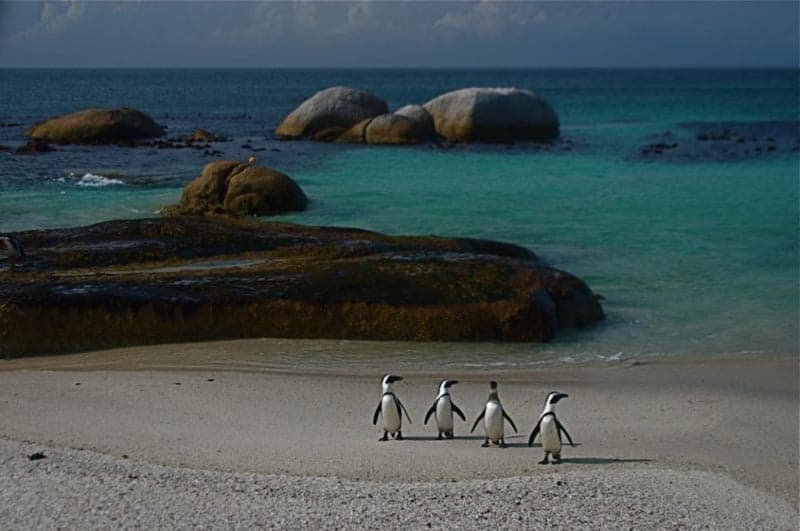 Rent a car and see the Penguins in Simons Town. They are the cutest!
21. Cape of Good Hope
And make sure to visit the famous Cape of Good Hope.
The road out from Cape Town is one of the best drives in the world.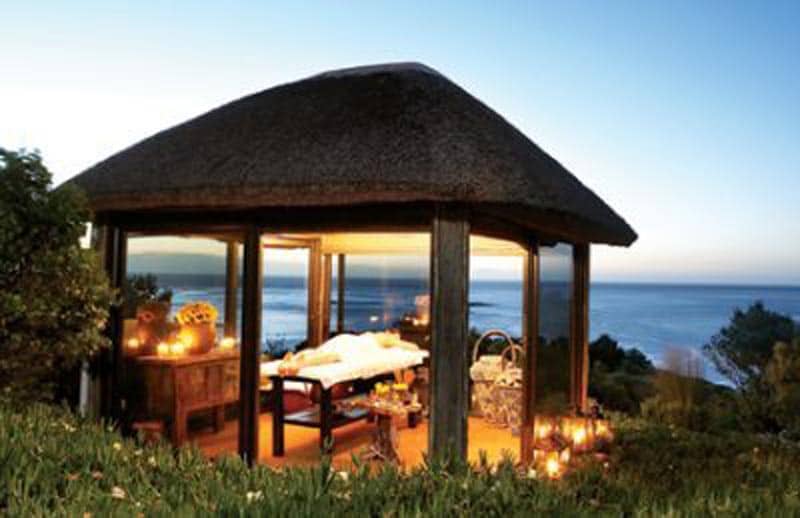 If you feel like splurging, make sure to have a meal at the Twelve Apostles. Better yet, stay there!
The Twelve Apostles is repeatedly voted as one of Cape Town's best hotels.
It overlooks the sea and each month they have a delicious wine pairing which we just happened to be there at the right time for!
Overnight Trip from Cape Town – Stellenbosch
22. Relax in Wine Country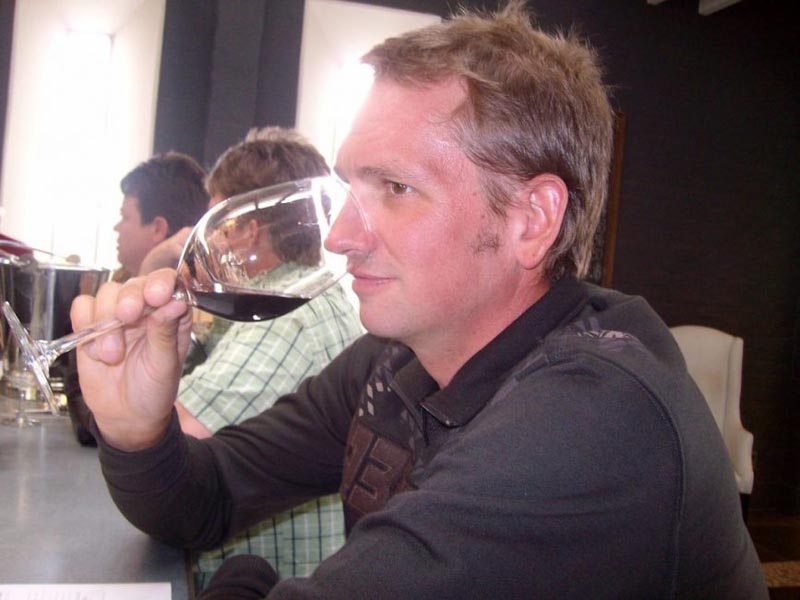 After all that adventure you must visit the Stellenbosch region to sample fine South African wines.
There are huge estates where you can go for tastings, relax in town or just simply take in the scenery.
After cycling from Cairo all the way to Cape Town, Dave and I spent a week indulging in the rich food and fine wines of South Africa here.
Suggested Cape Town Hotels
Lawhill Luxury Apts – Located in the heart of the V&A Waterfront. Luxurious, own kitchen, den.
Check out Availability & Prices Trip Advisor / Booking.com
Twelve Apostles – Located at the beach, this is as good as it gets. 5 Star Luxury, tastings, scenery.
Check out Availability & Prices Trip Advisor / Booking.com
If you fly into Johannesburg, there are two places that you won't want to miss when you visit South Africa.
Admittedly, we have spent no time in Joburg, so we can't tell you what to do there, but when you leave the city, two of South Africa's top attractions are a few hours from here.
Johanesseburg
23. Kruger National Park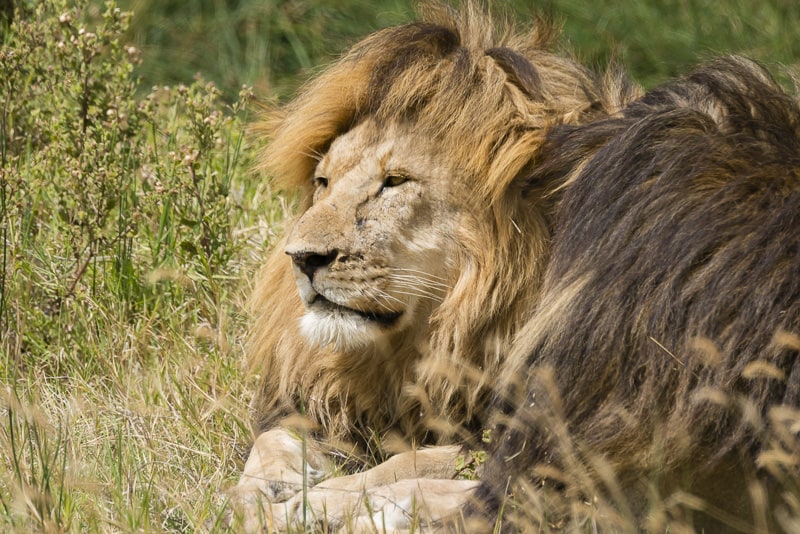 The premier national park for safaris is by far Kruger National Park.
It is a massive park spanning more than 19,000 square km.
Here you'll spot the big 5 and what makes this unique compared to other game parks in Africa is that you can drive it yourself.
If you are renting a car to get around the country, this is a stop that you cannot miss.
24. Drakensberg Mountains
Making your way south from Kruger, your next stop is the Drakensberg Mountains.
The Drakensberg Mountains can be reached by Johannesburg or Durban, depending on where you make a home base.
It's known for its adventure activities Drakensberg is a UNESCO World Heritage Site that is great for outdoor adventures, hiking, and cycling.
It is South Africa's highest mountain range and it stretches 1000 km. So chances are you will have an adventure or two here.
Plan Your Trip to South Africa
Sure there is a lot more to do in South Africa, but if you follow this route, you'll go away feeling like you experienced everything the country has to offer.
We had the perfect blend of local hospitality, world-class wildlife viewing, enjoying everything from luxury accommodation to quiet family-run operations, fine dining, incredible adventures, and spectacular sunsets.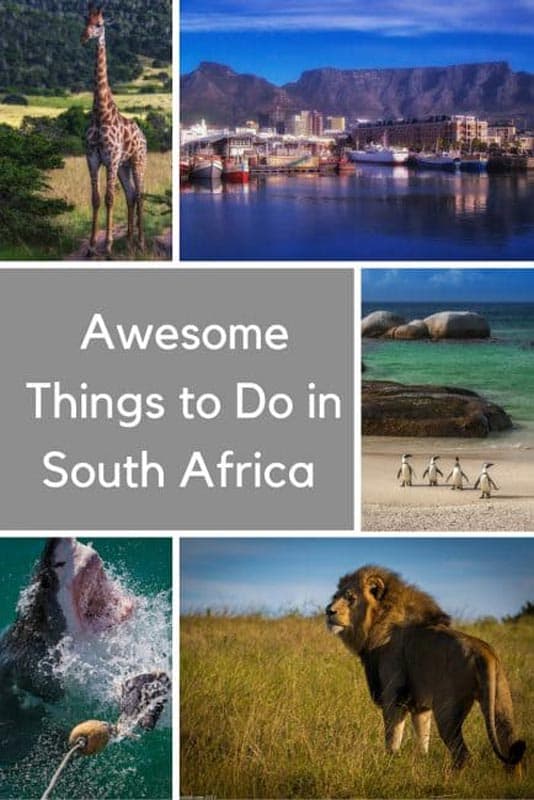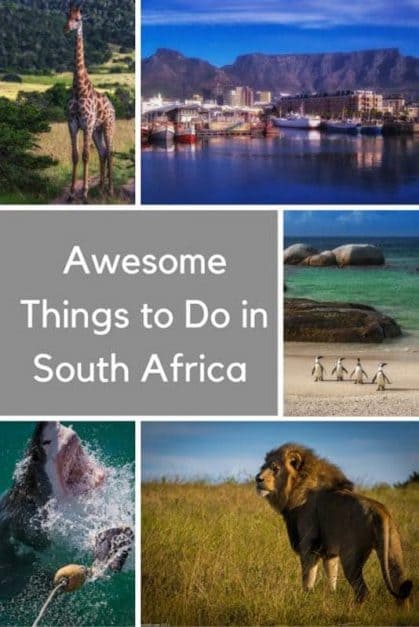 So there you have it! This itinerary should keep you busy doing all these amazing things in South Africa!
Read More:
A Horse Safari – Dancing with Zebras in Africa
Cage Diving with Great White Sharks