It has been our dream to go on safari in Tanzania. Ever since watching Africa the Serengeti on IMAX in 1994, we've had dreams of spying herds of wildebeest migrating across the massive Serengeti plains. I can't believe it's taken us this long to finally make it happen!
We came close in 2008 while cycling the continent of Africa, but we chose to climb Mount Kilimanjaro instead.
I'm glad we waited because in 2008 we would have done a fast and cheap three-day safari without thinking much about the tour company or guide.
Safari in Tanzania
We've come a long way baby, and we now know that the guide can make all the difference in your safari experience. Our Tanzania Safari in Tanzania with Go Ahead Tours didn't disappoint. Their guide's years of experience helped to ensure that we had impressive wildlife encounters.
Last year we went to Scandinavia with Go Ahead Tours, and when discussing where to go on our next trip, Tanzania was at the top of our list.
Not only do we love Africa, but we wanted to experience something completely different from the Capital & Fjords city tour we had done with them previously.
An African safari tour is unlike any other tour.
Watch our Tanzania Safari from Beginning to End!
Our group of 13 people met at 9:00 am sharp in the lobby of our Arusha hotel where we were introduced to our guides, received information about what to expect during the 10 days ahead, and picked up all the cool swag that came in handy during the tour.
They provided safari hats, a canvas wallet and a Masai robe that came in very handy on early morning game drives when it was still cool from the night before.
Dave and I were excited to find out that our guide and driver was George. He picked us up the night before when we arrived after midnight at Mount Kilimanjaro Airport and we immediately hit it off.
The 13 of us were split into three separate vehicles. For the duration of the tour, we got to know our safari truckmates really well. Our group of four hit it off immediately as Dave and Roger had their love for photography in common and Maralyn and I were suckers for talking about the meaning of life.
Tanzania Safari Wildlife
When going on a safari in Tanzania, the main attraction is definitely the wildlife, but what we love about our Go Ahead Tour is the well rounded experience with culture, charity and history. Besides in depth safaris in the Serengeti, Ngorongoro Crater, Lake Manyara and Tarengire National Park, we also stopped at various schools, projects, local villages and the cradle of civilization.
Love wildlife? Read more at:
Amazing South Africa Wildlife Photos
20 Not to Be Missed Animal Encounters
Our first stop before heading out on safari we stopped at the Shanga Cultural Centre in Arusha.
Uplifting Projects to Visit
This artisan studio gives disabled artists the opportunity to work, show off their talents and sell their creations.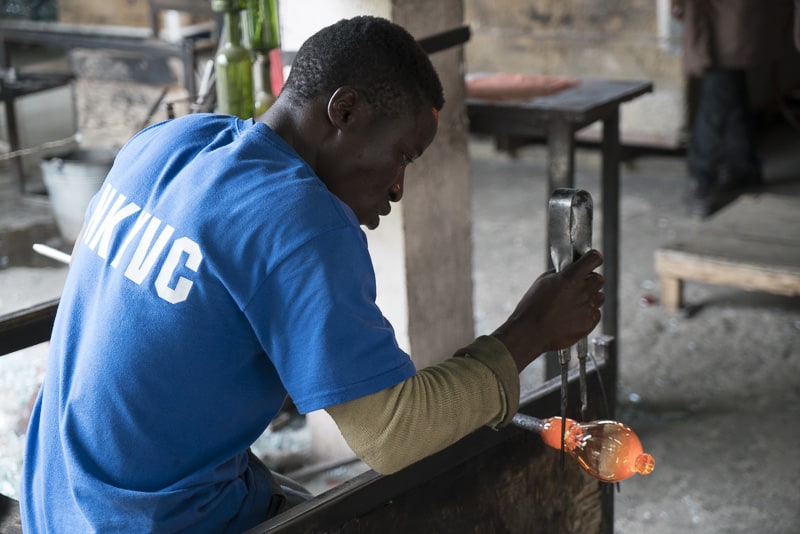 It's an amazing project where they train people with disabilities to support themselves.
There are 3.5 million people living with disabilities and Tanzania and places like the Shanga Cultural Centre are making great strives to making their lives better.
But let's start with breaking down the safaris
I love it when a trip builds from good, to better to best. That's what our Tanzania safari with Go Ahead Tours was like.
Tarangire National Park was our first stop and it's an lesser known little gem of Tanzania. It's the smallest of the parks we visited surrounded by villages and urban centres making it quite unique.
The Tarangire Sopa Lodge was one of our favourite places to stay located within the park with views overlooking the plains, a swimming pool and lovely private huts. An escort waited for us each night to bring us back to our rooms as wildlife could easily walk through the grounds. We kept our window open at night listening to the trumpet of elephants and screech of a monkey.
Wildlife of Tarangire National Park
That first day, we entered Tangarire early in the afternoon. After a quick stop to check in with headquarters and to put up the roofs of our safari trucks, we were off on our first sunset game drive.
It wasn't long before we spotted impalas and zebras and soon we saw plenty of giraffes and elephants.
Dave and I were over the moon with the giraffe sightings. We've had the pleasure of going on safari in Kenya, South Africa and Botswana and during those trips we've only seen about 4 giraffes total in our life. We already broke our record on day one of the Tanzania safari.
The drive ended with a magnificent African sunset where we stopped by a Flat-top acacia tree to marvel at the colours dancing in the sky.
The tour is set up nicely as you aren't moving every single day.
We had two evenings at Sopa Lodge so we could sit back and relax a bit in the evenings. Our first night together gave us welcome drinks so we could toast the 10 days ahead.
Safaris are long and hard days. You are up at sunrise and out until sunset. But you don't want to miss a thing because there are opportunities galore for unique wildlife viewing. So it was early to bed for us.
Mating Dance of the Ostrich
One of the most unique things we've ever seen was watching the mating ritual of the ostrich. We spotted a large female walking, and George immediately said "She's going to a male." let's keep driving.
Sure enough a couple of hundred metres later was a male ostrich waiting for his mate.
He stood up and approached the female bowing down and fluffing his feathers while doing a fascinating mating dance.
During our time in Tarangire, we spied elephants playing, lions in trees, a mother cheetah hunting with her cute little cub and baboons relaxing on giant termite mounds.
Even though Tarangire isn't the wow park of Tanzania, it certainly gave us some of our most memorable moments.
1st Local Experience – Safari in Tanzania is more than animals
Before heading on to our next safari stop, we had the pleasure of visiting a local school.
Many people in our group brought colouring books, pens and school supplies. I think it is important to give to a local charity so if you prefer, look for something online and give to an NGO that will buy the students and schools exactly what they need.
It's uplifting to visit schools and meet the children. They are curious, energetic and thrilled to meet you.
Lake Manyara
The next stop on our Tanzania safari was Lake Manyara. Dave and I were extremely excited about this stop to view the pink flamingoes.
We just missed the migration, but there were still hundreds of flamingoes flying through the air and walking about the lake's picturesque shores.
Thousands of birds inhabit this beautiful scene with storks, kingfishers, ibis and hornbills scattered about.
It was here that Dave and I had our most impressive view of giraffes we had ever seen. We counted 14 giraffes standing like statues on the shores of the lake. They were so still it was almost as if they were paper cut outs.
But the most striking sight of Lake Manyara was was the thousands of baboons walking towards the forest in one large surge. I commented that it looked like Planet of the Apes. I could have watched them for hours.
But it was time to move on. And I am so glad we did!
The Great Rift Valley
Our accommodations this evening were spectacular. The Kilamomojo Lodge overlooks the Great Rift Valley and is pure five star luxury.
We each had our own villa complete with fireplace, soaker tub, indoor and outdoor showers and the most magnificent balcony view we've ever seen.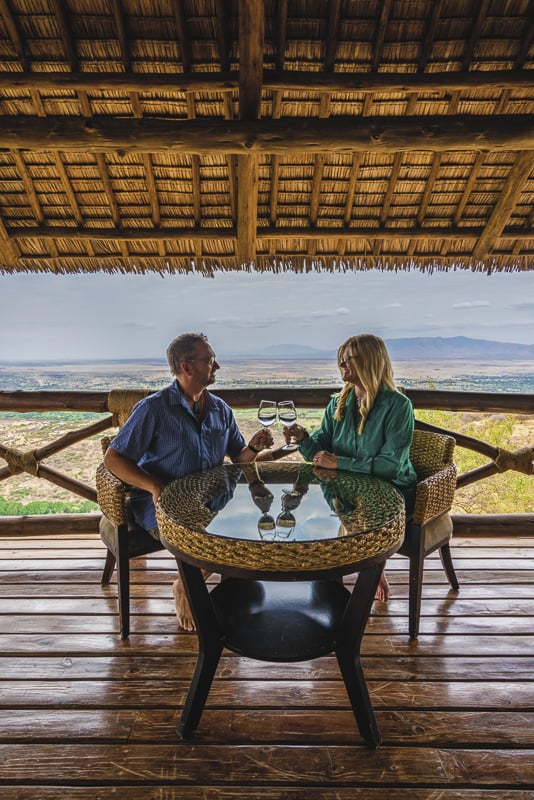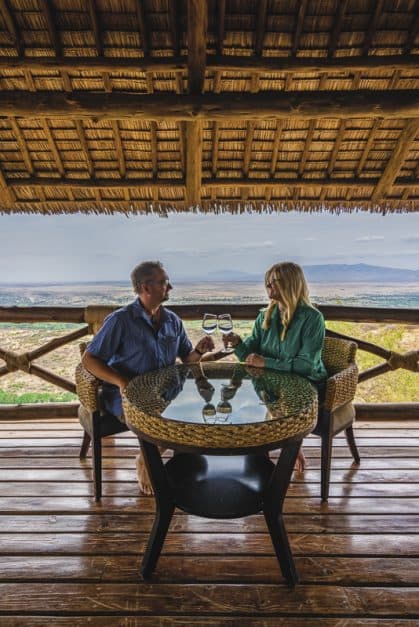 Go Ahead Tours arranged another evening of mixing and mingling where we met by the infinity pool stretching out to the valley. The decadent evening consisted of cocktails and canopés as we got to know our fellow travellers.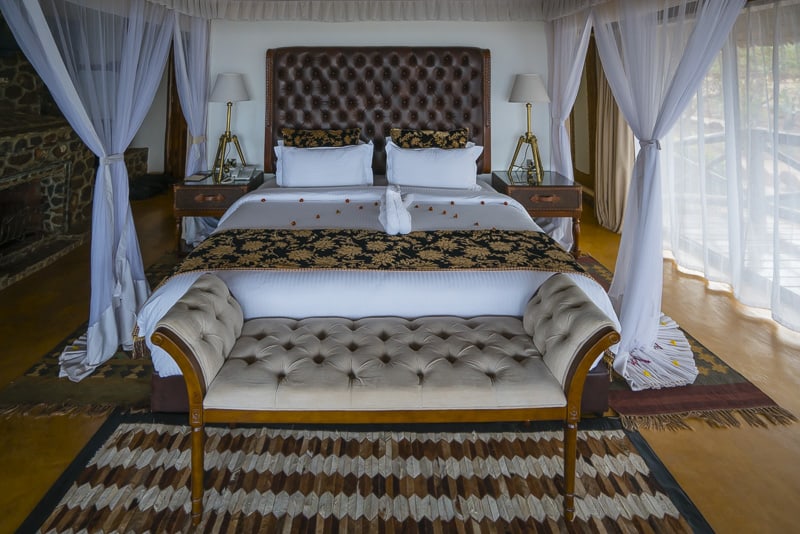 If there is one way to see Africa, this is it!
Dinner was served in the elegant dining room and we all hit is off so much, everyone split up from their usual couples and got to know one another at separate tables.
The main lodge is definitely inviting and if Dave and I didn't have downloading to do, we would have certainly retired to the bar for a cocktail or two.
Something that set Kilamamojo Lodge apart from others was the in room wifi. We didn't have to sit in the lounge to send emails or Instagrams, we could do it from the comfort of our cozy beds!
Olduvai Gorge
We took a short break from wildlife on our way to the Serengeti where we stopped at Uldapai Gorge to learn of the Hominid discovery by Louis and Mary Leaky that provided insight into human evolution. The location is said to be the cradle of mankind dating back 1.9 million years!
It's an interesting stop and extraordinary view.
Iraqw Village Visit
The best cultural experience we had on our Tanzania Safari was by far the Iraqw Village.
The chief and his family greeted us with smiling faces and a huge plate of local cuisine. From what I understand, the Iraqw tribe eats a mostly vegetarian diet consisting of most things that they grow themselves. The plate of seasoned beans was my kind of meal!
This truly felt like a genuine welcome.
Dave and I have done a lot of independent travel and taken many organized tours. We have seen genuine welcomes while backpacking on our own and we've seen the manufactured welcomes that come with being on some tours. This visit was genuine and heartfelt.
We sang songs, learned some of their language and even danced along to the lively music.
After dressing in their traditional sarongs and head dresses, we were given the above board opportunity to buy them. No bartering or games, just a $10 flat rate for one of our most memorable souvenirs!
We thought the tour was over, but after leaving the main house, we took a stroll to the village where the local drummers and dancers performed for us while encouraging us all to join in.
I loved that it was the men who danced and the women on the drums. This tribe is progressive!
Serengeti – The Ultimate Safari in Tanzania
The following day was an exciting day as we entered the star attraction of any Tanzania Safari, the Serengeti.
This is the ultimate safari destination and Dave and I were finally living a dream we've had for more than two decades!
The energy changed when we entered the Serengeti geographical region. We knew we had entered someplace special.
The Seregeti spans 30,000 km2 (12,000 sq mi) and is filled with wildlife going about their business.
The drive was long once we entered the reserve and we were all treated to a free African massage! (It's a euphamism for the bumpy roads)
We stopped at a Masai Village to learn of their culture and way of life. I think the Masai's have organized perfectly in Tanzania. They have harnessed the power of tourism and take advantage of the funds coming in regularly.
It's wasn't exactly the special experience we had hoped for as I believe they have been catering to tourists for so long, it almost seemed blase to them. But for first timers to Africa, I am sure this was an unusual one-of-a-kind experience.
Word of Caution: You will be pressured to buy arts and crafts. You don't have to accept their first offers as prices start very high. Instead barter a bit. Some people in our group didn't barter at all, but we simply said to them "if you were happy with your purchase and what you paid, that's all that matters." You don't need to be a stickler and go cheap, but you can talk the Masai's down a bit. They are good business men.
Soon we entered the Serengeti where we immediately saw lions sitting on rocks and cheetahs lounging in the long grass.
We spied Lion King Rock and could imagine Simba standing on top overlooking the Serengeti plains roaring to the tune of The Circle of Life.
This was our longest stay at a hotel for three nights. The Serengeti Sopa Lodge is that old school safari hotel that one thinks of from the seventies. It's good, it's colourful and it's very friendly.
Our room overlooked the Serengeti and between game drives we could sit outside watching for wildlife.
Spending three days in the Serengeti let us see everything we could ever imagine on a safari.
We saw leopards climbing trees, leopards walking, leopards laying in trees and a leopard eating its recent kill.
We saw three male lions being stalked by elephants and a female protecting her cubs from said elephants.
But the cutest moment came when we saw a lion posse of 22 cubs with a female (according to George three other females would be close by) playing and pouncing as they followed their leader.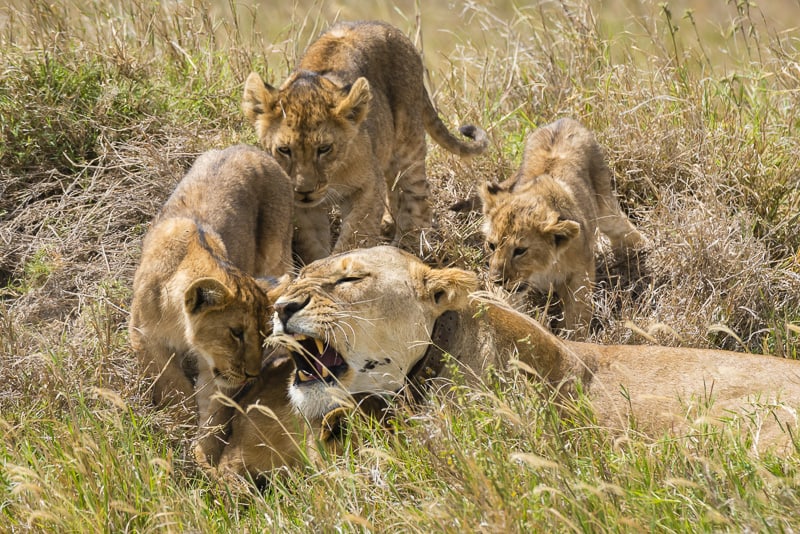 Lunches
Go Ahead did it again and surprised us with a picnic lunch complete with beer and wine on the Serengeti. Many of our lunches were outside in designated eating areas.
We sat overlooking a watering hole watching elephants pass by in Tarangire National Park, we bought fresh coffee on the Serengeti from the local touring barrista and we dined in our trucks overlooking the lake in the Ngorngoro Crater. It's moments like these that make things as simple as dining a memorable experience.
Speaking of the Ngorongoro Crater…
Our final safari took place on the Ngorongoro Crater: the largest unbroken and un flooded caldera in the world!
I had visions of a little utopia when dreaming of the Ngorongoro Crater and it lived up to my fantasies.
Thousands of zebras, wildebeest, buffalo and elephants live in harmony within this 8,292 square kilometers of protected area. It seemed almost like a painting when we stopped to watch animals grazing within the Acacia and Baobab trees.
The Ngorongoro Crater is unique in its beauty. After the Serengeti, the wildlife experiences aren't quite as awe-inspiring, but viewing the scenery and way the animals live together is a beautiful experience.
It was a pleasant way to end the safari as we had no stress of needing to spot a male lion or a leopard in a tree. We saw everything we needed (save for the mighty rhino) and could relax and take in the experience of the magnificent NgoroNgoro Crater.
Taking a Go Ahead Safari was everything we ever dreamed of.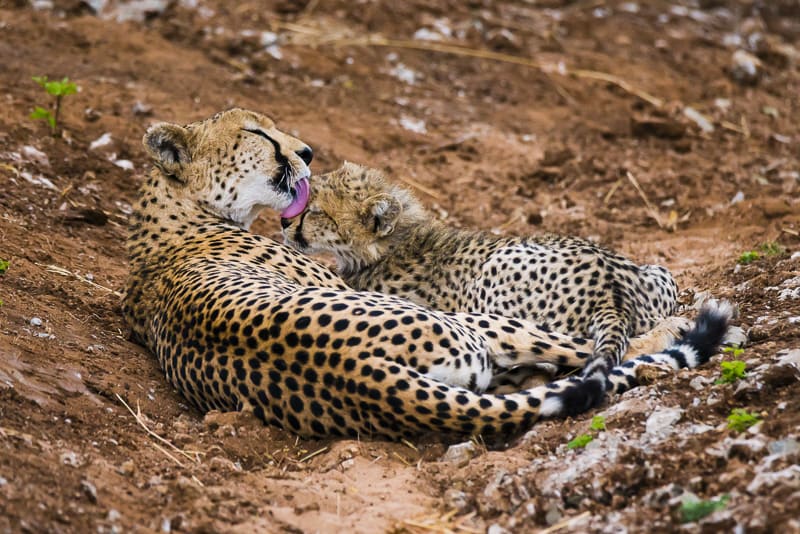 We have always wanted to stay in tented camps on safari and we did that! We have always wanted a luxurious villa to ourselves on safari, and we got that!
We made new friends and saw a tremendous amount of wildlife.
The trucks were spacious and comfortable, the guides were outstanding and went above and beyond.
I didn't know that we could buy coffee on the Serengeti and since I knew we were only going on safari I didn't bring my wallet. Our tour leader Tim bought us a coffee without hesitation. They helped us with our local sim cards and took care of every need.
They listened to our cheers of delight when we spotted a lion on the prowl and put up with our demands to stop and start and stop and start while trying to get the perfect shot. I don't know how they have the patience, but they go through gruelling long and hot days for 10 days with a big smile on their faces.
As I said to Tim, George and Benson – "Guides change lives. They may not remember us once the trip is over but we will always remember their names and the special moments they helped us achieve on the African savanna."
There are so many memorable moments. An African safari truly does create memories to last a lifetime.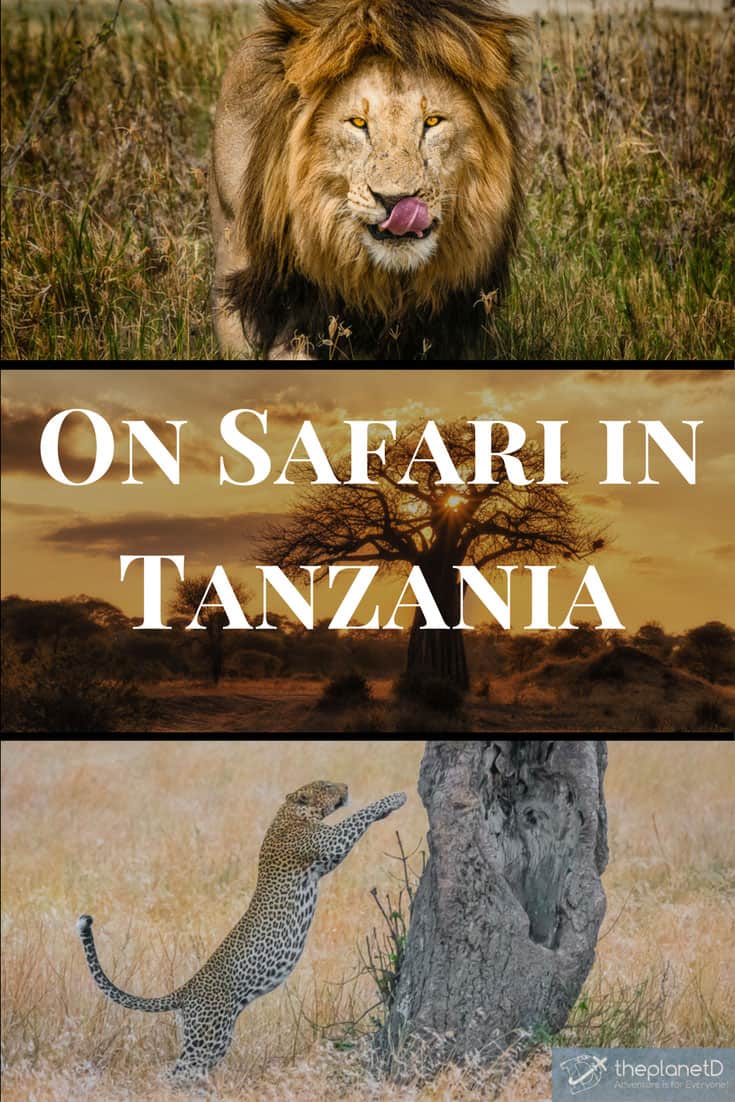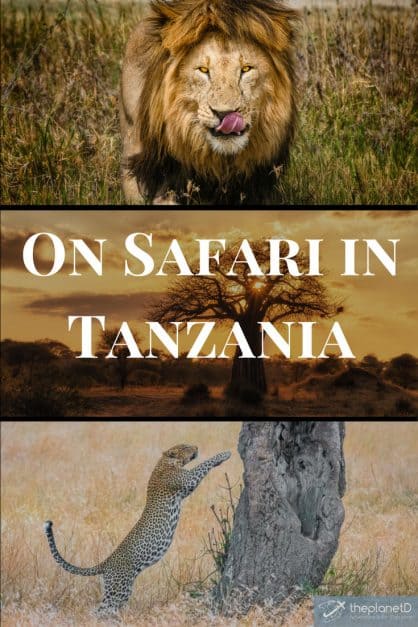 Our trip to Africa is in partnership with Go Ahead Tours, visit their website for more information on Tanzania Safaris.
---
Read More:
How Hard is it to Climb Mount Kilimanjaro