It's the quintessential Canadian adventure, dog sledding in the Rocky Mountains of the Canadian North. If you go to Banff National Park in winter, you must add this to your to do list of winter activities.
We met our team of Alaskan huskies waiting not-so-patiently in the parking lot of the Great Divide trail leading deep into the heart of the Rocky Mountains. Their energetic barks alerted everyone that they were raring to go and couldn't wait to be let off their chains and left to run freely into the wilderness.
Check it out! The Video of Dog Sledding in Banff NP
KingMik Dogsled Tours is not only the best place to go dog sledding in Banff National Park they are also the only dogsled outfitters allowed in the park and they put on a great adventure.
We've gone dogsledding before with pure Siberian Huskies and they are the more beautiful dogs of the breed, but they are smaller than the mixed breeds of Alaskan Huskies. Alaskan Huskies were bred to run and when they took off from the starting line, they went with a vengeance.
Dogsledding Banff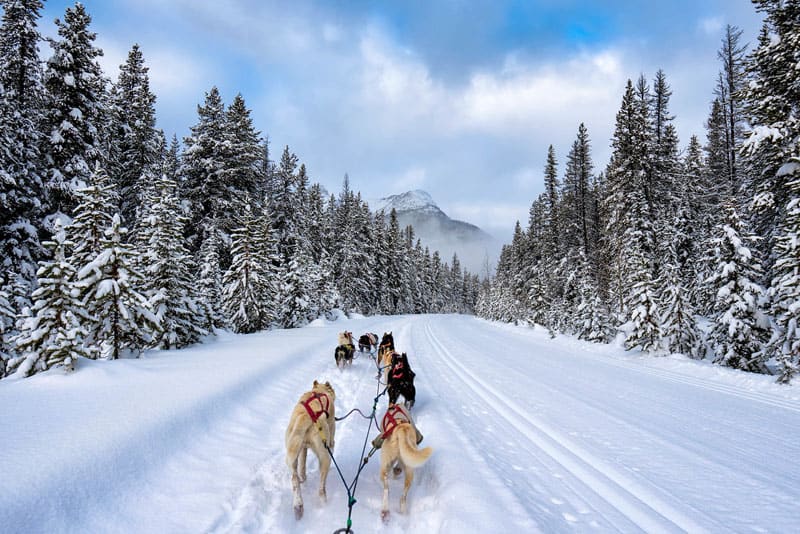 Before setting out, Dave and I met our musher Kylie from Australia. It seems nearly everyone that works in Banff, Lake Louise is from the Land Down Under. They already know what most Canadians still need to find out. Banff is perfection.
I don't know if there is a better place in Canada for beauty, adventure, and outdoor activities. It's attracting people from halfway around the world to live and work here and more and more Canadians are finally catching on!
Not sure about Dog Sledding? Read our article, The Misconceptions of Dog Sledding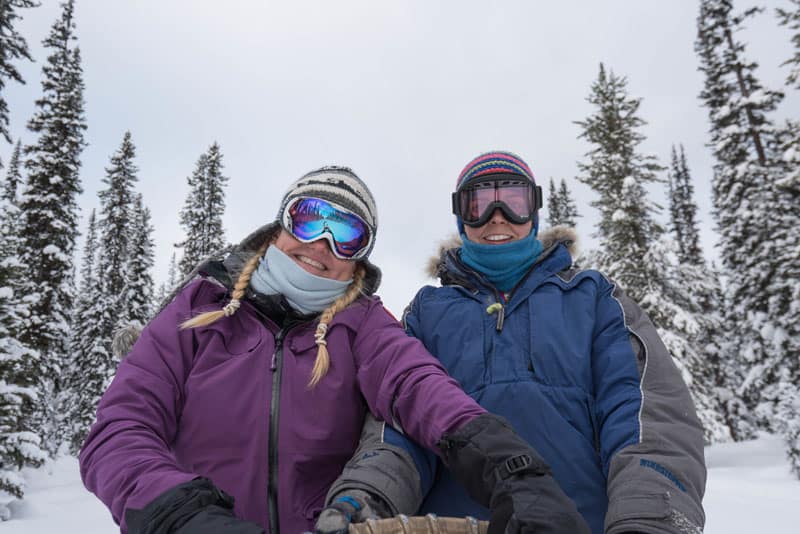 Kylie has been with KingMik for years and looks after the dogs in the off season, so she knew a lot about our team of eight. Two of the dogs – Lexi and Hamish are on the racing team and were out with us for what is an easy training run for them at the anchor position right in front of the sled.  The rest – Snapper, Tuzu, Ginger, and Blackie were following our two strong lead dogs Two Step and Bronte.
This made our list! See what else made it on our Most Unforgettable Things to do in Banff.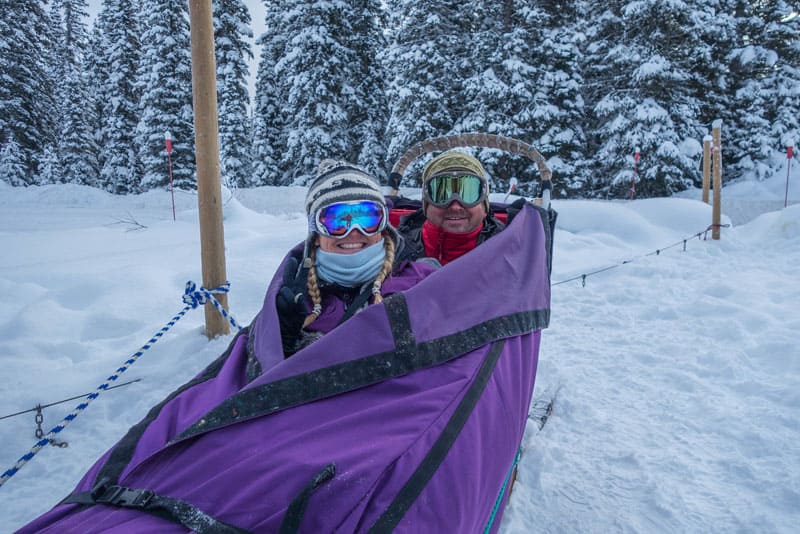 Wrapped in a cozy and thick sleeping, Dave and I spent the first half of the 16km tour relaxing inside the cocoon snuggled up in the windproof sled. We were toasty warm as Kylie drove the dogs through the fresh snow telling us about the personalities of each dog.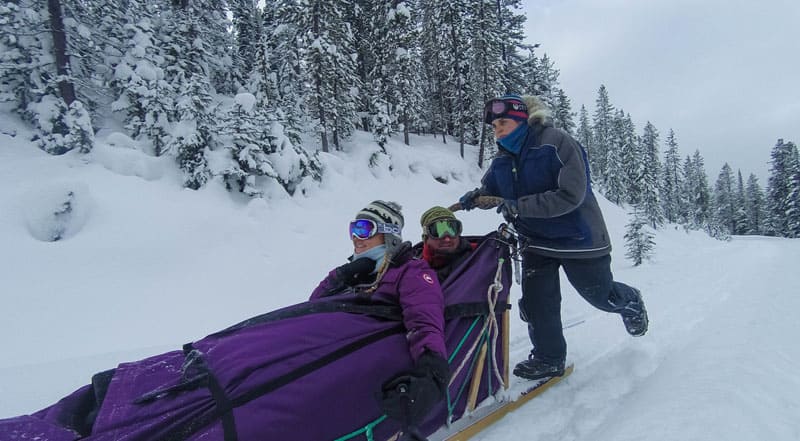 Some were young and new to the game while others were old vets that refuse to go into retirement. Whenever Kylie stopped the sled to look at lynx or porcupine tracks, the dogs looked back in frustration wondering why she put on the break. "Doesn't she know by now that all they want to do is run?"
Traveling to Banff? Check out Ottsworld's post on What to do in Ski Town if you Don't Ski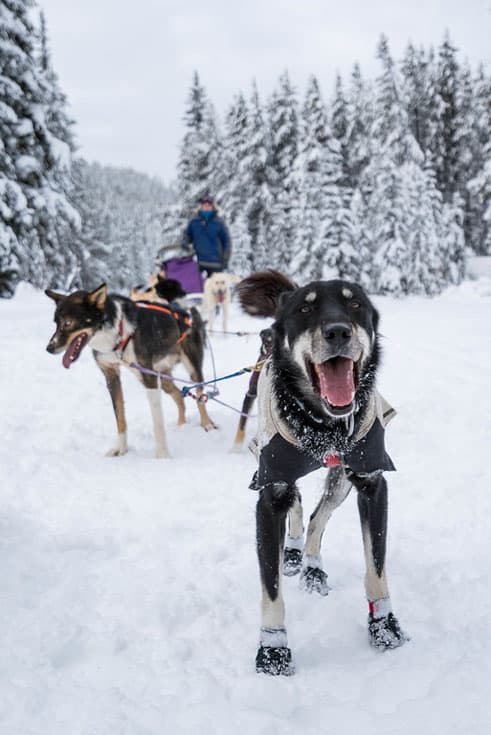 The Great Divide
The Rocky Mountain scenery is one of the most spectacular locations on earth and out here in the Great Divide, you get to see it in all its beauty. The Great Divide Trail from Banff was part of the original Trans Canada Highway which must have been a hair raising experience for driving crossing Canada. There are twists and narrow turns on going through a high mountain trail.
It is also the spot in the Rocky Mountains where the East meets the West. It's the pinnacle of the Rocky Mountain Range where the water drains on one side towards the West and on the other towards the East. We've been lucky enough to trek now to two of these interesting watershed locations.
The first time we were out in the winter witnessing the change in waterflow was when we trekked 100km to the Arctic Watershed in Northern Ontario. It was there that we reached the spot where the water stopped flowing south to the Atlantic Ocean and instead began it's flow North to the Arctic Ocean.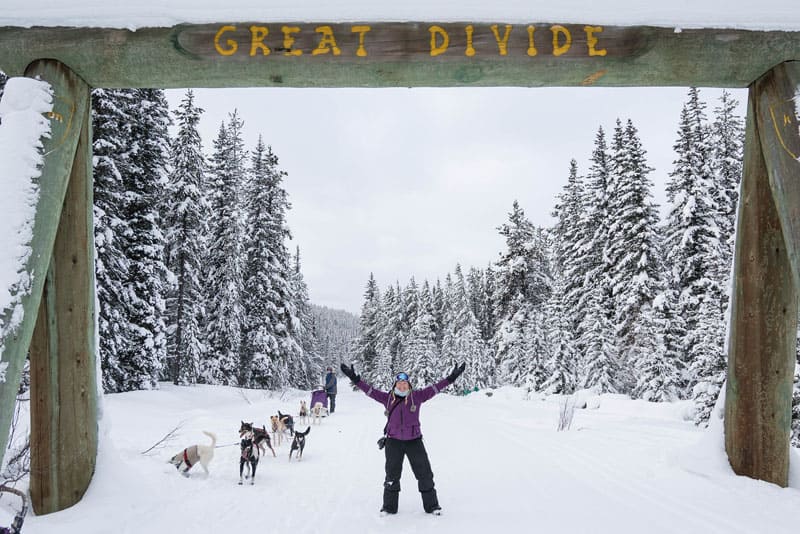 I am always in awe of spots like this. It seems like a sacred place. It is here that is the water source and from this point is where water spreads to all living things, north, south, east and west.
British Columbia Too! 
It's also a spot where we briefly crossed into the province of British Columbia. If you have never been to Canada before, this is your chance to tick two provinces off the list in one trip! We were there for just a short time but it was pretty cool to cross into BC in what feels like the middle of nowhere.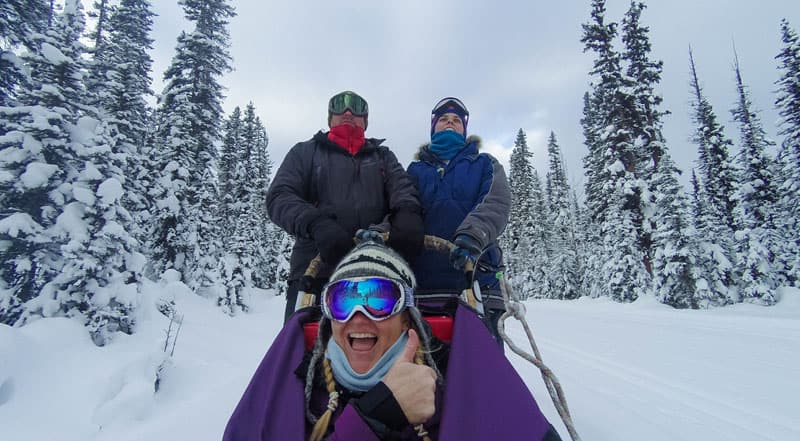 Read: Dog Sledding Ontario – Your Ticket to Adventure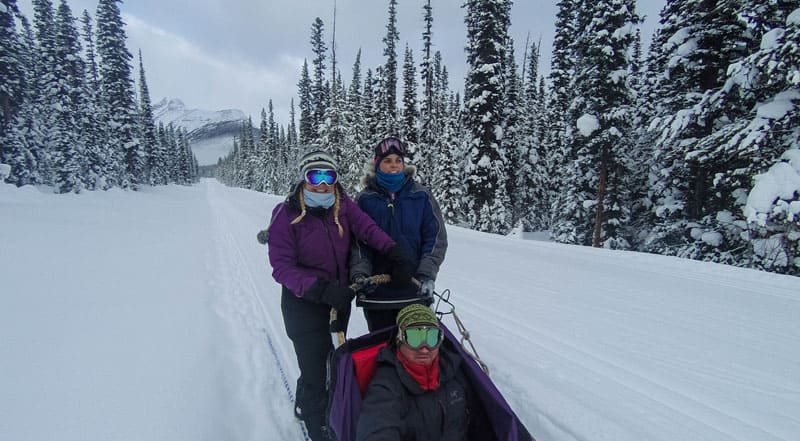 Rest Break
After a brief rest for the dogs, we turned around and it was on the way back that Dave and I had the chance to join Kylie and help mush the dogs. They didn't need a lot of encouragement though, they still had tons of energy, so all we had to do was hang on and enjoy the ride.
The views back were even better than the views heading out and we saw the massive rocky peaks of Banff National Park welcoming us home.
At the end of our trip, we rewarded the dogs for a job well done with a big piece of frozen chicken. They each caught it like a tennis ball and devoured it with delight as we gave them big hugs and pats for working so hard for us today.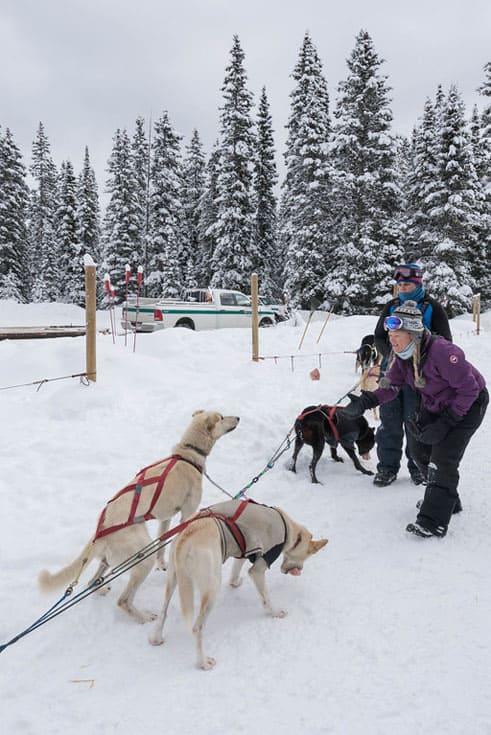 They take turns running so after their tour, they get to relax in their kennels while the next set of dogs goes out with the next group. I never knew how much these dogs love their kennels until we went dogsledding with WinterDance and saw the excitement in their eyes when they saw the trucks.
Need a place to stay in Alberta? Check out our 8 Choices for the top Banff/Lake Louise Hotels
These dogs were the same. For now, their bellies were full of chicken, water and chow. They got a good dose of loving from the mushers and guests and it was time for a nap in their cozy kennel. Ah, it's a dogs life.
Thinking of doing Winter Travel? Learn from our 8 Tips for Safe and Comfortable Winter Trekking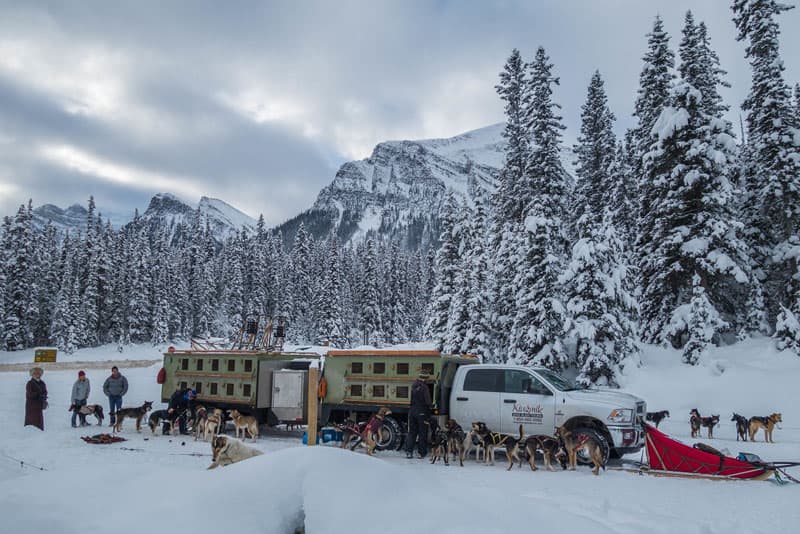 For more information on Dog Sledding in Banff visit KingMik Dogsled Tours. For more information on what to do in Banff, visit Banff Lake Louise Tourism for information and accommodation.
While dog sledding at KingMik, we stayed at: Storm Mountain Lodge
Tip to Know for Dog Sledding in Banff:
Bring Goggles instead of sunglasses (or both) your face will stay warmer and you're goggles won't fog up.
Wear mittens, a dicky or neck warmer, and warm hat as well as winter coat and waterproof pants. (even though you are wrapped up you do need to get out of the sled once in a while.
Have good winter boots or you won't be able to drive the sled.
Hand and toe warmers are a good idea as you aren't doing a lot of physical activity so your extremities will get a bit cold.
Give the dogs a lot of love. The more you give, the more you get!
For more information on winter travel read our 5 Winter Layering Tips for Winter Travel
---
Read More
19 Photos that will make you want to Discover Banff Canada Right Now
Things to Do in Banff – 10 of the Most Unforgettable Winter Activies
SaveSave