Tomorrow, the legendary dog sled race known as the Yukon Quest begins. 18 dog mushers from around the world will be taking part in a 1000 mile race from Alaska to Whitehorse.
Hank DeBruin of Haliburton Ontario will be one of those racers and we had the opportunity to go out with Hank and his racing team for a Yukon Quest training run in Up North before he left.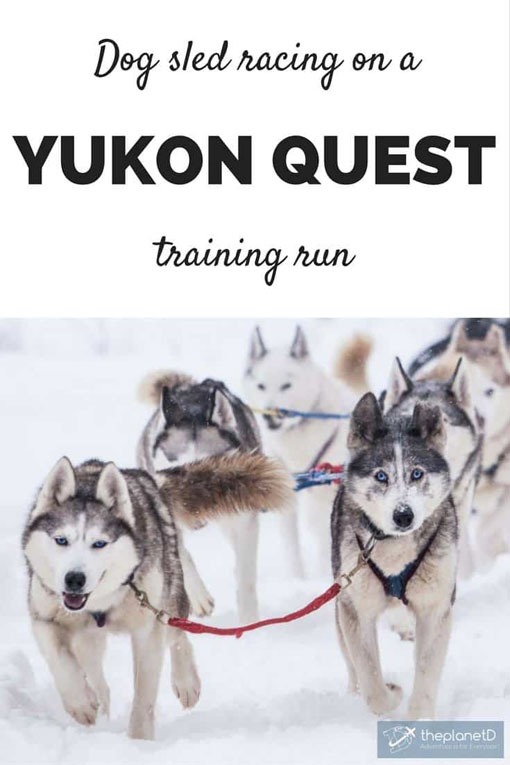 Yukon Quest Training
We spent a week up North getting to know Hank and his wife Tanya and took part in some training runs ourselves before joining him on our final evening up North.
We visited their kennels one day, took a half day dog sledding tour the next and then went back again to participate in a full day tour.
Each day we learned something more about dog sledding and about life as a musher.
We practiced our braking and steering and hopefully gained enough skill to keep up with Hank during his final training run before his race season begins. Needless to say, we did not want to disrupt his training so we worked hard and listened to our instructions.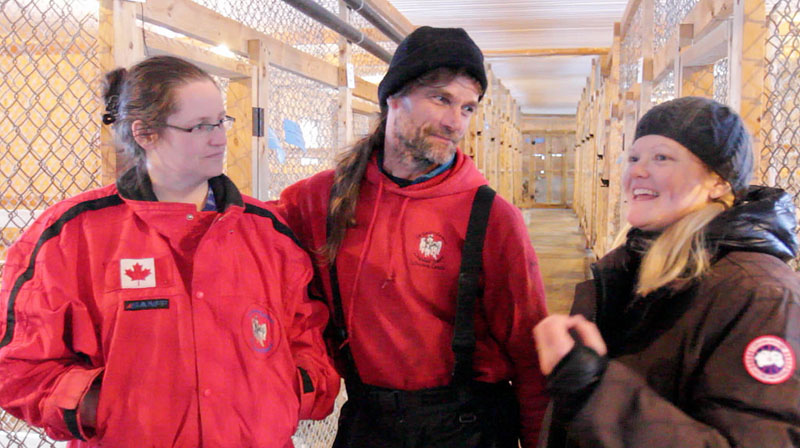 We met at the kennels at 1:30 pm to get the sled dogs ready for the night. Tonight we'd be out on the trail for about 12 hours doing a 30 to 40 mile run depending on snow and trail conditions. We were excited and anxious all at once.
This was the first time he ever allowed anyone outside family to go out on a run with him, and his race dogs and we weren't about to get in his way.
Getting Prepared
Hank was attacked by a moose a week earlier and was nervous having us along. If you didn't know, moose are one of the most dangerous animals in the Canadian wilderness. Moose are huge and can be very aggressive.
Another worry is they see dogs as predators. Being out on the trail with dogs is a very real danger and a moose won't hesitate to attack if you come into their territory.
Hank was knocked right off his sled and nearly trampled a week earlier, but he managed to scare the moose off. Since we were coming along, he decided not to take any chances and had a snowmobile ride ahead of us on the trail to hopefully scare them away.
We were grateful for the extra company and want to thank his staff for acting as bait!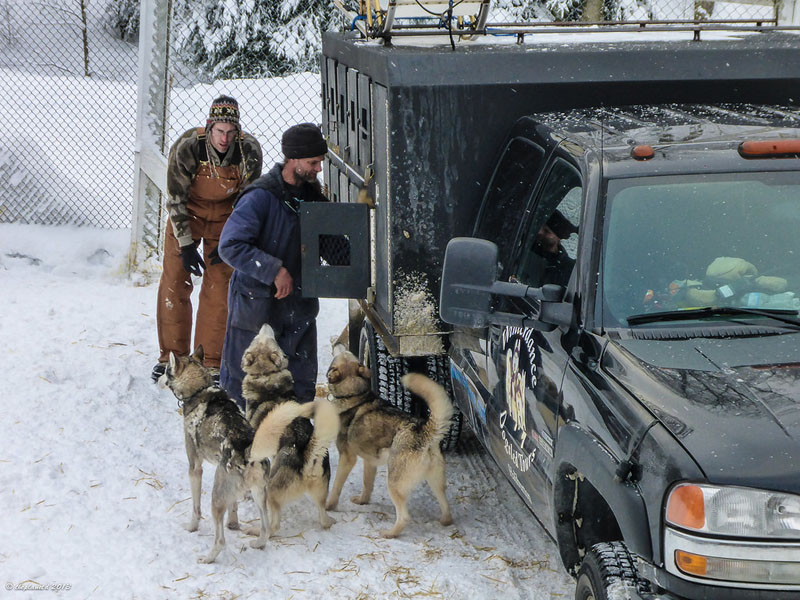 Once the dogs were loaded in to the truck, we made our way to the trailhead to start our evening ride.
We took off at about 4:30 pm following Hank and his team. Dave and I were sharing a sled with eight dogs following his team of eleven.
Read: Wild Yukon: Falling in Love with the Rugged and Remote
And We're Off!
It was incredible to feel the difference of the touring dogs compared to the racing sled dogs. The day-tour dogs need a lot of help going up hills and they trot along on the trail. The racing dogs are an entirely different story.
They took off in a near sprint and kept on running.
During our past few days of riding, we spent a lot of time pushing the sleds up hill and walking alongside until the dogs got on level ground. With the racing sled dogs, we barely had to push off.
They could run faster than we could and if we happened to slip off the sled, we'd have a hard time keeping up. All we could do was hold on and try not to hit anything.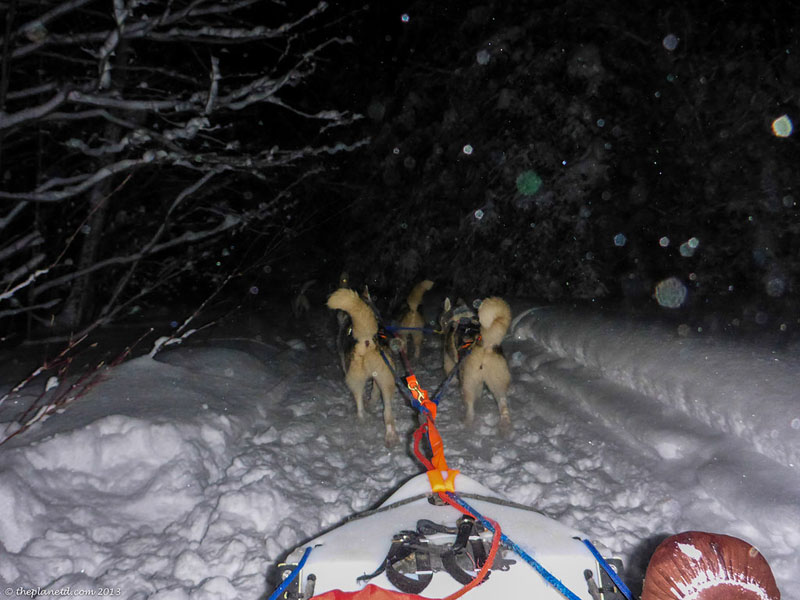 It was a challenge to control at times. The dogs would round a bend and we'd have to hit the brakes or else we'd go flying into a snowbank.
As the night went on, we learned little nuances like, we had to brake slightly going into the corner, but then ease off coming out so that our sled would ricochet out of the bend.
When we didn't do that, we ended up going right into a snow bank.
The thing was, these dogs didn't stop even when we went into a snowbank! They just kept on running dragging us along. If we let go of the sled, we'd be left in the dust.
So whenever we ploughed into something, we held on and tried to stay on board.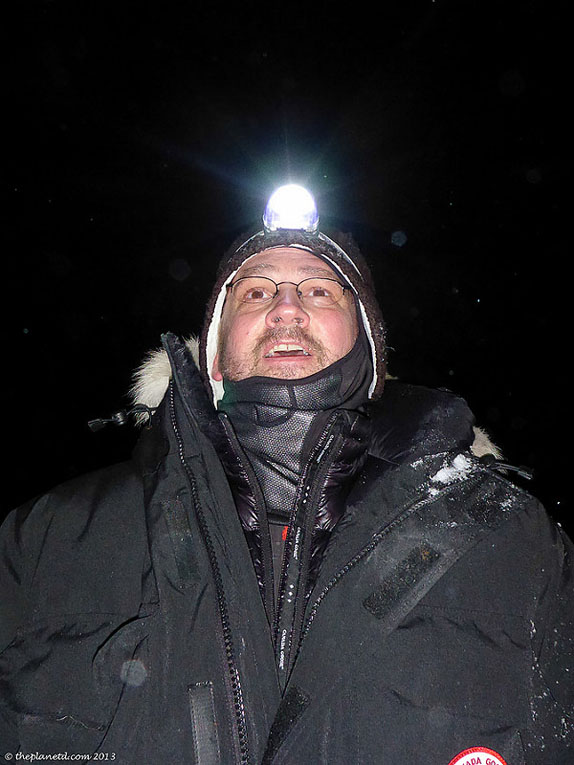 I can't tell you how many times Dave and I fell off as we took turns steering.
We'd fall off the metal rungs that our feet stood on, but never let go of the handlebars.
For the person sitting in the sled, all you'd hear was some cursing and grunting. You'd never notice that anyone fell off or was struggling because the sled just kept moving along. All we could do was ask each other "Are you still there?"
Whenever we lost our balance, we'd be dragged along for a few meters before managing to crawl back on board. If only someone had a camera following us, they'd have a good laugh.
Read: Snowmobile Quebec: 1000 km From Wandake to Cree Nation
Moose Tracks Ahead
When we entered deeper into the forest, we saw the moose tracks.
That's when things started to get serious. Hank and his team slowed down and he told us to stay close while the snowmobile stayed where we could see it's lights ahead.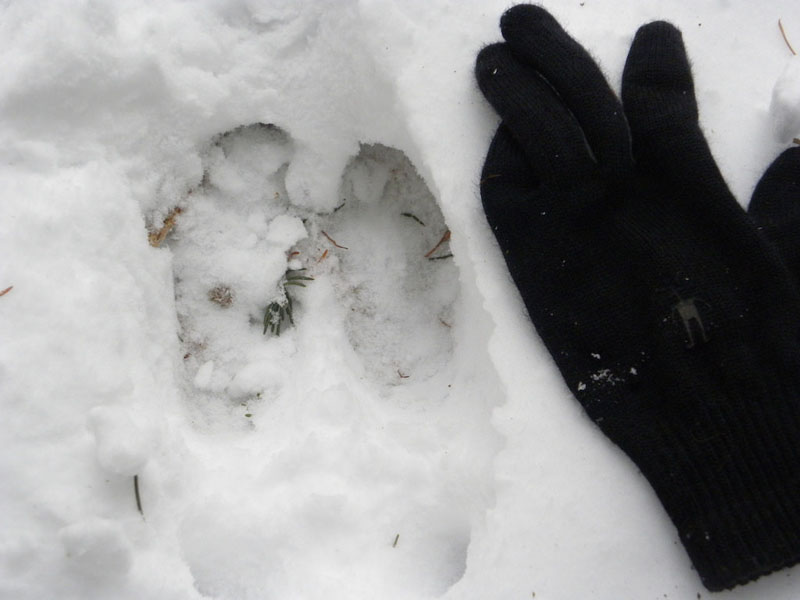 The moose tracks led for several kilometers along the trail zig-zagging their way in and out of the tracks. They were very fresh, and we were very nervous.
While we saw the tracks we felt ok because we knew it was somewhere ahead, but when they disappeared into the bush we started to worry that it would run out and charge at us at any moment.
Read: Walking with Polar Bears – The Greatest Arctic Safari
As we travelled through the silent and dark evening, I wondered how on earth Hank and other dog mushers do it?
Forget about all the wild animals out there, I can't imagine being alone in the wilderness with nobody around for miles. Even with Dave in the same sled and Hank and two other guys ahead on their snowmachines, my mind played tricks on me.
I could see shadows in the woods and wondered how I would fare alone in the night with just me and my dogs?
Now imagine doing this run in a sled dog race like the Yukon Quest or Iditarod for 12 to 14 days straight with very little sleep.
As Hank said, "sleep deprivation is the best drug." Your mind starts to see things that aren't there and you really do hallucinate.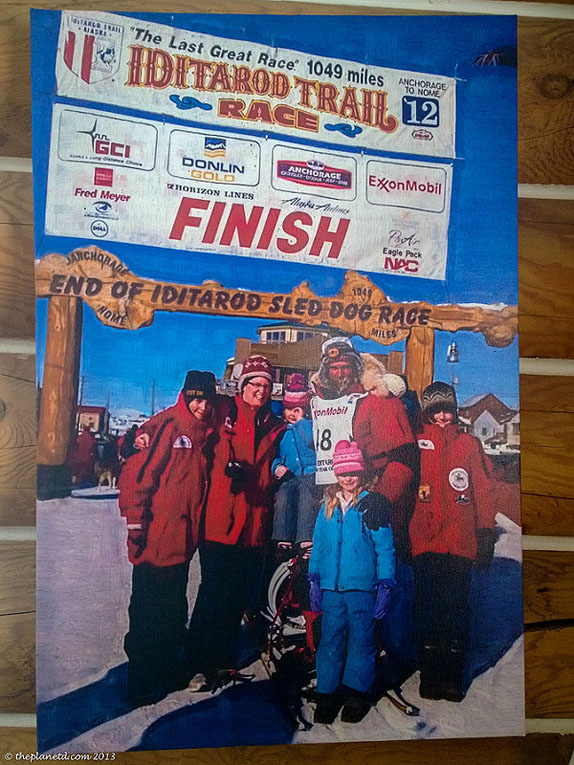 We never got to that point this evening. We only had one night to deal with no sleep. At around 11:00 pm, we stopped on the trail to give the dogs a rest. Tonight they'd be sleeping for 3 hours.
Read: A Spectacular Helicopter Tour with Exclusive Snowshoeing in the Rockies
Time for a Rest
We laid out straw for them to make a little nest with and then Hank began to prepare their food. These dogs eat well, and they are taken care of and fed first. They start off their meal with salmon.
When you are a finely tuned athlete you need nutrients, and salmon is high in nutrients but also water for hydration.
Once they have that quick snack, they are content to settle in on their straw while Hank prepares their dinner. He melts snow in a pot for both him and the dogs. Once enough water is boiled, he pours it into another pot mixed with raw meat and kibble.
The pot filled with snow never has anything else in it but water as he uses it for both him and the dogs. All their food goes in with the boiled water because it is the best way to hydrate the sled dogs, and they are all fed at once.
It's a frenzy as they gobble up their meals, but once they have eaten, they take a break and go to sleep. It was now our time to get to know each other.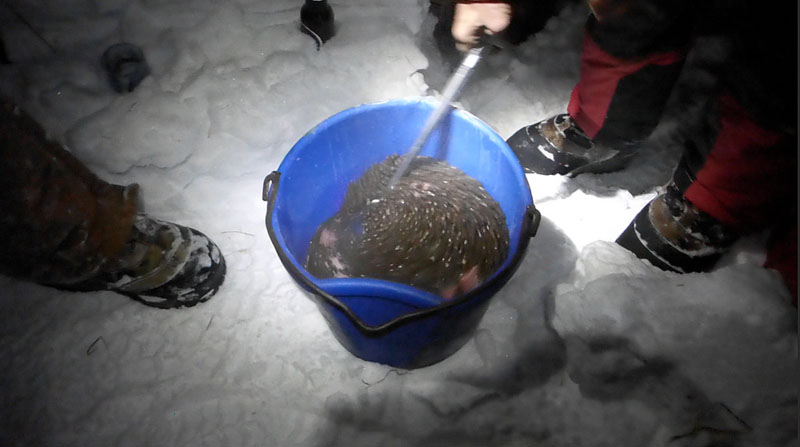 Hank's brother-in-law, Ward, was with us on the snowmobile ahead and hung out with us during our three hour break outside. We could have listened to the two of them talk about their sled dog racing stories for hours.
He and Hank have finished both a Yukon Quest and an Iditarod together. Less than one thousand people in the entire world have achieved such a thing.
Ward is his support team during all his races. He meets Hank at check points when he comes in during the race and keeps things organized.
Tanya told us that if Ward is late to a checkpoint when Hank arrives, the team will be disqualified. It's a tough and very important job that takes tons of planning before they even get to Alaska.
Read: Discover Canada: 36 Amazing Adventures from Coast to Coast
Learning about sled dog racing
When we arrived at Hank and Tanya's place, they were busy putting drop bags together to be shipped out West for the Quest.
Each bag is meticulously packed with everything they'll need to continue on their journey from hand warmers (as Hank says, if your hands are frozen, you can't take care of your dogs) to food, and extra socks to dog booties.
Everything is thought out ahead of time and if anything is left behind, there's no fixing it. The bags are sealed and waiting for him when he arrives.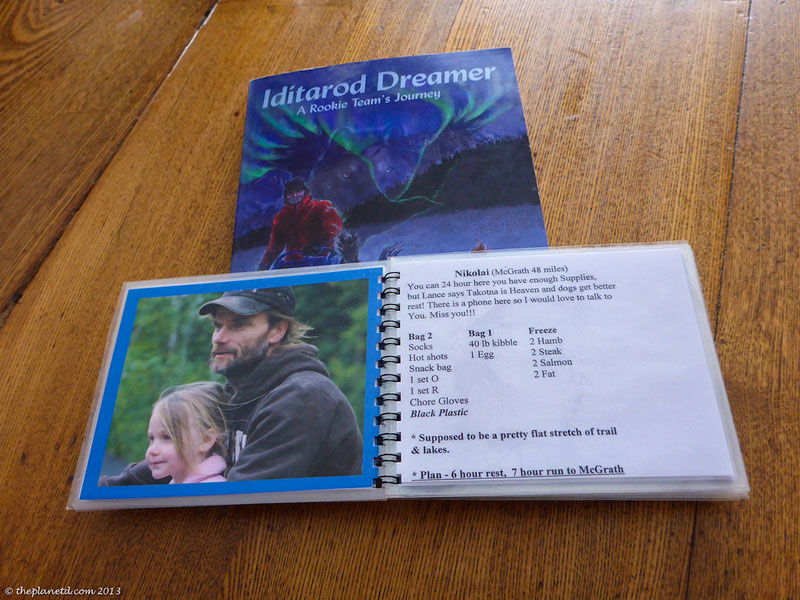 They've been doing this for several years, but they say that it has taken them a long time to get organized. Tanya developed a little booklet for Hank to check off what he needs for each day at each checkpoint.
It's brilliant and it comes in handy when the musher is working on one or two hours of sleep, is frozen solid and hallucinating to the point that he believes he's sledding through towns that don't even exist.
(I don't know about you, but I have heard of Native Aboriginals using sweat tents and sleep deprivation to speak to the other side, so maybe these dog mushers have been there a time or two themselves?)
We learned all about what it takes to compete in a dog sled race like the Yukon Quest, and as we listened to them talk we concluded that it takes heart, guts and a love for the dogs. And a little insanity too. When you are out there alone in the far North, there is nothing to keep you safe except your trust in your dogs and their trust in you.
Unlike the movies and rumours, mushers don't whip or beat their dogs to get them to run. It's amazing to see first hand how strong the bond is between them.
When running, all you had to say to them is "ahead." You can say it as if you are talking to a person sitting across from you at the dinner table.
Whenever we stopped and started up again, we calmly said the words "ahead Blackie" and off they went. It was incredible.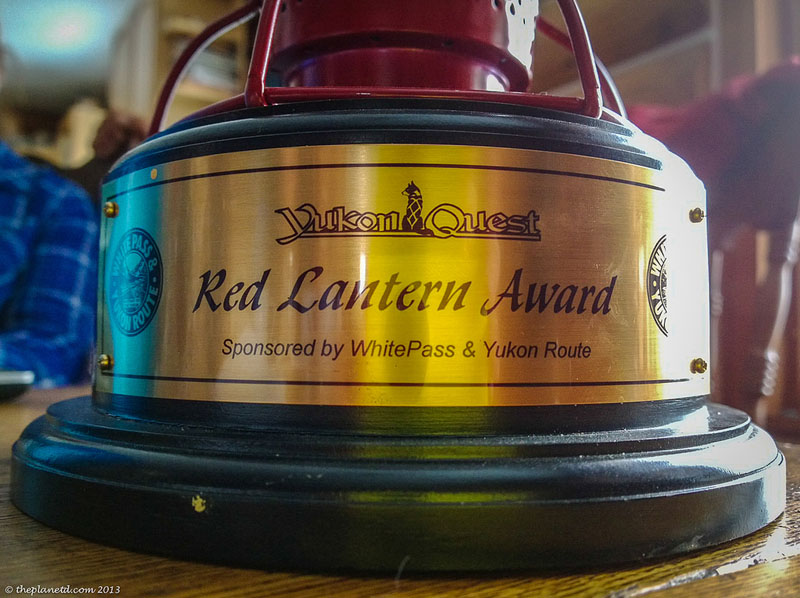 During the Yukon Quest, there are veterinarians keeping a close eye on all competitors, and there are strict rules to follow. Not just anyone can enter these races. You need qualify and have a team of dogs that you have trained with and bonded with over time.
Hank told us that the Yukon Quest isn't like the Iditarod. These days, millionaires are competing in the Iditarod as a bucket list item.
It's become the Mount Everest of dog sledding and sadly, there are people entering who are not qualified and don't have the best interest of the dogs at heart. The simply have a lot of money and it's hurting the sport of sled dog racing.
Read: 19 Photos That Will Make You Want to Discover Banff, Canada Right Now
The Real Deal
When you meet real dog mushers like Hank, you see that it is in their blood. They aren't doing it as a bucket list item nor are they doing it for fame and glory; they compete because they love it.
They love the solitude and appreciate the beauty of the wilderness. To hear Hank praise the night sky or re-live his moment watching the Northern Lights dance in the Yukon, you feel his intense love for the outdoors.
He was made for this and we were honoured to have the chance to experience it for a night.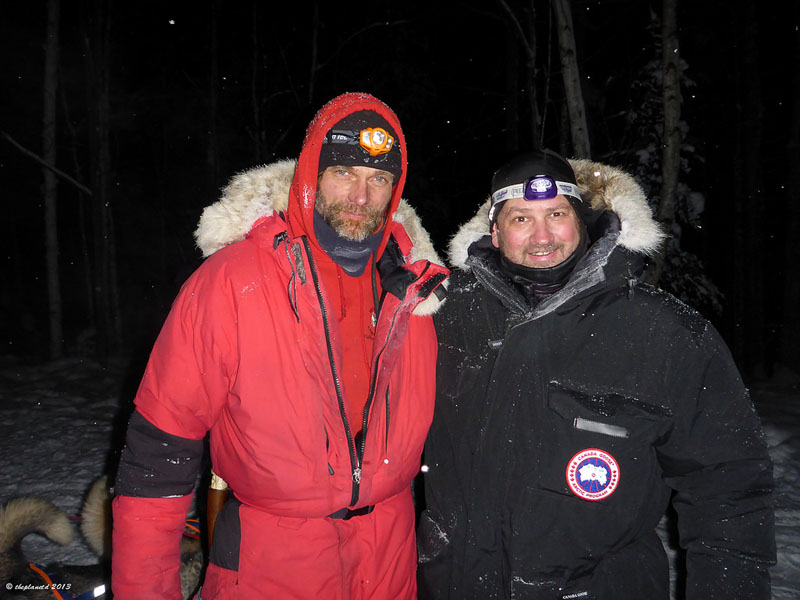 We finished at 4:30 am and felt elated. It was amazing how quickly the night went.
Our three-hour break flew by, and the rest of the evening was a blur. Dave and I continued to take turns driving and we continued to hold on for dear life. We had an absolute blast and in the end, we could understand what makes people do this.
It's like no experience we've ever had and it's a night we'll never forget.
Best of luck to Hank and Winterdance in this year's Yukon Quest happening right now! Make sure to follow along as they share updates on Facebook. Support the Winterdance race team by becoming a donor and check out the Yukon Quest Website for more details.
Read More
The Misconceptions of Dogsledding
Oh Canada, We're Back in the Adventure Saddle with Epic Winter Travels