It's a bikers paradise. The Lake Superior Circle Tour is one of those epic rides that you always hear about.
People dream of circumnavigating the world's largest fresh water lake and travel from all around to give it a go.
Crossing through three US states Michigan, Wisconsin & Minnesota) and  a huge portion of northern Ontario, driving around Lake Superior offers an array of activities, sights and a diverse landscapes to look upon in awe.
The Lake Superior Circle Tour
We spent 7-days riding around Lake Superior on our Honda Motorcycles and couldn't believe how much the landscape changed before our eyes.
Some people decide to do the Lake Superior circle tour in 5-days.
They are the die-hard motorcyclists that are constantly in search of the epic challenge of sitting on the seat for as long as they can.
They call this the Iron Butt route. We aren't those people.
And while we added a couple of extra days, we feel that to truly appreciate the beauty and sights of Lake Superior one should plan on two weeks to circumnavigate this natural wonder of the world.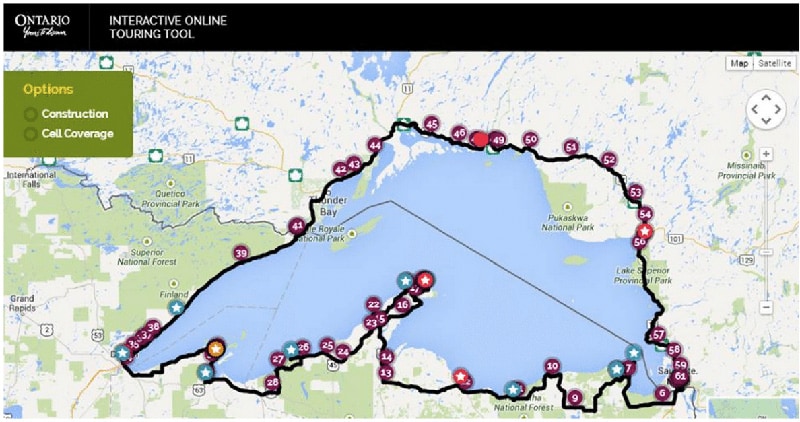 Why do you ask? Because there is just so darn much to see and do!
Here's a guide to all the sights to see on the Lake Superior Circle Tour to help you plan your next epic motorcycle ride.
Your Travel Guide to the Lake Superior Circle Tour
Sault Ste Marie
We started our tour in Sault Ste Marie in Canada and worked our way clockwise around the Lake. Here's what we saw.
Canadian Bushplane Heritage Centre
The Canadian Bushplane Heritage Centre is definitely the highlight of the city with a collection of vintage planes located in a giant hanger. It traces the history of Ontario.
After all, our North relied on air transit to get around. The North was basically built by using bush planes.
There's a forest fire management display, an area showing motors and all the bits and parts of a plane, and you can go in many planes to check out the cockpit or see the huge interior of planes such as the water bomber for forest fires.
Take a stroll on the newly refurbished waterfront in Sault Ste Marie and look over at its US twin city.
Enjoy a delicious meal at Embers Smokehouse Restaurant. It had  a fabulous atmosphere offering a wide variety of smokehouse meat. Delicious!
Where to stay in Sault Ste Marie:
An affordable choice with jacuzzis in the rooms, excellent wifi and a hearty breakfast included. It has covered parking too that is perfect for motorcyclists.
Michigan
Whitefish Point: this is a spot on the Michigan coast that needs two days to explore.
Jutting out on a long peninsula, we took a detour from our route to see the lighthouse museum (Lighthouse Point Ship Wreck Museum) and the sandy beaches of Lake Superior's South Shore.
It's beautiful here and home to the oldest operational lighthouse on the lake.
Tahquamenon Falls State Park: This is a busy park with excellent waterfalls. One looks like a mini Niagara Falls.
I could see us sticking around for a day or two for hiking, swimming and simply enjoying the scenery.
There were a lot of people visiting the Falls. There are two entrances, an upper and lower falls.
The upper are the larger and more beautiful of the two, but the lower had an option to take a boat or go for hikes so they are both a must stop.
Sadly, we didn't stay in this area, but we highly recommend spending a night out here to give time to explore and enjoy.
Where to stay in Marquette, Michigan:
Instead we moved on a couple of hours to Marquette and stayed at a gorgeous hotel. It was an amazing heritage hotel downtown Marquette that made for a luxurious evening after a day on the bikes.
It felt like a grand hotel with a European flare.
Our four post bed required a step to get into and our jacuzzi tub and fireplace were so inviting we didn't want to leave.
But alas, we had to move on.
Painted Rocks Cruises – this definitely looks like the big draw of the area.
We didn't have enough time to take the cruise out to see them, but give yourself an extra day here to enjoy a scenic cruise to the rocks.
Everyone we talked to said they were worth a visit.
Eagle Harbor Light Station
If you like Lighthouses, you'll have the opportunity to see a lot on the Lake Superior Circle Tour.
Lighthouse keepers played an important role in keeping ships afloat. Lake Superior is a treacherous lake that claimed many a sailors life.
The Eagle Harbor Lighthouse Station probably has the best display of the lighthouse keepers quarters on the lake.
Where to Stay in Copper Harbour
This was very basic accommodation with non-air conditioned cabins and very spotty wifi.
Copper Harbour is a very scenic ride though winding tree covered roads so it is highly recommended that you take the trip out there for a night.
When visiting Copper Harbor, it's definitely worth taking a drive to the high lookout.
Most people stop at the beautiful view near the bottom, but make sure to keep driving another 10 minutes or so.
You'll be treated to a view of a tree covered valley with lake views on both sides as here you are sitting on a peninsula.
Next Stop Bayfield
We had a very long ride today so we didn't make a lot of stops other than some scenic lookouts.
But  Wisconsin looked gorgeous and we want to go back to see more!
We suggest you try to cover as much ground as possible on this leg because the next stop is Bayfield.
Bayfield is a picturesque town on the water that one can spend a day or two relaxing in.
We loved our dinner at the funky and retro Maggie's Restaurant and a stroll through downtown is a must.
There was a band playing in the gazebo on the waterfront when we arrived and the bar and restaurant overlooking the harbor was buzzing with people.
Where to Stay in Bayfield
It offered excellent and friendly accommodation that caters to motorcyclists.
We had our own covered parking spot!
The staff was courteous and helpful and the rooms were great with superb wifi, and a sensational view of the harbor.
Duluth
The drive from Bayfield to Duluth is a scenic ride with picturesque towns and great isolated roads.
We were excited to get to Duluth early to experience a bit of the city, and it surprised us immensely.
Canal Park Drive is a cool area for shopping, eating and sipping coffee and the lake walk is a gorgeous stroll along Lake Superior.
It's great to watch the Aerial Lift Bridge go up and down as everything from large tankers to small sailboats go in and out of the harbour to the open waters of Lake Superior.
For an up close and personal view, dinner or drinks on the rooftop patio at Grandmas is an excellent choice.
Where to Stay in Deluth
 We stayed at Canal Park Lodge which was a fine hotel on the waterfront and close to all amenities.
Thunder Bay
Get ready for a long drive to Thunder Bay on this day.
At 334 km including a border crossing, we were on the road quite a long time.
There's isn't a lot to see and do between these two cities, so get on the highway and enjoy the cruise.
Once you get to Thunder Bay though, it's worth the drive.
Like the 10 million dollar re-envisioned waterfront filled with commissioned art from around the world.
Thunder Bay is starting to boom and the amount of restaurants and cafés popping up proves it.
There are condos being built and a new hotel going in at the Marina.
Speaking of the marina, it's quite picturesque and you can take a sailing excursion out from downtown.
A must stop in Thunder Bay is the Terry Fox memorial.
Terry Fox was a national hero who was a pioneer is campaigning for a cause.
Long before it was "in style" he made a goal to run across Canada to help find a cure for cancer.
This was in 1980 and a cancer survivor himself. He lost his leg to cancer and he ran with his artificial leg from Newfoundland to Thunder Bay.
Sadly, during his run, the cancer came back. He died a short while later, but his spirit lives on in all of us and we are inspired by his sacrifice to make a difference.
The memorial was built here to commemorate his life and cause and we were uplifted by the amount of people that stop to pay their respects. It was packed with people.
There is no charge to visit the Terry Fox Memorial. The Fox family agreed to allow a monument only if nothing was sold and no admission fee was required. This is a monument that truly embodies the spirit of Canada.
Where to Stay in Thunder Bay
No doubt about it, this is the place to stay in Thunder Bay. It is run by a lovely couple who have put a lot of thought and care into their B&B.
It's luxurious, comfortable, and relaxing. Our room was grand with a fireplace, jacuzzi and sitting area.
We loved relaxing with a glass of wine before collapsing on the huge inviting bed.
Terrace Bay
Terrace Bay is the launching point for the Slate Islands, and a good town to stop for a rest after Thunder Bay.
We had some severe weather during our stay so we didn't have the chance to see Aguasabon Falls as riding a motorcycle isn't the most inviting thing to do in a thunderstorm, but we hear they are beautiful and only a short walk from the parking lot.
Check them out!
Where to Stay in Terrace Bay
We were surprised with the accommodation in Terrace Bay. The rooms were decorated with a rustic elegance and the Internet was the best we had on the entire trip! The adjoining restaurant was quite good too.
White River
We didn't stay in White River during this trip, but if you want to split up the drive between Wawa, this is a good option.
It's a four corner town famous for Winnie the Pooh. Those beloved children's books and Disney cartoons wouldn't be around if it weren't for White River.
It's a bit of a morbid story though, but it was a sign of the times. Remember, this all happened in 1914.
"A hunter shot a bear cubs mom and brought the cub back to town to keep as a pet (as many people did in those days) A soldier was on his way to Europe to fight in World War I and during a train stop in White River, bought the bear cub for $20.

He brought the bear with him to Europe where it stayed in the barracks with all the soldiers.

It became their mascot.  When they were shipped off to France to fight, the soldier gave the bear to a zoo in England and that is where the bear lived out its life.

Writer A.A. Milne frequented the zoo and his son Christopher Robin liked the bear giving it the nickname Pooh. Thus Winnie the Pooh was born."
Where to Stay in White River
While we didn't stay here during our motorcycle trip around Lake Superior, we have stayed in White River in the past and this motel is a basic hotel that is clean, quiet and comfortable.
It's a good place to stay before having to catch and early morning flight to a fly in fishing lodge in the area.
Wawa
Wawa is a fun little town known for it's giant Canada Goose located high on a hill overlooking the Trans Canada Highway.
There's a good visitors centre and scenic lookout here and it's worth stopping at Young's Family Store for fudge, ice cream and a quick fill up.
The original goose statue is located here as well.
Where to Stay in Wawa
This is an excellent choice for accommodation that caters nicely to motorcyclists.
They put towels on our bike seats in the morning to soak up the dew!
They have an elegant restaurant, and the rooms are sophisticated and stylish. Set a bit off the highway, surrounded by forest, it's a perfect night to relax.
There are several scenic stops along the route this day through the area known as Algoma Country. (where Lake Superior and Lake Huron meet!)
Take your time and make sure to pull off at every single one of them.
It's a stunning drive and known as one of the Top 10 in Canada.
Once you drive it you'll understand why. Giant sea cliffs, gorgeous beaches and meandering rolling roads make for a drive you will never forget!
A Must stop on the road from Wawa to The Soo!
One of the best stops we took on the entire trip was a stop at the petroglyphs (pictographs) in Lake Superior Provincial Park.
You'll see a sign for pictographs on the highway.
We drove straight past the Painted Rocks sign on three different trips because we weren't overly excited about seeing petroglyphs. (sorry history buffs, they just don't interest us)
But not only were there ancient petroglyphs painted on the side of giant cliffs, there was a beautiful trail and scenery.
Our videographer Ryan told us it was worth visiting, so we finally stopped to take a look and we were glad we did!
It was the most beautiful scene we saw on Lake Superior.
The walk is scenic and there's a spectacular gorge with a giant rock wedged in at the top to see.
But the big views are the giant cliffs with the painted rocks.
Batchawana Bay
Our next stop took us to Batchawana Bay, located about an hour outside of Sault Ste Marie where it all began.
Batchawana Bay feels like one of those places that was thriving in the 70's or 80's.
I have a feeling many locals from "The Soo" came out here to enjoy the beach. As the Northern towns begin to have their renaissance, I feel that this will pick up again soon. It's beautiful here and we stayed at The Lakeshore Salzberghoff Resort.
Rooms have a retro feel . There's tennis courts, shuffleboard and an excellent German restaurant serving many types of schnitzel and sausage.
Sault Ste. Marie
Which takes us back to where it all began and the end of our journey.
The Lake Superior Circle Tour is one of those epic drives that must be done at least once in your life if you ride a motorcycle.
You can go as fast or as slow as you like.
MotorSoul Driving School runs motorcycle training courses for all skill levels all summer long.
All motorcycle gear provided by Parts Canada – the national distributor of aftermarket parts and accessories for the Canadian power sports industry. They are exclusive to many brands including our HJC helmets and Alpinestars boots, pants, jackets and gloves.
Find out more about planning your Lake Superior Ride at RideLakeSuperior.com
Motorcycles courtesy of Honda Canada
---
Read More:
Snowmobile Quebec: 1000 km From Wandake to Cree Nation
The Best Canada Adventures: 36 Amazing Trips from Coast to Coast
Drive to the Arctic – Yes You Can on the Dempster Highway
Wild Yukon: Falling in Love with the Rugged and Remote
16 of The Best Road Trips in the World
SaveSave