Ontario is filled with great motorcycle routes. We're blessed with an abundance of wide open spaces, pristine scenery, and excellent roads.
I know a  lot of Canadians complain about our motorways, but believe me, we've been around the world and we've got it good compared to most countries.
Winters are hard on pavement, but our construction teams are out there early filling in potholes and working hard to make the highways safe and sound.
Explore the Grey Bruce Superloop by Motorcycle
If there is one place to ride a motorcycle in this world, it is in Ontario. We have thousands of miles of nearly deserted back roads taking you along Great Lakes, wilderness, and farmland.
Our first ride in Ontario, took us up to Bruce County for a three-day scenic ride along Lake Huron's Bruce Peninsula.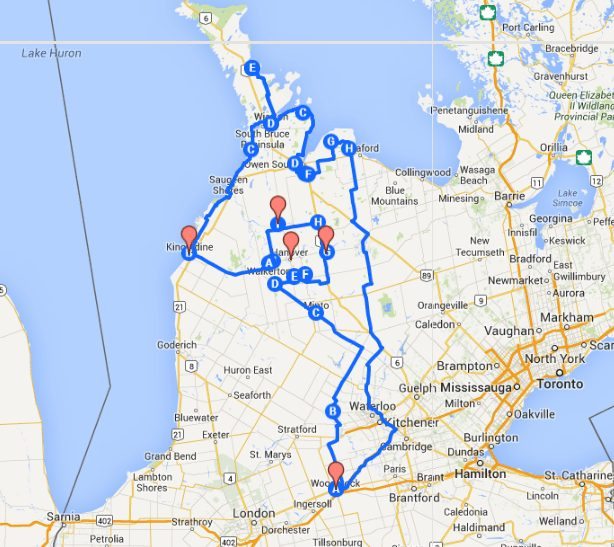 Leaving from Woodstock Ontario we began our Grey Bruce Superloop ride that would take us 800km over the next 3 days.
This is one of our favourite parts of Ontario and a place that Dave and I have spent a lot of time. However, we hadn't explored any of the stops along our route this time around.
You see, there's an entirely different culture for motorcycle enthusiasts and Ontario caters to riders extremely well.
The Grey Bruce Motorcycle Route
Biker Stops
Harley's Pub and Perk – Not far from the town of Hanover, many a biker stops at Harley's Pub and perk in Neustadt. Take our word for it, their award winning butter tarts are to die for.
Hoity Toity Cellars – When riding a motorbike, never ever drink alcohol. But, that doesn't mean you can't stop to meet the locals at Hoity Toity Cellars. Owner Gary, is a character and a half.
He's filled with stories about growing up on the farm near Hanover and is passionate about his wine, but more importantly his cider.
We didn't do any tastings while there, but we did get a tour of his facility and brought home some cider for our enjoyment when not riding.
Bruce Adventure Passport
Bruce Adventure Passport: It was at Hoity Toity that we put our first punch in our Bruce County Adventure Passport. The Adventure passport is a 12 stop scavenger hunt around the Bruce County.
If you get a minimum of seven punches, you can win a prize! It's a great way to follow a route and explore for a weekend while everything Bruce County has to offer.
Where to stay:
Best Western Walkerton– The Best Western in Walkerton is a new hotel with all the bells and whistles. There's a swimming pool and our room had an inviting corner jacuzzi. It's modern, chic and had very comfortable beds.
Believe us, we've slept in some of the best hotel beds out there and this one was right up there as one of the best in a mid-range hotel market. We were very impressed with the room and the facilities and breakfast was hearty and fresh.
Day 2 on Ontario Motor Roads
It was a slow start to the morning as the bikes were being topped up and the filming was afoot. We have a camera crew with us throughout our Ontario motorcycle experience and it adds an entirely different dynamic to our travels.
Dave and I are used to heading in our own direction and getting our own shots, this experiment is taking us back to our TV and film days. At times we're feeling like mini-celebrities as we do take after take to get the perfect shot.
Unfortunately, that take after take stopped us from getting to explore and finish all our itinerary.
Ah ,the price of fame.
Things tdo See in Bruce County
We did get to stop at the historic lighthouse in Kincardine and it was a fascinating tour. Dating back to 1880, the Kincardine Lighthouse is now maintained by the yacht club. A group of volunteers makes sure that it is in tip top shape and in good working condition.
A tour for a couple of bucks gives you access to the marine museum showcasing several historical artifacts and lets you climb to top of the lighthouse and the rooms leading up. Everything is arranged as it would have been when the lighthouse keepers manned the building.
Sauble Beach
Sauble Beach is one of Ontario's premier beaches. This 11km long beach is second only to Wasaga Beach as the longest freshwater beach in the world!
It was a little early for beach going on our ride, but it is still a beautiful ride along the coast. And that's what we were here to do anyway…ride.
Linner
(no that's not a typo – I meant Linner a mix of Lunch and Dinner since we stopped for lunch at 4:30 pm) took us to Solas on Sauble Beach.
This eatery caters to bikers and there is even a bikes only parking area. People can sit out on the patio in the summer, enjoy a coffee or deep fried Mars Bar while keeping an eye on their bikes. It's a fun beach stop.
Where to Stay
Lions Head
We made our way on to Taylor Made B&B owned by the energetic and enthusiastic Barb and Dave.
It's a comfortable B&B with a breakfast to die for. Barb is my kind of gal serving us a delicious German breakfast stemming from her background and their worldly travels.
They served a European breakfast with all the fixin's of local cheese, meats and produce. I couldn't stop eating.
Day 3
Wiarton Willie
Wiarton Willie  -Wiarton is famous for Wiarton Willie, Canada's answer to America's Punxsutawney Phil.
We didn't want to miss seeing Willie so we took a detour to Wiarton to see if we could catch a glimpse of our famous groundhog. But, the sun was shining and the air was warm so Willie was burrowed deep into the dirt.
We all know Willie doesn't like seeing his shadow! I do think Wiarton needs to give Willie a bit more room. It would be great if they could give him some trees and grass to roam about.
But we were told, he likes his life underground. Even if you don't see Willie, Wiarton is worth visiting as the bay is beautiful and it's a pleasant town.
Women's Institute
Women's Institute Lookout – Our next stop took us into Grey County where we stopped to enjoy the view from the Women's Institute Lookout. This is an area where women used to meet in the 1800's and turn of the 20th century to discuss problems and challenges.
It reminded us of the women's circle we visited in Kenya last year where women there gather on Sundays to talk about empowerment and women's rights. They work together to send girls to school, support one another, and figure out ways to fundraise for one another.
I imagine they are going through what women in Canada went through then. There weren't a lot of rights for women in the 1800's and Africa is going through that transition now.
Inglis Falls
One of the highlights of our trip was visting Inglis Falls. It's one of eight waterfalls in Grey County and motorcyclists can come to this area and focus on a waterfall tour.
It's perfect for two wheelers as you can park in the parking lot and it's only a short walk to view the picturesque water.
Grey and Bruce Counties are located on the Niagara Escarpment, so there are plenty of waterfalls to explore. You don't have to leave the province to see beautiful waterfalls, they are right here in our own backyard.
Dinner:
Coffin Ridge Winery is a great stop on your route offering beautiful views of the valley filled with rows of grape vines.
Once again, we didn't do any wine tasting, but we did enjoy an incredible vintners plate of meats, cheeses and olives followed by home made apple pie fresh from the apple pie trail. It's a relaxing and picturesque place to unwind as you sit on the patio while goats graze in a nearby field.
The Ride Home.
Our days were long and we ran behind throughout our three day ride so at the end of our trip, we had a long 3 1/2 hour ride home.
We suggest planning your route smarter and wiser than us and give yourself ample time to make it home with some rest stops along the way. Don't make the same mistakes we did. Don't bite off more than you can chew and really take your time to plan.
Riding a motorcycle takes a lot of concentration and you want to be able to enjoy the ride and not ride while fatigued.
We however, love a challenge, so at 4:30 pm we hopped on our bikes and weaved our way through the back roads of Ontario to make it home before sunset.
As new M1 riders, we  have to legally be off our bikes a half hour before the sun sets so we were cutting it close.
But we pushed on through fatigue and rain and made it back safe and sound.
Riding a motorbike is exhausting. Not as exhausting as cycling Africa but it is tiring none the less. With 500 ccs of power and other traffic to watch out for, our minds were mentally exhausted and our bodies felt the stress of gripping the handlebars for hours on end.
For a first ride, we wouldn't recommend doing this entire route in 3 days, but for established riders, it would be no problem. If you are new, we recommend a shorter loop or a portion of this one.
There are many places to see in the Grey Bruce area, and you can cut your ride down to a comfortable pace with fewer stops to enjoy the ride.
For more information on things to do in Grey and Bruce county visit their websites
Explore the Bruce
VisitGrey.ca
Motorcycles courtesy of Honda Canada 
MotorSoul Driving School runs motorcycle training courses for all skill levels all summer long.
All motorcycle gear provided by Parts Canada – the national distributor of aftermarket parts and accessories for the Canadian power sports industry. They are exclusive to many brands including our HJC helmets and Alpinestars boots, pants, jackets and gloves.