The map says that in good weather, the Pukaskwa Coastal Trail can be a terrific hike. If the weather is bad, it is horrible.
The Wild Coastal Trail of Pukaskwa National Park
They actually used the word "horrible!" While trekking the Arctic headwaters last winter one of our guides said to me "You know the Pukaskwa is difficult right?" "More difficult than this?"
Here we were snowshoeing 100km over snow and ice pulling 100 lb sleds through deep slush and killer portages and she's telling me the Pukaskwa is hard. Oh boy oh boy.
Deb and I were a little nervous all summer leading up to our final adventure with Ontario Travel – The Pukaskwa trek.
We kept telling each other that we have to get out and do some day hikes to get back in shape.
But instead, we spent our summer of fun going whitewater kayaking and rafting, kayaking the slate islands, taking photos on a moose safari and popping over to Universal Studios for the opening of Diagonally.
Watch Our Video of the Pukaskwa Coastal Trek
We had a lot of fun adventures, but not the type that gets you in shape for a big hike.
A couple of weeks before the trek, we resigned ourselves to the fact that we were in a bit of trouble and we were just going to have to suck it up and go with it.
Pukaskwa National Park with Naturally Superior
We met at Naturally Superior Adventures in Wawa the night before our hike to go over our packing and gear with our guide Brendan.
He's a young fit 22 year old who has already guided around the world ice climbing on glaciers and white water kayaking on crazy rivers.
I hoped and prayed we could keep up to him.
It was a restless sleep before the trek. We didn't want to leave the soft duvet on the comfy bed in the lodge. Weather can be cold above Lake Superior, so we'd be trading in the fireplace for our sleeping bag.
But surprisingly we were felt ready to go. We can do this!
The weather took a turn for the worse, and during our 60 km boat ride up the coast to North Swallow, we had severe waves and heavy fog.
The word horrible came to mind. As Dave and I reminisced about the Drake Passage crossing to Antarctica, our fellow passengers stepped outside for fresh air to keep from tossing their cookies.
The 1 1/2 hour ride turned into 3-4 hours of bumping and thumping.
But miraculously the heavens opened up 10 minutes before we reached our destination.
We suddenly saw the striking shores of Lake Superior and the waters calmed just in time for our landing. By the time we reached the beach, the day was hot and the sky was clear.
The North Shore
Most hikers take the boat 30 km up the coast to hike half of the Pukaskwa.
The rest do day hikes from the office and then there are a few of us that decide to do it all.
When you start at North Swallow, (where we started) you are hiking through a wild untamed country with very little trail markers.
I remember reading about Leigh's trip of Hike Bike Travel and she said that they got lost daily. Luckily we had Brendan leading our way, so we took no wrong turns.
Annique of Parks Canada joined us for the first 3 days and it was great having another woman on the trip with us.
So often it is me with Dave and the guys when we're doing outdoor adventures, so Annique and I spent a lot of time chatting away about everything.
She had done the route closer to the head office, but hadn't been out to hike from North Swallow, so she wanted to join us for the first half of our hike.
It pays to know people in high places because she arranged for pick up three days in.
We didn't have to carry all 7 days of food as when her people came to pick us up, they dropped off the latter half of our meals and we sent out or trash with them.
Adjusting to Life on the Trail
The first hour or so was all about getting comfortable with our packs. We hadn't hiked on high cliffs or jagged rocks with so much weight on our backs before so just walking over boulders was a bit of a challenge.
Where we would normally be hopping with ease from rock to rock, we were now trying to keep our balance.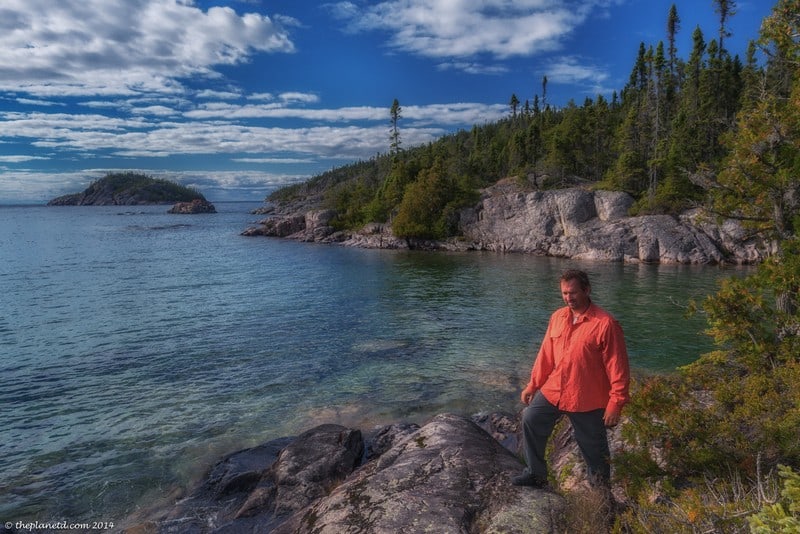 Naturally Superior supplied some hiking poles which we were very grateful for. We nearly declined their offer, but after 10 minutes of walking, we were so happy we had them.
They kept us from toppling over on a regular basis.
The day started with a nice elevation gain and after an hour or so, we were high on a rock ledge overlooking the massive lake.
Weather was on our side…
Brendan and Annique kept commenting that it gets easier the closer we get to the head office. Once we're five days in, we'll have a better trail and easier path.
We didn't find it too difficult at all and I kept wondering what all the fuss was about. I kept asking, "So what do people find hard about this?"
That's when Brendan said, "imagine climbing up these rocks with rain and water flowing down" It would be like ice.
Yes indeed. I imagined what this trail would be like in the rain and realized that horrible is the right word.
The rocks, roots and trails would be treacherous. It would be miserable and it could be dangerous. Lucky for us, we had an extremely nice first day.
We walked pleasantly through the thick forest, stopped regularly to take photos and enjoyed a snack while overlooking a magnificent view.
I then realized that even though Dave and I are out of shape compared to what we usually are, we do have a solid base for hiking and trekking.
When we hiked the Cup and Saucer Trail on Manitoulin Island, the contest winners that hiked with us were quite afraid.
One woman turned around to go wait in the car and the rest of the girls were holding on for dear life as we climbed rocks and roots.
We found that trail on Manitoulin to be quite pleasant.
Want to see another Epic Hike? Check out our Great Ocean Lodge Walk to the 12 Apostles, Australia
Hiking the Pukaskwa is a difficult hike indeed. We huffed and puffed and heaved and hoed.
There were days where all I wanted to do was get to camp so I could lay down, and there were others where I was invigorated and excited about the challenge ahead.
On day one, we were surprised with how much we were enjoying ourselves.
This wasn't so bad.
Yes, the packs were heavy, our feet were hurting and we were hot and sweaty, but we had great company, incredible scenery and excellent guide. With all these factors helping us out, how could we not succeed?
Pin to save to Pinterest
To book a guided hike to the Pukaskwa visit the Naturally Superior Adventures website. They also offer kayak and canoe trips on Lake Superior. For more information on the Pukaskwa, visit the Parks Canada Pukaskwa Website
---
You Might Also Enjoy