I remember when talking with Ontario Travel while planning our winter adventures way back in September. Winter adventure is fun, but it can be dangerous, here are tips for safe and comfortable winter trekking to make the most of your adventure.
Winter Trekking Tips
Knowing we had our work cut out for us physically was one thing, but surviving the cold was another. When you are facing the elements at 30 below, there is a lot to consider.
However, winter can be comfortable.
You just need to stock up on the right gear and arm yourself with a little knowledge to safe and comfortable when winter trekking.
Enjoy the Great Outdoors
[responsive-video identifier="7s-HGDQSqi8″]
Here are our tips to help you winter trek more efficiently while staying comfortable and warm!
Tips for Safe and Comfortable Winter Trekking
1. Layer 
We have all heard it before, the best way to keep comfortable while being active in cold weather is to wear layers. And it's true! It's important to not let yourself overheat.
People who don't know a lot about cold weather think you have to stay bundled up at all times, but if you are warm, you can strip down.
When working out in the cold, we strip right down to our bare minimum layers to keep from having sweat build up. You want to have as little moisture on your body as possible.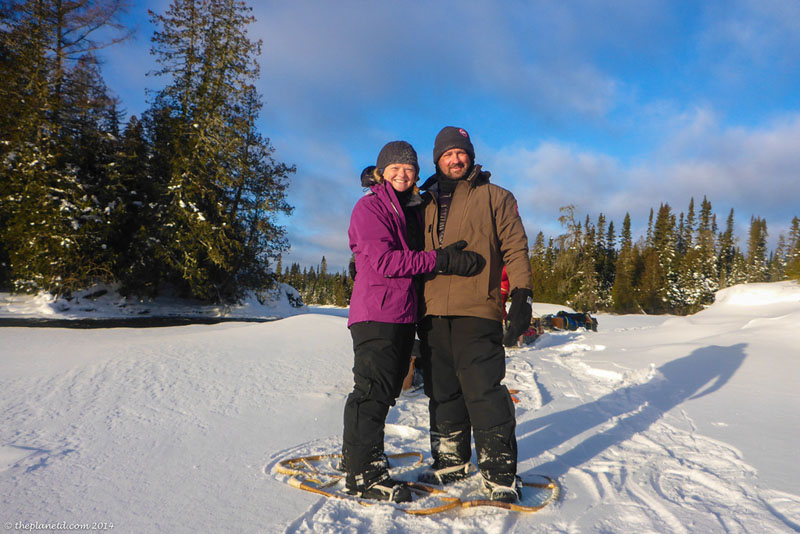 When you do stop activity, put your layers back quickly. A down jacket or parka can be strapped on to the outside of your sled so you can put it on whenever you stop to stay warm.
We even had two different weighted hats. A light wool hat for trekking and a heavy hat for rests and easy walking. I loved my cozy aviator hat that I put on whenever we stopped. It felt so good to get my head warm.
Hot Tip: The easiest way to cool yourself down quickly when trekking is to take off your hat.
Layering Tips
Base Layer:
Merino Wool layers – tops and bottoms. Icebreaker is the brand we like and you can buy it at SportCheck.
It's expensive, but you will have it for years. It wicks away moisture and it is odour resistant. On Lure of the North, we only wore two sets of our merino wool base layers (wool usually makes me itchy, but not this stuff) and they worked like a charm.
They stayed warm and didn't smell!
While trekking we took off all our layers except our base layer. This way we didn't sweat.
When we stopped or were doing easy walking, we put our layers on. The great thing about wool though is that even if it gets damp, it still keeps you warm.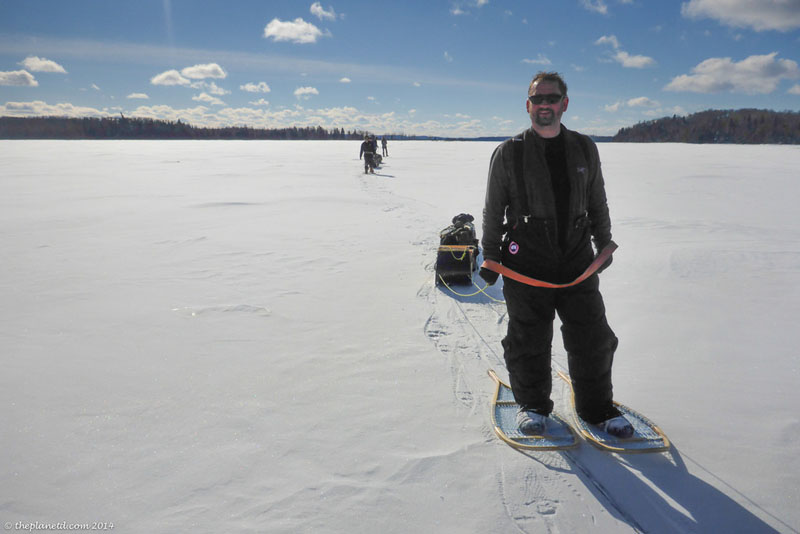 Mid Layer:
We had a fleece mid layer and a very lightweight down mid layer (the Canada Goose Hybridge is our new favourite piece of gear).
We alternated between these two mid layers depending on the temperature.
For bottoms, we had insulated, waterproof snow pants that could be unzipped for venting. For this trek, we ended up taking out our fleece mid layer pants.
We were happy with this decision for this trek, but in warmer temperatures, I would keep the mid layer with a mix of an outer bottom waterproof shell.
We kept our waterproof Gortex pants with us though we ended up not using them as our insulated pants did the trick.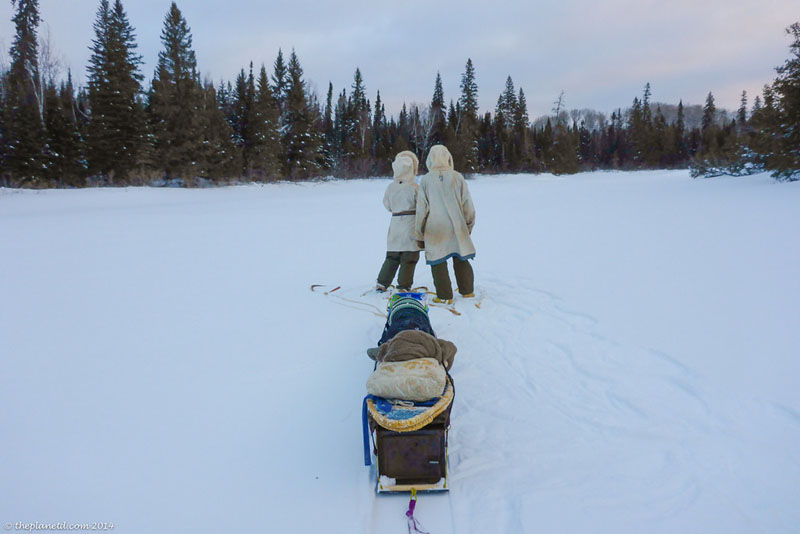 If working hard in windy or rainy weather, make sure to have an outer gortex layer. Our trekking guides Kielyn and Dave swear by traditional Anoraks as an alternative to expensive Gortex jackets.
Outer Layer and Warm Coat:
We then had a windproof jacket for the windy or wet days. When we stopped to rest for a while, we immediately put on our parkas to keep from catching a chill.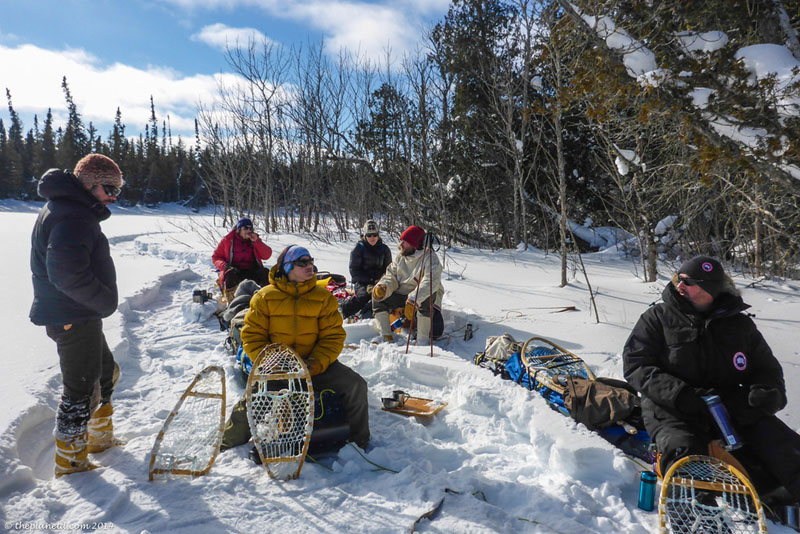 Face
No matter how hot you get when hiking, your face still freezes. I especially kept my face covered as much as possible because I hate the feeling of a cold neck and chin.
I used a breathable face mask for really cold days and several buffs for my head and neck that I interchanged regularly.
Also, make sure to have a good pair of sunglasses and goggles for snowy and windy weather.
(Bring a back up pair if you can – one of our expedition mates Leslie broke her sunglasses on the trip) Luckily she had an alternative with her.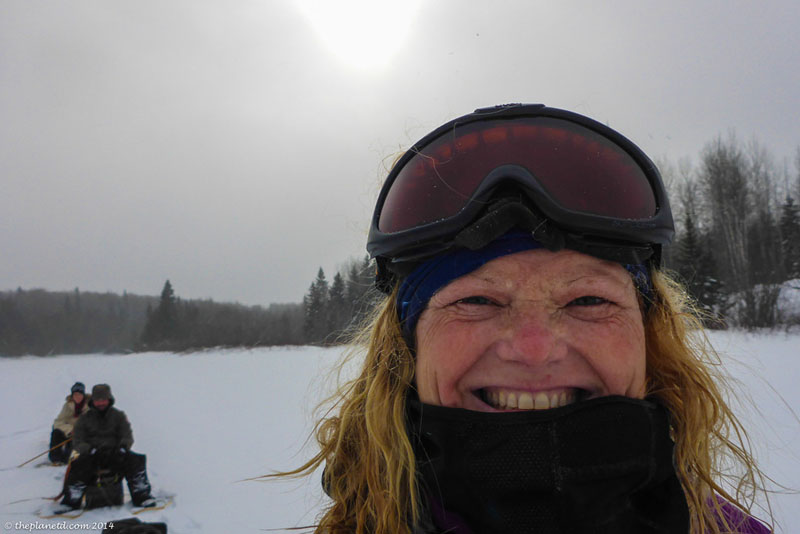 2. Use the right gear
When doing winter trekking, know your task. No one piece of gear fits all expeditions.
For example, there are times when the modern snowshoes are better and there are times when traditional is better. So think about that before you rent or buy any of your gear.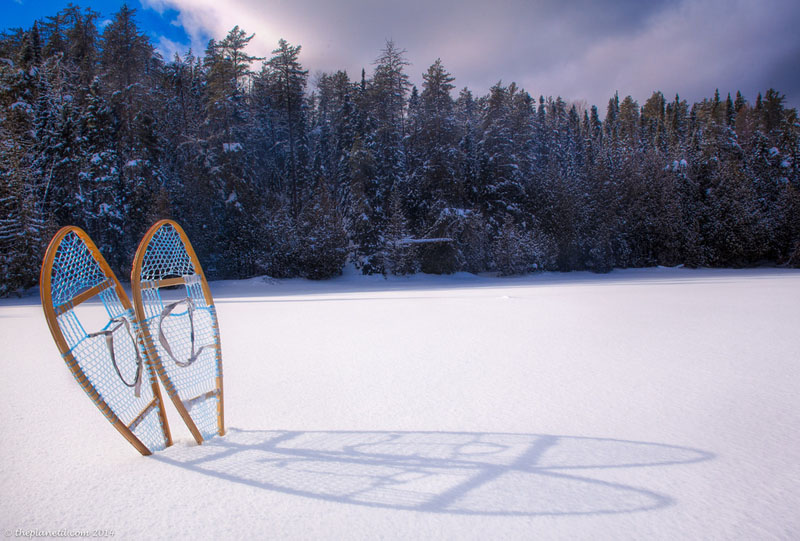 Snowshoes
When trekking in the winter a lot of people think that "modern" means better.
But while talking to all the experts, we've learned that if you are going on a full on winter trek into the backcountry, you should use traditional snowshoes.
Traditional Snowshoes vs Sport Snowshoes
The small sportier snowshoes that you buy at MEC are great for trails or high mountain trekking with little snow, but for our Lure of the North winter trek, traditional snowshoes were a perfect choice.
They are larger and you sink in less than you would on the smaller snowshoes. We had two pairs of snowshoes, large Hurons for long distances and for portaging and camp life we wore smaller bear paw snowshoes.
However, depending on the trek, you will require different gear.
If you are high altitude or glacier trekking you will need crampons and solid hiking boots, if you go farther north, you will want to tracross-countrycountry skis as they are more efficient.
Our advice is to make sure you know what gear you need for what situation. Do your research.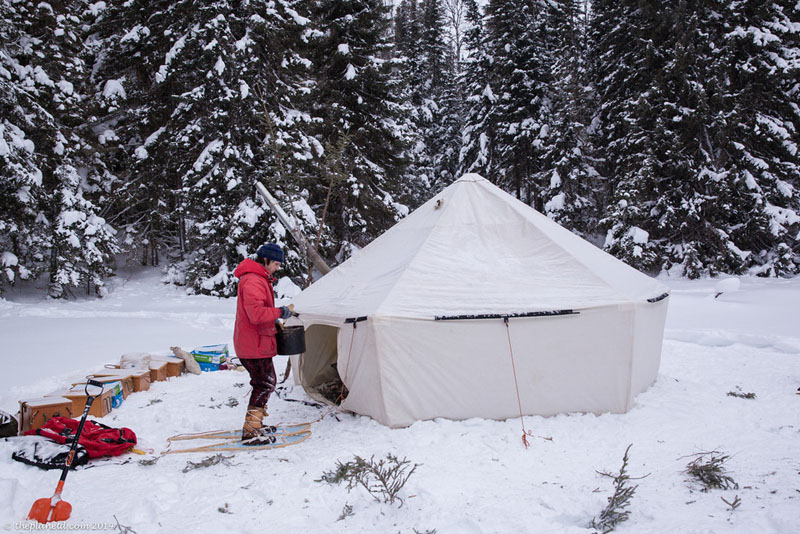 Tent
When we went winter camping in Antarctica we froze.
We slept in bivy sacs on the continent and counted the hours until we could get back to warmth.
When camping traditionally, you are quite comfortable. You carry more gear with you on sleds, but it all helps you sleep comfortably.
A canvas tent is cozy and warm compared to the modern nylon tents.
A wood stove can be safely set up inside and a fire can be lit all night long.
However, this form of camping won't work if you are in Antarctica or farther into the Arctic Circle as there aren't any trees.
That is when the modern tents work well with camp stoves. So once again, know where you are going and what resources are available to you.
Hot tip: When winter trekking use a foam thermarest as opposed to an inflatable one. Pine needles will puncture your mattress making sleeping very uncomfortable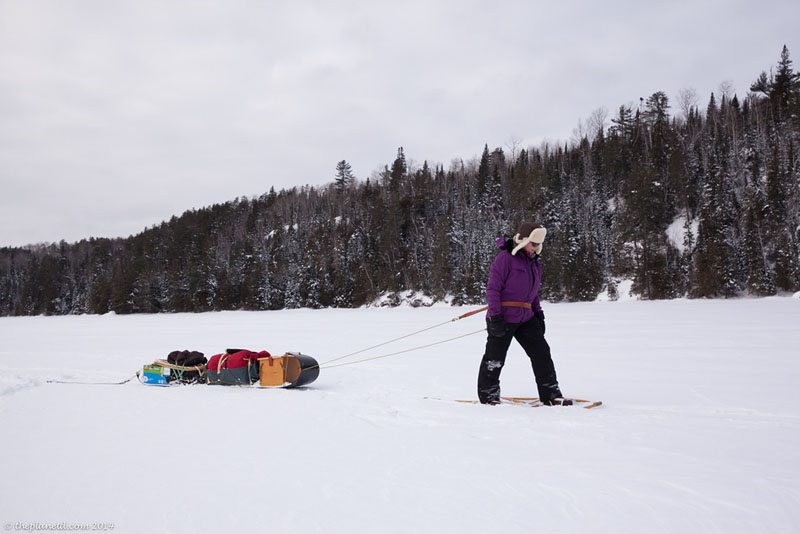 Sled
When winter camping in Northern Ontario it pays to pull a sled loaded up with all your gear as opposed to carrying it on your back.
Lure of the North makes and sells polycarbonate sleds that are very durable and flexible.
You can pull your gear easily over frozen rivers and through portages over fallen trees, up and down hills and over rocks.
Boxes, bags, wood stove, tent… everything can be strapped on with ratchet straps and bungee cords.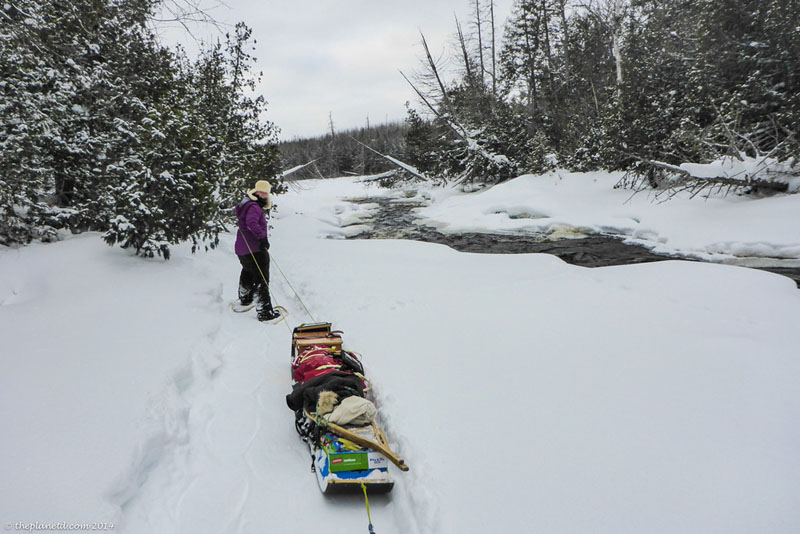 However, if you are in the mountains a backpack will work better. So once again, make sure you match your gear to the type of trek you are doing.
3. Safety 
It's important to know what you are doing before you go out to the backcountry or to hire a guide like we did.
You need to take the thin ice and moving water into consideration and you should never walk on ice unless you are sure that it is safe.
This is where hiring a professional is the best option.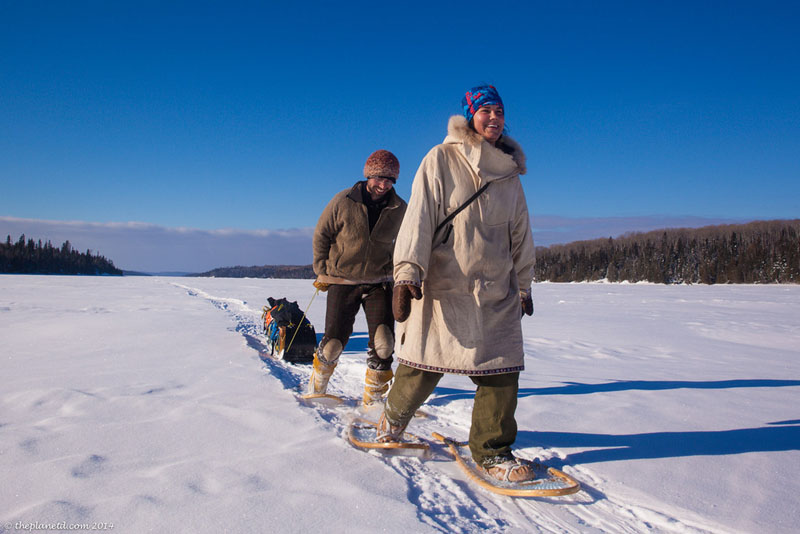 Use a SPOT Locator.
We checked in via GPS every night to let people know that we were alive and well.
A SPOT locator will alert the friends or family you have monitoring at home that you are safe and if they don't hear from you, they can alert emergency dispatch about your radio silence.
It will give off a signal and they can rescue you via your GPS coordinates.
It's important to never go out without letting someone know your route and your schedule. We even used the Track 24 Iridium tracking for the Mongol Rally. It's good for all trekking.
4. Ice
Ice is the biggest risk when winter trekking in Northern Ontario.
We are blessed with a lot of pristine waterways in Canada, and if you are trekking long distances, chances are you will be trekking over frozen lakes, rivers, or creeks.
If you do find yourself on a frozen lake or river, here are some tips to navigate across safely.
I'll say it once and I'll say it again, hire a guide.
Don't go out on a lake if you don't know what you are doing.
When going to remote destinations, you won't be able to check with the locals to see if the lakes are solid. You will need to rely on your skills.
Here is how Dave and Kielyn checked for thin ice.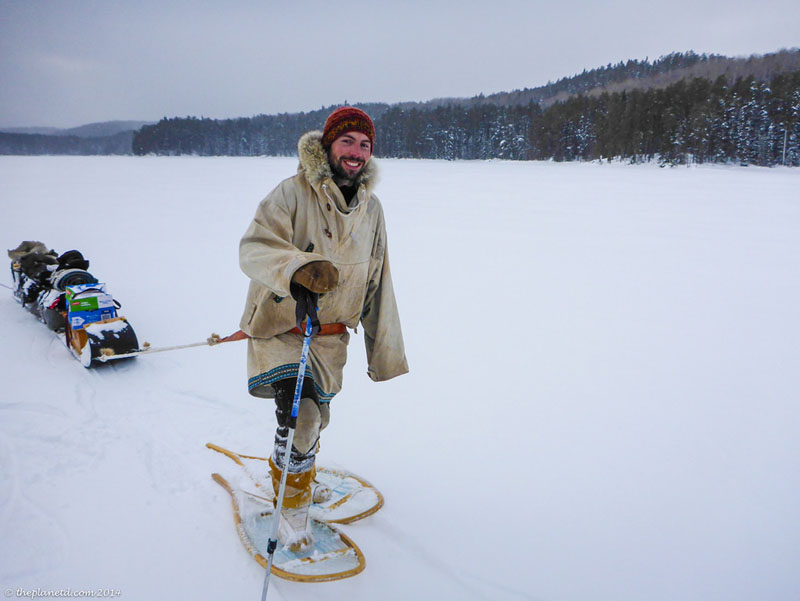 How to Check for Thin Ice
Use a ski pole to tap the ice listening for the sound of good ice.
According to Lure of the North owners Kielyn and Dave, good ice gives off a solid ping sound when struck with a pole. Lakes are more likely to be frozen than rivers. Surprisingly it is safer out in the middle of a lake than near the shore.
Because water is still on the lake, it freezes well.
If it has been a good and long cold winter like it was for our winter treks, there is a good chance the lake will be frozen.
If when walking on a lake you see it start to narrow, you can be sure that thin ice is on the way. As the water moves into a narrower passage, it runs faster and therefore doesn't freeze as well.
Take care when coming to the narrows of a lake.
Near the shore ice is less stable as well, as the water is also moving here and ice is thinner.
It was at these transition areas where we entered portages (trails on the shore connecting lakes and rivers) that we had to be most alert.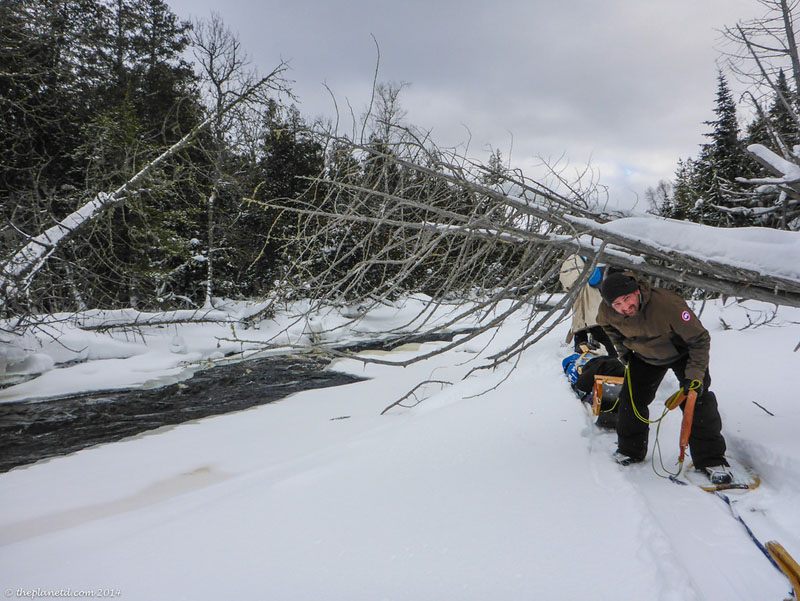 Rivers have less of a chance of freezing over completely because the water is constantly moving. If they are slow moving and wide, they can freeze just like a lake, but you must pay strict attention to conditions. Surprisingly creeks and bogs were risky too.
Just because a creek isn't fast moving, it is still moving water. The good thing about creeks is that the water is shallow so you don't have a risk of going deep into the liquid if you do punch through.
I would not recommend amateurs using this method of using a ski pole and simply reading the conditions. Dave and Kielyn have spent a lot of time on ice and know it well. That's not to say it's perfectly safe. Walking on ice is never perfect.
Dave Marrone told me that he and Kielyn took an ice rescue course last year and even the instructors of that course said that they don't walk on rivers. Walking on frozen rivers is best left to the professionals. Very few people do it and we stayed close to Dave and Kielyn's chosen route.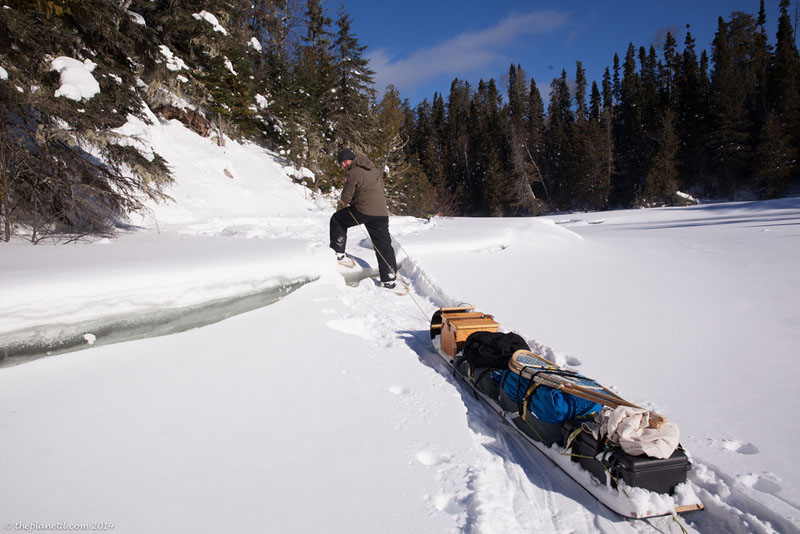 If you do a punch or break through the ice when winter trekking, you can still be fine. Kielyn broke through once while testing thin ice, but she wasn't in danger because she immediately hoisted her body back on to the good ice.
The good ice is the ice that you just came from. Do not go farther forward as that is the thin ice and you will just keep breaking up the ice in front of you! When you turn around to the good ice, you then lay your body flat out, reach your hands forward and crawl back up.
If your foot goes through like what happened to Dave and I once, immediately pull it out by stepping back on to good ice and then quickly put snow on your boot and legs. The snow will freeze the water and keep it from seeping into your boots.
5. Staying Hydrated
It can be difficult staying hydrated in cold weather.
Water bottles freeze and you don't feel like drinking too much (at least I didn't) but you have to.
Bring at least one insulated water bottle with you and one non-insulated, plus a thermos. Why two? Because you will be filling up your water bottles with boiling water in the morning.
Your non-insulated water will cool down quickly and by the time you are ready for your first sip, it will be perfectly cooled and you can drink it all morning. The insulated one won't freeze until the afternoon when you will need your second bottle.
The thermos (Kielyn and Dave brought those) are used for soup and non-caffeinated tea. Bam, you are hydrated.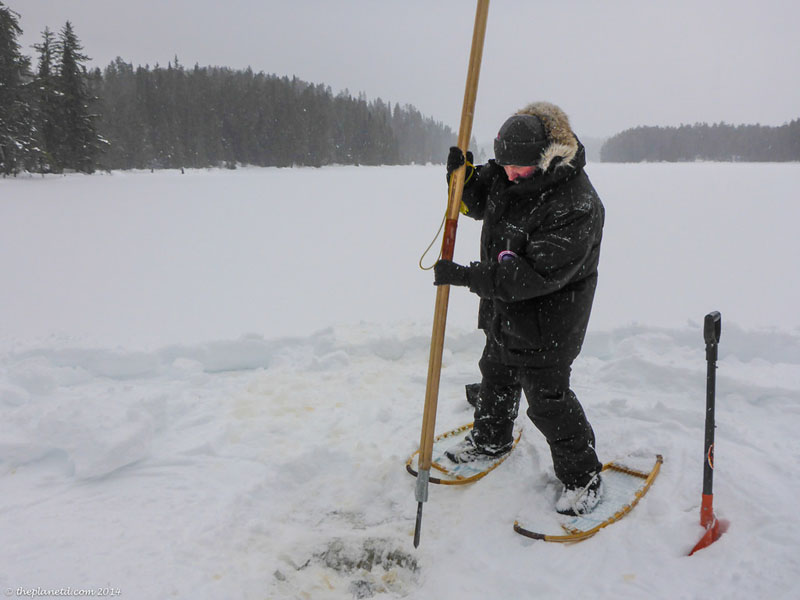 When winter trekking and camping you can get your water by chipping an hole into the ice. Ice was usually about two to three down, but sometime as little as three inches.
We hauled the water to the tent in pots and then boiled the water over our wood stove.
Lake water was used for drinking and cooking. But if you are rock climbing or in an area with no lakes, you will need to melt snow which will take a lot longer using more fuel.
Dogmusher Hank DeBruin of Winterdance Dogsledding uses melted snow for his long haul races and long training runs that he melts using a gas stove.
6. Nutrition
Besides eating a good breakfast and dinner, you need to eat on the trail.
And the easiest way to get to food is a snack bottle. We used a thermos as our snack bottle and filled it up with tasty goodness that Lure of the North supplied. At night we filled them up with chocolate, nuts, dried fruit, and gummy bears.
It's such a great treat when you are fatigued to dig into chocolate. With an easy to grab thermos, you can eat as you walk!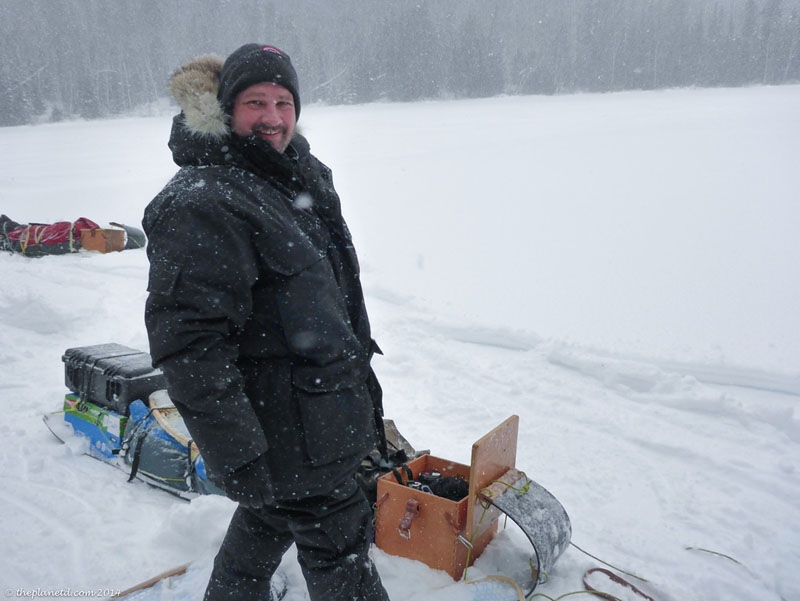 We kept our water bottles, thermos' and snack bottles in a wooden gear box at the front of the sled that was easy access to grab anything we needed. That's where extra hats, gloves and layers were kept as well.
Food on our Winter Trek
For meals, Kielyn used a lot of dehydrated foods and vegetables. They were rehydrated by boiling lake water and put into sauces with quinoa, rice or pasta. We ate very hearty meals with lots of protein and vegetables.
Lunch was a mixture of meat sandwiches heated in the morning over the wood stove and put into an insulated bag. Pluse we had honey or Nutella sandwiches.
We also had chocolate bars and homemade granola bars. Breakfast was oatmeal, breakfast sandwiches, or rice puddings.
Kielyn did a really great job feeding us, right down to baking cookies and cakes by using the heat under the wood stove while cooking our dinners!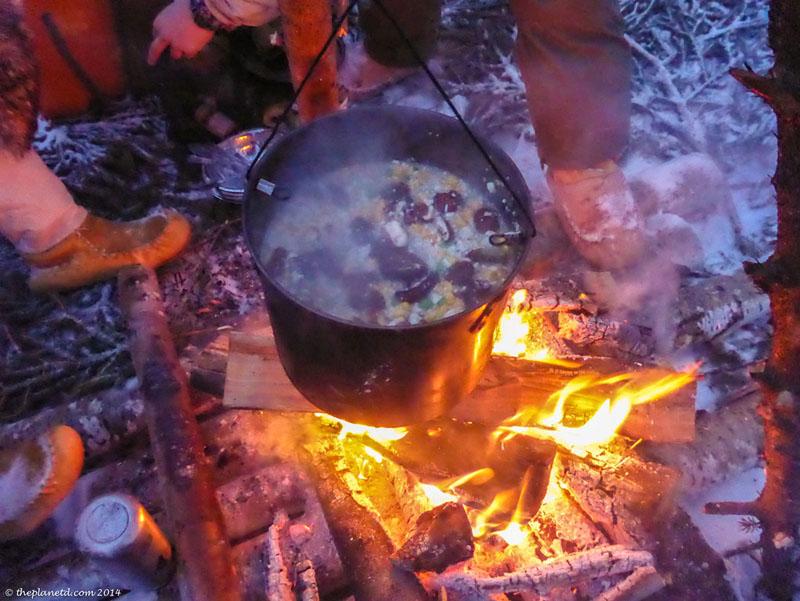 We had smoked meats (provided by: and canapés as appetizers each night as well. Kielyn would come out with a tray of delicious goodies.
The perks of towing everything on sleds – Lots of room for food!
One good thing when winter camping is you don't have to worry about refrigeration. Things will stay nice and cold.
7. Footwear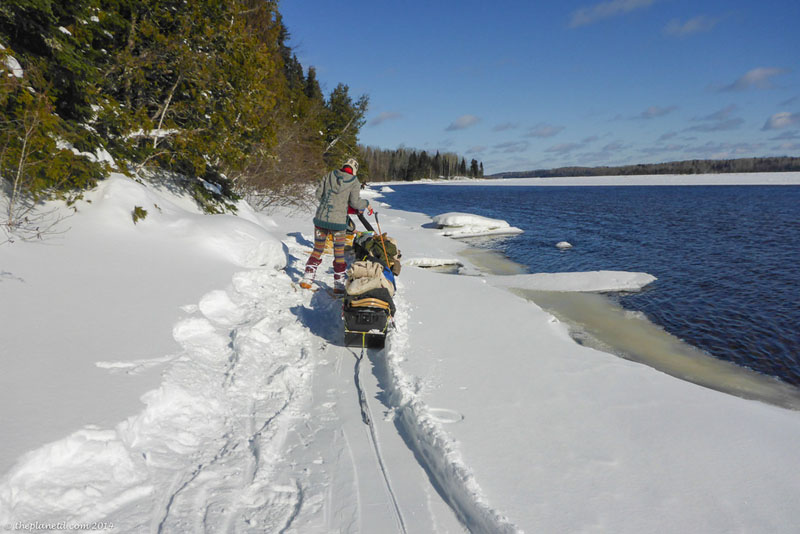 Having warm feet is the most important feet when winter trekking.
Believe me, cold feet suck! We found moccasins aka mukluks to be perfect for winter trekking. They kept our feet really warm by layering. We wore three layers of socks. (Notice a pattern here? Always layering) A polypropylene layer, a thick wool sock and then an outer fleece sock.
Our boots were lined with heavy winter boot liners and the outer moccasin itself is made of deer hide.
If we encountered really wet conditions we had an outer boot that we bought at Europe Bound known as Neos, I ended up loving this boot as my lampwick bindings (traditional cloth bindings) stayed on better with them and I had a lot more traction when going through portages and uphills.
I liked wearing my Neos over my moccasins because it gave me an extra inch or two of rubber between my feet and the snow as well. Having a distance between your feet and the snow helps keep them toasty warm.
Note: Moccasins are not a good choice for mountain climbing. They are meant to be used in traditional snowshoes. When doing other forms of winter trekking, we recommend sturdy hiking boots. They are slippery and they are not waterproof. For northern Ontario though, they are ideal.
8. Safety in Numbers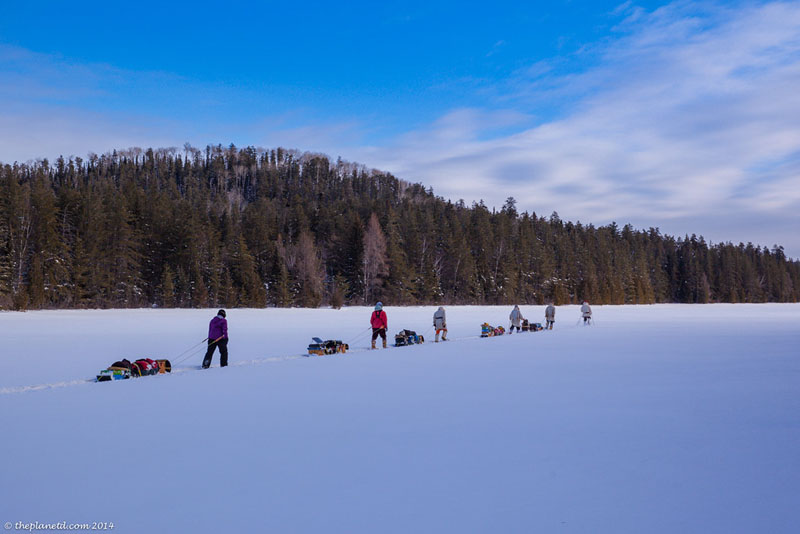 Don't go trekking on your own.
(Arron Ralston anyone?) Hire a guide or go with a very experienced group of people. Not only is it more fun with more people, you also have a great support system. There were 7 of us on this trip and I don't know if Dave and I could have made it without them all.
It was originally going to only be Dave and myself with Kielyn and Dave guiding us, but as we look back at the expedition, I am so thankful that Tyler, Leslie and Dave Hartman were there. With more people, more tasks could be shared. We could divy up the work loading allowing us to expend less energy.
Also, the other three with us were also very experienced in the outdoors, putting our minds at ease that should anything happen, we were in good hands with very capable people.
We want to give a big thanks to Dave Hartman, Tyler Vandermolen and Leslie Winterhalt for all their help, advice and patience with us during of Lure of the North. We couldn't have done it without you! And especially big thanks to owners/guide Dave and Kielyn Marrone for their guidance and expertise. What a trip!
For more information on winter trekking and camping visit Lure of the North for all their expeditions ranging from weekend traditional craft workshops, introductory outdoor courses and multi-day expeditions.
---
Read More
Taking on the Canadian Arctic Headwaters, Our Greatest Challenge Yet!
Winter Is Coming, Prepare for Lure of the North
Oh Canada, We're Back in the Adventure Saddle
You Might Also Enjoy