Looking for things to do in Winnipeg, Manitoba? These are the must-see attractions. 
Winnipeg will surprise you. If you ask most people about the city, they usually say something like, "You mean Winterpeg?"
Canadians have often written the city off as a place to fly over on their way to somewhere more exciting. But after spending a few days there, we discovered there are many things to do in Winnipeg that will completely change your mind.
Things to do in Winnipeg
1. Museum of Human Rights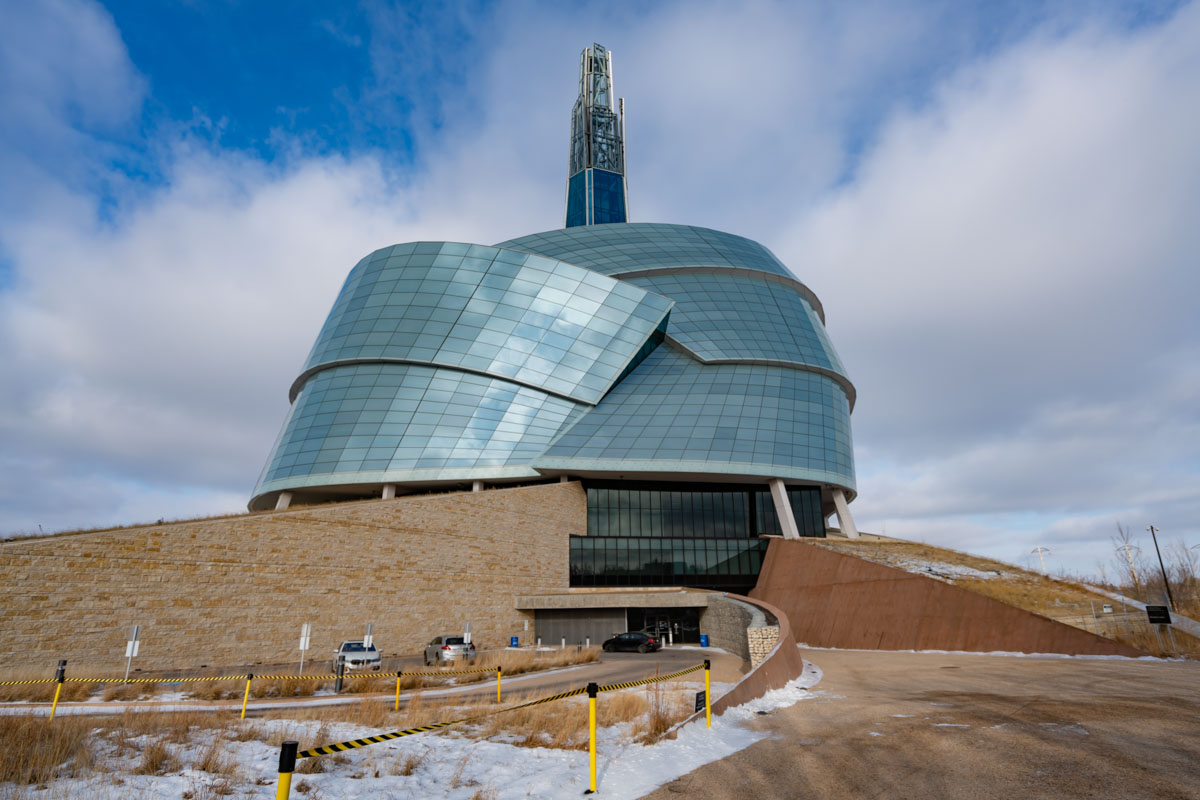 If you have followed Dave and me through the years, you will know that we don't go gaga over many museums. Heck, it took us four visits to Paris before we finally stepped foot in the Louvre.
Many people told us that the Museum for Human Rights was special, but we did what most people do when they hear about a new museum opening. We politely smiled, nodded our heads in agreement and secretly said "um ya, we'll never go to see it"
I'm glad we didn't listen to ourselves because visiting the museum was a highlight of our time there and one of the best things to do in Winnipeg.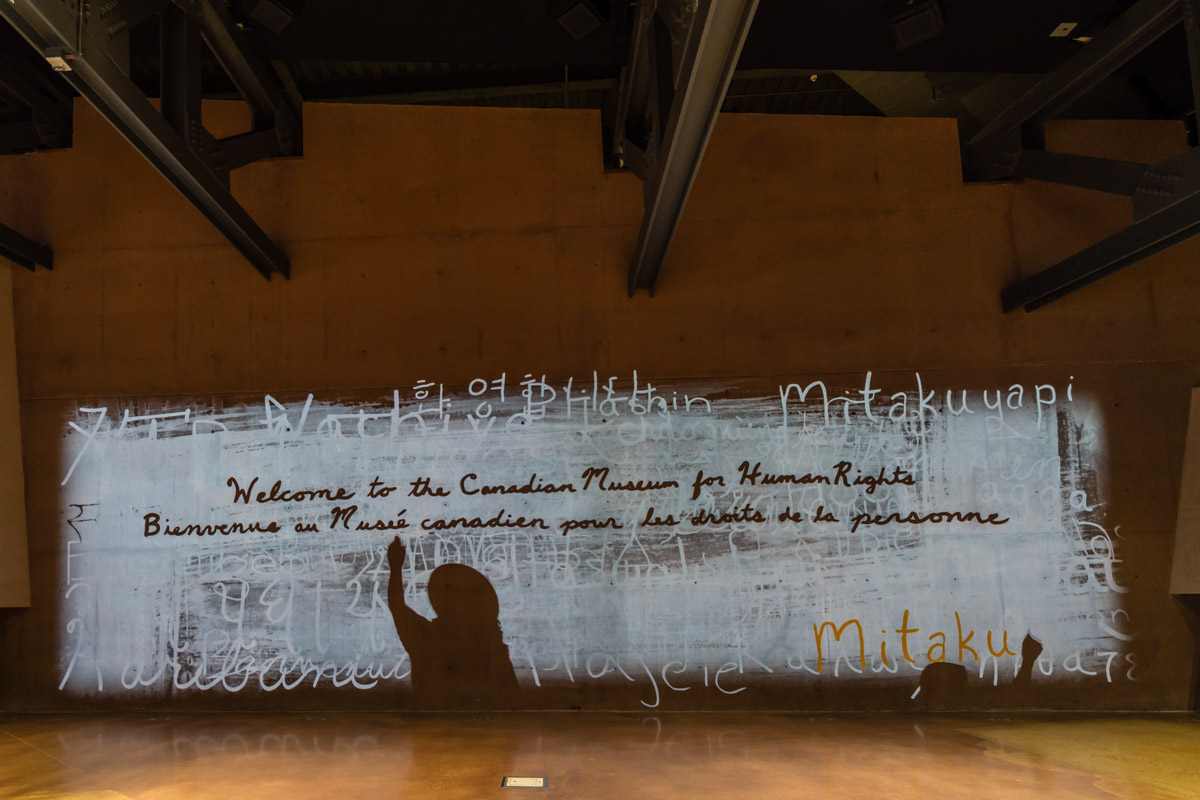 The tourism board scheduled half a day there for us and we were sure we'd be out in an hour tops.
It turns out, we really needed a full day. There are so many exhibits that are both informative and interactive, we could have spent hours here.
I was especially proud to be Canadian here. Our country has long been champions of human rights.
Canadian Charter of Rights and Freedoms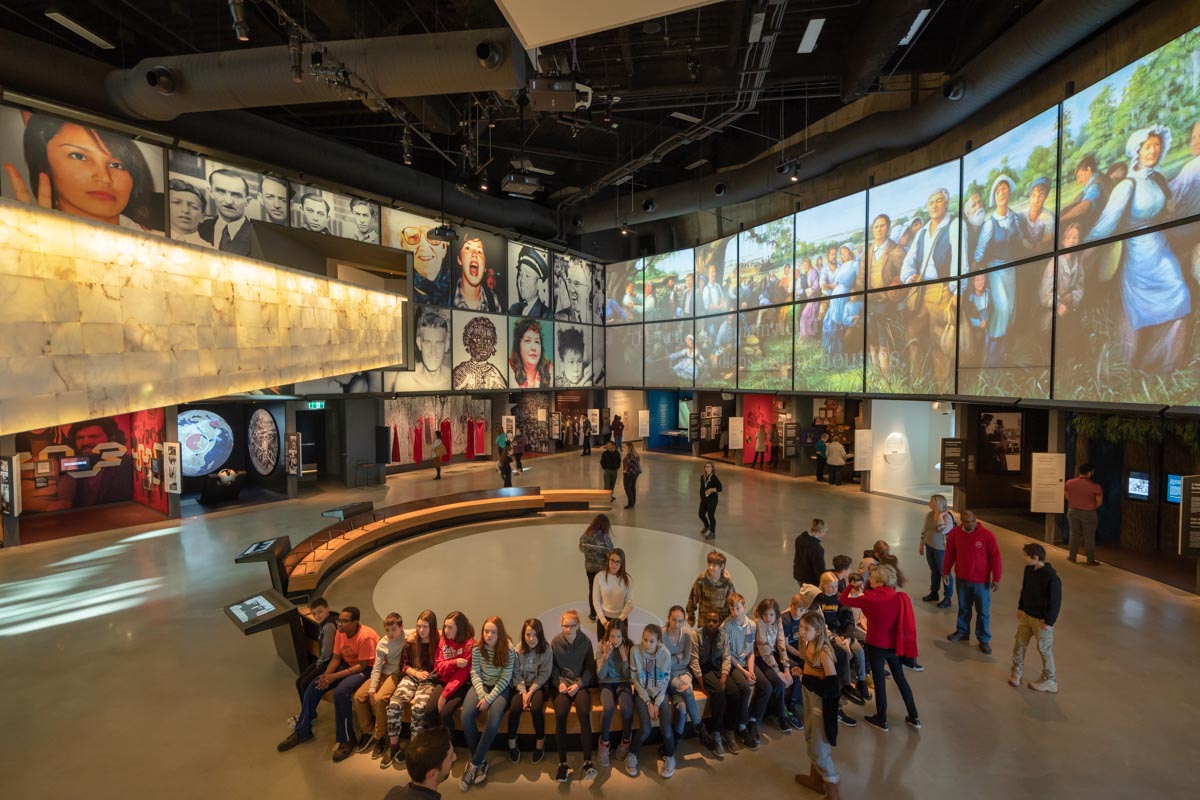 Something that really stuck with me was reading our Canadian Charter of Rights and Freedoms created by Prime Minister Pierre Trudeau.
As I understood it when explained to me, unlike America, our constitution is fluid. It is meant to change with the times as the human race evolves and learns more.
We aren't stuck with rigid laws that are outdated and centuries old.
We are willing to listen and learn and change when something better is proposed. I grabbed a free copy of our charter of rights from the museum and it sits proudly in my office.
Viola Desmond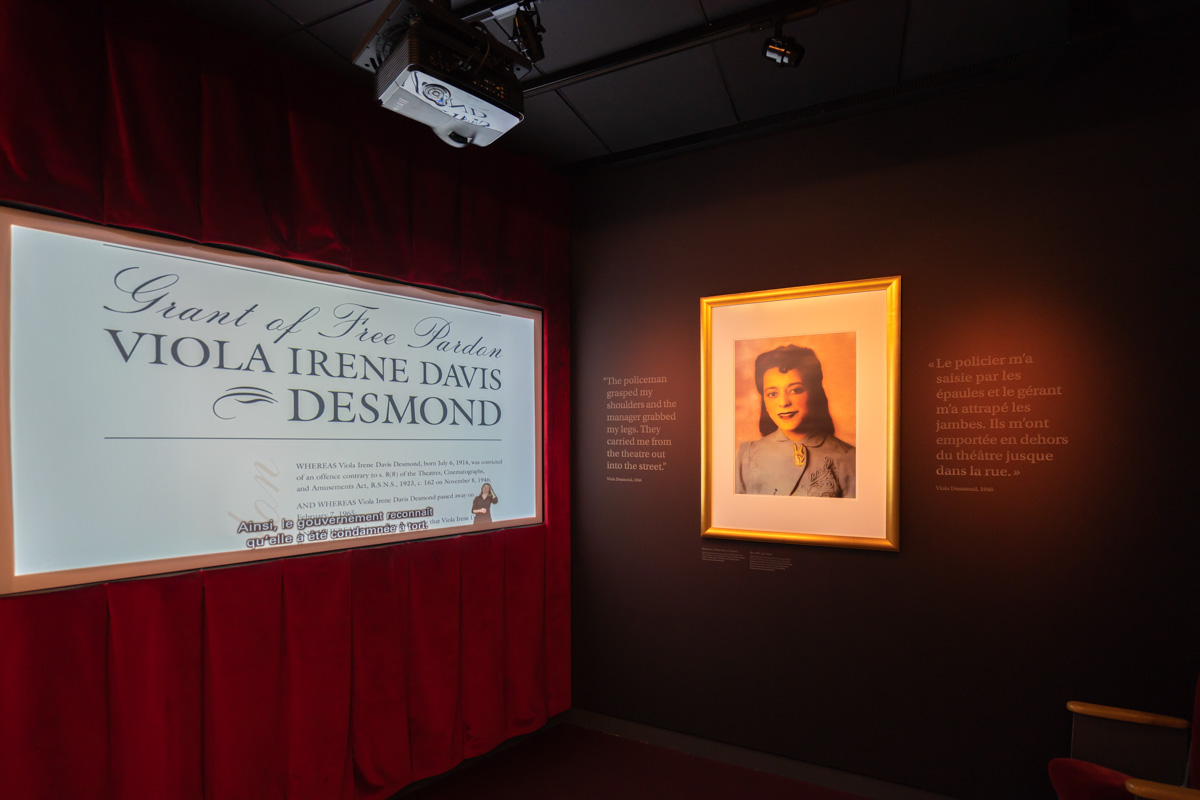 Another noticeable exhibit is dedicated to Viola Desmond. She is the new face of our $10 bill.
Desmond was a black businesswoman from Nova Scotia who stood up for her rights in a movie theatre. In 1946, she refused to leave the whites-only section of the theatre helping to start the modern civil rights movement in Canada.
Not only are there exhibits about Canada, but the Museum for Human Rights also showcases human rights abuses and victories from around the world.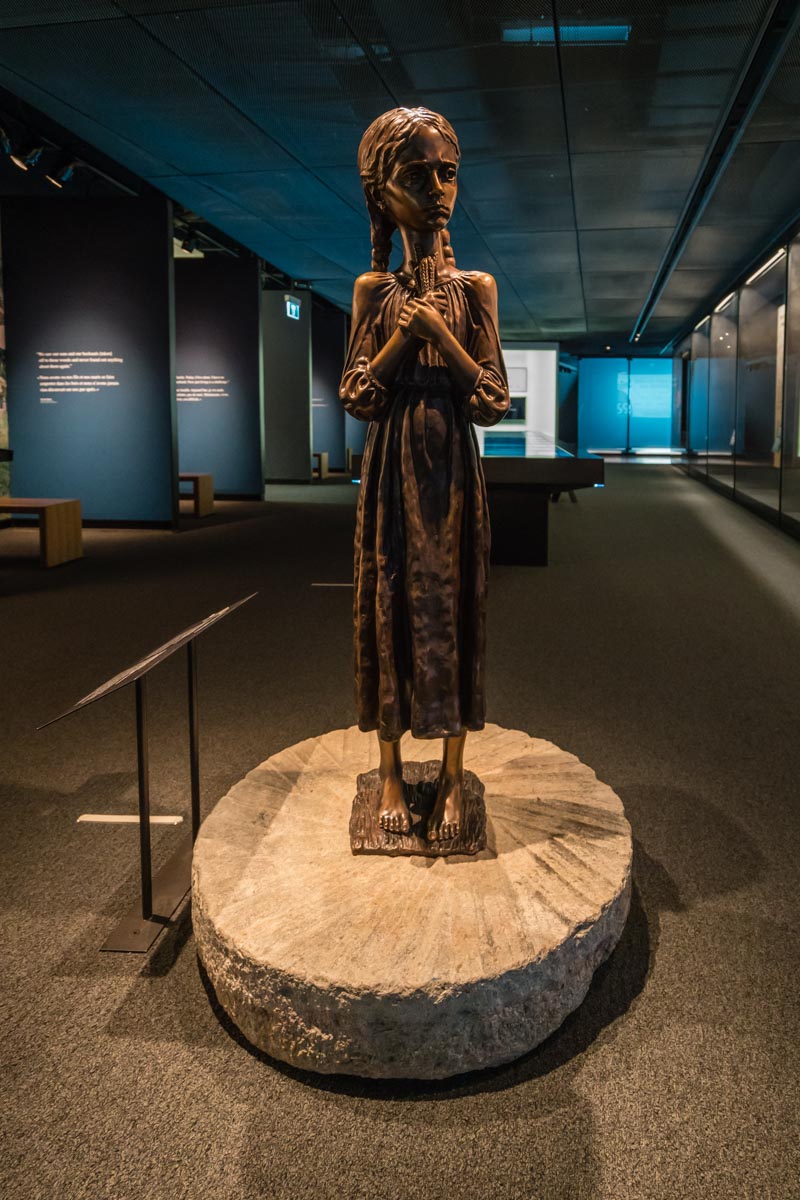 Including the fight for justice in South Africa, The Holocaust, Indigenous rights and Rohingya in Myanmar.
They have actually darkened the previous exhibit for Aung San Suu Kyi who was once revered and is now a disgrace having not stood up for the Rohingya community in her country.
Award-winning Architecture

The museum also is a beautiful display of architecture.  It is a completely accessible building and architects from around the world come to the museum to study it.
One entire half of the building is dedicated to admiring its design.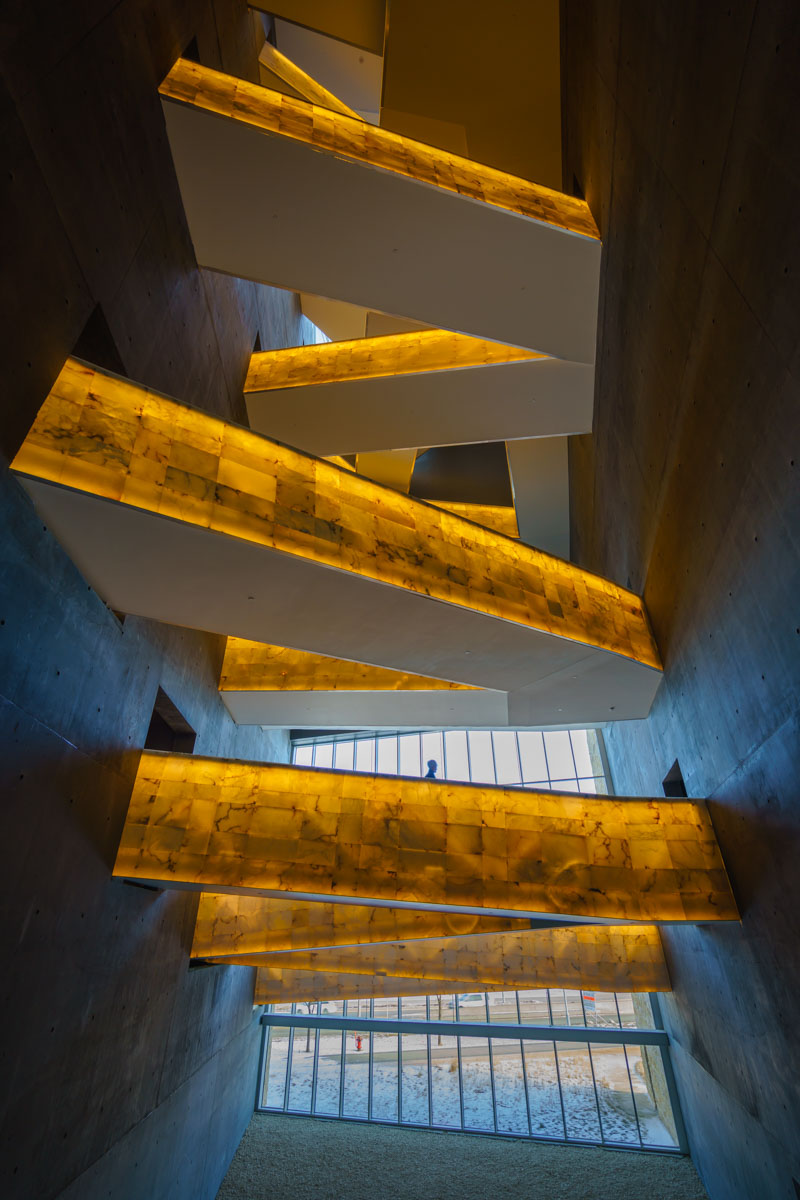 When you walk out of the exhibits you enter different floors dedicated to earth.
Starting with the roots representing man's connection to the earth. It winds up all the way to the Tower of Hope symbolizing the goal to have equal human rights and freedoms around the world.
My favourite design exhibit was the in The Garden of Contemplation filled with basalt columns.
It reminded me of the Giants Causeway in Ireland but these columns were imported from Inner Mongolia. I only hope that they didn't ruin a site in Mongolia for the sake of a museum.
If you ever want to visit one museum in your life, this is the one.
Read more about the Museum for Human Rights and check exhibits and information on their website. 
Other Museums in Winnipeg
Railway Museum
Manitoba Museum
Royal Aviation Museum of Western Canada
Manitoba Children's Museum
Manitoba Planetarium
2. Assiniboine Park Zoo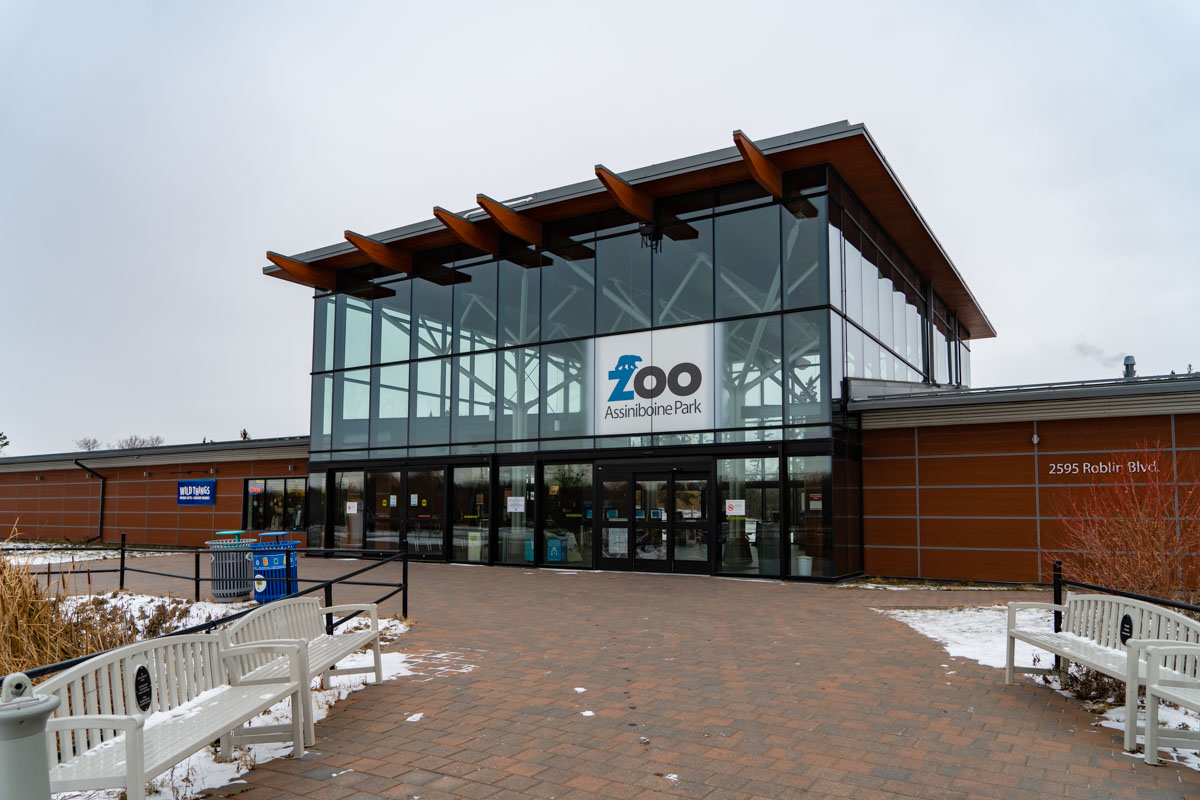 If you have followed us for a while, you will also know that we don't like visiting zoos. But the Assiniboine Park Zoo in Manitoba is different and special.
Many of the animals in this zoo are rescues.
Journey to Churchill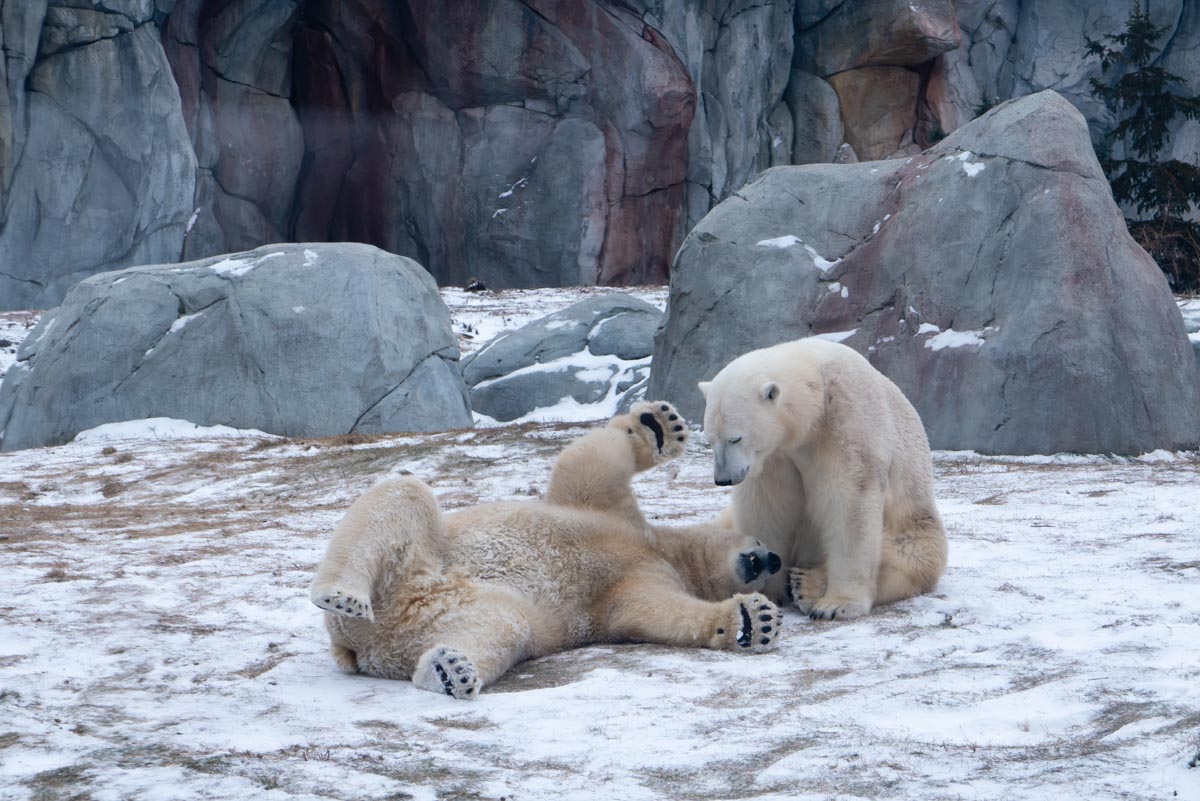 We visited the Journey to Churchill display and it is one of the most mesmerizing animal displays we've ever seen.
There are 10 polar bears in a large enclosure that have been rescued from Churchill and northern Manitoba.
Many were brought as cubs when they were orphaned in the wild under a variety of circumstances. One was brought as a result of human/bear conflict in the town of Churchill.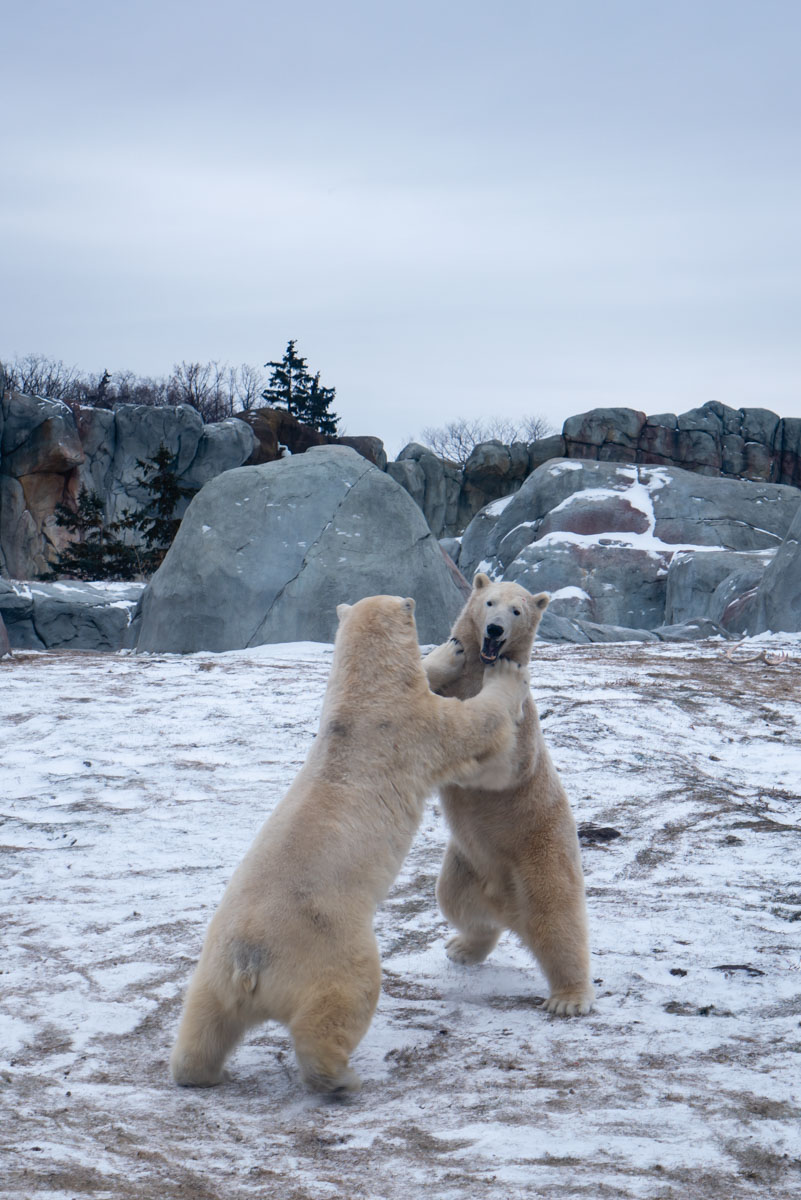 The polar bears have access to swimming pools, shade, and air-conditioned areas in the summer to keep them cool, but when visiting in the winter, they are in their element.
Winter is actually the best time to visit the zoo because that is when the animals are most active.
Remember, these are northern animals and winter is their jam!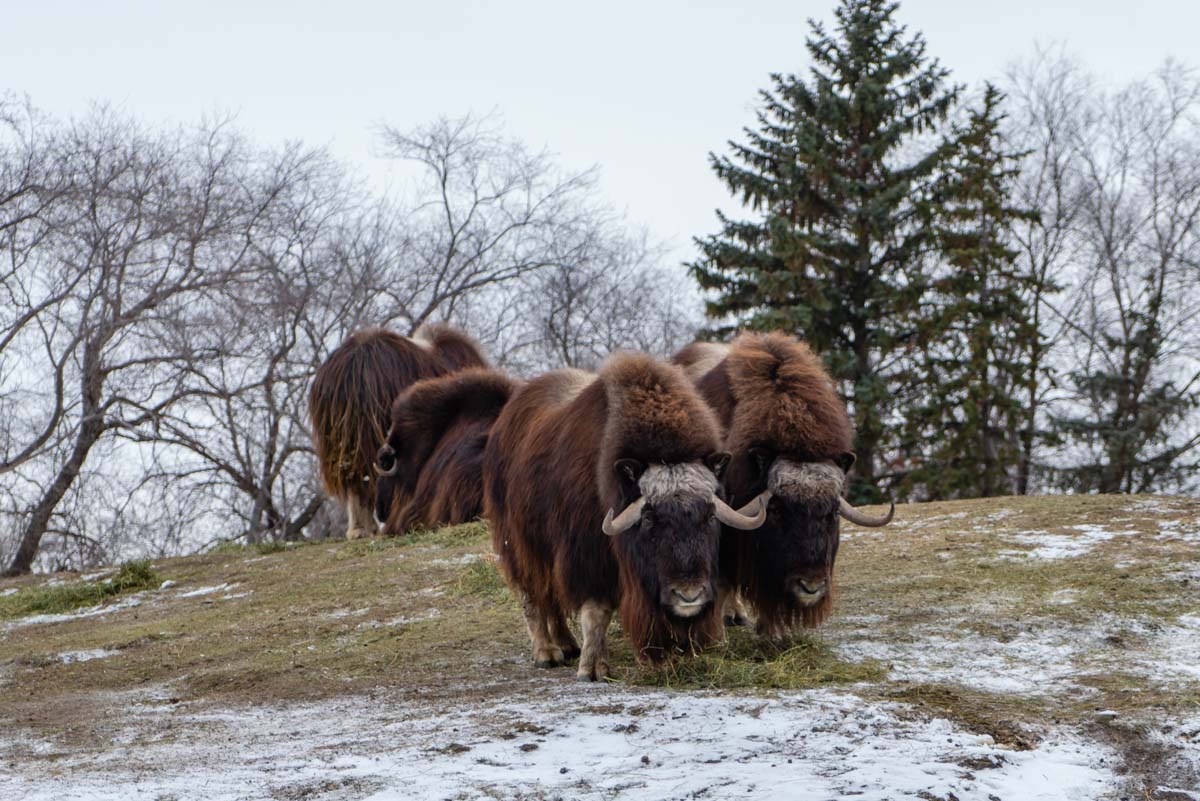 Wolves come out and play, polar bears spar, muskox and caribou roam about.
Behind the Scenes Research
Dave and I had the good fortune to go behind the scenes and learn of the research they are doing at the zoo.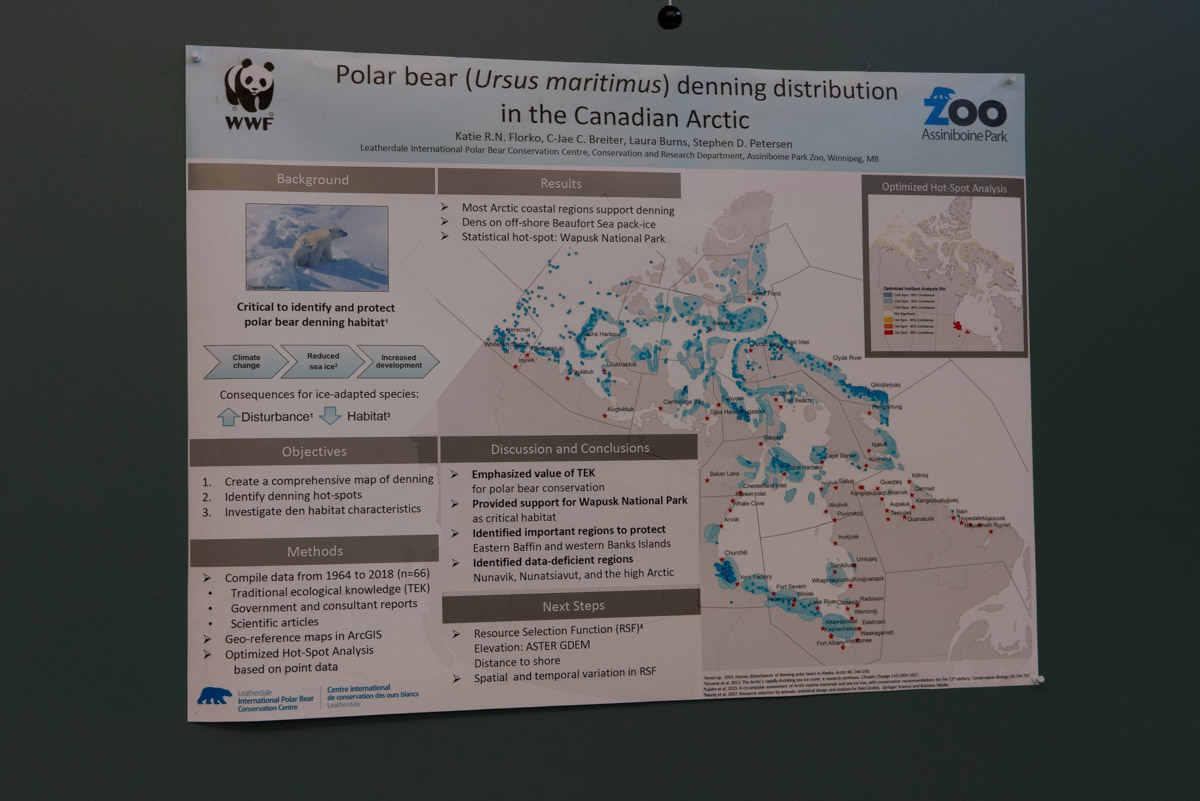 This is one of the top research centres in the world to learn about the polar bear and seal migration habits and how to preserve life in the Arctic.
They told us that they were very happy for the early freeze this year, as it meant they didn't receive any new polar bears.
With a healthy polar bear population, cubs have a better chance of survival in the wild as the mothers can go out on the ice to hunt for food rather than staying on land in human populations or starving to death while looking for food.
Underwater Tunnel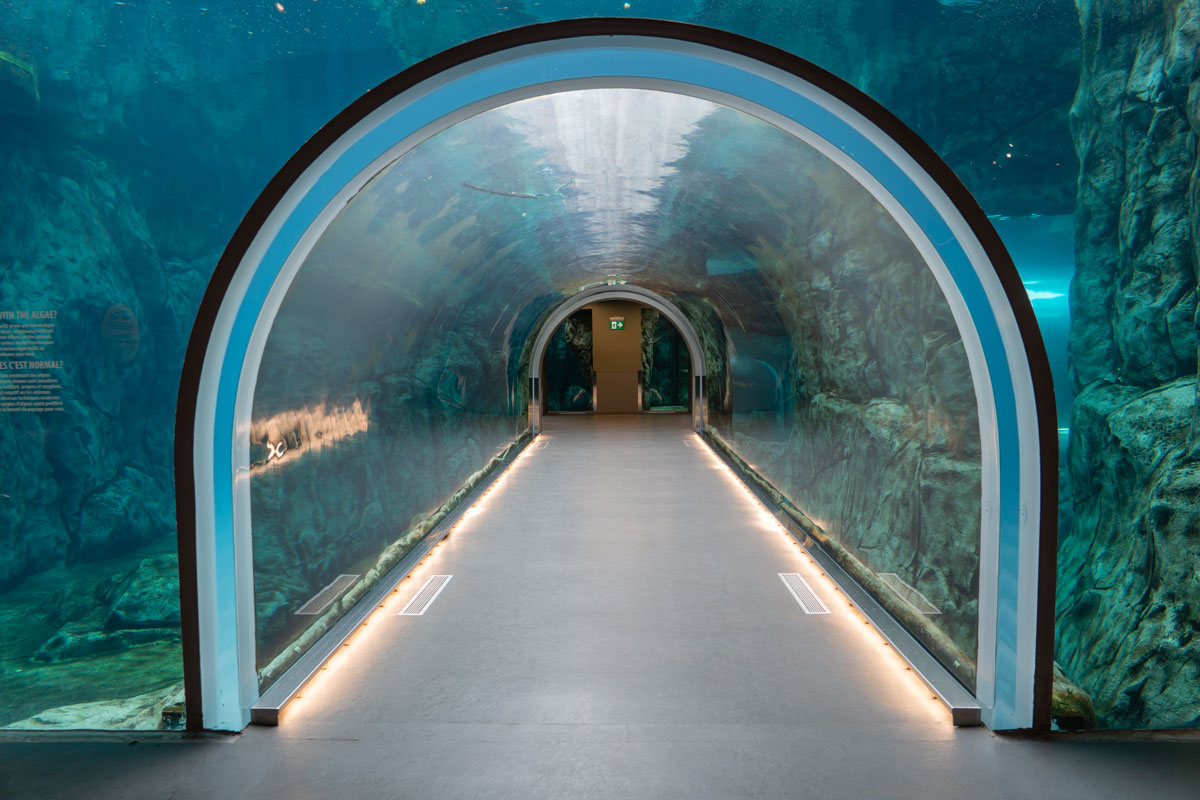 A highlight of the zoo is definitely the underwater display. If you are looking for things to do in Winnipeg don't miss this!
Polar bears swim above a glass walkway and harbour steals and say hello to the crowd.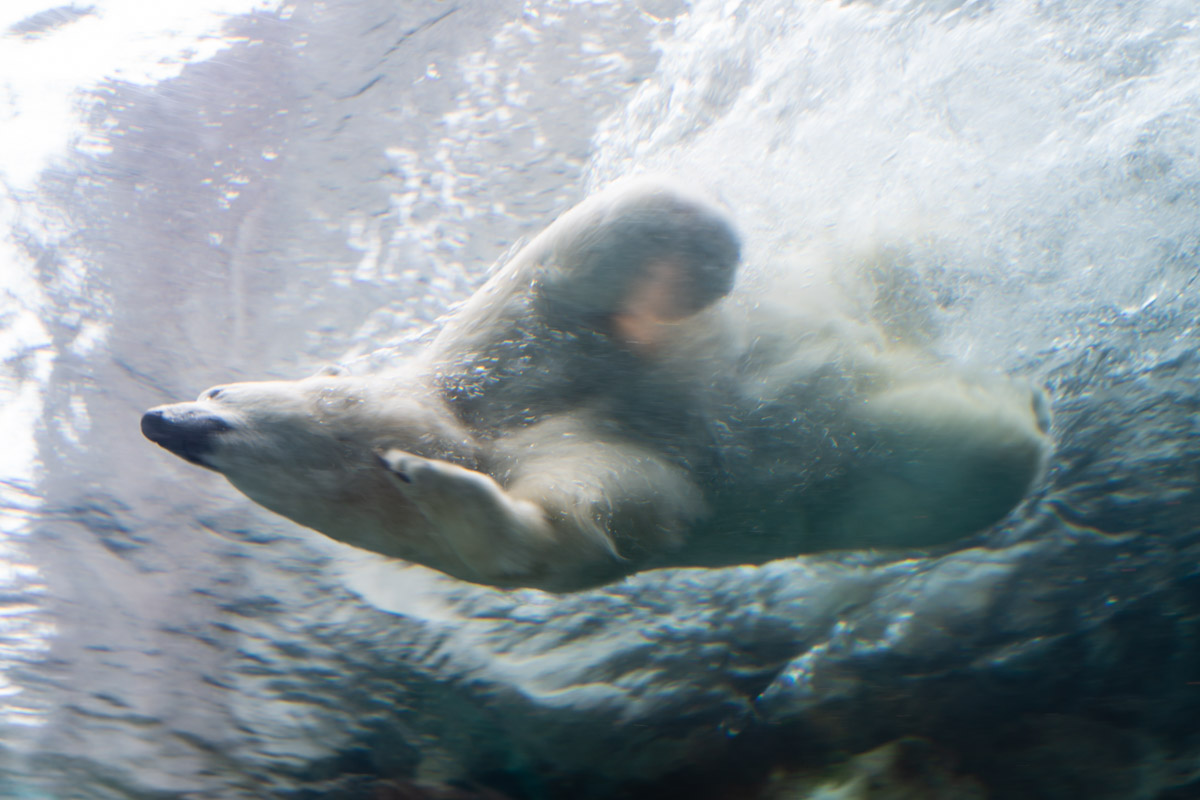 These seals are curious creatures and will come right up to the glass to have a look.
Several of the seals are rescues from the Vancouver Aquarium.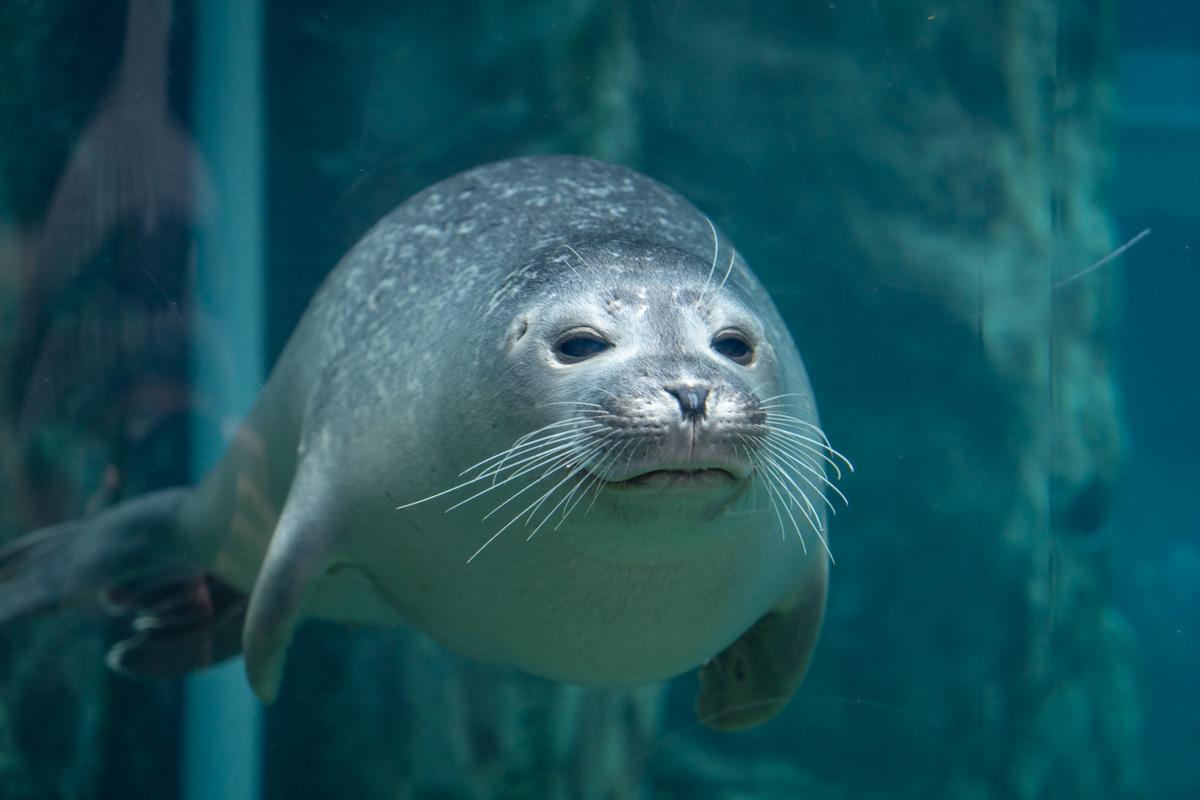 The Aquarium rehabilitates and releases many animals, but these ones have injuries or visual problems that keep them from going back to the wild.
Note: Polar bears can never go back in the wild. Once they are domesticated, there is no going back.
3. Hermetic Code tour at the Manitoba Legislative Building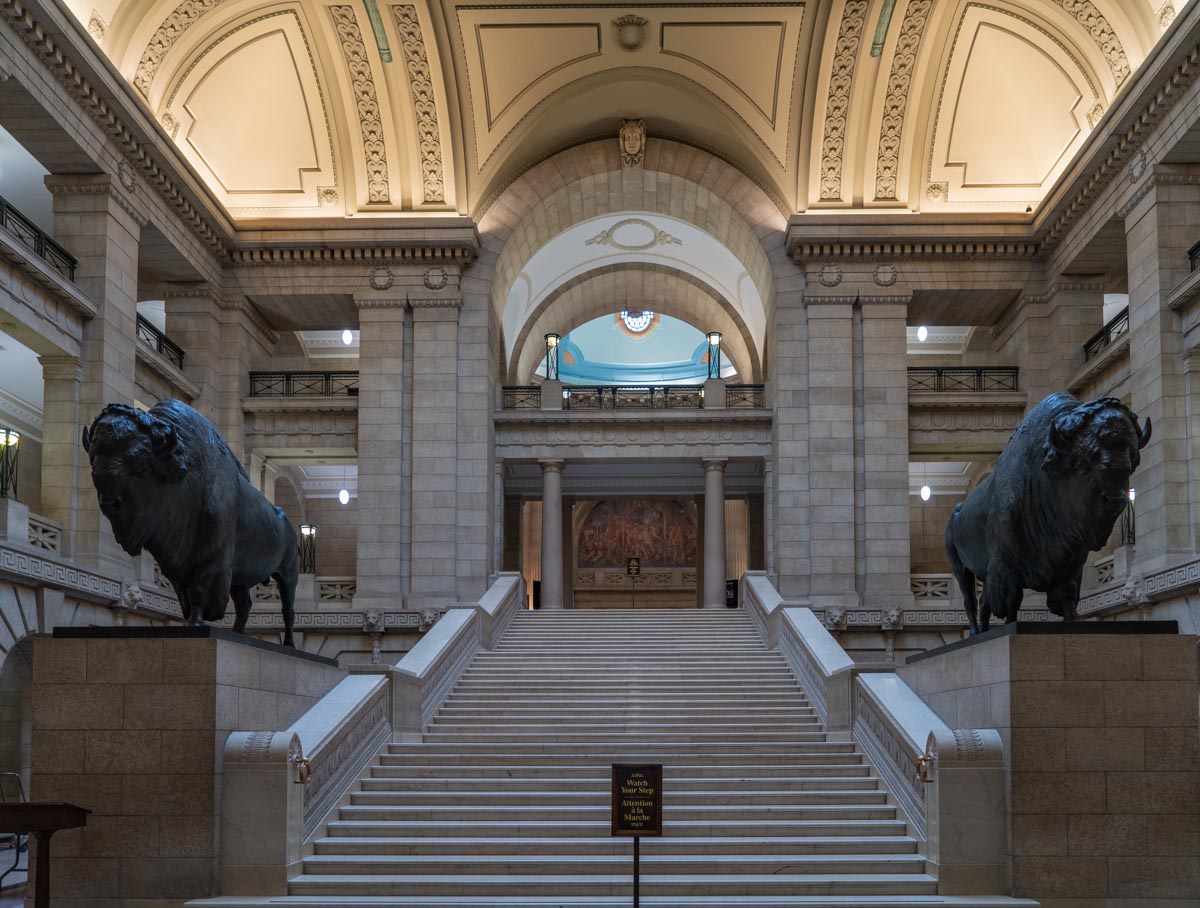 One of the most interesting tours we've taken in our lives! We met Canada's answer to Dan Brown, Frank Albo on the steps of the government legislative building to take a walk through Winnipeg's Da Vinci Code.
Who knew that Winnipeg had a temple? Well, said temple happens to be the government legislative building, but once you've taken this tour with Frank Albo, you'll see that Manitoba has its own Da Vinci Code Conspiracy!
Winnipeg Was Booming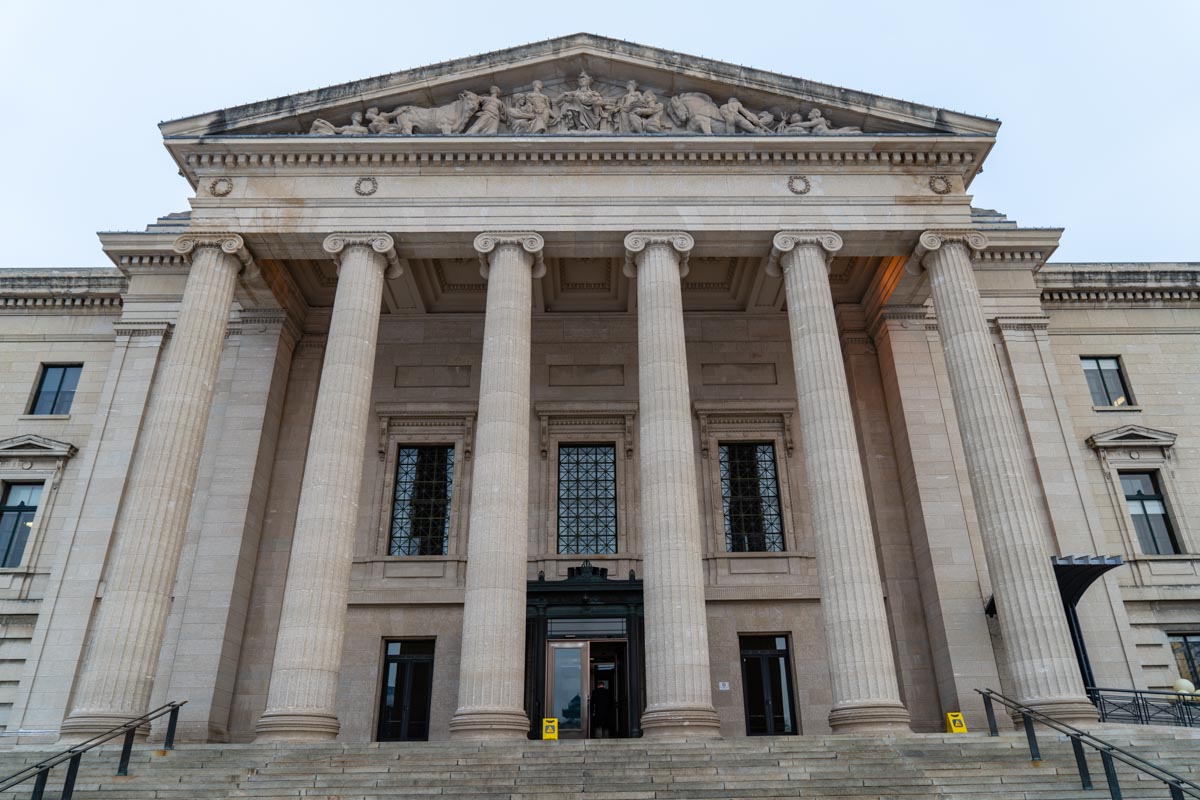 At one time in history, Winnipeg was set to be the fastest growing city in North America. It was known as the Chicago of the South. There was a wheat boom, people made their fortunes in paper and Winnipeg saw a real estate boom.
It was so popular that the government held a contest to design the new legislative building across the commonwealth.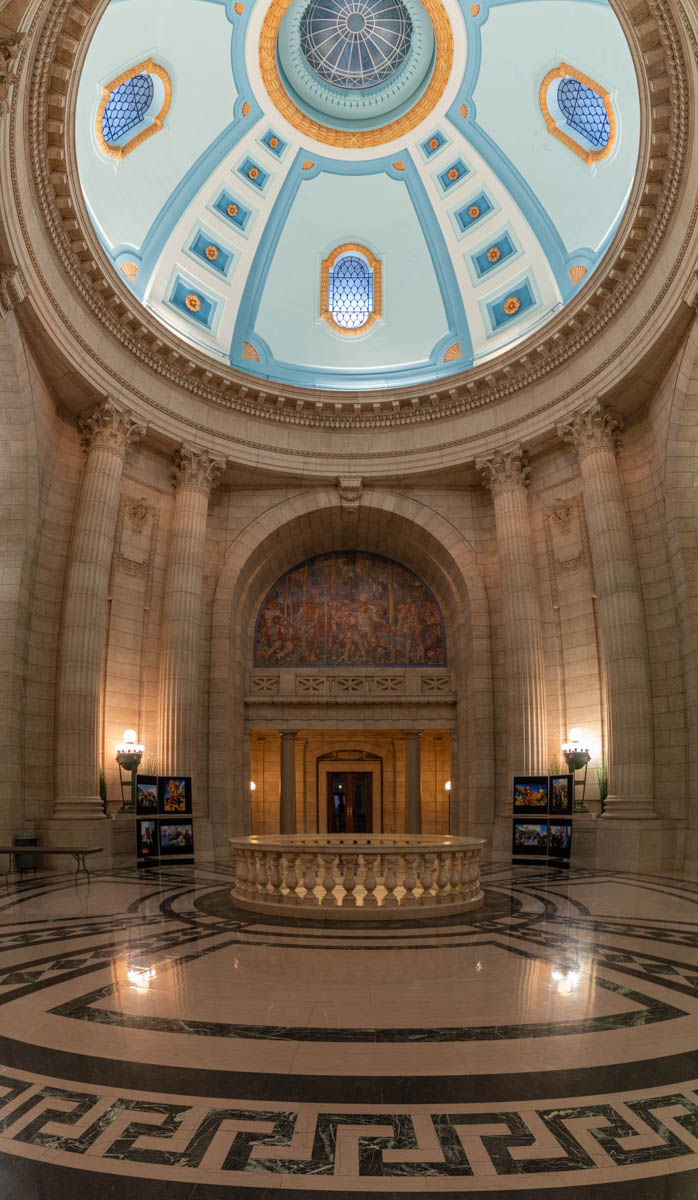 The tour begins with Dr. Frank Albo leading the way stating "Everything I tell you will sound like a lie. Don't believe anything I say, unless I can prove it." And prove it he did!
We were then taken on a wild tour of intrigue, secret societies and scandals as we walked through the halls of the historic building.
Winnipeg's Friendly Government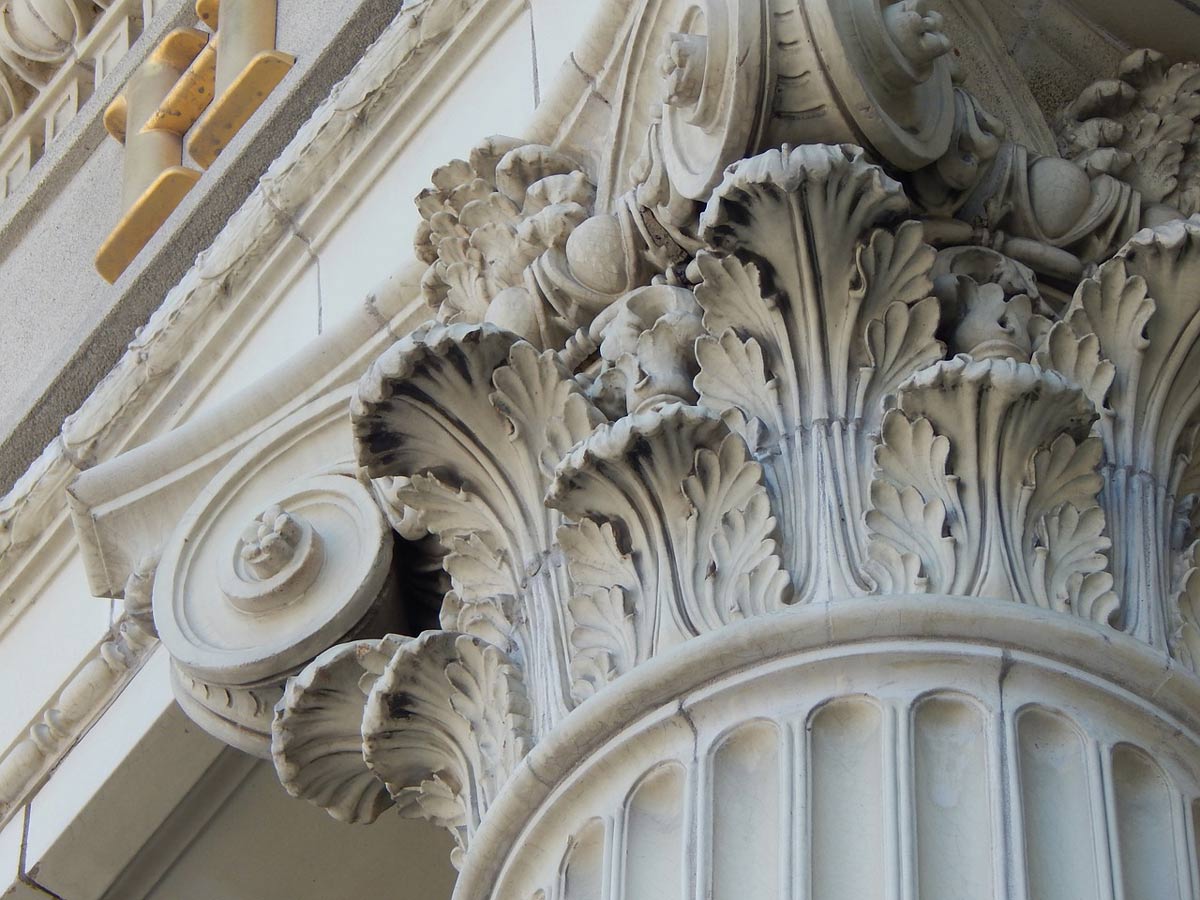 We ran into Manitoba's Liberal Leader, Dougald Lamont who stopped for a few minutes to chat and we received a quick wave from the Premier as he entered the building.
Albo has been given free rein to walk and examine the halls and architecture any time he likes to uncover the mysteries of the building that has astonishing secrets.
What is most astonishing is that everything is hidden in plain sight. To the trained eye, there are tributes to the Free Masons, ancient civilizations, Alchemy and numerology.
It is so intriguing that Albo met with Prince Charles in the royal room when we visited, he's flown around the world unravelling Egyptian and Roman connections and religion.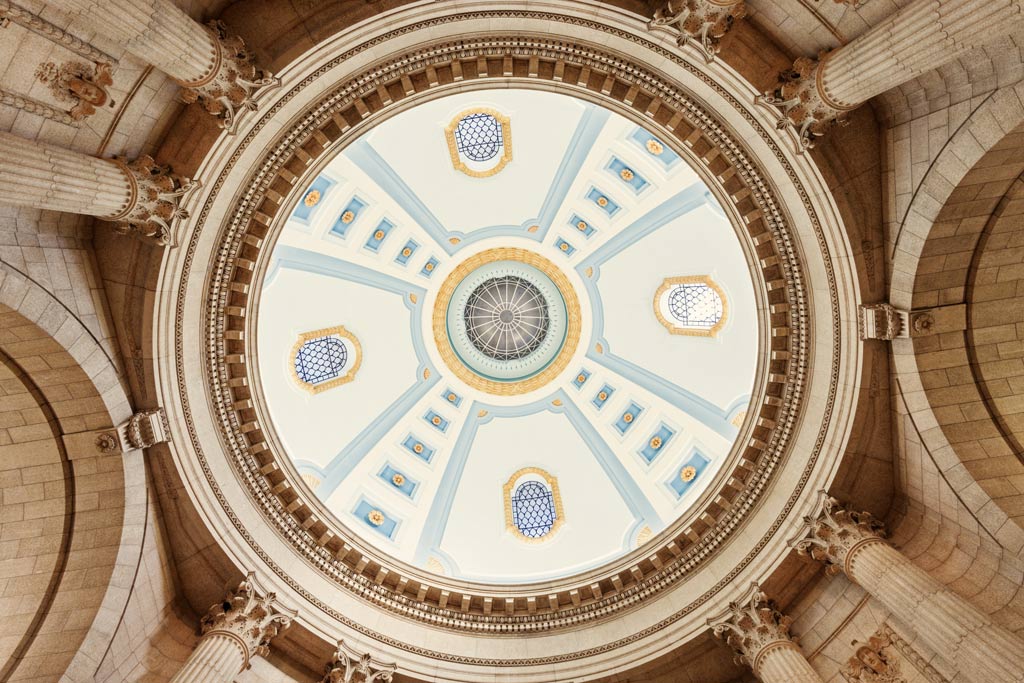 This tour will make a believer out of you.
How did an architect 100 years ago create a building with such perfect precision? 13 lights line a hallway of 13 archways leading up 3 flights of 13 stairs each to a room that is 66.6 feet all around.
Yes, there are signs of the beast 666 and the unlucky number 13 everywhere.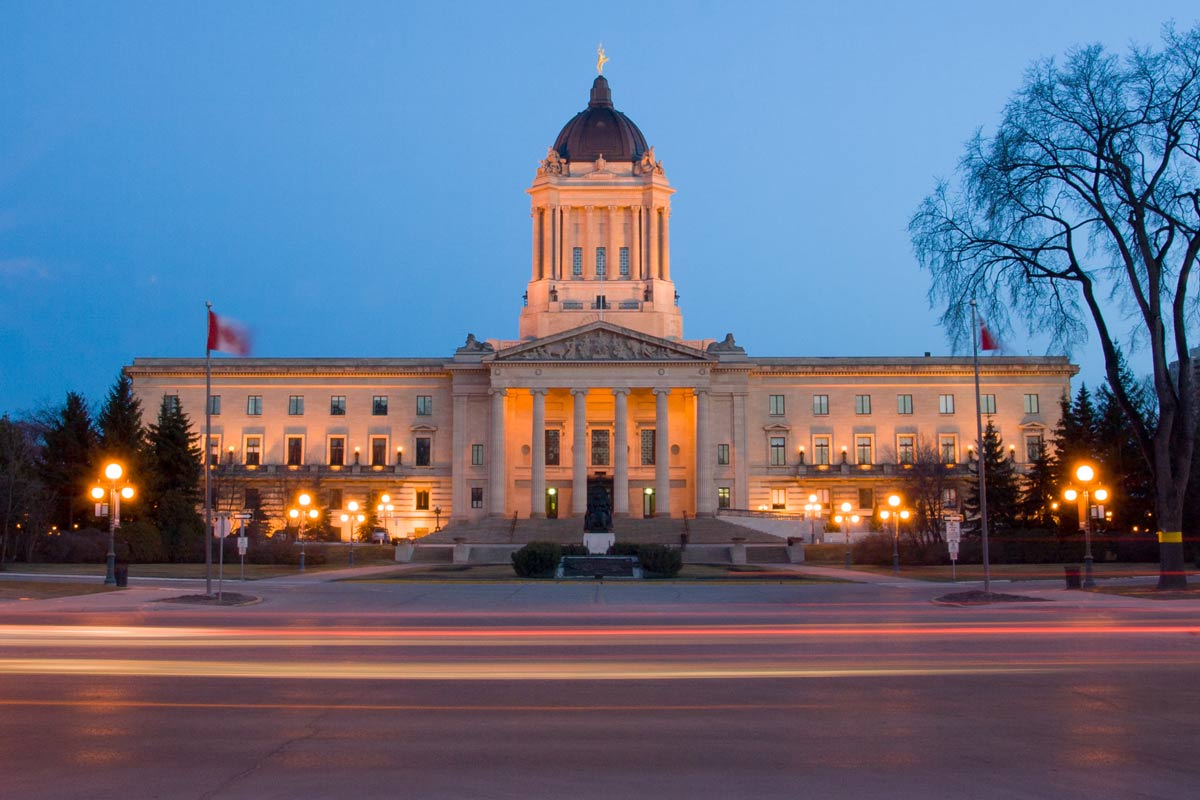 With signs of the Arc of the Covenant resting in Winnipeg in a vanquished temple in the middle of the prairies, this is a building that will attract historians and scholars alike for years to come.
This is definitely one of the most interesting things to do in Winnipeg.
4. The Forks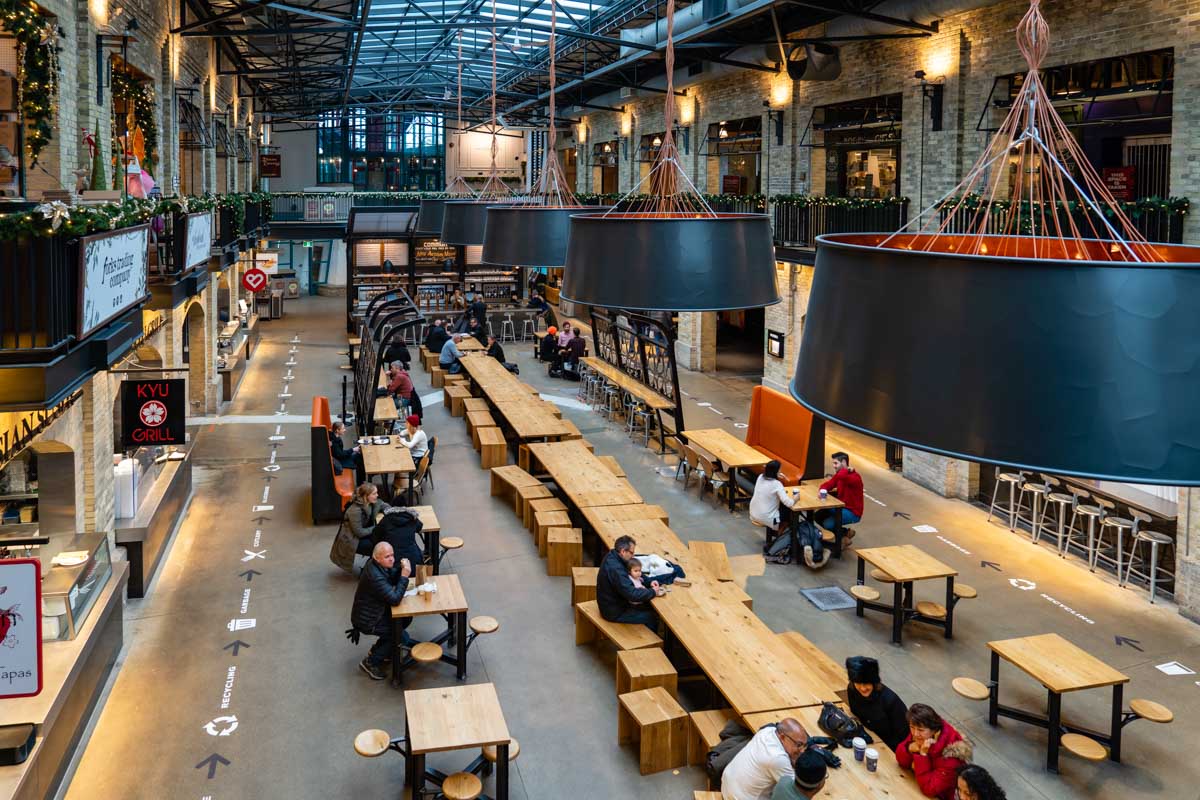 Winnipeg is an interesting destination for its history. Many cities have a history that dates a couple of hundred years, but Winnipeg dates back thousands.
The Forks has been a meeting place for 6,000 years. Located where the Red and Assiniboine Rivers meet, it was a meeting place for indigenous people to trade.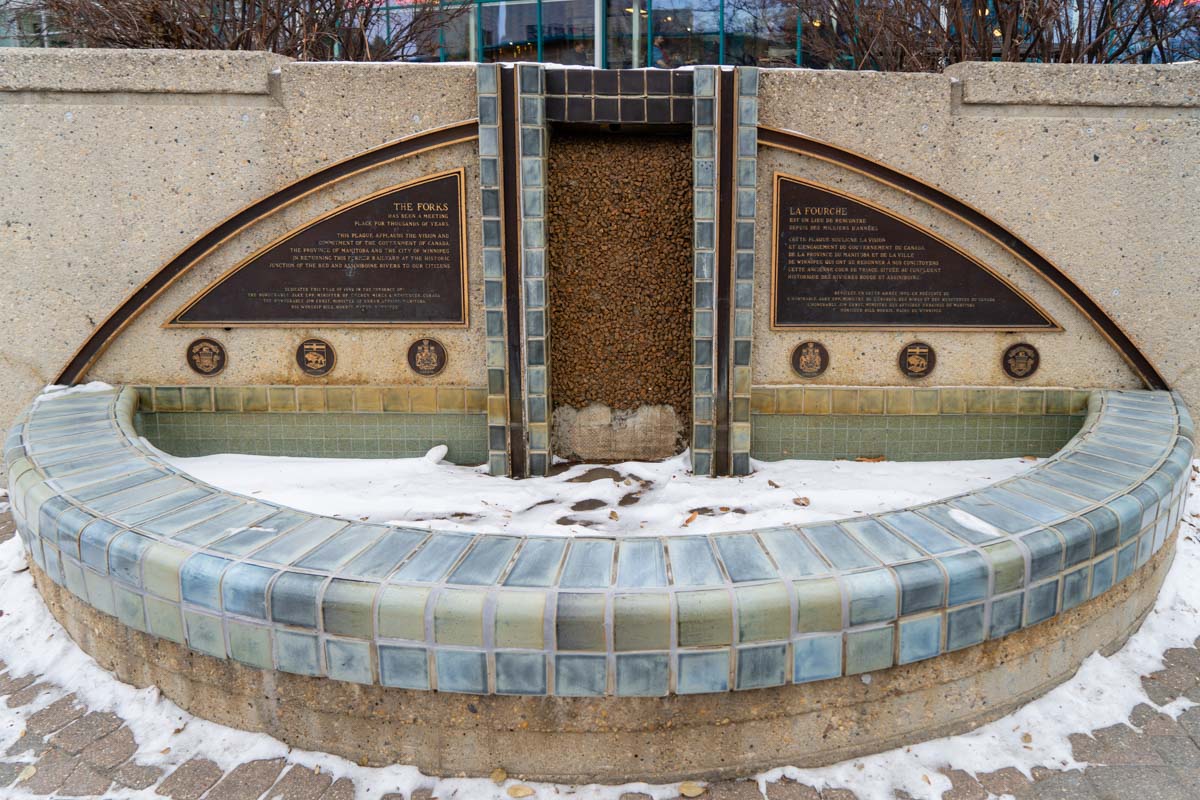 It continued through the fur trade where aboriginal peoples met with European fur traders.
The tradition continued through riverboat and railway development and today it is a place where tourists and locals meet up.
It is the city's number one tourist attraction with four million visitors enjoying its markets, restaurants and food and beer halls each year.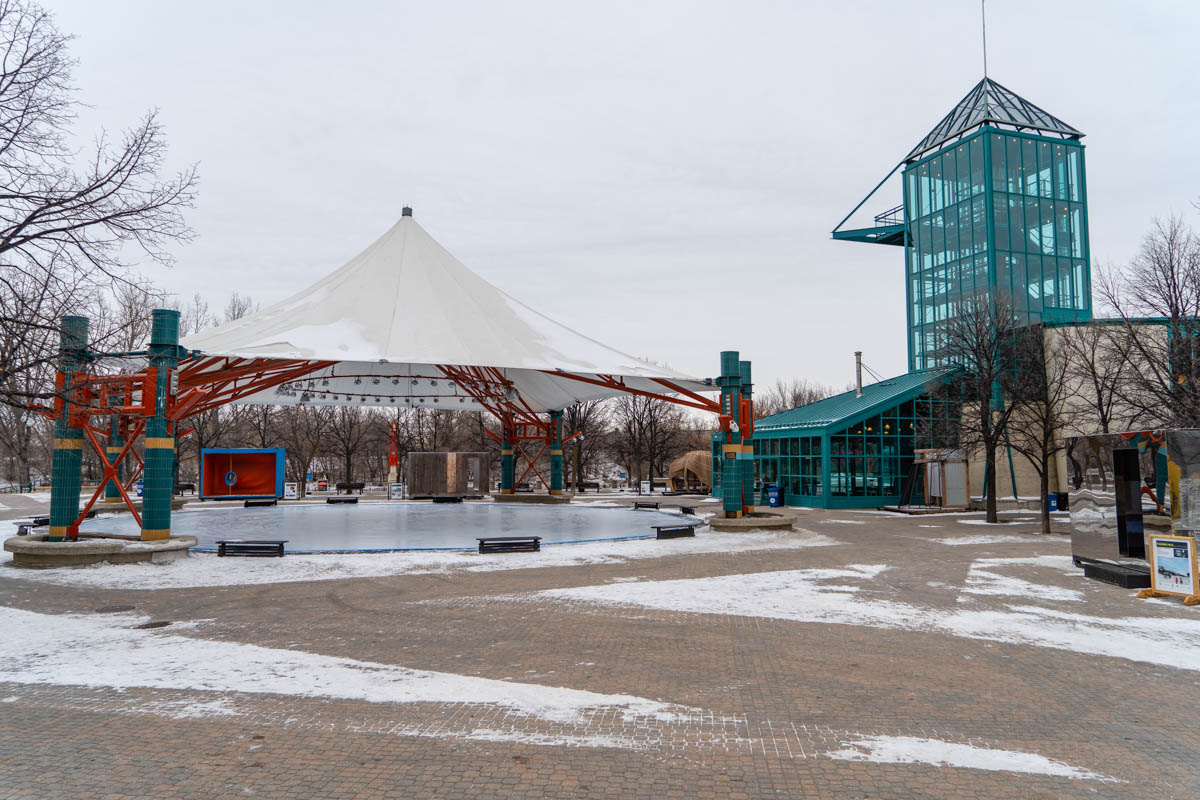 What we love about it is how a large part of the food and shopping is indoors.
Winnipeg is an official winter city so in the colder months it is nice to be able to escape the cold, but feel that you are still in a large open space.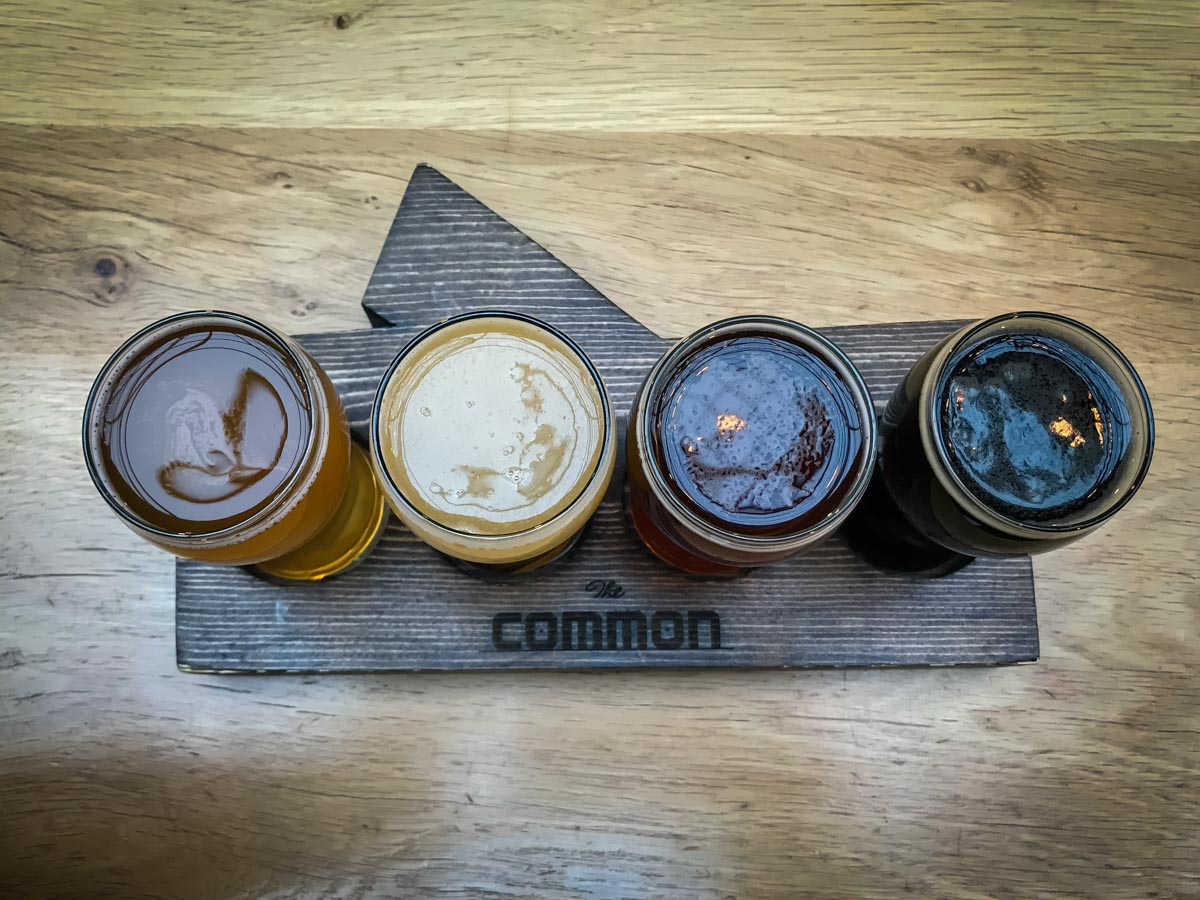 During the summer, the area is busy with people enjoying the outdoors, and in the winter, it continues with people skating on the Assiniboine River, playing on the outdoor hockey rink and enjoying the warming huts designed by artists from around the world.
5. Thermea Nordik Spa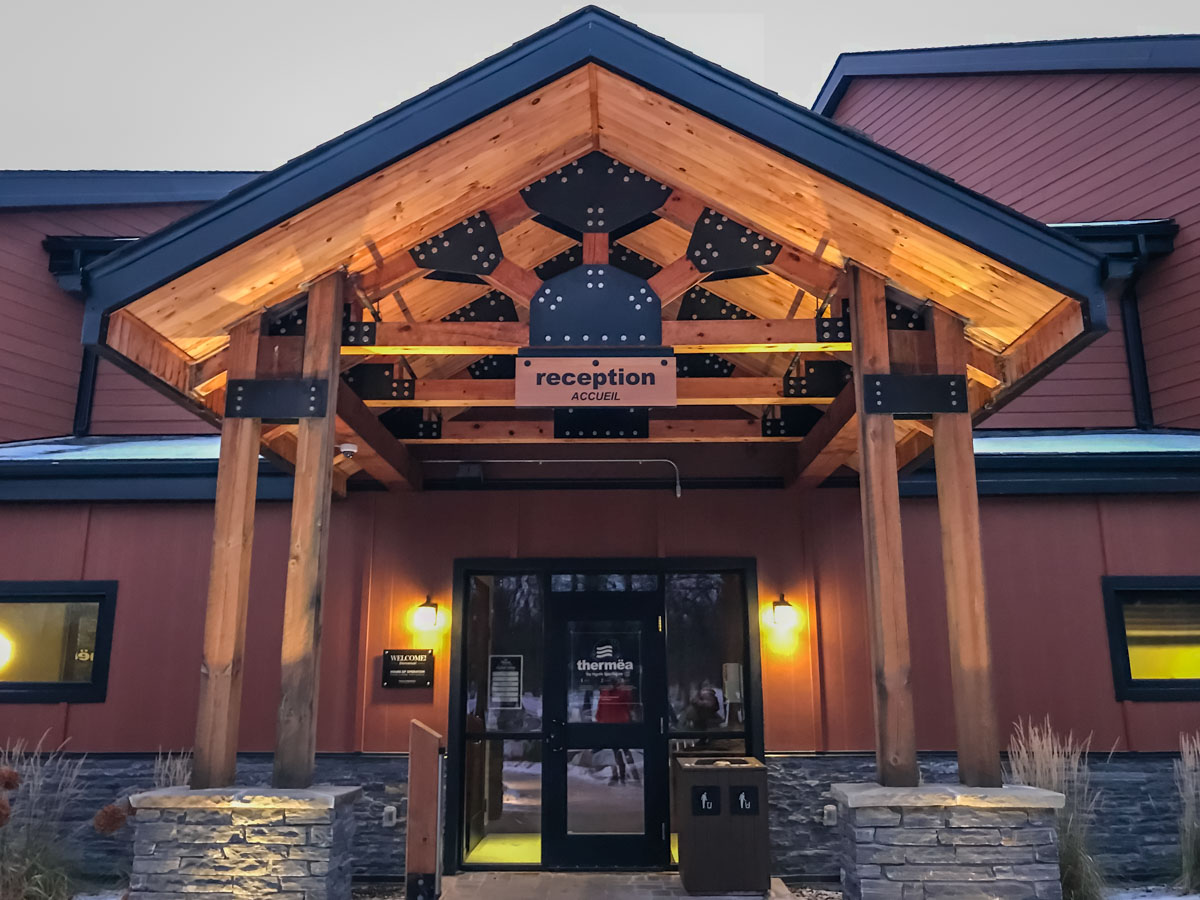 If you love a spa experience, the Thermea Nordik Spa-Nature is for you.
Hop in a TappCar (Winnipeg's Answer to Uber) and spend the afternoon and evening at Nordik Spa. It is a series of outdoor hot pools with saunas, steam rooms and meditation stations.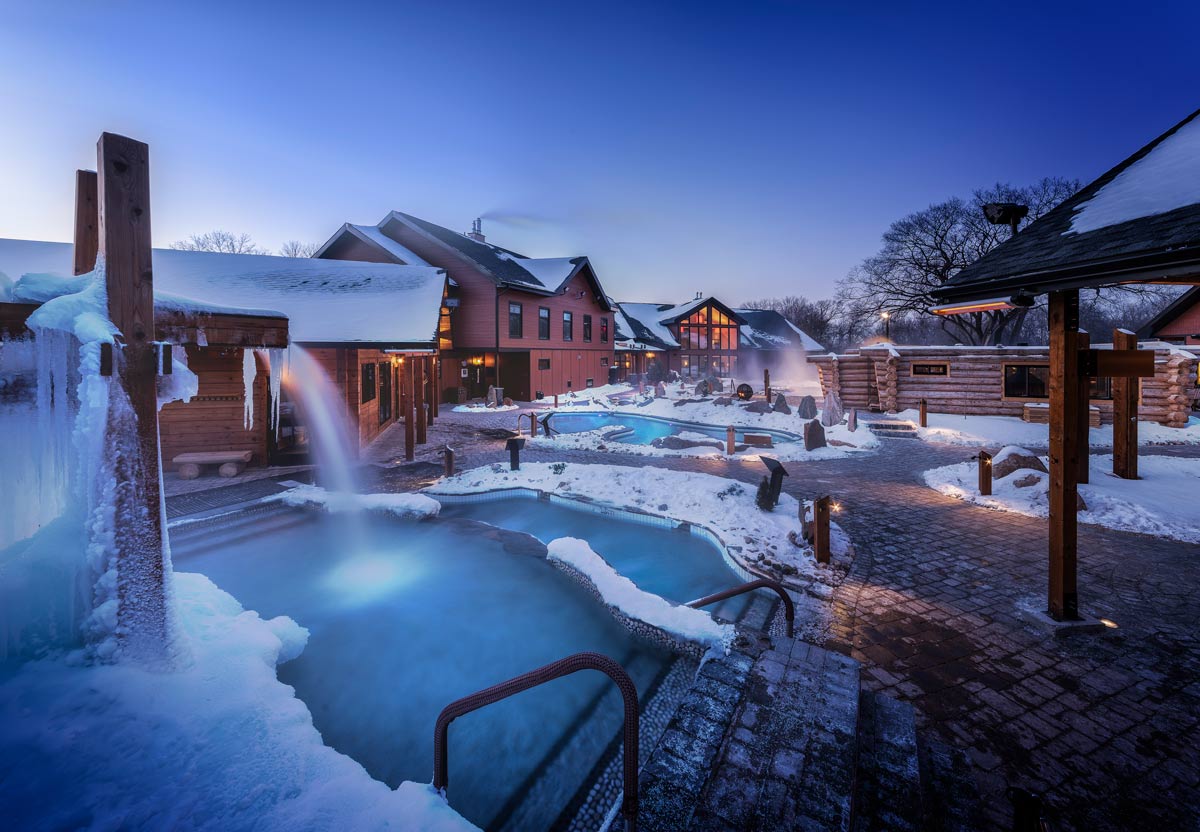 We absolutely loved our time there.
Thermea follows the Nordic spa traditional thermal cycle of hot, cold rest.
Thermal Cycle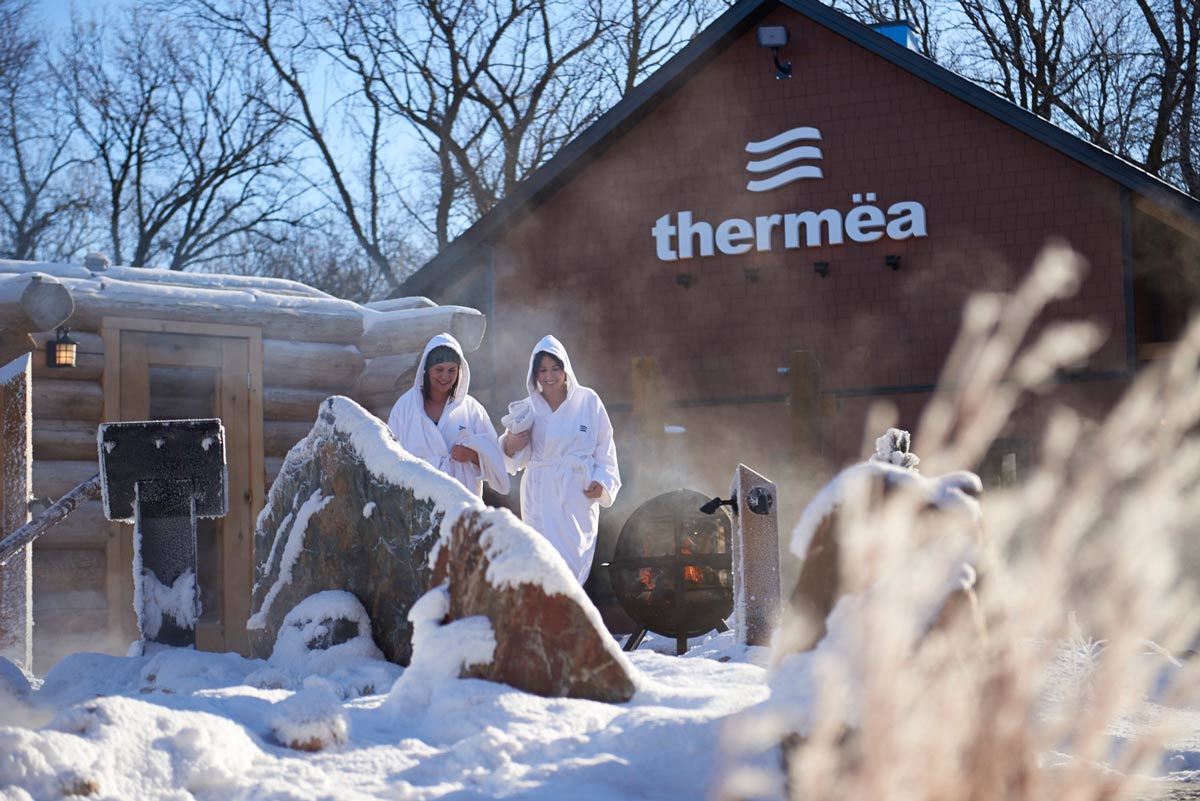 The Thermal Cycle is based on a 2000 year tradition founded in the Nordic Countries of Scandinavia.
5-15 minutes of Heat
10 – 15 seconds of cold
20 minutes of rest
Going in winter is a truly special time as you sit in hot pools with snow falling outside.
You also get to skip dipping in a cold pool because just standing outside for a few minutes gives you the cold section of your cycle.
Aufgaus Ritual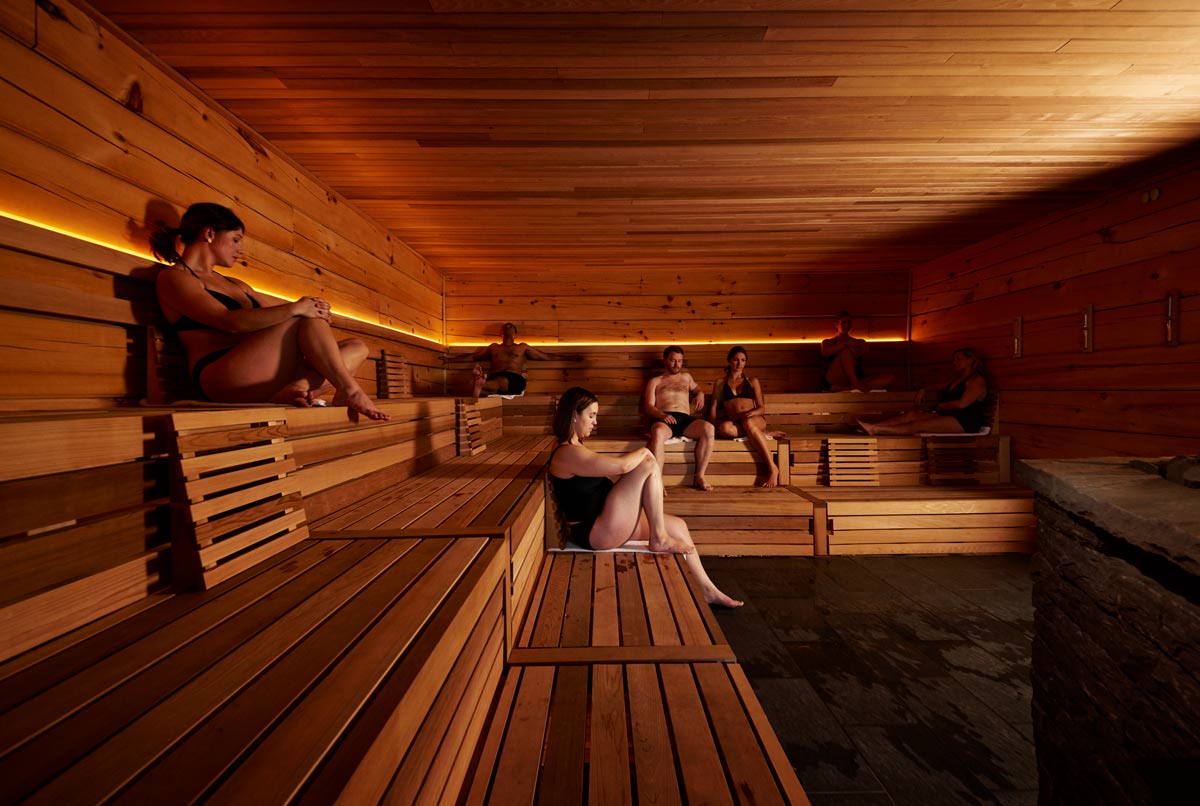 When you enter, be sure to not miss the Aufgaus Ritual that takes place in the Finlandia Sauna.
Led by an Aufgaus Master, the 15-minute therapy takes you through music and dance as she places three giant snowballs infused with aromatherapy onto the hot stones.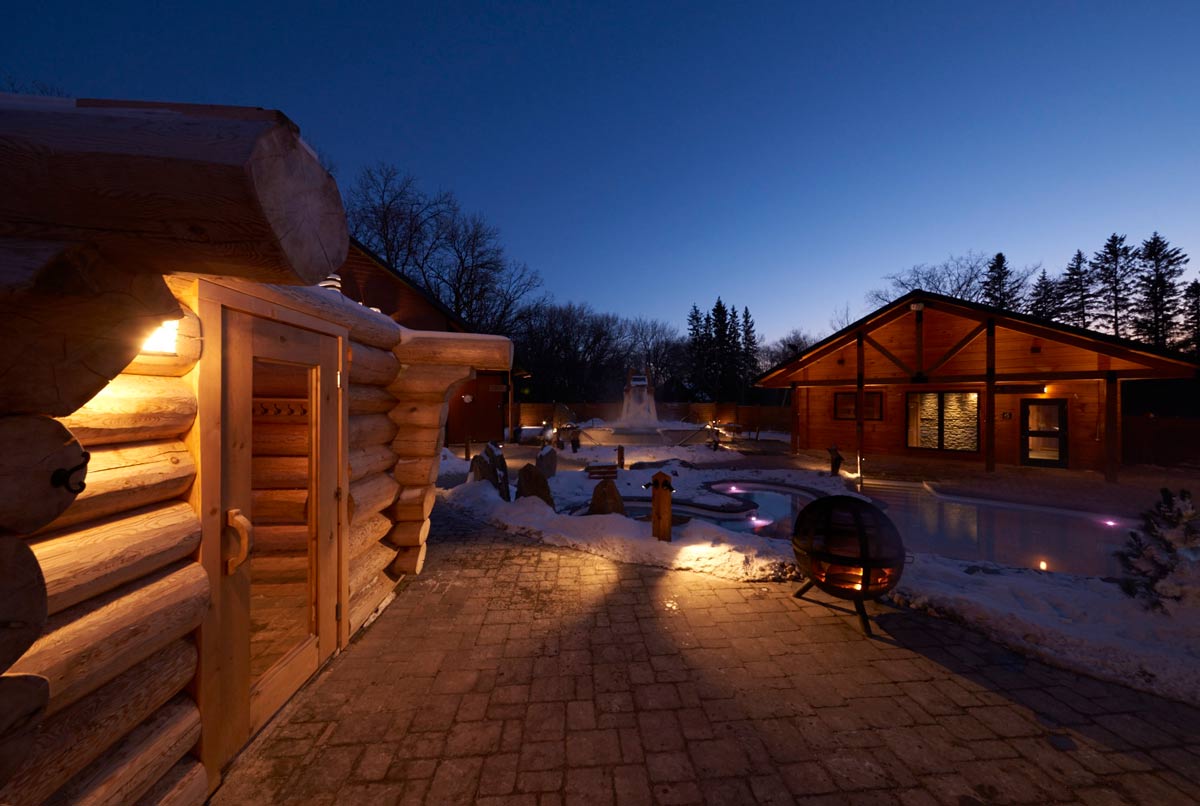 Wafting the aroma through the room with a towel, she dances to the music creating a mesmerizing effect throughout the room. You feel as if you have gone into a trance as the head intensifies.
Some people have to leave the room while others take it all in. We loved it so much, we went twice!
Note: If you haven't done one before, sit on the lowest platform. Heat rises and those sitting at the top had the hardest time dealing with the temperature.
You can spend as long as you like at Thermea. There is a restaurant, water and tea stations.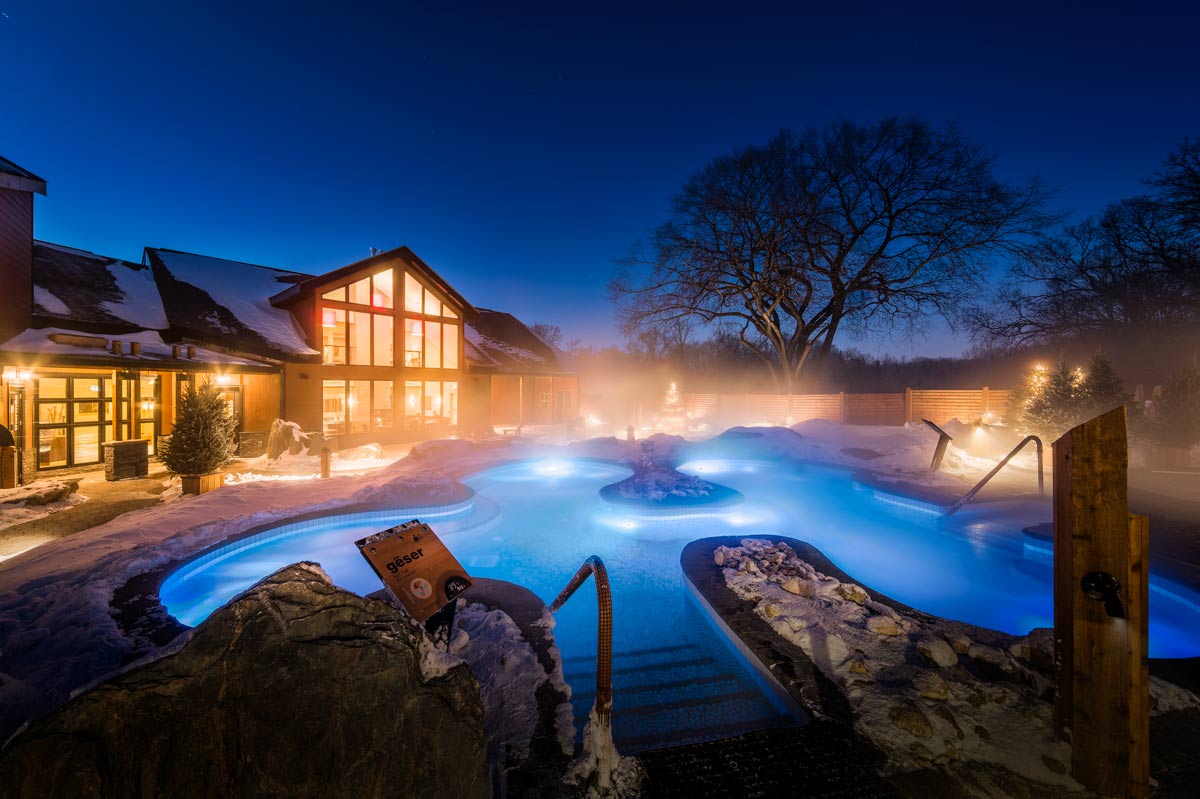 We loved our meal at the restaurant where you can sit by the fire or at a table in your robe to soak in the atmosphere while eating.
There is a full menu, or you can even order a wine and cheese meal.
6. Johnson Terminal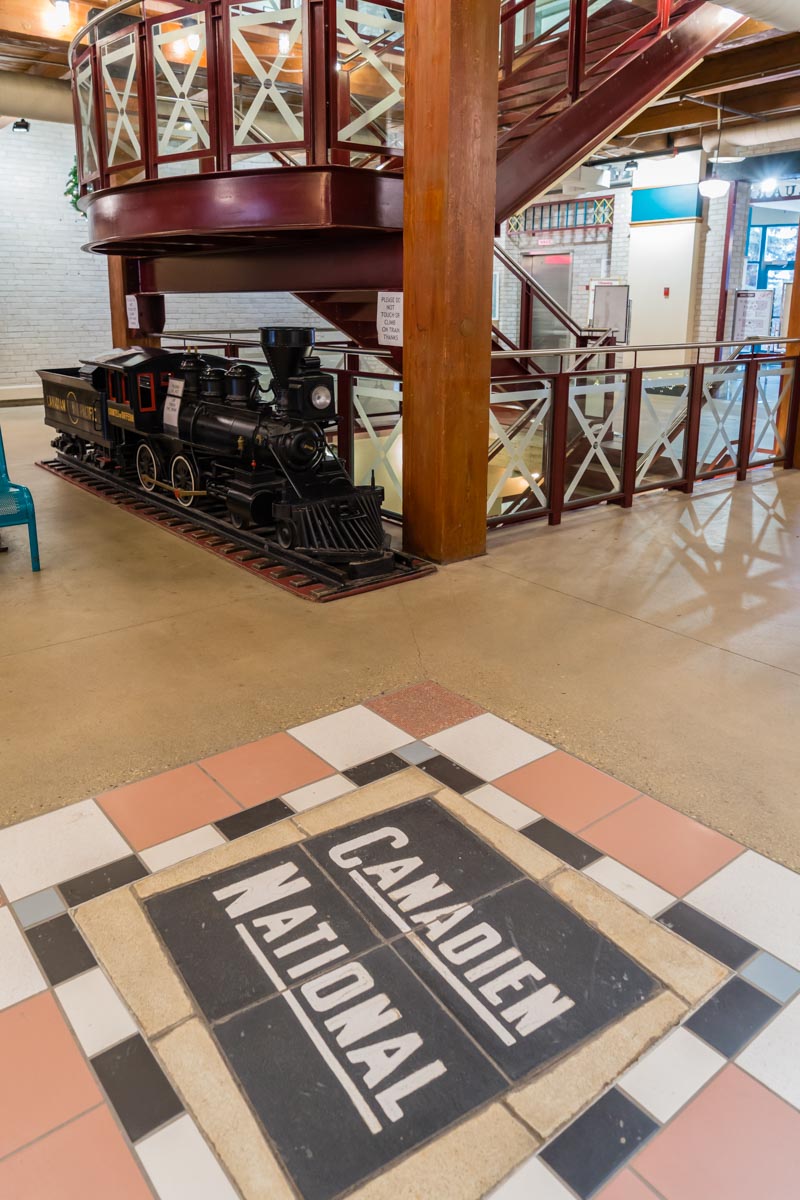 Johnson Terminal is located next door to the Forks and is another historic spot filled with shops and dining.
Johnson Terminal was a former warehouse for CN Railway, but it has since been restored to help create the modern yet historic feel of The Forks area.
There are remnants of the railway on display throughout.
One of our favourite places to eat is located in the Terminal, we love the Old Spaghetti Factory. It is filled with nostalgia.
7. Winnipeg Art Gallery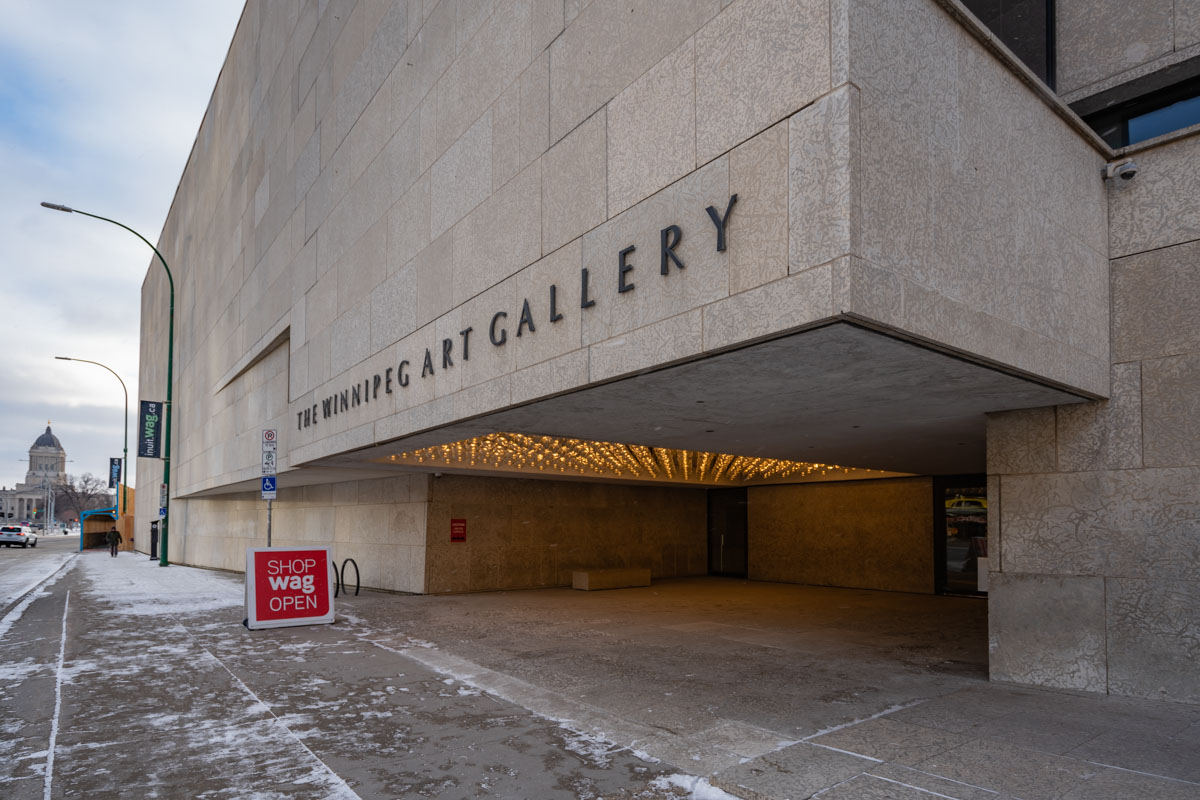 It is under major reconstruction and by the time you book your trip to Winnipeg, it will be in full swing.
The WAG  as it is known was should we say, a bit dated. Its unassuming entrance is not something that beckons people to enter. But when meeting with Chief Curator, Andrew Kear, he showed us the plans to bring the art gallery into the 21st century.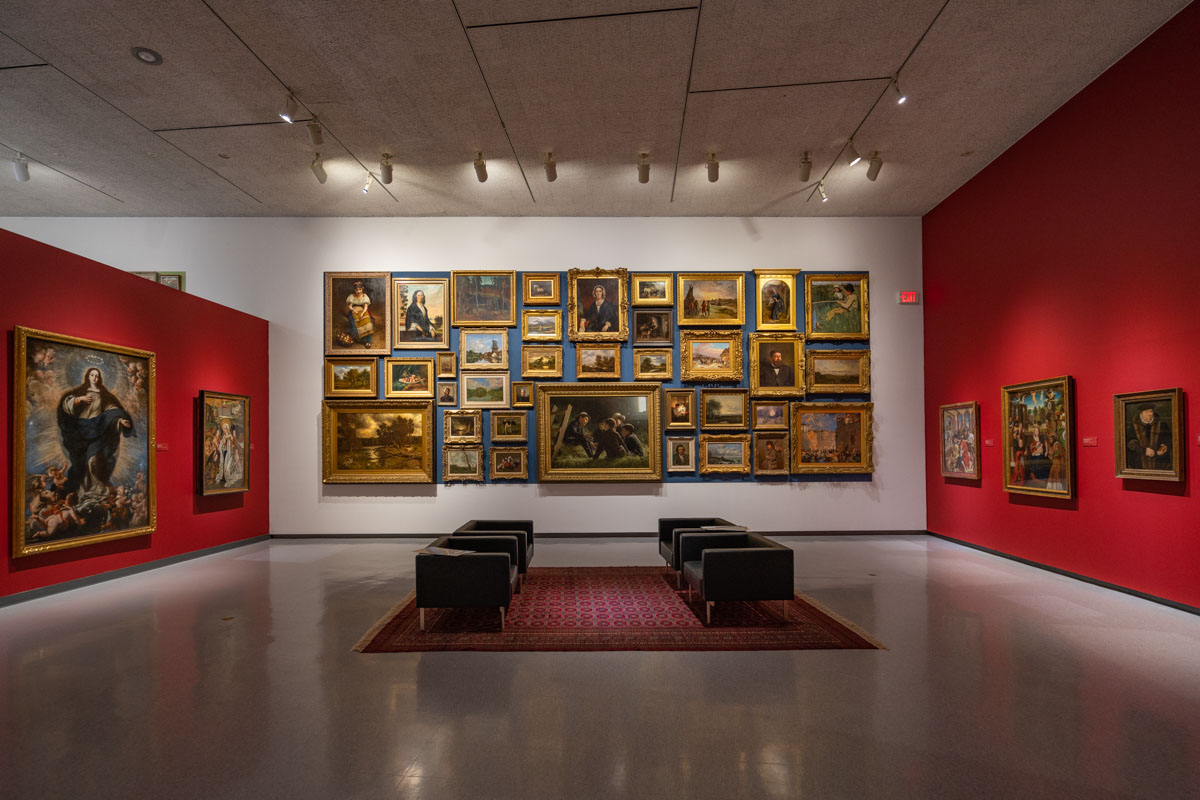 It will be a grand building opening in 2020.
The gallery deserves more visitors as the museum houses the world's largest collection of Inuit Art.
It is fitting as the gallery sits on the original land of Anishinaabe, Ininiwak, Anishininiwak, Dakota, and Dene peoples.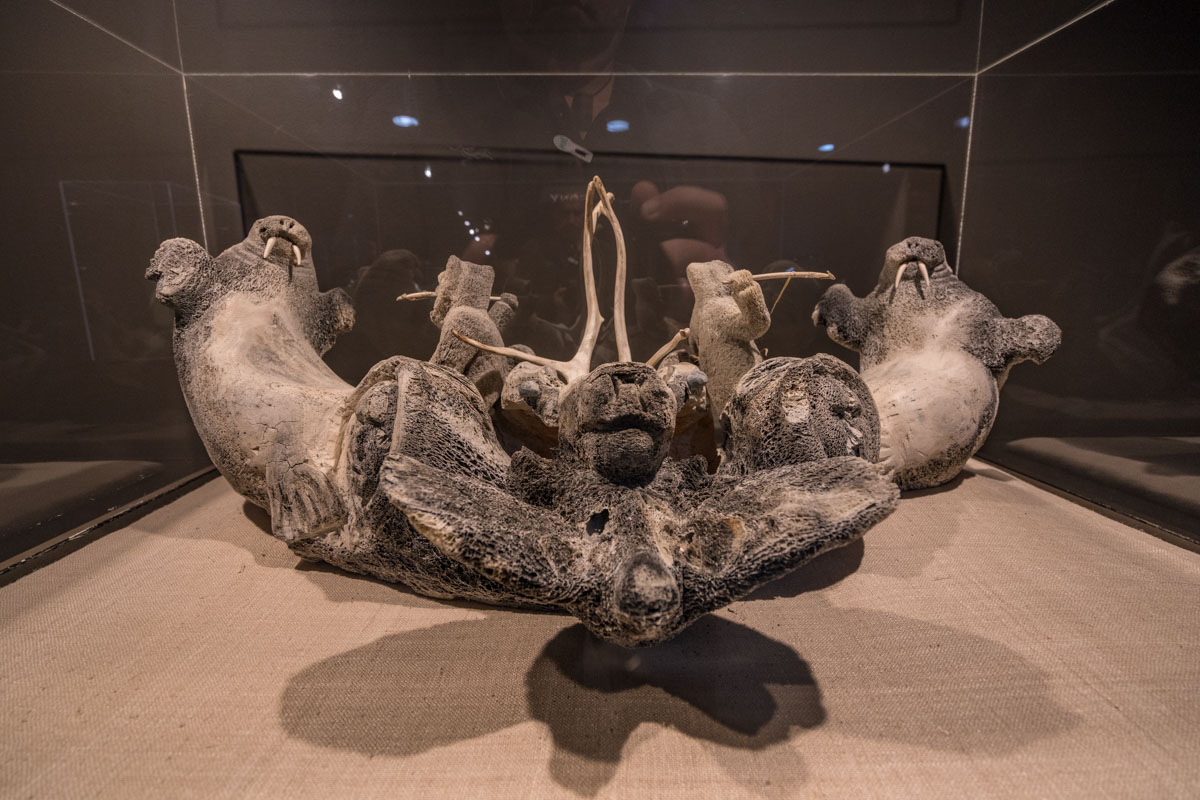 It was also the homeland of the Métis Nation. The new design will have an entire wing dedicated to Inuit Art which WAG has 10,730 works.
When it is fully operational, this will make a good accompaniment to visiting the Museum for Human Rights.
8. Exchange District
Take a stroll through time at the Winnipeg Exchange District's heritage buildings dating from 1880 to 1920.
What was once a derelict part of the city has now become a vibrant neighbourhood filled with coffee shops, boutiques, galleries and restaurants.
It's worth spending an afternoon or evening exploring the stylish area.
9. Winnipeg Sign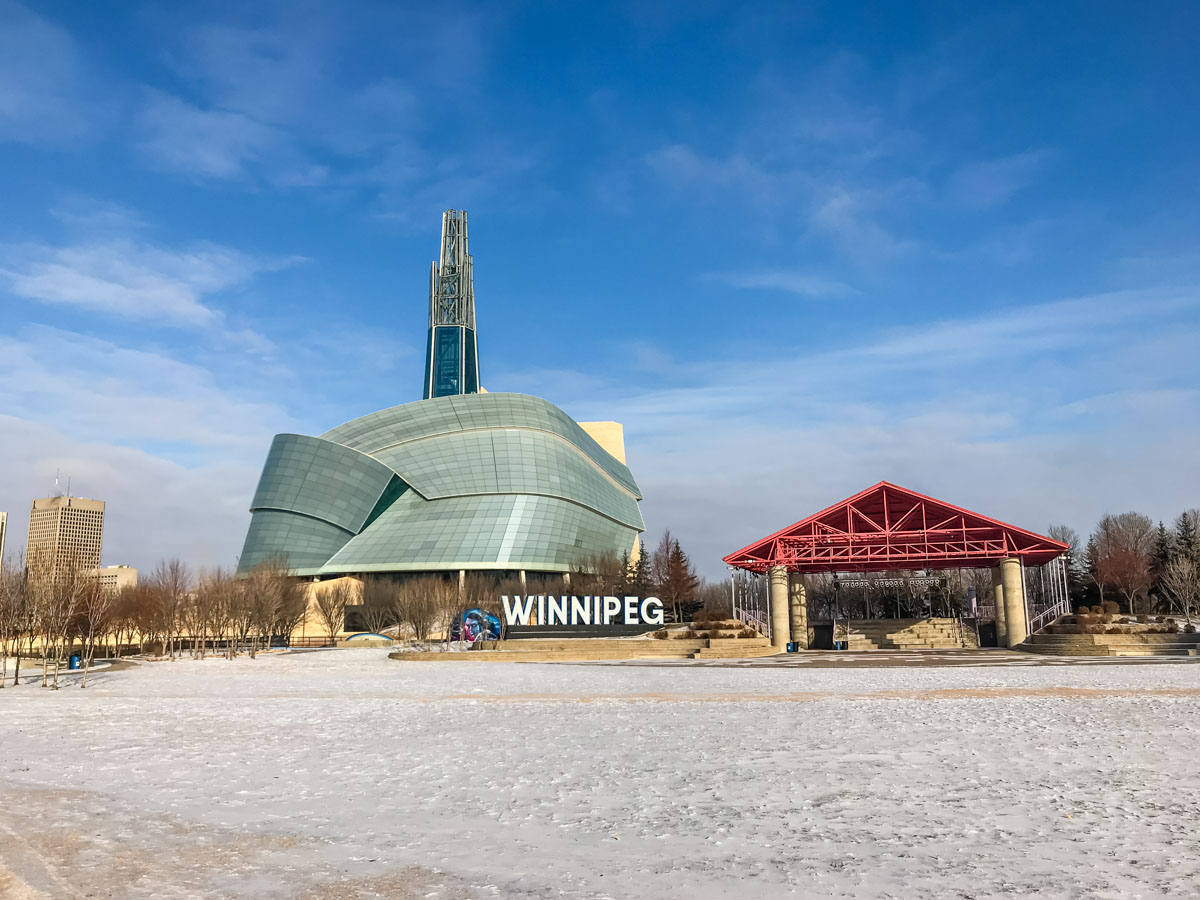 Who doesn't love an Instagrammable moment? We were thrilled to see the giant 3D Winnipeg sign standing at the Festival Stage when we looked out our hotel room window.
Canada has a few of these signs around the country including Toronto, Ottawa and Charlottetown.
Signs like this are a fun spot to grab a selfie and create a memory of your time in the city.
Where to Stay in Winnipeg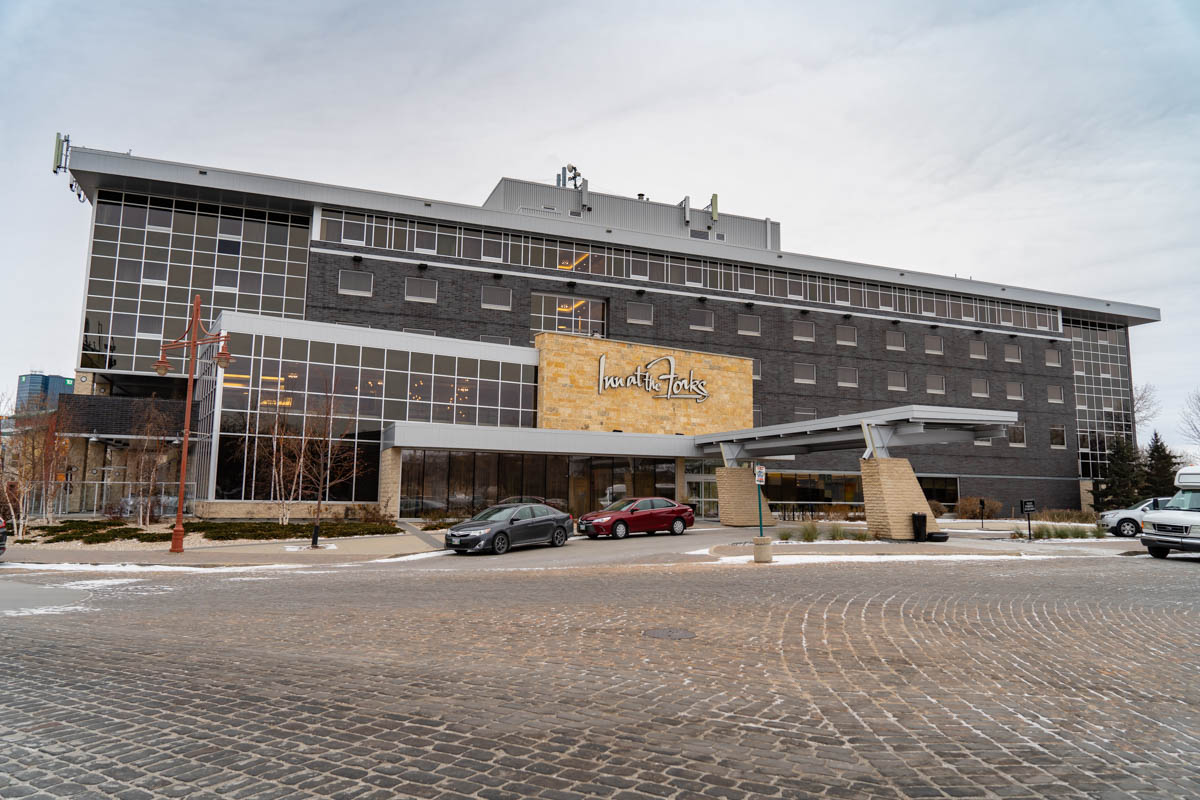 The Forks
Inn at the Forks – We stayed at the Inn at the Forks, and I think it is the best location in the city. Located walking distance from the Museum for Human Rights, the Forks, and Johnson Terminal, you only steps away from great eats, nightlife and culture.
There is a spa, dining and the rooms are modern and chic.
Downtown
Delta Winnipeg Hotel – In the past, we have also stayed at the Delta Winnipeg Hotel and it is another great choice. It has two pools, a skywalk, pub and dining. It's used a lot for conferences and is easy to walk indoors to the adjoining convention centres. It is located downtown near restaurants and coffee shops.
The Exchange District
Fairmont Winnipeg – We stayed at the Fairmont when on a media tour a few years ago, and you can never go wrong with a Fairmont Hotel. The Fairmont is centrally located close to the river. There is a swimming pool, health club and two restaurants.
Airport Hotels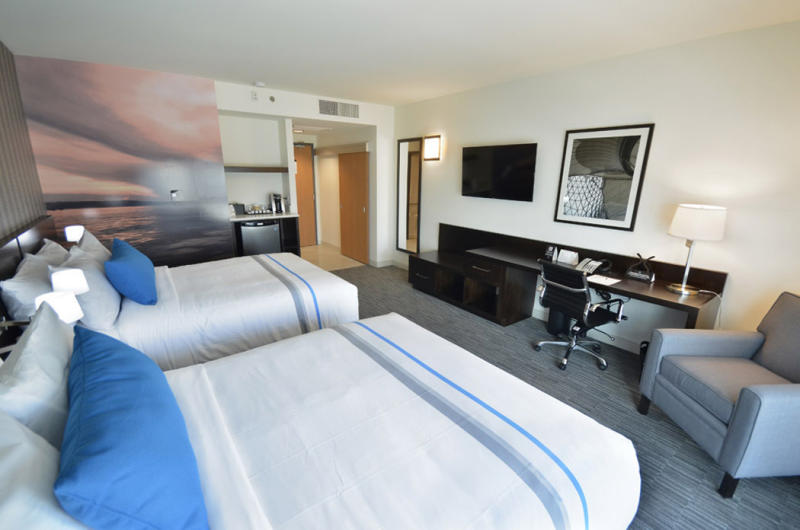 We have had the opportunity to stay at two airport hotels in Winnipeg. Many people stay at the airport when going on safaris to Northern Alberta. Located directly at the airport they are good options if you are flying out early in the morning.
The Grand is located directly across the street from departures/arrivals and the Four Points by Sheraton is just a bit farther away, but there is a walkway through the Grand to the Sheraton.
What we love is that you can take your trolleys from the airport right into your rooms. There are restaurants and bars right on the premises of both.
Where to Eat in Winnipeg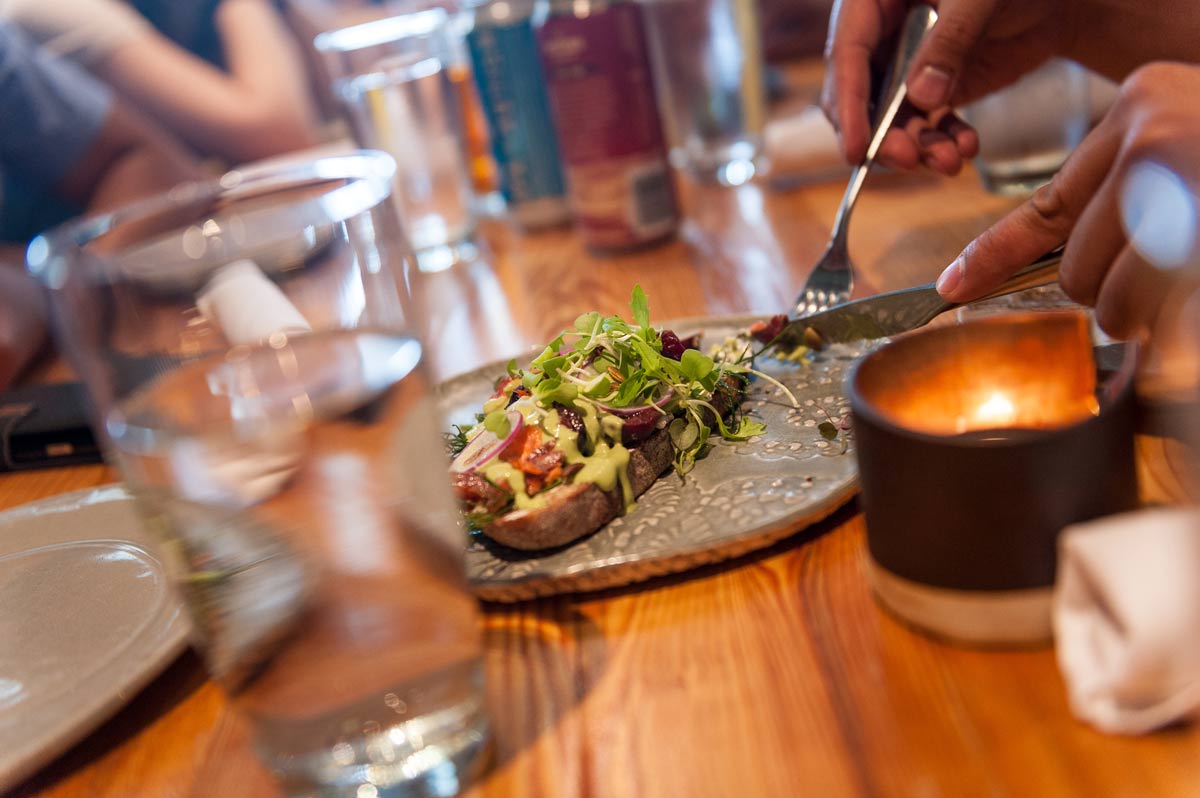 Passero & Corto – We ate at Passero and Corto inside the Forks Market. It's the only eat in restaurant at the Forks and the Italian cuisine was to die for. Ask your server to help with food and wine pairings and be sure to share some plates to truly taste all the menu has to offer.
Clementine Cafe – Known as the best brunch in the city! Located in Winnipeg's Exchange District
ERA Bistro – Great option for lunch located inside the Museum for Human Rights. Staying true to the essence of the museum, the restaurant uses locally sourced, sustainable ingredients, that are organic and free-trade.
If you liked this post "9 Surprising Things to do in Winnipeg " why not share it on Pinterest!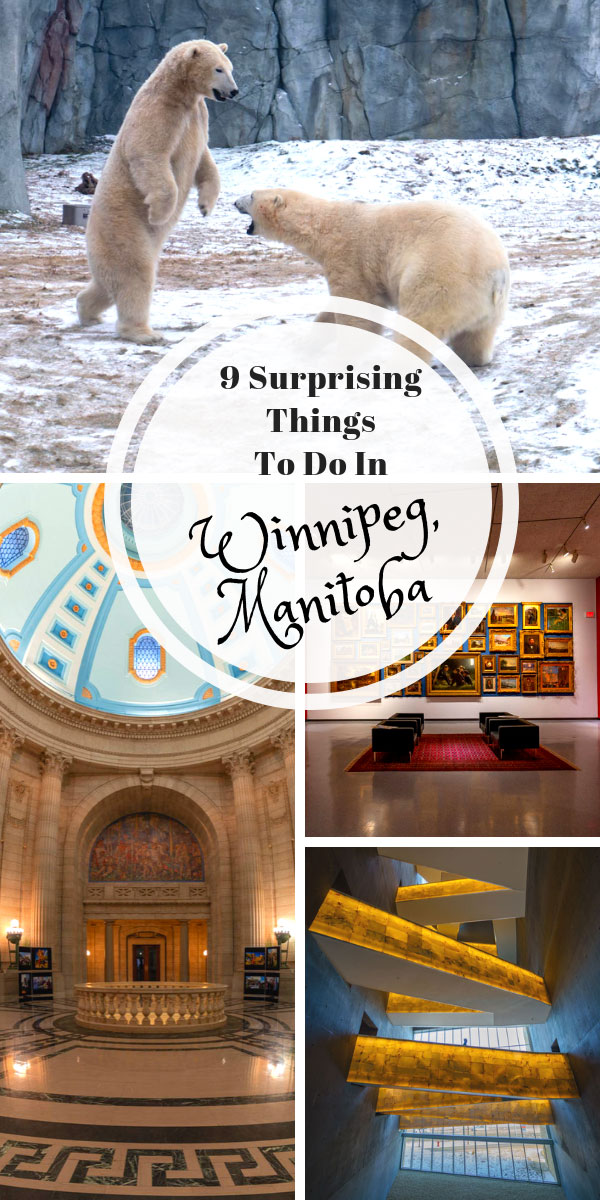 Read More:
Best Canada Adventures from Coast to Coast
Not to be missed Animal Encounters Around the World
You Might Also Enjoy