We were invited us to Montreal for some good old-fashioned Montreal Sightseeing while enjoying a free suite at the Omni Hotel. Not being ones to turn down a good thing when we see it, we instantly said yes!
Montreal, a City of Festivals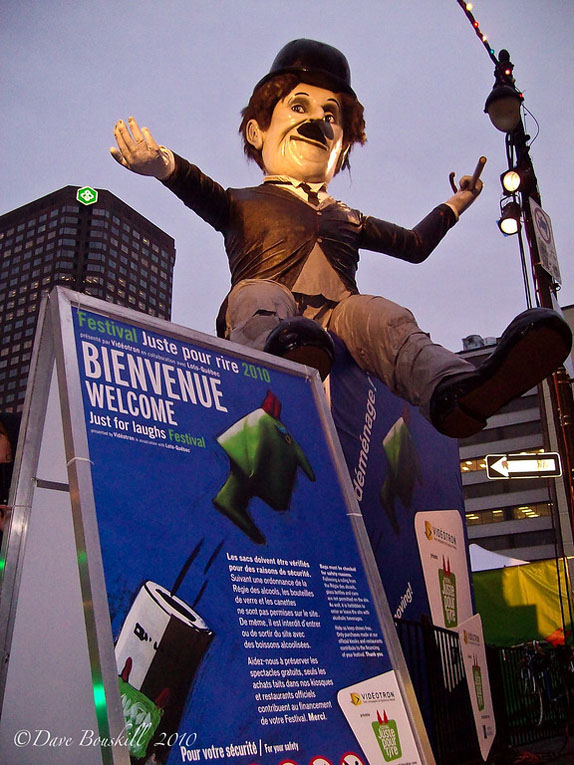 We were glad we did!
Home to the Famous Montreal Jazz Festival and Fetes Des Neiges (Winter Fest), Montreal was ablaze with energy this past weekend as The Just For Laughs Comedy Festival was taking place along side the Montreal Circus Arts Festival aka: Montreal Completement Cirque.
We didn't organize ourselves well enough to see one of the many top acts in town for Just for Laughs. Pamela Anderson was performing this year along with Cheech and Chong and Brad Garrett of Everybody Loves Raymond Fame. But we didn't see any of them.
It was exciting to be in Montreal for Just For Laughs though.
The crowds were large and the streets were filled with people celebrating. Little did we know that there was another festival going on at this time.
The Circus Festival, Montreal Completement Cirque.
We didn't even realize it was going on while we were there. We thought it was a special act every night to give people free events to watch in the Place des Festivals around Place-des-Arts.
As we walked along the traffic free street, our attention was drawn to the main square by speakers blaring ACDC. The crowd was thick and something big was about to happen.
The Human Cannonball
David "the Bullet" Smith was about to be shot out of a cannon 154 feet into the air and we managed to see it in the nick of time. The excitement built as we listened to the heavy beat of Thunderstruck and waited in anticipation for the moment to arrive.
He came out to say hello and within a couple of minutes he had crawled into the cannon. With a quick countdown from five and a loud thunderous crack he rocketed through the air landing safely in the net.
The Human Cannon Ball from Dave Bouskill on Vimeo.
The crowd went wild.
We had never witnessed a human cannonball before and to see the World Record Holder was even better! It takes a certain breed to be able to shoot themselves out of a rocket and I will have to admit, it looks like fun!
We thought it was over and were about to walk away when we looked up in the air and saw a crane moving overhead.
Montreal is the home to Cirque du Soleil. It originated in this artistic city and when we saw the silks hanging from the crane, we knew that a performance was about to take place.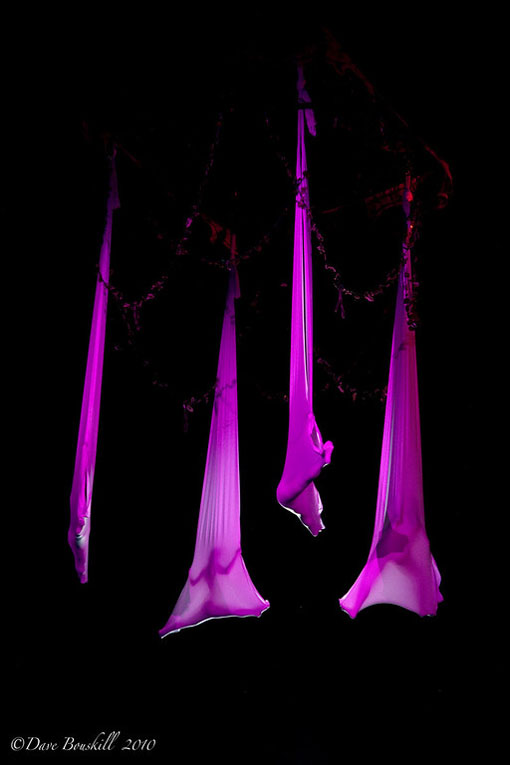 Night Parade
Representing Spain, Belgium and Quebec and company of artists, acrobats, aerial performers, opera singers and Bollywood dancers, put on a spectacle for the people of Montreal.
From Le Grand Bisou where giant air marionettes Victor; the Just for Laughs Mascot and Rose our diva fall in love and share a kiss to Celine Dions, My Heart will go On to Corazon de Angeles a flying art series.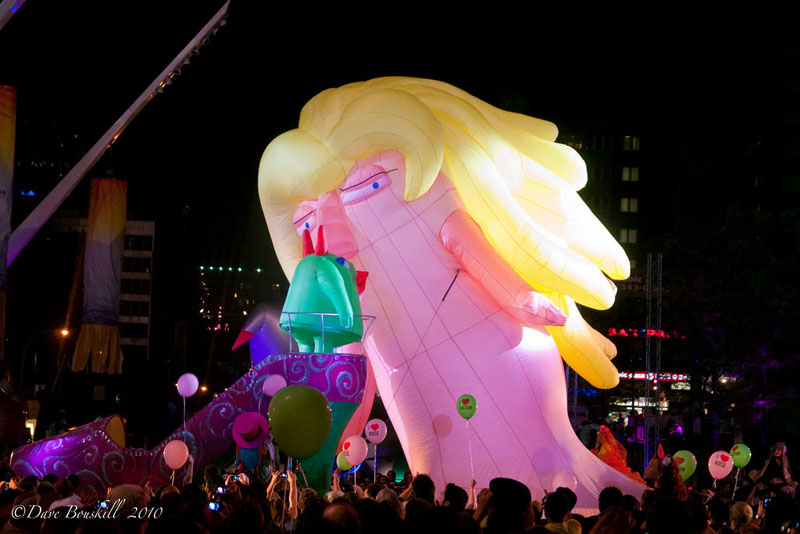 The air show continues as gymnasts elegantly float through the air dropping feathers, balloons, confetti and snow as pyrotechnics spark in the night. The show comes in from all directions, performers on stilts weave through the crowd followed by contemporary clowns, robots, musicians and dancers.
Opera Singing
An opera singer sings a Habanera from Carmen as a beautiful heroine dances on stage with angels flying high overhead. The performance is breathtaking with every move choreographed and every beat planned to perfection.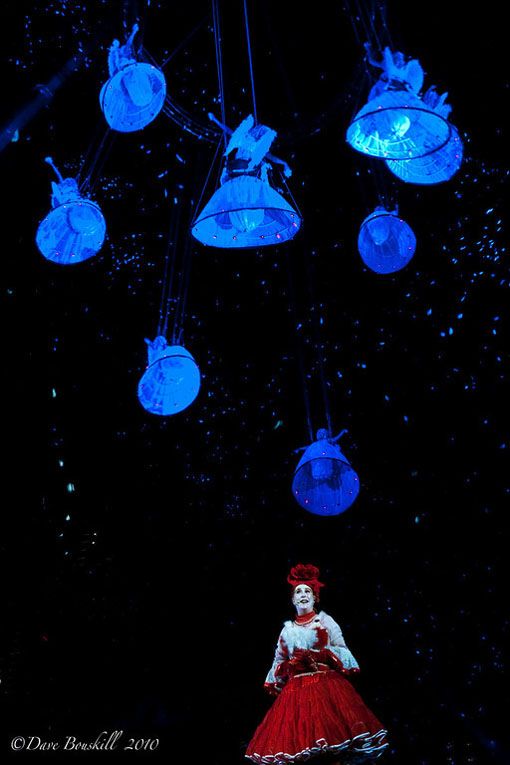 It continues to build to the finale of energetic and colourful dancers jumping to J'ai Ho from Slumdog Millionaire! The smiles are contagious and just as you think they can't go any longer, the music cuts to Michael Jackson's Billy Jean. An impersonator does his best routine of the King of Pop as the crowd sings along to end the night.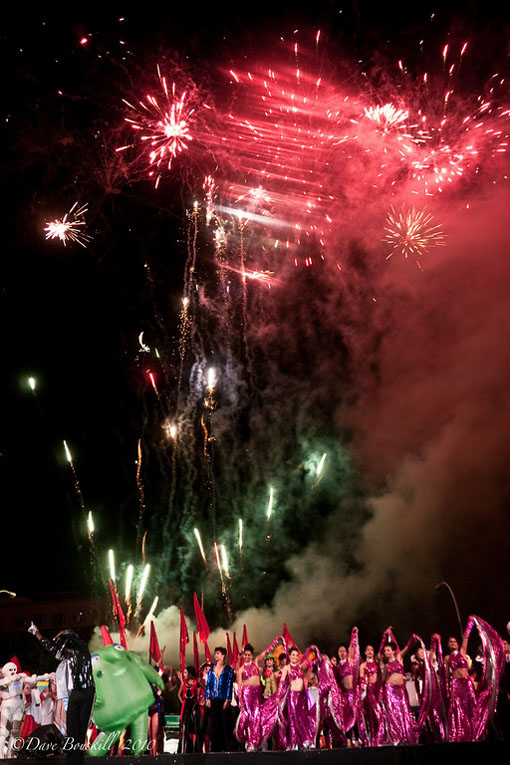 It was the first annual Circus Festival and you can be sure that we will return for a second. It was spectacular.
Oh yes, maybe next time we will be able to see the Just For Laughs performers as well.
Read More
Where to Stay in Montreal – A Guide To The Best Places and Neighborhoods
32 Things to do in Ottawa – A Complete Guide to Canada's Capital City