Can you believe we've never been to Winterlude?
It's a festival that happens every February in our nation's capital and Canada's Adventure Couple has never been! We always wanted to go, but like everytime we seem to travel Canada, we end up going abroad. It is a problem.  lot of Canadians explore the world without exploring what's right in our own back yard. We're guilty of it. We think of ourselves as people traveling the world representing Canada. But what about seeing more of our own country?
Well, our way of thinking is changing,  we want to see more of Canada.
So lets start with Winterlude.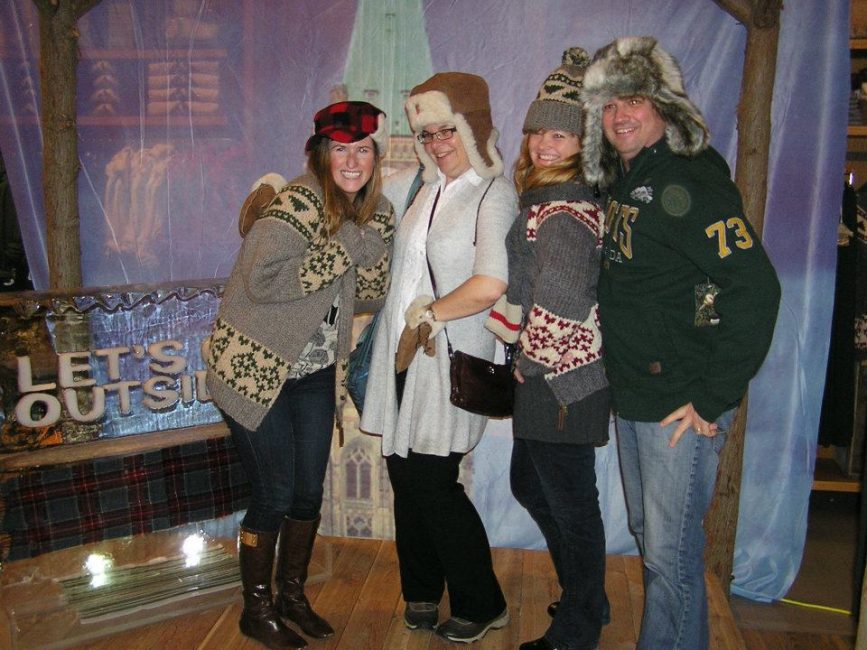 We were lucky to meet Jantine of Ottawa tourism in Toronto for the big announcement that Ottawa and Roots Canada were partnering and working together. So when we got back from Antarctica we hopped in our car dressed in our newly sponsored Roots Gear and drove to Ottawa. The Planet D brought Roots and Ottawa together again in our own little way.
Ottawa is a beautiful city. Be it Spring, summer, winter or fall, Ottawa is one of the most picturesque cities in the country and we enjoy visiting it whenever we can.
Winterlude
Before even heading to the city, we stopped at the Gatineau Loppet in the province of Quebec right across the river to watch the largest cross country ski event in Canada. If you are looking for a reason to get in shape, start training for this now and get yourself entered in next year's event. There are events for all levels and ages and it is a great addition to your weekend at Winterlude. We were itching to get out on the course, but alas, we weren't participating so we were content to stand at the sidelines and cheer everyone in after their accomplishment.
If cross country skiing isn't your thing, there is also the Winterman Marathon that happens on the same weekend. So what you waiting for? Stop making excuses and start training today. You have just about 365 days to get in shape!
After the event, we checked into the stylish boutique hotel, Hotel Indigo located right by Confederation Park where the crystal garden exhibit takes place during the festival.
We wanted to relax a little bit after our 5 hour drive through a snow storm, so being in one of Canada's most European cities, we opened a bottle of wine and enjoyed a glass before heading out for a walk.
The weather was absolutely perfect. Almost too perfect. Even though we drove through a winter storm to get here, the skies opened up in Ottawa and a warm front passed through. One of the biggest attractions of Winterlude is the ice skating on the Rideau Canal. The skateway stretches 7.8 km through the downtown core. We were so looking forward to strapping on a pair of skates and taking a spin on that famous route. However, the weather had turned out to be just too mild and the canal was closed for the weekend.
Never fear though, the balmy weather made for perfect walking conditions and we enjoyed a leisurely stroll through the ice gardens before heading out to dinner at the uber trendy Stella Osteria in the entertainment district of ByWard Market. A bustling neighbourhood filled with bistros and boutiques.
Stella Osteria was packed and as we took our seat in a corner booth, we knew we were in for a treat. It was perfect for people watching as we shared a bottle of fine Argentinian Malbec when our dinner arrived reminding us of our recent trip to Antarctica where we caught a ship out of the Argentinian town of Ushuaia.
The atmosphere at Stella Osteria is the perfect setting for Dave and I. Romantic and quiet yet not too stuffy where your afraid to talk and have a good time. Our server was perky and fun and we found out that she was hoping to head to Nunavut next year to teach. What an amazing experience that would be!
The service was a little slow, but that didn't bother us, it gave us more time to enjoy another pre dinner cocktail as we waited for the food to arrive. And when it arrived, it was well worth the wait. Tonight was all about the beef. We started off with a mouth carpaccio and antipasto platter followed by a filet minion for me and rib steak for Dave. Both were cooked to perfection.
We couldn't eat another bite and feeling perfectly content and a little groggy from all that beef and wine we took a long stroll back to the hotel.
The lights were still on in the crystal garden and the ice sculptures looked magical glistening under the colourful beams. We took a quick snapshot and went to bed. The lights will be on again tomorrow, we'll catch them then.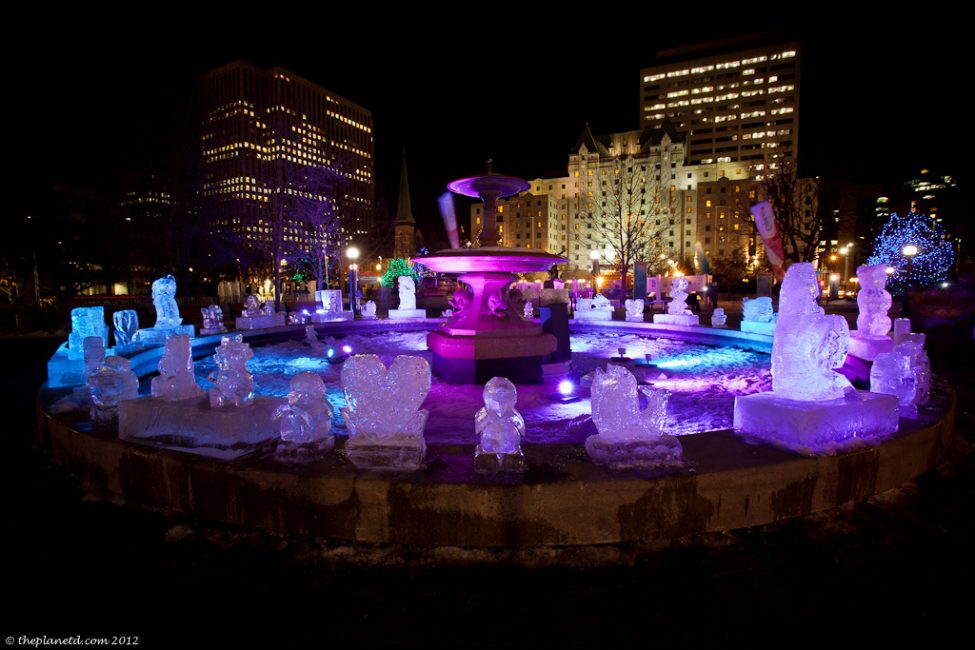 Winterlude is an annual event that happens every year from around Feb 3 -20. Most activities are free and most are held on the weekends. Most of the action takes place on the Rideau Canal which is normally open for skating on the worlds largest ice rink as well as varios sites around the capital like Confederation Park, The National Gallery and across the river in the city of Gatineau. Snowflake Kingdom in downtown Gatineau is a winter playground for the kids. To find out more about Winterlude, visit the Ottawa tourism website.