Parm Parmar of Blue Planet Adventure shares these amazing things to do in Grenada and reasons to visit the spice island of the Caribbean right now.
Located west of Trinidad and Tobago, Grenada is a beautiful island nation filled with picture-perfect harbours, sandy beaches, rich history, and a lush landscape.
First discovered by the Spanish in 1523, Grenada Island has a checkered past.
France and Britain fought over it through the 17th and 18th centuries. The British had ownership until 1974 when Grenada gained its independence.
Today it is a thriving tourism mecca in the Caribbean Sea. There are so many things to do in Grenada you'll want to go back again and again. These are all the reasons you should visit Grenada right now!
Things to do in Grenada
1. The Beaches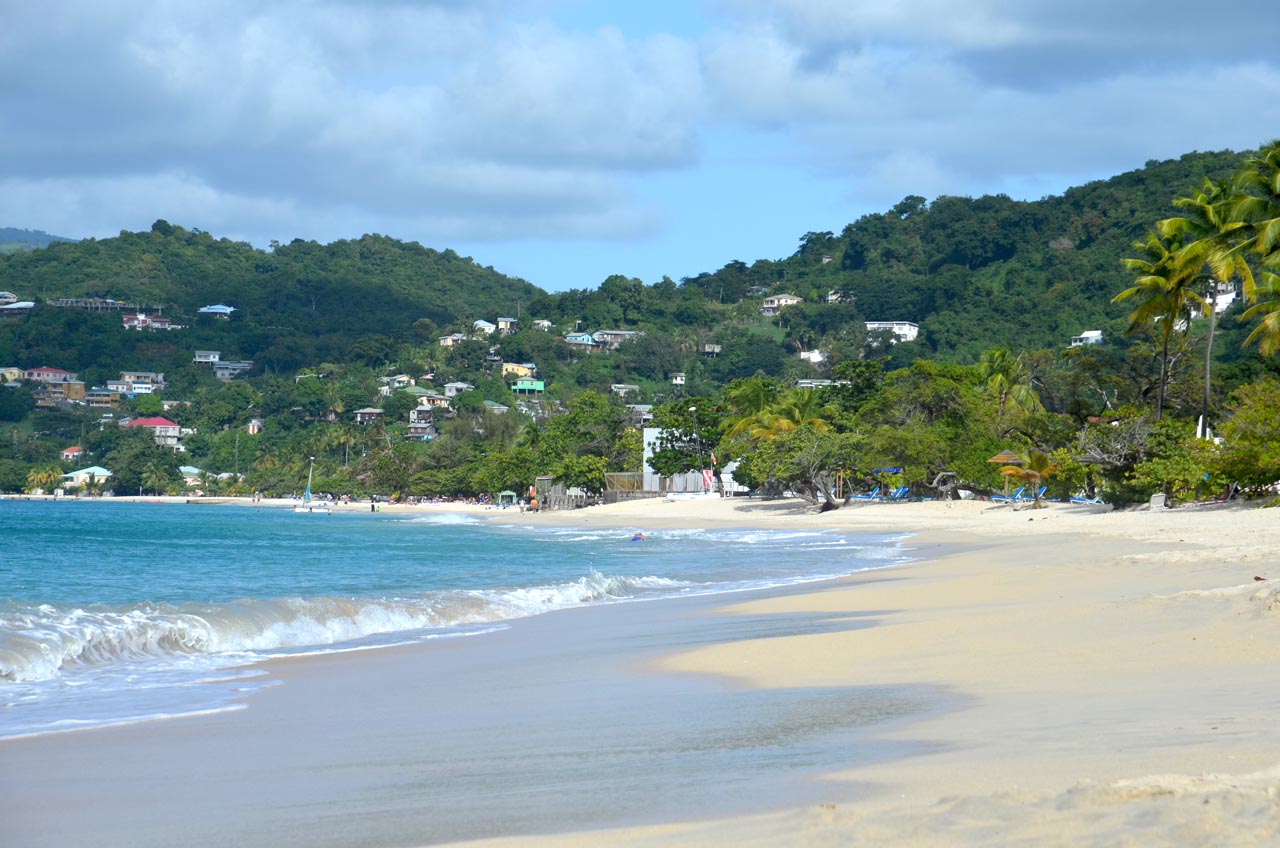 Forty-Five sandy beaches frame the island of Grenada. And all are open to the public.
Grand Anse Beach
These include the world-famous black sand beaches and one of my favorites is the renowned three-kilometer Grand Anse Beach.
In need of seclusion, rent a four-wheel-drive vehicle and hit l'Ance aux Epines, a white beach on the South of the Island.
St. Patrick's is another good choice for a secluded beach destination located at the north of the island and St. David located just a few km east of St. George.
2. Diamond Chocolate Factory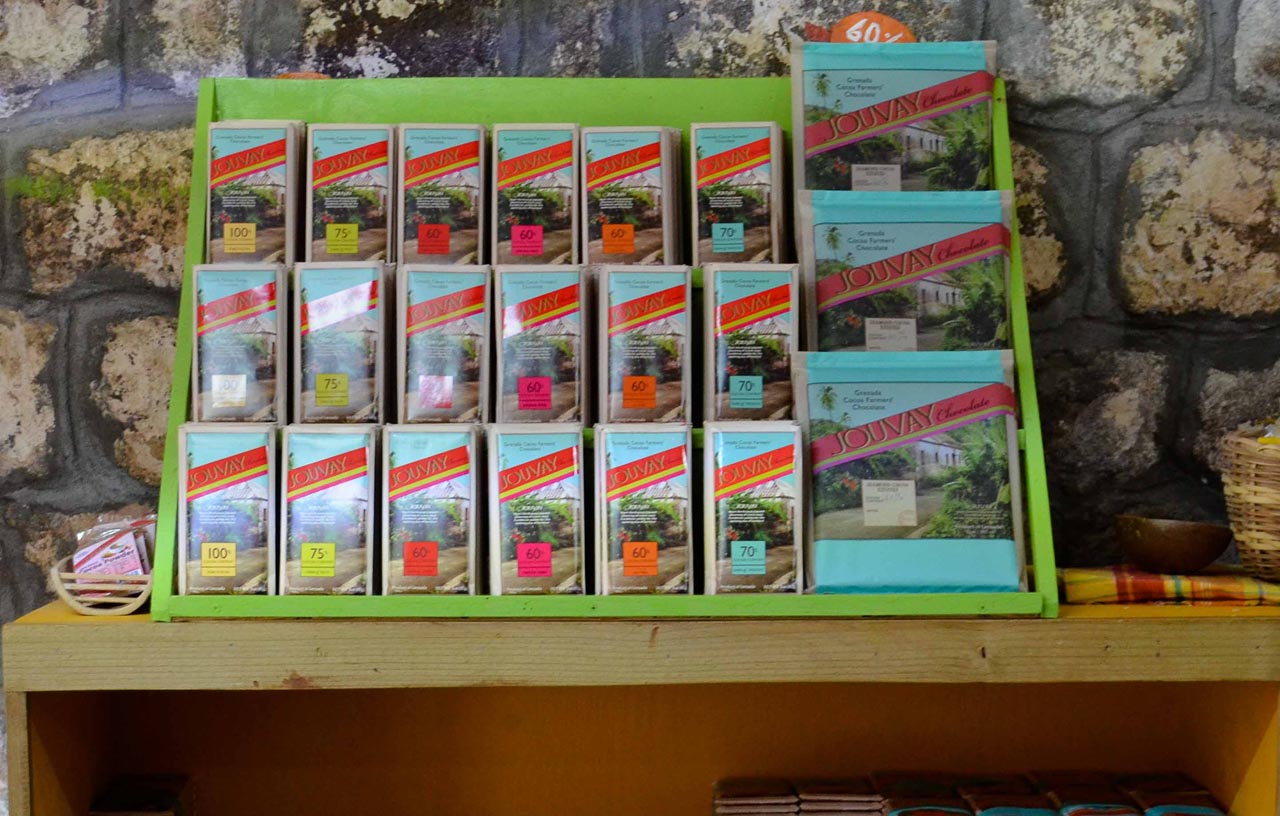 If you love chocolate, Grenada is the place.
Diamond Chocolate Factory is a former rum distillery that is now home to Jouvay Chocolate.
It is one of the more commercial chocolates found on the island.
It is one of the best places to shop for chocolate to bring back home.
3. House of Chocolate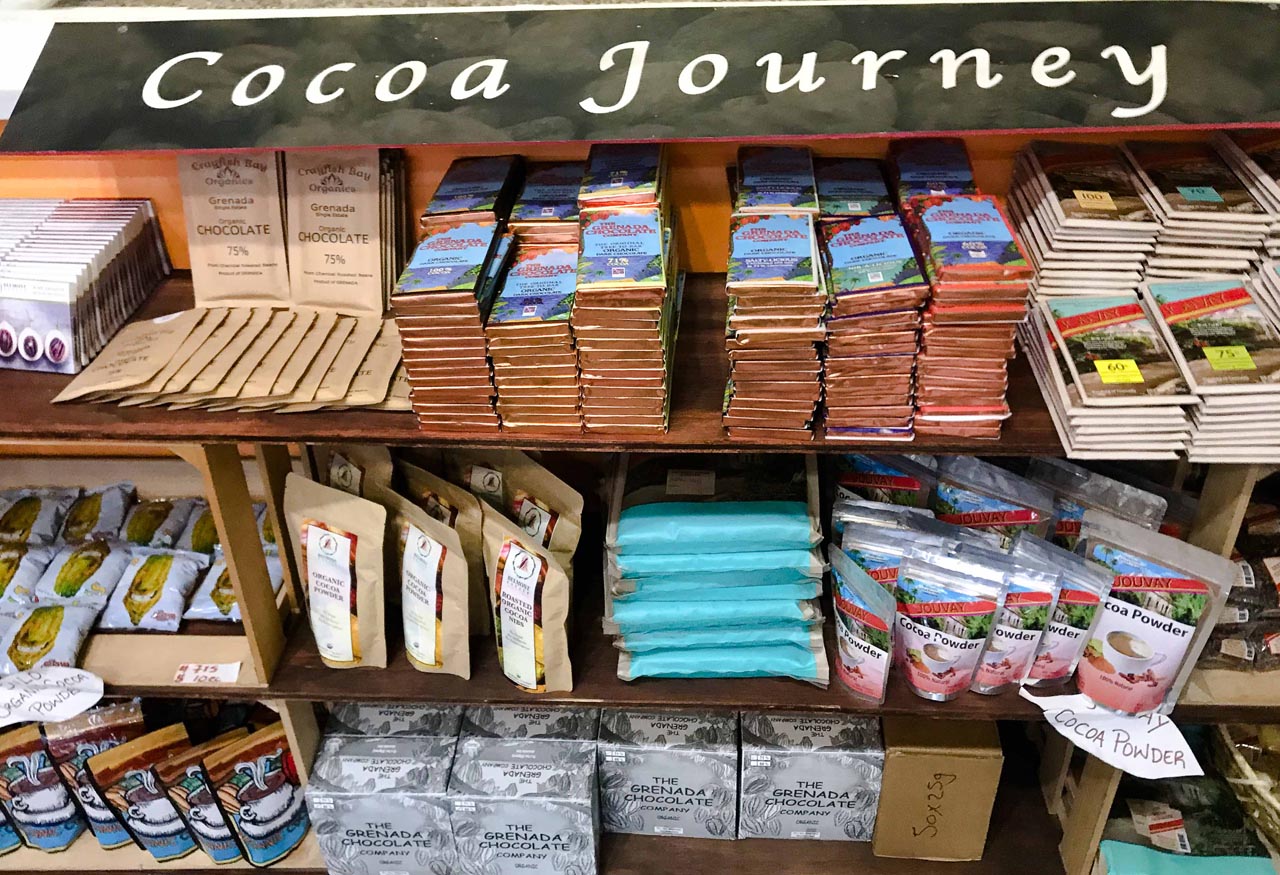 Another stop is the House of Chocolate in St. George's.
This quaint chocolate shop with a museum has a tasting menu and a cafe where you can sip chocolate drinks or eat locally made pastries.
Don't forget to add a side nutmeg or coconut ice cream to your chocolate cake if you order this delicious treat.
4. Belmont Estate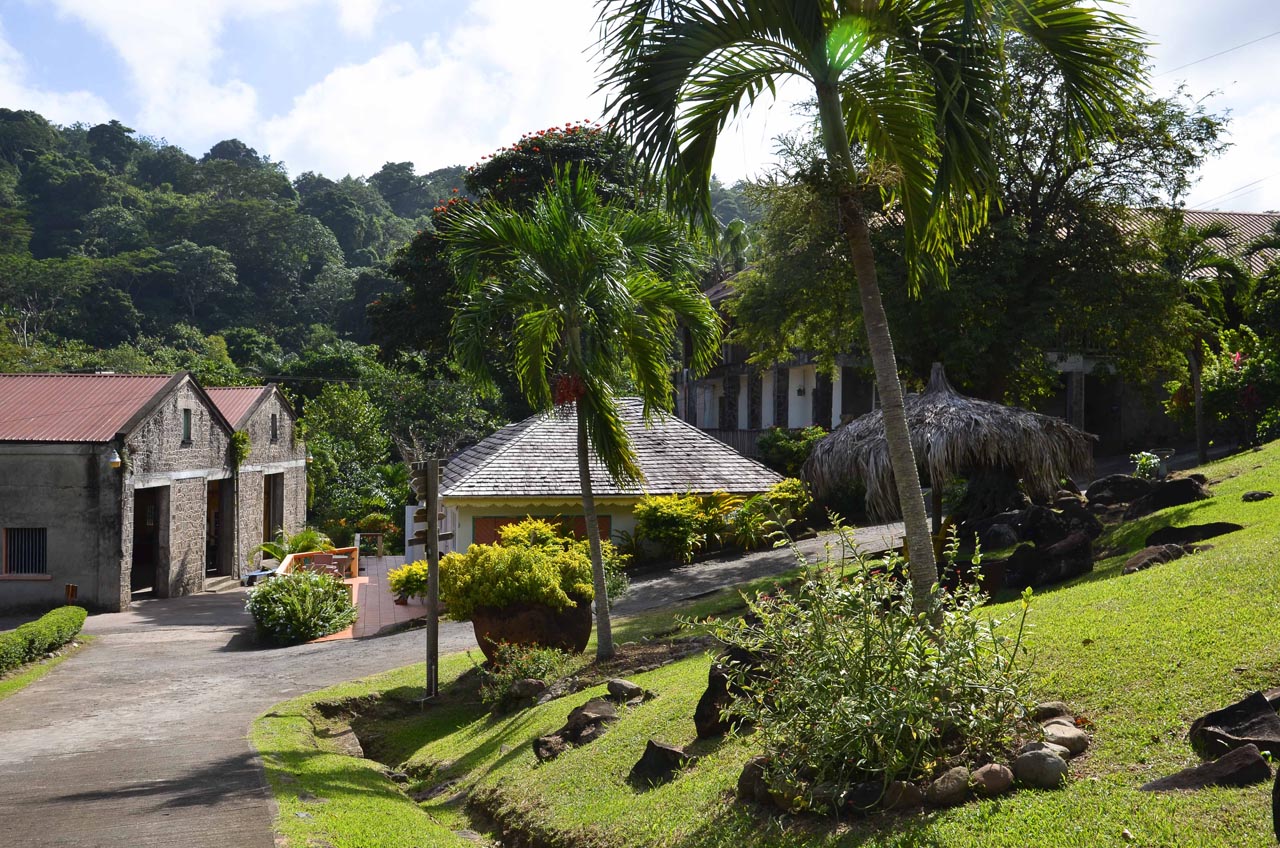 Belmont Estate is a destination unto itself and a must-do when visiting Grenada.
But it is also for chocolate lovers too. If you travel to Belmont Estate, take the "reservation-only" Bean to Bar Chocolate Tour.
It encompasses the entire life cycle of a chocolate bar from harvesting the bean in the cocoa fields, just a few steps away.
The tour also includes a three-course lunch that includes chocolate.
No matter which tour you take, rest assured you'll be rewarded with a generous sampling of chocolates plus a rich history of agrotourism.
5. The Rum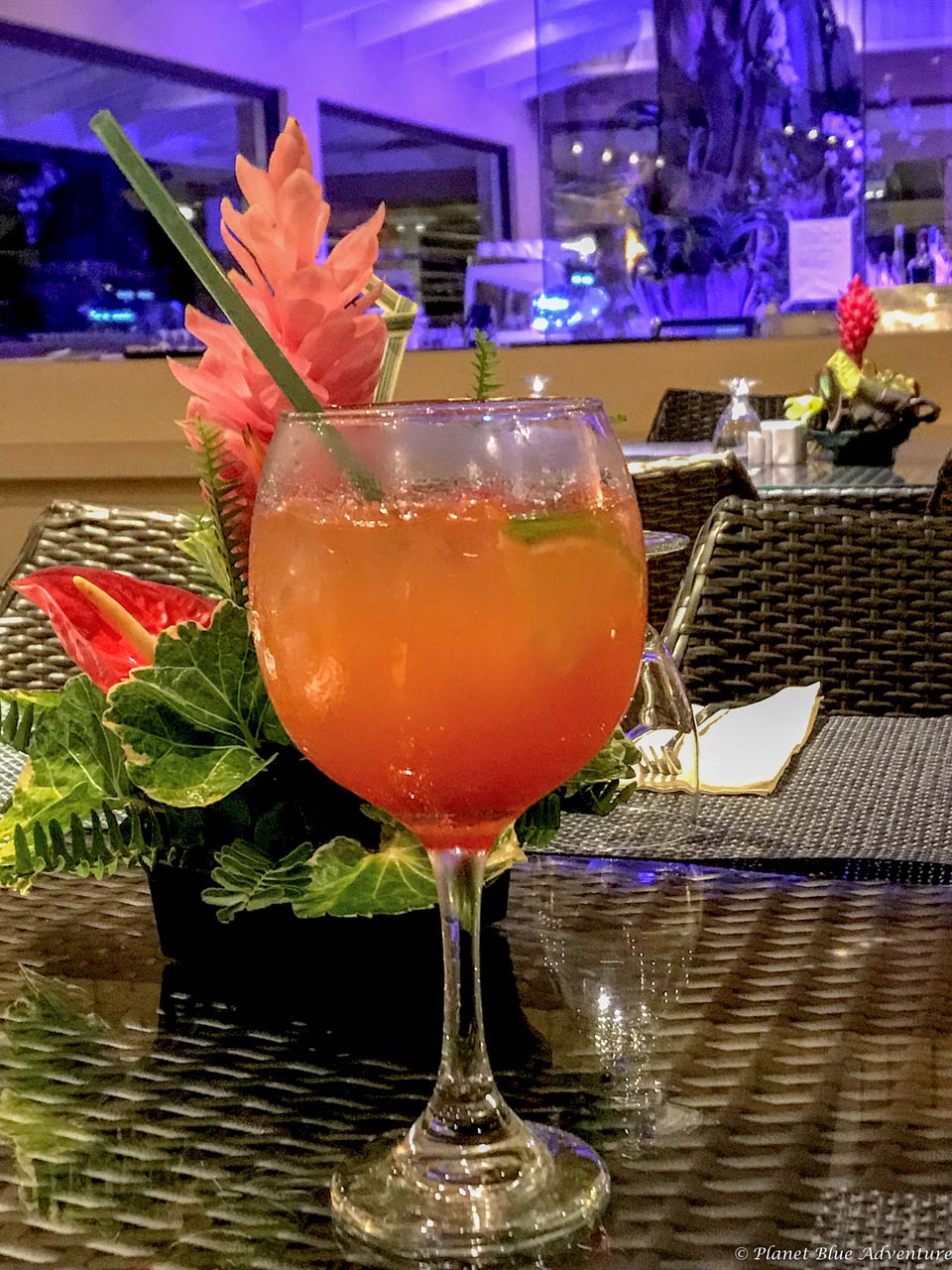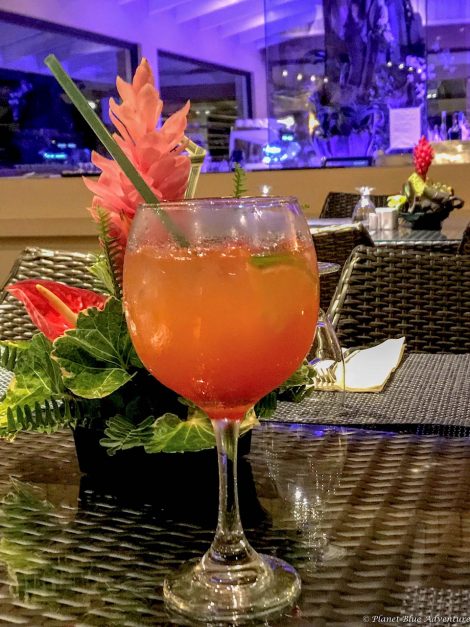 Like its Caribbean neighbors, Grenada is a major rum producer.
The island is home to several distilleries including Grenada Distillers, who make Clarks Court Rum.
In operation since 1937, it's the island's largest and best-known distillery.
They make and distribute spirits including spiced rum, rum punch, coconut rum and many more.
Sampling Rum
In the showroom, you can sample a number of rums and shop for unique flavors.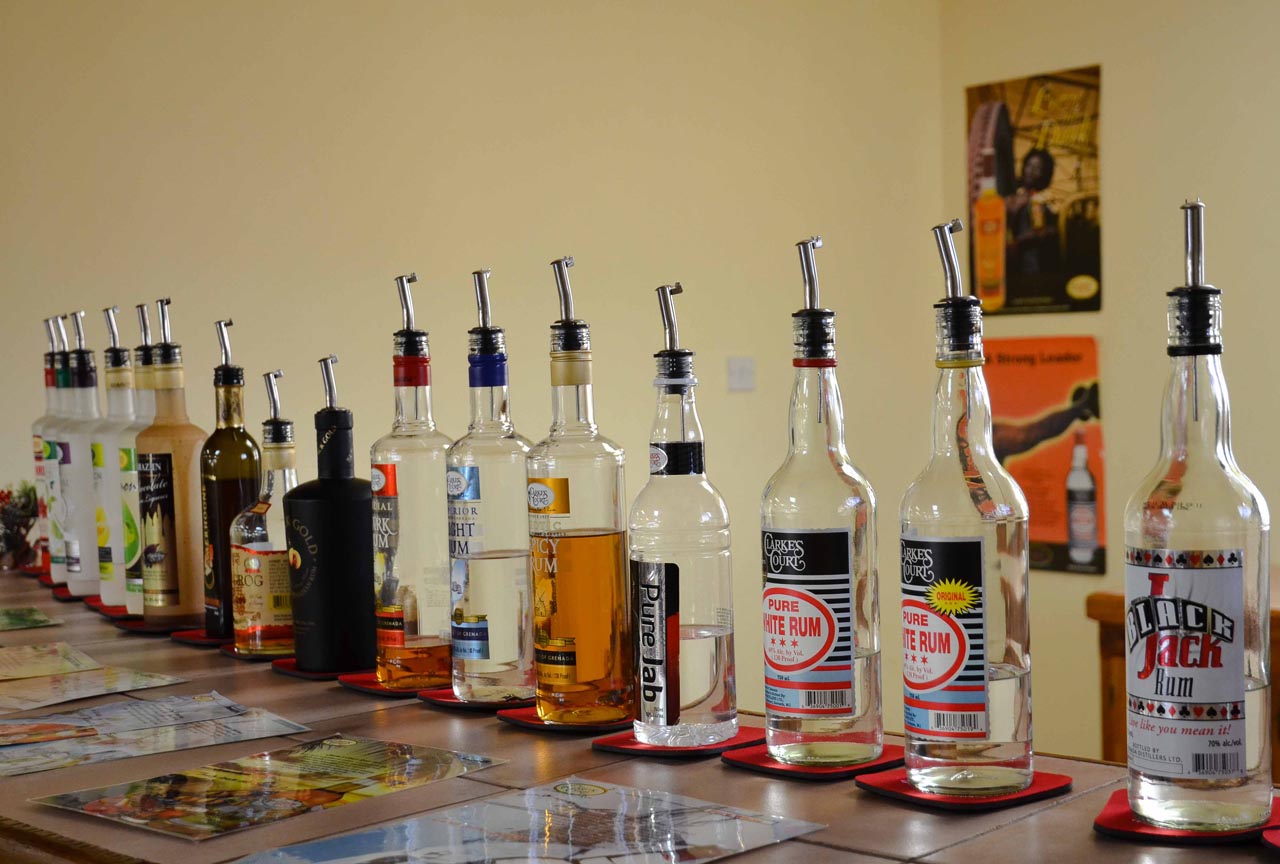 You can also try for a sought-after bottle of the famous River Antoine Rum.
This distillery produces less than its demand, but the wait for a prized bottle is well worth a visit.
Spice Island Grenada
Named the Spice Island, the most famous of all Grenadian Spices is Nutmeg.
It's used in local recipes and products like Nutmeg juice, Nutmeg ice cream, perfumes, soaps and beauty products.
Grenada has one of the most fertile soils in the Caribbean rife with nutmeg, cocoa, and soursop, banana palms, guava and ginger lilies.
6. Island Spice Tour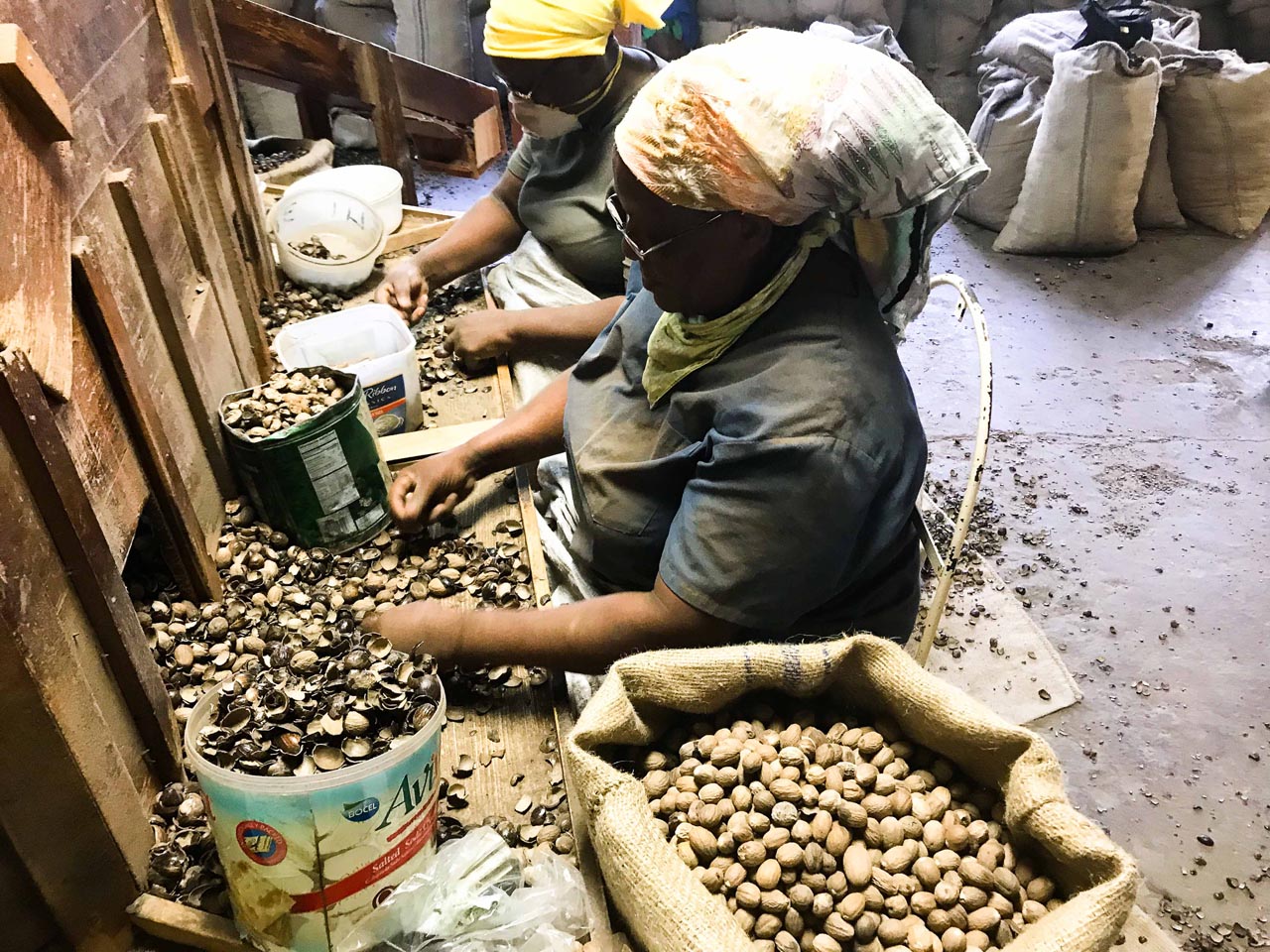 Learn how these spices are harvested and processed with one of the many island tours.
Check out the Gouyave Nutmeg Processing Station, where nutmeg is processed and exported around the world.
7. Laura's Herb and Spice Garden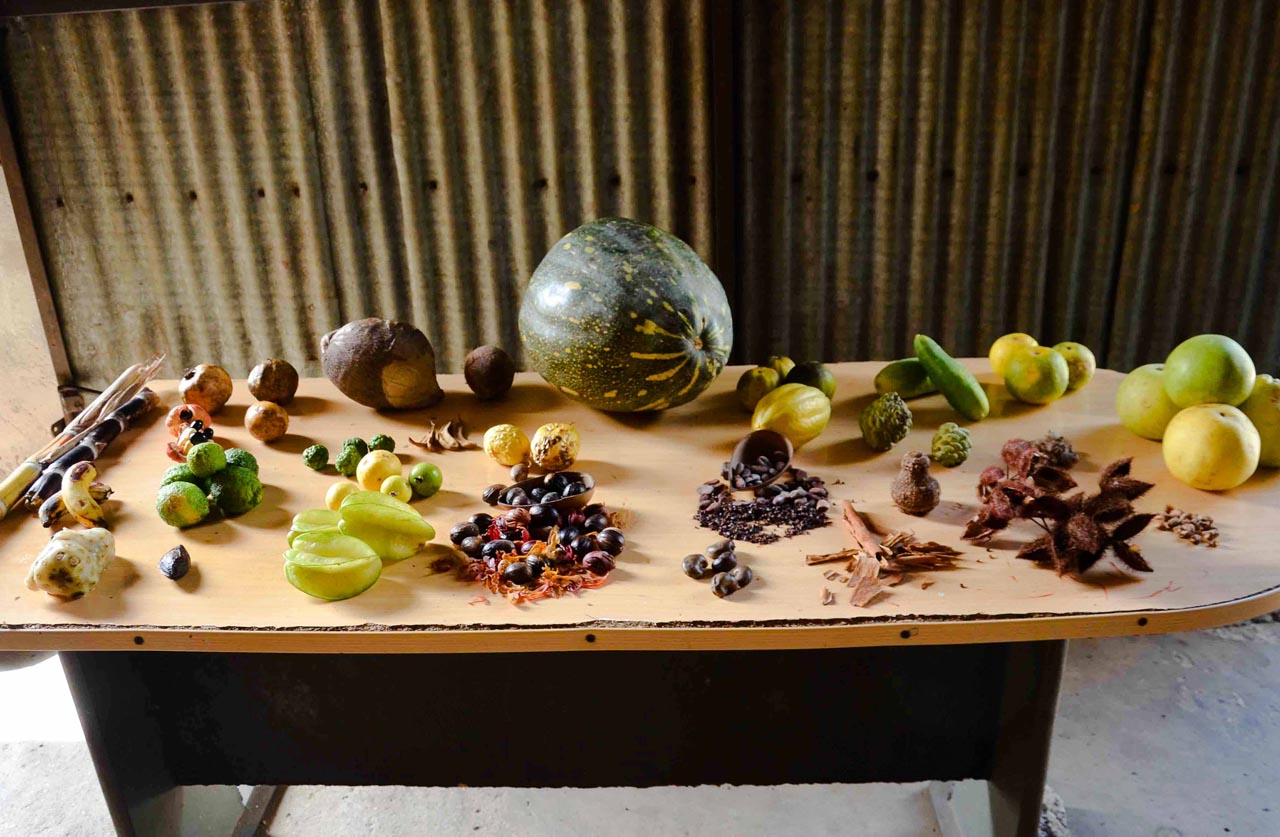 For a unique experience, visit Laura's Herb and Spice Garden, a favorite spot to see how everything is grown on the island.
Just walk the lush trails to enjoy exotic aromas of fresh herbs and spices.
In the later part of the year, you can see wild sorrel plants which are used in juice drinks and Rum.
Stop by the gift shop and grab spices to go.
There are so many accommodations from which to choose, ranging from small private homes to all-inclusive resorts.
8. True Blue Bay Resort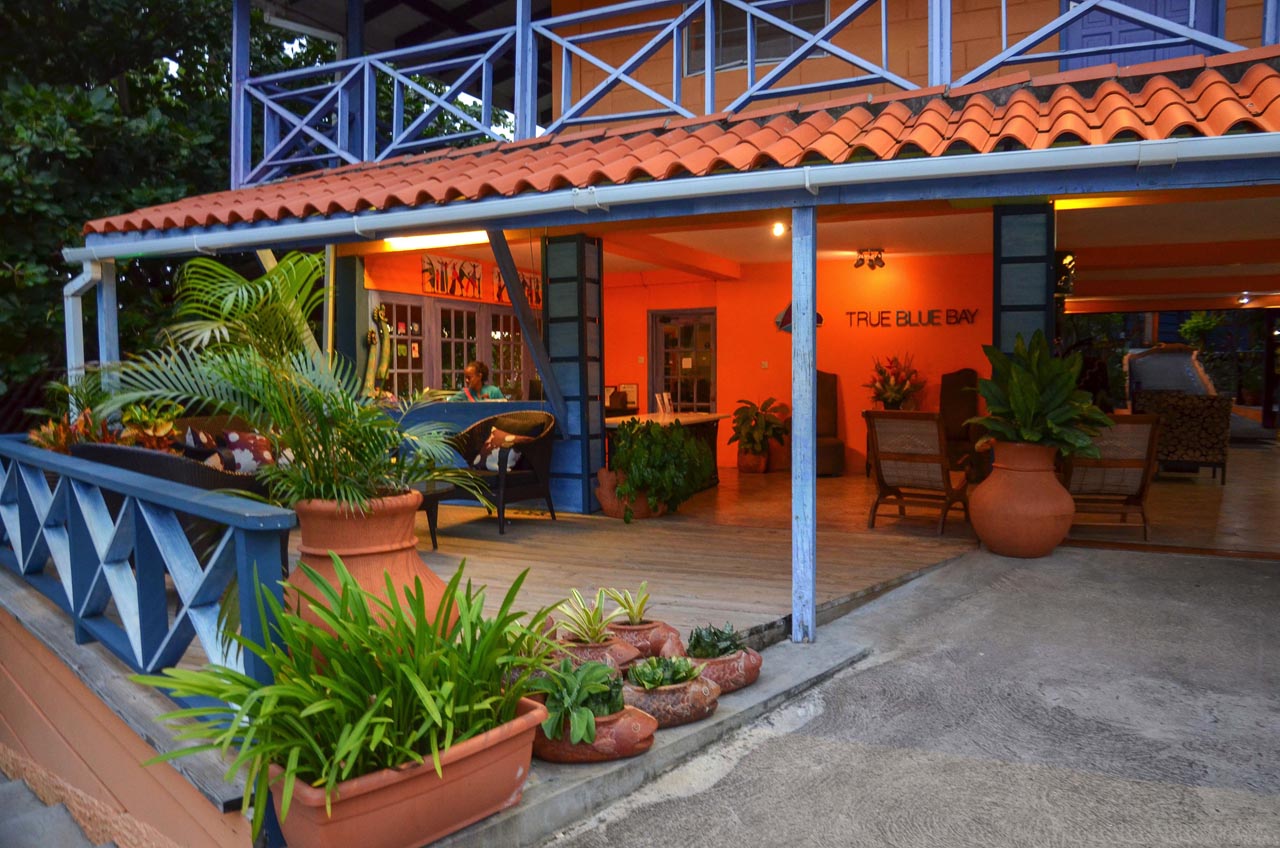 We stayed at the True Blue Bay Resort, a charming waterfront property with brightly coloured blue buildings.
There you can choose from villas, suites and rooms depending on the experience you are looking for.
Staying in a bi-level waterfront suite with beautiful views of the marina and ocean – was delightful.
It had a relaxing color scheme, kitchen, eco-friendly amenities, and shower stall.
This hotel has activities from a chocolate and rum tasting to yoga or diving.
If you just want to relax, check out their serene day spa.
A buffet breakfast is available to guests which include eggs, pastries, and fresh fruits daily.
There are two swimming pools, one geared to family fun.
Dodgy Dock bar is the evening gathering spot for guests and locals, dinner is served in an adjoining area.
The Cuisine of Grenada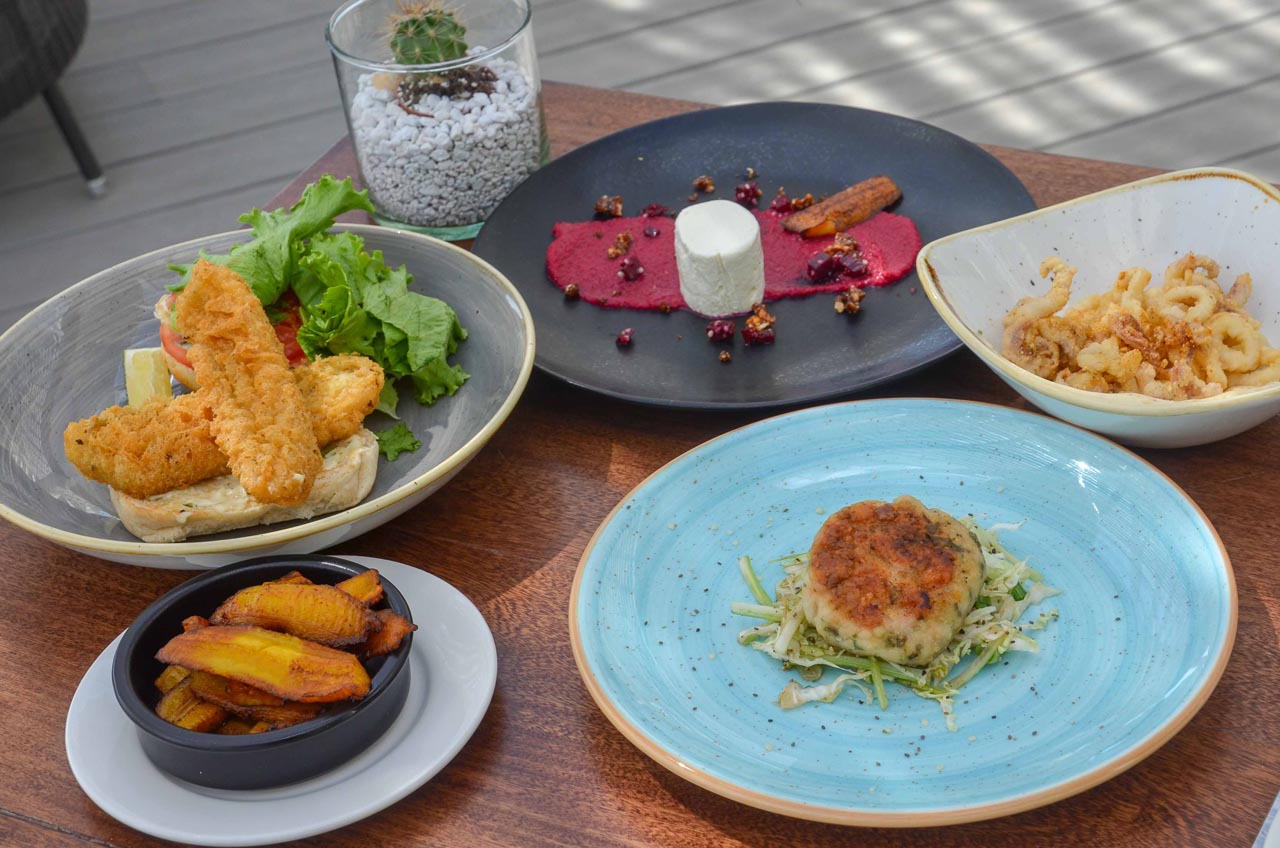 Grenada's cuisine infused with its spices is to die for. Here are five great places to eat in Grenada.
Anywhere you dine in Granada you're guaranteed fresh cuisine infused with local spices.
Fish, lobster and crab are on every menu along with steak, chicken and other assorted meats.
9. BB's Crabback Restaurant
The menu at BB's Crabback is filled with Caribbean favorites. Try the whole Lobster Calypso.
A generous meal of lobster seasoned with red, green and yellow peppers in a saffron and citrus sauce will tempt your taste buds.
10. Secret Harbour Restaurant & Cocktail Bar
You can't go wrong dining at the Secret Harbour Restaurant.
You'll find seafood appetizers like crab cakes, crispy shrimp or mains of steak frites and red snapper.
They also make delicious craft cocktail crafted with local ingredients.
11. Belmont Estate Restaurant
After a tour, enjoy lunch at Belmont Estates where you will enjoy a three-course meal from plantain soup to buffet of fish, rice, salads, beef and vegetable.
Everything is grown on the estate and no matter your choice you won't be disappointed.
After your meal, enjoy one of their delicious desserts like Nutmeg cake or Chocolate ice cream cake.
No alcohol is served on the premises as the owners are Seventh Day Adventists.
12. Calabash Hotel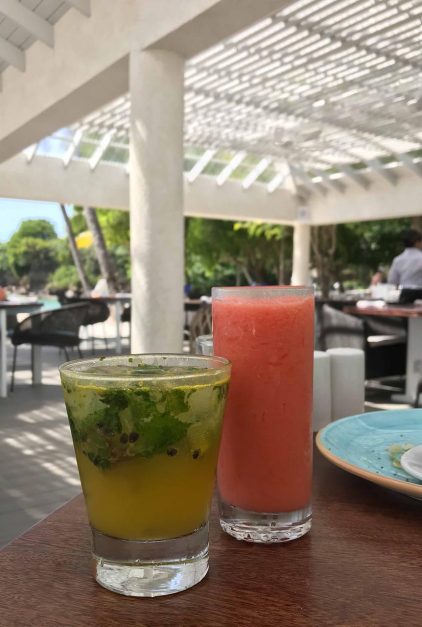 For an upscale lunch, stop at the Calabash Hotel.
From passion fruit mojitos to tapas style dishes – your taste buds will thank you.
The Fried Calamari with sweet lime & chili mayo and the Spicy Fish Cake with goat cheese and beets, really hit the spot.
After lunch stroll the grounds of this luxury hotel complete with gorgeous gardens and a swimming pool straight out of Architectural Digest.
13. True Blue Bay Resort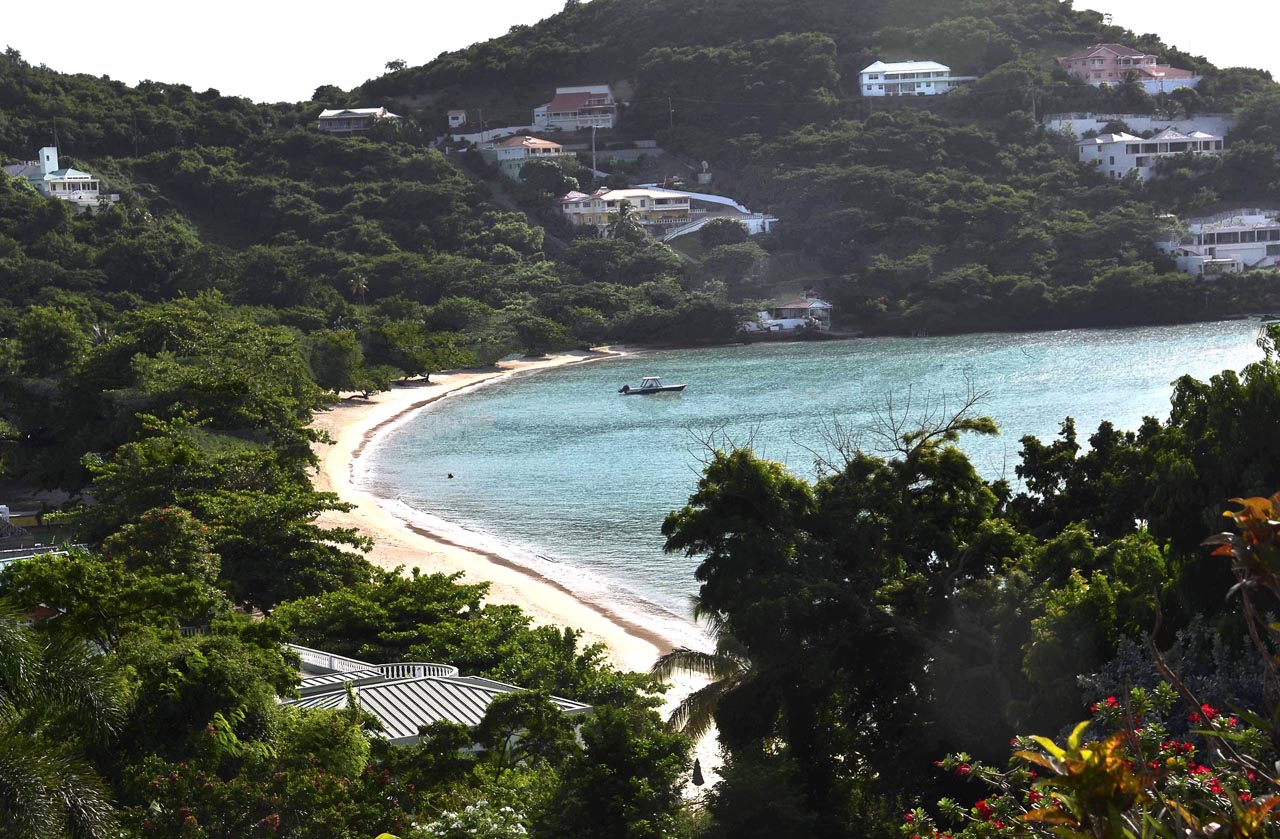 True Blue Bay Resort on Wednesday nights is the place to be on the Island.
Locals and visitors descend to enjoy the magnificent Street Food Festival.
There are over 30 vendors supplying every dish imaginable from jerk chicken to pasta and seafood.
They also have local ice cream and a local band playing the most incredible music.
You'll dance till your feet hurt.
Grenada Watersports
14. Scuba Dive with Dive Grenada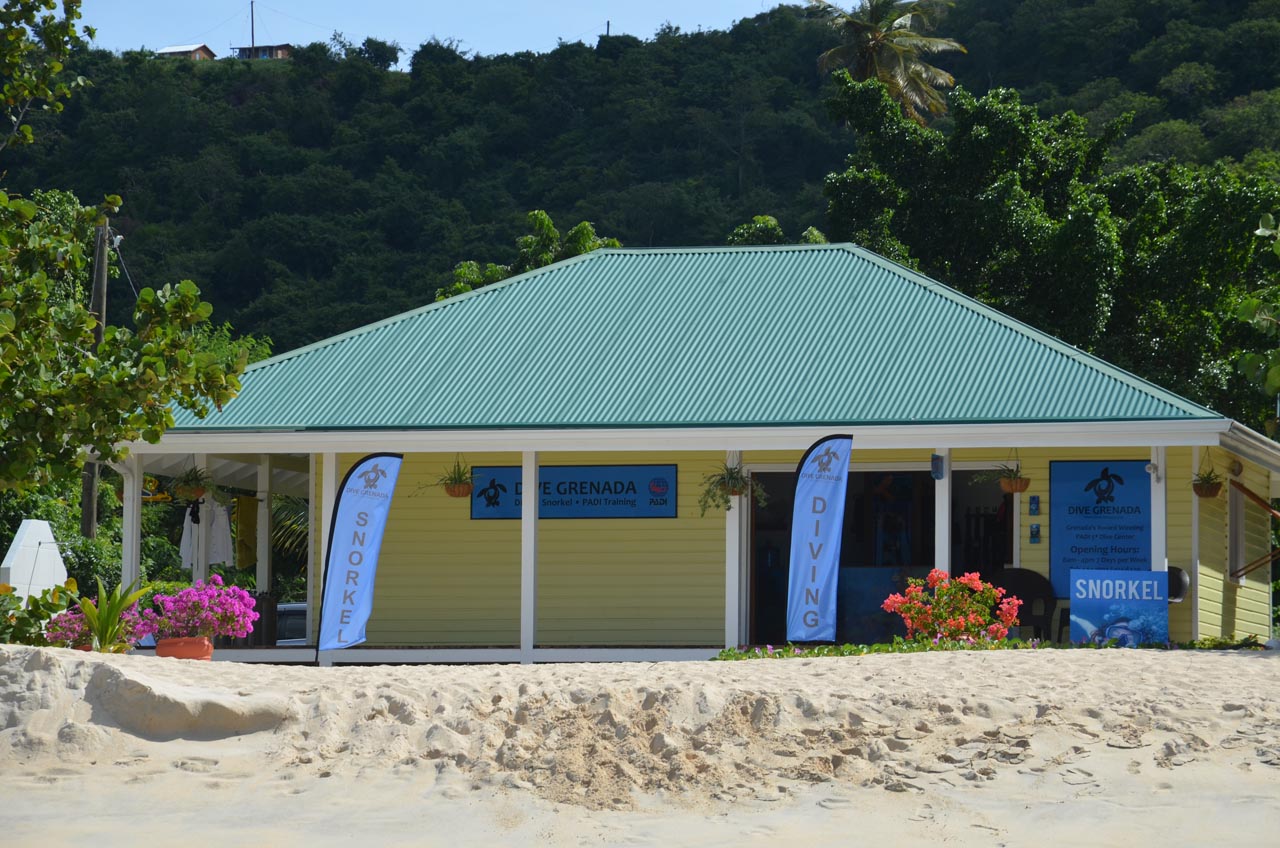 If you crave a little adventure, try snorkeling or diving with Dive Grenada.
This small, award-winning dive shop run by owners Phil, Helen and their two pups is a must visit on Grand Anse beach.
It's just a short boat ride to all the main dive sites.
15. River Tubing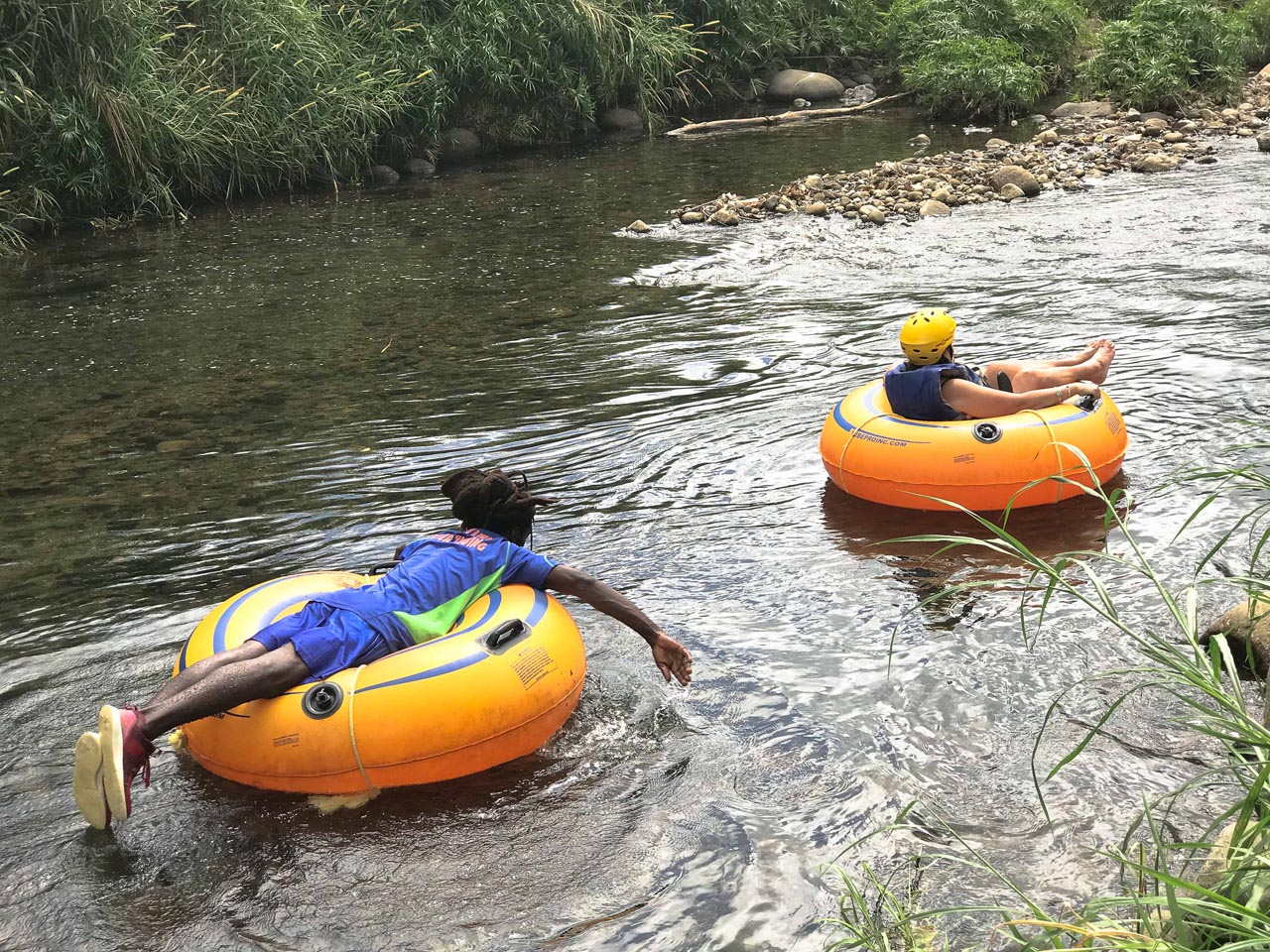 River tubing is another adventure, but for the less enthusiastic try an hour-long scenic ride down the Balthazar River with Adventure Granada.
16. Snorkel the Sculpture Park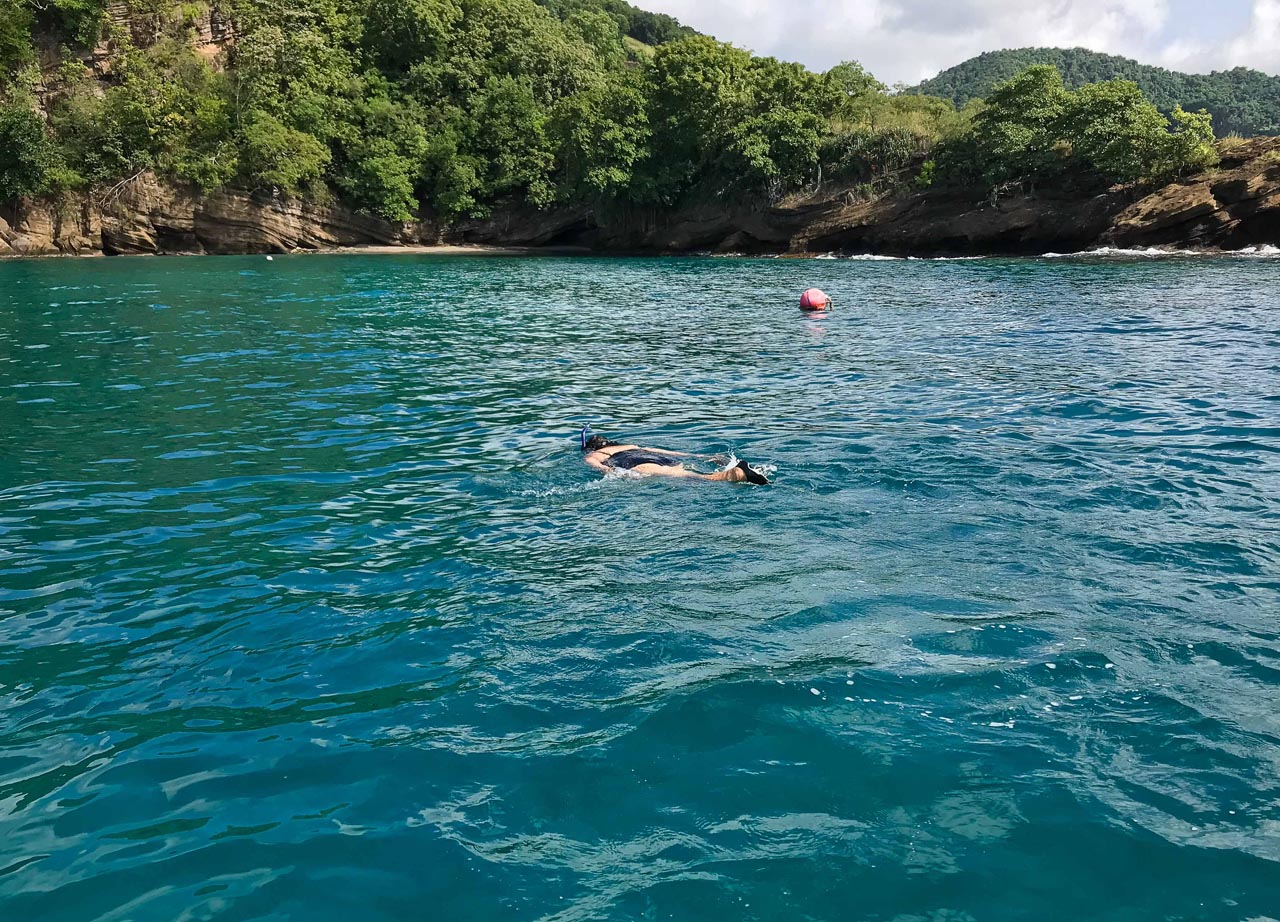 Visit the Molinere Bay underwater sculptures, the first of its kind; 75 statues were constructed from concrete and steel.
They are the vision of Jason deCaires Taylor, an underwater photographer, sculptor, and environmentalist.
Enjoy this incredible site by diving, snorkeling or from a glass bottom boat.
17. St. George's – The Capital City of Grenada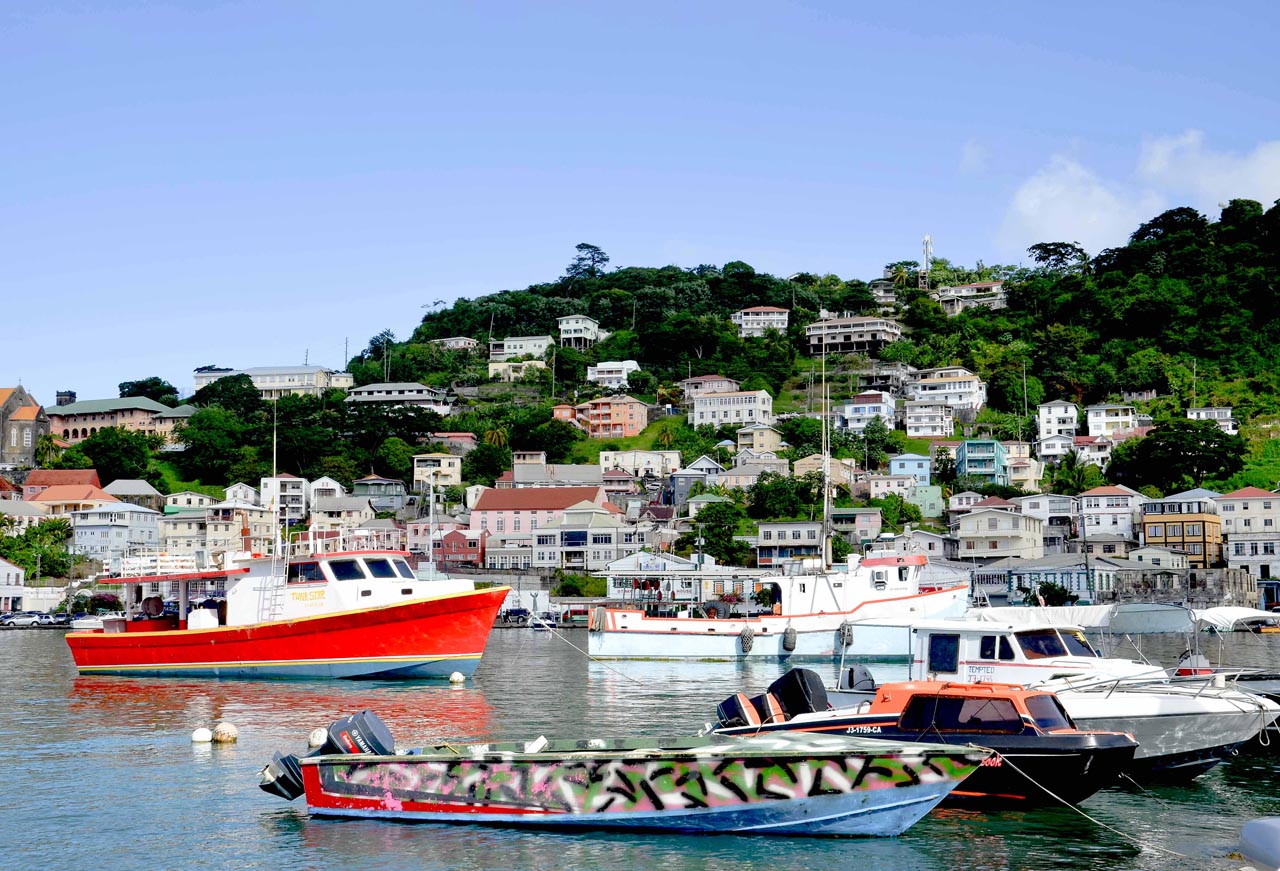 St. George's exemplifies the best of a Caribbean port town.
It has a picturesque harbor, historic forts, and a market displaying all the sights, smells and tastes of Grenada.
Take an afternoon to walk its colorful streets and explore the local culture.
Stop at Market Square in the heart of St. George's to grab souvenirs, spices, produce and handmade crafts.
The scent is intoxicating.
18. Forts of Grenada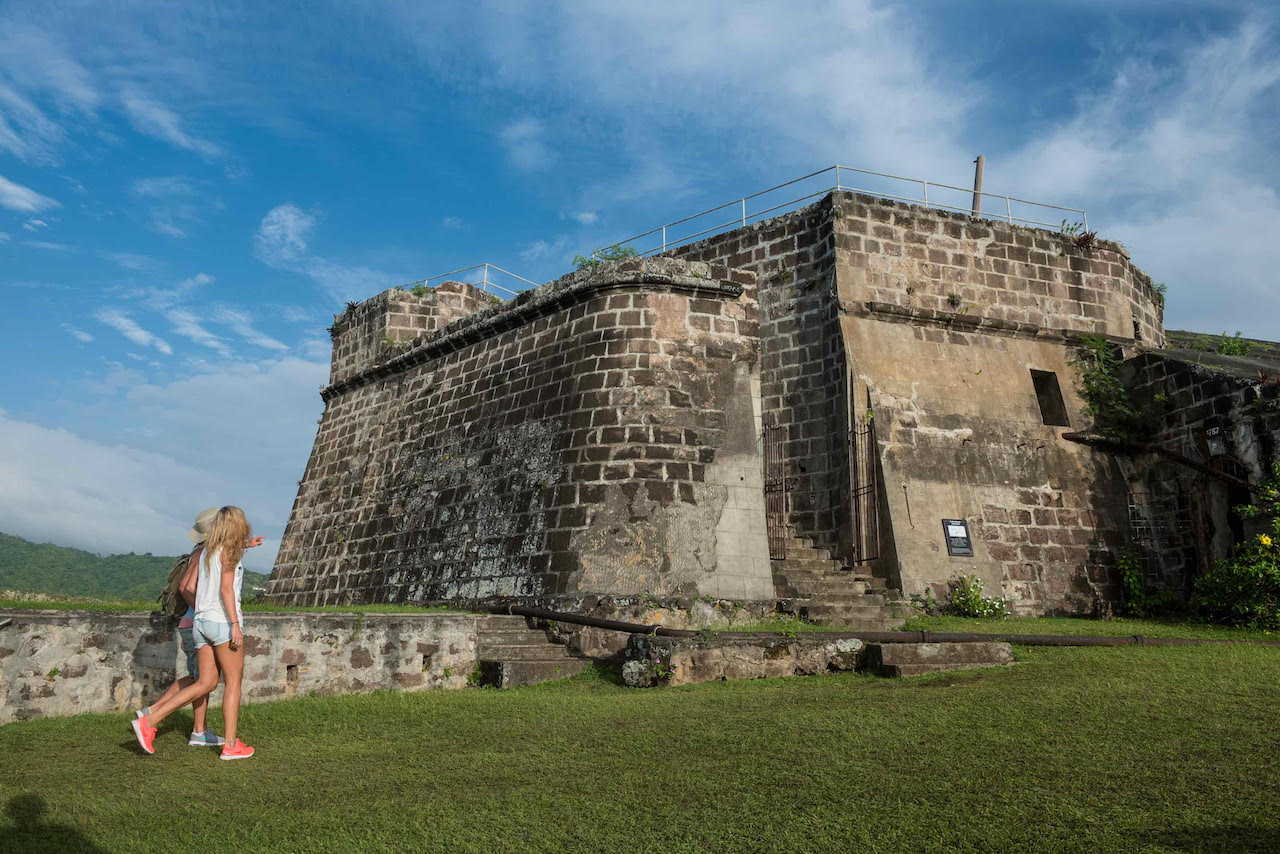 There are also many historic sites in Grenada like Fort Frederick and Fort George.
Fort Frederick is Grenada's best-preserved fort dating back to 1779.
St. George's marina which is unofficially dubbed the most beautiful in the Caribbean.
19. The National Parks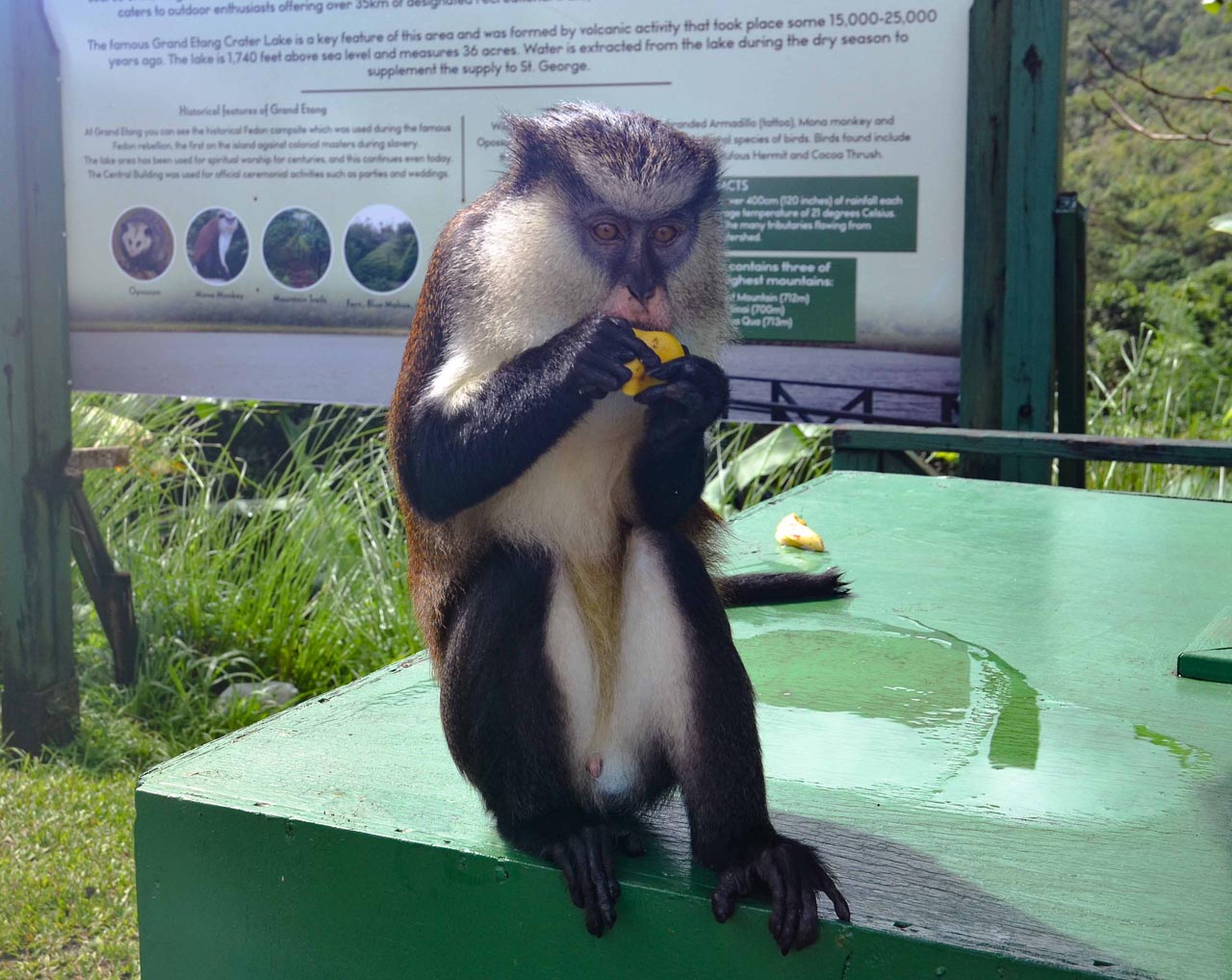 Grenada is blessed with acres upon acres of wildlife-rich rainforest.
Grand Etang National Park and Forest Reserve is an island must-visit.
In this beautiful forest, you'll find the Grenada dove (the national bird) and the rare Mona monkey.
Take some bananas in case you spot the monkeys, they'll come closer if offered one.
20. Annandale Falls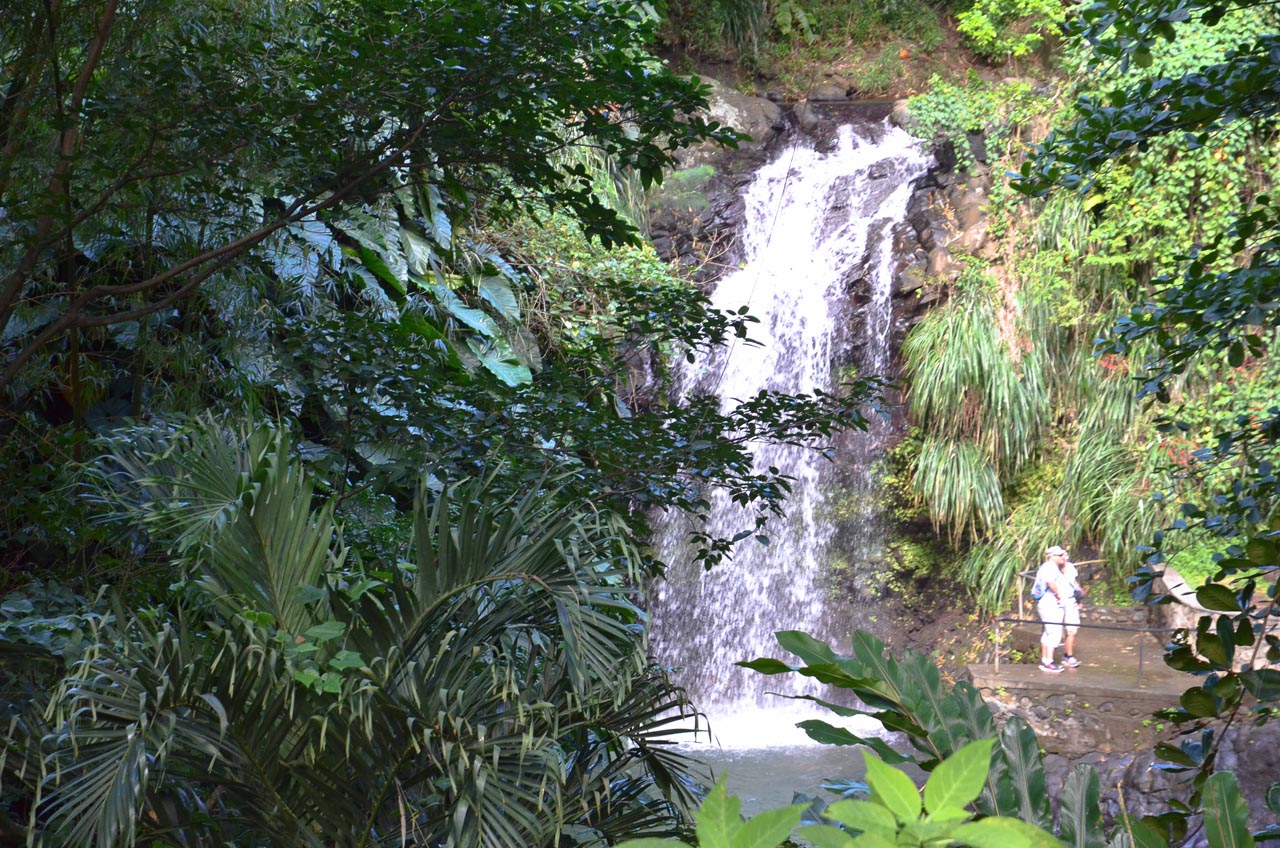 Be sure to check out the gorgeous Annandale Falls.
In the lush rainforest, this massive waterfall collects in a pool where you can indulge in a relaxing swim.
It's a popular stop for cruise ships so be warned that it may get busy when they're in port.
It's easy to see why many come and fall in love with Grenada.
From its welcoming, friendly people to pristine beaches, you'll want to explore every facet of this island.
Best Time to visit Grenada
The best time to visit Grenada is December. High Season is January to April. It is warm and sunny during these months. But prices are at a premium.
October and November are shoulder season in Grenada and the weather is good. You'll find good deals during this time.
Grenada Currency
Grenada uses the Eastern Caribbean Dollar 1USD = 2.70 ECD
Check XE Currency Converter for up to date rates.
We also suggest using an ATM when landing at the airport in Grenada to get out money for cash purchases
Credit cards are widely accepted at hotels.
Getting Around Grenada
It is best to get around Grenada by rental car.
There are public buses on Grenada. Mini Buses are cheap to get around and shuttle between popular beaches
Grenada Independence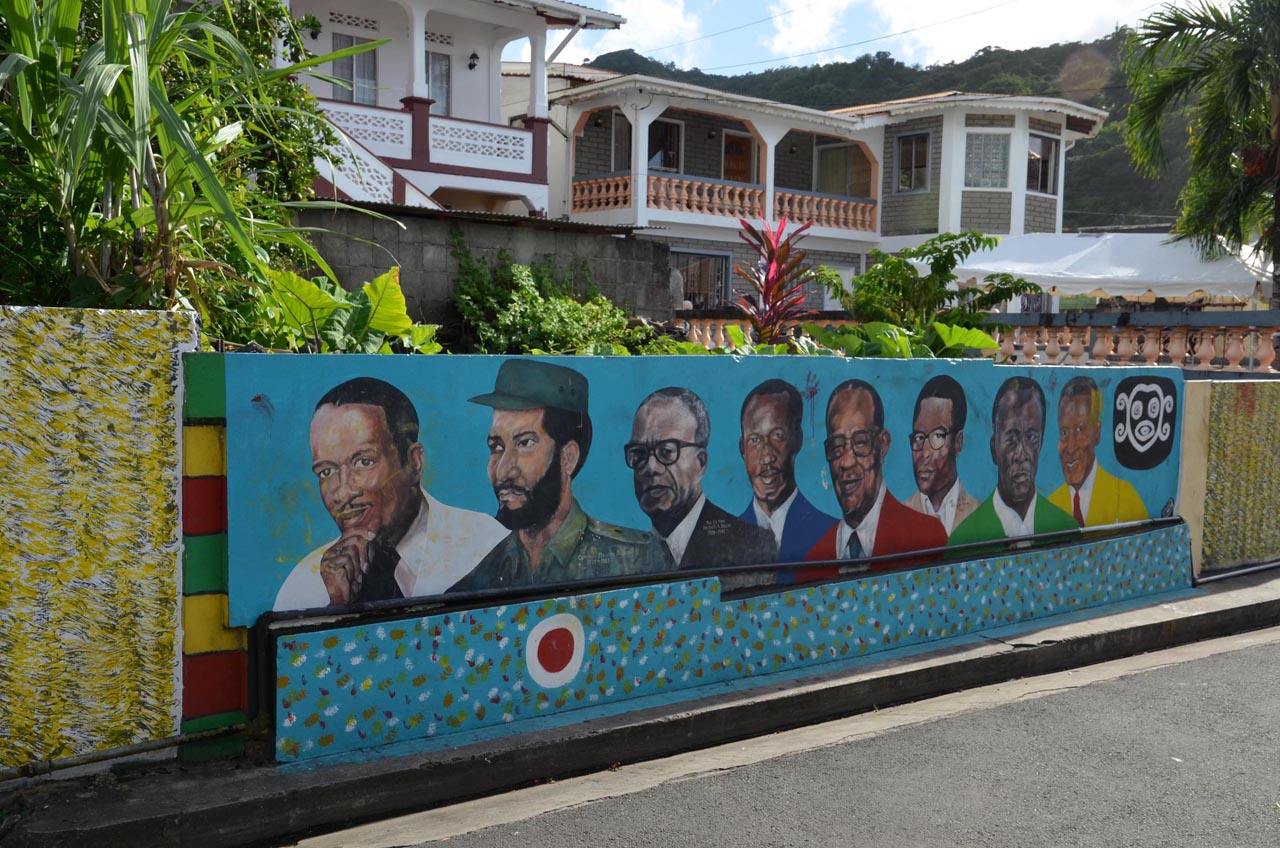 Independence is celebrated every February across the island with the national dish of oil down, a one pot meal of salted meat, chicken, dumplings, breadfruit, and callaloo.
At first glance, Grenada may look like your typical lush Caribbean Island, but this paradise is so much more than beautiful beaches and friendly locals.
Standout Grenada Tours
Private Sightseeing Tour of Grenada – Sheldon Noel from Royalty Taxi Tours – offers customized tours of the island. He's professional and extremely knowledgeable.
Spicemas – Grenada's premier cultural festival
And these are all the amazing things to do in Grenada. When planning your next Caribbean vacation, be sure to add the spice island onto your list!
Pin to Save to Pinterest: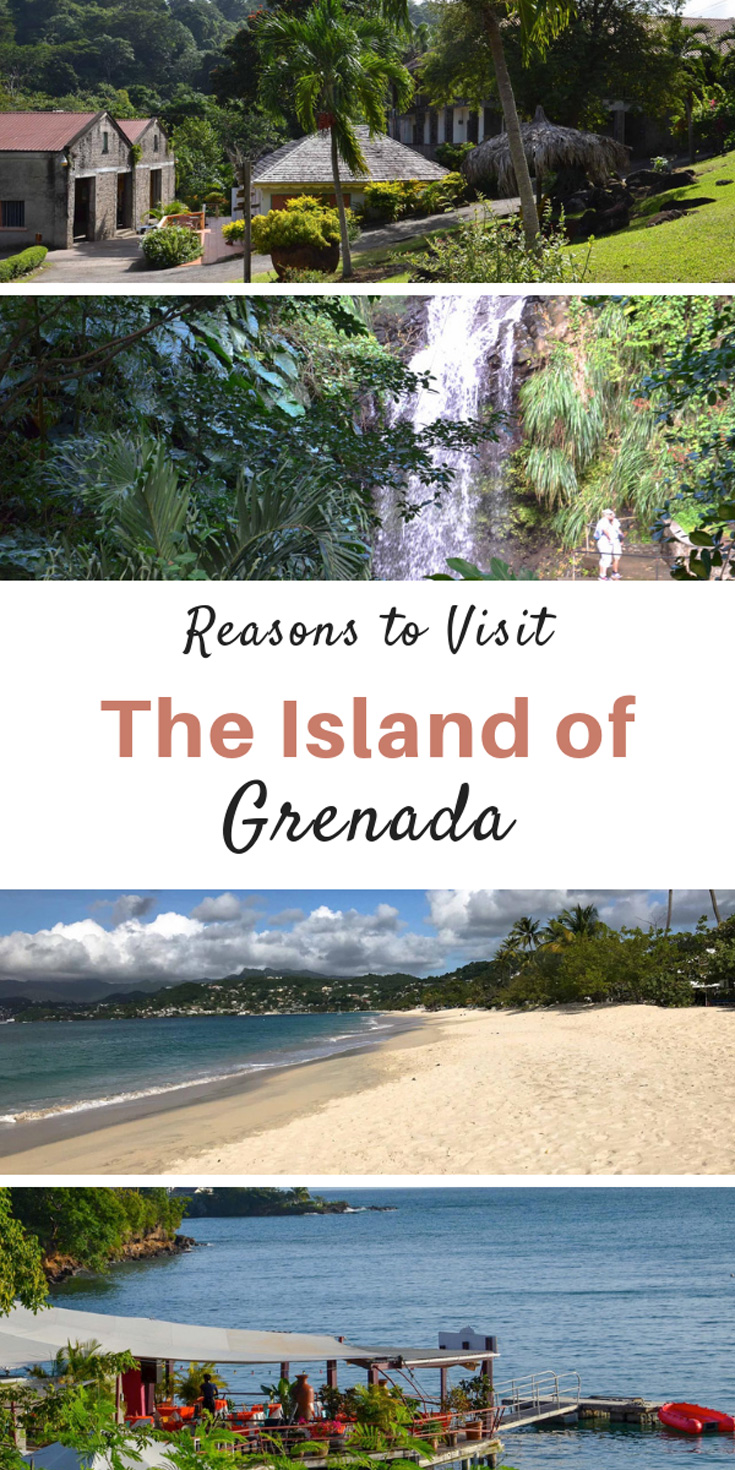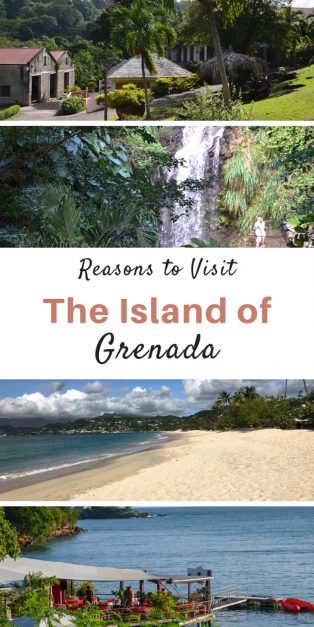 Author Bio:
Parm is the Owner and Chief Adventurer at Blue Planet Adventure.
She is also an accomplished author whose work has been featured in Trivago, Toronto Star, Travel Week, Travelalerts, and Tripcentral, just to name a few.
She takes pride in using her love of travel, food, history and culture to craft stories that leave her loyal readers with a serious case of wanderlust.
When Parm's not travelling the world, she resides in Toronto devouring mystery books and catching up on Netflix shows.
Follow her on:
Read More: