Our latest getaway takes you to the Exuma Cays in the Bahamas. 
I always thought of the Bahamas as being touristy and crowded.
You know, the Bahamas of Nassau where cruise ships dock and tourists flock to duty-free shops and Senor Frogs? Well, if you take a short flight to the Exumas, You'll be taken away from all that.
Exuma Cays – Dream Trip to the Bahamas
In the Bahamas, you're thinking of with crowds of people, silly theme hotels and hoards of cruise ships. But in the Exumas, you'll find one of the most romantic destinations on earth. 
We knew we were in for something special when we looked out the window of our small commuter plane to witness the most beautiful view of islands I have ever seen in real life.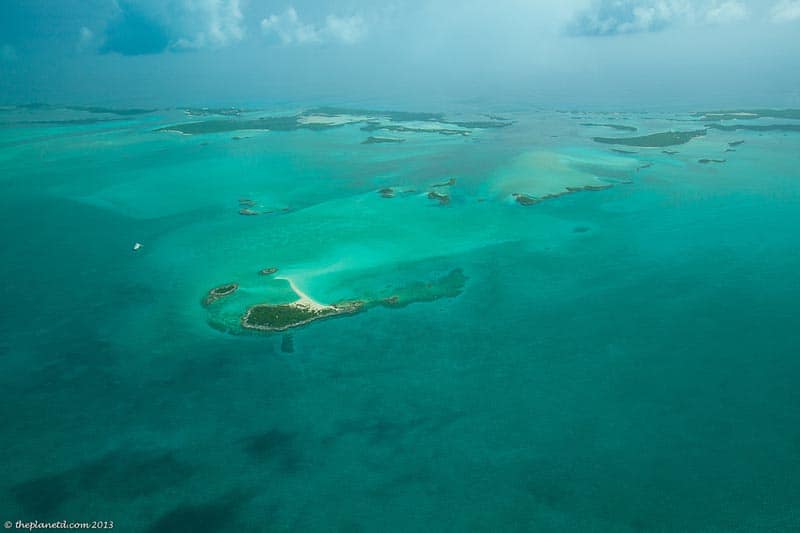 I've seen similar scenes from the plane like in the Maldives and Fiji but I had no idea that the Bahamas rivaled these exotic destinations.
I couldn't wait to touch down and get into that crystal clear sapphire blue water.
Dreaming of the Exumas
Home to the likes of Johhny Depp, Oprah Winfrey, and Tim McGraw and Faith Hill, the Exuma Cays sapphire waters and snow white sands are a place of paradise.
It's no wonder films like Pirates of the Caribbean, Into the Blue and James Bond have all filmed here.
They are like a picture perfect movie setting.
Exuma Resorts
We stayed at the brand spanking new Embrace Resort on Staniel Cay owned by island resident Nikki.
I love this story because Nikki isn't a Hollywood celebrity or famous Sultan, she is a woman that was born and raised in the Exumas and she and her family have opened luxurious family run cabanas complete with hot tubs and kitchens.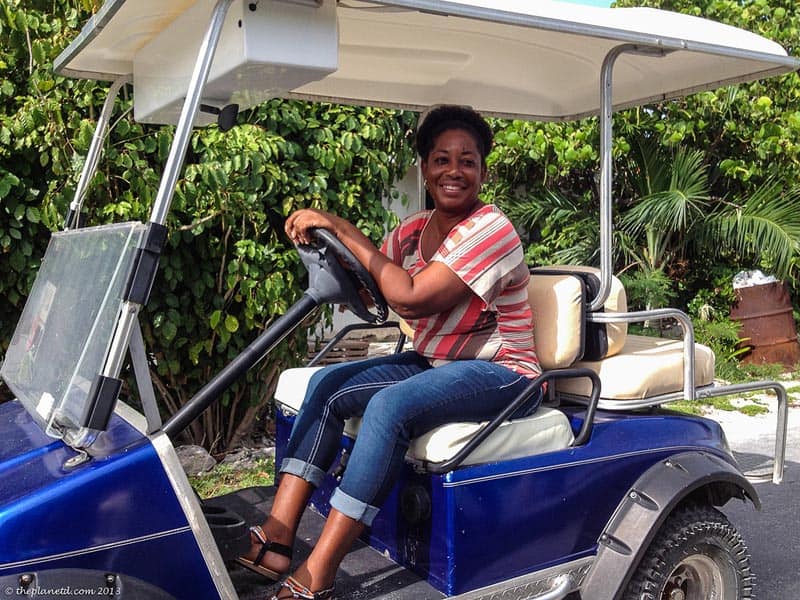 We landed at a tiny airport on Staniel Cay and were greeted with smiles by Embrace Resort owner, Nikki.
Nikki has been running a concierge service on the island to welcome people to Staniel Cay and to help them book their day trips around the 365 islands in the Exumas.
Since she is born and raised in the Exumas, she understands the importance of conservation and sustainability and has hired a conservation specialist, the amazing Denaye Hinds OBMI.com.
They are making sure that everything at the resort is sustainable and has little impact on the environment. More people should follow Nikki's lead and plan for the future like this. If there is something we can get behind, this is it!
With electric golf carts supplied, you can travel all over the island exploring your own secluded beaches.
See: Paradise and the Exuma Cays for more on the Bahamas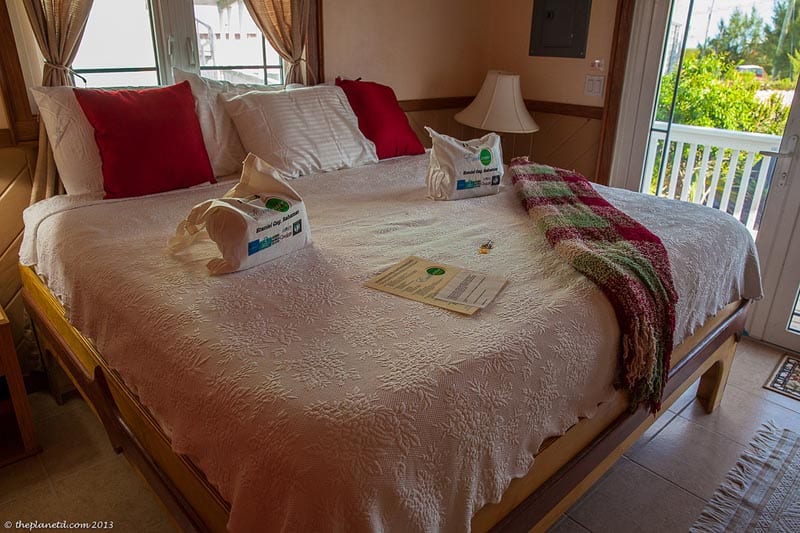 We were given golf carts to drive at our leisure to explore the small island. There are no cars on the island and the carts are a perfect way to get around.
We hopped in our cart the first evening to head out to the yacht club for dinner. The yacht club definitely has an island feel with rich guys from the yachts sitting around in their Hawaiian shirts drinking a beer and having a good time.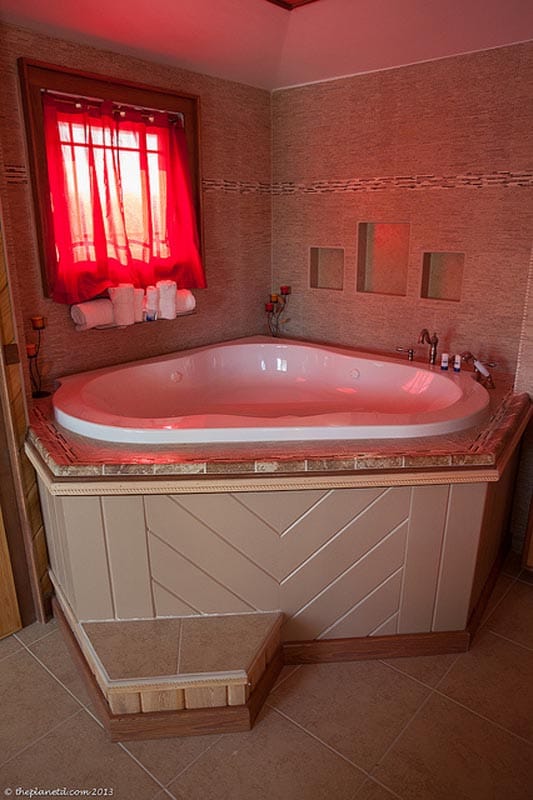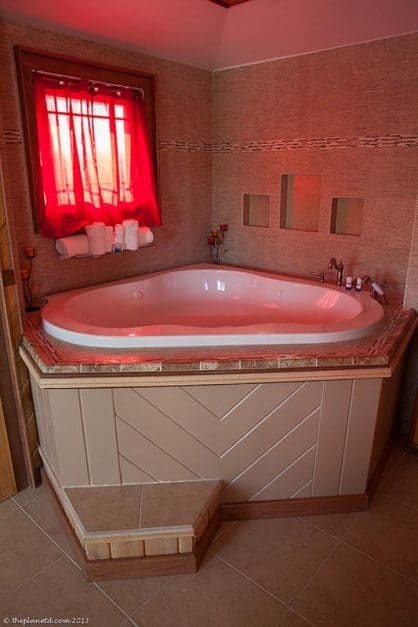 For us, it was cracked conch and a cool Kalik. (Bahamas most popular beer) on the menu while we got to know our fellow travelers.
We already spent a few days in Italy with Angie of Angie Away who we absolutely adore and thank her for inviting us along on this fantastic trip to paradise
Sailing Trips
There is a lot to do in the Exuma Cays and you can rent a boat or if you are rich enough arrive on your own yacht to explore the gin blue waters of all the 365 islands.
The Exumas have 365 Islands alone. You can explore an island a day for a year!
Boats of all sizes were moored in the crystal clear waters. People parties on their yachts, went paddle boarding and some were so large, they had their own speed boats attached.
I would definitely be interested in renting a boat and captian for a weekend to take me around the Exuma islands.
Swimming Pigs in Exuma
One of the most famous stops in the Exumas is a visit with the swimming pigs. Leftover from colonial days, this group of pigs now run wild in the woods off the beach and come out daily for a dip in the sea.
This is where the blond in me really shines through. When I heard about the swimming pigs of the Exumas.
I thought that they were some sort of aqua pig. Dave laughs at this every time I say it. I had visions of little pygmy pigs swimming underwater with webbed feet.
It wouldn't have helped if I did my research before leaving, but I didn't and to my great shock and horror, the pigs of the Exumas are actual pigs that you find on a farm.
People bring cabbage to feed them and you can get in the water to swim with them. But don't get too close, they'll nip you if they think you have food.
They are big and they swim in the water to cool off.
Basically, they come around because tourists feed them cabbage.
They looked sunburnt to me, but nobody seemed to agree with me that they weren't comfortable.
It wasn't until I came home and told my mom about it that someone finally felt the same way.My mom said, "Pigs get sunburnt you know." and I breathed a sigh of relief knowing I wasn't the only one feeling bad for the guys.
Snorkeling and Diving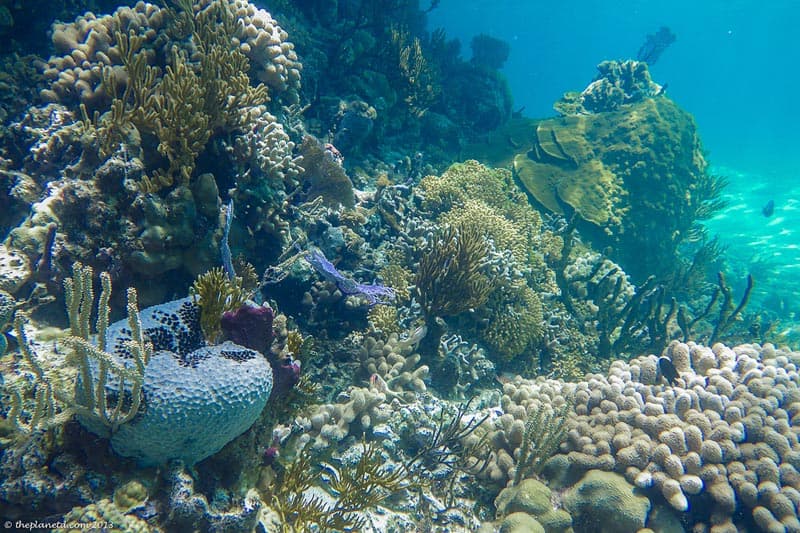 The Exumas are an incredible destination for diving and snorkeling.
I didn't understand why until we saw the water.
I thought Cozumel was clear, but this water in the Bahamas is like no other.
It is the most incredible shade of aquamarine I have ever seen and it was crystal clear.
. The gin blue waters or crystal clear and warm as butter.
Tunderball Grotto
Our favorite was Thunderball Grotto home to the famous movie scenes of James Bond's Thunderball.
At low tide, you can swim through short caves and enter this beautiful cave in the middle of an unassuming island.
Once you are inside it is breathtakingly beautiful above the water and below! The rocks are lit up as the sun shines through and the bright colors of the fish sparkle in the beams of sunlight.
We've let our PADI certification lapse but after snorkeling here, I think that we are going to have to take a refresher course.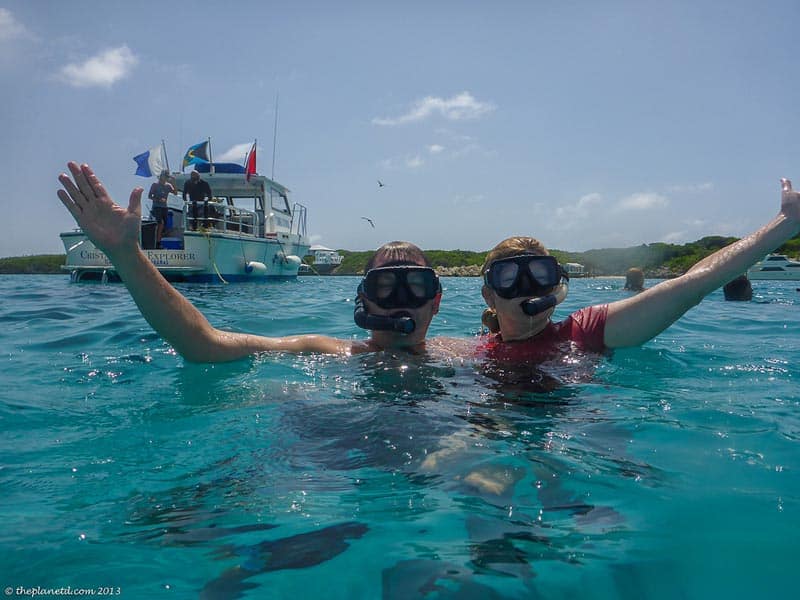 But to enjoy the Exumas you don't have to scuba dive, it has fantastic snorkelling just a few meters below the water.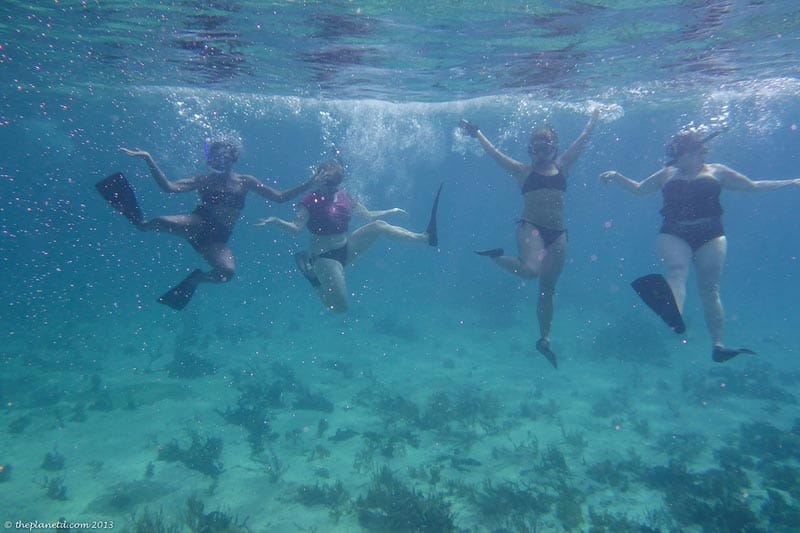 Swim with Nurse Sharks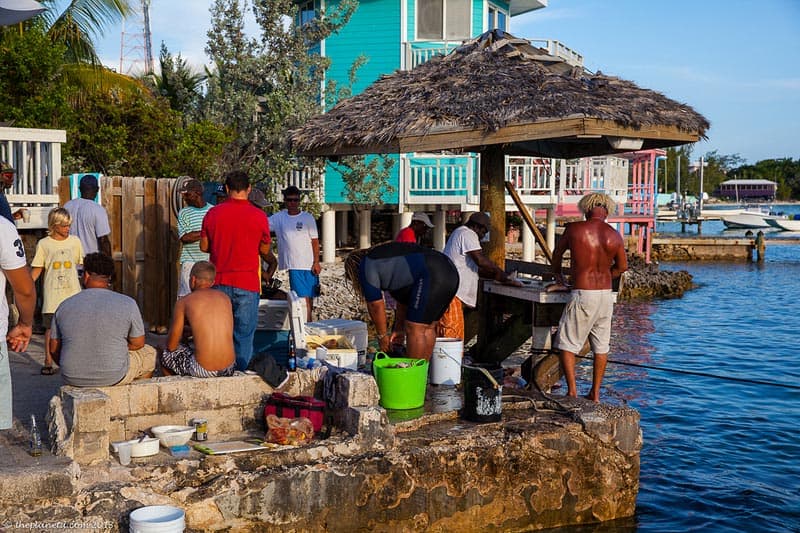 Sharks are a popular attraction in the Bahamas because they are just so darn friendly here.
They are fed by the dock every night as the fishermen clean their fish so when it comes to needing food, they've got it covered.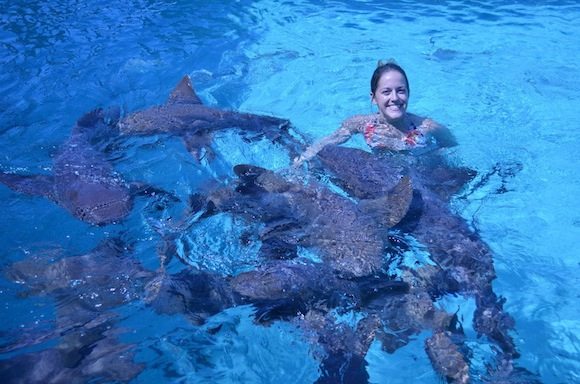 Sadly we didn't make it to the popular shark swimming spot, but we been in the water with so many sharks lately, that it was a refreshing change to see something different.
But guest writer Jessica Festa swam with nurse sharks in the Exumas, check out her post to see how it was!
Barracuda
It has been a while since we've spotted barracudas though and we were treated to two of beauties during our trip. They were large, shiny and oh so curious. They stuck around quite awhile at the end of our excursion, so we all stayed in the water for a longer look.
When we made our way over to the Grotto by boat later in the trip, I could have sworn that the same two followed us. I think they liked us, they really liked us.
Staniel Cay 
Yacht Club
A visit to the Yacht Club is a must. This is where everyone gathers and there are photos of past movies stars that have stopped in for a drink.
Even though the patrons are all most likely millionaires, you don't feel intimidated because they are relaxed and dressed casually.
I say they are all most likely millionaires because most of the people eating there have just come in off their yachts that are either docked in a secluded bay or in the harbor itself.
Exumas Regatta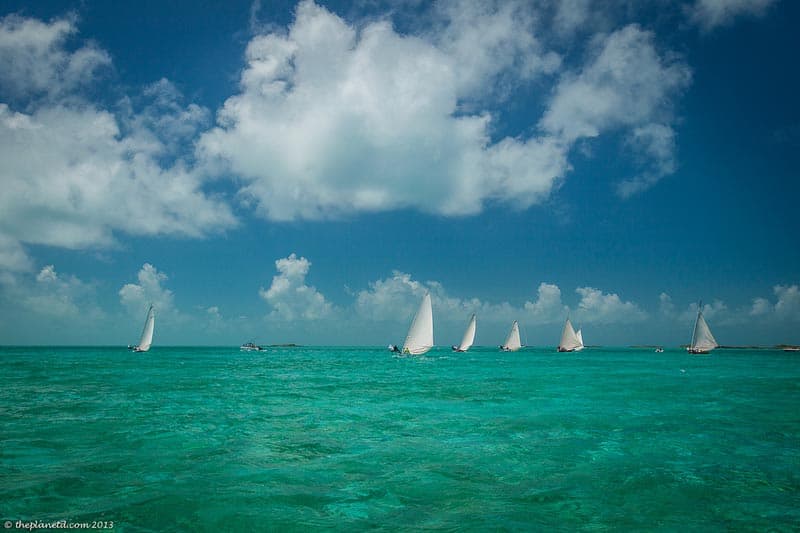 We just so happened to be in the Exumas for their annual regatta. Don't worry though, if you aren't there for it, I'm sure you'll find another one somewhere.
There's festivals, regattas and fishing derbies going on all the time in the Exumas.
The Bahamians know how to have a good time.
We were so content on the boat. We didn't do much that day except boat around the islands, but that is exactly all we needed.
Nikki even stopped at the dock at Black Point Cay to pick up a case of Kalik (Bahamian Beer) for us.
It was a festive occasion indeed, but luckily we stopped at Lorraine's Café for some more cracked conch to give us some energy.
Beaches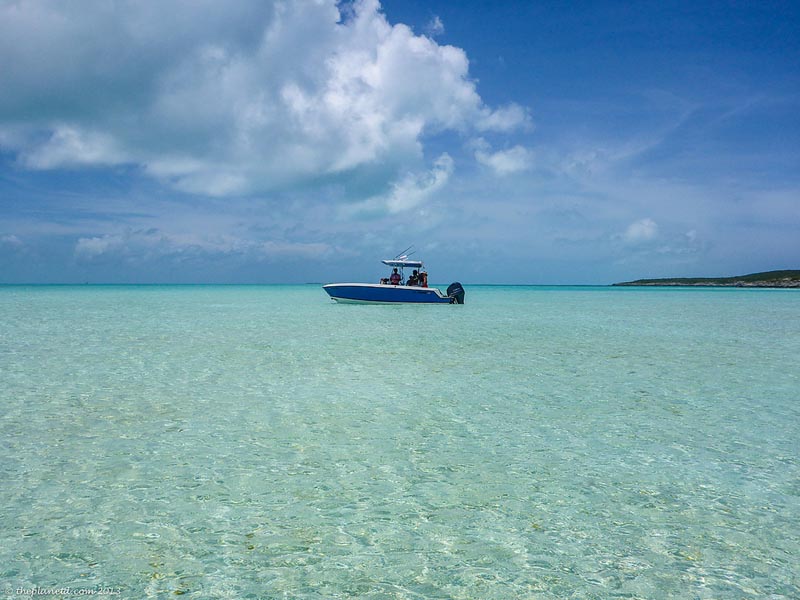 The Exumas have pristine secluded beaches. While we drove around on our golf carts we found several spots to swim with nobody at all around.
I think one of the best moments of the trip though was when all of us got in the water for the first time on a deserted beach on Staniel Cay.
Our first morning together, we took our golf carts for a spin around the island and found a pristine beach that was absolutely gorgeous and completely clear of people.
There wasn't a footstep in the sand and within minutes everyone decided to go for a swim.
We stood in the bath-warm water getting to know each other and talking literally about nothing as we relaxed and effortlessly shifted from that North American frenzied attitude to Island Time.
After that first bonding moment in the Caribbean Sea, we knew that the next four days was going to be awesome!
Gin Blue Waters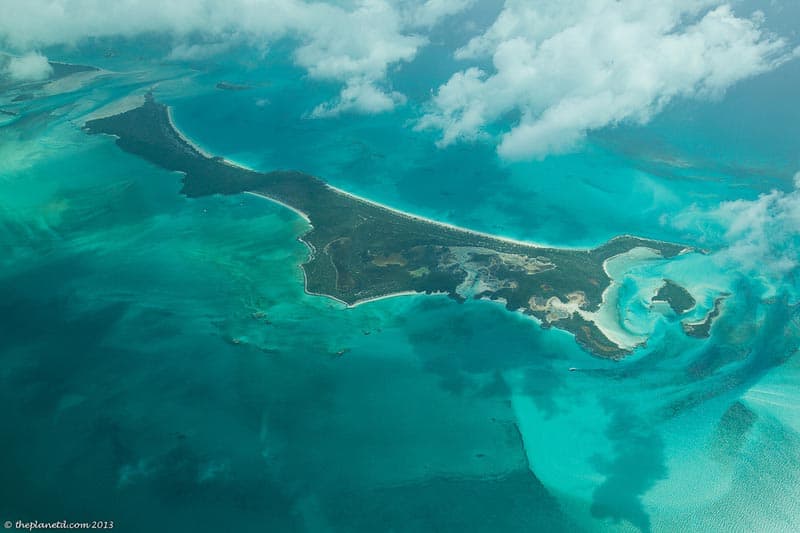 The Exumas have many names for their crystal clear waters. Gin Blue is the popular one that comes to mind.
It's also been upgraded to Bombay Sapphire Blue. Hey if you are going to call it gin blue, you might as well call it a premium gin blue.
Whatever you want to call it, everyone will agree it's beautiful.
I could get used to living like this.
Did you Enjoy this Post on the Exumas? Why not Pin it to save to Pinterest?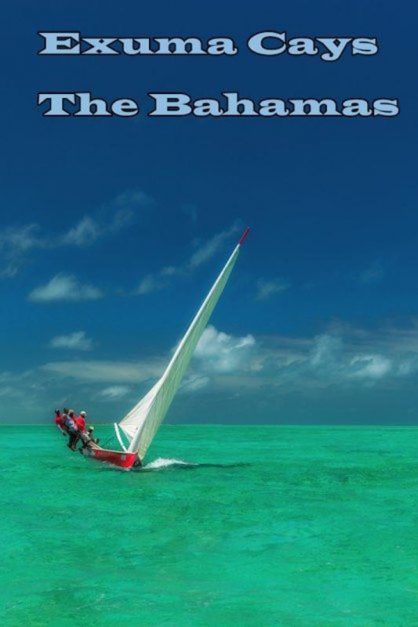 Have you been to the Exumas? Where is your dream trip?
Read more:
Thunderball Grotto – James Bond Was Here
Dive in – 9 Must Try Caribbean Watersports
Paradise in the Exuma Cays and Swimming Pigs too!
You Might Also Enjoy