We've had the opportunity to visit Jamaica a couple of times during our travels, and we pack a lot of activities into each trip! There are so many things to do in Jamaica, from Montego Bay to St. Elizabeth and everywhere in between.
Things to do in Jamaica
We've rounded up amazing excursion ideas to get you off the resort. Enjoy, in no particular order, our favourite things to do in Jamaica, from Montego Bay to St. Elizabeth.
Remember the jingle "Come back to Jamaica, what's old is what's new?" Well, Jamaica ain't stickin' to its old slogan.
There are so many new things to do in Jamaica that if you haven't been in 10 years, you will see a huge change - especially in the off resort excursions.
So, maybe it is time to come back to Jamaica, only this time get yourself off the beach and explore the island.
Adventurous Things to do in Jamaica
1. Visit Waterfalls - Saint Elizabeth
When going to a tropical island, you have to visit waterfalls.
There is nothing more fun than escaping the hot sun by swimming in lagoons. While Dunn's River Falls is a popular day trip, we enjoyed YS Waterfalls.
This seven tiered waterfall is beautiful and fun! We met our guide at the entrance and he took us through the falls, showing us where we could safely swim, sit, and jump.
We originally wanted to go independently, but I am so glad we had our guide with us.
He took photographs of us, walked us through the falls, brought us into places the independent travellers couldn't go, and he set up the rope swings for us. I have never had so much fun at a waterfall.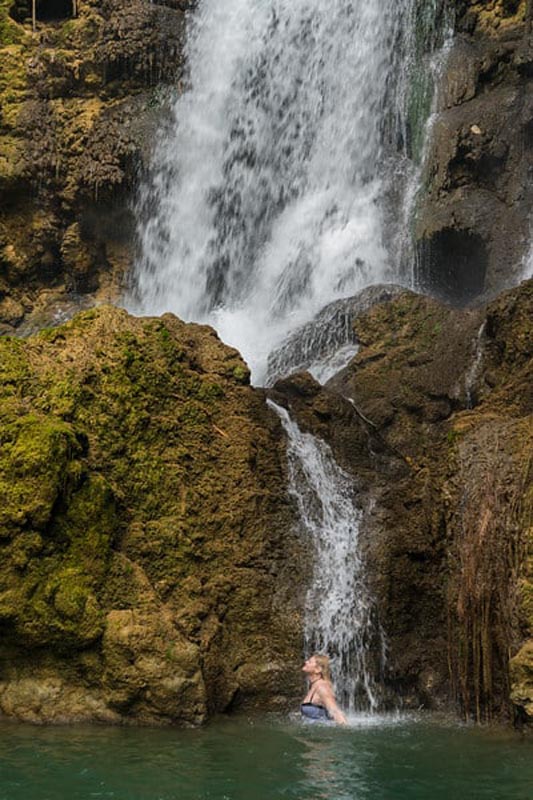 The pathways are easy to walk and the water is refreshing. You can be as adventurous or as relaxed as you want at YS waterfall.
If you are into doing the rope swings, go for it - it's a blast!
Waterfall Tips
Bring water shoes for walking. The bottom is rocky and slippery and having shoes makes life a lot easier.
Pack a towel.
Bring a waterproof camera like a GoPro...
But you can also bring your photography gear, including a DSLR and tripod. Your guide will stand by your gear and it will stay dry on the path.
For more information visit YS Waterfalls.
Watch our video of 12 Unique and Fun Things to do in Jamaica
---
Check out: Feel the Vibe Jamaica for other great ideas to get off the resort
2. Jamaican Bobsledding - Ocho Rios
If there is one thing you have to do when you go to Jamaica, it's hit the bobsled track. You can spend a day at Rainforest Adventures.
After you ride the scenic chairlift up to the top of the mountain, there are a flurry of activities to do.
These include the history museum, pool bar and café, waterslides and zip line, and of course the star attraction, The Bobsled.
Whiz down the hill as fast or as slow as you want, you have control of the brakes - but let me tell you now, fast is fun!
A fifteen minute chair ride takes you up to the top of the mountain where you can have a look around before you hop on the bobsled.
The ride is fast and over before you know it, but it's exciting and you feel giddy racing through the rainforest.
Take the whole day off to sign up for the full package, and experience every adventure Rainforest Adventures has to offer.
3. Go Zip Lining - Montpelier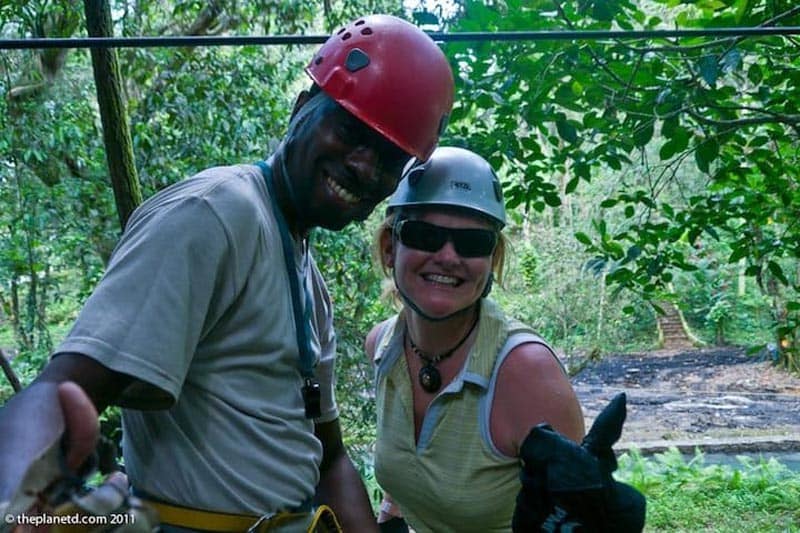 No Caribbean Adventure could be complete without a zip line excursion.
Our guides were absolutely fantastic, and although this particular zip line was one of the more mellow canopy tours we've been on, it was beautiful and a lot of fun.
We recommend it for first-time zip liners.
It has enough speed to make your heart race and the platforms are high enough to make you realize that yep, you're way above the ground.
As it is located on an old plantation, it is very picturesque. The jungle is dense and scenic, but the highlight is zipping right through an opening where the branches split in a large old growth tree.
Book Your Zipline Adventure with Transfers Here!
Where to Stay in Montego Bay
If you're looking to revitalise, the Riu Hotel Montego Bay offers the best facilities: a freshwater swimming pool, Jacuzzi, sauna, gym and wellness centre .
Check out Availability & Prices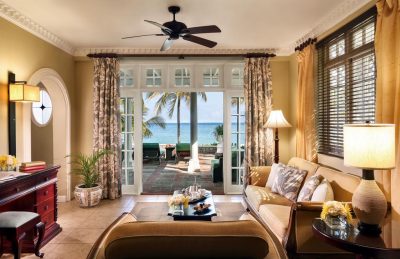 This 400-acre resort has 2 miles of private white sand beach on the Caribbean Sea. It features 50 pools, 3 restaurants and 5 bars. Truly incredible.
Check out Availability & Prices
4. ATV with Chukka Tours
Chukka Caribbean is everywhere on this island and we visited yet another location of this Jamaican staple.
We were running a little late due to our catamaran tour going long, so we missed the dune buggy adventure that we had booked, but Chukka was kind enough to move us to an ATV tour.
I actually enjoyed this ATV experience better than the trip we took in Alaska. We were hesitant on taking part as we often find ATV trips to be a little light on adventure due to the liability risks for the company.
They usually never allow you to let loose, but these guys were great. They kept a steady even pace that gave me enough of a thrill to be content with the speed.
It was also cool to climb the steep mountain and take a look over the island once we reached the top.
5. Hike and Bike with Damian - St. Elizabeth/Treasure Beach
We've done a couple of hiking and biking excursions in our day and Damian's on the South Shore was one of the best we've done in the Caribbean. Why?
Because he takes you into the real Jamaica.
During our cycling trip we stopped to chat with local farmers, we cycled through fields, and we even met with a local historian to learn about the history of St. Elizabeth.
Did you know it was settled by the Scottish?
For our hiking trip with Damian we climbed to the top of Chateux Garden, where we had extraordinary views of the South Coast.
What we loved was walking through local villages and farms. People still live the traditional way on the side of this mountain, moving their livestock and watering their crops all by hand.
It's hard work and it's a privilege to walk through their communities. This is difficult to find and you should have a guide out of respect for the villagers.
Damian knows everyone in the community and they welcome him and his tours to their land.
For more information you can email Damien at [email protected] for details or book at Jakes Resort. 
6. Hike and Bike: Bracco Tours
Have you eaten too much on the resort?
Get yourself out for an informative hike followed by an all downhill bike to the Caribbean Sea. We stopped to learn about the flora and fauna and tried a taste of the termites in the large mound.
That wasn't exactly part of the tour, but one of our fellow hikers, Steve, told us all that they taste delicious.
Never one to back down from a challenge, I thought I'd give them a try. Our guide gave the mound a good shake to wake up the termites and out they came. They weren't too bad!
We hiked up further, enjoying the conversation, and were greeted at the top by not only a great view, but also cold towels to clean ourselves off.
After a quick relaxation period, we strolled back down to grab our mountain bikes and ride through the fields to the beach, where we enjoyed fresh coconuts and a dip in the water - if we so desired - while listening to that wonderful island music!
For more information visit Bracco Stables. 
Relaxing Things to do in Jamaica
7. Bamboo Rafting - Montego Bay
It's one of the most romantic excursions in Jamaica.
Bamboo Rafting down the Martha Brae River is a relaxing way to spend 90 minutes enjoying the scenery while learning about the local history and culture of the area.
You can stop at bars for a drink, purchase crafts and paintings from local artisans, or play on the rope swings along the way.
Book Your Martha Brae Rafting Experience for only $70/pp with transfers from your Montego Bay Hotel
8. Visit the Pelican Bar - St. Elizabeth
The unique Pelican Bar is an excellent excursion to get you off the resort.
Head off with a local fisherman to a place one mile offshore, in the middle of the Caribbean Sea.
It's a place to party, relax in the shallow waters, and enjoy a cold beer at sunset. Tours leave from Ochos Rio, Negril, and Montego Bay for half day trips, or you can stay on the South Coast at Jakes and be out at the Pelican Bar in 20 minutes!
The only way to get there is by boat, and it is the perfect spot to watch sunset while enjoying a cocktail.
Book trips to the Pelican bar through Captain Joseph's boat tour -TreasureBeachExcursions or contact him directly at [email protected] 
9. Meet the Crocodiles - Black River: South Coast
We love a good safari. I think it is a privilege to see wildlife in their natural habitat.
While once endangered, crocodiles are now protected and you can see them on the Black River Safari.
This 90-minute tour lets you get up close and personal with crocodiles as they laze on the banks of the Black River, swim up to the boats, or hide in the mangrove trees.
It's a Jamaican excursion you won't forget.
Combine the YS Waterfalls with the Black River Safari and a Rum Tour!
10. Catamaran Tour - Negril
I have always wanted to go on one of these picture-perfect catamaran tours in the Caribbean.
Catamarans are the boats that you always see in the commercials promoting the Caribbean Islands.
I'd never taken one of these famous island excursions until this trip, and it didn't disappoint. As soon as we were on board the staff took great care in making sure we had a super time.
We sat at the front working on our tans until we reached our snorkeling destination.
The music was blasting and the snacks were laid out, but there is no drinking until after snorkeling.
Snorkelling in Jamaica
Once we reached our destination, we followed our guide into the warm water and spotted trumpetfish, puffer fish, and starfish.
The water is calm, inviting, and warm. Don't worry if you've never snorkeled before, this is a trip for beginners. They even make everyone wear life jackets so you are completely safe.
A highlight for me was hanging out in Pirate's Cave, a sea cave where pirates used to hide their stashes of buried treasure.
We swam around for a bit and then hopped back on the boat for our journey home.
Once back on, the bar is open and the music blasts, so we sipped rum punches all the way back to the beach!
Book Your Catamaran Tour combined with a stop at Dunns River Falls for only $160/pp
11. Eat Jerk Chicken at Scotchies - Ocho Rios, Montego Bay
It's a Jamaican institution. Most people don't get off the resort to enjoy the truly delicious food available in Jamaica, but when they do, they often go to Scotchies.
Scotchies serves Jerk the way they do around the island. It's family style, wrapped in tin foil and drenched in delicious jerk sauce.
If you are going to try one dish in Jamaica, make it jerk chicken!
12. Take a Jerk Cooking Class - St. Elizabeth
Take it one step further and try your hand at cooking Jerk. At Jakes' Treasure Beach, we made Jerk Snapper and it was delicious.
We learned all the ingredients that went into jerk sauce, so we can now make it at home!
But we're not going to give away the secret, that's something you'll have to learn when you try a cooking class in Jamaica yourself.
Once you are finished cooking, you get to eat your feast and with the view at Jakes Resort, you'll want to spend all night relaxing as you watch the sun go down.
Once the sun's down, the band plays and the party begins.
What I love about staying at Jakes is that locals hang out here and the tourists have a laid-back feeling that is far away from the all-inclusive chaos of the more popular destinations.
13. Watch the Cliff Divers at Rick's Cafe
Rick's Café is famous for the cliff divers that put on a nightly show.
It doesn't look so high from the photos, but it is a fair distance and they even have higher platforms for the pros to jump off of.
We figure it must be dangerous since someone in our group told us that a friend of hers broke her back jumping from this very spot in the past.
So, we suggest watching the experts at work rather than jumping yourself.  But if you are confident and have the skills, go for it.
However, if you are looking for adventurous things to do in Jamaica, we've got more on our list below!
 14. Private Boat Tour and Beach Dinner
It was the highlight of our trip to join Captain Joseph on his fishing boat with his two sons in dolphin watching and dining on their private beach.
He is a skilled captain with 25 years of experience. The rugged South Coast is beautiful to explore, and then to have a romantic dinner on a private beach is pure heaven.
We sat at Dolphin Point watching dolphins swim by, we walked on the long sandy beach, and we sipped rum punch and Red Stripe beer.
Captain Joseph became Chef Joseph and prepared a lobster feast -complete with chilled wine and all the fixings - on his outdoor stove, using driftwood to cook.
Book trips to the Pelican Bar through Captain Joseph's boat tour -TreasureBeachExcursions or contact him directly at [email protected]
There is so much to do off the resort in Jamaica.
While it is great to relax on the beach at a luxury hotel with a Mojito in hand, it's exciting to get yourself off the resort and enjoy everything that Jamaica has to offer.
Check out these tours for more ideas on what to do in Jamaica
Read Next: 11 Reasons Couples will Love a Honeymoon in Jamaica
You Might Also Enjoy