When traveling to Jamaica you have got to get yourself on the water.
Too many people stick to the resorts basking in the sun, burning their pasty white bodies to a crisp and although that's are a lot of fun, there is nothing better than sailing the Caribbean Sea.
We arrived late at Island Routes Catamaran tours to cruise along the Negril Coastline in Jamaica and they were kind enough to have patience and wait for us.
After all, we're on Island time mon.
We walked out to the Catamaran getting our feet wet for the first time since arriving in Jamaica. It felt oh so good and we couldn't wait to get out for a swim.
Catamaran and Snorkeling Tour Jamaica
It was one large and luxurious catamaran and we all grabbed our spots out in the sun for the journey to the reef.
Being the Caribbean, everything is all-inclusive and the same goes for excursions.
There was a fully stocked bar with a buffet lunch and we were free to feast and drink and dance and party…right after we finished our snorkelling excursion.
You don't have to do anything you don't want to do when in Jamaica, so some people remained on board to bask in the sun.
Snorkeling with an All-Inclusive Company
Being used to travelling independently, we found it funny that we were snorkelling with our life vests on.
I have a feeling there is a huge liability on package tours, so there was no going in the water without our life jackets.
It made for a little bit of an uncomfortable swim, but hey, we didn't have to worry about running out of breath.
The reef left a little to be desired and it has definitely seen better days.
It looks like it has seen a lot of uninformed tourists in its day who have caused a lot of destruction to the waters.
The coral didn't look overly healthy and there wasn't a lot of marinelife.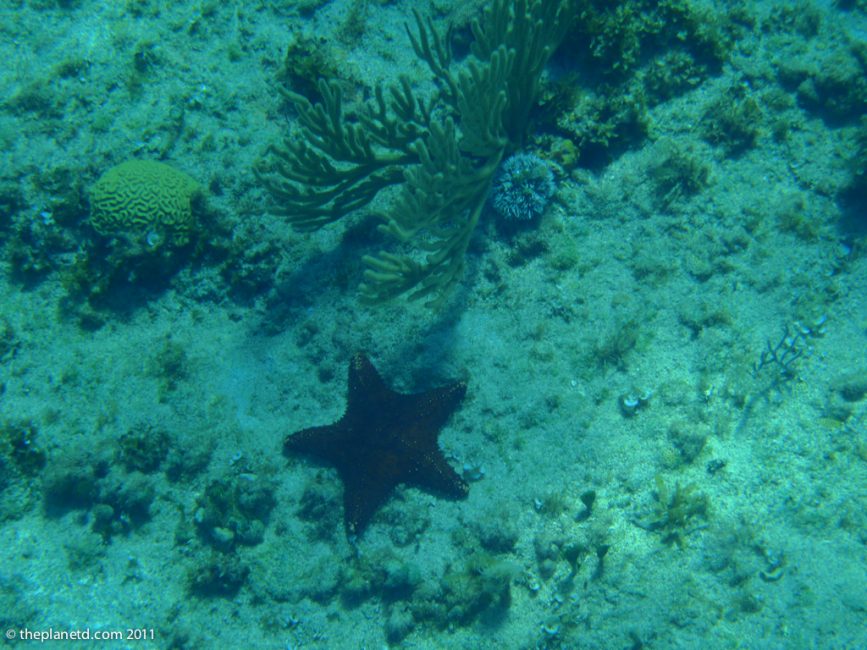 We saw a few of the staples such as starfish, trumpet fish, blowfish and sea urchans. But they were few and far between.
If you have never snorkeled before, this would be a satisfying first start.
And anytime you have the chance to swim in the warm waters of the West Indies, it's always a thrill.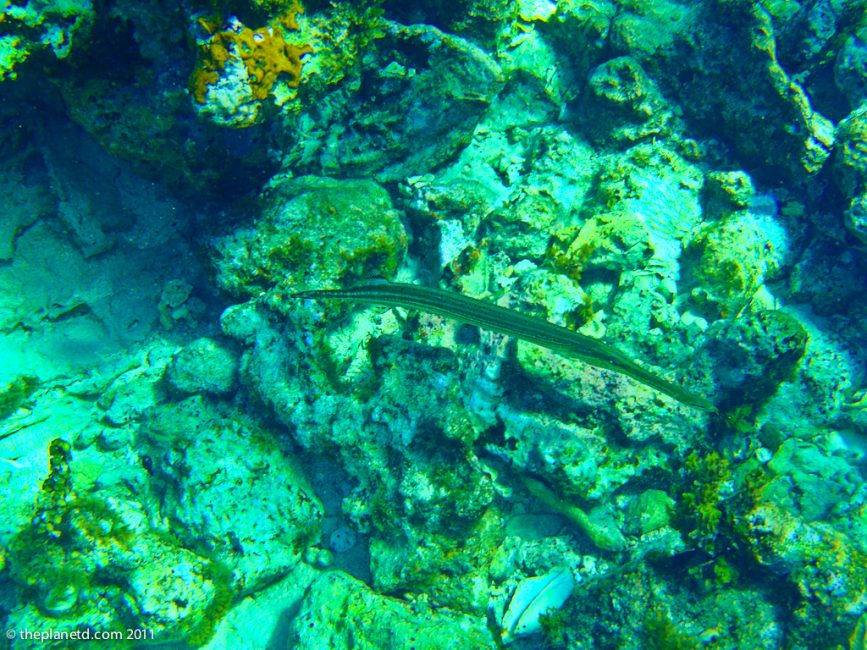 We were out in the water for about half an hour following our guide who was fantastic.
He knew where to find what little marine life there was to be seen so I stuck close following his lead.
Back on the boat, the party began.
We had a full day ahead of us still, so most of us stuck to fresh lemonade for our drinks but I could see how it could be a full-on party if you wanted. Jamaica is all about enjoying rum and fun in the sun.
The breeze felt amazing and we barely felt the heat of the day as we continued along the coast of Negril Jamaica seeing its famous landmarks.
Pirate's Cave – Jamaica
Our next stop was Pirates Cave.
This is apparently where many a pirate hung out and kept their stash.
We were back in the picture-perfect turquoise water swimming to explore the caves and at this point, I was happy to have my life vest.
It was a pretty tough swim. Once inside we saw an old bar.
How cool would that have been to swim up to a cave and sit at a pool bar?
Only this time it was a bar in the sea!
It's abandoned now and when I asked what happened to it, our guide replied "Bad Business."
Rick's Cafe
After about 15 minutes we heard the blow horn from the boat signalling us to come back and we set up further along the coast.
Our next stop was Rick's Cafe.
Famous for the cliff divers that put on a nightly show.
It doesn't look so high from the photos, but it is a fair distance and they even have higher platforms for the pros to jump off of.
We figure it must be dangerous since someone in our group told us that a friend of hers broke her back jumping from this very spot in the past.
I guess the catamarans come at this time daily because we had our very own show.
A well trained diver flipped off the rocks for us not once, but twice.
At this point we were feeling pretty satisfied.
We had enjoyed a feat of wraps and fresh fruit, had some yummy fruit juice and but the best was yet to come.
Margaritaville
We pulled up to Jimmy Buffet's Margaritaville.
Yep, there really is a Margaritaville.
There are Margaritavilles all over the Caribbean.
Oh, how many times I have sung the words "Wasting away in Margaritaville, searching for my lost shaker of salt..."
Our Captain
As we pulled up, we saw the water trampolines and for some strange reason, every one of us said, we'd love to go on them.
When our captain (the only female captain in Jamaica) Sydelle Gifford announced that we could use the trampolines, we were all in!
And this is where things got silly.
It was a group of fully grown men and women jumping around like a bunch of 5 year olds.
It became a full-on challenge ala Wipe Out of us all trying to cross successfully. It didn't happen.
So after a few hours on the water, we were all nicely burnt to a crisp, mildly sun stroked and thoroughly happy .Because yes, we had fun in the sun all day long.
Would I do a Catamaran Trip again? You Betcha Mon!