Montego Bay is the best-known destination in Jamaica. Perhaps in all the Caribbean considering, it has one of the busiest airports in the islands. Montego Bay welcomes tourists daily who are whisked off to their all-inclusive resorts. But it's important to get out and explore Jamaica too, and we've rounded up the best things to do in Montego Bay.
The Best Things to do in Montego Bay
Enjoy our favorite Montego Bay excursions and day trips. We even share where to eat, and what places to avoid.
#1 Horseback Ride and Swim
It's one of the most unique Montego Bay excursions you'll ever do in your life. Swimming with horses in the Caribbean Sea. Take a drive, or book a tour out to St. Anne and stop at Chukka Cove in Llandovery.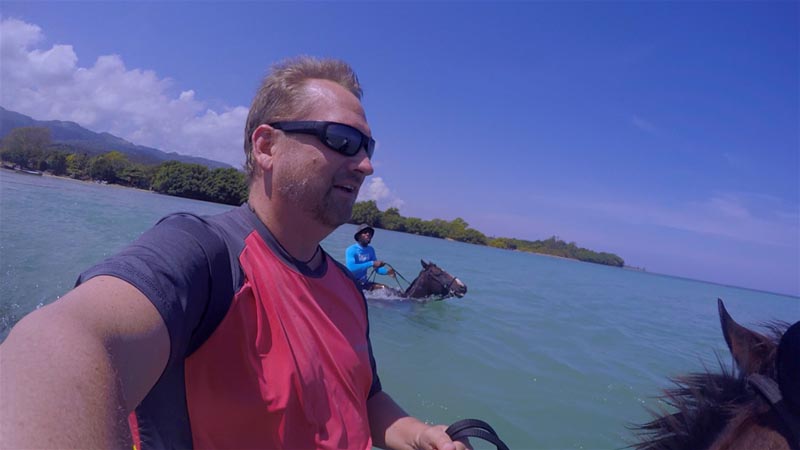 The tour starts with a 30-45 minute trail ride where you'll go through farmland, jungle trails and end up at a beach for the obligatory photo stop.
It's then back to the corral via the beach and a chest high ride through shallow waters before you change horses and get on the ride of your life.
It's a 15-minute swim while on the bare back of a horse out to sea. Don't worry, the horses like feeling the cool water on their coats and you are perfectly safe as at least 3 guides ride horses out there with you.
Plus, everyone wears a floatation device and horses are excellent swimmers!
#2 Green Grotto Caves
Explore the beautiful cave system where James Bond's Live and Let Die was filmed is one of the top Montego Bay Attractions.
But it's not just famous for the movie, the Green Grotto Caves played a large roll in Jamaican history.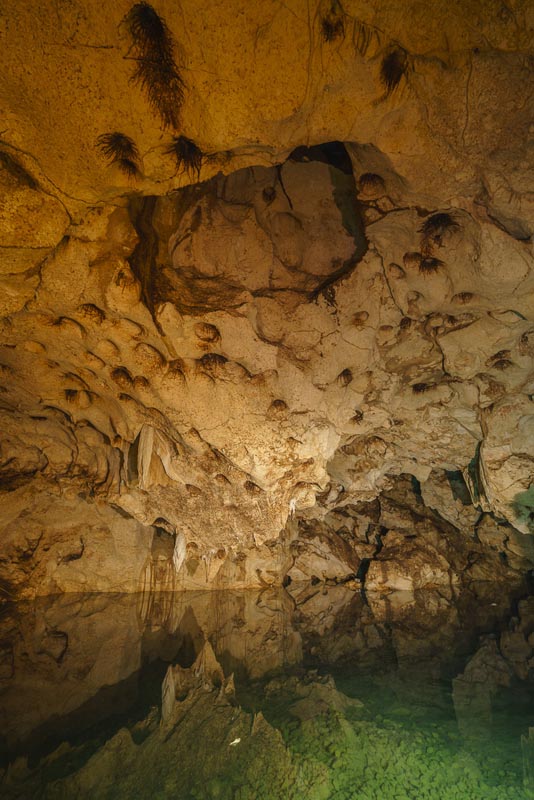 The 1.5 km long cave system was a hiding place for both slaves and the Spanish in the 17th century. They are also home to 1o million bats!
It's an easy excursion taking you through paved pathways of Runaway Cave and Green Grotto. Runaway Cave was once used as a nightclub in the 1990s, but today it is open strictly for tourists.
Be prepared to walk down 65 steps to an underground lake that was used for the submarine scene in James Bond.
Check out more at Green Grotto Caves website
#3 Mystic Mountain
Most people will remember the movie Cool Runnings with John Candy telling the story of the first Jamaican Bobsled team at the Calgary Olympics in 1988.
Well since that time the Jamaican Bobsled team has gone on to world superstardom competing in the PyeongChang Olympics with sponsorship from Red Stripe.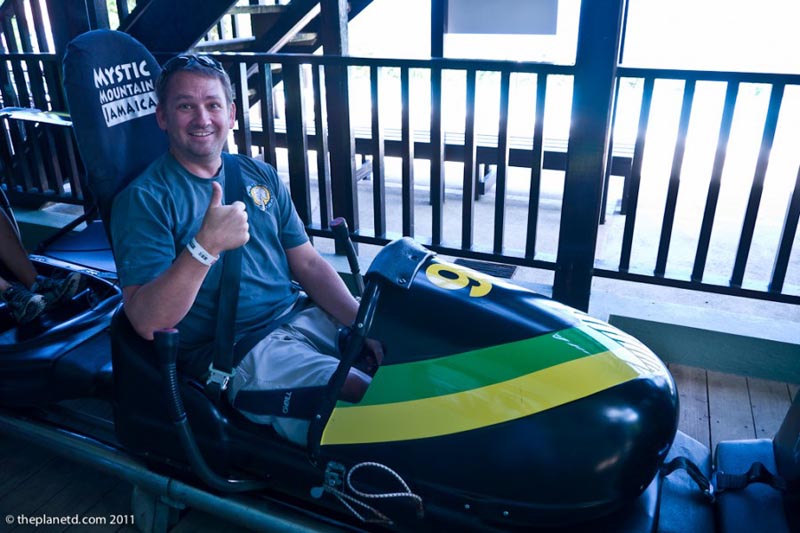 You must visit Mystic Mountain to try bobsledding for yourself,. It is one of the unique tourist attractions in the Caribbean. Here we also learned of the rich Olympic history of the island.
Take a chairlift to the top of the mountain where you'll arrive at the Olympic museum featuring the likes of Canadian favorite Donavon Baily, Jamaican superstar Usain Bolt and of course the Jamaican Bobsled team. You can stay for a bit, enjoy the pool or get directly on your bobsled and shoot down Mystic Mountain for a rip-roaring adventure in Jamaica.
#4 Rose Hall Great House
Learn of the White Witch of Montego Bay as you tour the most famous Great House of the Island, Rose Hall. It was a former plantation house that saw a lot of death and blood in its day.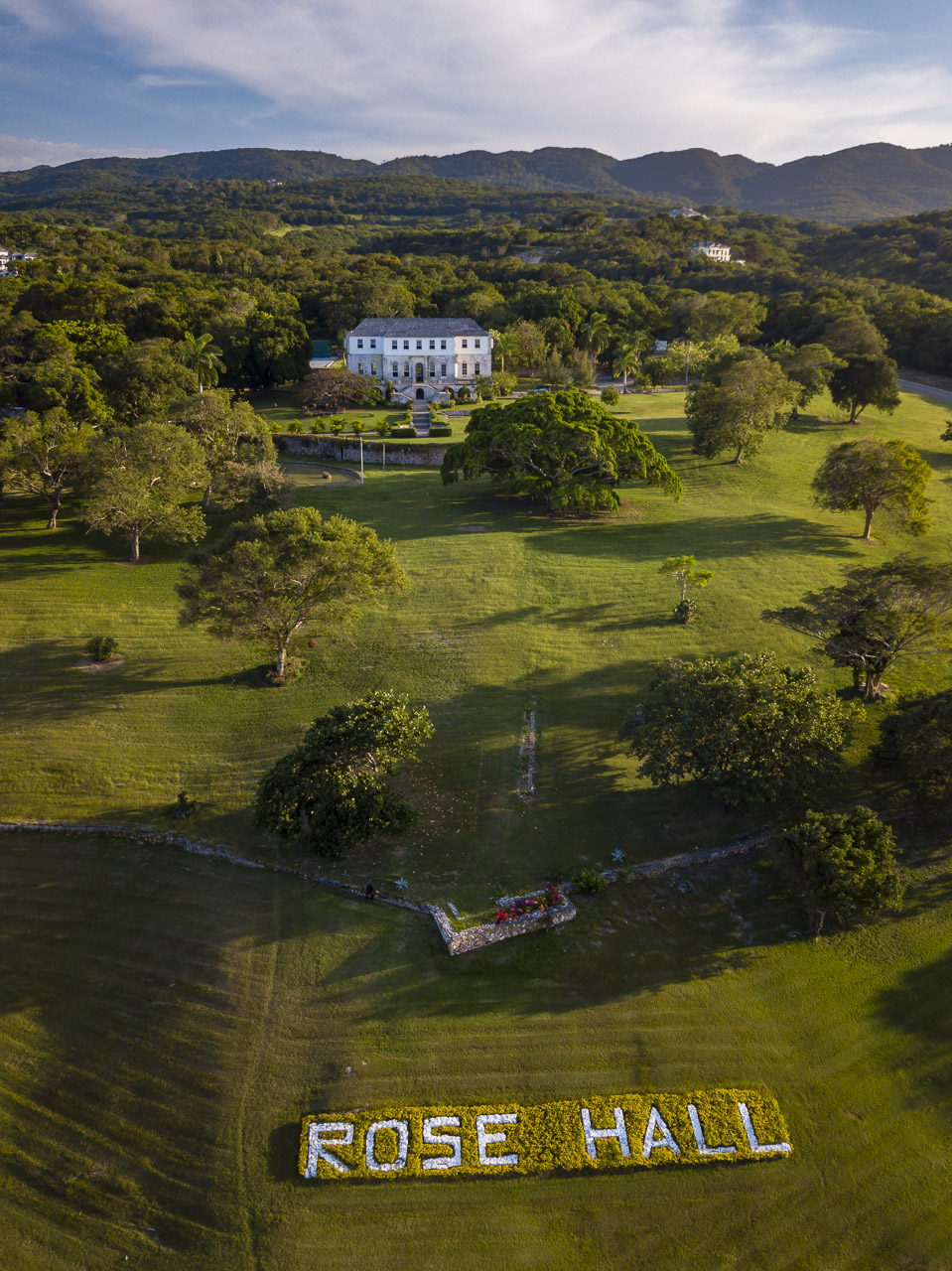 Ann Palmer killed three of her husbands and countless slaves during her reign of terror. You can take a haunted night tour to really get a sense of the property as it is said the Ann Palmer still walks the grounds after the slaves put a curse on her body after she was killed by her slave lover.
You can see her sealed tomb on the grounds.
#5 Bamboo Rafting Martha Brae
There is nothing more relaxing than a bamboo rafting excursion down the Martha Brae River. It's a beautiful scene as you float through old plantations and jungle scenery while your friendly guide steers the bamboo raft through the maze of rocks and trees.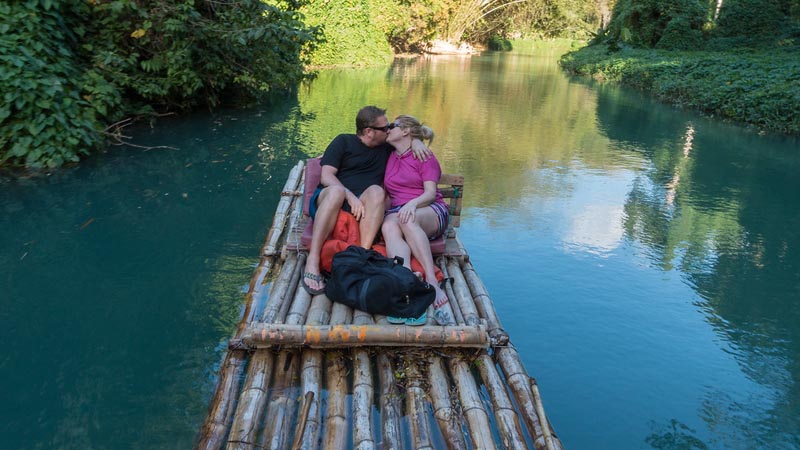 There are bars, shops and rope swings set up along the way, so bring some money along to enjoy a beer on the river.
Enjoy this video of the Best Things to do in Jamaica: Including Martha Brae Rafting!
There is very little chance of getting wet, but a dry bag is a good idea should you want to be 100% sure to keep cameras and wallets dry.
#6 Zip Line
There are zip line and canopy tours in many parts of Jamaica, but it seems the Montego Bay tours go to Montpellier. This zip line adventure takes you through and over the jungle canopy as guides tell jokes and keep you entertained.
The two-hour tour has five flights over the river and through trees as you learn about the flora and fauna. Be prepared to hike up ladders and stand on ledges. But don't worry, you are strapped in at all times.
Things to know about Montego Bay Excursions – Tips and Advice
When booking any Montego Bay Excursions be prepared to spend the entire day off the resort.
One and a Half Hour Drives can turn into 3-hour drives as you stop to pick up other patrons at their resorts. A lot of tours in Jamaica are very spread out so you will be on a bus for a while to get to each place. But they are worth it.
Or better yet, rent a car for the day and set off to see the sights yourself.
We've always felt safe in Jamaica. We don't recommend going into Trenchtown in Kingston in the middle of the night, but to make your way from one attraction to another is perfectly safe.
There are security checkpoints and after the crack down by police, gangs are no longer running the streets of Montego Bay.
#7 River Tubing – Montpellier
After ziplining, you hop on a river tube and take another lazy tour down a winding river. You don't have to do the tours together.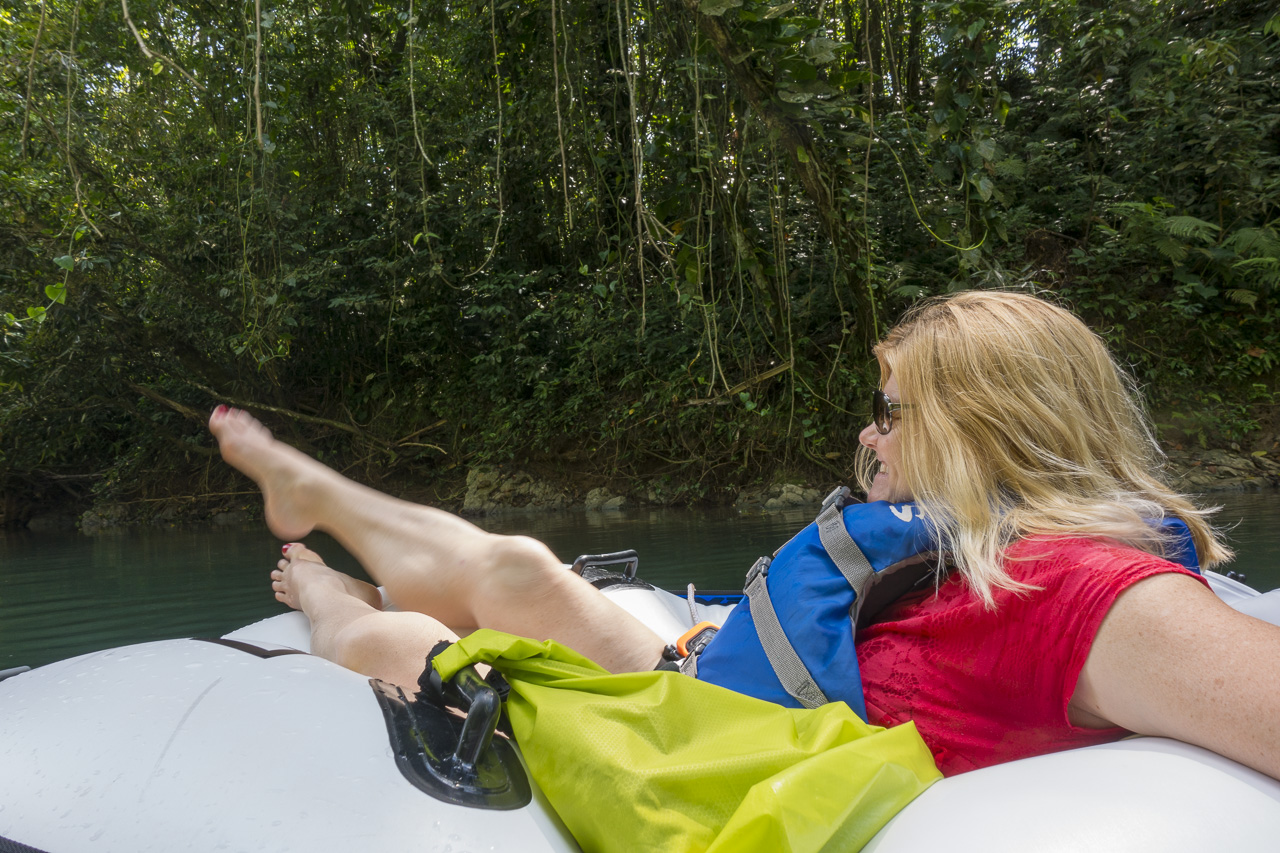 We did our zip line adventure during one trip to Jamaica and then the river tubing happened another two trips later.
There are so many Montego Bay activities to be had, it takes more than one trip to do them all!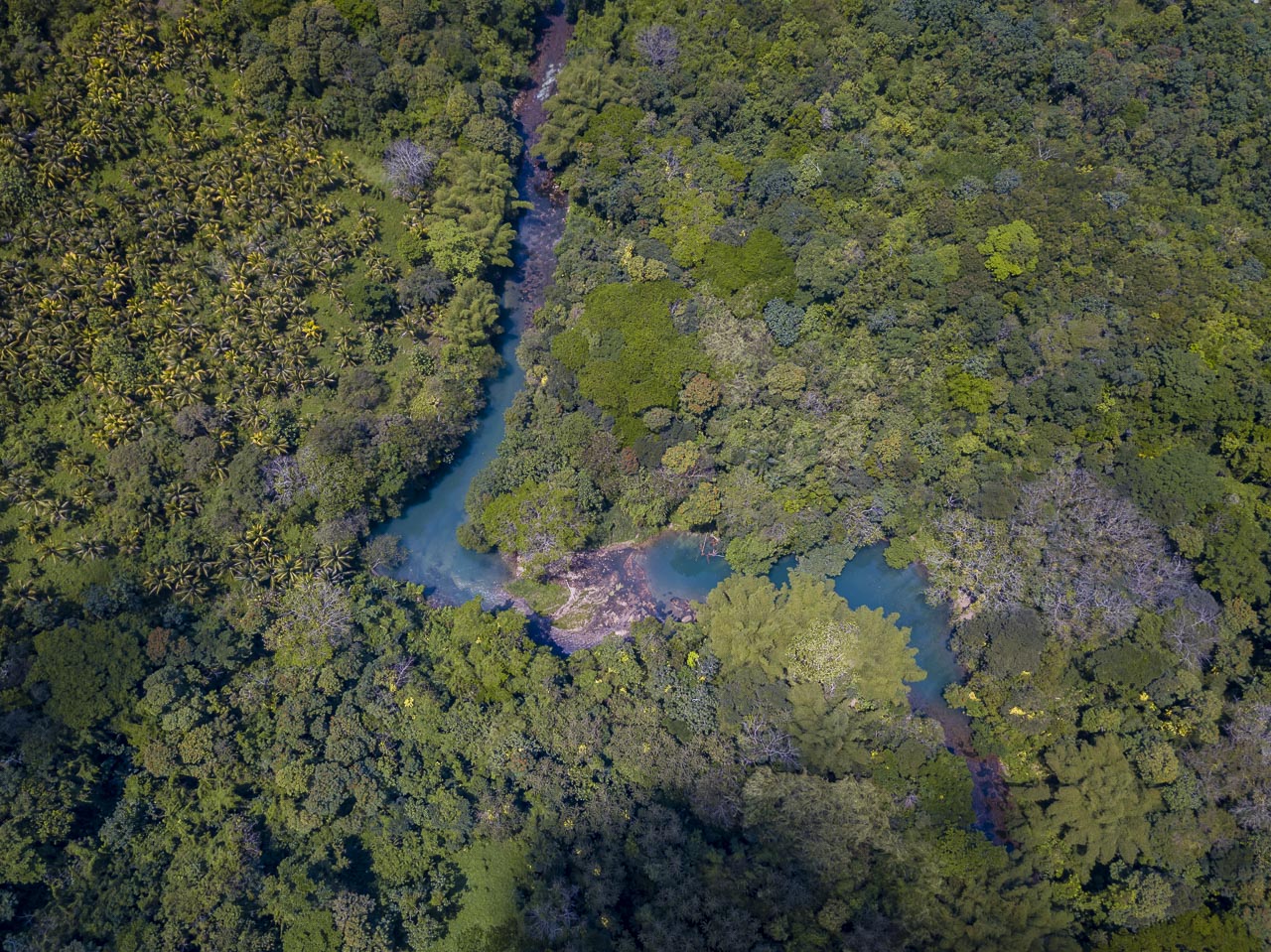 The guides are a blast and have many stories to tell. It's similar to the bamboo rafting, except this time you are on inner tubes tied together as you float down the rushing water.
It's not a white water rafting excursion, this tour is laid back and relaxing.
#8 Green Wood Great House
Rose Hall may be the most popular great house tour, but Green Wood is a must. It is one of the few Great Houses that survived the Slave rebellion of 1831.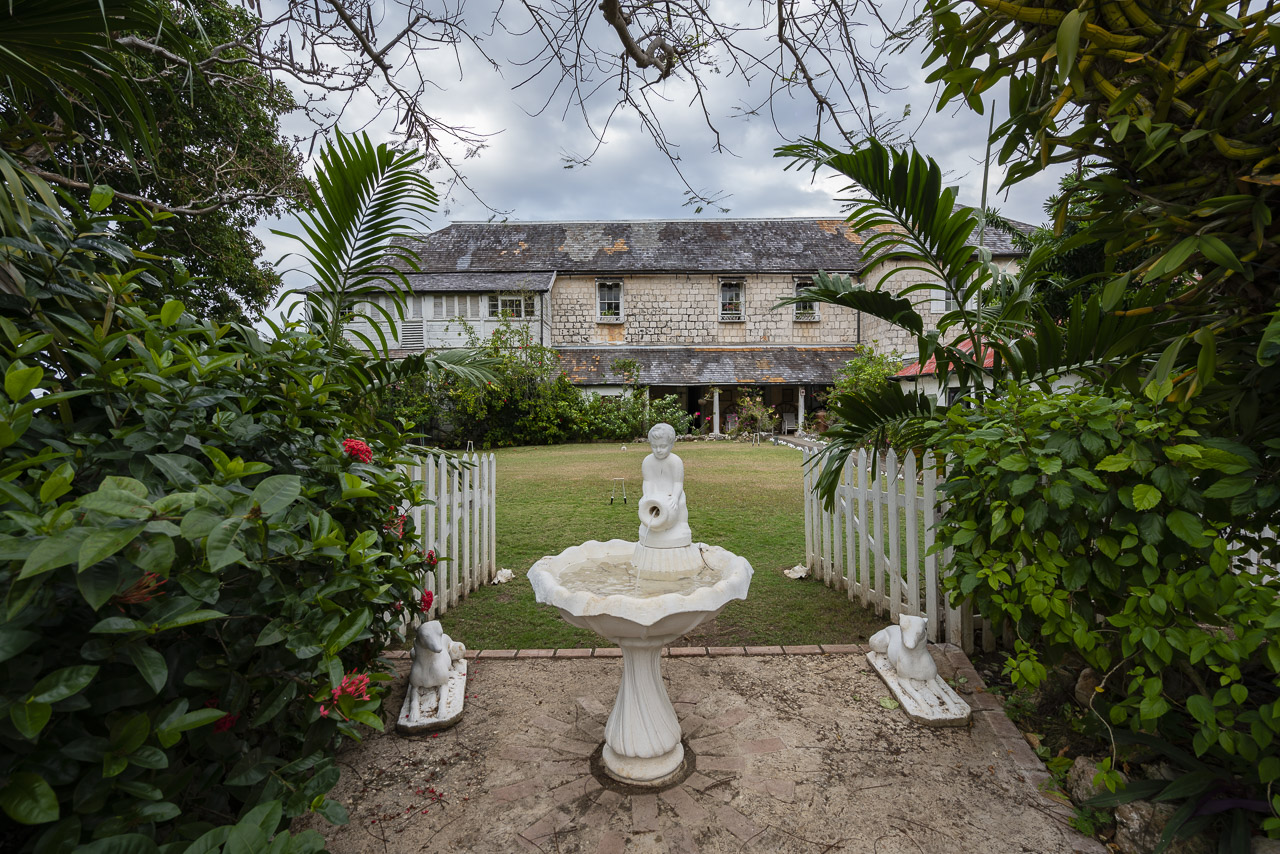 The Barrets, although slave owners were benevolent and spared from the uprising thus making the home one of the great walks through history on the entire island.
A guided tour will take you through rooms filled with original furniture and a very rare and priceless collection of antique instruments and books. It is locally owned by Bob and Ann Betton since 1976 and they still live in the house today!
#9 Sail to Negril
For a typical island excursion, this is perfect. Set sail from Montego Bay to Negril where you'll enjoy the scenic coast before hopping in for some snorkeling on the reef and a visit to Pirates Cave.
Like Green Grotto Caves, it too was once a bar but today is a great spot for a swim and to explore where pirates once hid their treasures.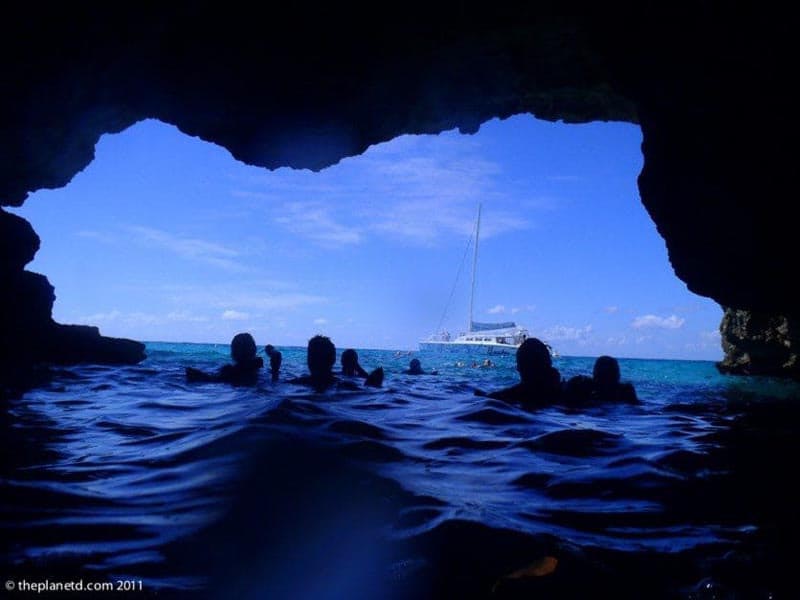 Before heading back, you will pop over to Rick's Cafe, one of the most popular bars on the island to watch the world-famous cliff divers.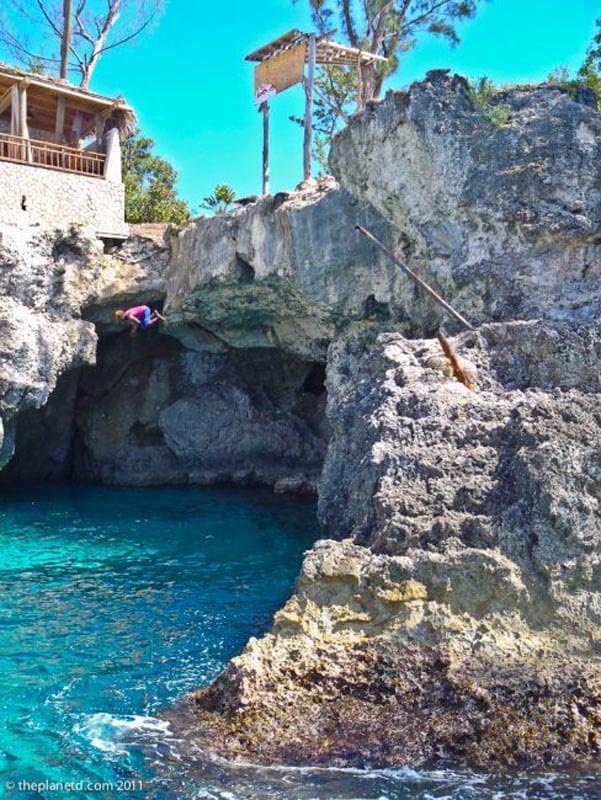 When all the business of swimming, snorkeling and exploring is over, you are free to enjoy free drinks all the way back to Montego Bay where you'll stop for a bit at Jimmy Buffets to play on the jungle gym located in the water just off the beach.
#10 Braco Hike & Bike Tour
The Tour starts with a hike up Braco Hill where you'll learn about the flora and fauna of the island.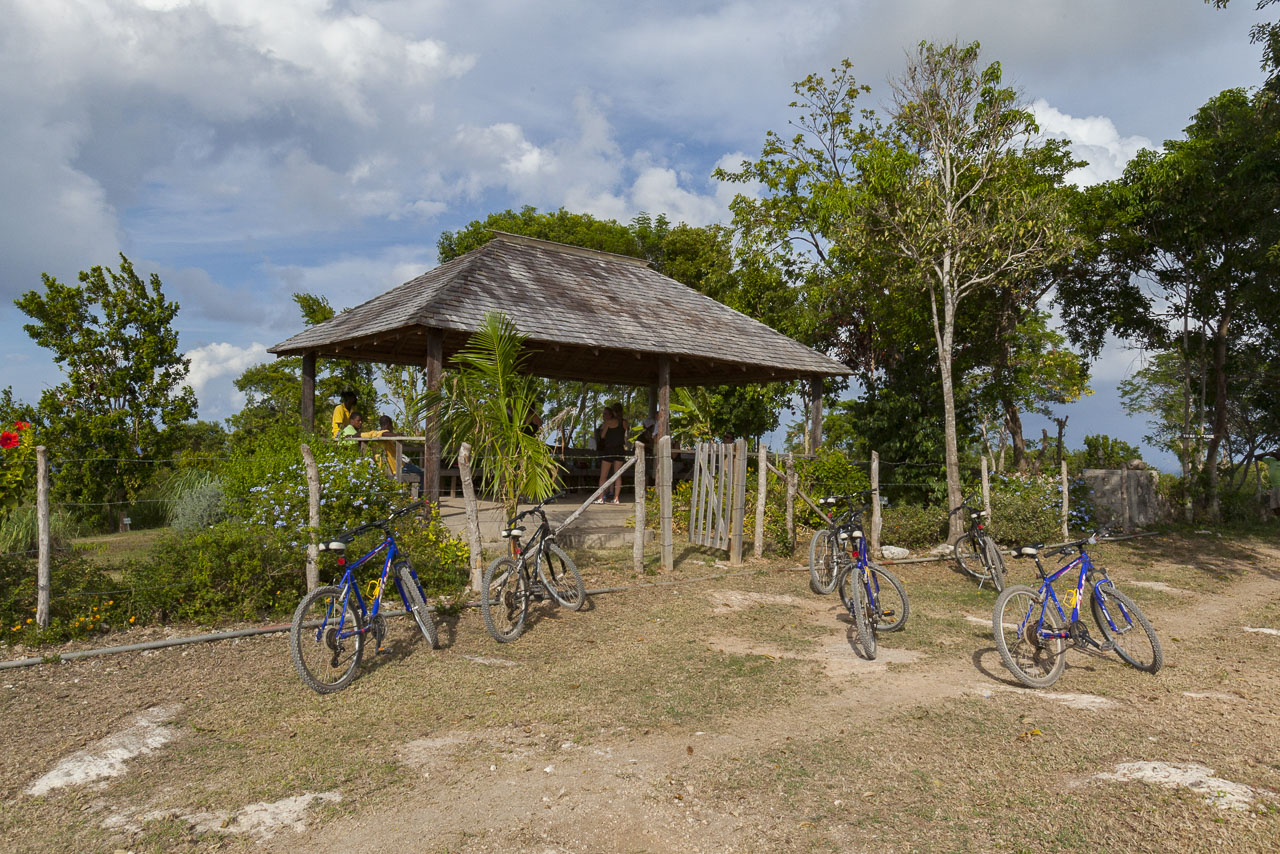 The hike ends with spectacular views and cold towels to cool you off before setting down the mountain on bikes.
You'll pass through the stables, and farmland before ending at the beach for a quick dip to cool your bones, after all, that exercise.
#11 Jerk at Scotchies
Scotchies is a local staple and when asking our guide if Jamaican still like the place, he replied with a resounding yes!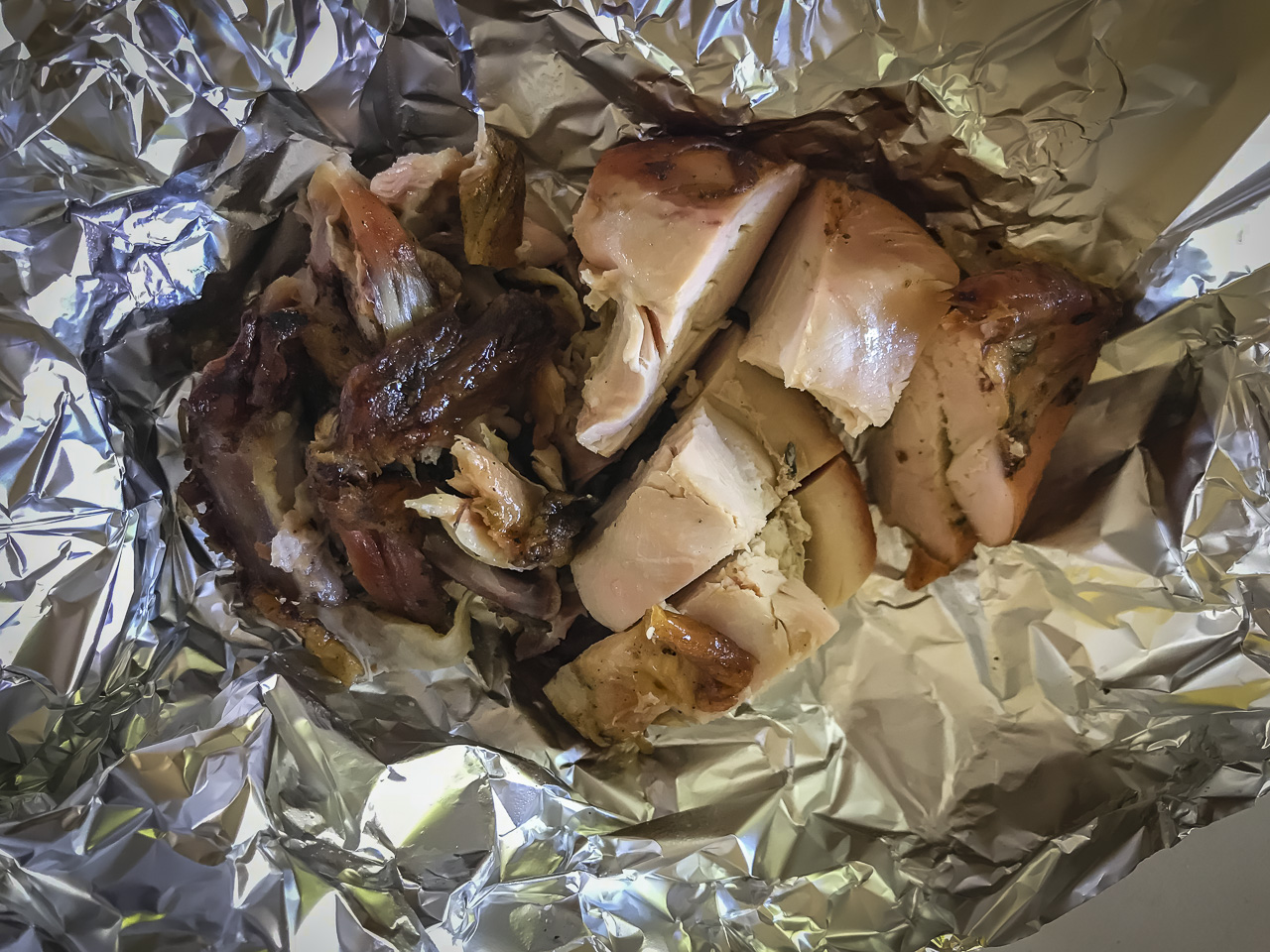 Chicken, pork, and fish are cooked over an open flame on a giant grill. It's the Scotch Bonnet Pepper Hot Sauce that makes Scotchies stand out giving your food a unique Jamaican Jerk flavor.
All seating is outdoors on picnic tables under a canopy of trees and cabanas.
Try a refreshing local drink here like Ting Soda or Coconut water.
#12 The Hip Strip
For the party lover, the Hip Strip is the place to be. It's where all the hot bars are in Montego Bay.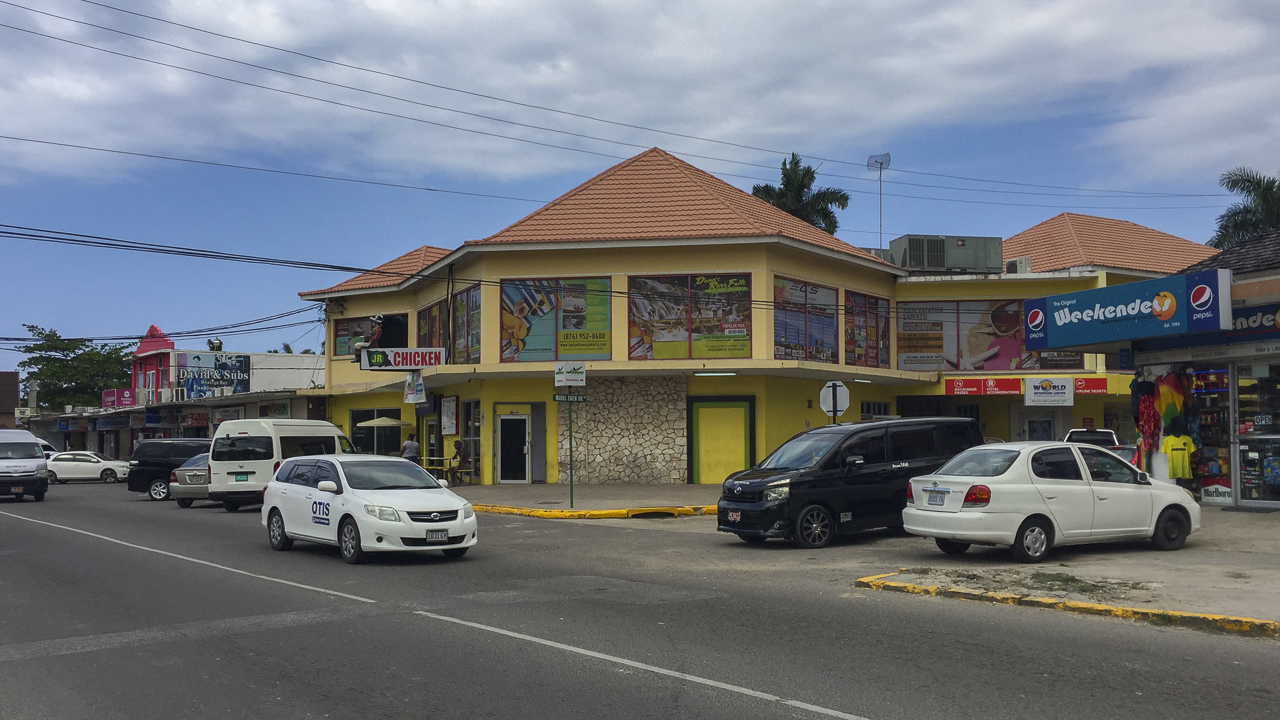 There are several all-inclusive resorts in the area and there is a very busy tourist beach that costs $3 to enter. Shops line the street as visitors walk in their flip-flops from shops, bars and nightclubs taking in the Jamaican Vibe.
#13 Margaritaville
Speaking of the Hip Strip, Jimmy Buffet's Margaritaville is a staple bar and eatery of the Carribean islands.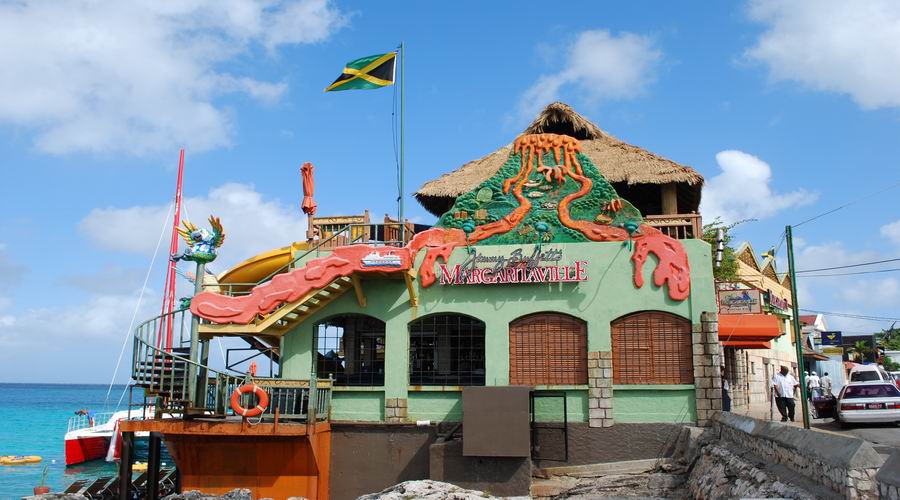 A stop here is a must for cocktails and fun. The Margaritaville's in Jamaica have jungle gyms in the water where adults can find their inner child and have a blast playing on the slides and trampolines.
#14 Waterfall Tours
Dunns River Falls is a popular tour for Montego Bay day trips. Be prepared though, it is an hour and a half drive from the city. YS Waterfalls is another place to visit (that's where we went during our Jamaica vacation – but it is even farther at 2-hours away.)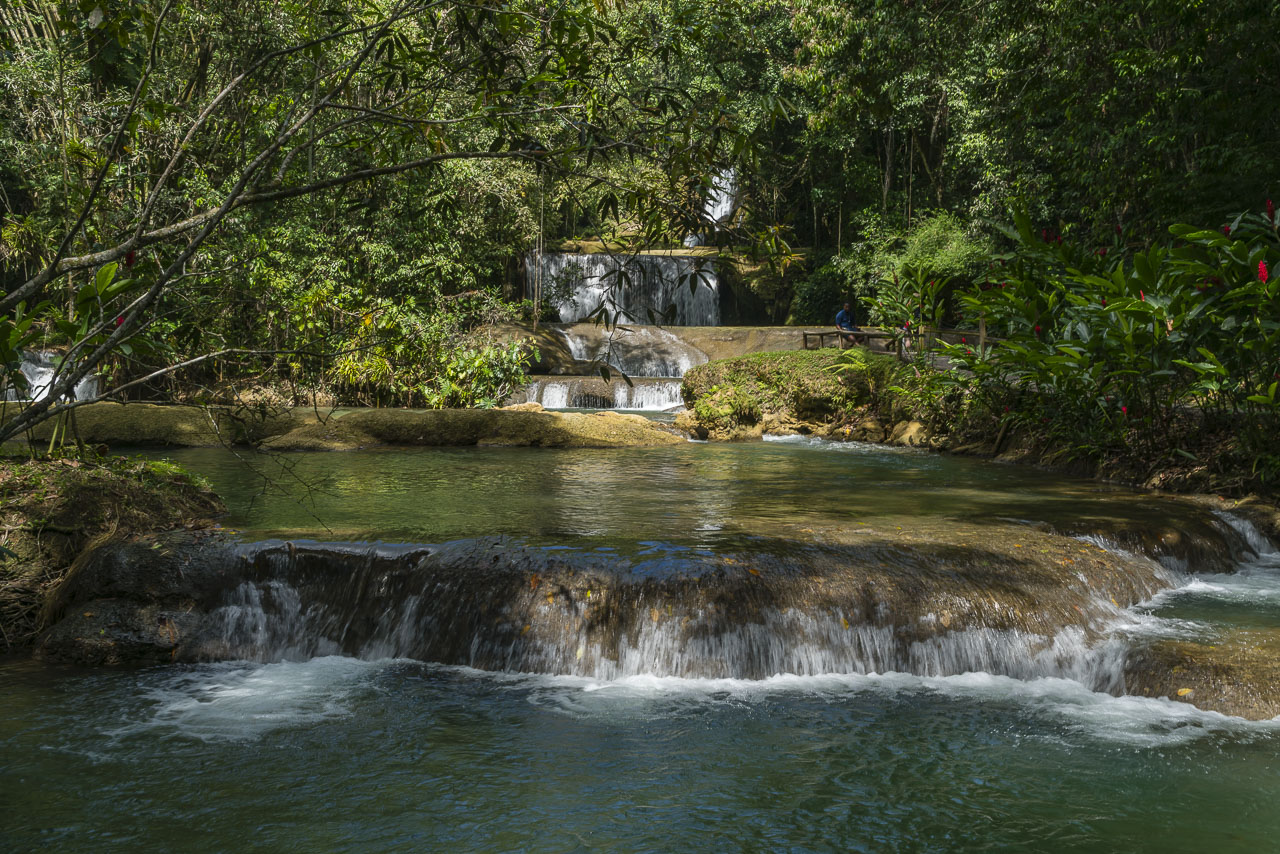 Many tours offer duo excursions like a trip to Dunns River Falls and then a stop at Green Grotto Caves. Or there is the Ride and Swim in the morning and then on to Dunns River Falls in the Afternoon.
#15 ATV Tour
If you aren't into hiking, riding horses, or cycling, another great excursion out of Montego Bay is the ATV Tour at Sandy Bay. We rode our four-wheelers up a steep climb for beautiful panoramic views of the coast.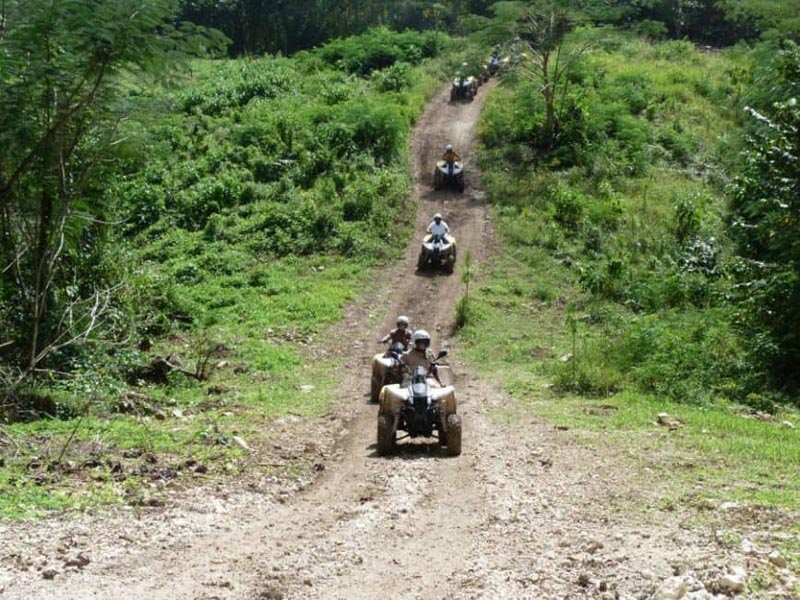 Chukka Tours offer Dune Buggy and ATV tours. If you aren't comfortable driving, you can always be a passenger on a Dune Buggy. But Dave and I loved letting loose on these babies.
We were pleased that our guides kept a fun and steady pace. There was enough thrill balanced with the right amount of safety.
Off the Beaten Path Montego Bay
#16. St. Mary's Anglican Church
It was while driving back from our river tubing excursion that we stopped at St. Marys Anglican Church.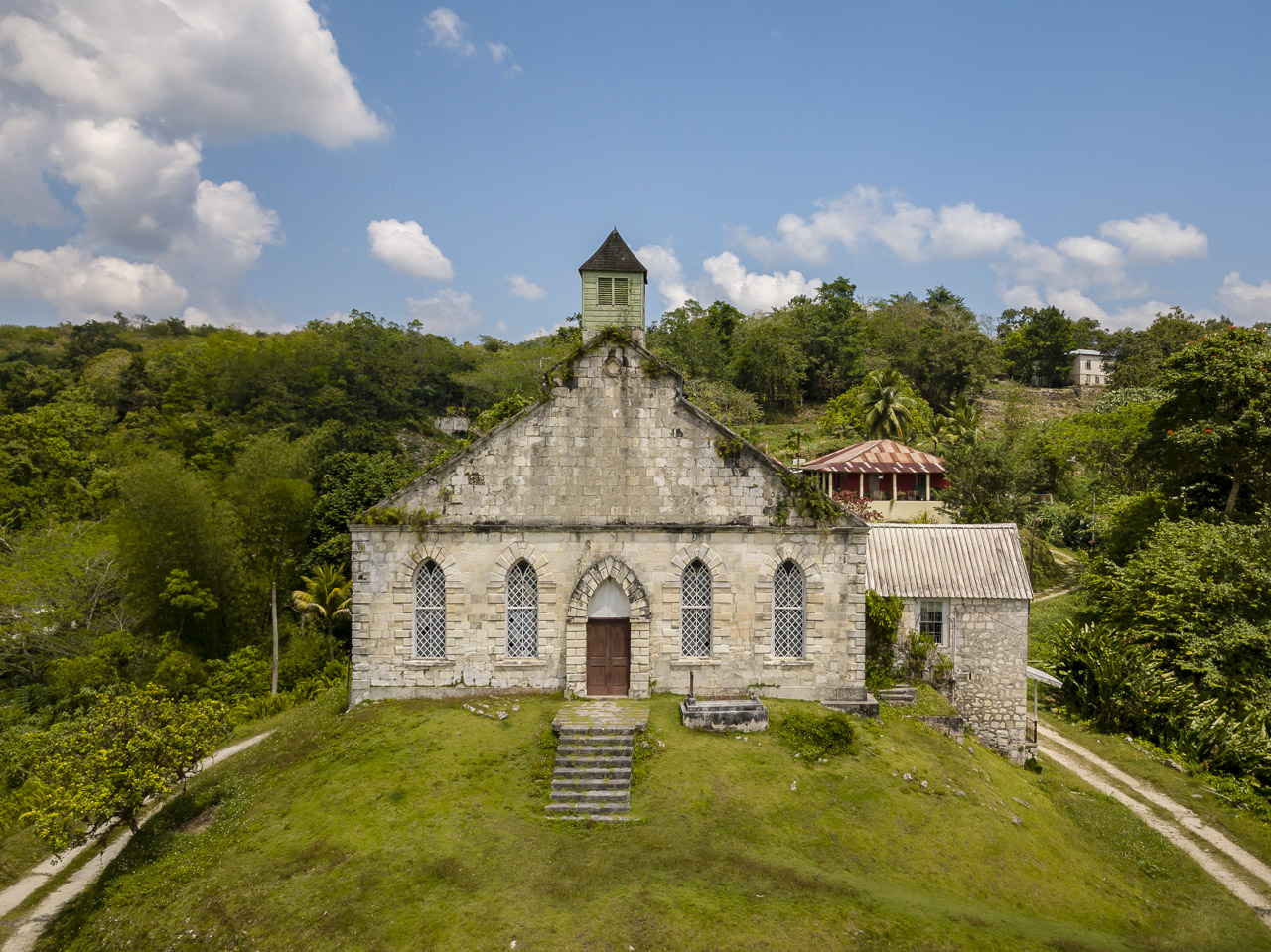 After stopping at a corner store for some banana chips, we drove down a narrow road to the St. Mary's School historical area. Located on the Montpelier Estate, the church is located on the site of a notable slave uprising. Unlike the Green Wood Estate, Montpelier was not so kind to their slaves and this estate was burnt to the ground between 1831 and 1832.
The church dates back to 1847 and is a tranquil and beautiful scene.
#17 Special Dinner off the Resort
Half Moon's Sugar Mill Restaurant is a great place to enjoy fine dining in Montego Bay. You don't have to stay at the resort to enjoy their Sugar Mill Restaurant.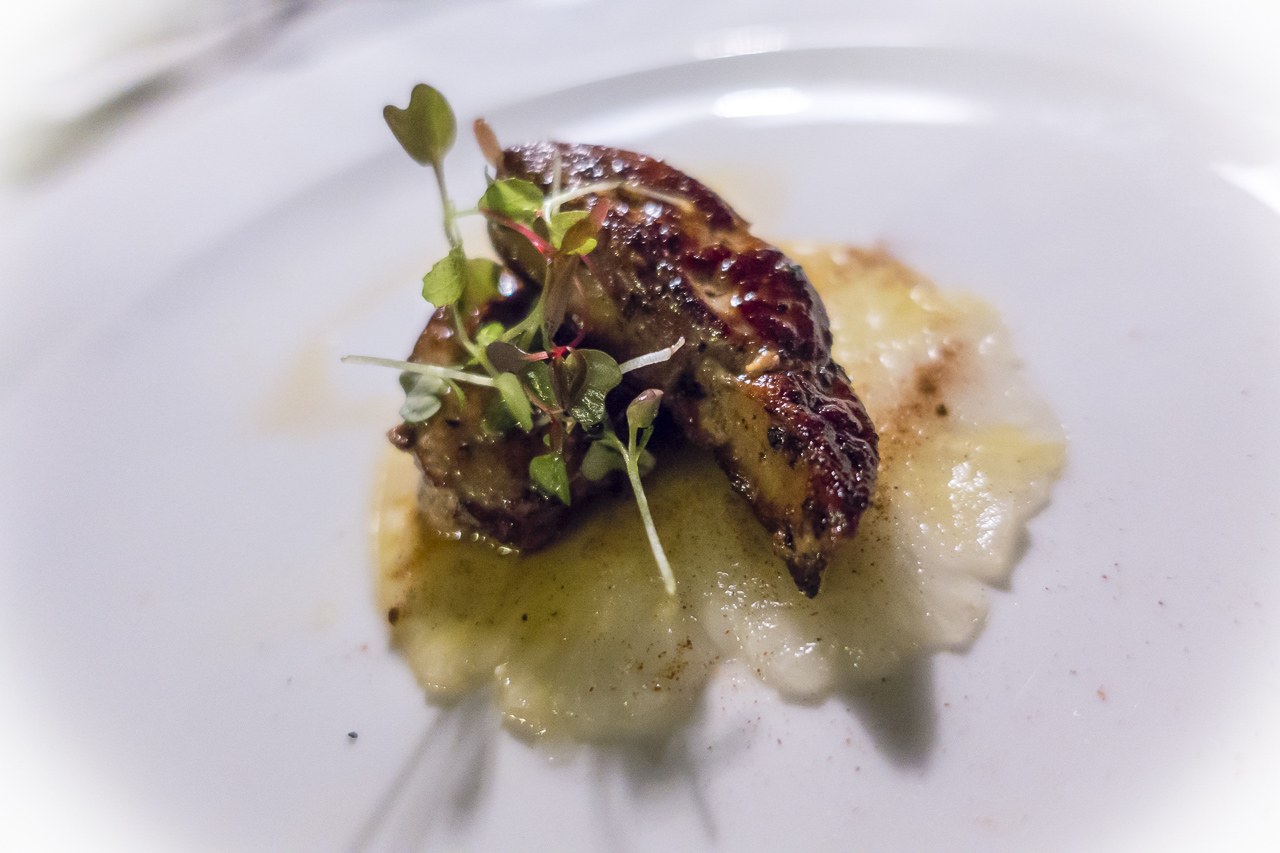 This beautiful setting has a working water mill set high on a hill. The outdoor open-air dining offers an intimate setting to celebrate the rich cuisine of Jamaica.
They have an award-winning wine cellar that your server will be happy to offer suggestions for pairing with each course.
If you are looking for a romantic setting, this is the place to do it!
Where to Stay in Montego Bay
#18 Hyatt Zilara Rose Hall
We stayed at the Hyatt Zilara Rose Hall and found it to be a great central location. It also had a lot of activities including SUP, kayaking and sailing included in the booking.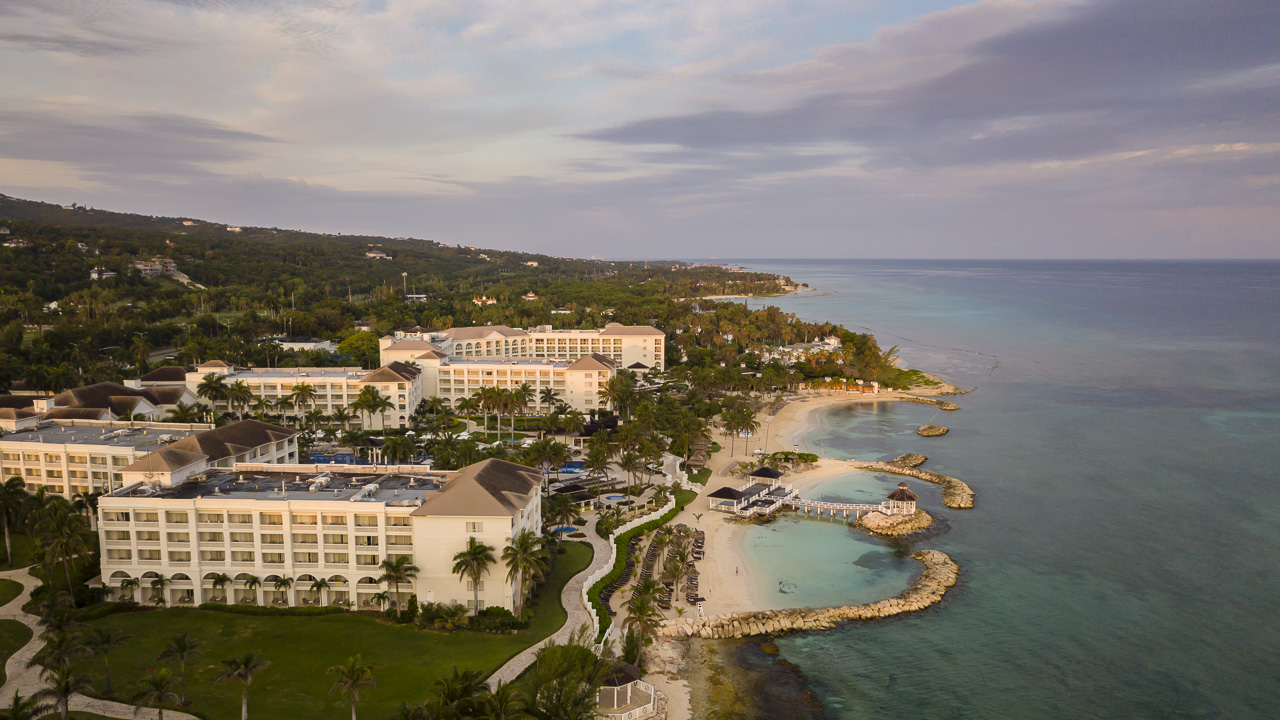 It was a resort that kept us busy inside with spa treatments, glamour nights, beach dinners and lots of activities.
Take a tour of the Hyatt Zilara Rose Hall with us!
When visiting Montego Bay, the resort can be as much a part of your vacation as the excursions themselves. So be sure to give yourself a few rest days to kick back and enjoy some fun in the sun.
Take in the Stunning Scenes of Montego Bay
What to Avoid in Montego Bay
#19 Doctor's Cave Beach
A lot of Montego Bay guides on the Internet will tell you to go to Doctor's Beach. But if you don't like crowds, don't go It's overcrowded with tourists; especially on cruise ship days. I am sure it used to be beautiful, but now it is just filled a sea of umbrellas and people drinking more than they should on a hot sunny day.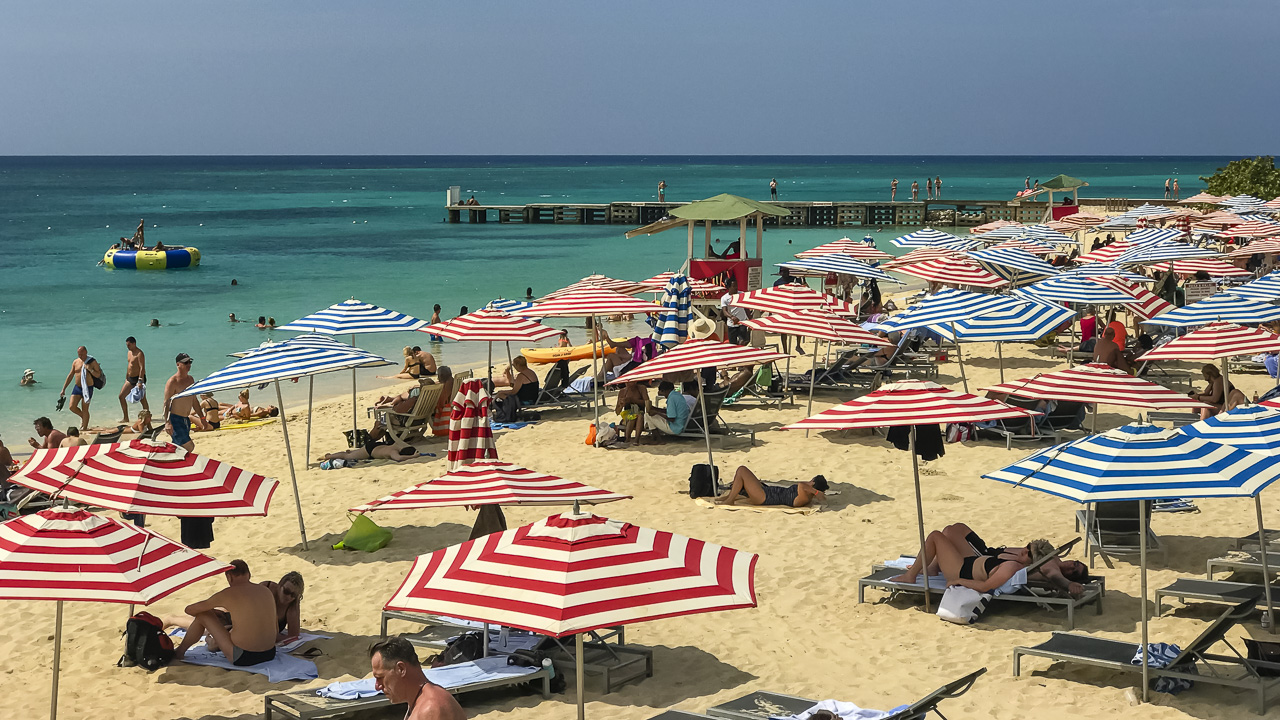 Instead, walk up Dead End Beach and hang out with the locals. But be firm, they'll try hard to sell you jewelry and bracelets. Just let them know you are here to enjoy the beach, not buy trinkets.
Dead End beach is the famous beach where airplanes land right over your head as the airport is right beside the beach!
#20 Luminous Lagoon
We love experiencing Bioluminescence, but the Luminous Lagoon in Jamaica was a bit of a letdown.
They use boat engines that race through the water stirring up the sea and killing the organisms. It was once said that Jamaica had the best bioluminescence in the world, but it was quite dull on our tour, and we think it is because of all the boats doing out and disrupting the ecosystem.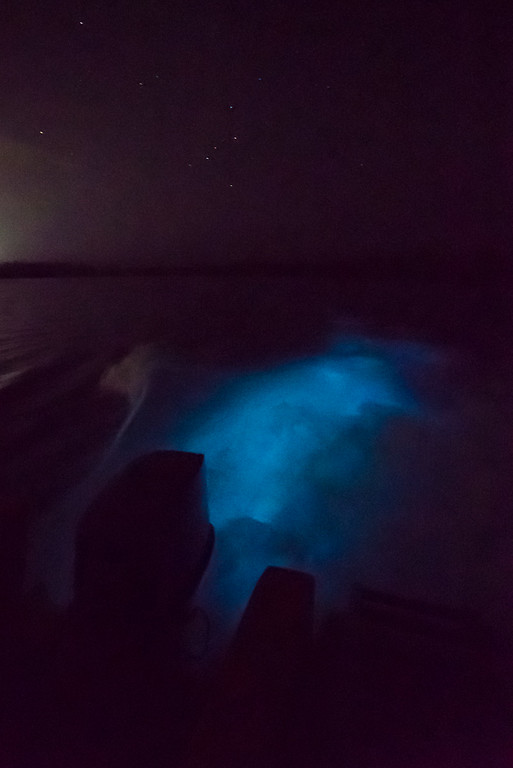 That said, the people on our tour loved it and enjoyed seeing the blue and purple lights in the water.
I think we were turned off because we had just come from a bioluminescence tour in Grand Cayman where we learned all about the dangers of motorboats to the ecosystem.
Our guide in Grand Cayman used an electric boat or human propelled kayaks to keep any damage to a minimum. We hope Jamaica will follow suit or else they won't have any colorful lights to attract tourists much longer.
There are so many things to do in Montego Bay, you'll have to go back again and again.
And Montego Bay isn't even the only tourist destination on the island, we've explored Ocho Rios, Negril, Falmouth the South Coast and Treasure Beach.
We haven't even scratched the surface of the Blue Mountains where most locals tell us, "That's the Real Jamaica" We look forward to going back again soon, but for now, we will continue to keep dreaming of Montego Bay.
Hot Tips: Montego Bay Excursions
– Most Tours are at least 1-hour away from your resort
– Unless you have hired a private driver, you will pick up other guests at their resorts
– Bring small bills for tips and be sure to tip your guides.
– tours can be booked through your resort or online at Chukka Tours– For more information on Jamaica, visit the Jamaican Tourism website and follow them on social.
Pin to Save to Pinterest for future Montego Bay Travel Planning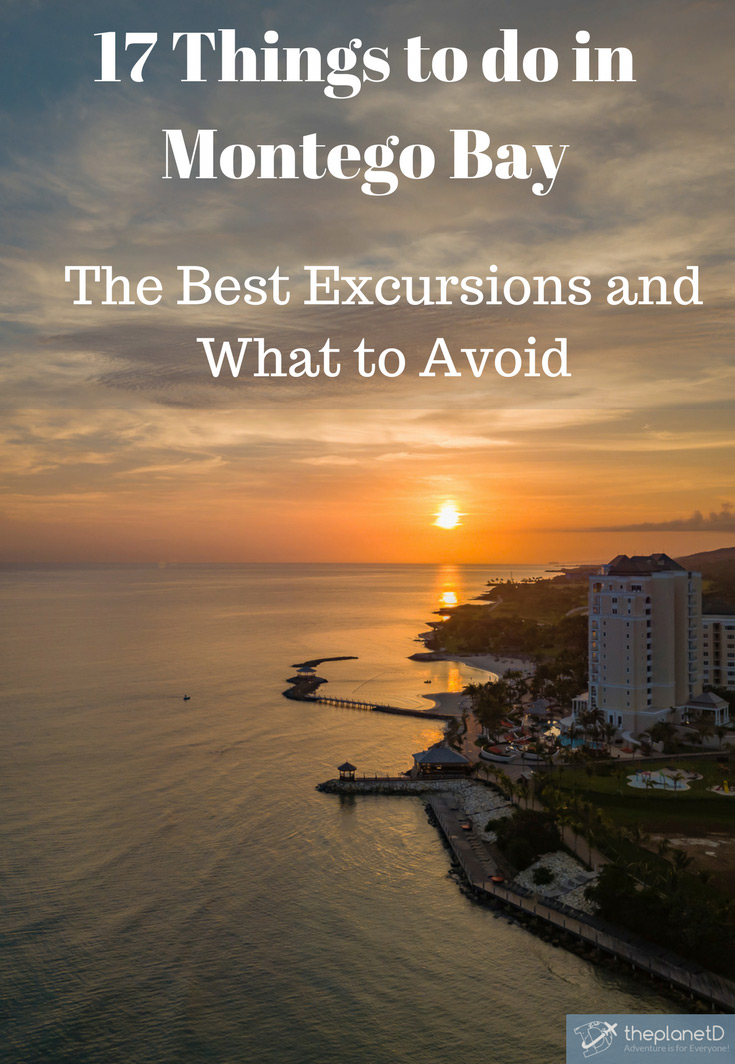 Twitter: @VisitJamaicaNow | Facebook: VisitJamaicaCanada | Instagram: VisitJamaica | YouTube: MyJamaicaJTB
Our trip to Jamaica is in partnership with the Jamaica Tourism Board, all thoughts and opinions are our own.
Read More:
The Very Best Things to do in Jamaica
Why Couples Love to Honeymoon in Jamaica
You Might Also Enjoy