When we got the call we were going on an adventure in Jamaica, the first thing that came to mind was Cool Runnings. Being a bit of a movie buff, I relate a lot of my travels to memorable moments on screen and all I could think about was the Jamaican Bobsled team. Little did I know that you can actually go to Jamaica and ride the bobsled just like The Crazy Canucks did down the ski slopes of the 1970's.
Only these slopes were a jungle canopy and the temperature was a balmy 32° C.
The Jamaicans have a bit of an affinity to winter sports. They also have dogsledding on the island and a team that competes in events such as the Iditarod and Yukon Quest! But that's another story…
Back to the Bobsled
Way back in the 80's a group of Caribbean athletes defied the odds and competed in the 1988 Calgary Winter Olympics in the bobsleigh. Finishing 29th overall, they have continued to grow and compete all the way to the latest 2010 Olympics in BC. They've improved greatly over the years with their best showing being in 2000 when they won the World Push Championships in Monaco.
The Adventure begins at Rainforest Adventures.
We arrived at Mystic Mountain in Ocho Rios on a beautiful morning to take the 15 minute journey on the sky lift to the top of the mountain. It was gorgeous looking over the Caribbean Sea as we floated over the tropical rain forest in silence. Run by Rainforest Adventures, there is more to do than just bobsled on Mystic Mountain. You can also zip line, grab some lunch and take a dip in the pool complete with a water slide!
When you reach the top, there is a wonderful museum paying homage to Jamaica's famous celebrities. Besides Bob Marley, there are a lot of famous Jamaicans, most notably their athletes.
Canada and Jamaica have a few ties in the world of international sports and I absolutely loved reading about all of their accomplishments. Canadian Olympic Gold Medalists Donavon Bailey and Ben Johnson were both born in Jamaica. (Ben was stripped of his medal for doping, but it was later confirmed that Carl Lewis doped as well They never took Lewis' medal away and all Lewis had to say about finally having the cover up revealed 18 years later was "Who Cares")
Moving on…
We perused the museum reading about the many Jamaican athletes ruling the track scene including current star Usain Bolt whom Lewis has accused of taking drugs. Wow, Carl Lewis is always so quick to point the finger, maybe he should take a look at himself. Did I mention I have had a severe dislike for Carl Lewis since 1988?
Crazy Canucks Strike Again!
It was finally our turn to take on the bobsled and these two Canucks were ready to get crazy!
We all got into our sleds that were surprisingly easy to maneuver. All we had to worry about was using the break to slow down, but we were told the best way to go was to leave it full throttle and only brake at the end when we reached the red sign telling us to slow down. "It's better that way." We were told.
We happily complied. If we're told to go fast, we'll go fast!
It was a crazy rollercoaster ride of dips and turns and banks and spins. We whizzed through the jungle whooping and hollering and I even managed to hear Dave's whoops as I was on my way back up. I was passing a bridge as he went by and just missed taking his photo. So I got one of myself instead.
One complaint I will have about the bobsled ride is that it is over too quickly. It's quicker than an amusement park's roller coaster and I was surprised at how quickly we came to the end of the run. However, if you buy the full day explorer pass, you will definitely feel that you are getting your money's worth. With the Explorer Pass, you will have access to the bobsled, zipline, sky lift explorer, entry to the free museum and there is even a swimming pool and water slide up there to escape from the tropical heat.
All in all, the Bobsled was a lot of fun. I think it would be awesome to spend a day here and really take your time to enjoy everything that Mystic Mountain has to offer.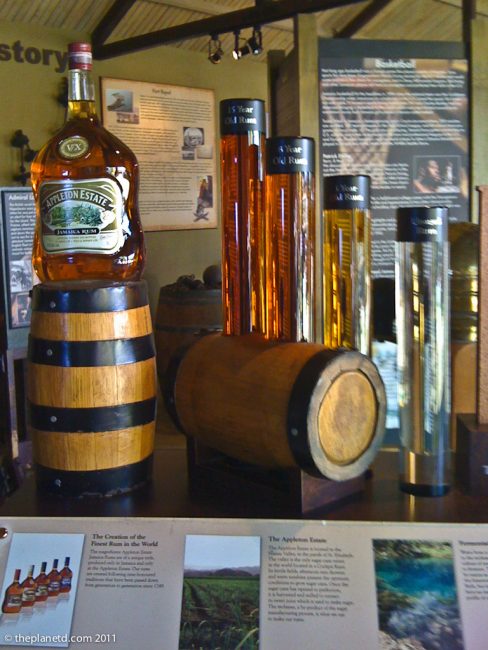 I'd like to go on the bobsled, then head over to the zipline. I would then eat some lunch, jump in the infinity pool and then after I have all the adventure out of me, head over to the museum to really read everything that they had to say.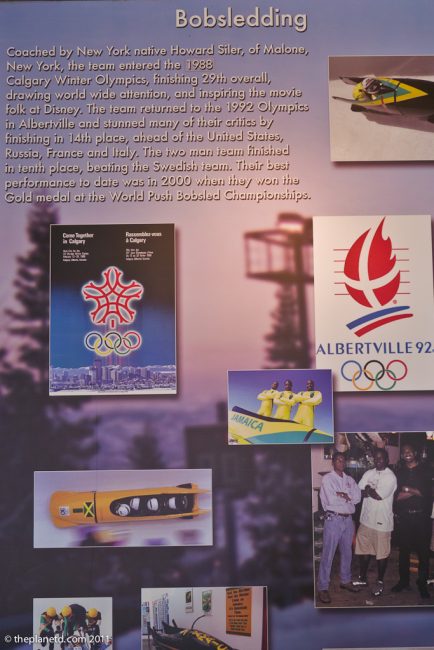 I have to say, this museum at the top of the mountain, was truly excellent. I learned a lot about the rich history of this country while having a great thrill at the same time.
The Rainforest Adventure is definitely a unique excursion that you won't find on other Caribbean Islands, and we recommend giving it a try when you are in Jamaica. You'll have a good story to tell when you get home and every time you catch a John Candy flick on the tube, you'll have fond memories of that time you escaped the winter only to be reminded of it all over again.
To find out more about Mystic Mountain visit the Rainforest Adventure for more details.
You can pay for each attractions separately, or you can bu the Tranopy Pass for $137. This pass gives you all three rides and a full day of fun.