Bobsleigh, Zip Line and Luge Oh my! Yes, you can have all these adventures at Calgary's Canada  Olympic Park!
Calgary, Alberta was home to the 1988 Winter Olympics. Millions of people looked on as Canada's most beautiful province was introduced to the world and it didn't disappoint. Home to the Rocky Mountains, the Badlands and the rolling foothills of Cowboy Country, Alberta really showed us what it's got.
Canada Olympic Park
It's also kept the Olympic spirit alive over two decades later. Just a short drive out of the city, you can experience Olympic thrills for yourself.
Winsport Canada Olympic Park still has the giant ski jumps standing and the bobsleigh track is still running.
It's an Olympic training facility for ski jumping and bobsledding and tourists and visitors get the chance to try them out for themselves.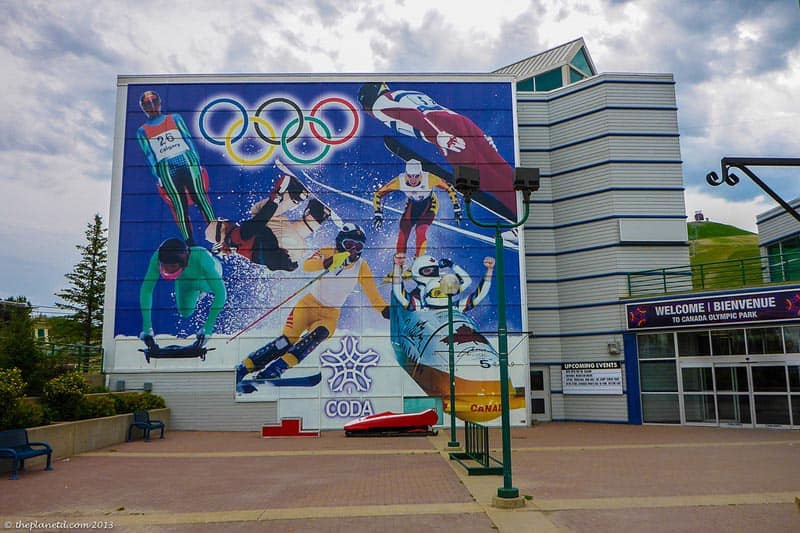 Calgary Olympic Park Fun!
As Dave and I drove up to the park and saw the giant ski jumps we wondered how anyone could possibly whiz down those ramps and fly high into the air.
We laughed and said that if we tried it, we would literally kill ourselves. Little did we know that in a few minutes, we'd be jumping off ourselves.
We've done a few zip line tours in our day, but as Shelly of Calgary Tourism said to us, "This isn't your Costa Rica, Mexico type zip lines, this is the steepest and fastest in North America!"
And the kicker is, you leap off the top of the ski jump and ride down right over the ramp!
As we got into our harnesses we noticed that they had parachute in them.
We had never had the need for a parachute zip lining before, but in Calgary, it's a necessity.
Reaching speeds of 140km per hour, you are going to feel a jolt when you hit the bottom and you need to slow down somehow.
This was going to be interesting.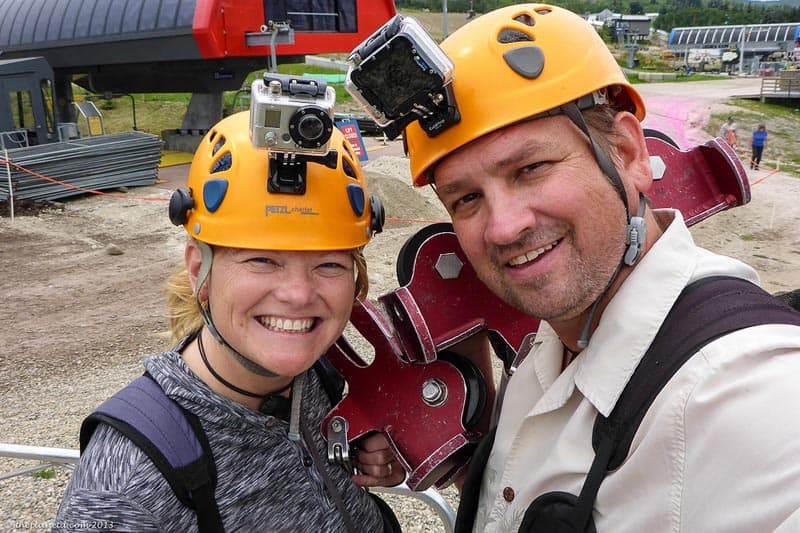 We took the elevator to the top of the jump and peered out over the ledge.
The view is amazing and if you have any fear of heights, this is the place you don't want to be.
The top of the ski jump is actually the highest vantage point in all of Calgary.
This line was fast and my stomach lurched ever so slightly as I was unclipped from the safety.
Within seconds, I was whizzing at top speed. I had to keep my head about me though, because I was told to throw my parachute out at the last pole before the tower.
I paid attention and when I passed the pole, I threw out my chute and instantly felt myself slow down.
But it didn't slow me down enough to make for a soft landing. No way, this was rough and tough.
We practiced our brace position, but it can't prepare you for the smash you feel at the end. I've had a stiff neck for a few months and I actually heard something pop when I had impact.
We had one more zip line to bring us down to the bottom and for this one they encouraged us to hang upside down.
Dave and I got to do this one together, so we jumped off together and did our best Tarzan impersonation.
Check out more ziplining fun at:
Bobsleigh at Calgary Olympic Park
The thrills didn't stop there though, as soon as we were done with the zipline, we popped over to the Bobsleigh track. Yes, regular people can jump in the four man bobsleigh driven by professional racers.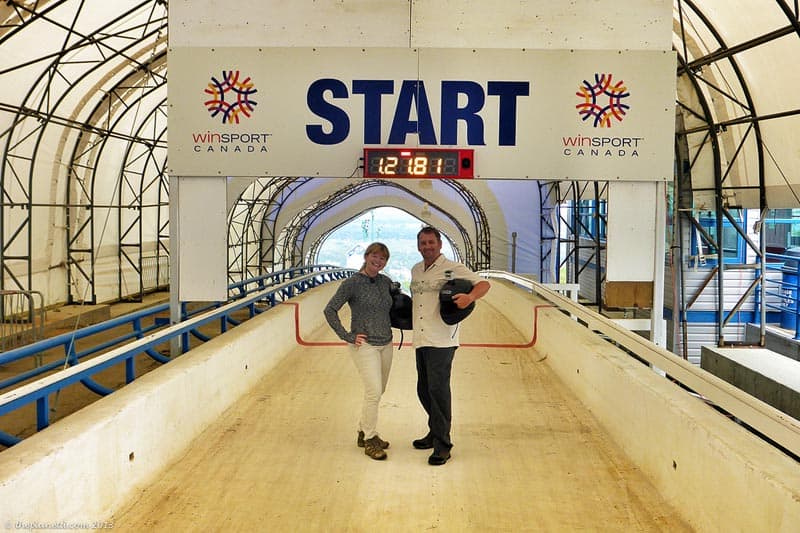 Calgary has one of the few bobsled training centres in the world and teams from all over the planet come here to train for the upcoming season.
Our driver Heath Spence competed in the 2014 Olympics for team Australia.
He works all day taking tourists down the track and then spends evenings training.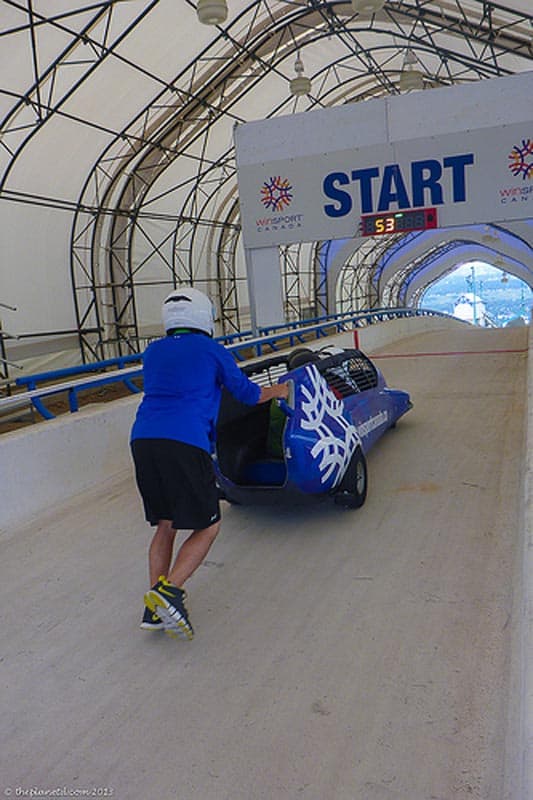 After one run on the track, Dave and I both felt a little woozy and I couldn't believe that Heath goes up and down all day doing run after run and doesn't feel a thing.
The body really gets jolted around and you feel it in everything.
The athletes are rock hard though and every muscle is holding bones and tendons in place so they can take the jostle much better than we little people.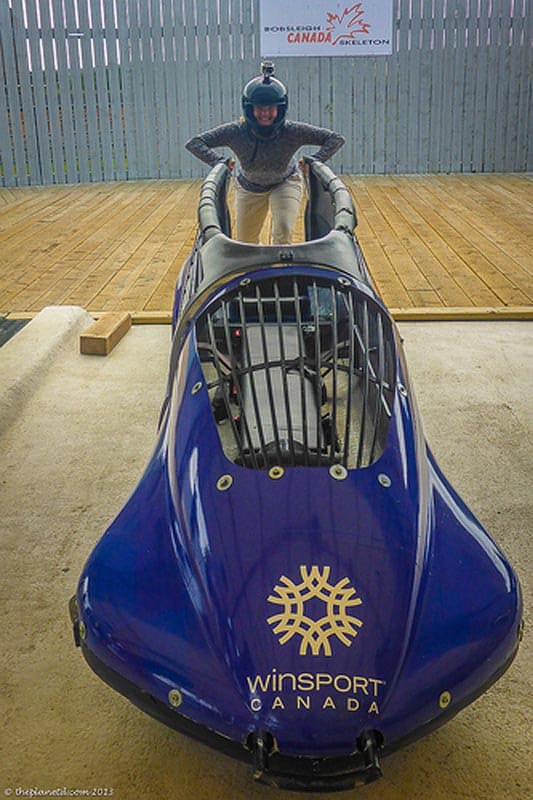 We did a bobsleigh run in Whistler last January and it seemed over before it even began. The Whistler bobsleigh is a fast and dangerous track and tourist runs aren't allow to start at the top. It was a thrill but it was short.
In Calgary, you get to do the whole run from top to bottom, I kept thinking it was about to end, but we just kept on going…tossing and turning through bank after bank.
We felt the effects of 3Gs and it was wild to feel the snap going around those high corners.
The Bobsleigh run was pure awesomeness.
After all that adrenaline and fun, I would have been satisfied to call it a day, but it wasn't over yet.
We had one last adventure at Canada Olympic Park and this was the luge. Sadly, it's not the actual luge like the Olympics, this is more like a go cart ride downhill.
I think the coolest thing that we've ever seen was the robot arm that lifted the luge carts up on to the ski lift. It sucked them up in one swoop.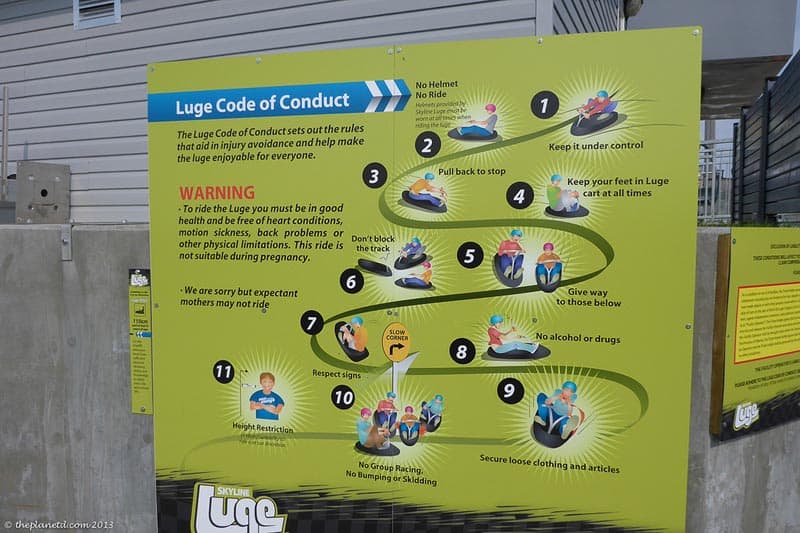 This was a fun ending to the day as we could go as fast or as slow as we wanted. You can take a leisurely spin down the track or you can let it go, full tilt boogie.
We did a bit of both.
We let her rip for a bit and then slowed down to take some photos and enjoy the ride.
It reminded us of the Jamaican bobsled in Jamaica which is ironic because it was here at the 1988 Calgary Olympics that the Jamaican Bobsled team made their debut.
They became so famous that the Movie Cool Runnings starring John Candy was made to tell their story and if you go to Jamaica, they have an entire eco park dedicated to their Olympic Legacy.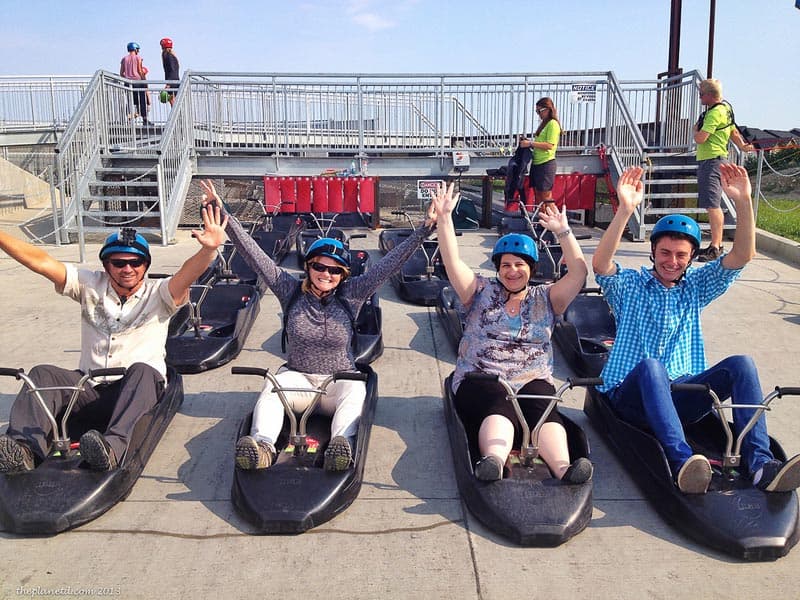 We feel very fortunate to have been able to go bobsledding in Jamaica and then to be able to run the track that the team actually ran here in Calgary.
Wow! Life is funny.
One of the guys from Cool Runnings drives a bobsled in Whistler where we went bobsledding earlier this year, now we've been to the Jamaican Bobsled and finally where it all began in Calgary. Next thing you know we'll be seeing John Candy rise from the dead.
Winsport Canada Olympic Park is a short drive out of Calgary. Book your Bobsled, Zipline Package at their website, Winsport Canada. 
You Might Also Enjoy