Cowboy is in my blood.
My mom and dad were cowboys. My oldest sister Val showed horses and I…well, I was told all about it. By the time I came to an age where I could ride a horse, my parents got out of the horse business and moved into the car business.
When Dave and I got married, we went to the Dominican Republic for our honeymoon. One of the excursion options was to go for a ride on the beach. Dave had never ridden a horse before and I had only rode when I was very young. He wasn't so confident, but since my family had always talked about horses, I felt that I could ride by default.
When they asked us who has ridden before, I made Dave raise his hand and told him to answer that he's been on a horse about 10 times. He listened like a dutiful newlywed husband and answered all the questions correctly so that he'd get a more spirited horse. Well, as spirited as a horse can get on a Dominican Republic Day excursion.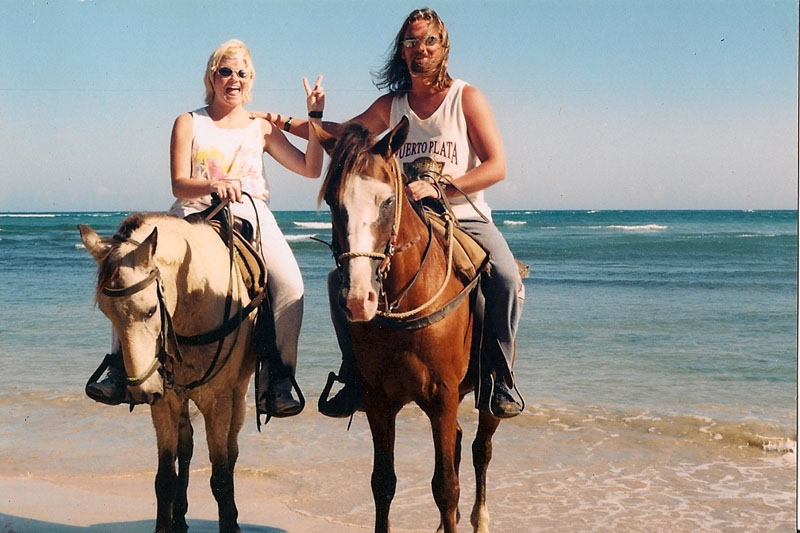 High Mountain Trail Ride
We plodded along and Dave never let me know just how uncomfortable he was. By the time we got to the beach and they asked us who wanted to run, I looked back at Dave with a big smile and a nod only to see a look of terror on his face and a big shake of his head… "No."
It turns out his butt had been rubbed raw! At one point the guide told Dave that he rode like a sack of potatoes. Aw, poor Dave.
When we got back to the hotel, Dave's butt was rubbed so raw that he couldn't get back in the water for the sheer pain of having his skin scraped from both his butt cheeks. The flight home was not a pleasant one to say the least.
Cut to 16 years later…
While taking a road trip through Southern Alberta and exploring my roots at the Bar U Ranch and High River, we had the opportunity to go on a high mountain trail ride into the Canadian Rockies. Since that dreadful day on our honeymoon, we have been on a horse many times. We even went riding near Toronto a short time after our honeymoon to learn how to ride. By the time we got to the Anchor D Ranch, we had come a long way since that day on the beach.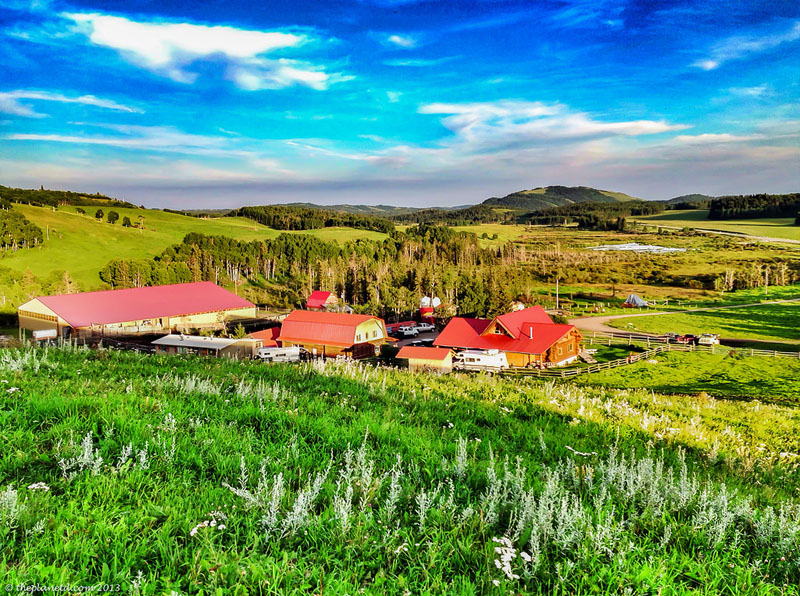 We didn't know what to expect from a high mountain trail ride, but we assumed that we wouldn't be walking across rocky ledges plunging into the valley below. Boy were we wrong!
It turns out that a High Mountain Trail Ride, means exactly what it says. It's a trail ride that goes high into the mountains.
We started off with an easy ride following ranch owner and our guide for the day, Dewey Matthews, where we got our legs and used to our horses. A cougar ran out on the trail in front of us but we weren't afraid. Sitting on a horse makes you feel invincible and we had our watch dog Buddy along to alert us of any moose, grizzlies or cougars in the area. He'd scare them away or fend them off.
We didn't see any more cougars that day, but the adventure was about to begin once we started to go up. We gained 1000 metres (3000 feet) reaching an altitude of (2500 meters) 7250 feet. Our horses worked hard that day, but they were fit and ready for the challenge.  The trails were steep and narrow, but the fun had only just started.
After a couple hours of riding through the mountain trails, Dewey asked us if we were feeling adventurous. "Hell ya," We said. "Great! I've always wanted to go along that ridge, let's do it" (as he pointed way up over the valley.)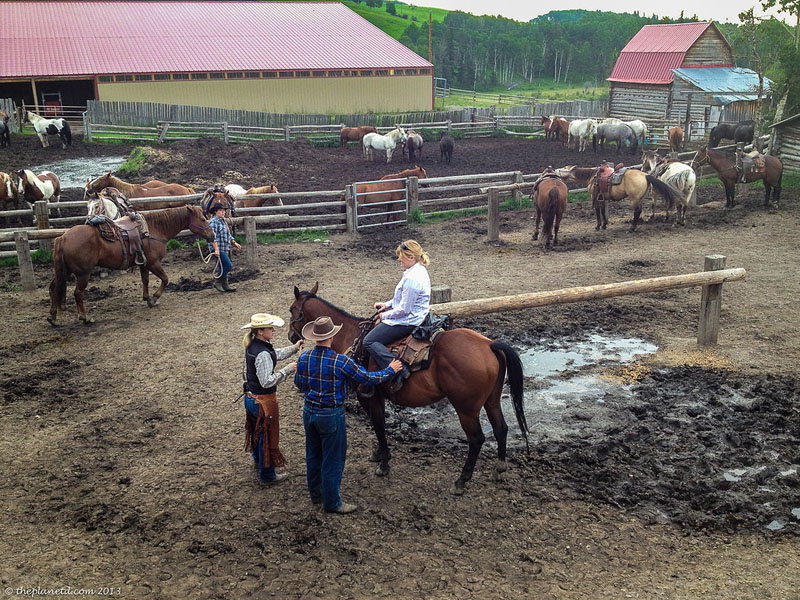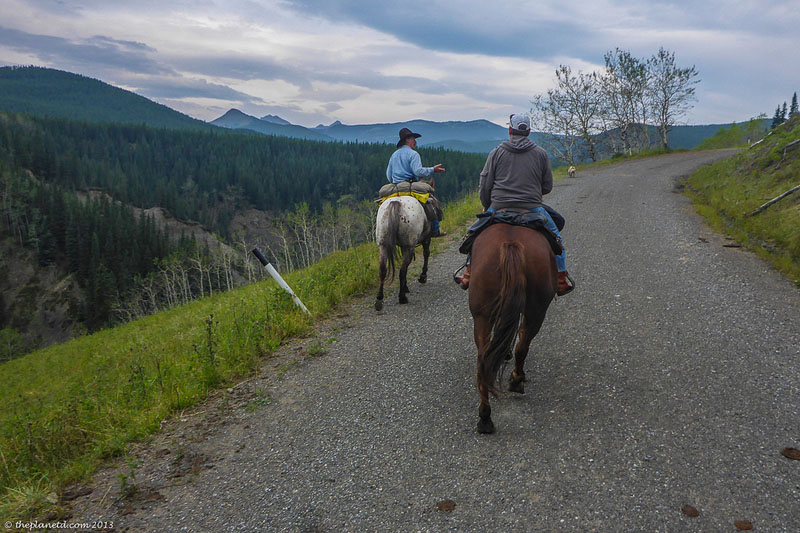 He pulled out his machete and started climbing up a rocky slope. He yelled back at us to take the exact route he was taking. One misstep and we could be in trouble. Our horses seemed excited for the challenge. I was amazed at the temperament of Dewey's horse. As he chopped away at wild evergreen branches the horse stood still until it was time to move on. We ducked our way through trees, climbed over rocks and hiked up steep slopes until we emerged to a beautiful view of the Canadian Rockies.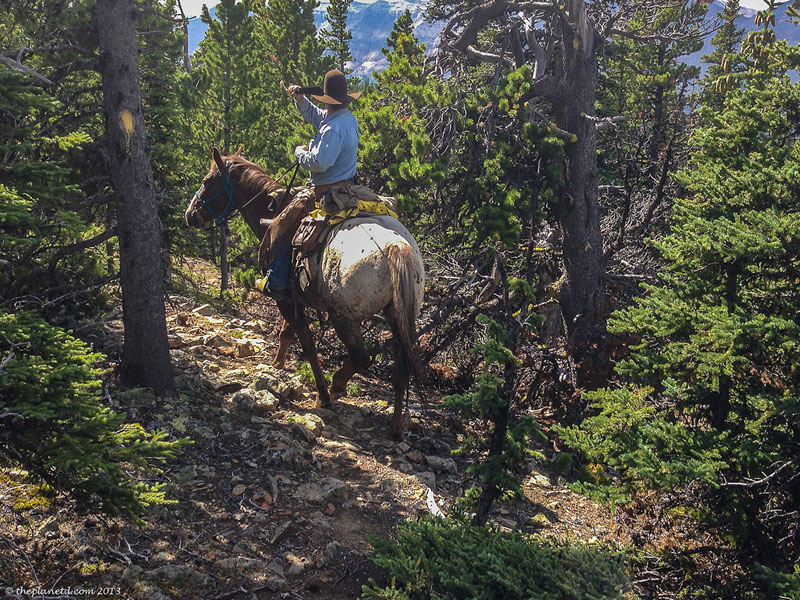 We had come to Surveyors point and looked out at Ware Mountain; A mountain named after a former slave who settled in Alberta and worked on the Bar U Ranch. He gained quite a reputation and respect for his skills on a horse and strong character. So much so that there are monuments dedicated to him throughout the province.
We ate our lunch here at this million dollar view as Buddy ran around sniffing in holes and Dewey tipped his cowboy hat over his eyes for a short nap.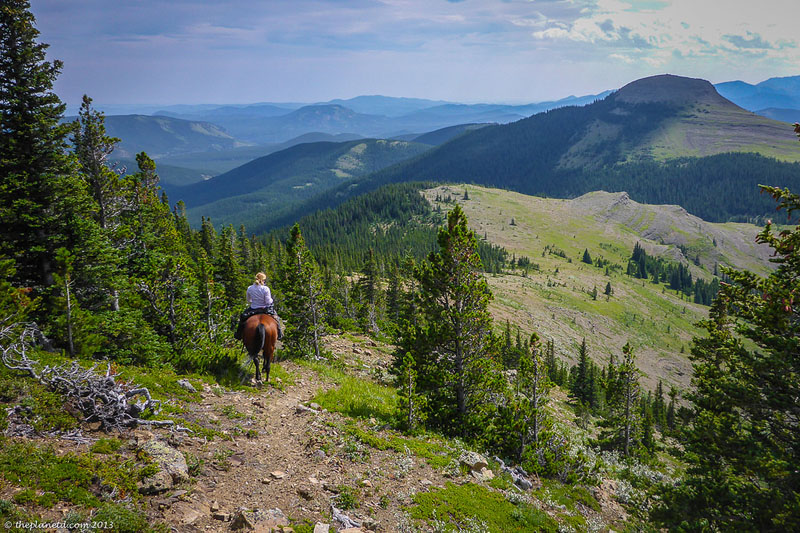 What goes up must come down though and the real challenge was about to begin. Our ride down the mountain took us along a trail clinging to the edge. If you had a fear of heights, this would not be a great position to be in. All we could do was trust our horses and know that they didn't want to fall over either. We squeezed our knees into the saddle and kept the reigns short guiding our horse through the rocks and dirt. I have to say, that both Dave and I were utterly amazed that we were capable of riding this type of terrain. But most of the credit goes to the horses.
As Dewey said to us "You have to have good horses out here, or else you'll get someone killed." This isn't a beach vacation day trip, it's a Rocky Mountain adventure. We followed Dewey's lead through the switchbacks and cliff edges until the trail became so steep that we all had to dismount. Dewey told us that our horses would be thanking us and our own knees would be happy too.
We held the reins loosely and led our trusty steed through the steepest section until it was safe to get back on and finish the descent. After that it was smooth sailing.
Once the ground levelled off, we had a few chances to gallop. You could tell that the horses were itching to let off some steam and we loved the feeling of riding free and fast.
This was a full day trail ride from dawn to dusk and we still had several miles ahead of us but the most difficult task was over. Now we only had a few river crossings which our horses were grateful for and an easy leisurely ride back to the horse trailer.
Dewey told us that we rode 20 miles that day, but the real feat was the elevation gain. We went over mountains and high slopes, did countless river crossings, navigated through washed out roads, over bridges and on plateaus. We saw it all. Our horses Snip2 and Buckwheat worked for their hay today!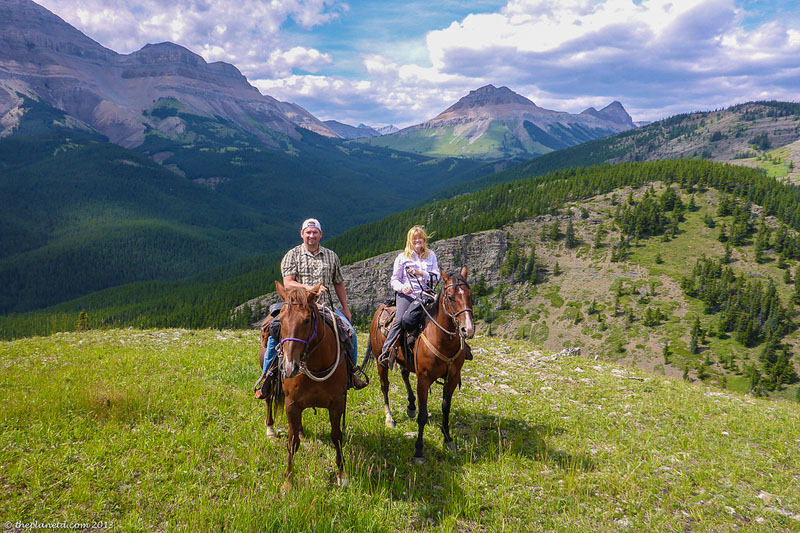 It was one of the most memorable experiences of our lives and Dewey and his staff at Anchor D were welcoming and hospitable. They didn't judge these two novice riders, instead, they treated us like a couple of veterans and allowed us to push our boundaries and see what we were made of.
If you're looking for a true cowboy experience in Alberta, check out The Anchor D ranch in Black Diamond just a short drive from Calgary. You'll feel like you've moved into the old west and may never want to leave.
Anchor D Outfitting does trail rides from a couple of hours to several days. When visiting Alberta, you can contact them through their website to book your own high mountain trail ride. AnchorD.com
---
Read More
Alberta Bound – Back to my Roots at the Bar U Ranch
19 Photos that will make you want to Discover Banff Canada Right Now
Things to Do in Banff – 10 of the Most Unforgettable Winter Activities
A Spectacular Helicopter Tour with Exclusive Snowshoeing in the Rockies
ReadSaveSave
SaveSave