There comes a time when a travel blogger is looking for more than just selling text and banner ads. Finding a sponsor for your blog and travels is an important part of achieving success in your field. We have found the working on partnerships and developing relationships with our sponsors has been of great value not only from our past adventures, but for all of our future travels.
We learned a great deal during the Mongol Rally on how to approach sponsors and we now feel confident when seeking sponsorship that we do indeed have something valuable to offer them.
1. Define your Goals.
Having a hook will help immensely when seeking sponsorship for your travels.
A company may not be interested in sponsoring a blog that is simply going out to backpack around the world. You must find some way to stand out from the crowd. The Mongol Rally gave us and our teammates Rick Griffin and Sherry Ott a unique adventure to attract new readers and sponsors. Driving 1/3 of the way around the world definitely helps to make you stand out from the sea of travel bloggers and companies feel confident when there is not only the built in audience from the rally, but also the value of combining the audience of three blogs into one event for triple the exposure.
Mongol Rally Sponsors 
–
–
–
–
Other travel bloggers that have had great success in finding sponsorship are The Professional Hobo, Go See Write and Nomadic Chick for the Ultimate Train Challenge, As We Travel for their European Train circumnavigation and GlobeTrooper for their hike across the Gobi Desert. Each of these trips were unique, epic and attractive to sponsors.
2. Have an Attractive Package.
Your sponsorship package is the most important aspect of finding sponsorship. Be clear as to what you can give your sponsor in return for their product or monetary contribution. The first thing we did when putting together our proposal for the Mongol Rally was work on our package. We compiled our numbers and statistics together and input them all into a pdf file explaining what our venture was, what we will offer and how their product will be displayed.
–
–
–
–
–
–

1. We offered 3 levels of sponsorship. Give value to the companies that contribute more. Offering 3 levels of sponsorship will give smaller companies the opportunity to get on board, but will nudge larger companies in the direction of offering more. If they give a monetary value along with product sponsorship, they will be more prominently displayed, mentioned more in posts and if you have a car, T-shirt or backpack that will be displaying your sponsors, you they will receive the primo spot on the item.
Be Clear on Exposure
1. We clearly defined how many posts we would give each sponsor, how many tweets they would get and how many facebook shares we would offer.
2. Tell the company what you expect from them.
Outline exactly what you require from the company you are seeking sponsorship from. People prefer to be told what you want rather than having to think about what to offer. Don't leave it up to them. Tell them how much product you require, how much money you require and why you are approaching them.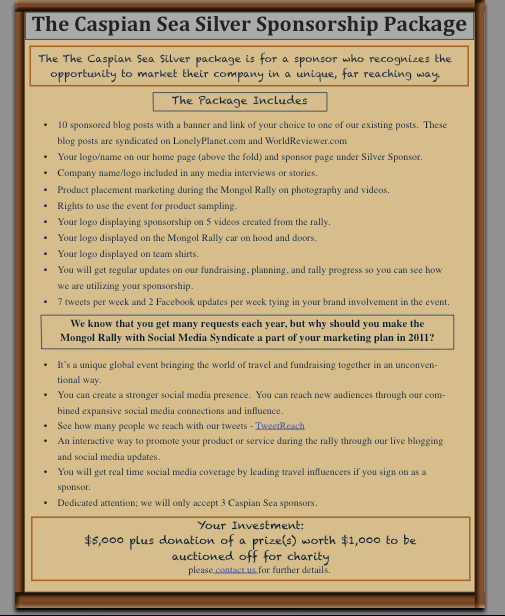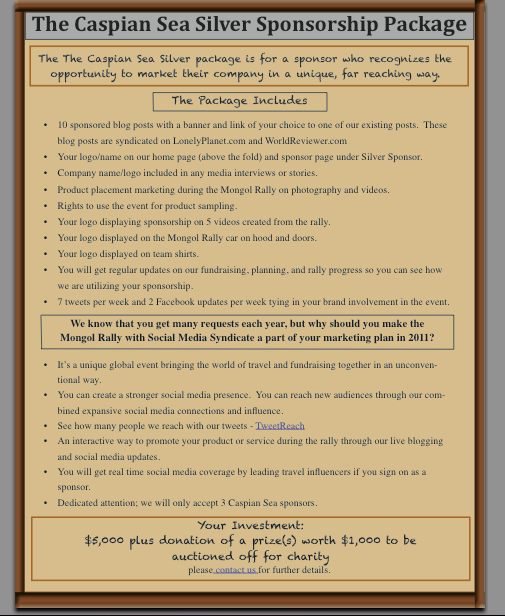 4. Approach companies in your niche
We are travel bloggers so we approached travel companies or companies that have something to do with adventure. However the Mongol Rally gave us the opportunity to seek sponsorship outside of the travel business. We could approach cell phone and satellite companies, we found GPS and Audio Sponsors and of course we found the most important sponsor for our car in AllWAysRentals. A Rental company base in Christchurch New Zealand that offers campervans and cars for hire.
More Mongol Rally Sponsors
–
–
–
5. Involve a Charity.
It is fulfilling to give back when traveling through communities so involving at any time during your travels is a great idea. When you decide to take on an epic adventure and are seeking specific sponsorship having a charity on board helps. Many companies are already involved with a charity, so it may be worthwhile to approach your premium sponsors first and offer to raise money for their specific charity in return for the largest premium spot.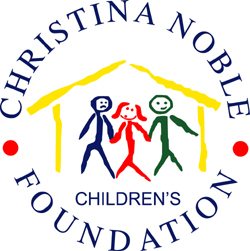 Intrepid Travel also donated our carbon offsets for the fuel that we used driving from England to Mongolia.
Start Early
Companies plan their year in advance and the sooner you can seek sponsorship the better.
We waited far too long for the Mongol Rally to attract a Gold Sponsor. We originally wanted 1 main sponsor. They would be an exclusive sponsor that would receive all of the publicity throughout the Mongol Rally. We wanted to ask for a large monetary value that would cover all costs in return for exclusive sponsorship. This is something that you should start seeking at least a year in advance. By the time we got around to approaching companies in January, although they were interested, they already had their advertising budgets allotted for the year.
Just Ask
One of the best pieces of advice I ever got was from Andy Hayes. "Have you Ever Thought to Ask?" was his response to my question on how can I do that? Ever since, I have thought of him whenever I send out a sponsorship package or partnership request.  Thanks Andy!
Our biggest fear was sending that first email. We didn't know what people would say and how they would respond. Once we got over the fear of rejection, we started approaching companies that we never would have had the nerve to speak to before. Companies will say no that is a fact. But you will be amazed at how many people will respond with a polite letter explaining why they can't sponsor you at this time. Thank them for their time and keep them in your database for future reference. As your statistics grow and if the right opportunity comes along for partnership, you can try them again.
Once you receive that first acceptance letter, you will be filled with confidence and ready to approach more people.
Even More Mongol Rally Sponsors

Plus: Cheese Web  & Brooks on Break 
Fulfill Your Commitments
Don't offer what you can't follow through on. We found it difficult to tweet and facebook from the desert in Kazakhstan and Mongolia but we found ways to fulfill our commitments to our sponsors. We hired Social Media Atlantic Canada who were able to take care of our social media commitments when we couldn't be online. We also scheduled our important tweets in advance to make sure that the word was getting out about our sponsors. If there was one thing that we did when we pulled into a small town with slow internet, was to get online and make sure that our duties to our sponsors were fulfilled.
Follow Up.
It is important to keep documentation of the exposure that you are giving your sponsors. We took snapshots of our hashtag #mongolsms and for 3 little bloggers working on their own, we reached over 1.2 million impressions in just 97 tweets.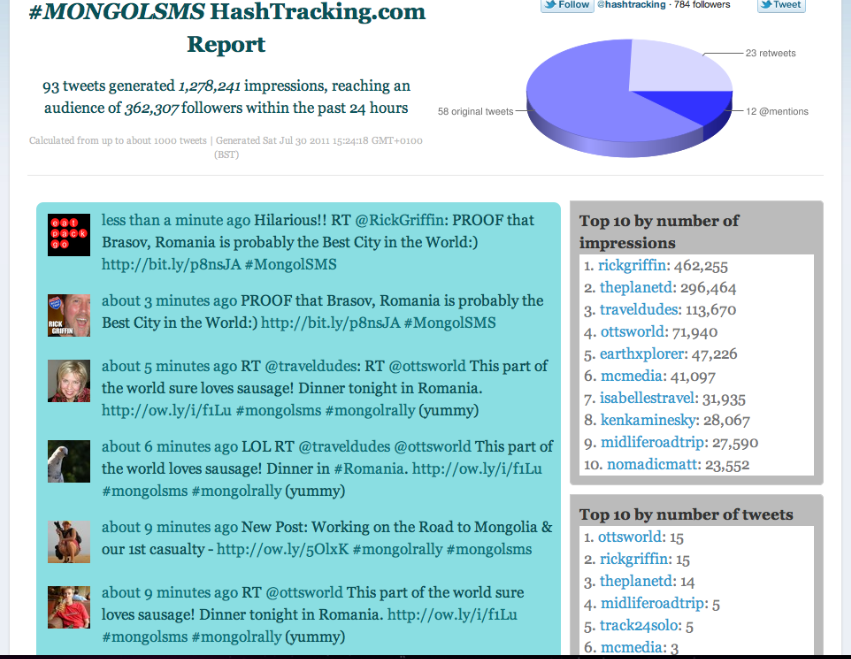 Once you are finished, send your sponsors the posts that you wrote about them during the event and the analytics on how it was received. A great follow will help you continue your relationship beyond just one event. Building relationships is the key. Companies want to work with people they can trust and if you are professional with them during your first business venture, you have a good chance of working with them again.