Located in the South Pacific, Fiji is a tropical paradise that is pure heaven. To us, Fiji is as exotic as it gets. It's also a place filled with adventure, here are some ideas for what to do in Fiji. 
What to do in Fiji
It's a thousand miles from anywhere filled with waterfalls, rainforests, and white sandy beaches. It's a place where you are greeted with huge smiles and welcoming words. Here are our suggestions for what to do in Fiji.
1. Kava Ceremony
As you enter any establishment, hotel, or restaurant, you people will yell Bula Vinaka and offer up Kava to welcome you. If you want a winter escape, Fiji is the place to be. So turn off your brain, sit back and relax and enjoy all the things to do in Fiji on the main island of Viti Levu.
When travelling to Fiji you must take part in a traditional Kava ceremony. When visiting any village in Fiji it is customary to present a gift of Yaqona (Kava root). The root is ground down and strained through a cloth and into a large wooden bowl.
Kava is a mild narcotic so you will feel a little numbness in your tongue, but don't worry, it won't hurt you and you'll feel very relaxed afterwards.
Check out our tips for etiquette when attending a Kava ceremony in Fiji.
2. Walk on the beach
Okay, since we're daydreaming today, I'm going to put a beautiful photo in between each activity and adventure.
So even though it's not overly unique to walk on the beach in a tropical country, we're putting in this photo anyway because it's beautiful.
3. Raft the Upper Navua River
Rafting the Upper Navua River is probably one of the most peaceful and beautiful rafting trips we've ever taken.
It was fun too. The rapids are a leisurely class 3 and 4 but you still get the blood pumping as you bump up and down the river with your very fun guides.
And you get to see beautiful scenes like this!
3. Sit on a secluded Beach
Ah, the beautiful beaches of Fiji. There's nothing better than sitting on a secluded beach and enjoying the gorgeous scene before you. Are you dreaming yet?
4. Visit the Oho Caves
The Oho Caves were home to the Navatua Tribe: the fiercest in the land.
Today the mighty warriors descendants will take you for a walk up to the caves to learn about the days of headhunting and living off the land.
Fiji has a fascinating history and you must learn all about it when you visit.
See more at the Oho Caves and Tao Village.
Read: 15 Unique Things to do in New Zealand
5. Watch a Fijian Sunset
What's that you say? Another beach shot, didn't we just have one?
Yes, we did, but we can never have enough beaches and there are so many things you can do on one, like watching the sun go down.
6. Go Ziplining
Fiji has excellent zip lining and it's eco-friendly too.
When we were visiting, Zip Fiji was in the midst of building new ziplines and were planning on making the longest zip in the world!
I wonder if they've made it yet? If you're still wondering what to do in Fiji, definitely check them out.
7. Take a jet boat safari to a traditional village
The jet boat is a thrill and a half, but the visit to a traditional village down the Sigatoka River is a trip you'll never forget.
The jet boat is a thrill down the river and after listening to the guide talk of the history of Fiji and the headhunters that lived along these waters, you stop for a visit at a traditional village.
Here you'll enjoy a Kava Ceremony and dancing with the locals.
Villagers are filled with pure joy.
See more at the Sigatoka River.
8. Explore the Lush Rainforest
The landscape of Fiji is so lush and beautiful.
The greens are so deep and pure and it almost seems unreal. Fiji is truly spectacular. Even though there are plenty of activities in Fiji, sometimes it's nice just to enjoy the scenery.
Make sure you don't spend all your time at the beach!
9. Visit a traditional salt factory
Gathering salt from tidal pools is hard work and a visit to a traditional salt factory will give you a first hand view of just how difficult that work is.
Women walk out to wells located in a tidal pool. They carry buckets of salt water back to a very hot hut where they boil it until it evaporates.
Learn more about it at our traditional salt factory visit.
Read: Fiji Travel Guide
10. Gorgeous River Banks
We said Fiji was green and it is green everywhere. Beautiful scenes are like this everywhere you turn.
11. Spa Day at the Pearl
There is nothing better than basking in luxury at The Pearl Fiji.
Located on the quieter side of the island it's the perfect couples retreat.
Their couples massage was like no other. We were lucky enough to have a suite at this resort and a full day to relax and enjoy each others company.
Now that's Fijian beauty.
Where to stay in Fiji:
The Pearl was by far our favourite accommodation
 Sonaisali Resort was wonderful too. We definitely would have spent a few more days here.
Outrigger Fiji is very family oriented and we didn't love it, but other people seemed to think it was grand.
There are loads of adventure activities in Fiji for everyone. With 332 islands to explore, it could take a lifetime to truly see all everything and experience all the things to do in Fiji, but if you have a couple of weeks, you can definitely have your dream trip of a lifetime.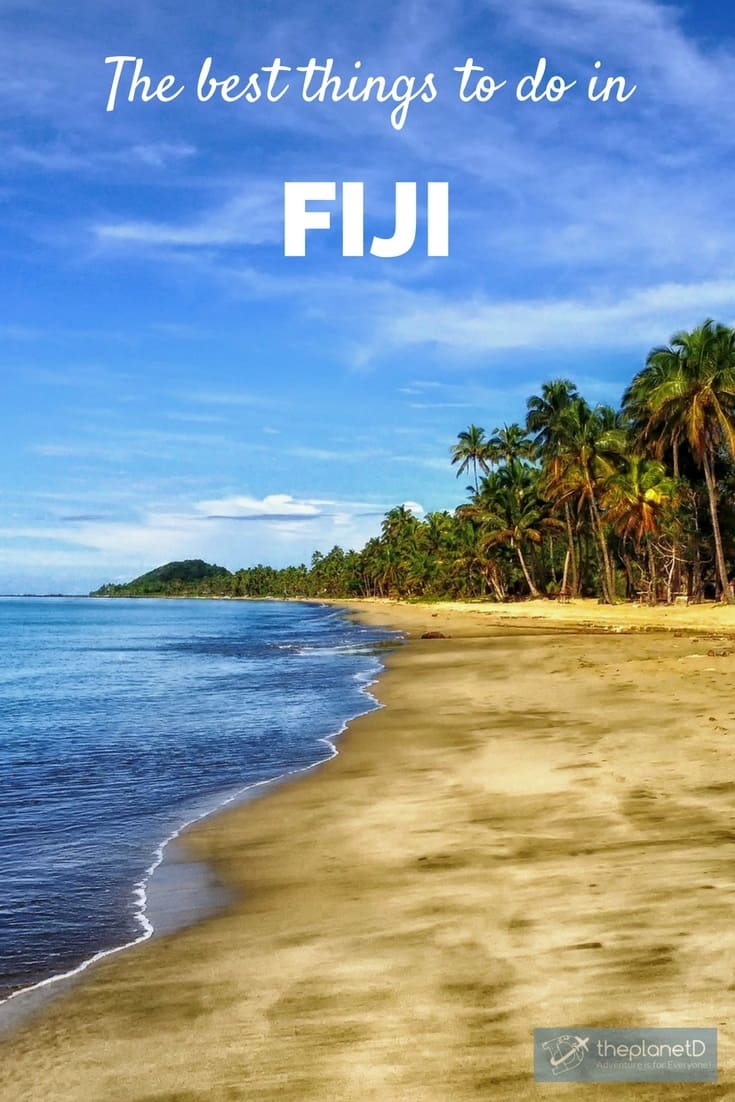 Read next:
What to do in Grand Cayman? 15 Ideas to Make the Most of Your Trip