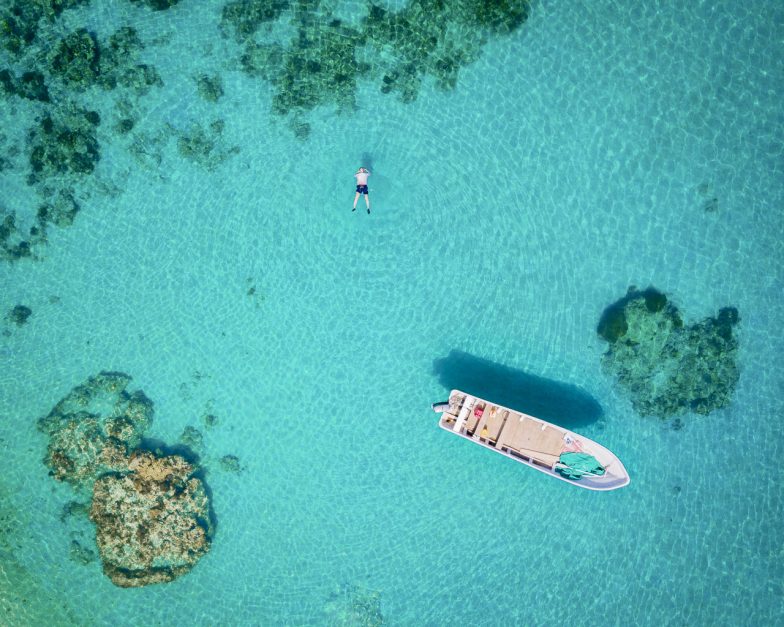 Fiji; every beach bum's nirvana.
Located in the South Pacific, Fiji is a tropical paradise that is pure heaven. To us, Fiji is as exotic as it gets. It's a thousand miles from anywhere filled with waterfalls, rainforests, and white sandy beaches.
It's a place where you are greeted with huge smiles and welcoming words. As you enter any establishment, hotel, or restaurant, people will yell Bula Vinaka and offer up Kava to welcome you.
If you want a winter escape, Fiji is the place to be. So turn off your brain, sit back and relax, this Fiji travel guide will help you plan your next vacation.
Fast Facts
Fijian power voltage is 240 V 50 Hz; Power sockets I
The Fijian currency is the Fijian Dollar (FJD) and is around 2 FJD for 1 USD
Things are much cheaper on the main island, so if you plan on heading out to the outer islands, make sure to bring as much as possible, including water, snacks and alcohol.
The municipal water in Suva, Nadi and other large towns is potable, but avoid drinking water elsewhere. Buy bottled water or boil the water before you drink it.
There has been a recent increase in confirmed cases of Dengue, Chikungunya and Zika virus infection in many Pacific Islands including Fiji. All these diseases are spread by the bite of an infected mosquito so make sure to protect yourself!
Be prepared to adopt Fiji time! Fijians are never in a hurry as everything goes a little slowly here. So take a deep breathe and go with the flow.
You can get a local sim card from
If you are traveling for a short time, we use KnowRoaming International SIM for all our travels. Packages are $3.99 per day for unlimited data.
Readers Receive a 30% Discount with our promo code DDSave30. You can order here and have it delivered or find out more at our post.
Budgeting
Accommodation
Food
Transportation
Getting to Fiji:
Flights: You can check for the best flights to Fiji on Skyscanner.
Transportation:
Buses:
Taxis:
Car Rental:
Uber:
Packing Tips
Fiji has a warm tropical climate all year round.
The best months for holidaying in regards to Fiji weather is late March through to early December.
The wet season is normally from November to April; although rare, cyclones do, at times, hit the area during the wet season.
Reef shoes. Most islands are surrounded by coral and reefs. Sandy shallows also have sinkholes that will suck off flimsy footwear, like flip flops. Make sure to have some well-fitted and sturdy reef shoes and remember to always walk where the locals walk!
Snorkel, mask, and underwater camera. Fiji is a tropical paradise with uncounted underwater wonders. Avoid the fees and the possibility of not being able to rent snorkel gear by bringing your own well-fitted gear.
Swimming suits (plural!) – Fiji is all about frolicking under the sun, lazing at the beach or diving headfirst in its turquoise waters. Make sure to bring more than one swimsuit as no one likes putting on a damp suit!
A tropical wardrobe. This should include—for both men and women—shorts, T-shirts, breathable rain gear, a warm jacket or fleece, sturdy footwear, and a wrap.
The protection basics – Travellers should stock up on the essentials: sunblock, mosquito/insect repellant containing DEET or a pyrethroid insecticide, sunglasses and a hat.
See our packing tips: packing list for smart travel.
When to Go
Things to Do
Adventure
Culture
Take part in a Kava Ceremony – When visiting any village in Fiji it is customary to present a gift of Yaqona (Kava root) to present to the executive head of the village. It is an elaborate ceremony that takes a little bit of knowledge before taking part.
What not to Miss
Places to Stay
Check out our favorite booking platforms Booking.com, Tripadvisor and Air B&B for the best deals on accommodation in Ireland.
Booking Resources
Whenever we travel to we make sure to start with these companies.
We have tried a lot of different ones over the years and all of these have consistently proven to be the best when it comes to offering great prices.
We have used every one of these personally and continue to do so.
Booking.com: This is our go site to when comparing prices for accommodation. It is usually the has the cheapest prices, not to mention you get free cancellation and you are guaranteed the best price.
Trip Advisor: What we like about Trip Advisor is that we can look at all the reviews and then book our accommodation.
Air BnB: Airbnb is the main search engine we use when we are looking for a home or apartment rental. It is the best way to stay in areas that offer a more local feel.
Skyscanner: This is the first place we check for flights. It consistently comes back with the cheapest and best options. It allows us to compare a lot of airlines to get the best price.
Hostelworld: With one of the largest databases of hostels in the world, Hostelworld is the go-to site when you are looking for budget accommodation.
Rome 2 Rio: If you want to see how to get somewhere by plane, train, bus, ferry or car Rome2Rio lays it all out for you as well as related costs. I love how they show it all to you on a Google Map and it works offline.
Get Your Guide: For all your day trip and city guide needs, we use Get Your Guide. It has the world's largest collection of things to do with more than 30,000 activities in 7500 destinations.
World Nomads Insurance: When traveling you should always have travel insurance.
Related