Have you ever wanted to know what it's like to go on one of those grand cruise voyages around the world? Well you can find out now. We joined Holland America's 80 Day Grand Asia Tour for the South Pacific Cruise portion of their grand voyage. Starting in Australia, we sailed through the South Pacific to Hawaii and enjoyed 19 luxurious days at sea.
We boarded the ship in Sydney Australia along with about 100 other late comers.
We thought we'd be the only new comers to this epic Asia voyage, but it turns out that many people do a leg or two of the grand voyages.
Not everyone has 80 – 120 days to set aside for sailing around the world, but for those who want to see if it's something they'd like to give a shot in the future or for those wanting something a little more refined than a Caribbean party boat, this is the choice for you.
Scenes from a South Pacific Cruise
We quickly got to know our fellow passengers who welcomed us with open arms in the lounges, the piano bars and on deck each day.
Who Takes a Grand Voyage?
The people on this ship are an older crowd and definitely a well-travelled crowd.
One man told us that he wanted to come back and do this voyage because he was in the South Pacific in the 70s backpacking around and hiring local fishermen to take him to local islands. He was curious to see how it had changed.
Dave and I tend to gel with an older crowd. They know how to have a good time and they want you to have a good time too.
The minute we stopped in the piano bar our first night, people came up to us and said "How have I not met you yet, we're 55 days into the cruise?" When we replied, "We just got on in Sydney." Everyone responded with "You can do that? That's great! We need new blood on the ship."
Our South Pacific Cruise Experience – Days at Sea
And that's how it went for the next week or so when we joined a stretch class, a dance class, or a ukulele class. Everyone was warm and welcoming.
Dave and I soon fell into the rhythm of ship life and looked forward to our days at sea. Yes, we stopped at exotic places like the North Island of New Zealand, Fiji and American Samoa, but we found we loved our days at sea more than anything else.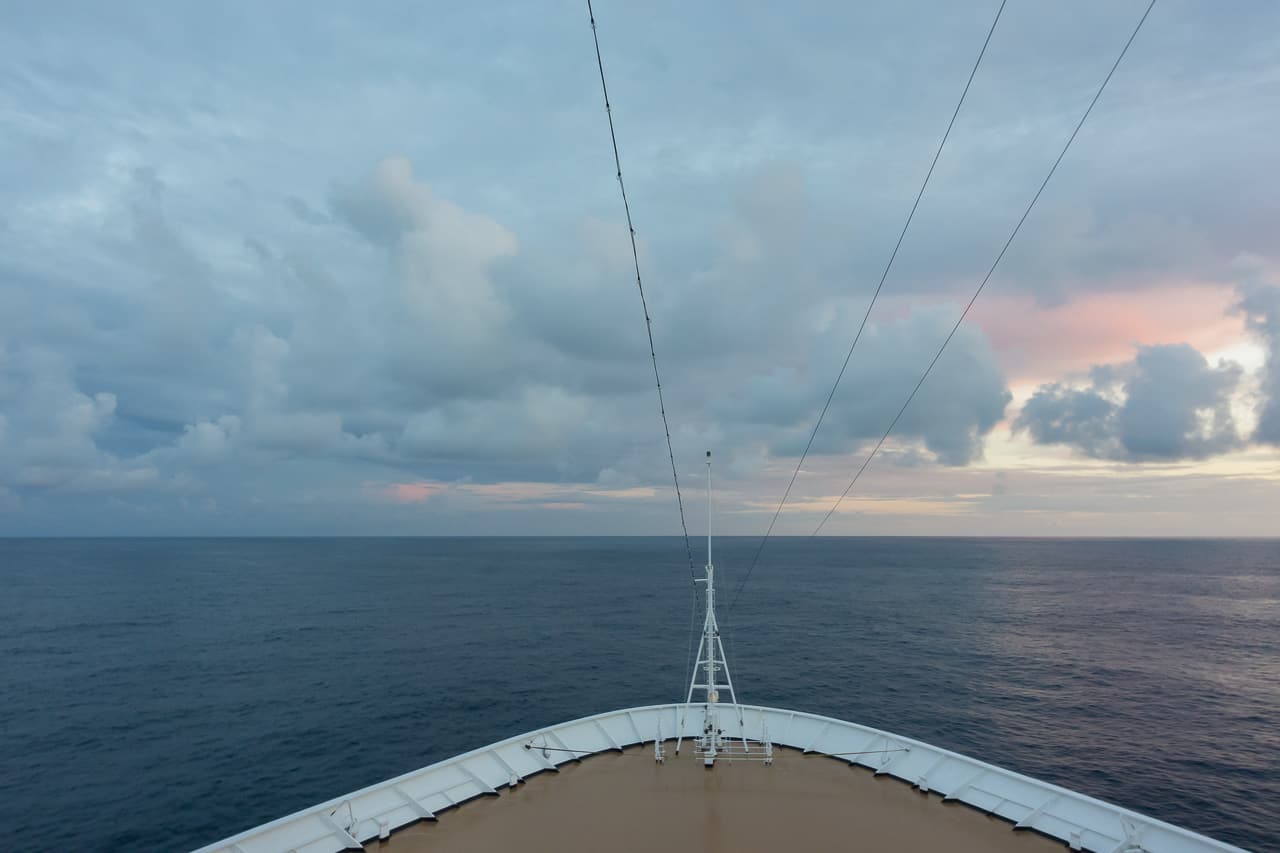 When we told this to our fellow passengers, they nodded in approval understanding exactly what we meant.
Sea Days are Good Days
Sea days are "me" days. They are your time to relax and enjoy life. There are plenty of things to keep you busy and the MS Amsterdam is large enough that you can easily find a quiet nook to read a book or sip a cappuccino. If you are up for something more exciting, there's activities scheduled for every minute of the day.
Dave and I fell into a routine. We didn't realize we were the routine type, but we looked forward to each morning.
A Day in the Life of our South Pacific Cruise
8:00 am
Spin class
This was the best way to start the day. The MS Amsterdam has an amazing gym filled with a dozen stationary bikes and a fantastic personal trainer. Our small group lit up the place as Na'eem pumped us up taking us through sprints, hill climbs and core work.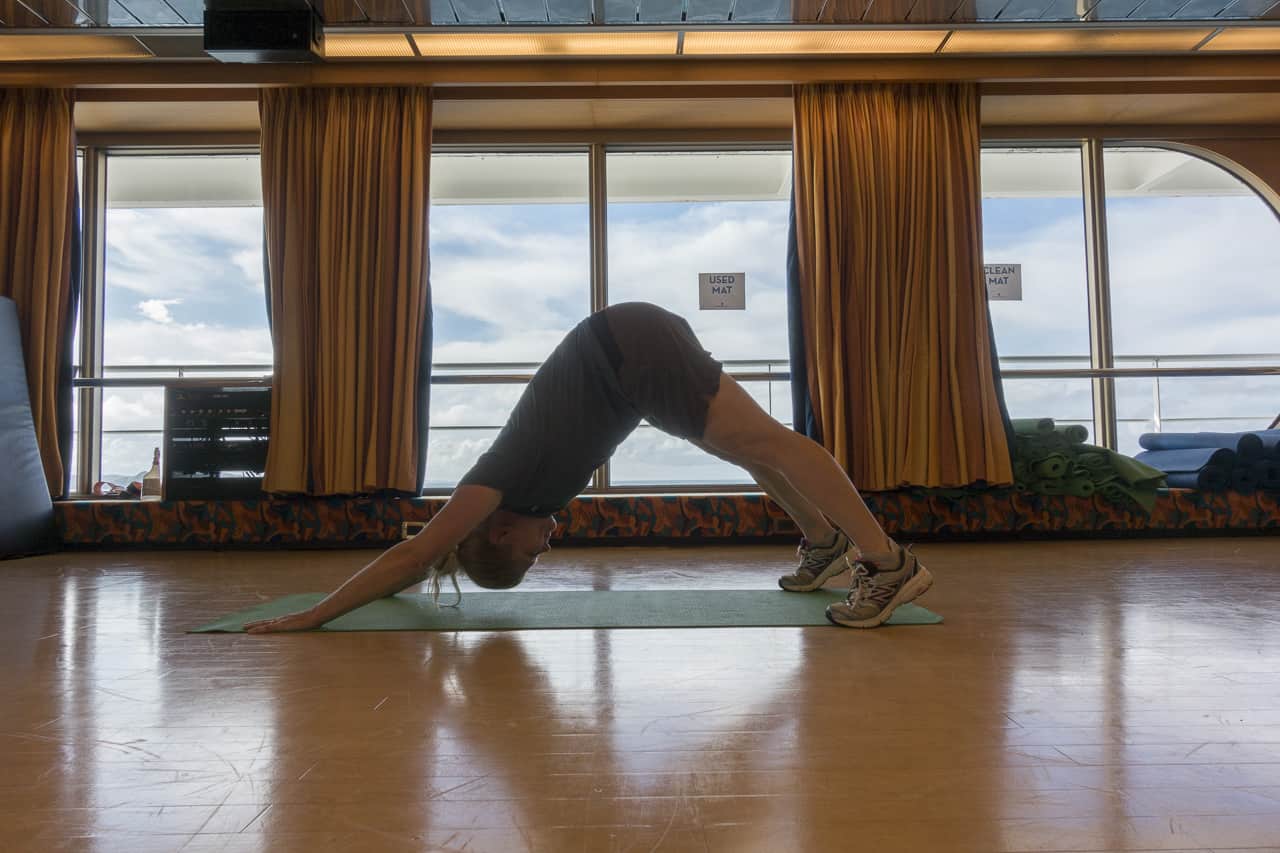 You could tell that all the people on the treadmills and ellipticals wanted to join in.
9:00 am
Smoothie by the pool
Dave and I made sure to get the unlimited coffee and drinks package and our morning routine thanked us.
Instead of going to the immense breakfast buffet, we opted for fresh fruit smoothies by the pool. The staff on the cruise were outstanding and I am not exaggerating when I say they had memorized our names after day one. The minute we ordered something, they had it ready to go the next day.
The pool was a bustling place in the morning with people taking zoomba classes, enjoying their breakfast outside or reading the daily paper highlights they dropped off at our suites each day.
We sipped our smoothies basking in how lucky we were to be in such a lovely position in our lives that we could truly appreciate the moment.
10:00 am
Explorers Café
Back to the room for a freshen up before heading to the Explorers Café for our daily cappuccino. We lived for this moment.
I don't remember the last time Dave and I sat for more than an hour reading the paper, a book or even a magazine. Choosing a seat by the window, we looked out to the beautiful South Pacific sipping our fresh brew and did absolutely nothing.
We had an Internet package on the cruise, but never felt the need to look online to see what was going on. We were in the place we wanted to be and did what everyone else in the room was doing. Chillaxin' with our drinks.
Entertainment on the M.S. Amsterdam 
11:00 am
Guest Lectures 
What I love about Holland America is that they have staff join at every port and a new guest speaker, entertainer or instructor would board the ship to share their expertise.
From yachting to history of Polynesia there was something fascinating to learn each day. They happened in the Queen's Lounge complete with power point presentations, or they took place in more intimate settings with interviews and comedy. Whichever you prefer is fine.
11:00 other choices
Lectures happened every day, but not always at the same time. That gave us the chance to try other things.
When there wasn't a speaker in the house, we joined other classes during this time. Sometimes we took a ukulele lesson other times we played a game of scrabble (brining us back to our backpacking days from 2000-2004) when we carried around a travel scrabble and had the most outrageous arguments over trying to sneak in made up words) we didn't have a dictionary or the Internet with us at that point in our lives. Ha!
We watched cooking and cocktail demonstrations and had a grand old time.
12:00 pm – 2:00 pm
Lunch time!
Lunch was our favourite meal of the day. We lived for the big salads and flocked to the salad chef who made us the most a delicious mix of crisp mix of greens to get through our day.
Protien was always on the menu and we salivated over the sushi bar. We couldn't get enough of the fresh fish and vegetarian choices.
I don't recall other cruises we've been on having so many healthy options. Maybe we're just in a different place in our lives than when we cruise previously, or maybe the Grand Voyage Cruises know their audience. Most people on this ship were fit and healthy and always on the go.
We met people in their 70s that didn't look a day over 55.
Dive in 8
Never fear, Dave and I weren't all about health and well being, when we were in the mood for something heartier, we popped poolside to Dive in 8 where we made tacos and nachos and ordered crispy fries on the side. They also served burgers that I never tried, but wow, they looked outstanding and were rolling off the grill at break neck speeds.
2pm
The Greenhouse Spa
Dave and I really took advantage of the spa.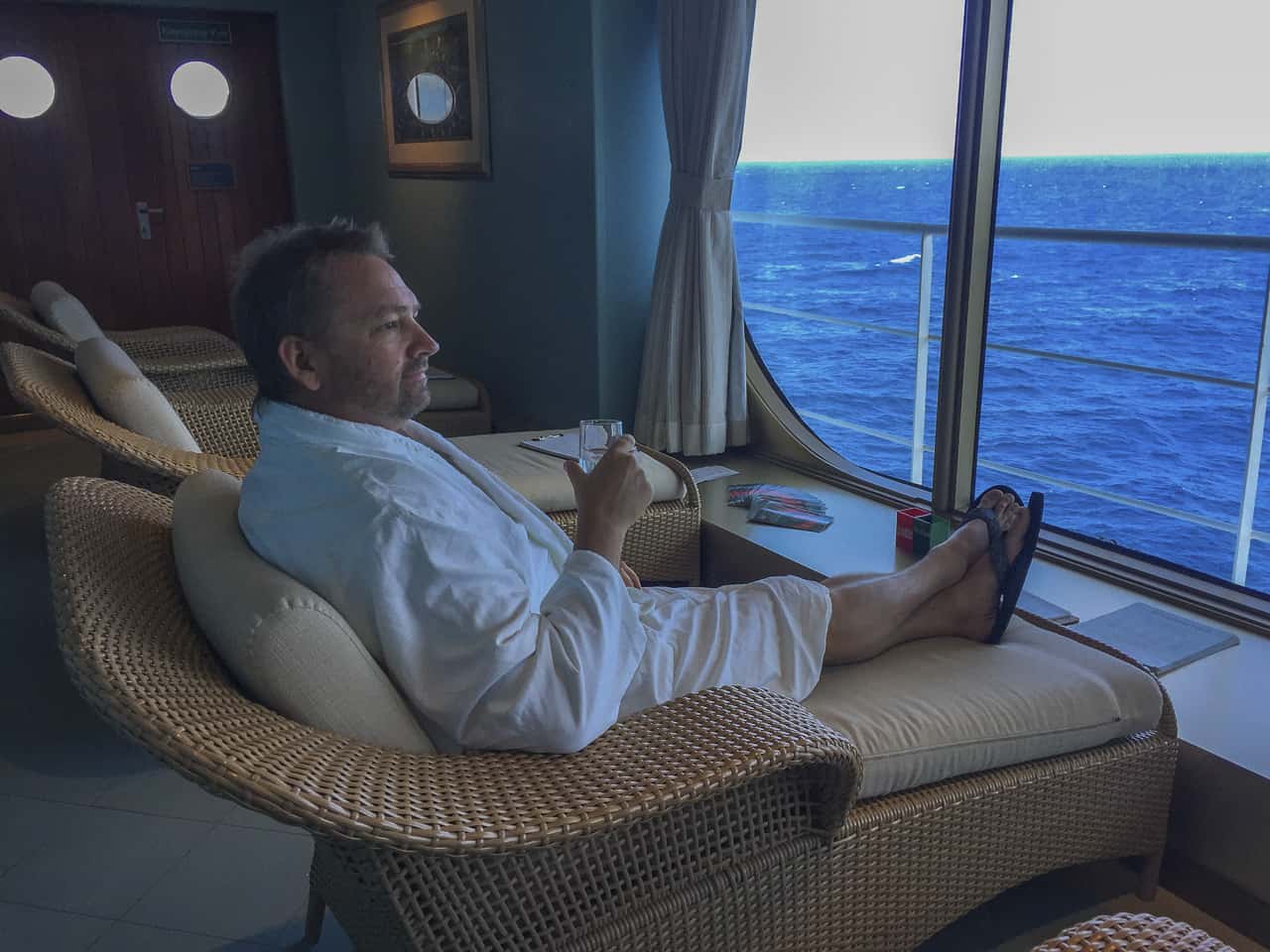 You could spend the wad on spa packages, but if you kept a look out for daily promotions, you could find some really great deals. We made sure to have regular massages and got to know the staff at the Greenhouse Spa well.
They even once let us enjoy the Greenhouse retreat for free one day.
Check out:

Spa Etiquette: From Stripping to Tipping
The Greenhouse Retreat is really small and exclusive. If you want to have access to it for the entire 80 day trip it's more than $1000.
If you have a spa treatment, it's not included. It costs an extra $40 (if I remember correctly) I was surprised it wasn't included in the treatment, but once inside I understood why. There are only a handful of heated lounge chairs and the steam rooms are tiny.
But ah it was heavenly and we made sure to spend as long as we could in that room.
Enjoy even without treatments or retreat access
One the other days when we didn't have access after a treatment, we took advantage of the sauna and hot tubs located right outside the spa. It was a fine alternative.
My sauna was always empty and the hot tubs were just out the door by the pool.
We whiled away hours pampering ourselves.
It was on the M.S. Amsterdam that Dave and I both had our very first facials.
Our 2017 ended with a lot of rough travels with multiday treks at altitude and dry safaris in Tanzania. Our skin was showing the lack of sleep and over exposure to the elements. A couple of facials later and we were back to our youthful glows.
3pm
Nap time!
I am not embarrassed to admit that Dave and I took naps daily on sea days. We haven't felt so at ease in years. We had a few tough travels at the end of 2017 and this was the perfect trip to melt away any stress we felt in our lives. There was zero guilt when the afternoon came and we retired to our cabin for some beauty rest. After all, we just pampered ourselves at the spa, we deserved a break!
4pm -6pm
Between these hours, there are plenty of choices to keep the average passenger busy. We changed things up regularly sampling all the different activities throughout the day.
If you wanted you could pop into the theatre for an afternoon matinee, take a dance class on deck or join the afternoon conditioning workout class.
We soon found there were very distinct groups on the ship.
Some people were there to work out every day all day. When Dave and I missed a core or conditioning class, people asked us where we were? They didn't even fathom that something else was taking place on the ship.
When we didn't show up at the lounge for dancing, we were told we were missed in the lounge.
And if we didn't pop into Trivia, we were informed that they could have used us at the bar earlier to help win the game.
And of course, people let us know the delicious cocktails we missed today at Happy Hour.
I think it was because we joined the cruise late, but Dave and I were more of floaters rather than creatures of habit. We had our morning routines, but afternoons were a time to sample everything..
We loved each activity, but when planning on going back to the same place the next day, we changed our minds and tried something else. It was okay though, nobody ever held it against us. A South Pacific Cruise (especially the Grand Voyage) is your time to enjoy it anyway you wanted.
6:30 pm
I personally loved dressing and getting ready for the nightlife on the ship.
Dave donned his suit and jacket each night and I had my array of outfits packed to fit the occasion. We dressed up a lot. On more than one occasion, people looked at us when coming off the elevator exclaiming "is it a formal night tonight? To which we replied, no, we just felt like dressing up.
Don't worry, we weren't a lone. Many people dressed for dinner nightly.
6:30 – 7:30
Between the hours of 6-7:30 we had our choice of Happy Hour. Sometimes we went up to the Crows Nest to watch the sail aways from port and others we mingled in the Ocean Bar with the dancers.
The Dancers
It wasn't until well into our trip that we learned of the dance instructors.
We thought the friendly crowd really loved to dance. They were there for every single happy hour and late night dance party tearing up the floor. But it turns out, Holland America things of it all.
There are dancers in the house ready to teach you any standard waltz, tango or cha cha you want and there are dancers on hand ready to partner with you should your spouse not be into cutting a rug.
There are also many single travellers on the trip and the dance instructors give them a chance to dance with a partner any time they want.
We loved hanging out with this crowd. They were a lot of fun and made sure you had a good time too. The dance companions were a mix of retirees to people looking to make a change in their lives to people just looking to travel and see the world.
7:00 – 9:00pm
Dinner
Dave and I were lucky to have an open dinner and could go to the dining room anytime we wanted between the hours of 6pm and 10 pm. We always ended up there at about 5:30 – 9:00.
The main dining room was a fine sitting down three course meal included in the cruise every night. You could order a bottle of wine and if you didn't drink it all, they'd save it for the next time you came in.
Like the rest of the ship, the staff knew us immediately and welcomed us by name each evening. They even knew our drinks of preference and what we would most likely choose for dinner.
We had a smile on our face each evening.
Dining options
The M.S. Amsterdam has two other restaurants for fine dining and Dave and I became regulars at those too.
Pinnacle Grill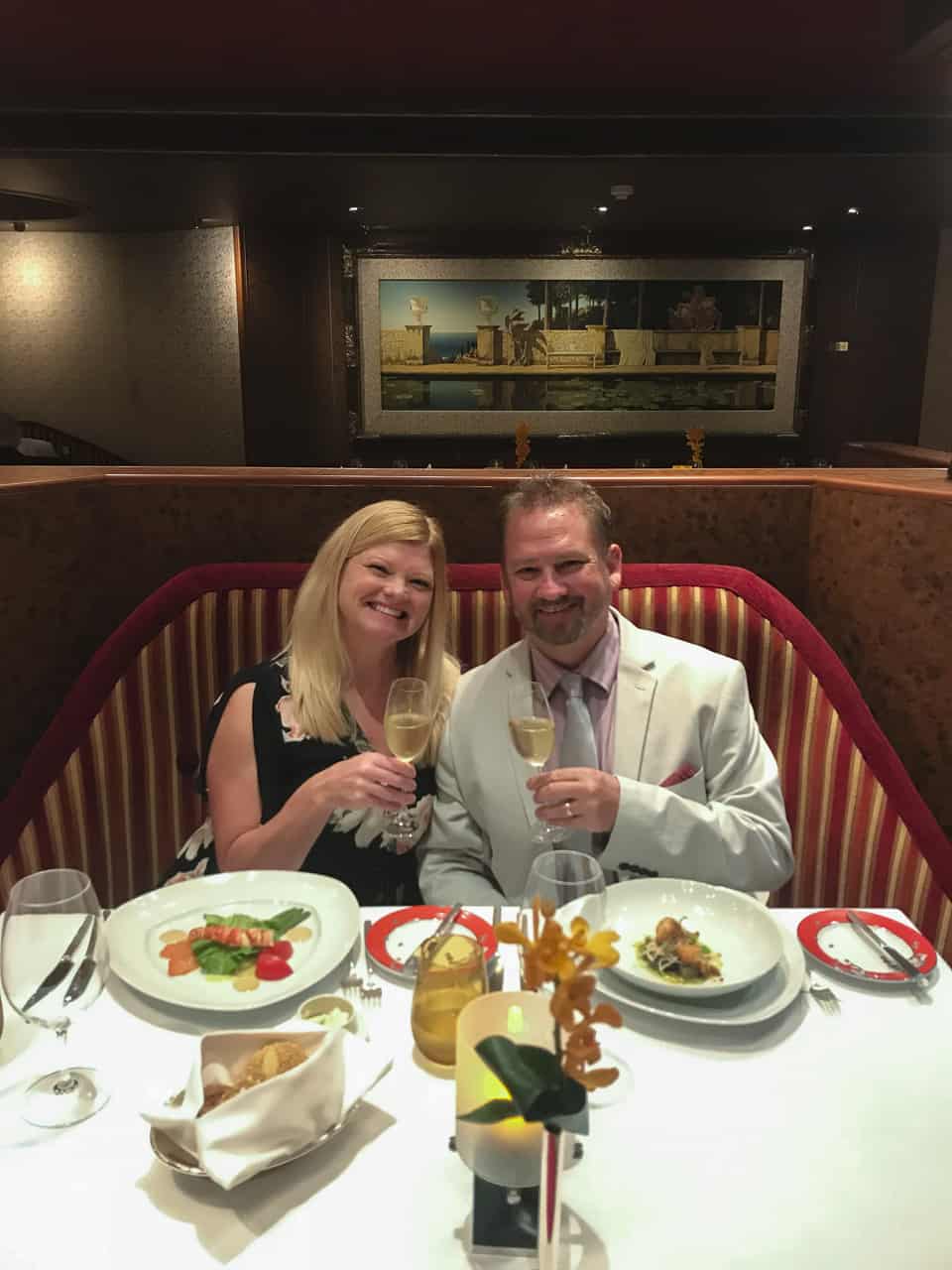 One of our favourite nights was in the Pinnacle Grill that was turned into and Evening at Le Cirque. They changed the curtains and menu to mimic the famous Le Cirque restaurant in Las Vegas.
Dave enjoyed a massive chateaubriand while I devoured fresh snapper.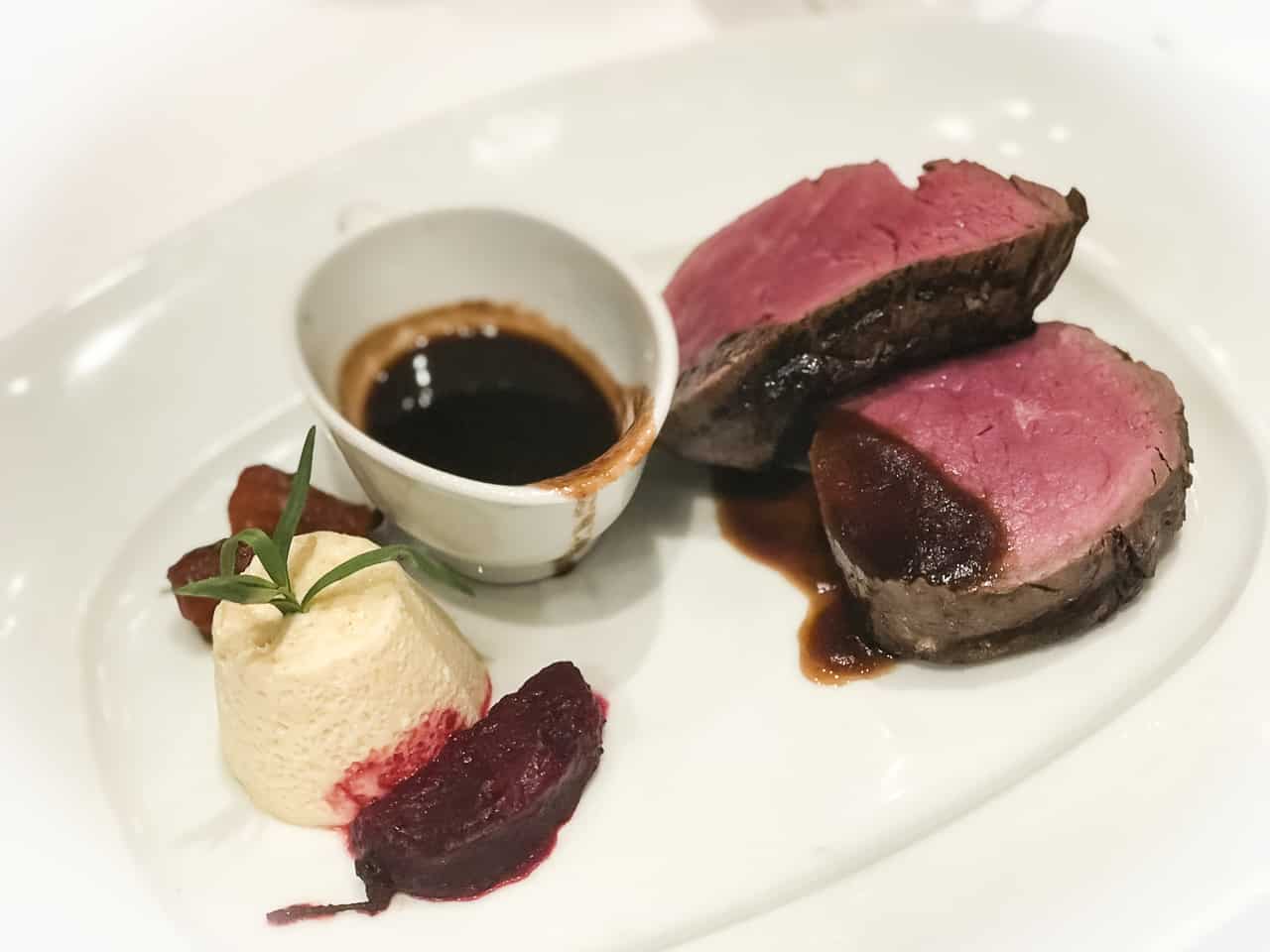 You must try their table side caesar salad where it is tossed right in front of you and ending with the chocolate souffle was divine.
Canaletto
Our other dinner preference was the Italian option of Canaletto.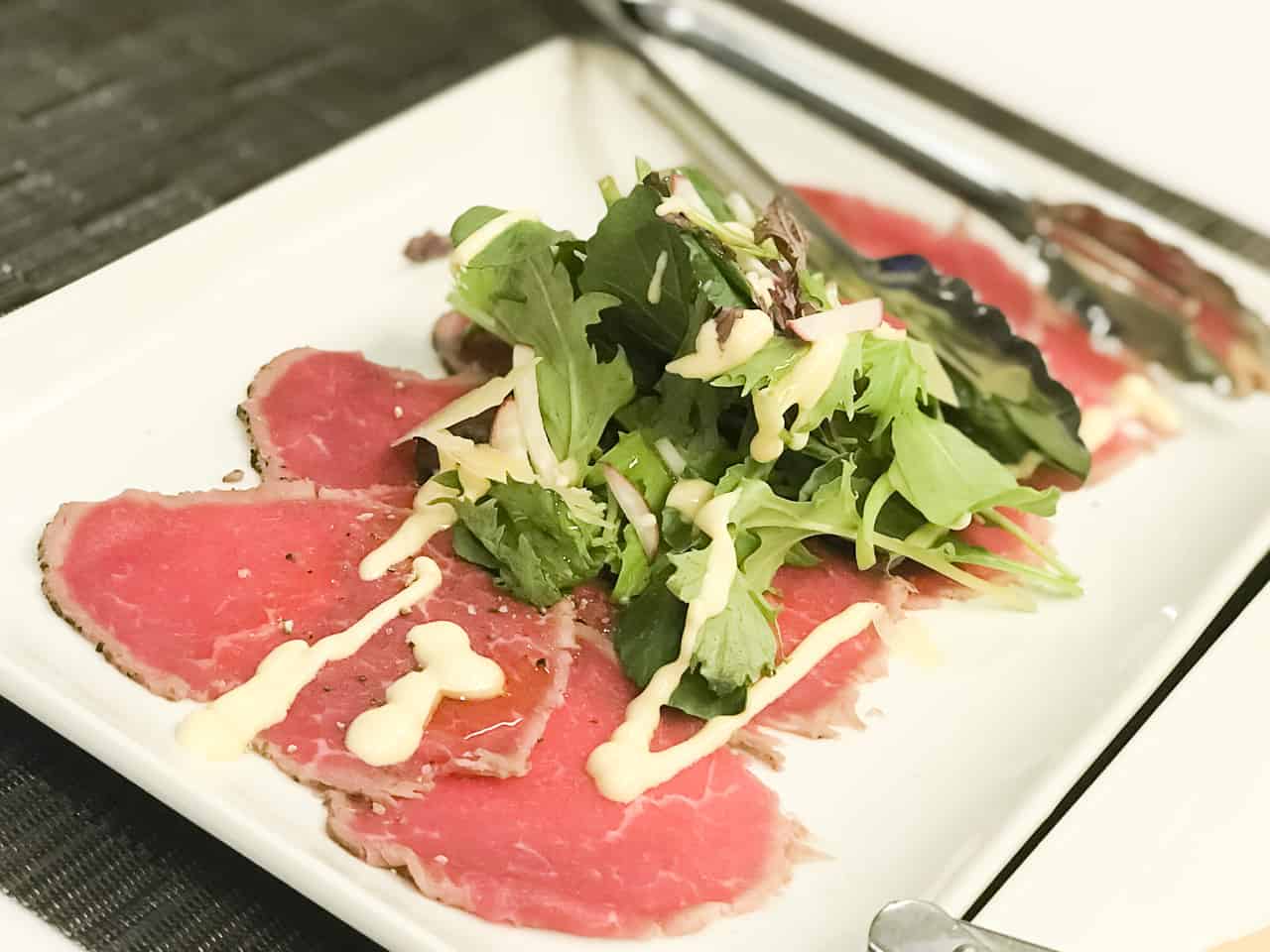 It was located directly beside the Lido Market (where passengers enjoy buffet breakfast, lunch or dinner) so it took us a few days to even notice it was there.
When we finally booked a reservation, they were so happy to see us and surprised us with tasters of so many other dishes on the menu other than the meals we ordered. We loved it so much, we went back two more times!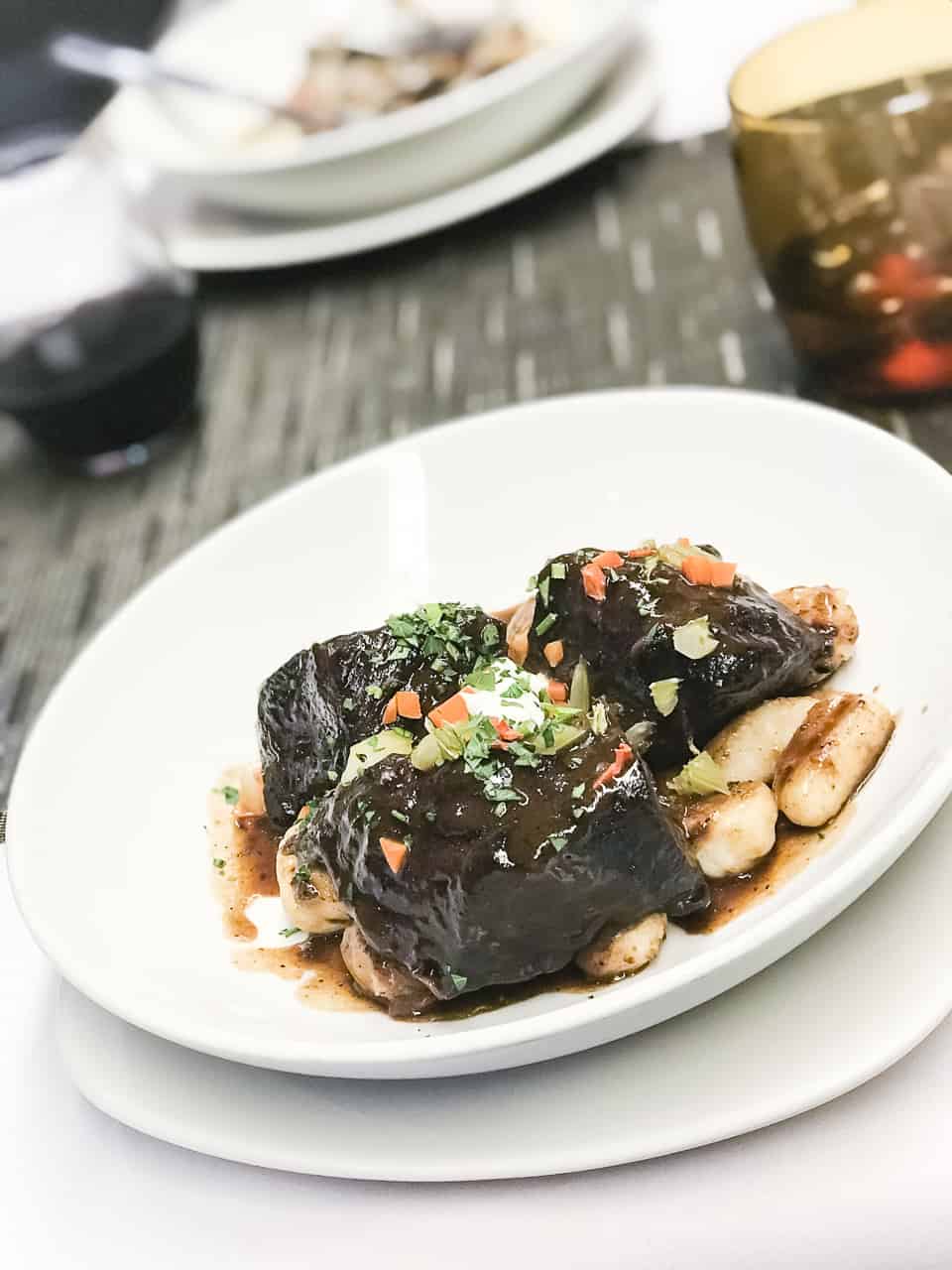 Dave savoured the potato gnocchi and I gushed over the ravioli. I am a sucker for cheese!
The beef carpaccio and parma ham sampler that they brought over for us to taste melted in our mouths.
It was at Canaletto that we celebrated our 21 wedding anniversary at Canaletto, so it will always hold a special place in our hearts!
8:45pm
Piano Bar
By far our favourite time of day was at the Piano Bar with Piano Man Jeff. When Dave and I first got on board, this room was dead.
Two people were sitting in chairs and when we walked in we asked Jeff if he minded if we sat around the piano with him. He responded, I prefer it actually. And the rest is history. Dave and I sat at the piano and when people saw the fun we were having they joined in. Soon the piano was packed and after a few more days, the room was packed every night.
I don't know if we should take credit, perhaps we just came in on a slow night, but the Piano Bar became the hottest spot on the ship between shows at the Queens Lounge. Dave and I actually preferred Jeff over many of the shows at the main auditorium and would stick around to listen to him instead.
One night we all kept him there until 11:30. Now that's dedication considering his shift usually ended by 10pm.
10:00 pm
The Queens Lounge
The entertainment changed nightly with new performers joining the ship for legs showing off their talent.
There were Broadway and West End performers from London, there were music stars from Australia and there were traditional groups from Hawaii, New Zealand and French Polynesia dancing for the crowd.
By far our favourite act was Katei. An amazing violinist from Korea and raised in Australia. He made that violin sing doing every genre from traditional to hard rock. When he performed the Game of Thrones theme with heavy distortion and the house band backing him up, the house went wild.
Dave and I often went to the late show that was usually quiet and half empty, but on the nights that Katei performed, the joint was jumping!
We followed him on Twitter and Instagram and were so excited when he followed us back. This guy is going to be a star. Keep an eye out for him in the near future.
11pm
Late Night Fun
Most of the ship was sound asleep by the time the final show at the Queen's Lounge ended, but there were still a hearty few that stayed up late to enjoy the entertainment.
Sometimes Dave and I made our way up to the Crows Nest where the lovely Mimi was always serving with a smile. She knew we loved our Hendrick's Gin and Tonic with a cucumber garnish (shout out to Jaume of Costa Brava Tourism for introducing us to the joys of gin) and gave us a look of "are you ready?"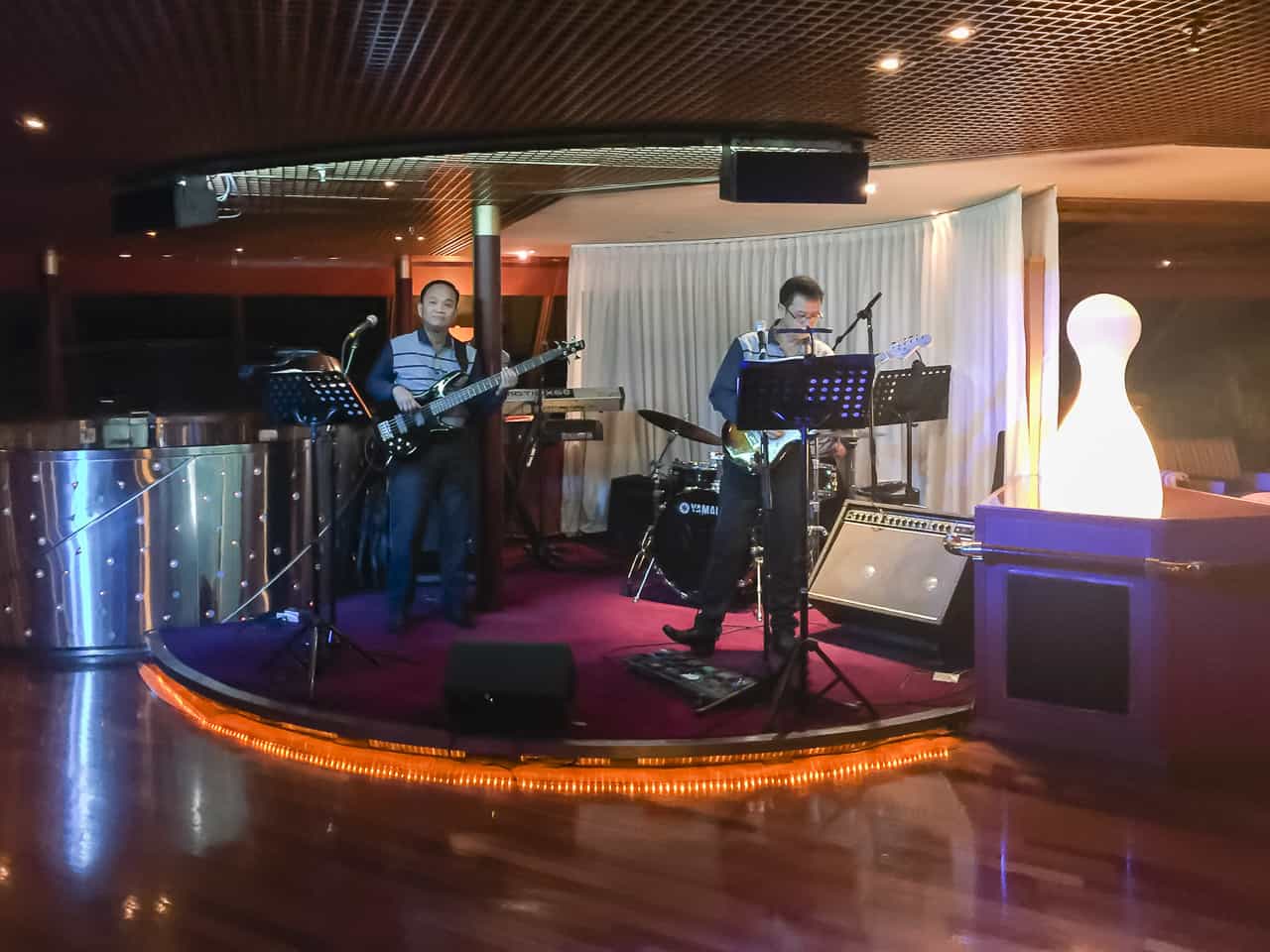 We then listed to the talented Station Band who were complete magicians. They sounded exactly like every artist they played. Their music was totally aimed at our demographic playing the pure rock collection of Eric Clapton, The Rolling Stones and Bob Marley. We usually just wanted to sit and listen, but the dancers upstairs wouldn't have it.
They scooped the two of us up and we tore up the place dancing all night long. If you want to get in shape on a cruise, just go up to the dance lounges and go nuts for a few songs. I was just as soaked dancing as I am in spin class each morning.
I was super impressed with their stamina, people that had 30 years on Dave and I could dance every song while we had to take a break every now and then to catch our breath and hydrate.
The end of the day
We had a blast on Holland America's M.S. Amsterdam. When people asked us how we were enjoying ourselves, we always looked at each other in shock and said, "I'm really loving this.." I don't know why we were shocked, we knew we wanted to take a break and relax for a few weeks and we knew a South Pacific cruise was just what we were looking for.
When Holland America contacted us months ago offering us any leg we wanted on their 80 day voyage, we jumped at the chance to go back to Australia, Fiji and New Zealand. We were excited to see American Samoa for the first time and we couldn't wait to go offline for a bit and have our own digital detox.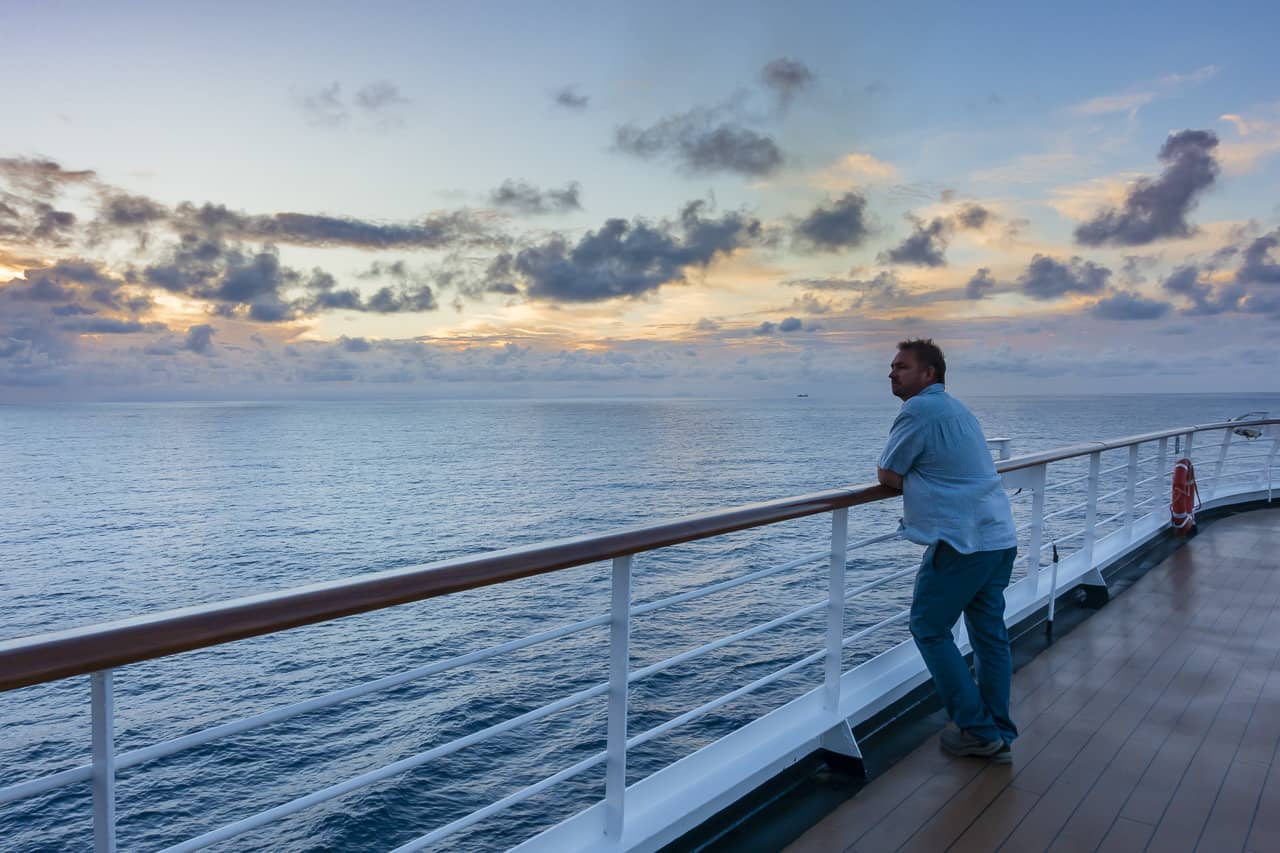 But we honestly didn't expect to enjoy it so much. After all, we have been traveling non stop since 2009. We like our travels, but we aren't often surprised by them.
We usually know what to expect, but this cruise caught us off guard.  We genuinely liked our fellow passengers and looked forward to meeting them in the lounge for a drink. We genuinely enjoyed talking to the staff and getting their life stories and we truly loved our daily routine.
We did a lot of fun stuff on our shore excursions and we'll be sharing that more in the coming days, but we wanted to start with our sea day experiences because even after doing some pretty spectacular shore excursions like flying over Oahu, sailing on an America's Cup winning yacht, exploring two private islands and visiting Hobbiton, it's the sea days and ship that stick with us when we talk about our time on our South Pacific Cruise. Now that's a surprise.
Our cruise was courtesy of Holland America. We had no obligations to write about or share our experience and all opinions are our own.
Read More:
European River Cruises – Tips for Non Cruisers