Looking for the perfect 3 Days in Paris Itinerary? Well, we have got it for you.
Having spent a lot of time in the city of lights we feel that three days in Paris gives you more than enough time to take in the top sites.
To help you in your planning we put together this Paris Itinerary to help you make the most out of your three days in the city of love.
Paris Itinerary
Day 1 – Isle di Cite and Notre Dame (Closed), Musée d'Orsay, Les Jardins du Luxembourg, The Catacombs, Montparnasse
Day 2 – Eiffel Tower, The Louvre Museum, Place de La Conrcorde & Champs D'Elysees, Arc De Triomphe
Day 3 – Pére Lachaise Cemetery, Montmartre, Sacre Coeur
Three Days in Paris
Paris itself can be an overwhelming city.
There are so many things to do and you need to make sure you take advantage of all the time-saving ideas you can.
When putting this itinerary together we wanted to give you a good balance of seeing the best of the city and not being run off your feet.
By taking advantage of Skip the Line tickets and Easily accessible transit you can have the Paris dream in 3 short days.
We usually base ourselves Montmartre as it is a great balance of budget and charm.
If you are looking for some more central areas make sure to check out our guide below.
Day 1 – Paris Itinerary
Here is an interactive map (Just click on it to open in another window) that will help you see what kind of distances you will be covering as well as where everything is in relation to each other.
Click here for the Interactive Map
This should make it easier to plan out you 3 Days in Paris Itinerary.
1. Ile de la Cite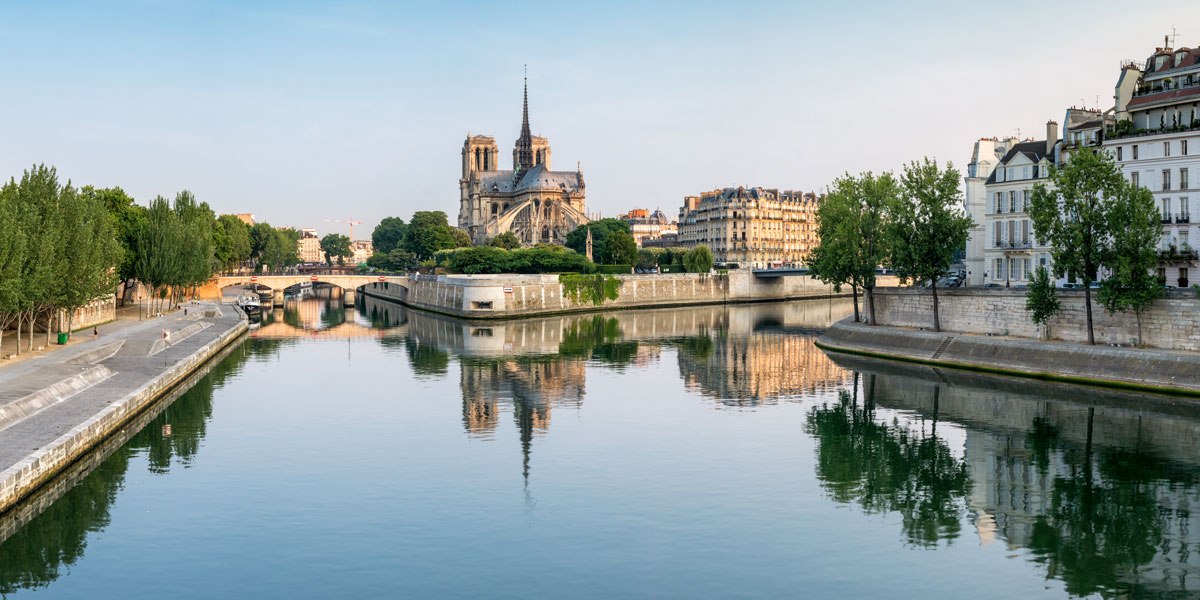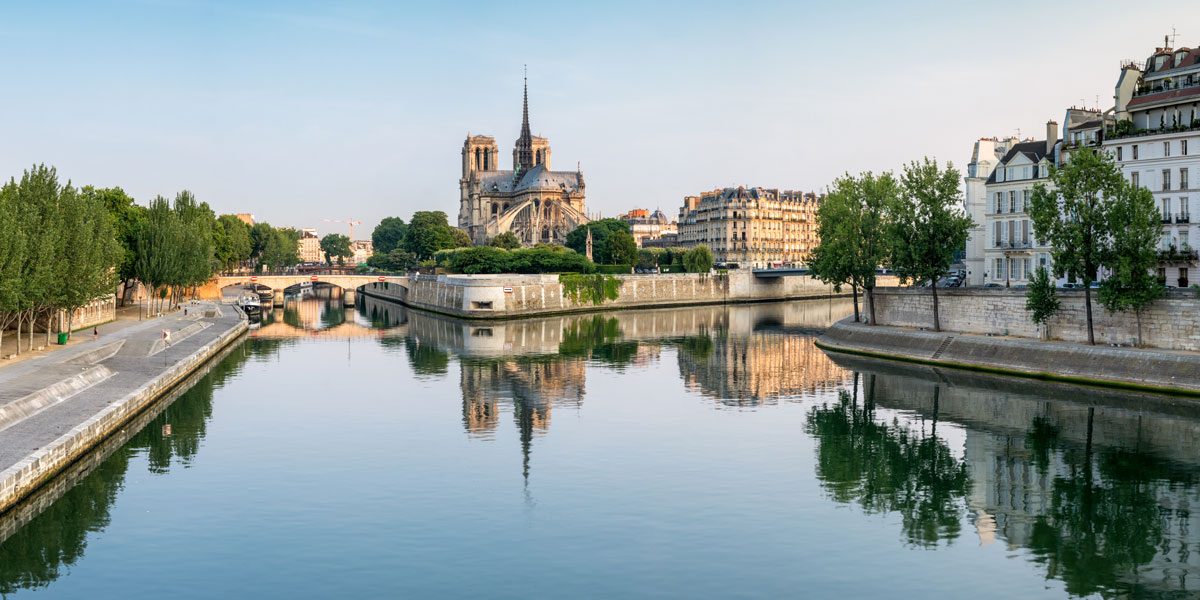 What better way to start your 3 Days in Paris than the Ile De La Cite. This is the historical heart of Paris and home to Notre Dame and Sainte Chapelle.
A great way to get around is the Hop on Hop Off bus. If you have purchased the Paris Pass it is included for 1 day. If you have not you can get a 1-3 day pass here.
Start at the Pont Neuf Bridge which is one of the oldest bridges in Paris and stroll along the Seine until you reach Notre Dame.
This is one of my favorite stretches of the river.
You will pass Sainte-Chapelle which houses an impressive display of stained glass but if time is of the essence I would suggest heading straight to Notre Dame Cathedral.
Metro Stop: Pont Neuf Metro Line 7
2. Notre Dame Cathedral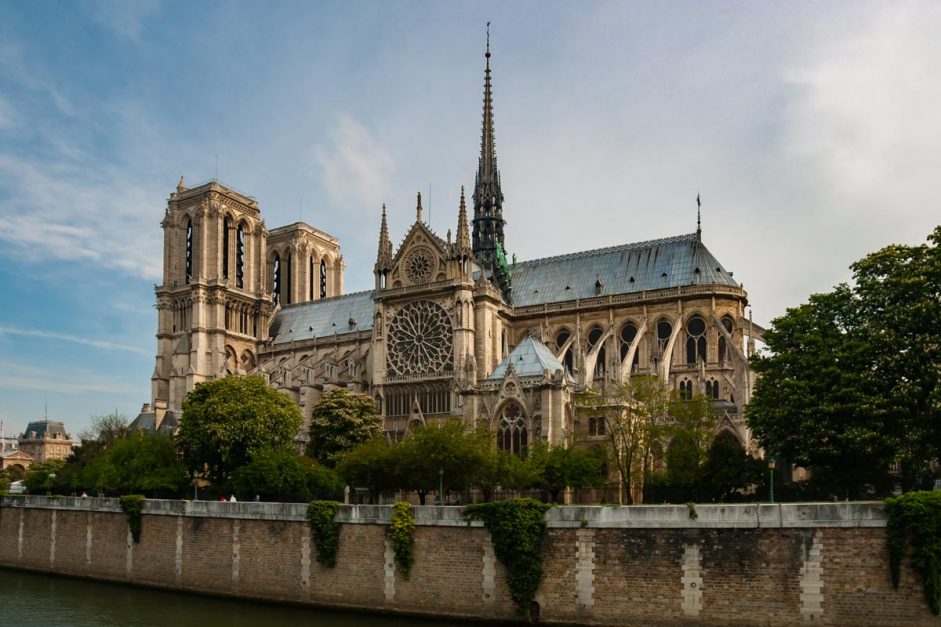 Please note that due to the tragic fire on April 16, 2019 Notre Dame is no longer open.
We will leave this section in the guide for when it does open back up!
Located in the center of Old Paris, Notre Dame is something you have to see when you are in Paris.
Constructed between the 13th century and 15th century the Cathedral it is da masterpiece inside and out.
Entry to Notre Dame is free, and it is less busy in the morning, but there can still be a long line for security.
We suggest heading to the back of Notre Dame for the most photogenic side. The light is great in the morning and there are not too many people around.
You can also go up to the top of the Cathedral which offers an incredible view of the city but you have to pay a fee (included in the Paris Pass).
Unless you want to stand in line or end up missing it for that day all together we suggest downloading the "Jefile" app which lets you book your time in advance.
It is available on the Apple App Store and on Google Play for Android Devices. Reservations start at 7:30 am each day so you can reserve your time while you are eating breakfast 🙂
Hours: 365 days a year from 8am to 6.45pm (7.15pm on Saturdays and Sundays).
Treasure every day from 9.30am to 6pm (these times may change during special occasions).

Cost: Free Access to the towers: 10 Euro, Free with the Paris Pass

Location: 4th Arondissment6 parvis Notre-Dame – Place Jean-Paul II – 75004 Paris

Metro Stop: Cite Line 4
3. Musée d'Orsay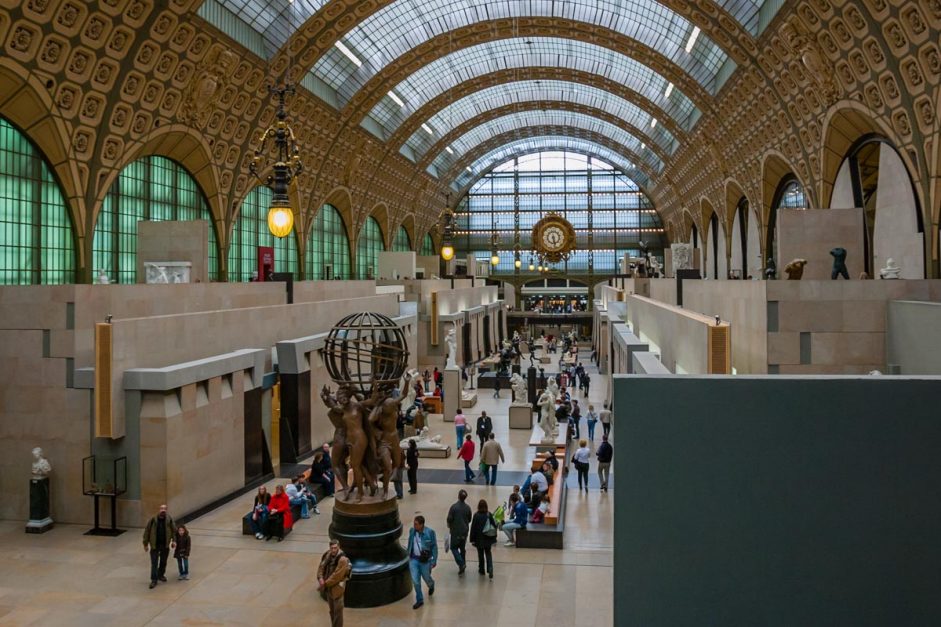 As you leave Notre Dame don't forget to stop and take in the beautiful view once more of the Cathedral. This is a classic view and worth a photo.
You can then begin your 30-minute stroll to the Musée d'Orsay, where you are transported into a book lovers paradise.
Left Bank of the Seine River
The famous left bank of the Seine is lined with booksellers that have plied their trade since the early 1900's. It is very "Paris".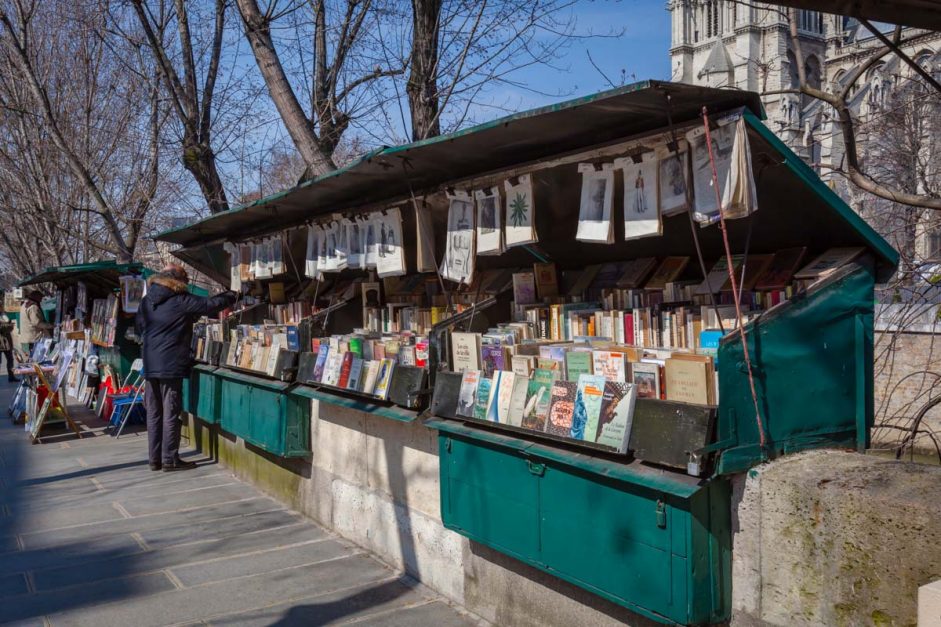 Now, we are self-proclaimed non-museum fans.
Usually, we find them a little boring and not very interesting. Enter the Musée d'Orsay.
This is by far one of the best museums I have ever been in.
It houses the largest collection of Impressionist art in the world and is housed in an old train station so the design is just beautiful.
If you are a lover of Manet, Monet, Degas, or any other Impressionist you will find some of their best works here.
We absolutely loved how this museum was set up and it may just have made us museum fans.
There is an entry fee to get into the Museum but if you have the Paris Pass it is included.
**Tip** The Museum is FREE on the first Sunday of every month and it is closed on Monday's.
Hours: Closed on Mondays. Open Tuesday to Sunday from 9:30am to 6pm. Open to 9:45pm on Thursdays.

Cost: Museum ticket + exhibition: €14

Location: 7th Arondissment 1 rue de la Légion d'Honneur – 75007 Paris

Metro Stop: Solferino, Green Line 12
4. Les Jardins du Luxembourg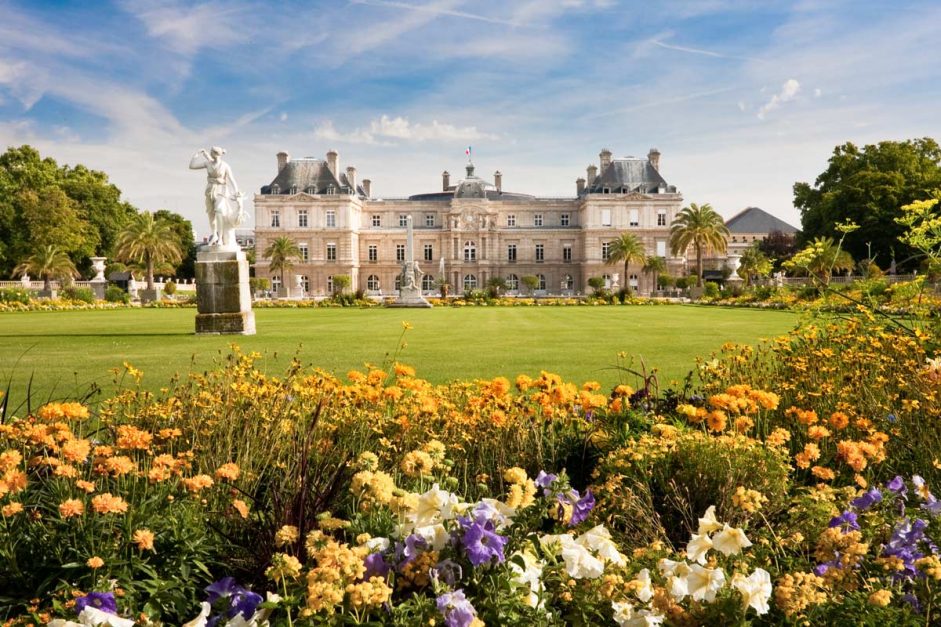 After you leave the Musée d'Orsay you can make your way towards the Catacombs and Montparnasse.
For those who love to walk and maybe are a little peckish, we suggest grabbing a baguette and some cheese and head to the south lawn of Jardins du Luxembourg for an afternoon picnic.
The gardens themselves are beautiful. They were created by Queen Marie de Medici in 1612 and span 25 hectares! That is a lot of land.
If you prefer to get there faster we suggest to either hop on the Metro at Musee D'Orsay and get off at Montparnasse (A metro Pass is included in your Paris Pass)
If you have purchased tickets for the Hop on Hop Off Bus that day you can get off at the Catacombs stop (Summer Route) or the Port Royal stop (Winter Route).
The Hop on Hop off Bus runs between 9:30 am and 7 pm.
That will get you close to the Catacombs, which is the next stop on today's agenda.
Just be aware that the Hop on Hop Off Bus has a Summer and Winter Route Map.
Check to make sure you are using the correct one.
Hours: Opens 7.30am and 8.15am, and closes between 4.30pm and 9.30pm according to the season.

Cost: Free

Location: 6th Arrondissement Rue de Médicis – Rue de Vaugirard – 75006 Paris

Metro Stop: Odean on the Yellow line 10 and on the Purple line 4.
5. The Catacombs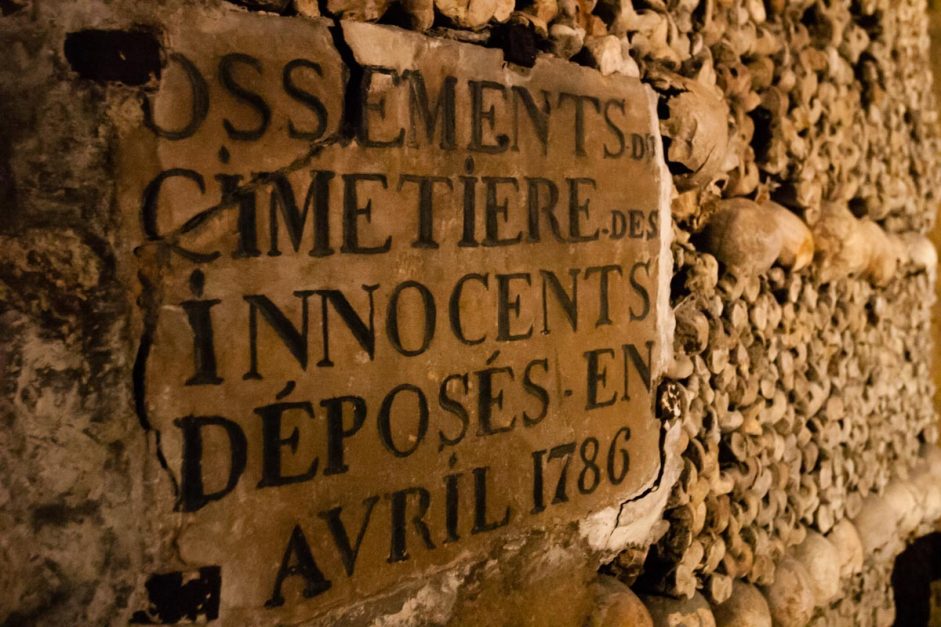 If you like a little adventure and don't mind being a little spooked than the Catacombs of Paris are for you.
Built back in the last 18th Century to house the bones of Paris's overrun cemeteries.
Now that may seem gross to you but the way they are stacked neatly and presented it is almost as if they are artwork rather than human bones.
Like they say "Everything looks like art in Paris".
We suggest taking a Catacombs Tour so you can get all the information that will allow you to appreciate this part of Paris.
If you want to read a detailed account of our time in the Catacombs make sure to check out Catacombs of Paris – Touring the Underground Labyrinth of Death
Hours: 10 am to 8:30 pm Tuesday to Sunday. Closed Mondays.

Cost: 13 Euro

Location: 14th Arrondissement1 avenue du colonel Henri Rol-Tanguy – 75014 Paris

Metro Stop: Denfert Rochereau stop, Green Line 6 and Purple line 4
6. Montparnasse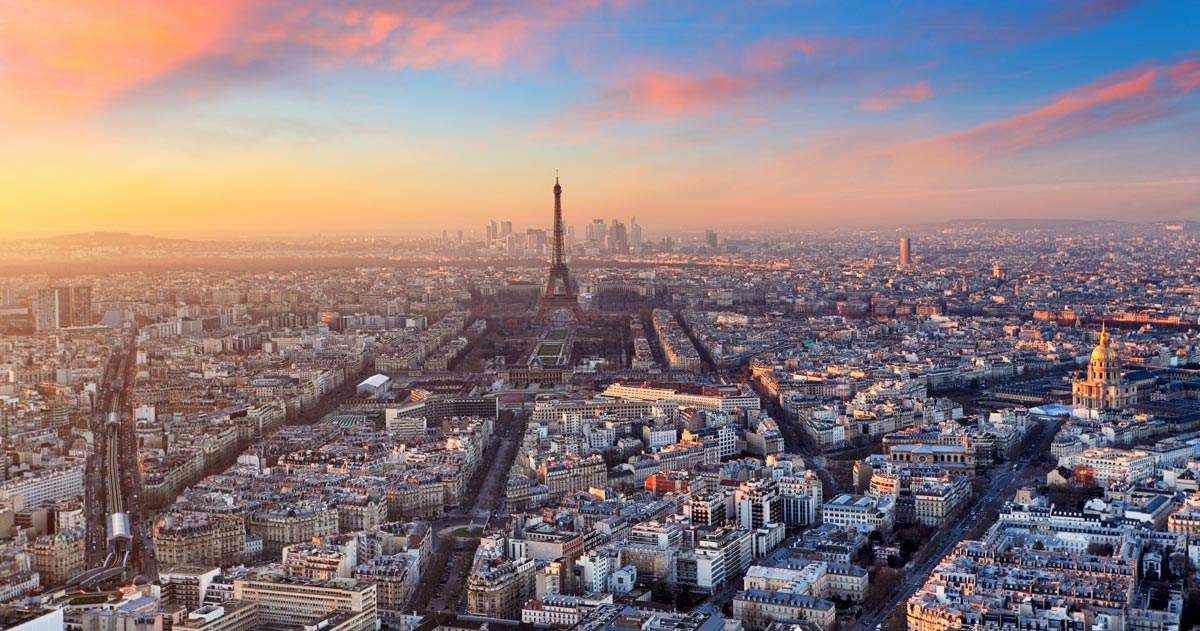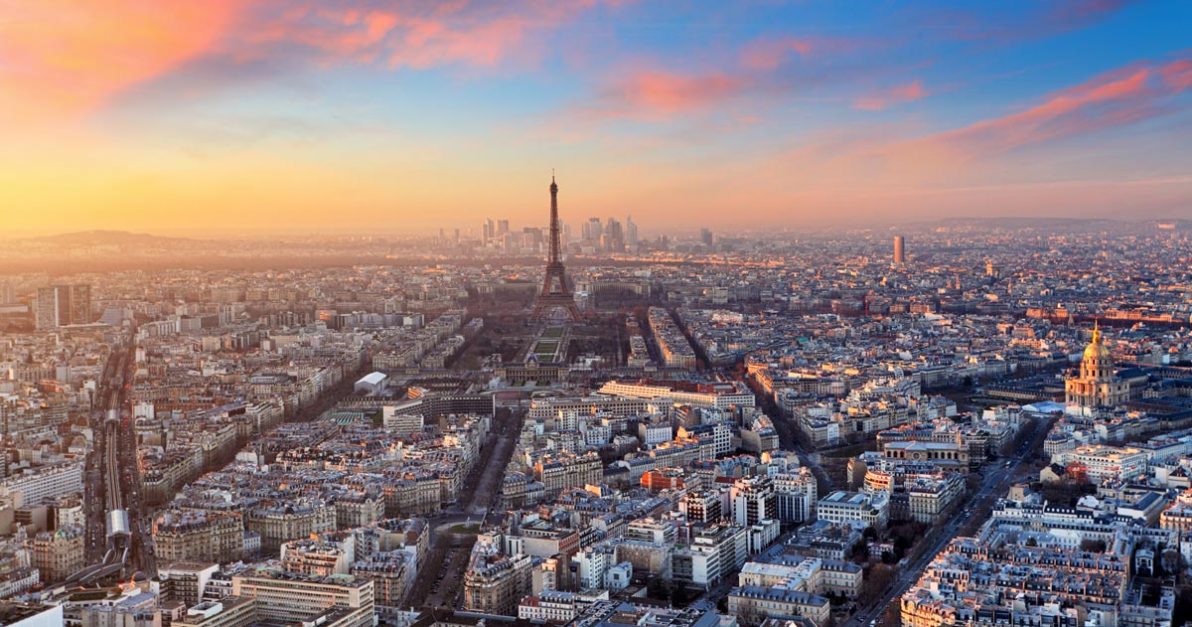 To finish off your evening sightseeing we recommend heading to Montparnasse.
This is definitely one of the best views of Paris and at sunset, it is even more impressive.
Head up the tower to the observation deck on the 56th floor. It is divided into 2 levels.
The lower level is completely glassed in. Great if it is a windy or chilly day and still a great view of the city.
But we suggest heading up to the terrace.
This has glass panels but there are a few openings that you can get the lens of your camera through.
Great for reflection-free shots. For all our photography friends this is good news.
You can also bring a tripod up there as well which is a big bonus in Paris.
For dinner, we suggest heading to the Latin Quarter and grabbing a Prix Fixe Meal.
This area is only a 20-minute walk and has a ton of charm and some amazing restaurants.
Hours: Summer: Monday to Sunday, 9.30am-11.30pm. Winter: Sunday to Thursday, 9.30am-10.30pm, Friday, Saturday and on the eve of public holidays, 9.30am-11pm

Cost: Adults: €18 ; students: €15 ; Children (4-11 years): €9.50. Day & Night Ticket (valid for 2 visits within 48 hours) : €23/adult ; €20/student ; €16/child.

Location: 15th Arrondissement Rue de l'Arrivée – 75015 Paris

Metro Stop: Montparnasse – Bienvenüe
Day 2 – Paris Itinerary
On the second day in Paris, we will visit some truly iconic landmarks of the city. These are all the places that you associate with Paris.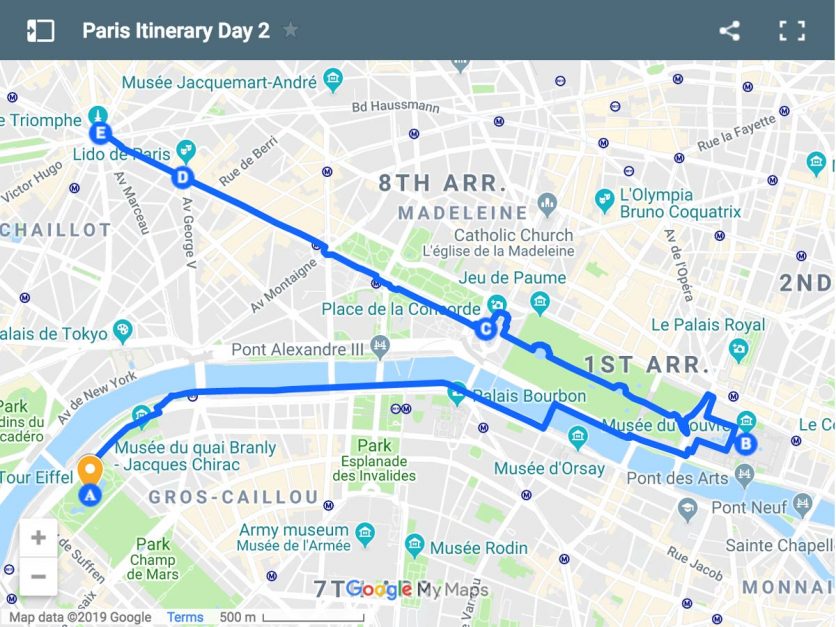 Click here to open the interactive map.
So get your camera ready as this is the "Classics" of Paris!
If you don't want to walk this you can jump on a Seine River Cruise to see most of it from the water.
7. Eiffel Tower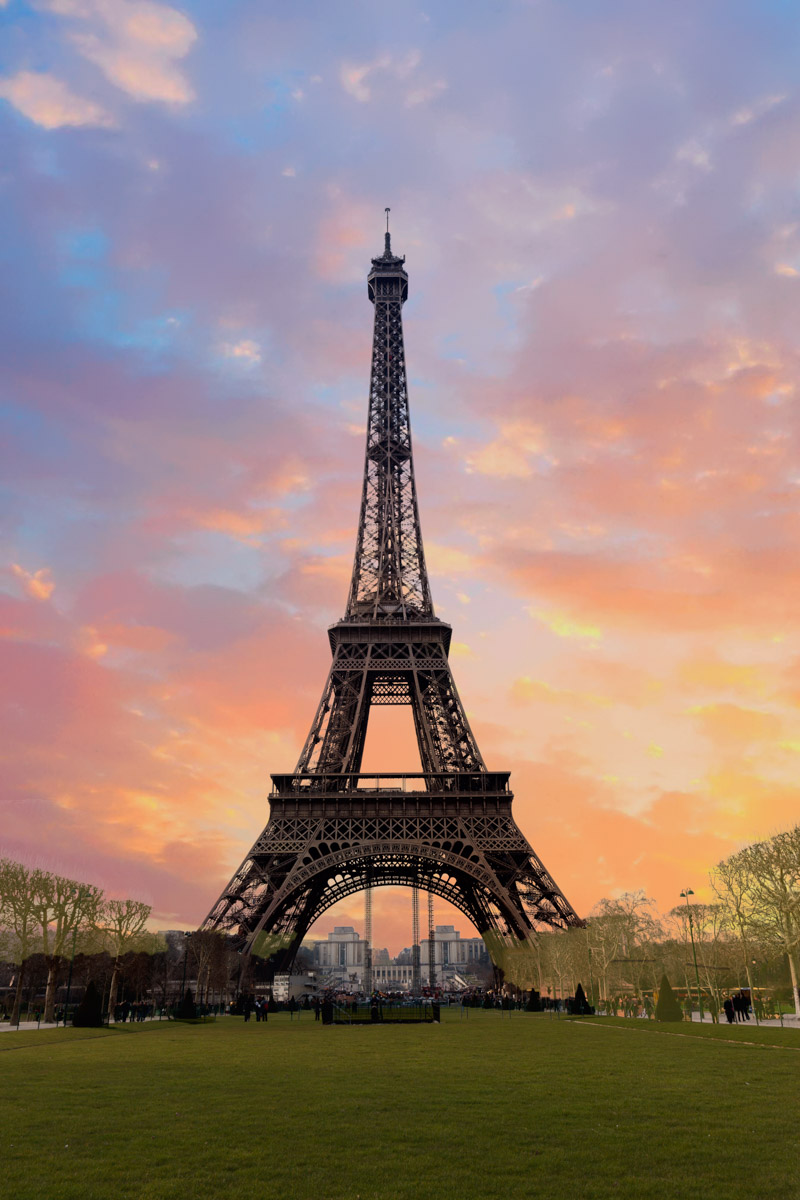 No trip to Paris would be complete without seeing its most famous landmark.
There is nothing like gazing up the center of the tower or catching the view from Trocadéro Gardens or the Champs de Mars.
Either way, you won't be disappointed.
Now, if you want to go up the Eiffel Tower (which I recommend if this is your first time in Paris) make sure you book your tickets in advance.
The view from the top is incredible and it gives a great sense of how the city is laid out.
The line up here can get extremely long and buying them beforehand allows you to skip that line.
You can book them at the official website or look for more Skip the Line options here.
If you can try and book them for the first time slot at 9:30 am.
*Hot Tip* If you book a tour to go up the Eiffel Tower you automatically skip the long line.
It is more expensive, but if you are on a time crunch it is worth every penny.
There is another way you can get up if you don't mind climbing a few stairs, 700 to be exact.
If you are feeling spry you can opt for the access to the second level y stairs. It is cheaper and there is almost never a long line for the stairs.
The only disadvantage is that you can't book these in advance.
You can only get them at the base of the tower on the day.
A good option if the summit access is sold out.
Hours: Lift access: every day 9.30am-11.45pm (9am-12.15am July-August) ; last entry 1 hour 45 minutes before closing.

Stair access: every day 9.30am-6.30pm (9am-12.45am July-August) ; last entry 45 minutes before closing.

Cost: Lift to the second floor: €16.30 Stairs to the Second Floor: €1o.20, Elevator to the top: €25.50, Stairs = Elevator to the top: €19.40

Location: 7th Arrondissement 5 avenue Anatole France – Champ de Mars – 75007 Paris

Metro Stop: Bir-Hakeim stop Line Green 6
8. The Louvre Museum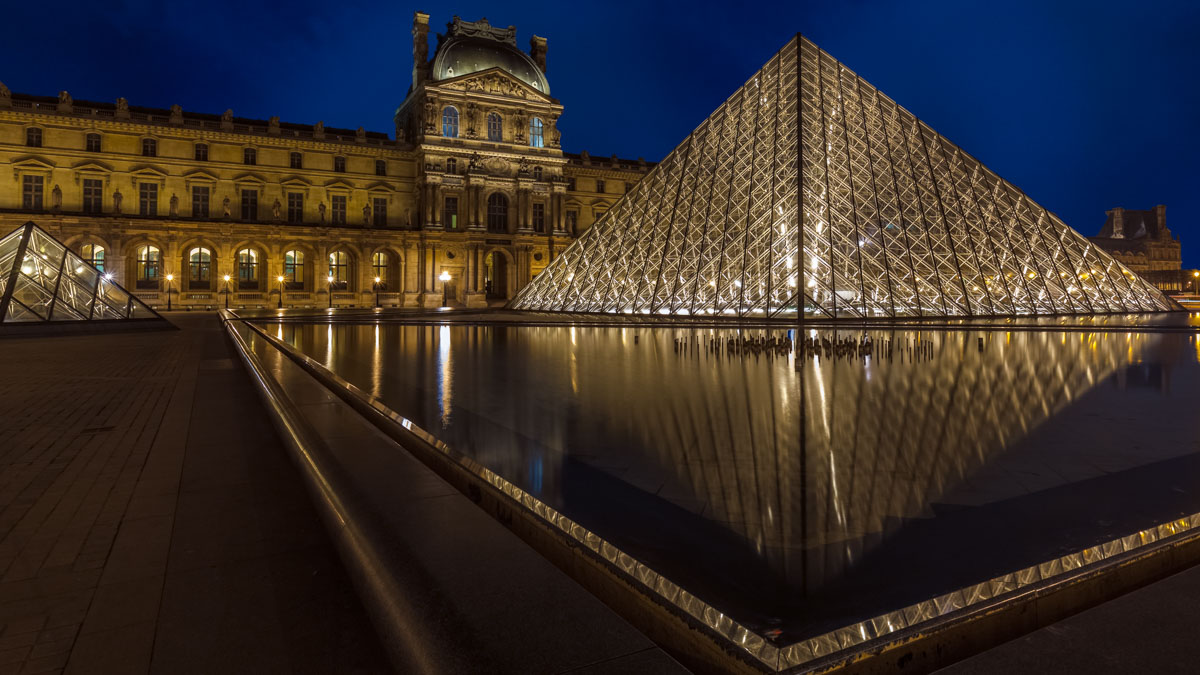 After a great morning at the Eiffel Tower make your way to Paris's second most popular landmark, The Louvre.
We originally left this off of the 3 Day Paris Itinerary because it is so huge and crowded.
But after our last visit, we decided to add it in because you can enjoy the highlights of the museum in just a couple of hours.
As we said above, we are not museum people but the Louvre is another exception.
It is much more than a museum, it is a journey through history via art.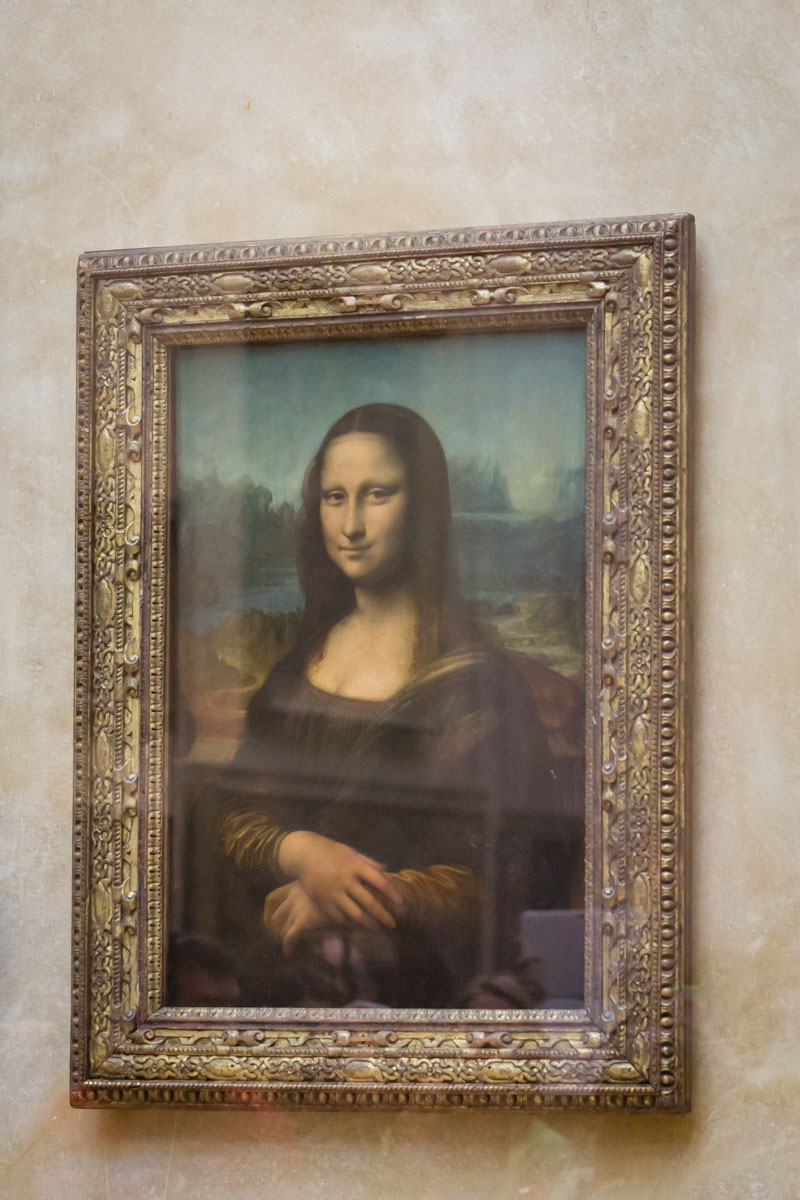 Here you will find famous works from The Venus de Milo and the Mona Lisa to the Psyche Revived by Cupids Kiss, there is something here for all kinds of art lovers.
Truthfully you could spend days here if you are an art lover.
Being the largest art museum in the world it is busy.
That is why we highly recommend getting The Paris City Pass or The Paris Museum Pass as these allow you to skip the line for tickets.
A big bonus, especially in the high season.
You still have to wait in line to get through security but that line often a lot shorter.
Don't forget to admire the outside from all angles as the Glass Pyramid (which is also the entrance) was built by I.M. Pei and is a great compliment to the original architecture of the Louvre.
For a photo with almost no people, return later at night.
The scene takes on a different feel and it is nearly devoid of people.
Hours: Monday, Thursday, Saturday and Sunday from 9 am to 5.45 pm. Wednesday and Friday 9:00 am to 9:45 pm.

Cost: €17

Location: 1st Arrondissement Pyramide du Louvre – 75001 Paris

Metro Stop: Palais Royal – Musée du Louvre, Yellow Line 1, Pink line 7.
9. Place de La Concorde & Champs D'Elysees
After a couple of hours of experiencing the Louvre head northwest towards the Champs D'Elysees.
Starting at the Tuileries Garden and ending at the Place de la Concorde this walk takes you through some of the most beautiful gardens in Paris and ends in a place steeped in French history.
The Place de la Concorde was created in 1772 and has the macabre designation of being the execution site during the French Revolution.
Some famous people who lost their head to the guillotine here were Louis XVI and Marie-Antoinette.
But today it is most recognized by the Luxor Obelisk which is 3300 years old and was erected in 1836.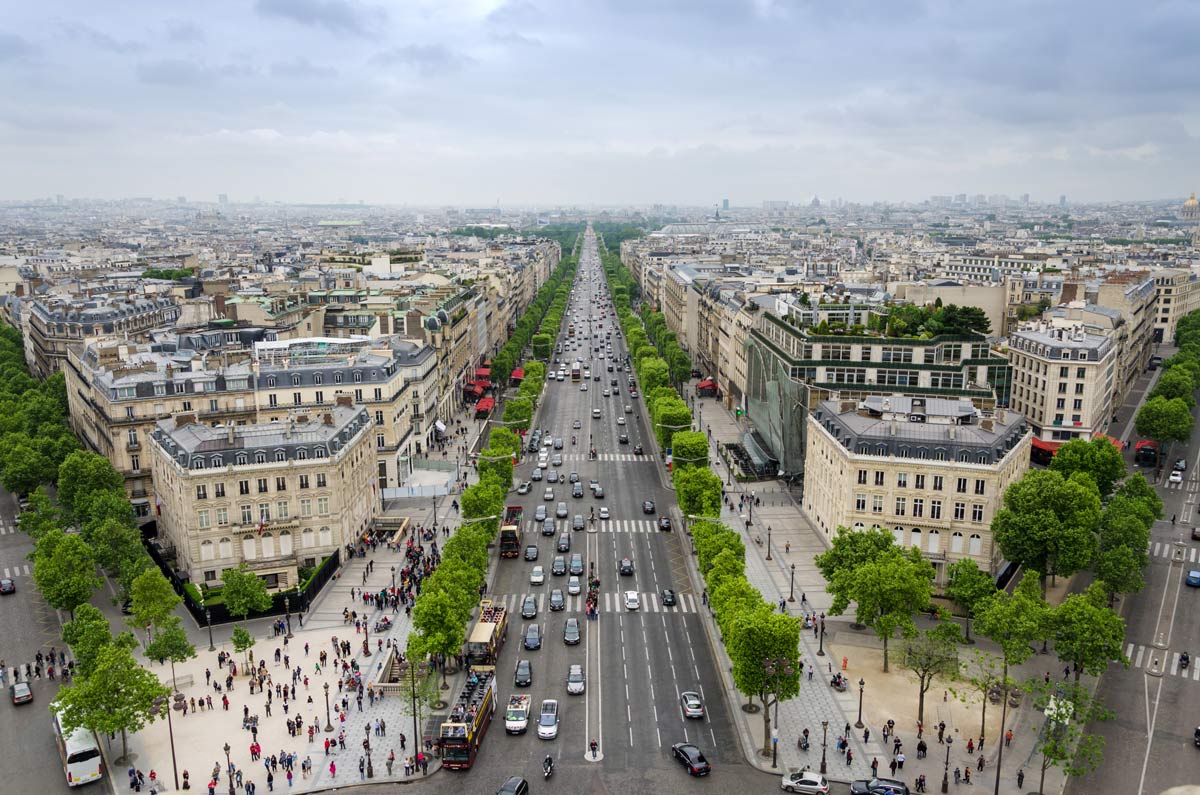 Continue northwest along the Jardins Des Champs D'Elysees and cross a busy roundabout (Exercise caution here, the traffic is crazy) to arrive at the Champs D'Elysees.
This is a relatively long walk so if you want to save time jump on the Metro at Place de la Concorde and get off at George V.
This will put you right in the middle of the Champs D'Elysees.
This is probably the most famous street in Paris.
Boutiques and bistros line the wide lanes and street performers shine on the sidewalks of the boulevard.
It is a walk you won't forget.
Take your time to explore the shops and splurge on a café au lait at a sidewalk restaurant.
Location: 8th Arrondissement Place de la Concorde – 75008 Paris

Metro Stop: Concorde stop Yellow Line 1, Purple Line 8, Green Line 12. Champs D'Elysees: George V stop Yellow Line 1
10. Arc de Triomphe
At the end of the Champs D'Elysees is the famous Arc de Triomphe.
I see this every year on television as it marks the finish line of the Tour de France.
As you walk towards the Arc Du Triomphe you can witness the worlds largest roundabout from the inside.
Pay your respects to the unknown soldier and marvel and the grandness of this impressive monument.
I highly recommend you go up to the top of the Arc for another great view of the city.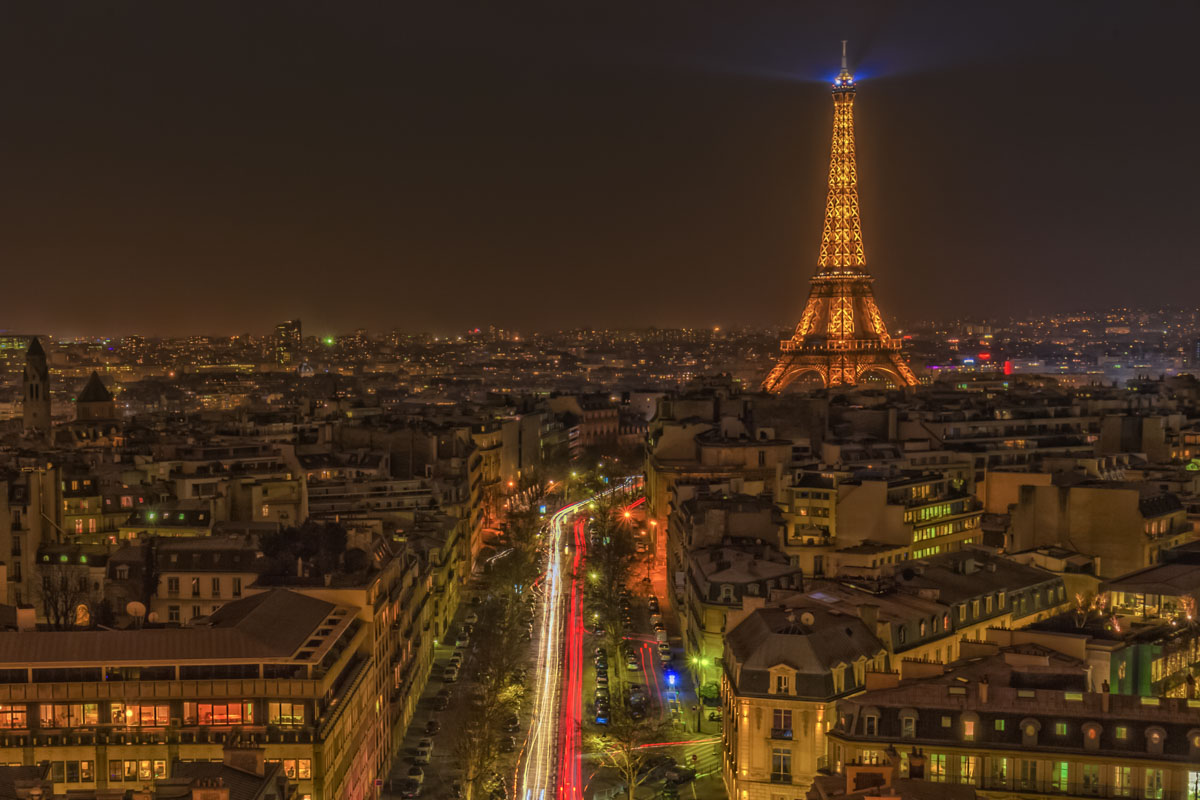 The streets span out from one of the worlds larges roundabouts and you have an incredible view of the Eifell Tower.
If you have the Paris Pass you get free entry and you can skip the line.
Note: Make sure to use one of the underpasses to cross the street. The traffic is crazy.
Also, If you are looking for a cool view of the Arc de Triomphe head to the crosswalk on the Northwest side of the Arc on Avenue de la Grande Armee. You can stop in the middle and grab a great shot!
Hours: From 1 April to 30 September: 10am-11pm. From 1 October to 31 March: 10am-10:30pm.

Cost: €12

Location: 8th Arrondissement Place Charles de Gaulle – 75008 Paris

Metro Stop: Charles de Gaulle – Étoile stop Lines 1, 2 and 6
Day 3 – Paris Itinerary
The final day of your 3 Days in Paris Itinerary takes you to explore one of the worlds most famous cemeteries as well as the artist center of the city.
These are located a little out of the main center but well worth visiting.
11.Père Lachaise Cemetery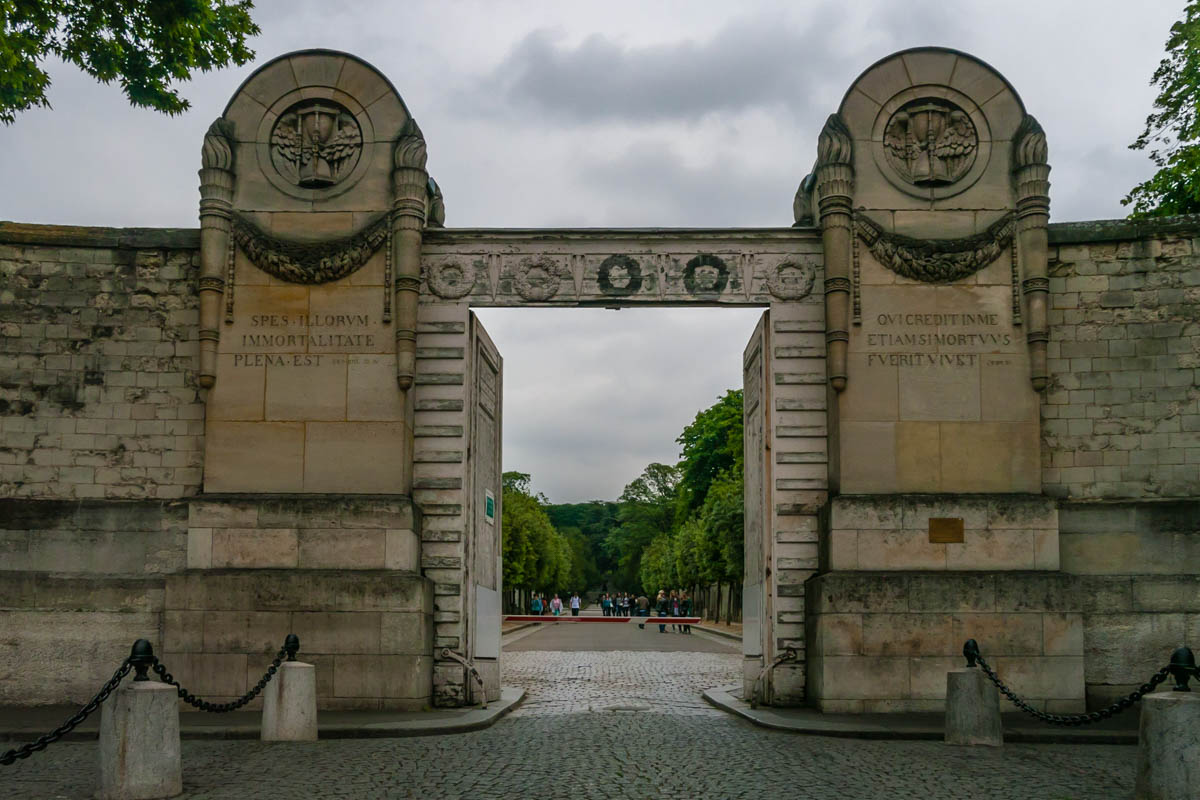 Located in the 20th Arrondissement, the Père Lachaise Cemetery is home to 800,000 souls and some of the most famous plots in the world.
Jim Morrison of the Doors, Chopin, Moliere, Edith Piaf, Rossini, and Oscar Wilde are all buried here.
There is a reason this is the most visited cemetery in France!
Even if you are not interested in the famous residents of Cimetiere Pere la Chaise you can still visit and be in awe of the artwork on display at this museum of the dead.
If you want to get more detailed information on the Cemetary we suggest you book a guided tour which gives you some great details of this area of Paris.
Tip: Make sure to get yourself a map.
You can get one at the Cemetery by the main entrance at Avenue Principal or you can download one here.
Hours: November to mid-March from 8am to 5.30pm Monday to Friday, from 8.30am to 5.30pm on Saturday and from 9am to 5.30pm on Sundays and holidays.

Mid-March to October: 8am to 6pm Monday to Friday, 8.30am to 6pm on Saturday and 9am to 6pm on Sundays and holidays.

Cost: Free

Location: 20th Arondissment 8 boulevard de Ménilmontant – 75020 Paris

Metro Stop: Pere Lachaise Line 1 and 2
12. Montmartre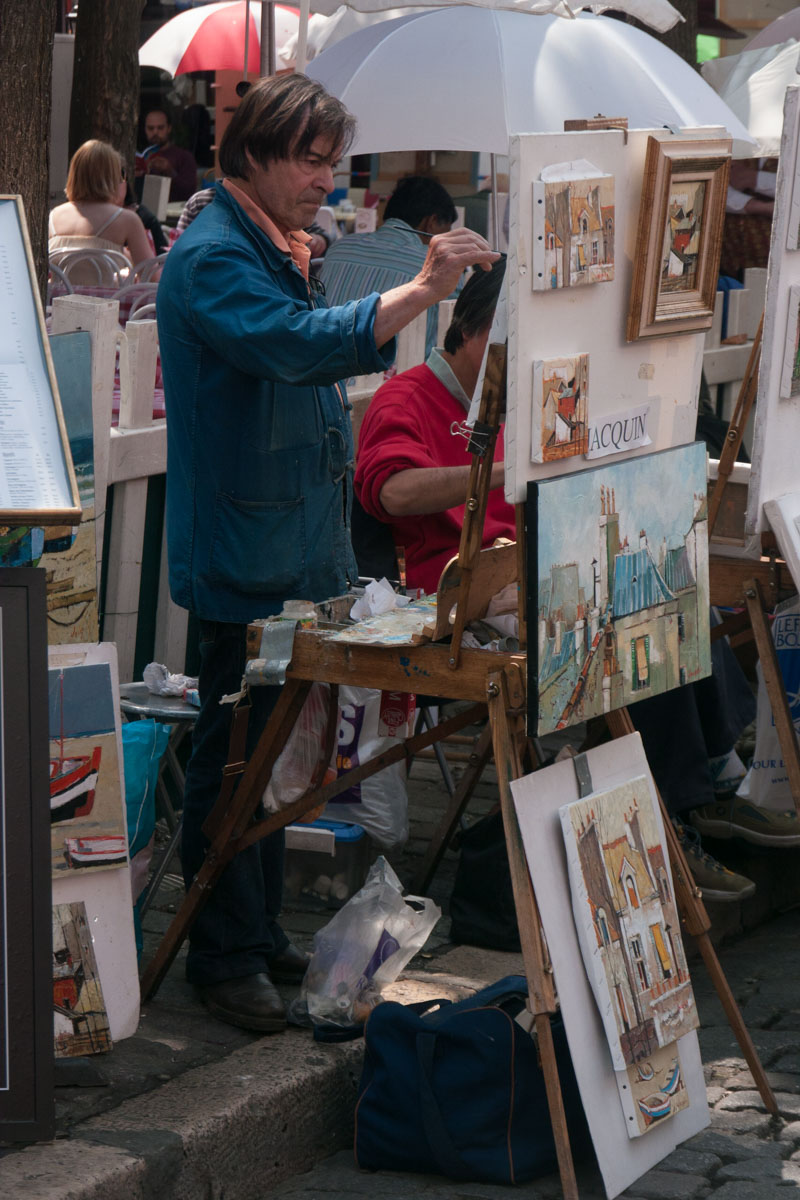 Jump on the Metro and head to the Montmartre area.
This is located in the 18th Arrondissement and is one of our favorite areas in Paris.
Not only to stay but to spend an afternoon.
Start your afternoon with a leisurely lunch at Place du Tertre and admire all the artists who display there works daily.
After lunch stroll the streets of Montmartre and see where Dali, Picasso, and Renoir once lived and worked.
You can visit the Montmartre or Dali Museum, both of which are very interesting.
13. Sacre Coeur
But before you leave this area you must make your way to Sacre Coeur.
This Basilica which is situated on the highest point in Paris is a must see. Standing on the steps you feel as if you can see all of Paris.
If you are looking for an even higher view you can climb up the 300 steps to the top of the Dome (there is a small fee for this).
The view is spectacular.
After viewing the sunset from the steps of the Basilica you can finish off your day by grabbing dinner in the Montmartre area or if you are looking for something a little more daring, take in a show at the Moulin Rouge.
Sacre Coeur Hours: The basilica is open everyday from 6am to 10.30pm (last entry at 10.15pm for visitors).
The dome (access from the left side of the basilica) : 8.30am-8pm from May to September; 9am-5pm from October to April.
Cost: Free to go inside and Fee to access the Dome. See the official website for details.

Location: 18th Arrondissement Parvis du Sacré-Coeur – 35 rue du Chevalier de la Barre – 75018 Paris

Metro Stop: Anvers Stop on Line 2 then walk up the stairs or take the funicular which costs the same as Metro ticket and is free with your Paris Pass.
You did it!
Believe it or not, the main attractions and sites of Paris can be seen in three short days.
If you plan your route well and take the metro or bus where needed, you can see a lot of Paris' best sites in a short amount of time.
Paris is a large city, but its main tourist sites are very close to one another.
To visit museums and really take in the culture and vibe of the city, you will need far more than 3 days, but to see its highlights and its most famous sites, you can do it.
You will just need plenty of caffeine and luckily Paris has a lot of that.
Paris Itinerary Resources:
Before You Go
Where to Stay in Paris
We have an in depth guide on where to stay in Paris breaking down each of the neighborhoods below.
You can go directly to the post, or click on each to see them individually
Our #1 Money Saving Tip in Paris
The best way that you can save money and see all of the sites is to get yourself a Paris Pass.
You can get it for 2-6 days and it includes all of these and more:
Free entry to more than 60 top attractions
Free travel on the metro
A 1-day hop-on, hop-off bus tour ticket
A guidebook in 6 languages
Skip-the-line entrance to many of the sights, like Centre Pompidou (Modern Art), Arc de Triomphe, Louvre Museum, and more.
Bateaux Parisiens River Cruise
Wine Tasting – O Chateau Day Trips
With only having a short amount of time this will help you get around quickly and skip the line at a bunch of places. Definitely worth it.
Getting Around Paris
The city is easy to get around so don't stress too much about choosing a hotel near your favorite monument or museum.
As we said, We like to base ourselves in Montmartre but there are plenty of other accommodations around the city.
We wrote a whole post on Where to Stay in Paris broken down by neighbourhoods.
The Metro is affordable and easy to navigate. When you arrive in Paris, you can easily pick up a pass and travel is easy.
**Please Note** If you opt for the Paris Pass the Metro is included from zones 1-3!
A five-day pass in zones 1-3 is only €37,50.
If you want to travel further, you can get a pass for zones 1 to 5: travels in Paris, the suburbs Orly/CDG airports, Disneyland and Versailles start at €24.50 for a one day pass.You can pre-order your tickets online and have them delivered to your home as well.
Depending on which zones you select, Paris Transport allows you to travel on: metro lines, RER lines (RATP and SNCF), Ile-de-France bus lines (RATP and OPTILE), except those circulating on Jetbus, Allobus Roissy CDG, tourist excursion and Air France networks, Tramway lines and the Montmartre funicular.
The Hop on Hop off Bus is another option. If you get the Paris Pass the Hop on Hop off bus is included for 1 day.
If you feel you want to use it more than that or decide against the Paris Pass you can book your 1-3 day pass here.
Getting to and from the Airport: We recommend taking either a private transfer or shuttle bus. Or you can opt to take an Uber.
The shuttle bus will cost you about $21 USD per person, The Private Transfer will cost about $40 USD return and an Uber will run you a minimum of 50 Euros.
Best Time to Visit Paris
We have visited Paris at all times of the year and if you are prepared for the weather, you can really enjoy the city at any time.
Summertime in Paris is a dream for weather but it is crowded so expect lines.
High season for traveling to Paris is June to August.
The weather is warm and sunny, but it is also high season so you will have crowds and higher prices at hotels.
September/October are still great times to visit Paris. The weather is good and the prices are a bit lower as it is getting into shoulder season.
We've visited Paris in springtime and it is cheaper to visit, but you also will have rain so pack an umbrella and raincoat.
Don't forget waterproof shoes if traveling in spring and winter
back to top
Did you enjoy this post? Why not Pin it on Pinterest?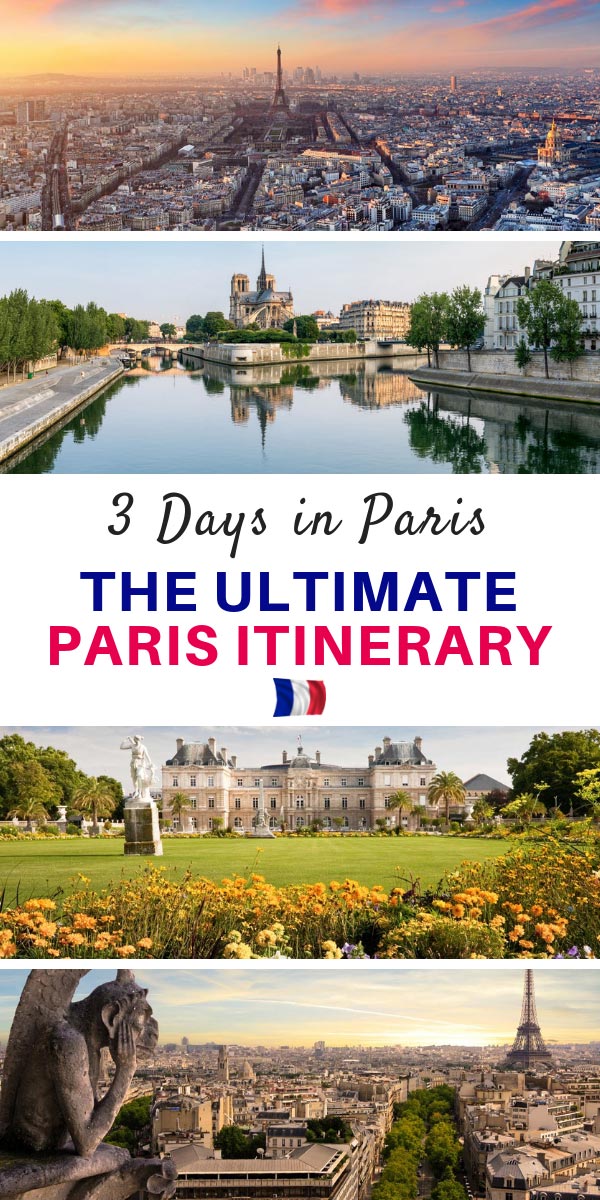 Read More:
Where to Stay in Paris- A Guide to the best Neighbourhoods
Paris Closures, when to Avoid Museum and Attractions
How to Visit Paris on a Budget – 20 Tips to Make the Most of Your Stay