Paris is definitely one of our favorite cities in Europe. With sights like the Louvre, Notre Dame and the Eiffel Tower it is easy to see why. But Paris can also be expensive.
So, to help ease the pain in your pocketbook we have highlighted 24 Free Things to Do in Paris.
Why listen to us? Well, after visiting Paris 6 times and visiting all of the major sites we looked for things that we could do that would stretch our imagination and budget.
What we came to realize that you can have so much fun without spending a lot of money.
What Can You Do in Paris for Free
First, let's get a few of the most common questions that we get answered right away,
Now that we have answered those questions let's get right into what you can do in Paris for free!
Free Things in Paris
1. Museums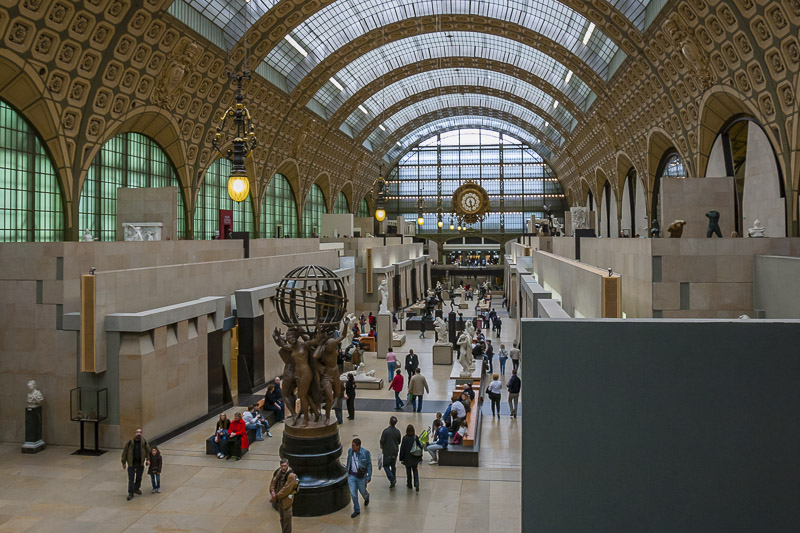 Paris is known for its art and history and that is for good reason.
With incredible places like the Louvre and the Musee D' Orsay, you have to take advantage of seeing these while you are there.
But how can I visit these museums if I am on a budget and not under 25 years of age?
If you don't fit into the "Under 25 EU Citizen" camp then I would recommend planning your visit around the first Sunday of any month.
Museums that open their doors for free on the first Sunday of each month:
The Louvre
Musee D'Orsay
Centre Pompidou
Quaiai Branly – Jacques Chirac
Musée Rodin
Musée Picasso
That means you can visit Paris' most famous museums for FREE if you plan for the right time of the month.
Please be aware that many museums are closed on Mondays or Tuesdays.
For a list of Museum and attractions opening, an closing times click here.
2. City Museums
One of the many things that we learned on our frequent visits to Paris is that there is some great art in the City Museums to visit
The good news is that entry to these museums is free all year round.
That's right, just look for the coat of arms above the door, which indicates it is a city museum and you don't have to pay anything.
This is one of the many things I love about Paris.
They make it accessible to everyone no matter what your budget is.
Other permanent collections that you can visit for free are:
The Musée d'Art Moderne de la Ville de Paris
Musée de la Vie Romantique
Musée Carnavalet
Victor Hugo's House – Haute Ville
All city museums have free entry year round. There are way too many free museums to list, but the Official Paris Website has a complete breakdown of free Paris museums here.
3. Explore the famous graves in Cimetiere du Père Lachaise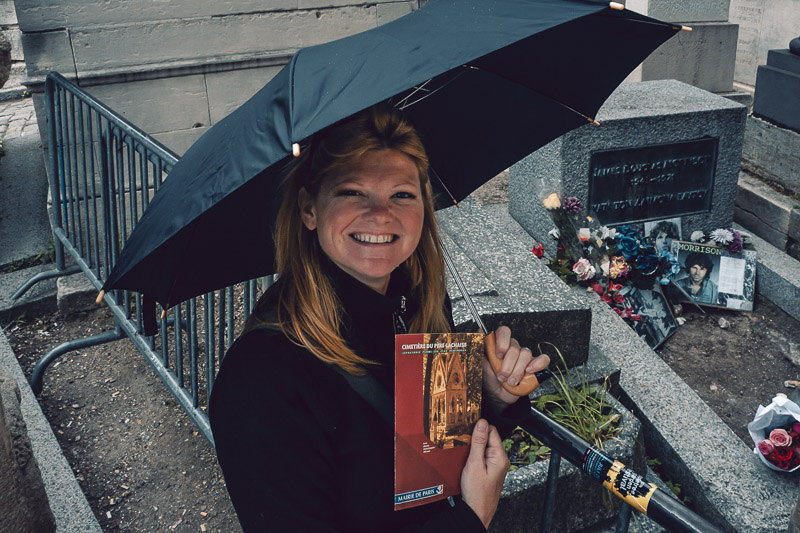 The Cemeteries of Paris are works of art and they are all free to visit.
The Cimetiere du Père Lachaise is one of the most famous cemeteries in the world and is the resting place of Jim Morrison, Oscar Wilde, and Edith Piaf.
While some might think it macabre to visit a cemetery, I do not. The headstones are a work of art and a tribute to those who have since passed.
We have visited cemeteries in other cities like New Orleans and have always appreciated the artistry that goes into creating these beautiful headstones and crypts.
4. Visit the Residents of Cimetiere de Montmartre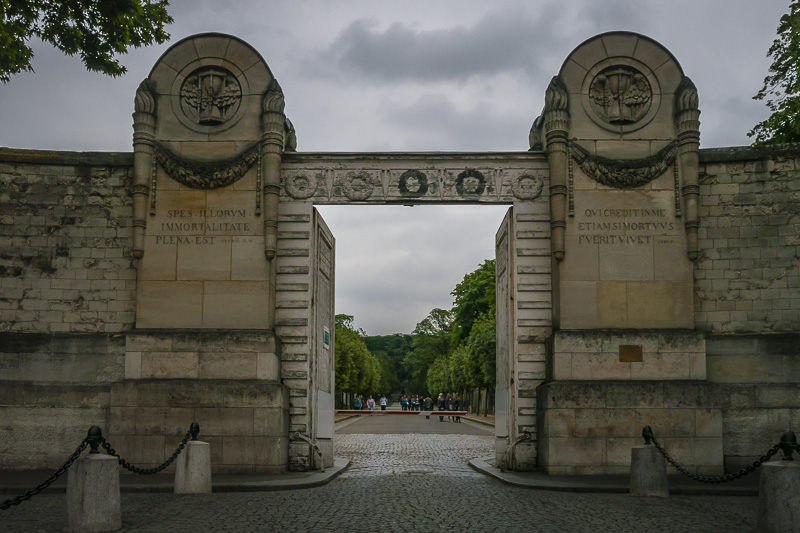 The Cimetiere de Montmartre dates back to 1798 and is the famous resting place of Alexandre Dumas and Edgar Degas.
Montmartre is an interesting and artsy neighborhood to walk around.
If you are looking for a little more background on the Montmartre area we recommend spending a few dollars on a tour.
These cemeteries are both free to enter and very interesting.
5. The Montparnasse Cemetery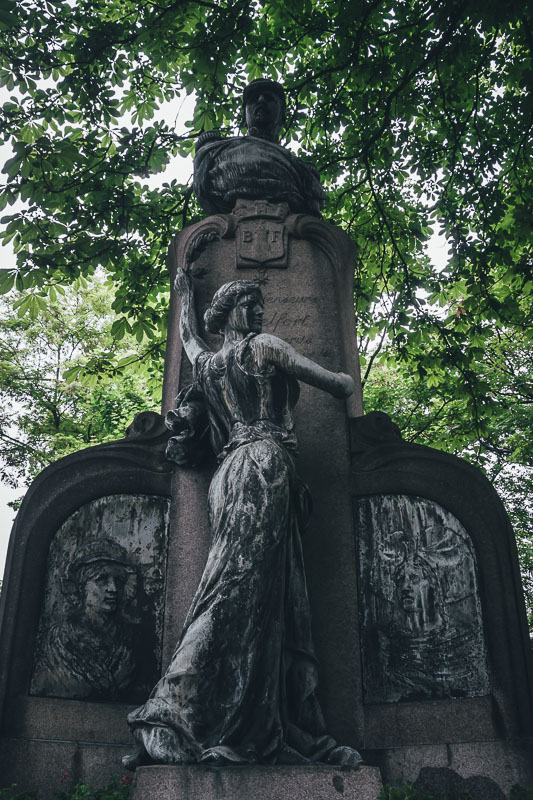 The Montparnasse Cemetery houses the graves of such renowned writers and thinkers as Simone de Beauvoir, Jean-Paul Sartre, Charles Baudelaire, and Julio Cortázar.
Note: Make sure to check out the Catacombs of Paris to compliment your Cemetery tour.
6. Walk the grounds of the Notre Dame Cathedral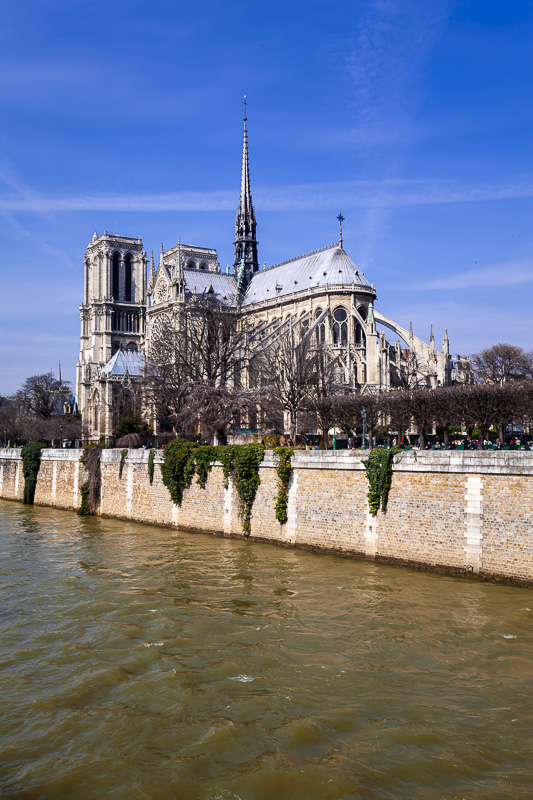 Update: Unfortunately Notre Dame is unnaccessable right now due to the massive fire. They received a lot of donations so I think it will be re-stored sooner than we all think!
Places, where you can still experience the Gothic architecture and charm of Notre Dame in Paris, are:
Tour Saint-Jaques – One of the things that attracted people to Notre Dame was climbing its Belltower, but there is still a place in Paris where you can get a view of the city. Tour Saint-Jaques has a Belltower that lets you climb its 300 steps for a view of Paris, complete with gargoyles!
Notre Dame was famous for its stained glass window. A must visit place in Paris is Sainte Chapelle, it has towering stained glass windows that are more impressive than Notre Dame.
Saint Eustache – A lesser-known church but no less impressive, it has a beautiful gothic facade and Renaissance interior. Definitely worth a visit if you are into architecture.
We've named Paris one of the most romantic places on earth. Check out where else we suggest.
7. Parc Champs de Mars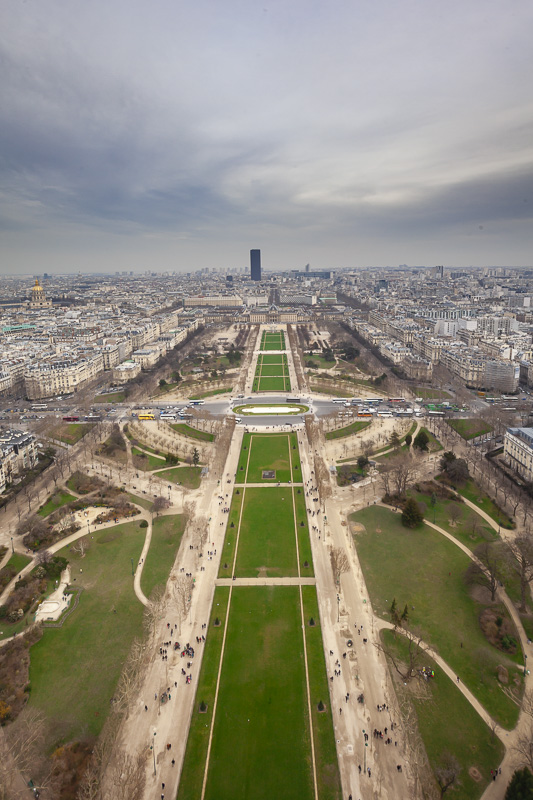 The parks in Paris, like everything, are massive. The Parc Champ de Mars is probably one of the most famous as it is at the base of the Eiffel tower.
You can stroll this public green space or grab yourself a baguette and some cheese and have a picnic. Just be aware that there is no public drinking in the parc so you will have to save the wine for later.
After your picnic head to the other side of the tower where you can get shots of it with the carousel and fountains.
8. View the Eiffel Tower from Trocadero Square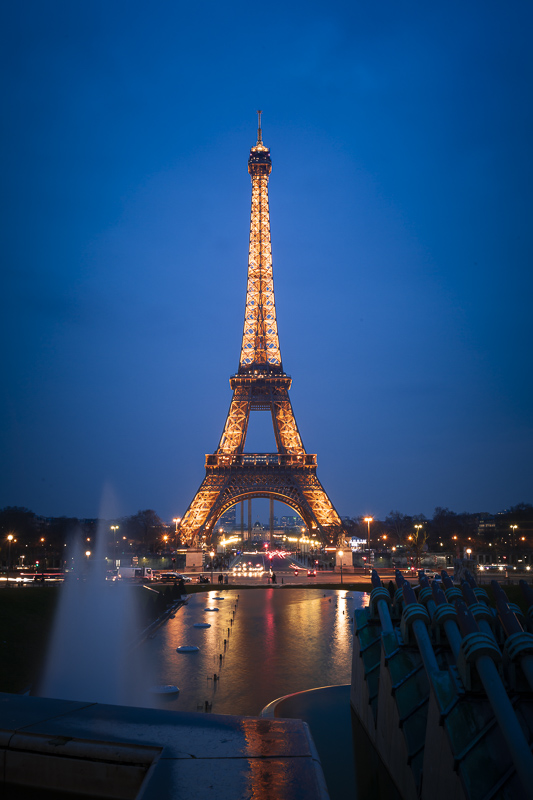 Trocadero Square is probably the most popular place to photograph and get the best view of the Eiffel Tower. Just cross the river Seine and keep going past the fountains.
When you look back you will see what we mean. Make sure to head up the stairs for the best vantage point from the platform.
9. Galeries LaFayette Observation Deck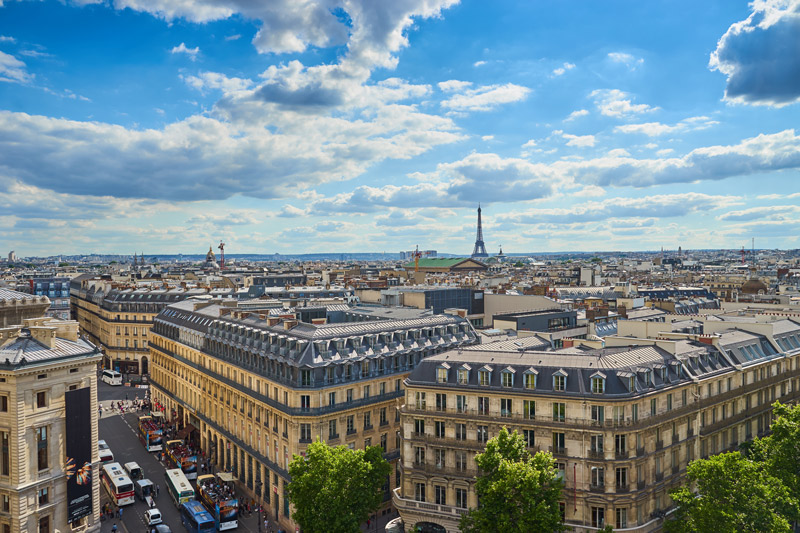 There are a lot of places to go for great views of Paris but most charge a fee. That is what we love about the Gallerie Lafayette, it is free.
This is one of those best-kept secrets in Paris. Most people visit it to shop, but the real gem is at the top. you get 360-degree views and can see the Eiffel Tower and Sacré-Coeur.
The building itself is also a work of art. So whether you just want to stroll around and take in the beauty of the architecture or find that great view of Paris, both can be done for free right here.
10. Go Dancing
On Sundays on the Left Bank, of the Seine, there is free Dancing to old French music. Watch and learn from the older couples that are dancing their hearts out.
It is a great way to pass some time and enjoy some great music.
11. Take free walking tours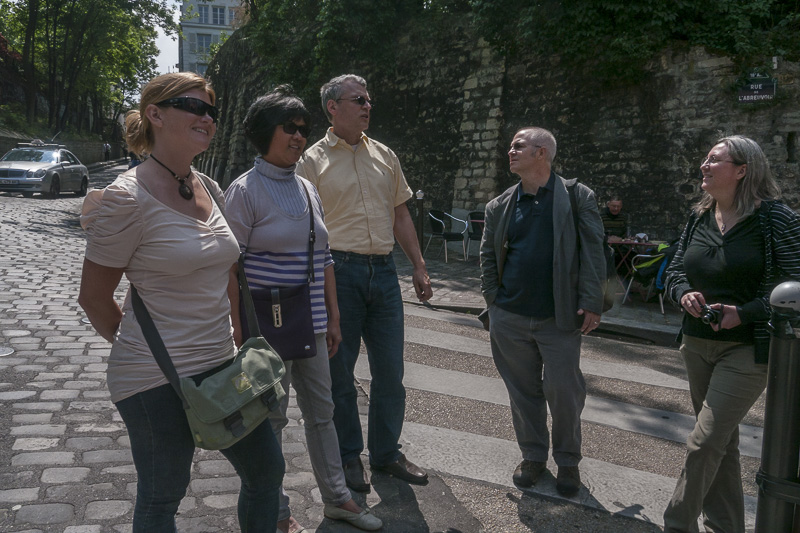 One of the things we love about most big cities in Europe is that they offer free walking tours.
We find this is a perfect way to get to know your way around the city, especially if this is your first time. The guides are friendly and incredibly knowledgeable and can answer most questions you have about Paris.
Tipping is optional at the end and the tours should be booked in advance.
12. View the Jardins du Luxembourg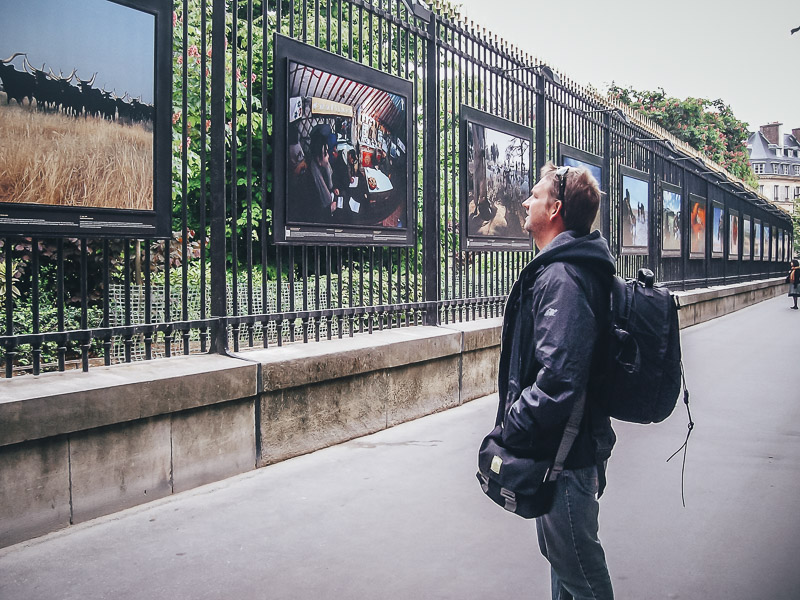 This amazing garden in the Montparnasse area is a beautiful place for a picnic.
Inspired by the Boboli Gardens in Florence it is easy to see why these are some of the most impressive gardens in Paris.
It is filled with sculptures, gardens, and greenery. It is a work of art and a wonderful place to spend the afternoon.
We even saw a free art display while walking around the garden.
As with everything on this list, entrance is free. The opening and closing times vary with the season so it is best to check before heading out.
13. go on a Pub Crawl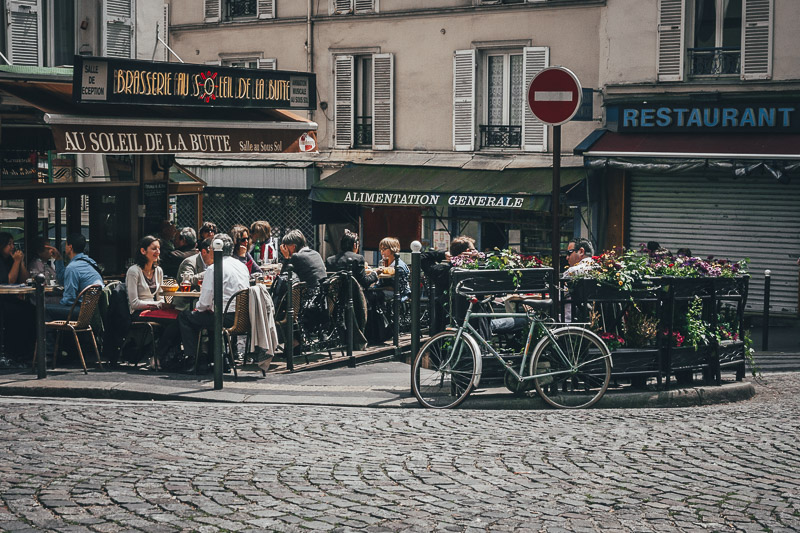 What better way to get to know the nightlife in Paris than to go on a Pub Crawl.
In Montmartre, you can join a free pub crawl of the bars in the area. It's a great way to go where the locals go.
Just look up free walking tours in Paris and you'll find many a tour that takes you on a pub crawl.
It's also a great way to meet fellow travelers enjoying Paris too. There's nothing better than having company as you explore the city.
14. Walk along the Champs-Élysées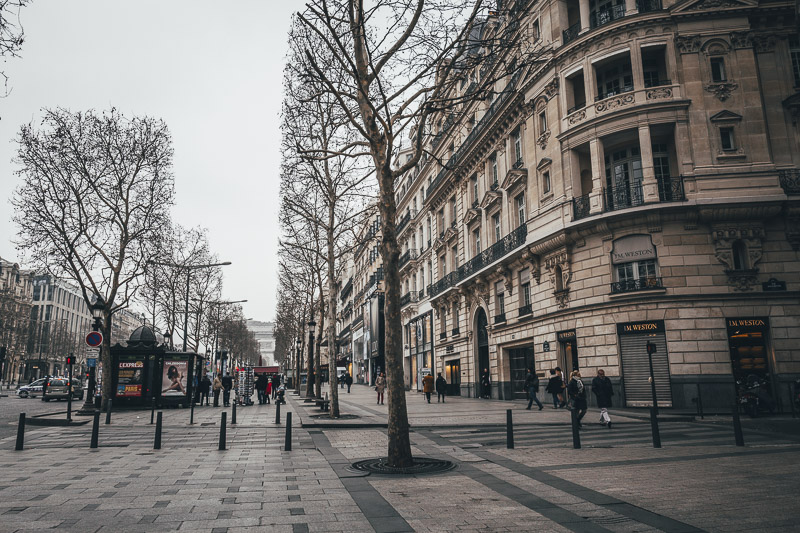 The Champs-Elysees is easily one of the most famous streets in the world. Stretching from the Arc de Triomphe to the Place de la Concorde it is nice and wide and perfect window shopping.
Pretend you are a millionaire for a day and go into all the high-end stores. Be sure to dress in something sleek so you fit in with all the beautiful Parisian fashions.
Make sure to keep your eye out for celebrities as they frequent the shops here when they are in Paris. Strolling this street is definitely one of the best free things to do in Paris.
15. Louvre from Outside
It took us four visits to Paris before we finally went up the Eiffel Tower. It was three visits before we went into the Louvre.
We never felt that we were missing out because the buildings of Paris are so grand, seeing them from the outside is just as exciting as going in.
The Louvre has beautiful gardens outside and its most famous building, the glass pyramid designed by IM Pei, can be viewed for free too.
If you are on a budget, you don't have to go inside every attraction, enjoy them from the outside. The city of Paris is a work of art.
16. Arc de Triomphe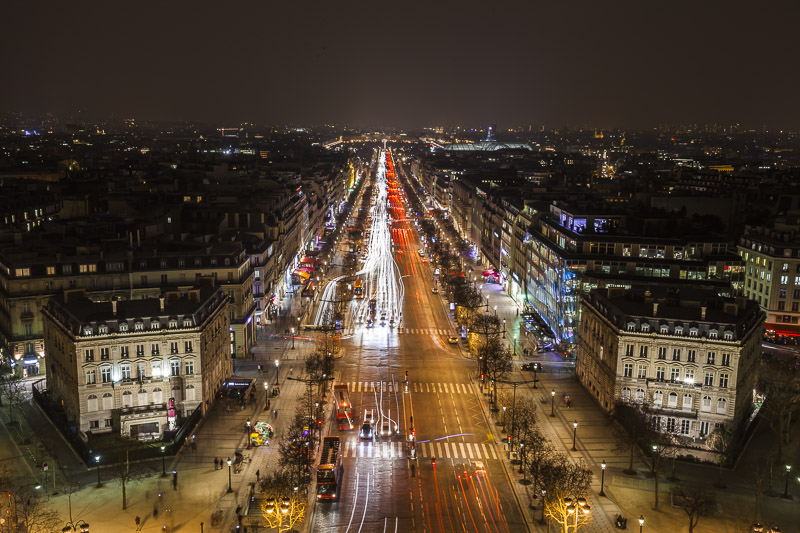 The city of Paris is a work of art.
The Arc de Triomphe is an impressive sight to see. Every year I see it on the Tour de France as this is the finish line. The Arc de Triomphe was built to honor of the soldiers that fought for France.
At the foot of the Arc is the tomb of the Unkown Soldier and the eternal flame.
You can walk around it and read about its history but if you want to go up it will cost you 12 Euro.
We do recommend heading up to the top for a great view of the surrounding area and you can grab Skip-the-Line tickets here.
17. Tomb of the Unknown Soldier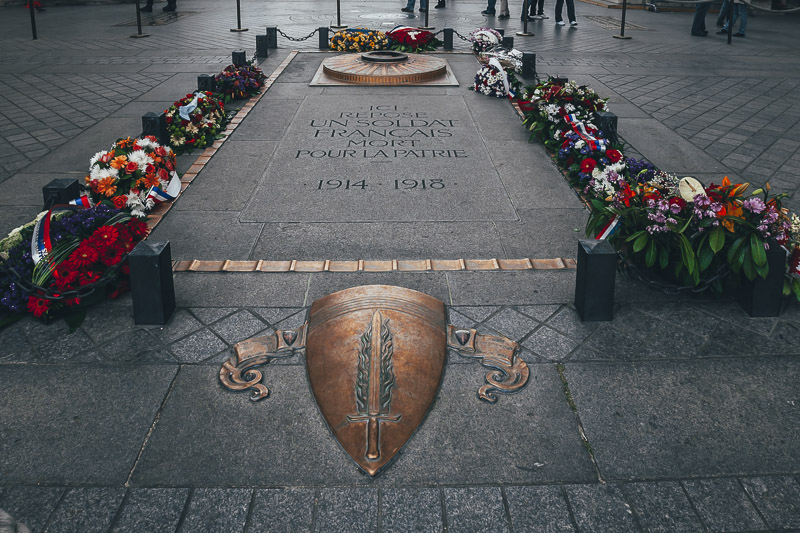 You can easily spend two to three days running around Paris seeing all the attractions outside without having to spend one penny on admission fees.
I love how the city is set up. You can get close to all the attractions and even inside many of the buildings to get a taste of it.
18. Free Music in Paris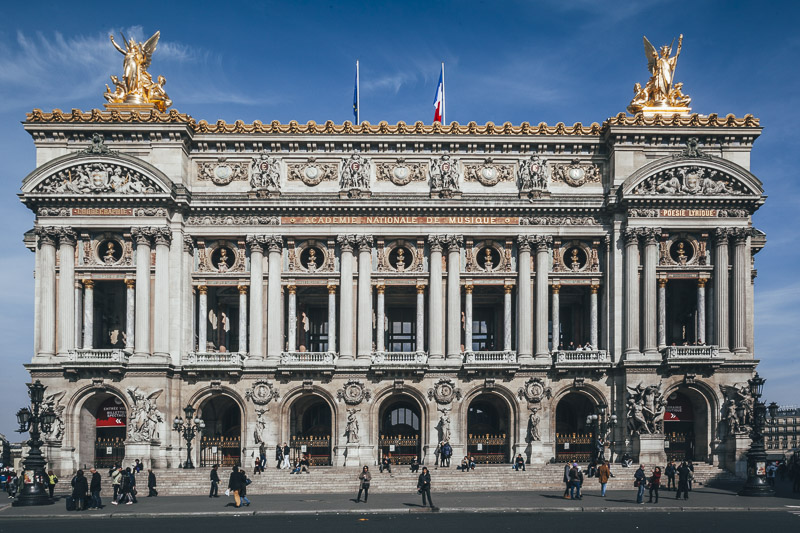 If you enjoy classical, baroque, or contemporary jazz music, Paris's most prestigious music conservatory, the Conservatoire National Supérieur de Musique et de Danse, offers over 300 student concerts a year, most of which are free.
Also check out some of the 180 free concerts which Radio France gives a year, mostly orchestral and chamber music, in the Museum of Fine Arts, where tickets are handed out 30 minutes beforehand.
Listen to classical music at the Conservatoire National Supérieur de Musique et de Danse. They offers over 300 student concerts a year, most of which are free. Radio France also offers 180 free concerts year, mostly orchestral and chamber music, in the Museum of Fine Arts, where tickets are handed out 30 minutes beforehand
19. Walk along the River Seine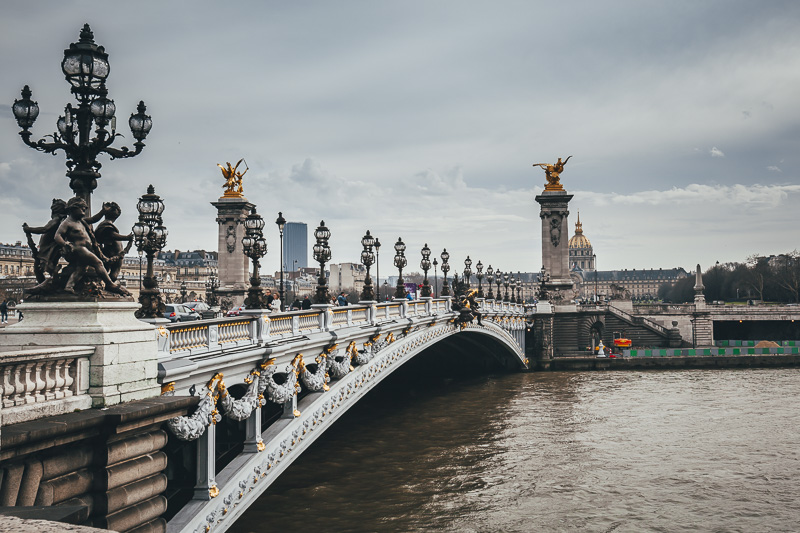 Put on some comfortable shoes, and take a camera with you.
Along the River Seine, the scene of inspiration of many artists, you can zig-zag back and forth across some of the 37 wood, stone, and metal bridges that span the river within Paris alone, including the Pont Neuf, which dates back to 1607.
You can also see the city from above at the Promenade Plantée, a linear 4.7 km parkway which was once an elevated railway viaduct leading east from the Bastille, and which houses gardens, small parks, and public art on exhibition.
20. See Basilique du Sacre Coeur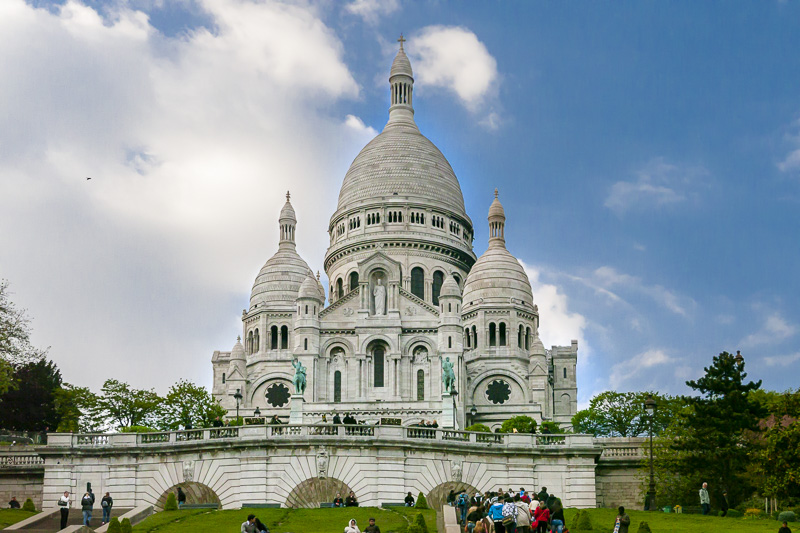 Located in Montmarte, Sacre Coeur is the other famous church in Paris. You can enjoy access to the first floor for free but will have to pay a nominal fee to walk up the 300 steps to the dome.
Honestly, because Sacre Coeur is located on the highest point in Paris, the views are just as spectacular from the steps out front.
While you are there, pick up some lunch and have a picnic on the steps, take in the view and do some people watching.
21. View of Paris from Montmartre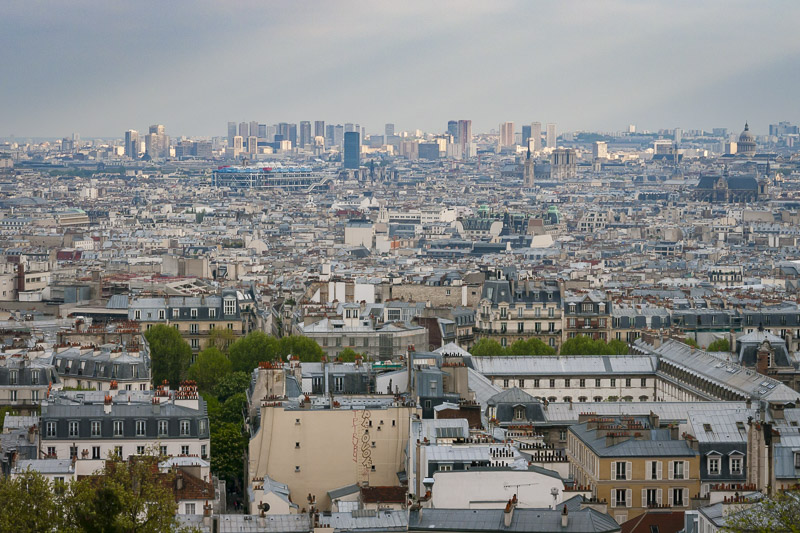 The views at sunset from here are spectacular you can take in the whole city including the Eiffel Tower when the light show starts at dusk.
Grab some snacks and a drink and relax on the steps leading up to Sacre Couer beside the funicular.
It's one of the best views of Paris and its free!
This is one of our favorite free things to do in Paris.
22. Wander the streets of Montmartre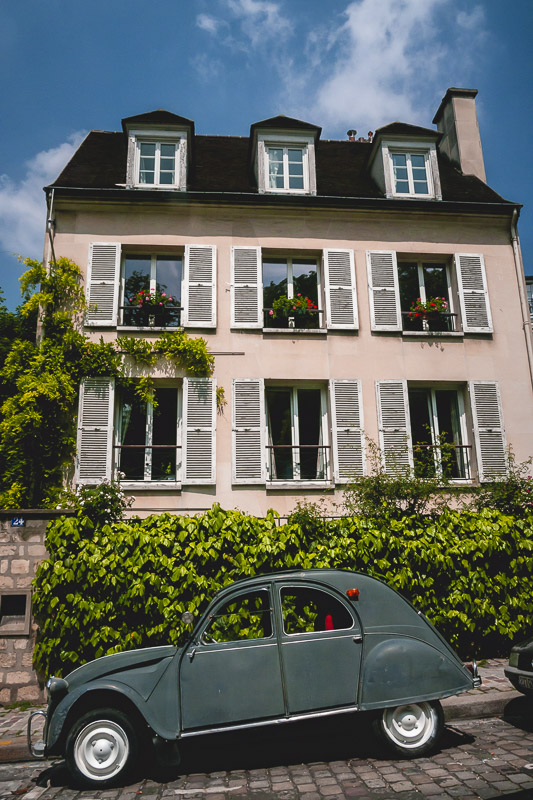 Montmartre is our favorite district of Paris and a perfect place to spend a day if you want to see a lot for free.
There are artists painting in the square and street performers showing off their talents.
Wandering the streets and discovering things like Picasso's studio and the Dali museum will bring you back to old Paris.
23. Watch Street Artists and Browse for Art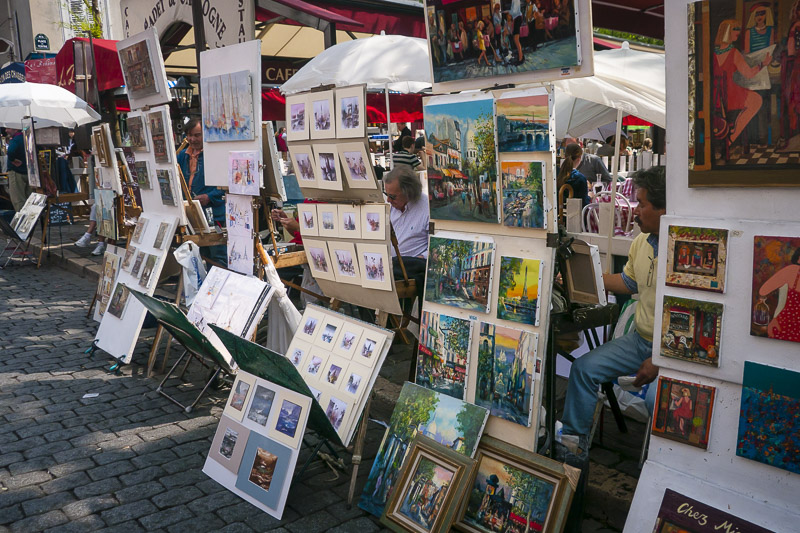 Throughout Paris there are street artists that draw scenes from the city and portraits. Peruse their art and find a souvenir to take home some memories.
You can even grab a beer and just hang out on the steps of Sacre Couer watching the locals and tourists spend time basking in the sun.
This area is also home to the Moulin Rouge. If your budget affords you should definitely stop in for a show, it is something you won't regret and will remember forever.
24. Stroll the Jardin des Tuileries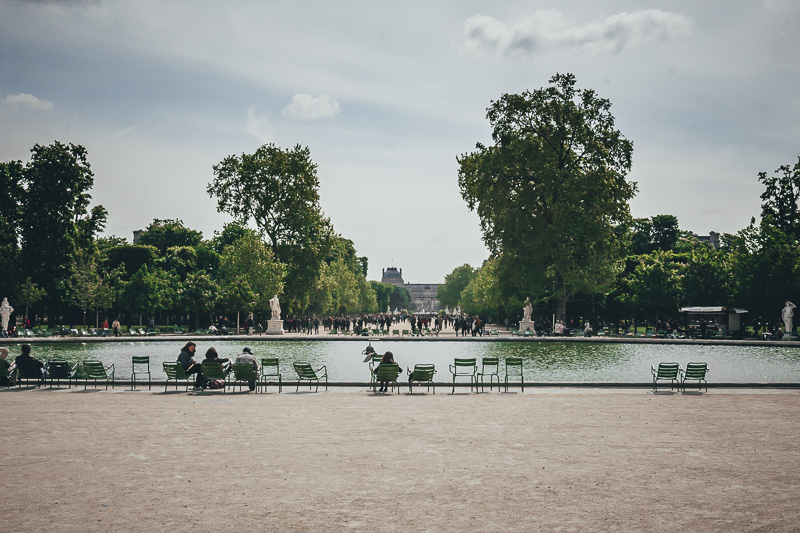 As you can see Paris is a city for walking and you cannot miss the Jardins de Tuileries. Stretching between the Louvre and the Place de la Concorde this walk is just simply beautiful.
Landscaped by the famous gardener of King Louis XIV in 1664, you feel like royalty as you take in the sculptures from artists like Rodin and Giacometti or grab a seat by one of the ponds to admire the intricate gardens.
Our recommendation is to grab a snack and sit and enjoy this beauty in the middle of the city.
24. Walk along the Canal St. Martin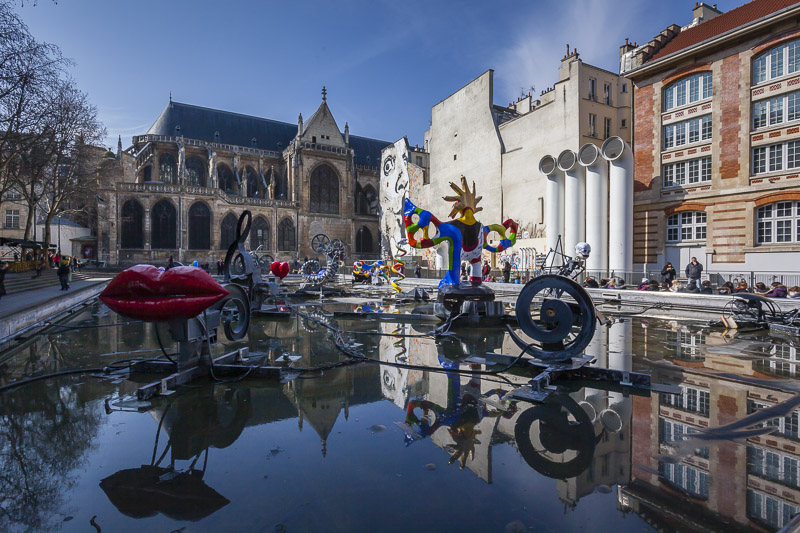 Walking along the Seine is great but the real Paris is along the Canal St. Martin. A trendy cool up and coming area for locals, it is filled with quirky bars and street performers that are right out of a movie.
Located in the 10th Arrondissement it promises cute corners and bridges as well as cool markets like the Marché Couvert Saint-Martin. One of only 5 left in Paris.
To see this area at it's best we recommend taking a River Seine/Canal Cruise that starts at Parc de la Villette. It allows you to get a different vantage point of this area.
26. Parc des Buttes Chaumont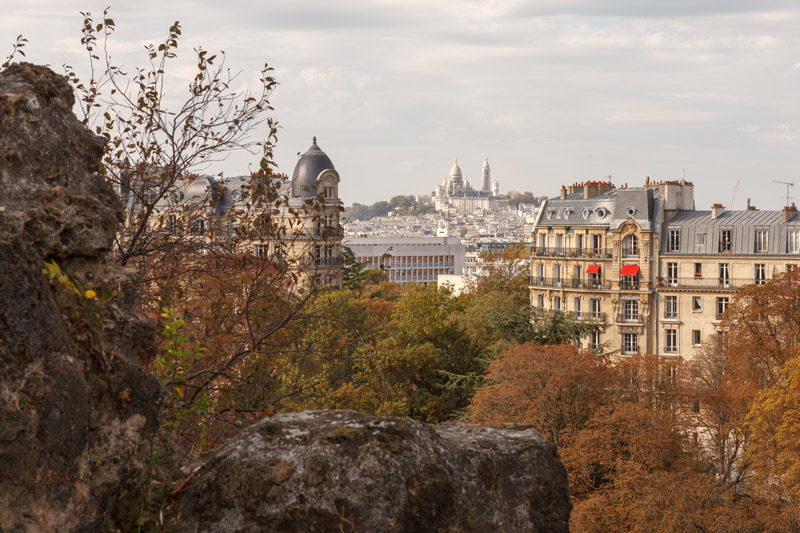 This park may be off the beaten path a little in the 19th Arrondissement but it is well worth the journey.
Built by Napolean III, it is home to caves and waterfalls, a suspension bridge, and a high viewpoint.
It is one of those parks that you could spend a whole afternoon in and you should.
27. Walk in the Steps of Midnight in Paris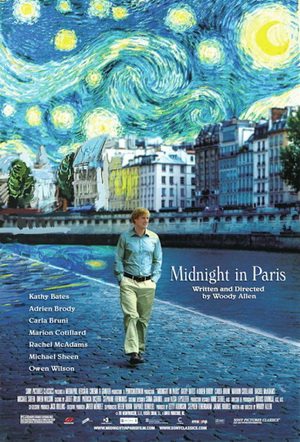 Head over to the Cheat Sheet and follow the footsteps of Owen Wilson in Woody Allen's Midnight in Paris.
He spends the nights roaming the streets of Paris and you can spend your days doing so too!
Plus Get your copy of Midnight in Paris on Amazon Prime now. It will totally get you in the mood for Paris.
Free Wifi
McDonald's, Starbucks and other coffee shops have free Wifi in Paris.
There are more than 400 Free WiFi Hot spots in Paris.
Many Museums also have free WiFi
Read More About How to Plan your Trip to Paris
If you are planning a trip to France, make sure to check out our France Travel Guide!
Do you have any suggestions for more free things to do in Paris? Leave a comment below with some advice. Everyone in the world can use more free things in their life.
Did you enjoy all the things you can do in Paris for Free? Save it to Pinterest for future reference!