People think that Paris is an expensive city. But it can be affordable. Especially if you follow our list of free things to do in Paris that won't break the bank!
Free Things to do in Paris
Get your Lonely Planet Travel Guide to help plan your Paris getaway.
I bet you didn't know there were so many free things to do in Paris. But there are! 
Not only are there many things to do in Paris that are free, but they are also actually some of the most famous sites in the entire city.
What we love about Paris is that the architecture and history are so rich and interesting, that you don't have to spend a penny to have a great time there.
Did you know, If you are under 25 years of age and an EU Citizen, you get into all the museums for free!
Free Paris Museums
1. Museums
Most Museums are Free on the First Monday of Each Month
This is a great tip!  EU citizens under the age of 25 are allowed to go into ALL Paris museums for free!
But if you don't fit into that category, don't worry, the first Sunday of each month offers up many free entries to museums and attractions like:
The Louvre, Centre PompidouQuaiai Branly - Jacques Chirac and the Musée d'Orsay.
2. City Museums
All Paris City Museums are Free Year Round.
Other permanent collections at the Musée d'Art Moderne de la Ville de Paris and Musée de la Vie Romantique have free entry all year round.
And we have heard that another 14 museums owned and operated by the city of Paris are free every day.
Expert Tip: We were told to just look for the coat of arms above the door. That's how you'll know if it is free or not.
Explore the famous cemeteries
3. Cimetiere du Père Lachaise
The Cemeteries of Paris are works of art and they are all free to visit.
The Cimetiere du Père Lachaise is one of the most famous cemeteries in the world and is the resting place of Jim Morrison, Oscar Wilde, and Edith Piaf.
4. Cimetiere de Montmartre
The Cimetiere de Montmartre dates back to 1798 and is the famous resting place of Alexandre Dumas and Edgar Degas.
These cemeteries are both free and very interesting.
5. The Montparnasse Cemetery
The Montparnasse houses the graves of such renowned writers and thinkers as Simone de Beauvoir, Jean-Paul Sartre, Charles Baudelaire, and Julio Cortázar.
Note: Make sure to check out the Catacombs of Paris to compliment your Cemetery tour.
Free Monument Entries in Paris
6. Notre Dame Cathedral
Places to visit in Paris Besides Notre Dame
Update: Unfortunately Notre Dame is unnaccessable right now due to the massive fire. They received a lot of donations so I think it will be re-stored sooner than we all think! 
Places where you can still experience the Gothic architecture and charm of Notre Dame in Paris are:
Tour Saint-Jaques - One of the things that attracted people to Notre Dame was climbing its Bell tower, but there is still a place in Paris where you can get a view of the city. Tou Saint-Jaques has a Bell tower that lets you climb its 300 steps for a view of Paris, complete with gargoyles!
Notre Dame was famous for its stained glass window. A must visit place in Paris is Sainte Chapelle, it has towering stained glass windows that are more impressive than Notre Dame.
Saint Eustache -
Good Paris Travel Resources
Lonely Planet Paris - Lonely Planet is our go-to guidebookk for all destinations and locations. You can download ebooks, apps or city guides, whatever you need.
Rick Steve's Paris - Nobody knows Europe like Rick Steve's and he gives great tips for Paris travel
Packing Tips for Europe - We give tips to help you pack smart for European travel for Paris and beyond.
Paris Museum Pass - Paris is known for its museums. Get the museum pass for front of the line entrance to 60 museums.
Paris Tourism Office - We always like to visit the official tourism website for any destination. Paris tourism is full of useful city information.
Paris Museum and Attraction Closures - Museums, attractions and shows are closed on certain days of the week or month. Be sure to check them out before you travel.
There are plenty of Free Things to do in Paris, but sometimes you may want to book a tour, check out these options at Get Your Guide
Here is a list of free things in Paris that we did and that were suggested by our friend Marie Louise and our buddies at Paris Buff. Both live in Paris and they contributed some great ideas for free things to do as well.
So you have some local suggestions as well as ideas from these two tourists.
Check out our video of other ideas for Budget Saving Tips and Free things to do in Paris
We've named Paris one of the most romantic places on earth. Check out where else we suggest.
Selective Paris City Tours
Get Your Guide - Is a great site for Paris day tours and Paris discounts
Shared Minivan Transfers from Roissy CDG and Orly - It's the affordable airport transfer to and from the city
Hop on Hop off Tour bus - -Starting at only $35 USD you can book the Hop on Hop Off Tour to all the major Paris attractions. It gets you around Paris quickly and easily.
Paris City Pass - If you want to combine a metro pass with attractions, museums and front of the line, get a Paris City Pass for $105. It saves time and offers valuable discounts.
Eiffel Tower and Seine Cruises combo - allowing you to skip the line and go right up to the second platform of the tower before heading on a 1-hour river cruise
Paris 1,2, or 3-Day Hop on Hop us Bus Pass - If you are in Paris for more than one day, this is a great option for getting around to all the sites. Plus you get a book of discounts.
7. Free Toilets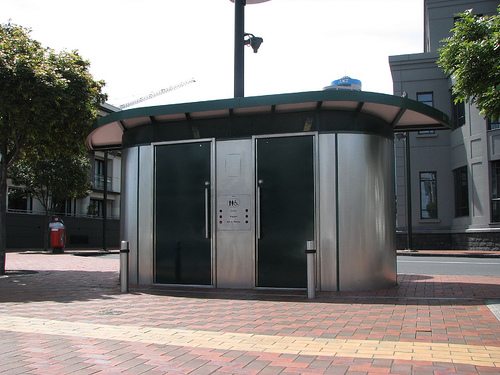 Speaking of toilets, Paris has great public toilets that are free.
Just stand outside and wait for a person to come out.
The door will close behind them and while it is closed the bathroom will have a complete hose down, sanitizing it for the next person to enter.
When the light is green, you're good to go.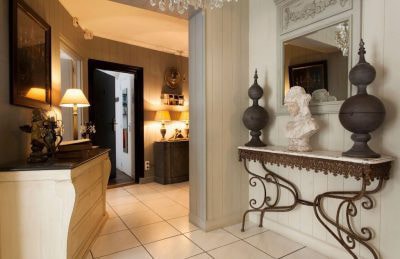 Our first budget stay in Paris was the Perfect Hotel in Montemarte- location was great, breakfast included, great rooms.
Check out Availability & Prices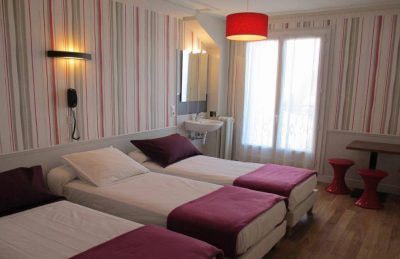 Our first budget stay in Paris was the Perfect Hotel in Montemarte- location was great, breakfast included, great rooms.
Check out Availability & Prices
8. Go Dancing
On Sundays on the Left Bank there is free Dancing to old French music. Watch and learn from the older couples that are dancing their hearts out.
9. Take a free walking tours
Different Companies offer Free City tours meeting in Montmartre and the Latin Quarter.
Every day at St. Michel in the Latin Quarter and in Montmartre you can join a free walking tour of Paris.
We've taken a couple and always learn a lot from the guides. It's up to you if you want to tip at the end.
10. Jardin du Luxembourg
This amazing garden in the Montparnasse area is a beautiful place for a picnic.
It is filled with sculptures, gardens and greenery. It is a work of art and a wonderful place to spend the afternoon.
We even saw a free art display while walking around the garden.
In other cities, you'd have a pay to see beautiful photographs like this on display. But not in Paris!
11. Go on a pub crawl
In Montmartre you can join a free pub crawl of the bars in the area.  It's a great way to go where the locals go.
Just look up free walking tours in Paris and you'll find many a tour that takes you on a pub crawl.
It's also a great way to meet fellow travellers enjoying Paris too. There's nothing better than having company as you explore the city.
12. Walk along the Champs-Élysées
This is one amazing street filled with fine dining, cafés, shopping and people.
It is easy to spend some time window shopping and people watching.
Pretend you are a millionaire for a day and go into all the high end stores.
Be sure to dress in something sleek so you fit in with all the beautiful Parisian fashions.
Go to every major site and enjoy it from the outside
13. Louvre from Outside
It took us four visits to Paris before we finally went up the Eiffel Tower. It was three visits before we went into the Louvre.
We never felt that we were missing out because the buildings of Paris are so grand, seeing them from the outside is just as exciting as going in.
The Louvre has beautiful gardens outside and its most famous building, the glass pyramid designed by IM Pei, can be viewed for free too.
If you are on a budget, you don't have to go inside every attraction, enjoy them from the outside. The city of Paris is a work of art.
14. Arc de Triomphe
The city of Paris is a work of art. 
Every building in Paris is breathtaking.
Walking around the city and enjoying the sites like The Eiffel Tower, Arc De Triomphe and the outside of the Louvre is a very fulfilling experience.
You can easily spend two to three days running around Paris seeing all the attractions outside without having to spend one penny on admission fees.
I love how the city is set up. You can get close to all the attractions and even inside many of the buildings to get a taste of it.
15. Eiffel Tower from Below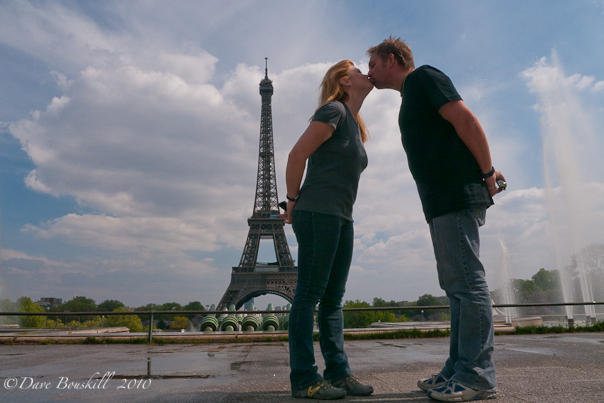 As we said above, it took years for us to go up the Eiffel Tower. It was nice up there, but it is just as impressive from below and from the River Seine. As a matter a fact, it was the other city views that we found more impressive.
You can walk right under the Eiffel Tower and do a complete 360 around it. you don't have to go up it.
The view from Montparnasse Tower is far more impressive. It's a smaller fee and you can see the Eiffel Tower from there too!
You can then decide what you want to spend your money on.
We've gone up the Arc De Triomphe and didn't find it worth the wait or the crowds.
Take advantage of the free views instead.
16. Pompidou Modern Art Gallery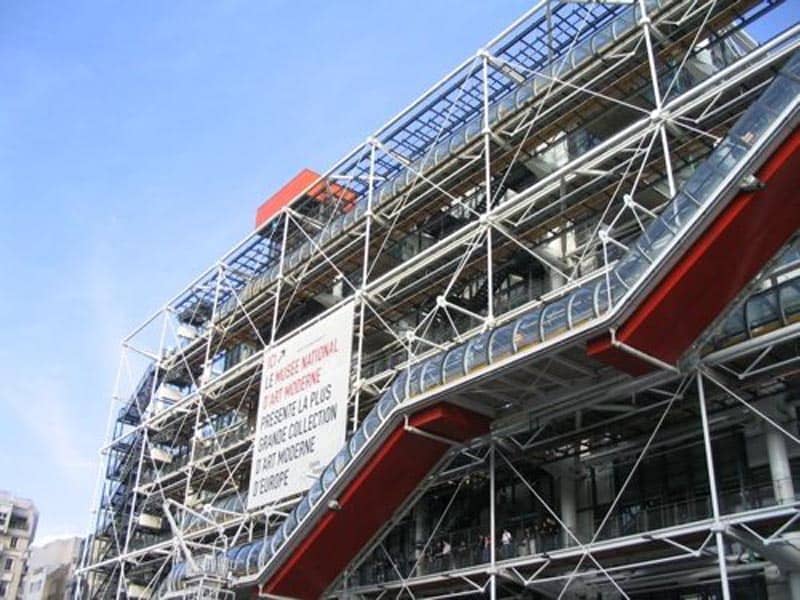 Another Free City View
Go to the Pompidou Modern Art Gallery and take the escalators to the rooftop bar without paying for admission to see Paris.
Photo Credit. I don't know why we don't have a picture of the building, but luckily there's Wikipedia to help us out. 
17. Free Music in Paris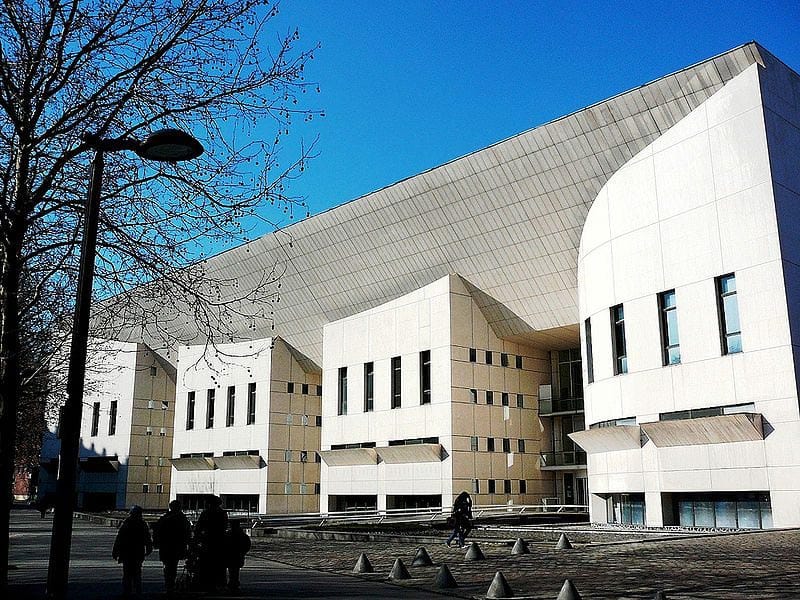 If you enjoy classical, baroque, or contemporary jazz music, Paris's most prestigious music conservatory, the Conservatoire National Supérieur de Musique et de Danse, offers over 300 student concerts a year, most of which are free.
Also check out some of the 180 free concerts which Radio France gives a year, mostly orchestral and chamber music, in the Museum of Fine Arts, where tickets are handed out 30 minutes beforehand.
Listen to classical music at the Conservatoire National Supérieur de Musique et de Danse. They offers over 300 student concerts a year, most of which are free. Radio France  also offers 180 free concerts year, mostly orchestral and chamber music, in the Museum of Fine Arts, where tickets are handed out 30 minutes beforehand
18. River Seine
Put on some comfortable shoes, and take a camera with you.
Along the River Seine, the scene of inspiration of many artists, you can zig-zag back and forth across some of the 37 wood, stone, and metal bridges which span the river within Paris alone, including the Pont Neuf, which dates back to 1607.
You can also see the city from above at the Promenade Plantée, a linear 4.7 km parkway which was once an elevated railway viaduct leading east from the Bastille, and which houses gardens, small parks, and public art on exhibition.
Where to stay in Paris, France:
Booking.com has over 5000 different properties in Paris, France. You get free cancellation on most rooms and a best price guarantee.
19. See Basilique du Sacre Coeur
Located in Montmarte, Sacre Coeur is the other famous church of Paris. You get two activities in one for free here. 
You can enjoy the beauty of Sacre Coeur Basilica both inside and out for free.
And you can enjoy an amazing view of Paris from the highest point in the city for free.
While you are there, pick up some lunch and have a picnic on the steps.
20. Paris City Views - Montmartre
There are many views of Paris from Montmartre, the highest point in the city. You can sit on the steps of Sacre Couer to watch the sun go down, or explore the cobblestone streets to find a more unique view of Paris.
21 Montmartre Arrondissement
Montmartre is a wonderful hare to simply spend a day for free!
See major attractions like the Moulin Rouge, Windmills and vineyards.
There are artists painting in the square and street performers showing off their talents.
It's a maze of cafes, galleries, and alleyways.
You can even grab a beer and just hang out on the steps of Sacre Couer watching the locals and tourists spend time basking in the sun.
22. Follow the footsteps of Midnight in Paris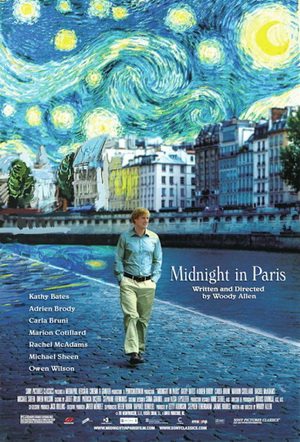 Head over to the Cheat Sheet and follow the footsteps of Owen Wilson in Woody Allen's Midnight in Paris. He spends the nights roaming the streets of Paris and you can spend your days doing so too!
Plus Get your copy of Midnight in Paris on Amazon Prime now. It will totally get you in the mood for Paris.
23. Rollerblading? 
Free rollerblading and skateboarding that has become very popular in Paris.
They close several km of City Blocks for people to merrily roll through the city.
Do you have any suggestions of more free things to do in Paris? Leave a comment below with some advice. Everyone in the world can use more free things in their life.
Did you enjoy all the things you can do in Paris for Free? Save it to Pinterest for future reference!
You Might Also Enjoy