The Cabot Trail is one of Canada's Ultimate Scenic Highways. Located on Nova Scotia's Cape Breton Island.
We set off from Halifax early one morning to spend five days exploring the famed coastal route and here are the top stops we encountered on our counterclockwise road trip.
Cabot Trail Stops You Cannot Miss
Our trip started in the town of Baddeck where we continued in a counter clockwise direction around the entire loop through the Northern half of Cape Breton Island.
Make sure to give plenty of time to see all the sights. There is a lot to see and do including some spectacular coastal hikes, cultural experiences and great adventures.
1. Baddeck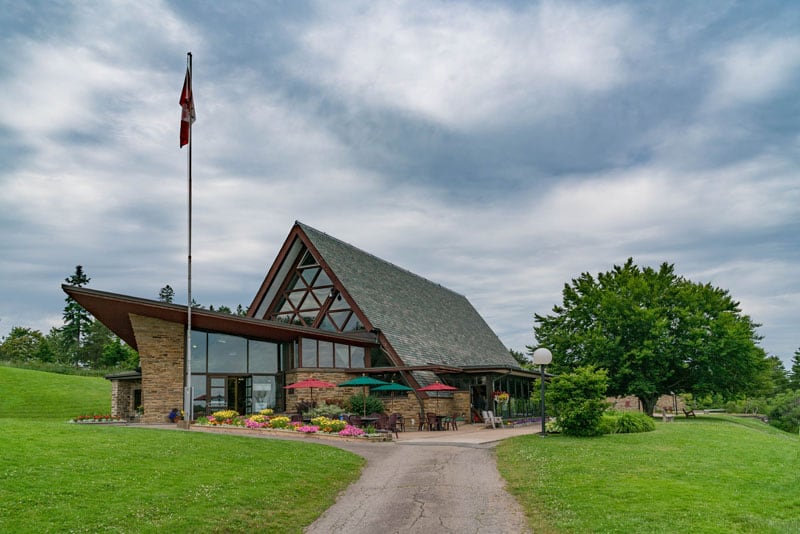 Baddeck was the summer home to Alexander Graham Bell and there is an excellent museum built on the site of his cottage named "Beinn Bhreagh", Gaelic for "Beautiful Mountain."
It's an excellent history lesson of not only the invention of the telephone, but other achievements by Bell.
He was an avid inventor working on everything including the first aircraft to fly in the Commonwealth (it also flew farther than the Wright Brothers).
He also developed many medical machines including the iron lung to help polio patients breathe and he developed techniques for the hearing impaired, becoming good friends with Helen Keller.
Alexander Graham Bell also founded the National Geographic Society.
2. The Uisge Ban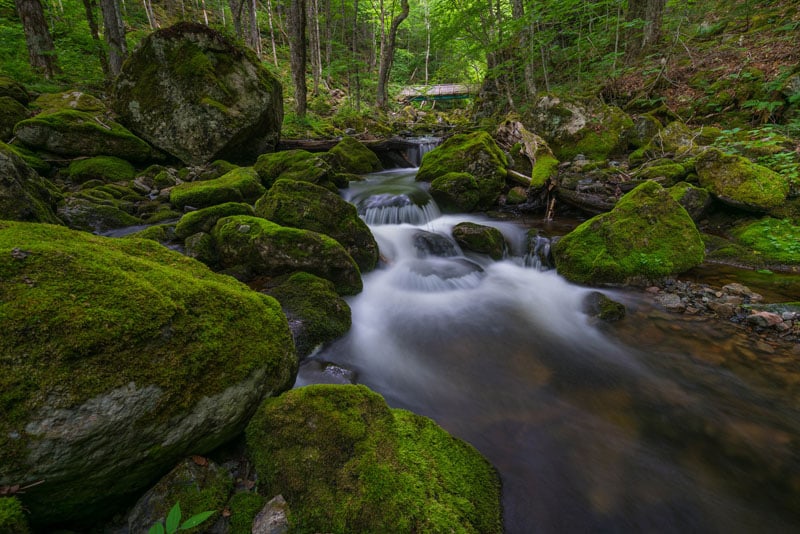 Just outside of Baddeck is one of the most pleasant hikes we took during our drive.
The Uisge Ban (pronounced Ishkaban) hike is an easy 1 1/2 km stroll to a beautiful waterfall. It goes through a mossy forest meandering along a running stream.
Roots stick out of the ground twisting around fallen tree trunks and rocks create small rapids in the running water.
The waterfall itself is beautiful. Its size surprised us.
We were expecting a much smaller set of waterfalls, but it's a tall three tiered cascade where you can swim or soak in the bottom pools.
Many trees have grown over, blocking sight of the top and keeping it from being the ultimate photo stop, but for a day in nature, it's wonderful.
3. North River Kayaking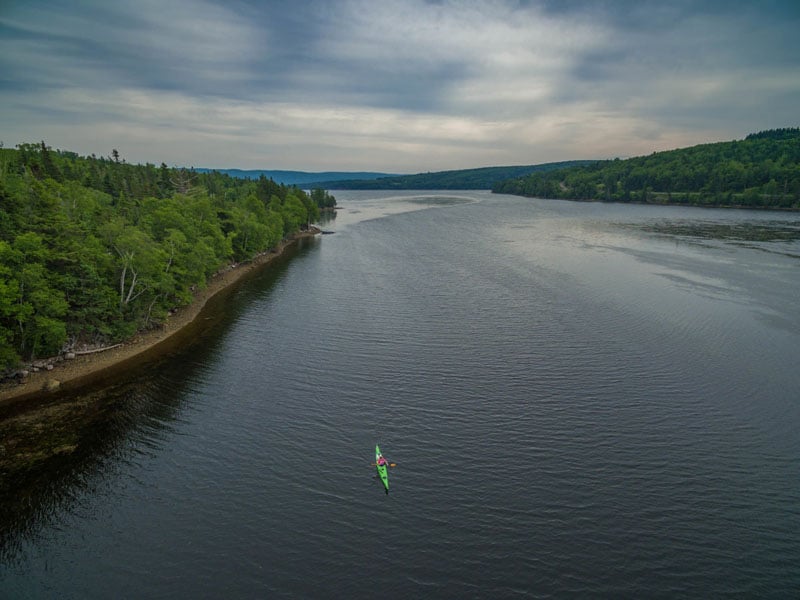 North River Kayak Tours is an excellent stop for all levels of kayaking. Located on the North River, your excursion starts in easy flowing water out to the bay where you'll witness the Cape Breton Coast from a different view.
Expect to see several bald eagles flying overhead. We even saw a nest with babies sticking their heads out, waiting for mom to arrive.
Fresh tea and baked goods are served during a tea break on a picturesque beach where paddlers can take a short hike to another pretty waterfall.
When traveling around the Cabot Trail in Nova Scotia, you must get out on the water.
watch our kayaking video
About the Cabot Trail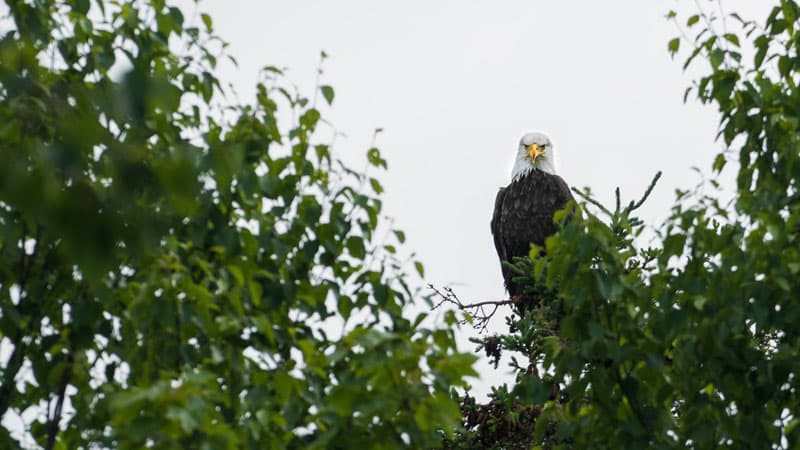 While the Cabot Trail can be driven in one short day, we suggest 3-5 days to drive the Cabot Trail.
There are so many things to see and do, you'll really be missing out.
Driving it in a counter clockwise direction puts you on the outside lane offering better views of the coast. But the real views happen when you get out of the car.
Boook your accommodation in advance. It is even recommended to make a base for a day or two to explore and do day trips from your campsite or hotel.
What to Pack for the Cabot Trail:
We suggest packing water shoes for your Cape Breton trip.
The shores can be rocky, but water shoes let you hop in and out of kayaks, wade in the shallow waters, and take short hikes inland.
Pack water and snacks in advance. Surprisingly, there are not a lot of places to stop for food.
Dave and I love kayaking, but I must say, this was one of the most pleasant kayaking excursions we've ever had.
It was a relaxed, easy-going half-day excursion that offered beautiful views and great conversation.
Enjoy our other Kayaking trip of Nova Scotia's South Shore.
Where to Eat on the Cabot Trail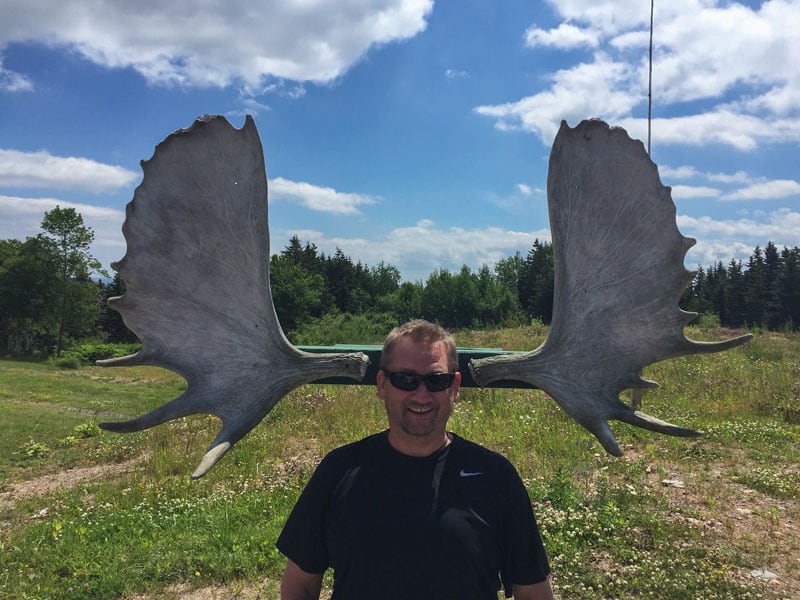 Continuing North from North River Kayaking, we stopped at a bakery for some delicious coffee and pastries.
There aren't a lot of lunch stops along this route, so be sure to bring some snacks and plenty of water, but make sure to stop and enjoy the few cafés along the way.
The people of Nova Scotia remind us a lot of the people of Ireland. They are so friendly and open, you'll end up having conversations with everyone you meet.
4. Ingonish Beach
The excitement of the Cabot Trail really begins once you reach Ingonish Beach, located in Cape Breton Highlands National Park.
This is a great place to make a base for a day or two as the beach is beautiful and there are plenty of hikes in the area.
Plus, there are excursions, boat tours, and kayak rentals.
A corner store is located about 10 km away from Igonish Beach where you can stock up on supplies,
Glamping at Ingonish Beach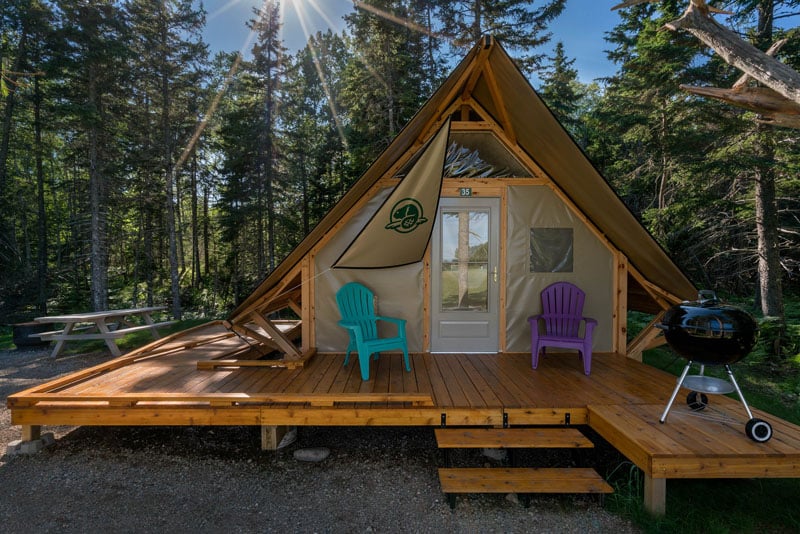 We booked two nights in an Otentik that was absolutely perfect. If you don't have camping gear, the Otentik is the way to go.
These glamping style camps sleep up to eight people and are built on solid foundations offering room to walk around and even play cards at the wooden table inside.
All cooking and cleaning materials are supplied including a small camp stove, or you can use the barbecue out front.
We love this style of camping. It's a great introduction for those who aren't keen on sleeping in a tent, but who want to try something rugged and new.
There are a few different campsites for the Otentik, we stayed in the Ingonish Beach camp which was a great location.
Pick up a copy of The Lonely Planet Nova Scotia to help you plan your trip.
5. Lantern Walk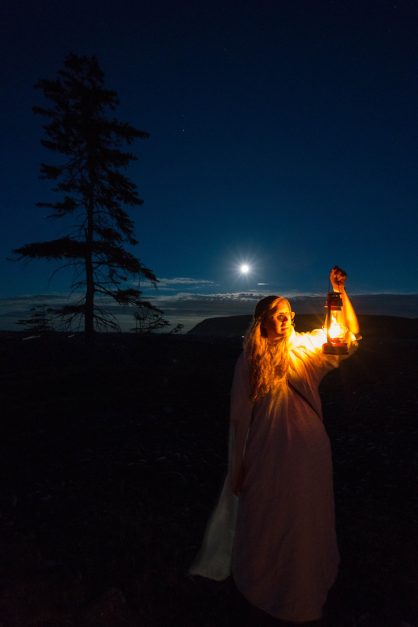 When staying near Ingonish Beach, be sure to go on the Lantern Walk.
We were surprised just how much we enjoyed it!
Starting at dusk, the tour is run by Parks Canada and they put on a great show.
It begins with your guide lighting lanterns for everyone that will direct your way as you walk through the forest.
There is a lot of history in these parts, and our guide told us of all the tales of the early settlers.
There are plenty of ghost stories too. The mood is set with people chanting in the forest and shadows walking through the path.
We found this thoroughly entertaining and informative.
It's one of the most unique things you'll ever do in a National Park!
6. Hike The Middle Head Trail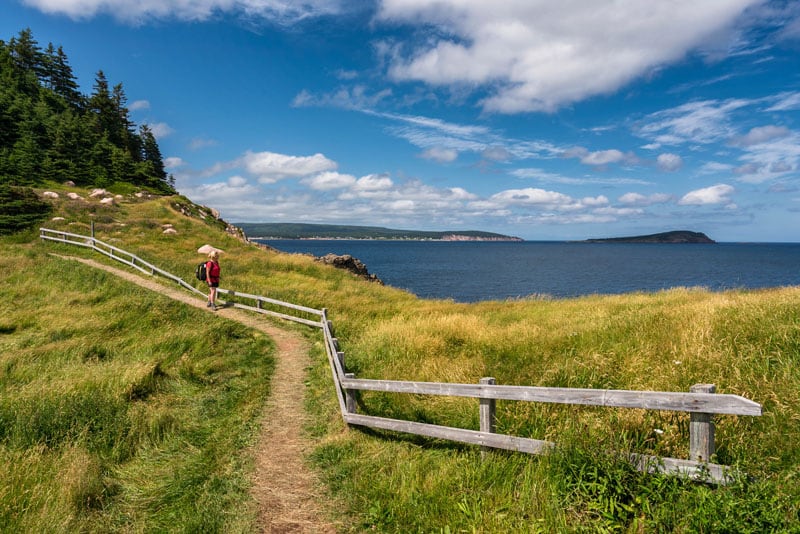 If you drive through the Keltic Lodge (which we highly recommend staying at if you want to splurge or have it in your budget) you'll find the entrance to the Middle Head Trail.
The 3.8 km route takes you through forests and fields leading out to high cliffs for beautiful views of Ingonish Beach to the right and the Cabot Trail winding north to the left along the Gulf of St. Lawrence.
The walk takes about two hours and is well maintained.
Looking for Nova Scotia Adventures? Enjoy our time Tidal Bore Rafting on the World's Highest Tides.
7. Zodiac Tours at the Pier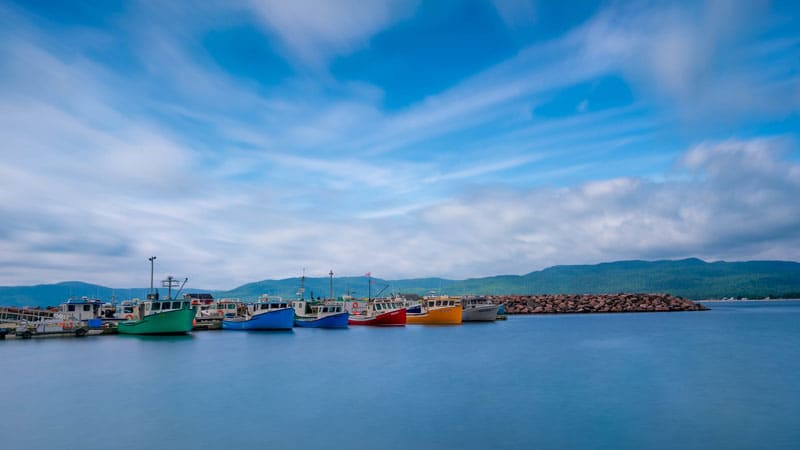 As you continue farther north you must take a turn onto Wharf Road of the Cabot Triail.
This takes you out of the National Park for a little bit, but it is a charming fishing village.
Here you'll see that classic Canadian East Coast view of Cape Breton fishing boats lining the pier.
Walk along the beach and if you are up for some excitement, you can take a zodiac tour to do some whale watching.
See our zodiac tour of Antarctica
8. White Point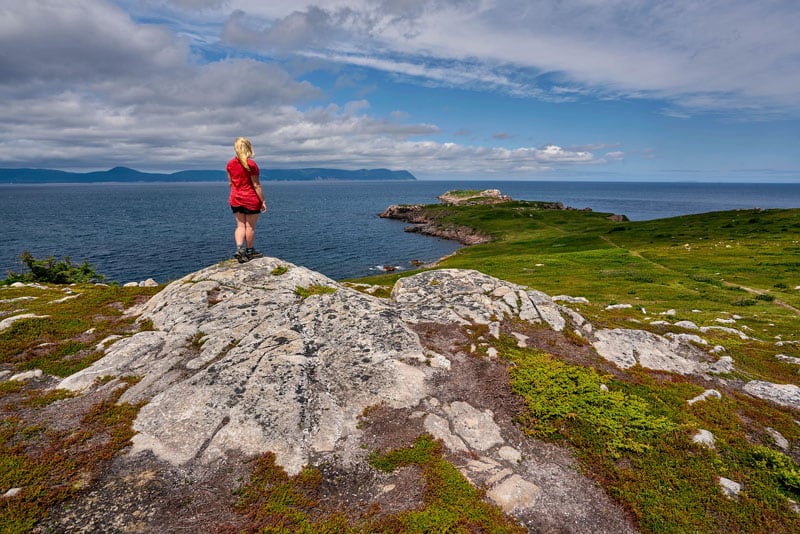 Our next stop on the Cabot Trail took us to White Point, located outside the National Park.
There are excellent hiking trails taking you out to overlook the high sea cliffs offering beautiful panoramic views.
Out on the point there is a cemetery where you'll encounter the grave of the unknown sailor paying tribute to fisherman lost at sea. Being outside the park, we could fly our drone and show off the beautiful landscape.
If you haven't seen it yet, check out the scenes of Nova Scotia featuring White Point in the video below to really get a sense of its beauty.
9. Waterfalls and Scenic Views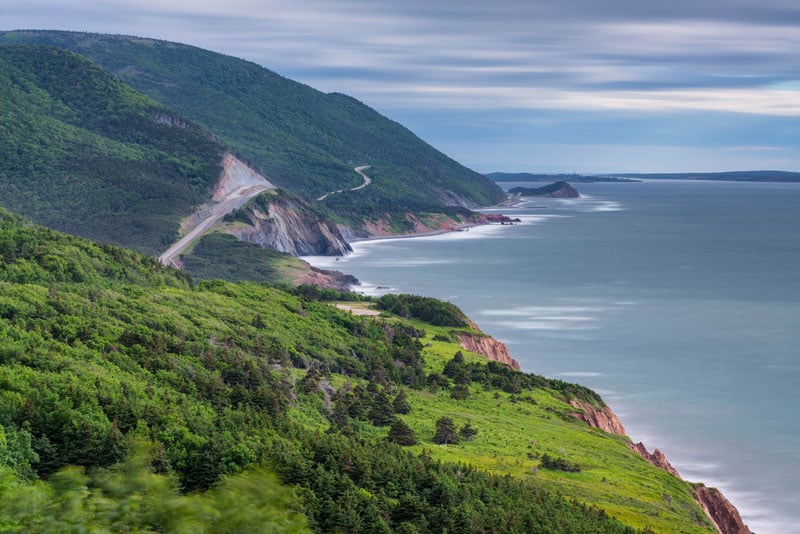 The Cabot Tail has some of the best scenic stops in Canada.
If you have the time, pay attention to road signs and stop at all the lookout points.
There are easy hikes into waterfalls and even easier hikes out to lookout points.
There are so many stops along the Cabot Trail, you could easily take a week to explore them all.
We popped in at many of the turn-offs to take in the panoramic views of the Cabot Trail.
10. Pleasant Bay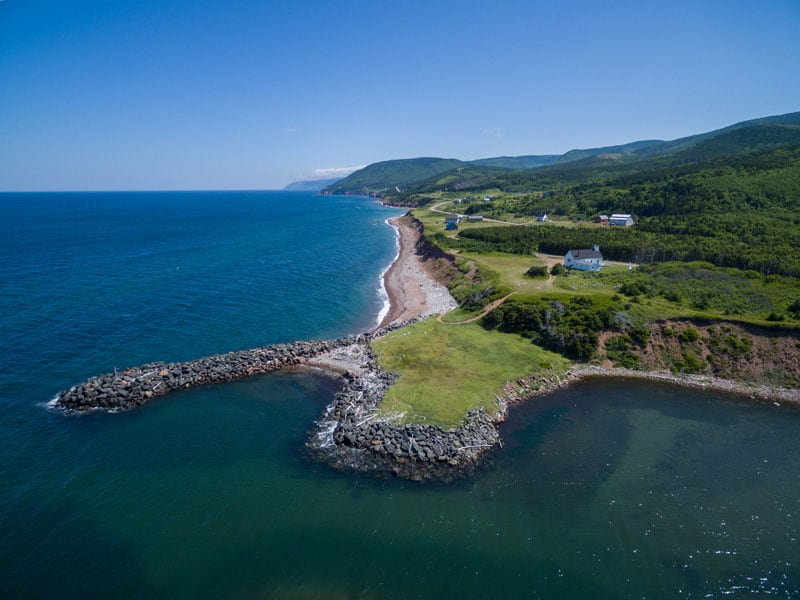 Another stop off the Cabot Trail is the fishing village of Pleasant Bay.
It was here that we met many friendly local fishermen who chatted with us as we took photographs and flew our drone over the spectacular coast.
There's a great spot at the top of a hill located beside the parking lot where the fishermen hang out.
You can sit on Muskoka Chairs (Adirondack chairs if you prefer) to take in the view.
Coffee on the Cabot Trail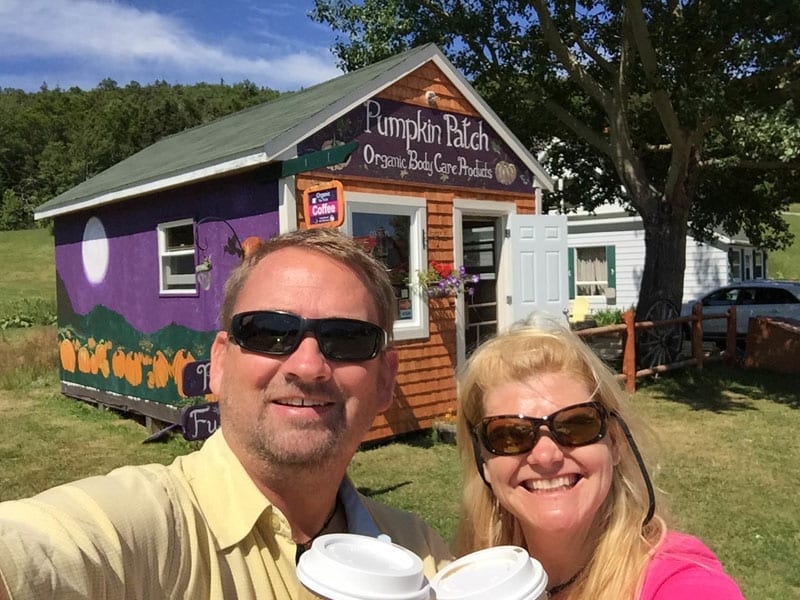 We had some of the best coffee on our entire trip at the Pumpkin Patch in town.
Everything in the store is organic and the coffee is delicious, but the homemade fudge is to die for.
The owner even sells organic beauty products that you can buy online.
Don't miss stopping here to get a coffee to go (and to stock up on sweet treats).
11. Skyline Trail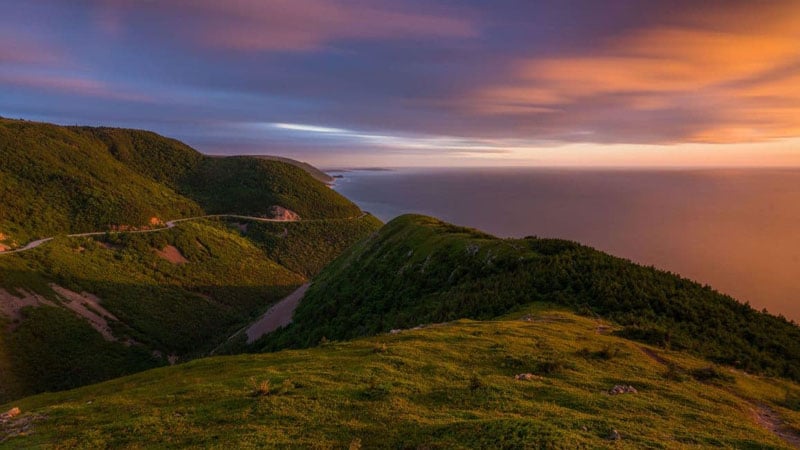 It's the moment you've all been waiting for.
The Skyline Trail is the most famous stop on the Cabot Trail and with good reason.
This 7.5 km loop is one of the longer hikes on the trail, but it is very easy and the scenes are worth every minute.
We hiked at sunset which is highly recommended.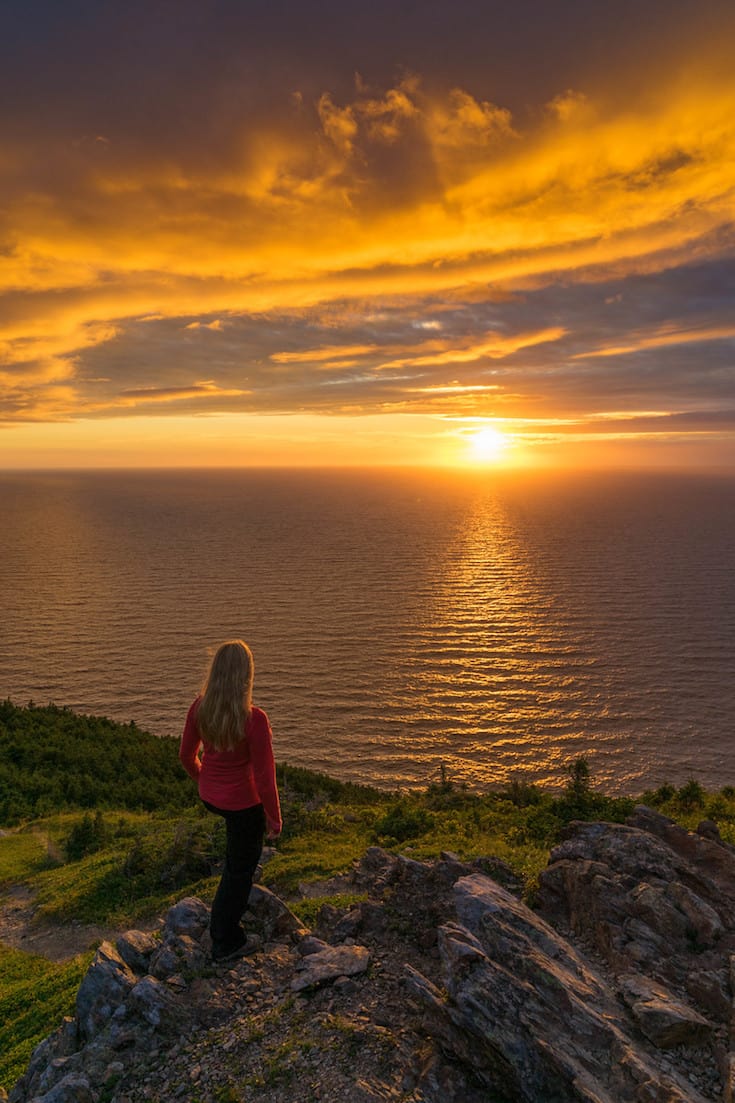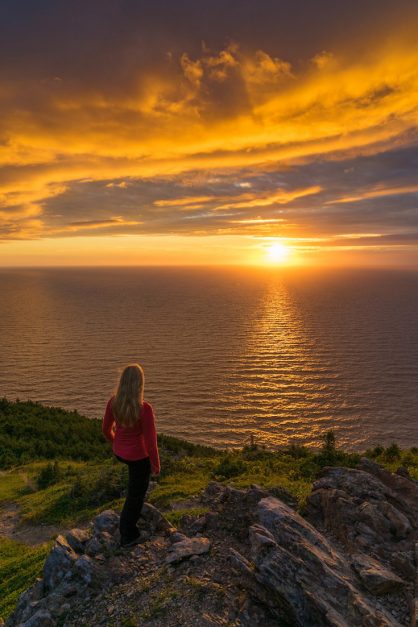 The sunsets over the Gulf of St. Lawrence and the crowds are much lighter at this time of day.
We saw about 10 other people on the boardwalk during our time on the Skyline Trail, but it is so spread out, we barely noticed them at all.
There are several tiers for watching the sunset and if you really want some privacy, you can hike down further off the boardwalk to view the scenery from the tip of the trailhead on a narrow dirt trail.
To see more about the Skyline Trail, check out our post about our experience there.
Beaches of the Cabot Trail
There are beautiful secluded beaches on the Cabot Trail.
We stopped at one on our way to Cheticamp just after the Skyline Walk that makes for a gorgeous stroll and a perfect vantage point of the iconic winding road view of the Cabot Trail.
Stopping at the beaches along the Cabot Trail lets you see the scale of the massive sea cliffs and rolling hills.
It's rare to find beaches that are so pristine in this world.
Few people stop to take a look so you will often have them all to yourself.
Or perhaps, it will be just you and an artist capturing the scene before their eyes.
Epic Views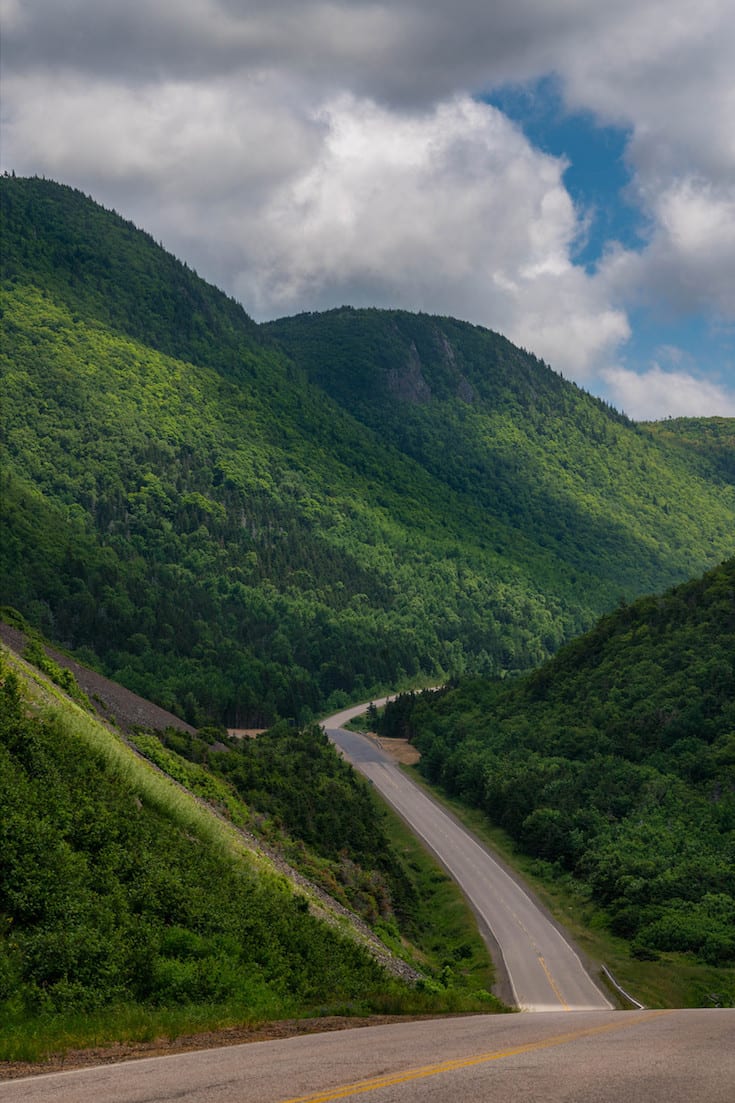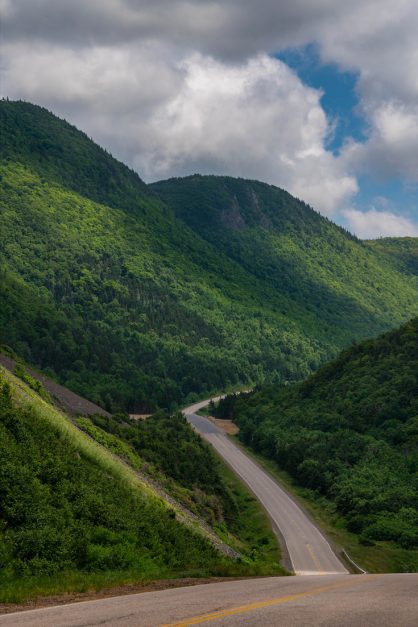 If you love taking road trips, you'll love exploring the Cabot Trail of Cape Breton Island.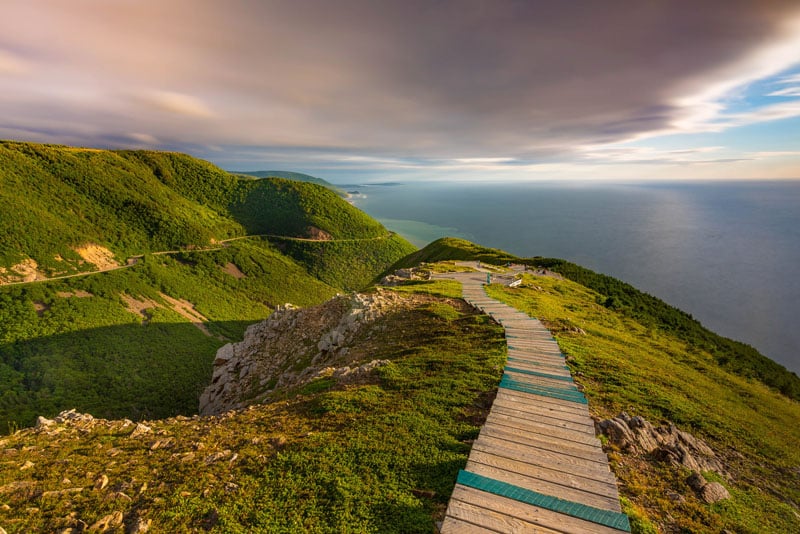 Accommodation along the Cabot Trail:
Map of the Cabot Trail, Canada
Click on the Interactive map for all the stops on the Cabot Trail that we mention.
Planning a Road Trip? Check out our list of the Best Songs to Get You Through the long Drive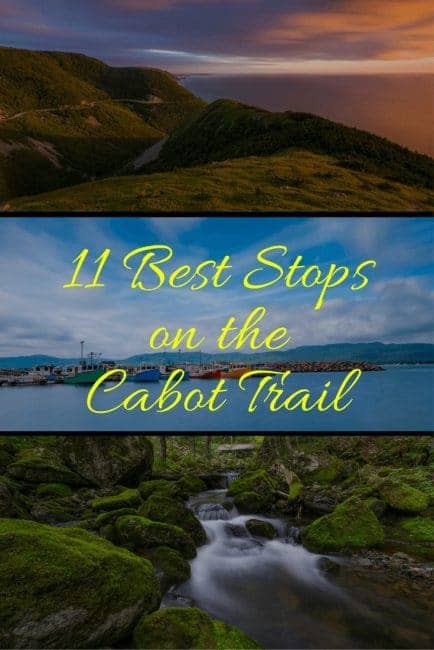 Our trip around the Cabot Trail was in partnership with Nova Scotia Tourism who we went on assignment with to capture adventures and photography around Nova Scotia.
Find out more about traveling around Nova Scotia at VisitNovaScotia.com. All opinions are our own.
Read Next:
Why Nova Scotia Should Be Your First Stop on the East Coast
Discover an Unexpected Gem on the South Shore of Nova Scotia
Welcome to The Skyline Trail -The Most Scenic Hike on an Epic Drive