Toronto is a city of neighborhoods. Choosing where to stay in Toronto depends on what type of experience you want to have in "The 6ix."
We moved to Toronto in the early 90s and have called it our home for two and a half decades.
We've also had the luxury of being tourists in our home city.
While living the life of location independent entrepreneurs, we spent 9 years on the road and were constantly askes "Where is the best place to stay in Toronto"?
Whenever we came home, we stayed in a new hotel in different neighborhoods in Toronto.
And we have personally experienced nearly all of the city's tourist attractions.
Best Places to Stay in Toronto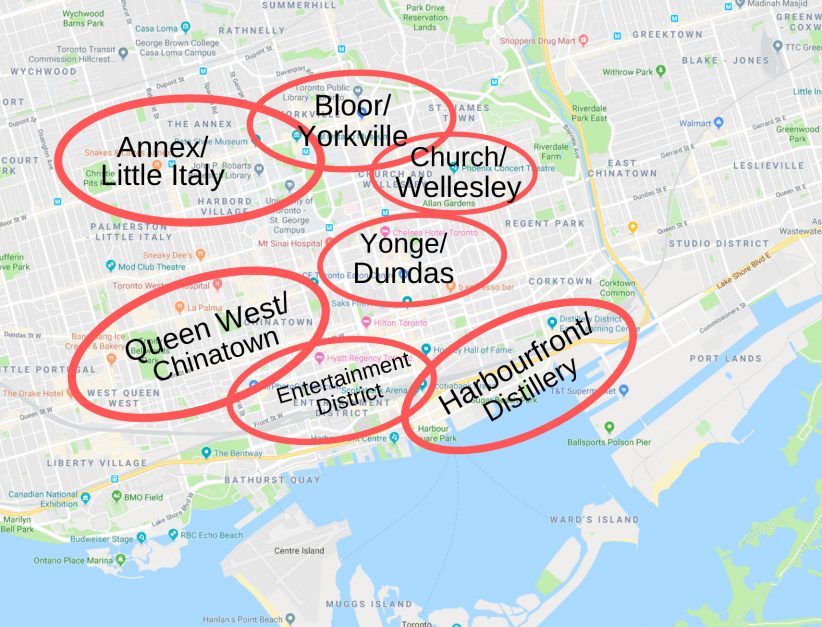 Toronto Neighborhoods
Toronto is huge! There are 140 neighborhoods in Toronto spanning across 630 square km!
In 1998 six municipalities amalgamated to create one megacity giving it the nickname coined by Drake, "The 6ix"
While there are other neighborhoods that are great to live in like Etobicoke, Scarborough, High Park, and the Don Valley, we wouldn't suggest staying in these neighborhoods if you want to experience the city to the fullest.
Toronto's main tourist areas are located downtown. We suggest choosing a more central location to stay in Toronto to be able to get around easily and enjoy the city's top attractions.
In this guide, we will showcase 7 Toronto neighborhoods to help you plan your itinerary.
These are the places where tourists visit and where the top attractions are.
1. Entertainment District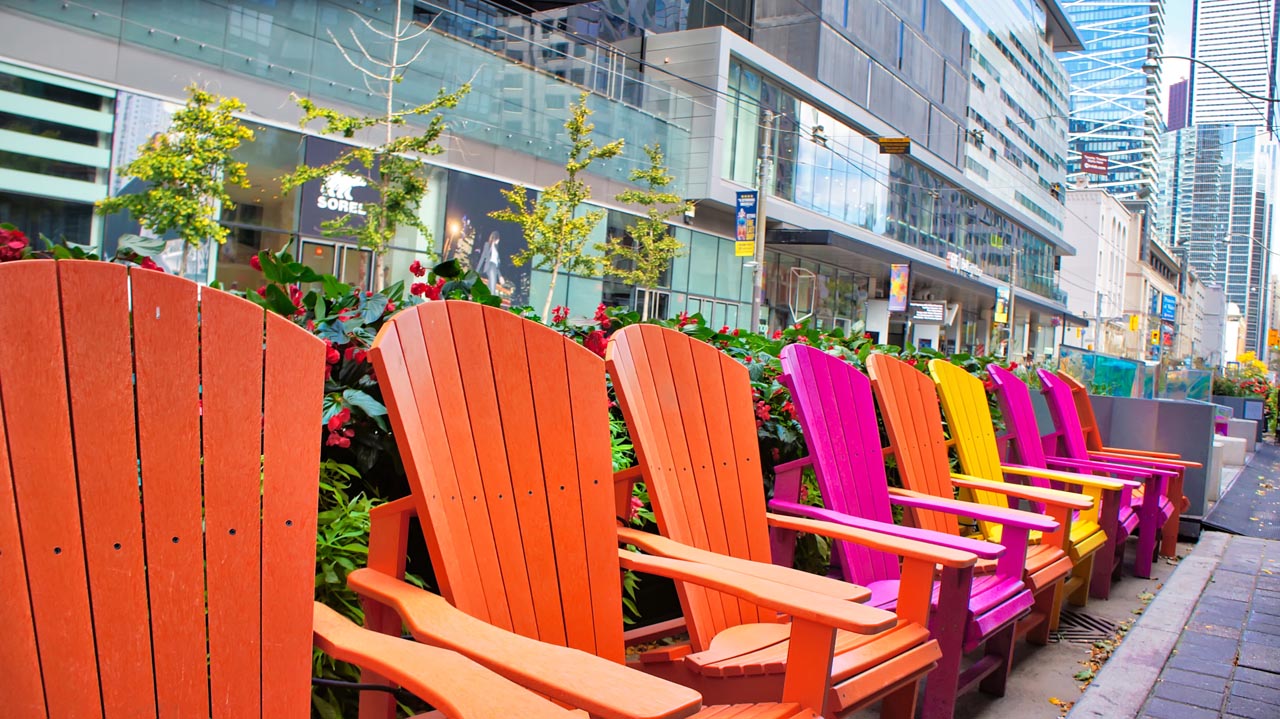 The Centre of Toronto Nightlife and Entertainment
The entertainment district is the best area to stay in Toronto for first-time visitors. It's close to many major attractions and a lot of dining and nightlife.
When staying in the Entertainment District you are truly in the center of it all!
Spanning from University west to Spadina and from Front Street north to Queen, this is the place where all the action happens.
If you want to be in the urban center and nightlife of Toronto this is the place to stay.
Recommended Tour – CN Tower Edgewalk. A thrill of a lifetime to put on a harness and head outside to face the sheer drops of the world's highest skywalk.
Best Hotels in the Entertainment District
Things to see in Toronto's Entertainment District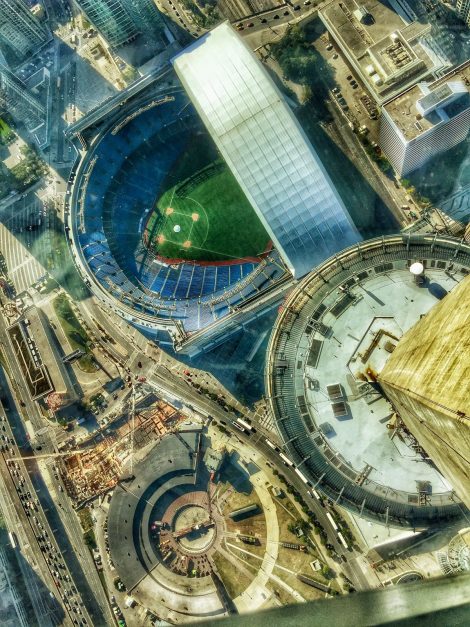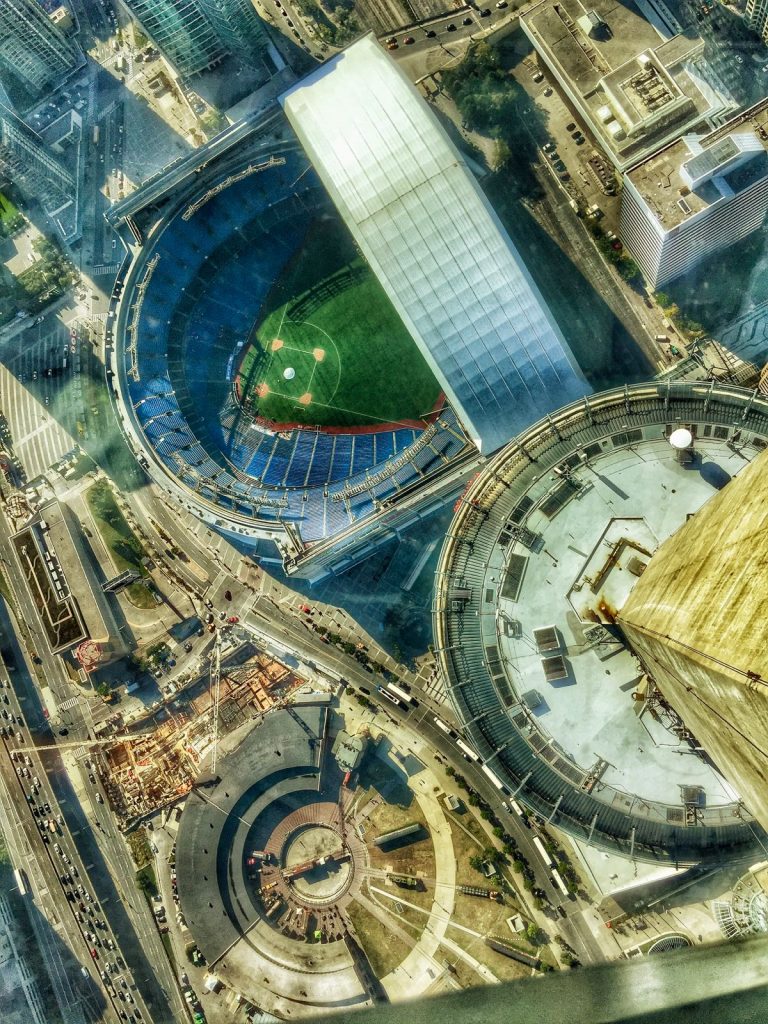 CN Tower – The tallest freestanding structure in the Western Hemisphere.
It's a must stop for first-time visitors. Stand on the glass floor, enjoy 360 dining, or dare to take on the Edgewalk
There are also multiple viewing platforms and a cafe.
Hours: Open daily 9am – 10:30 pm. Edgewalk is open in all weather save for extreme conditions and wind/electrical storms. It is closed during the winter.

CN Tower and Edgewalk are wheelchair accessible
Hockey Hall of Fame – See the legends of hockey and home of the Stanley Cup. There are interactive exhibits, a 3D film and other stats and information on everything hockey.
Open: 365 days per year with extended holiday hours. Summer: 10 am to 5 pm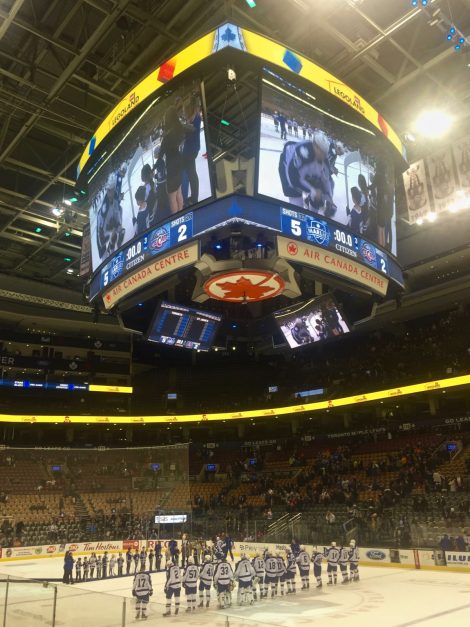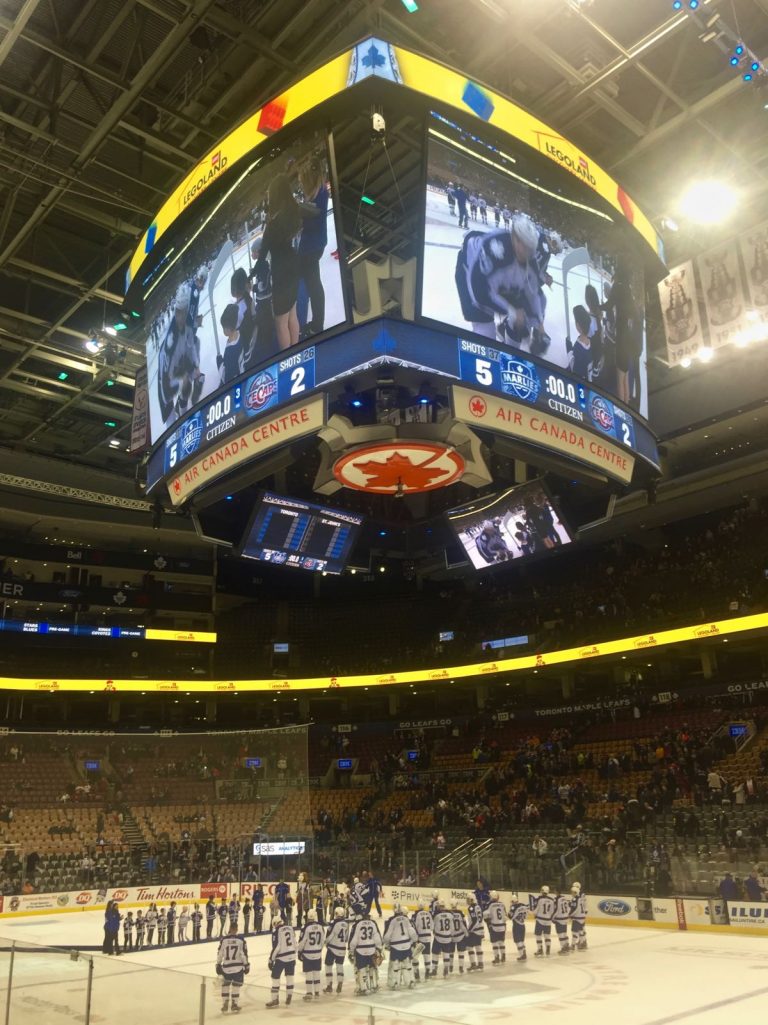 ScotiabankArena – Home to the Toronto Maple Leafs and Toronto Raptors. Catch a game of NHL Hockey or NBA Basketball and this premier venue.
TIFF Lightbox – Home to the Renowned Toronto International Film Festival, the TIFF lightbox theatre has year-round events, screenings, and talks.
Rogers Centre – Home of the Toronto Blue Jays. Watch your favorite American League baseball team take on the Toronto Blue Jays. There are also Rogers Centre stadium tours of this massive complex. The Marriott Hotel is inside as well if you want a unique place to stay in Toronto.
Roy Thompson Hall – Want to see live music at its finest? Toronto's premier venue for the Toronto Symphony Orchestra.
It also has regular guest performers, opera, and even novelty performances like live symphonies to Star Wars and the Empire Strikes Back.
Hours: dates and times vary per performance. Check the website for details.
Candian Walk of Fame– Located along King Street, see the Canadian Stars honored in the Walk of Fame
You'll be surprised to find out what stars are Canadian
Jim Carrey, Shania Twain, Neil Young, Michael J. Fox, Alanis Morisette, Ryan Renolds, and James Cameron to name a few.
Royal Alexandra Theatre– Watch the latest and greatest from Broadway at this historic theatre.
Note: If you want to stay in an historic hotel the Fairmont Royal York is very central close to Queen West, Harbourfront and Yonge Street. It is located directly across from Union Station so it is easy to get to all major attractions.
2. Queen West and Chinatown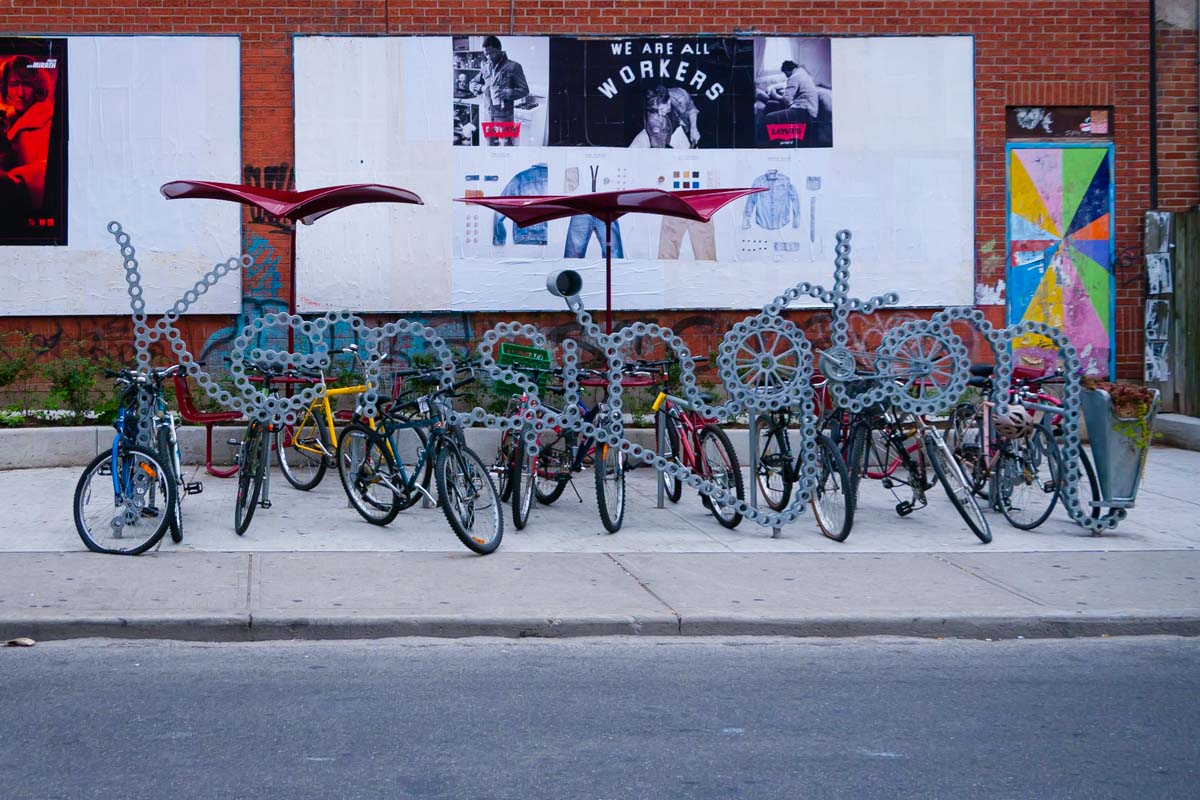 The Hippest Neighborhood in Toronto
Just a little farther west of the Entertainment District is Queen West. Known as one of the coolest neighborhoods in the world.
Here you'll see all the fashion-forward people and trendsetter sipping coffee and looking cool in this fashionable district.
It's also one of the most multicultural neighborhoods housing Chinatown and Kensington Market.
It officially runs from Bathurst to Gladstone, but we feel the true Queen Street Vibe starts at Spadina.
Best Hotels in Queen West
Things to see and do in Queen West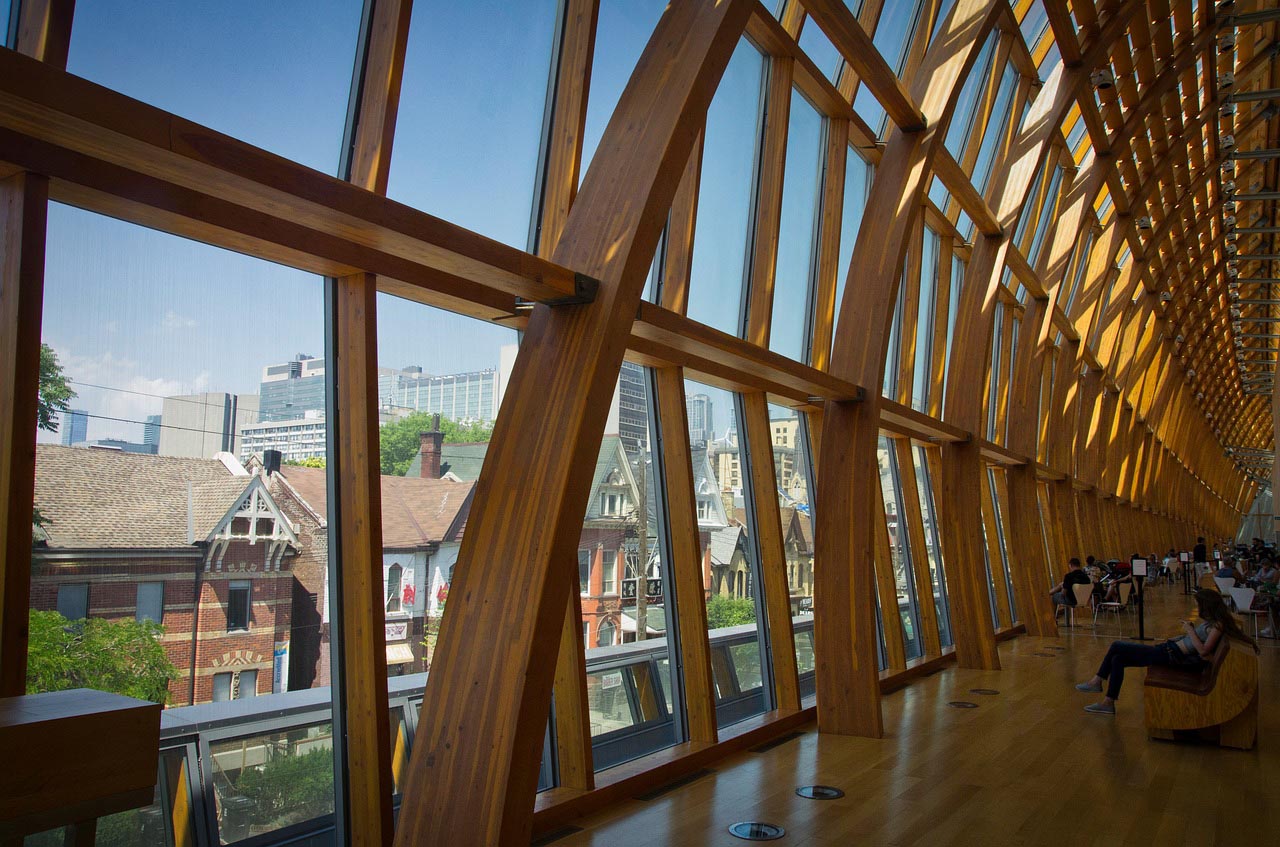 Art Gallery of Ontario – Affectionately called the AGO, the Art Gallery of Ontario is one of the most distinguished galleries in North America.
Art Gallery Hours: 10:30 am to 9 pm (Free on Wednesdays after 6pm)
Chinatown – There are six Chinatowns in Toronto, but the downtown Chinatown is one of the largest in the world. Running along Dundas and Spadina, its a vibrant area for shopping and dining.
Kensington Market – Kensington Market feels like something straight of the 60s with second-hand stores, hippy inspired eateries and family-run markets.
Spend an afternoon shopping and browsing the stores and keep an eye out for graffiti alleyways.
Graffiti Alley – Rick Mercer made Graffiti Alley filming his rants here for the "Rick Mercer Show" on the CBC and now everyone has to make a stop for a selfie when they visit Toronto.
Location: Grafitti Alley is located one block south of Queen at Agusta.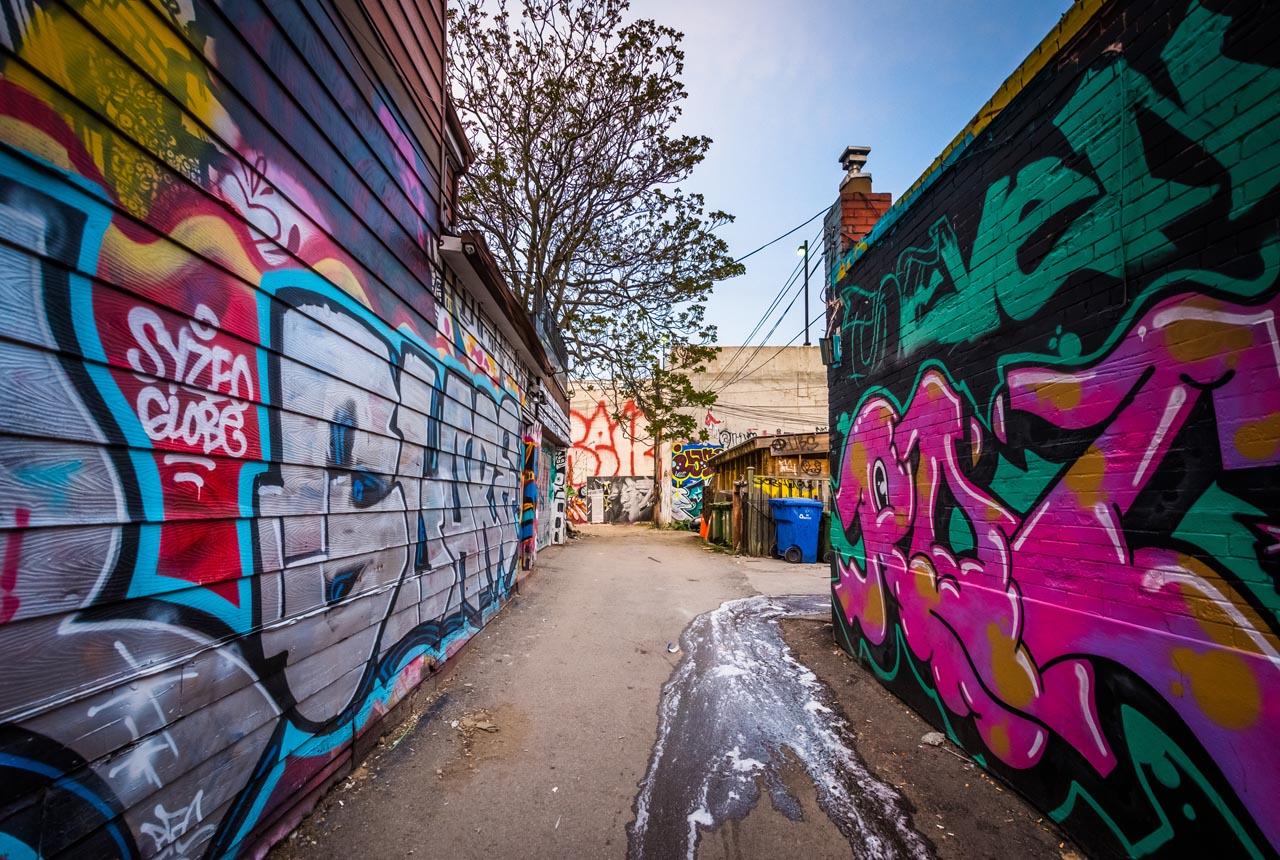 Fun Excursion to Try – Queen and King West End Sunday Brunch Tour.
Ossington Strip – Go ba- hopping along one of Toronto's coolest bar scenes.
Horseshoe Tavern – Catch some live music at Canada's legendary bar and eatery.
Trinity Bellwoods – Chill out like a local at Trinity Bellwoods park. Read a book, play some frisbee or go skating in the winter.
Recommended Tour – Free Queen West Graffiti Tour
3. Yorkville/Bloor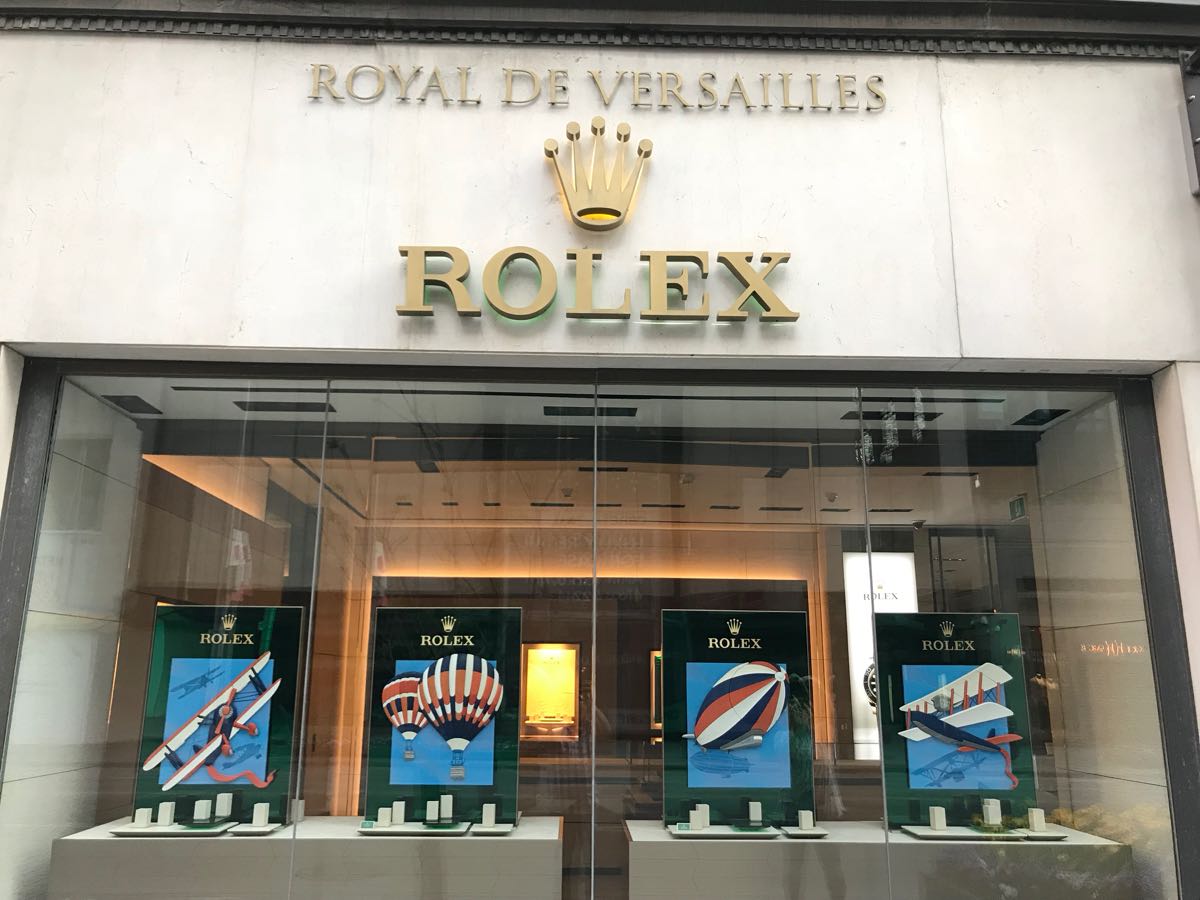 Toronto's Most Glamorous Neighborhood
Home to the Mink Mile, high-end shopping, luxury dining and accommodation, Bloor and Yorkville is located right in the center of the city.
Here you'll find everything from Rolex to Chanel and you can sit on a patio to star watch when the celebrities are in town.
This former hippy village has transformed into a block of modern boutiques, ultra-chic restaurants, and walking streets.
The Bloor Yorkville area residents are not afraid to show off their wealth with exotic cars and designer clothes gracing the street.
When visiting Toronto, you must spend some time in this district.
Best Hotels in Bloor Yorkville
Things to see and do in Yorkville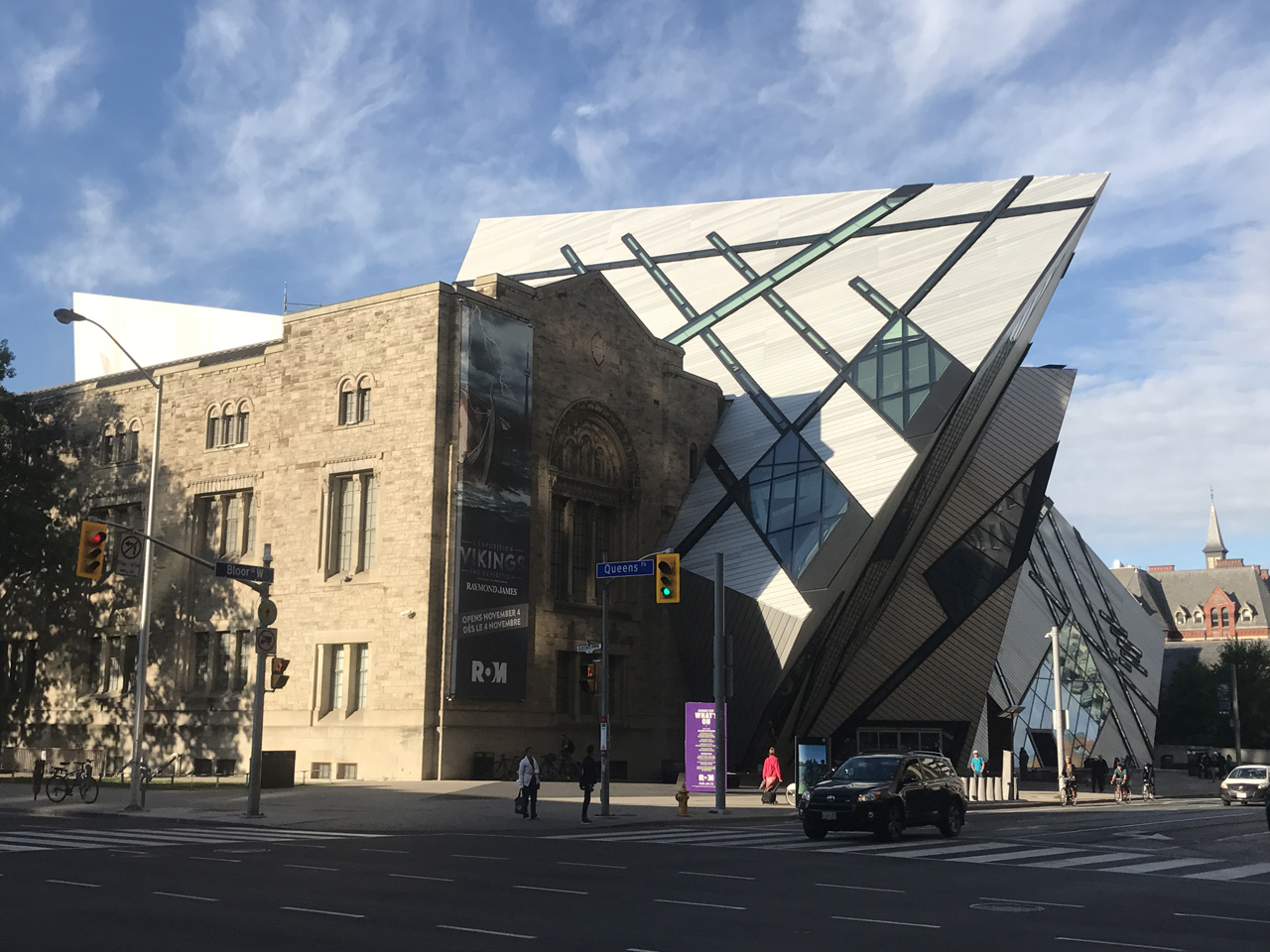 ROM – The Royal Ontario Museum is a fantastic museum at Bay and Bloor. The addition by Michael Lee-Chin – known as "Crystal," – was a multimillion-dollar expansion that brought the museum into the 21st century.
Bata Shoe Museum – This museum is cooler than it sounds. Take a stroll through time looking at shoes from each era dating back to ancient times.
Check out iconic celebrity shoes like Elvis' Blue Suede Shoes and Elton John's platform boots.
Hours: 10 am to 5 pm.
Cost: $14
Galleries –There are a dozen galleries that put on shows regularly including. Browse the streets of Cumberland and Yorkville Avenue in search of the Loch Gallery, Mira Godard Gallery and the Canadian Fine Arts Gallery.
Mindset Brain Gym – Pop into a drop-in class at Mind Set Brain Gym, the only brain gym in Canada where you can learn to meditate.
Sassafrazz – People watch from the patio of Sazzafrazz.
The Pilot – Have a drink at the rooftop patio of The Pilot, one of Toronto's longest running bars.
4. Harbourfront/Distillery
Toronto's Waterfront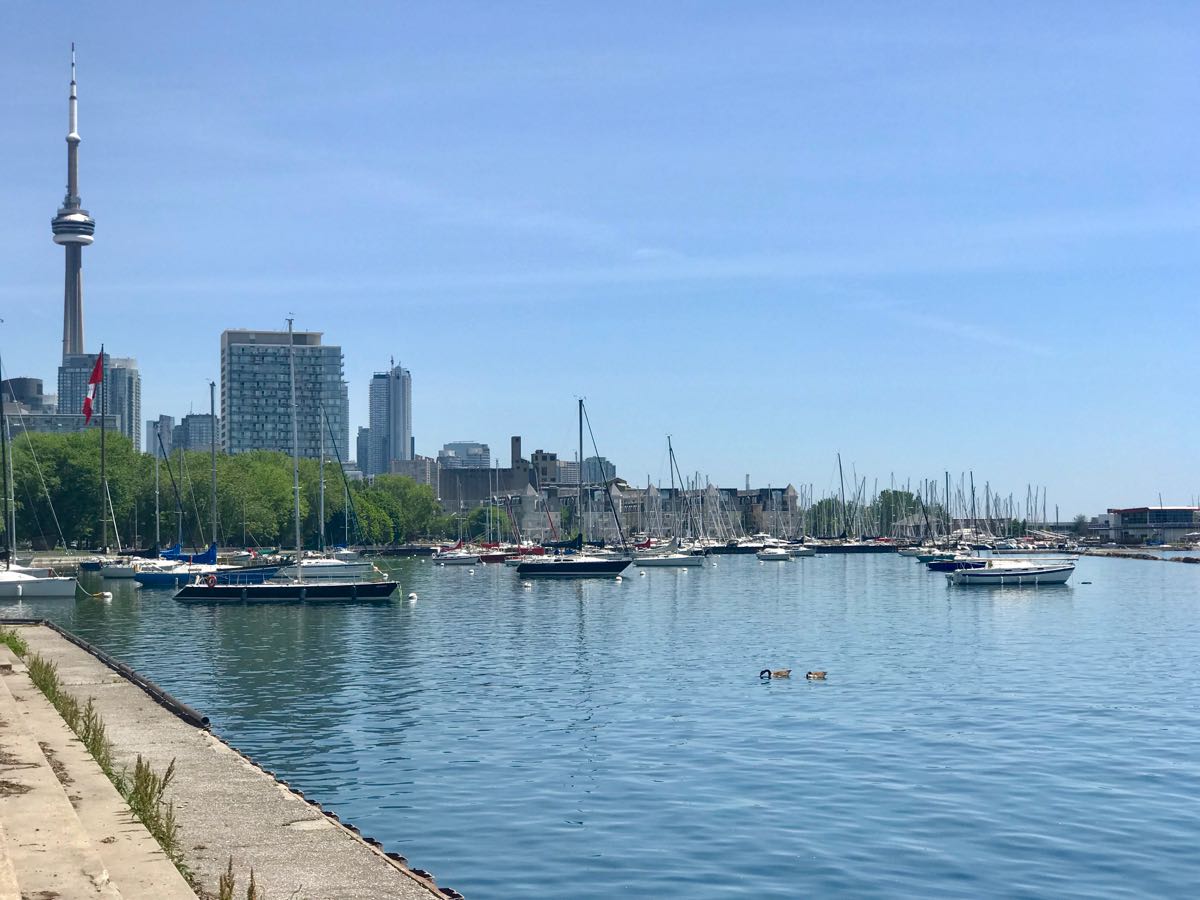 Habourfront has come a long way in recent years with many condos opening up on the South Side of the Gardiner Expressway.
It now spans from Spadina Avenue to Jarvis Street, so we feel that The Distillery District is now close enough to include it in the same neighborhood.
Harbourfront is walking distance to many of Toronto's main attractions, Union Station and is an easy ferry ride to the Toronto Islands.
That is what makes it one of the best areas to stay in Toronto.
Harbourfront can easily overlap with things to do in the Entertainment district as it is close to the sporting event venues of The Scotiabank Arena, Rogers Centre and a short walk to the Hockey Hall of Fame and CN Tower.
But we are going to stick with Harbourfront and Distillery for this section.
Recommended Tour – Window Seat Helicopter Tour – Toronto is a beautiful city to see from above. If you ever do a helicopter tour, make sure you have a window seat for best views!
Suggested Toronto Hotels in Harbourfront
Things to do in Harbourfront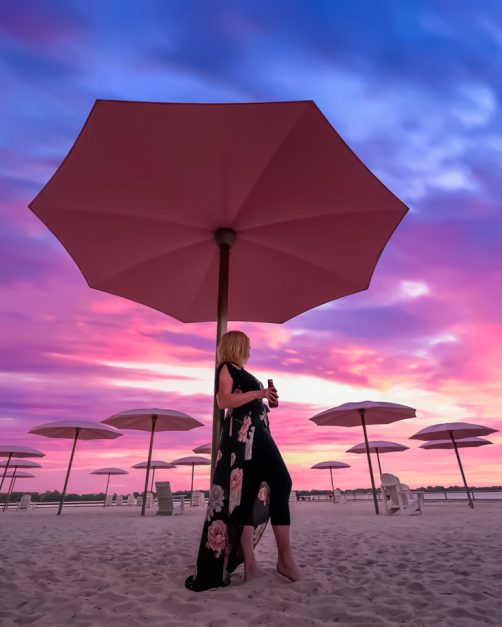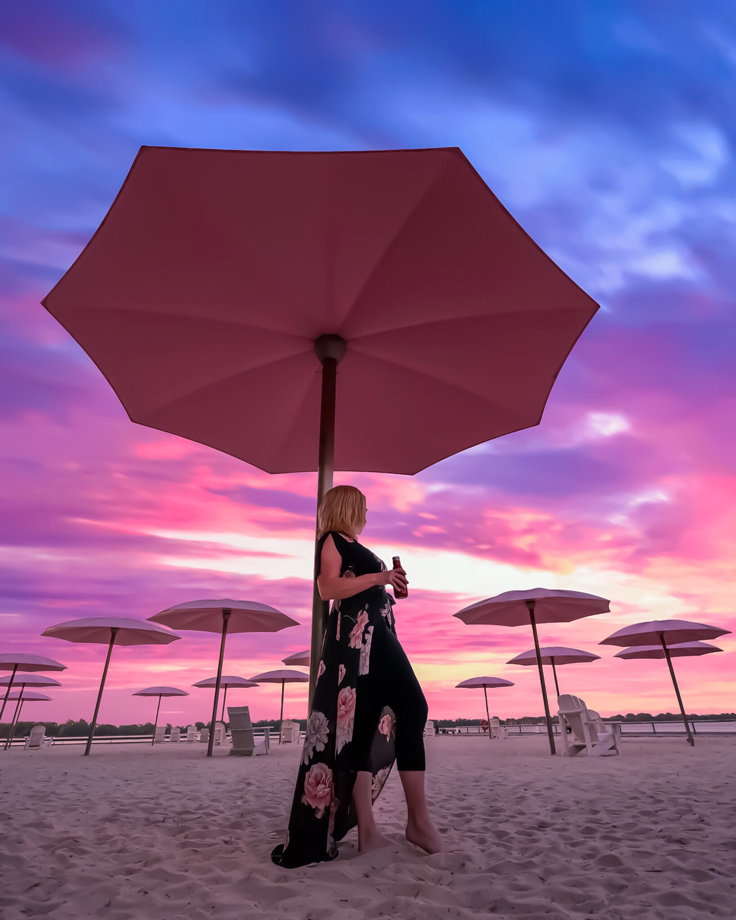 Sugarbeach – Sugarbeach has gained popularity as one of Toronto's most Instagrammable spots. It's a small beach located along the waterfront trail with pin umbrellas.
Harbourfront Centre – This complex brings together creative minds putting together programs for artists and entertainment. There is always something going on and if you walk through you'll find exhibits, and might even see glass blowers at work.
Ferry to Toronto Island – Take the ferry to Toronto Island where you can enjoy cycling, kayaking, sailing, and beaches.
Waterfront Trail – Rent a bike and go for a ride along the waterfront trail to explore the beaches of Toronto. Cherry Street, the Leslie Spit and even The Beaches.
Distillery – Formerly the Gooderham and Worts alcohol distillery it was overhauled to a chic entertainment district with pedestrian streets, art galleries, boutiques, restaurants, and microbreweries.
In the summer the streets come alive with outdoor street performers, music and stage performances. The Christmas Market and Festival of Lights keep it a year-round destination.
City Cruises – Take a dinner cruise or city cruise to view Toronto from Lake Ontario. There's even a tall ship cruise to add a little more excitement to your outing.
Saint Lawrence Market – Located at the foot of Front and Jarvis, St. Lawrence Market was once voted as the #1 Food Market in the World by National Geographic.
5. Yonge and Dundas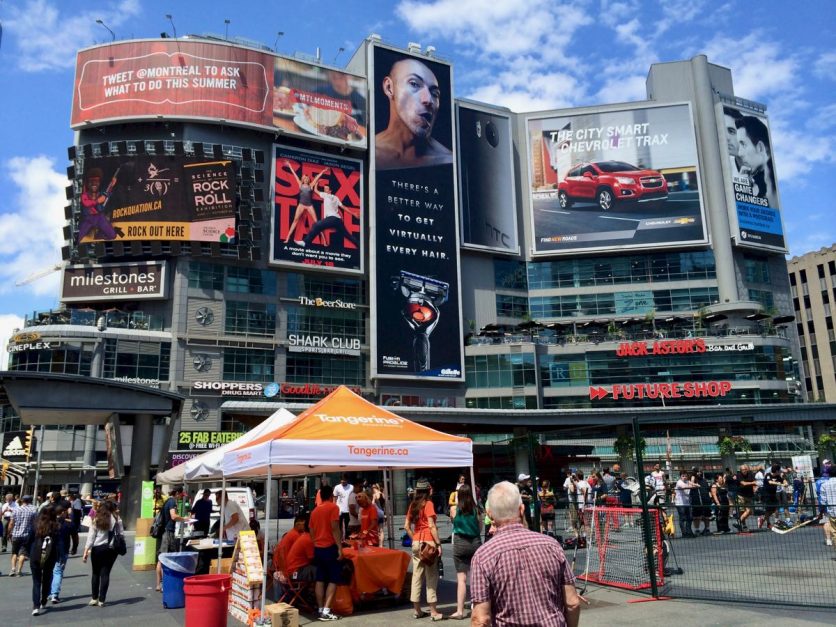 The Heart of Downtown Toronto
It's not quite Times Square, but Yong and Dundas is a large square filled with billboards, a pedestrian scramble and plenty of food and entertainment.
It's attached to a Toronto staple – the Eaton Centre which is a huge downtown mall.
Here you'll also see Toronto's most popular TV station, City TV and The Ed Mirvish Theatre.
Best Hotels near Yonge and Dundas Square
Things to do at Yonge and Dundas Square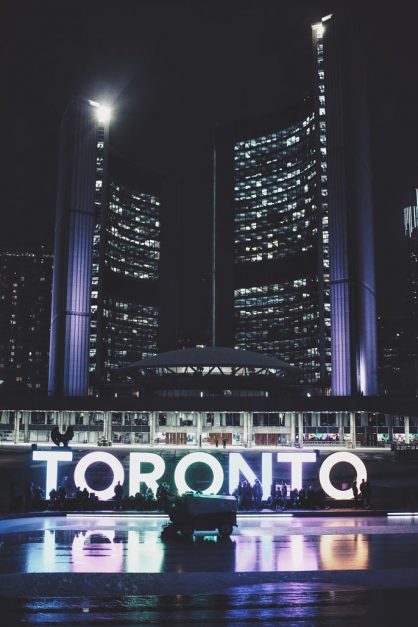 Eaton Centre – Huge shopping centre with all name brand stores, including Apple Store, Saks Fifth Avenue, Nordstrom, and Saks Food Hall by Pusateri's.
Food Stalls – Just north of Dundas Square at Ryerson University is a block filled with food trucks. Choose some quick eats like pitas, cepes or burritos.
Ed Mirvish Theatre – Catch a live show at the Ed Mirvish or Wintergarden Theatres located directly on Yonge Street just south of Dundas.
City Hall – Walk over to Bay Street to see Toronto's city hall, home to our provincial parliament and city hall.
Nathan Philipps Square – Home to the famous Toronto Sign and constant events including Toronto's New Year's Eve celebrations.
VIP Cinemas – Catch the latest Hollywood blockbuster at these VIP cinemas complete with seat service selling alcohol and hot meals. There is a restaurant and bar inside too.
6. The Village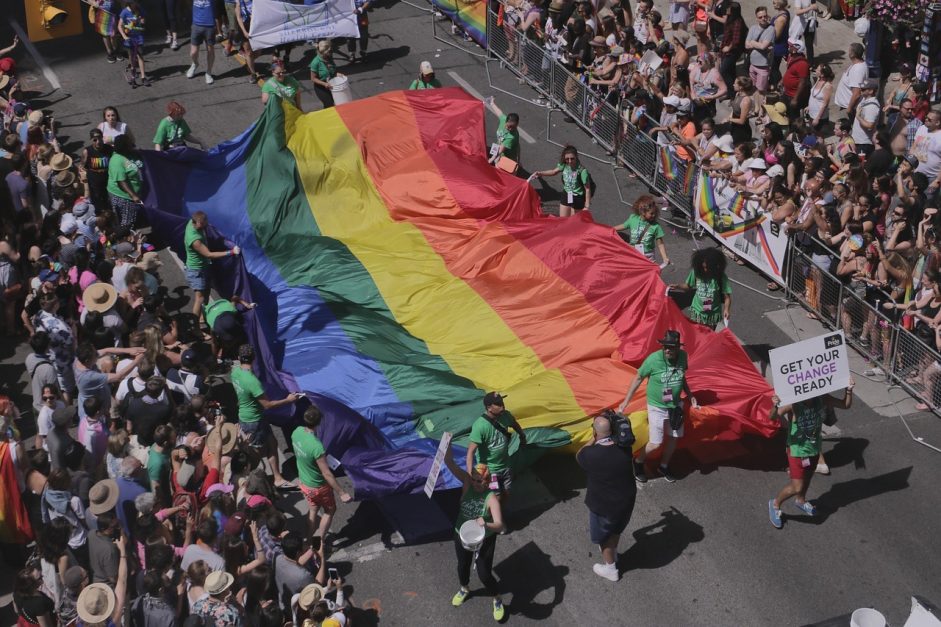 Toronto's LGBTQ Community
Toronto has always been one of the most LGBTQ friendly cities on earth and if you want to be in the heart of the village, this is the place to be!
When turning from Bloor Street onto Church Street, there's more color, more people and more fun!
The village is a great location as it is sandwiched between Yonge and Dundas and Bloor Yorkville, so it is as central as it gets.
Best Hotels near The Village
Things to do in Toronto's Gay Village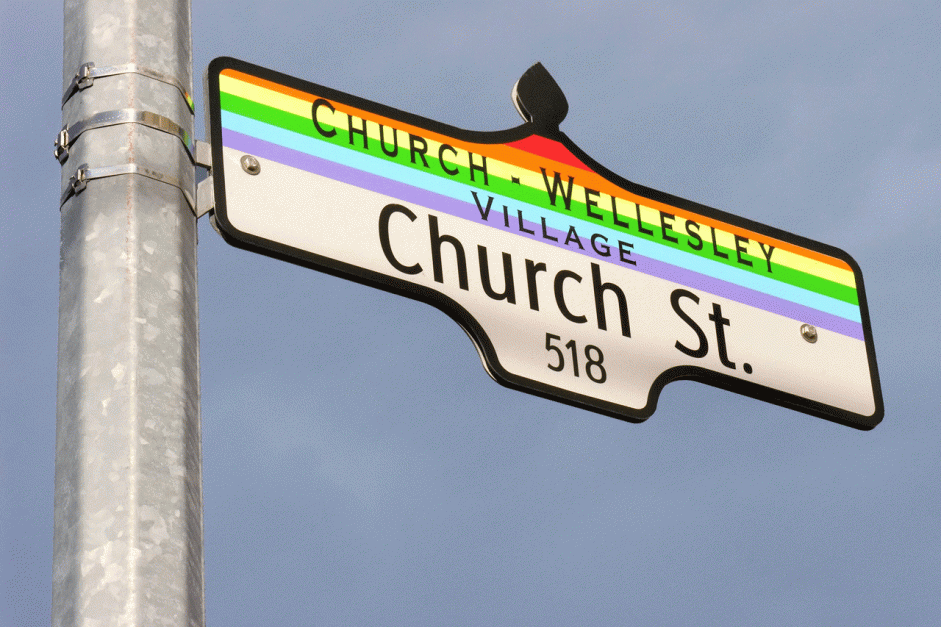 Pride Toronto – Pride is an annual event happening every June culminating with the gigantic Pride Parade at the end of the month. If there is a time to be in the village, this is the month!
Bar Hopping – Church Street is lined with bars that are happening any time of the year. Pop into Crews Tango for a drag show, hang out on the patio of the Churchmouse or slide into Woody's, Toronto's most famous gay bar.
Buddies and Bad Times Theatre – Our friend Shawn manages this theatre and you'll see a lot of great performances at this Toronto LGBTQ Theatre.
Keg Mansion – It's the Keg Steakhouse, but it's in a gorgeous mansion dating back to 1867. And it's known to be haunted.
Insider Tip – Head upstairs to the bar and ask to see the "Ghost Book"
Mirvish Theatre – Ed Mirvish was a beloved entrepreneur in Toronto and he has a couple of venues bearing his name. This is the more affordable option to the Princess of Wales and Ed Mirvish Theatres.
Riverdale Farm – After all that downtown nightlife, you might want some quiet time. Riverdale farm is just a few blocks east of the Village and is a working farm located right in the heart of Toronto.
Getting There
7. The Annex and Little Italy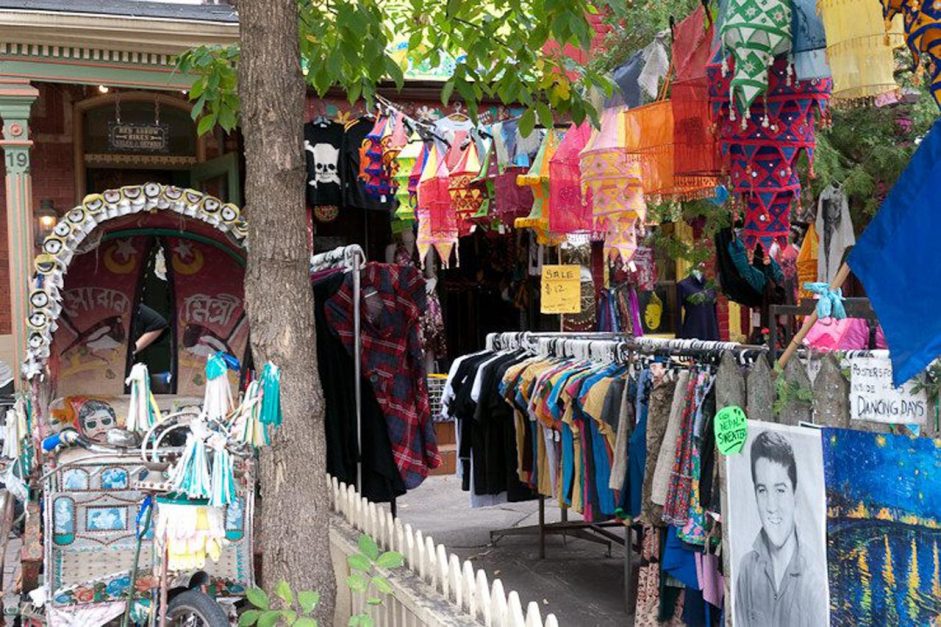 Bohemian Vibe/Culturally Diverse Toronto
Almost overlapping with Bloor/Yorkville, is another fantastic Toronto neighborhood, the Annex.
Compared to Yorkville, it feels like another city.
It's the University of Toronto district and it is filled with a diverse group of people from students to young urban professionals, retirees, and immigrants from around the world.
This Toronto neighborhood bleeds into College Street and Little Italy where you'll find countless eateries, cafes and cool places to hang out.
Suggested Toronto Hotels near The Annex
Things to See and Do in The Annex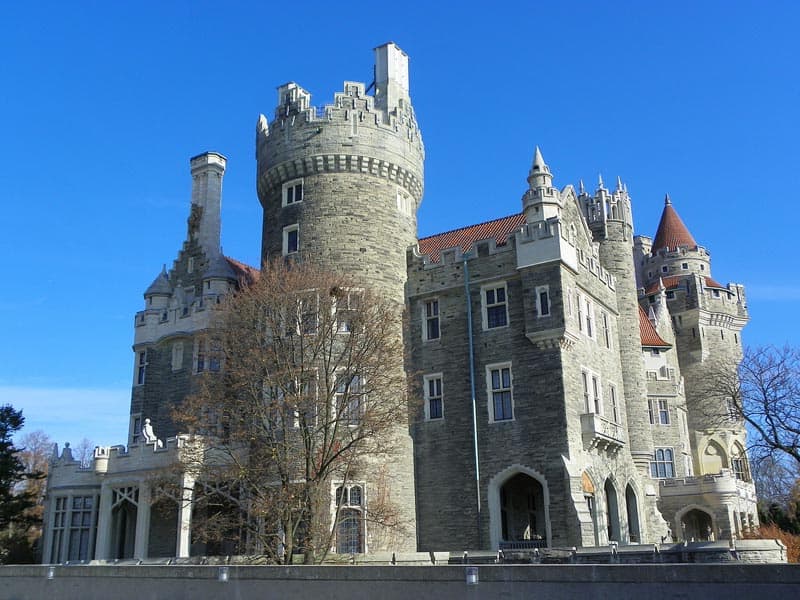 Casa Loma – It is a little north of the Annex, but you must visit Toronto's only castle. It's grand and there are regular events.
University of Toronto – The massive downtown university covers 180 acres of prime real estate. Wander through the quiet grounds and get lost in the architecture dating back to 1827,
Spadina Museum – The Austin family estate dates back to 1866 showing what it was like to live in Toronto at the turn of the 20th century.
Hot Docs Ted Rogers Cinema – enter a century's old cinema to watch the latest documentaries. Special presentations, showcases and screenings.
Little Italy – What was once a very distinct Italian community is now the hip strip of College Street. It still has a very Italian vibe with fresh markets, the Italian Walk of Fame and Toronto's premier Italian restaurants.
Lee's Palace – Fantastic concert hall on Bloor Street welcoming the hottest upcoming acts.
Madison Pub – A favorite university hang out spanning three huge mansions. The fun part is trying to find your friends when you arrive.
Suggested Toronto Tours: The Annex
Toronto Insider Tips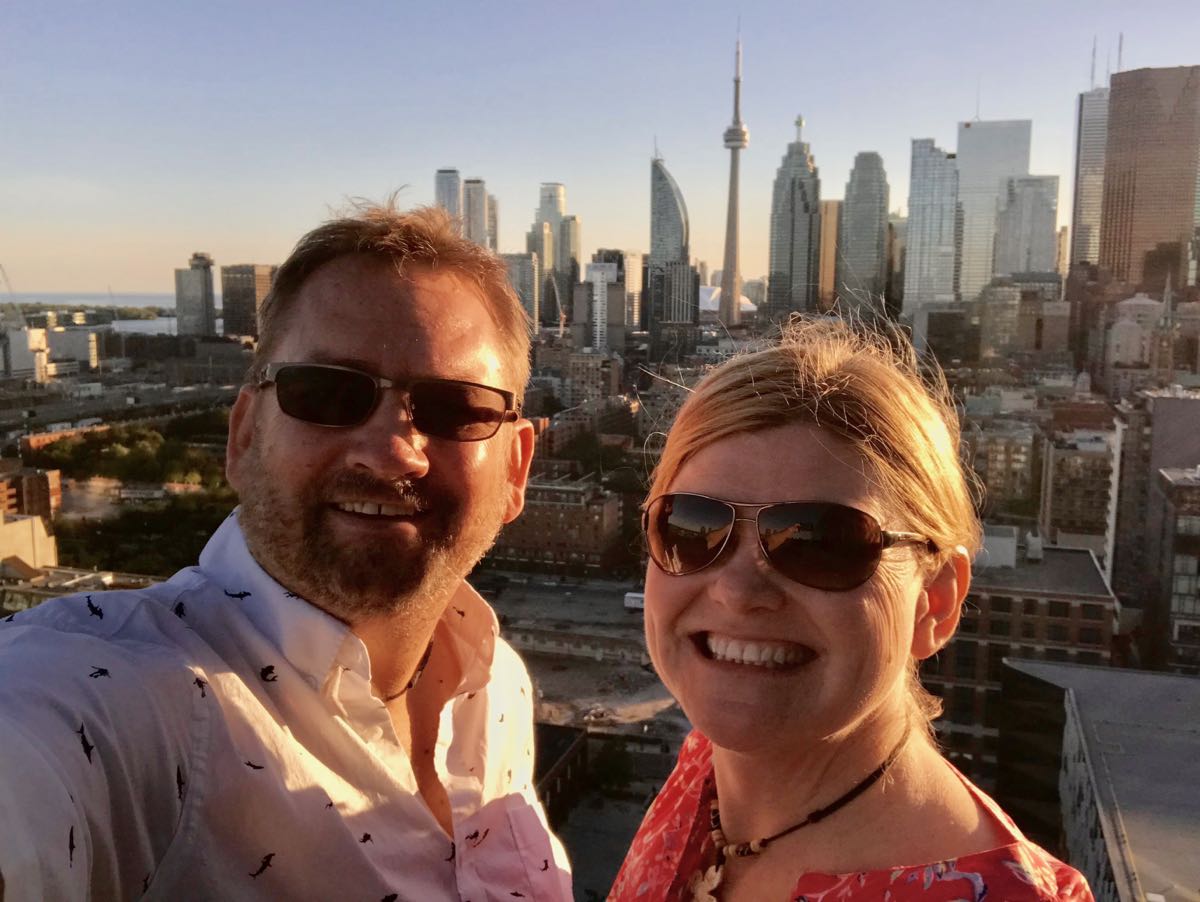 Best Rooftop View: The One Eighty – Located on the 51st floor of Manulife Centre, this bar has one of the best views of the Toronto City Skyline
Best City View: Tommy Thompson Park – Rent a bicycle and head out to the Leslie Spit for the best skyline view of the city.
Best Patio View: Polson Pier – If you don't want to rent a bike, Polson Pier is an entertainment complex that has excellent city views.
Best Free Event: Art Gallery of Ontario – The AGO is free to visit on Wednesdays after 6pm. There's also a good dining room and bar in the building.
Best Cultural Event: Royal Ontario Museum – During summer months, the ROM has Friday night events with DJs food vendors and parties.
About Toronto
Toronto uses the Canadian dollar. Many restaurants and establishments take US cash but will give a low rate. $1 USD = $1.36 CAD as of Jan 1, 2019. For up to date conversions get the XE Currency Converter App.
Best Time to Visit Toronto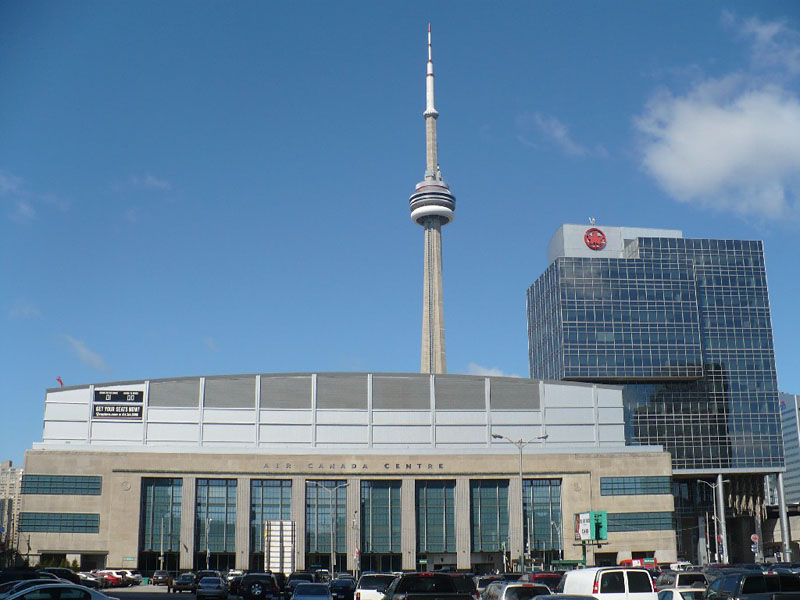 Toronto can be visited year-round.
Summer months are hot and humid with temperatures reaching 35+ degrees Celcius (95+ degrees Fahrenheit) but there is a lot going on in the city.
September – is usually very pleasant weather and the Toronto International Film Festival is in full swing. Hotel prices are at a premium and most places are booked out in advance.
December is when all the Christmas Markets, skating rinks, and holiday shopping is in full swing.
April/May aren't as busy in the city but the weather has become unpredictable. We've seen hot and sizzling springtime weather to freezing days in May.
June is when Festival Season begins and kicks off with Pride Toronto celebrating all month.
From June – Sept – Toronto turns into a festival city for the summer with something exciting happening every weekend.
Internet/Data
There is a lot of free Wifi in the city with free wifi hotspots and free wifi in coffee shops, restaurants, and bars.
Toronto uses the same electrical outlets as American cities.
Plan Your Toronto Travel
Lonely Planet Toronto – Great pocket guide for planning a city getaway
You can get access to the most popular Toronto Museums and attractions with your Toronto Pass.
Read: Toronto to Montreal by Train
Getting Around Toronto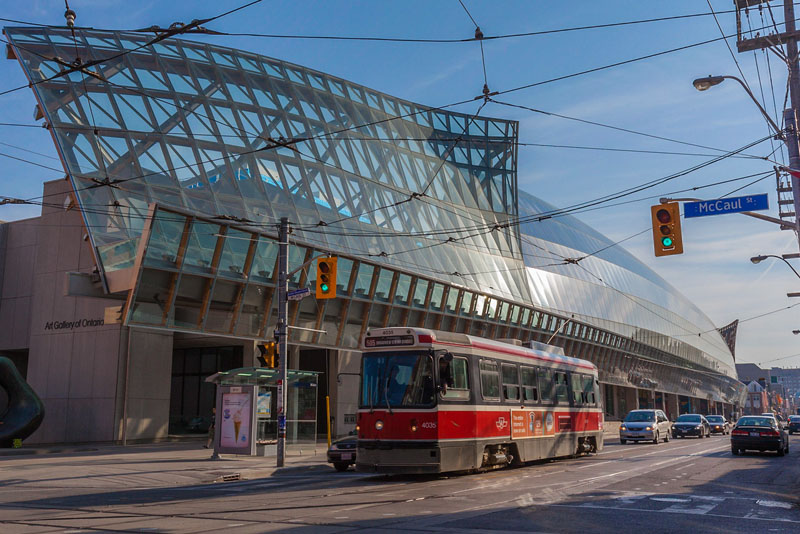 Toronto's amalgamated city is huge, but the tourist areas and where you'll be staying are compact and easy to navigate.
You'll be able to walk to many of the attractions regardless of what neighborhood you're staying in or it's an easy subway ride.
Toronto Transit
In my opinion, Toronto has a terrible transportation system compared to other national cities.
But that also makes it very easy to navigate. There are only two lines you need to worry about. The Yonge/University line and the Bloor/Danforth line.
Toronto also has a lot of Streetcars. Tickets are good for both subway, streetcars and buses.
You can purchase single-use tickets for $3 or a day pass for $12.50
Getting to and from the Pearson Airport
Trains leave Pearson International Airport every 15 minutes. The UP Express goes to Union Station. They also stop at Dundas West, but chances are you won't be staying there.
Uber and Lyft can operate at the airport
There are airport limousine services. – We prefer hassle-free limo services when landing in a new city. A driver is waiting for you from baggage claim holding a placard with your name.
Driving is an excellent way to get around the Greater GTA And Ontario. Find the best deals on Car Rentals here.
Toronto has grown into a world city.
There are many things to keep you occupied should you visit for work, holiday or a quick getaway.
With nightlife, museums, award-winning chefs and an abundance of green space, there is something to fit any travelers desire.
So what are you waiting for? It's time to book your trip to Toronto now!
Read More Toronto Travel Tips
For more information on other Canadian Cities, read our other city guides
Want to see it all in a day? Check out our video to see all the top things to do in Toronto in one day with Tours by Locals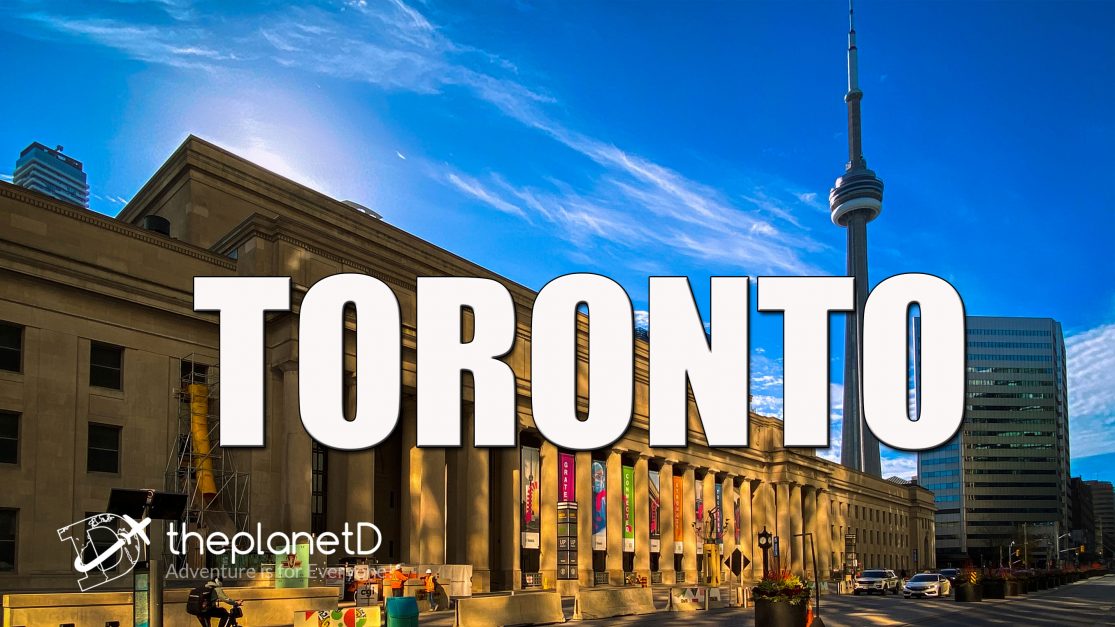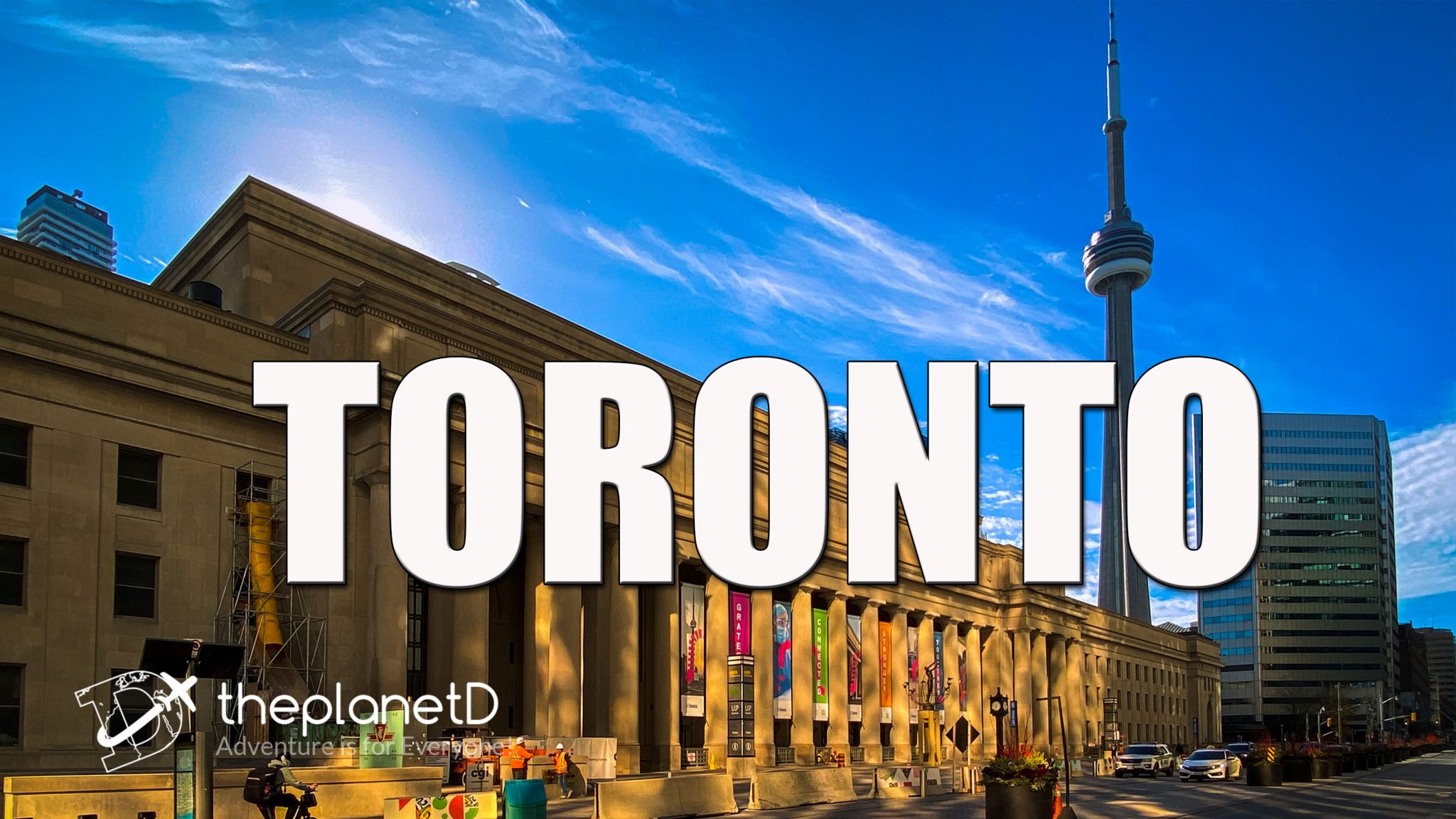 Pin to Save to Pinterest to Help Plan your Toronto Itinerary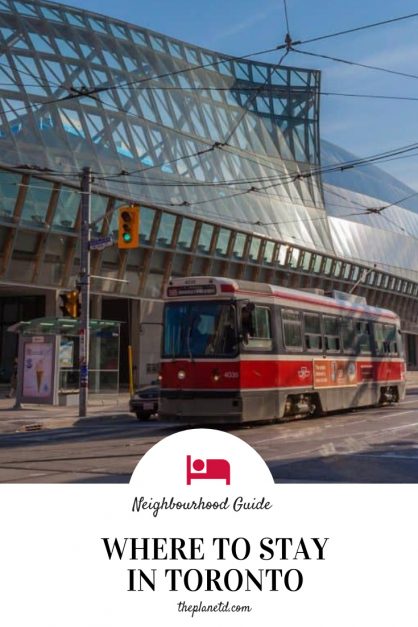 Disclosure: There are some affiliate links in the post above, but these are all products we highly recommend. We won't put anything on this page that we haven't verified and/or personally used.