We've all been there before. Roughing it in the woods for a few nights while facing the elements and putting up with the mosquitoes and black flies.
But can you go camping in Algonquin Park in luxury while still enjoying isolation and the great outdoors?
The answer is yes!
Algonquin Park Luxury Camping
We love the freedom of camping under the stars, heading out at first light seeking wildlife to capture with our camera lens and cooking breakfast over the open flame of a fire.
There's nothing better than bragging to your friends after a week of being outside in the middle of the wilderness for a few days.
Algonquin Park in Ontario is one of the premier spots in Canada to go on a camping and canoe trip.
Camping Trip in Algonquin Park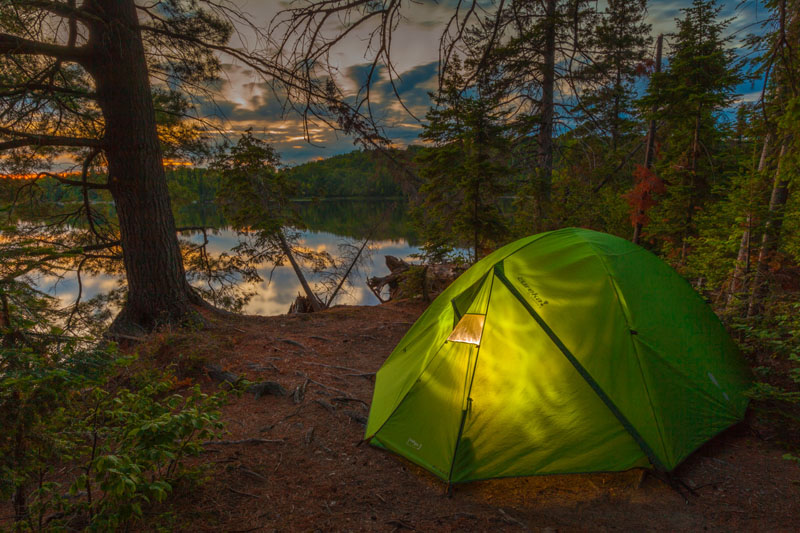 Algonquin Park is a 7600 square km region filled with wildlife and it's one of the best places in the world to see moose!
We joined award-winning wildlife photographer Rob Stimpson on his annual moose photography safari.
For a few weeks each Spring and early summer, he takes clients out to his secret spot to view these majestic creatures in their natural habitat.
Canoeing to Campsites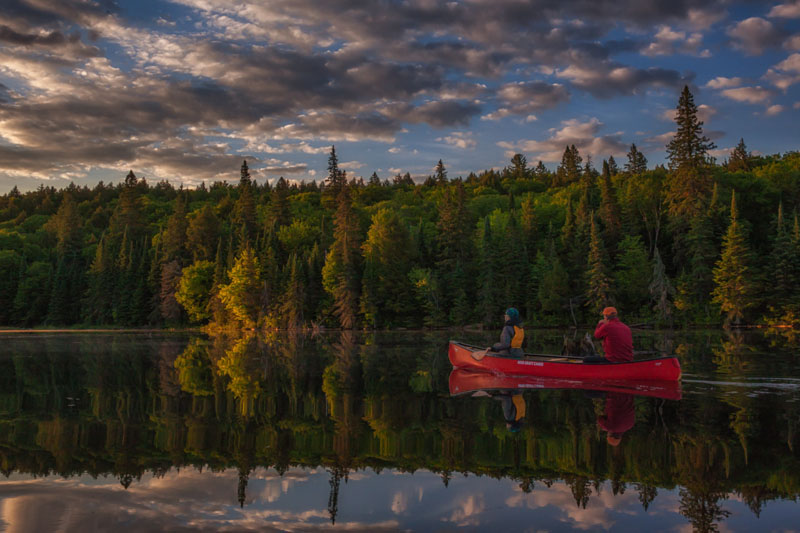 Paddling through a few different lakes and a taking a couple of portages to get there, we arrived at our campsite somewhere in the middle of the park to begin our amazing expedition.
It wasn't long before we were back on our canoes in search of the great moose.
We spent two days paddling to areas that moose frequent for their morning and afternoon meals and we saw everything you could ever ask for.
Moose in Alqonquin Park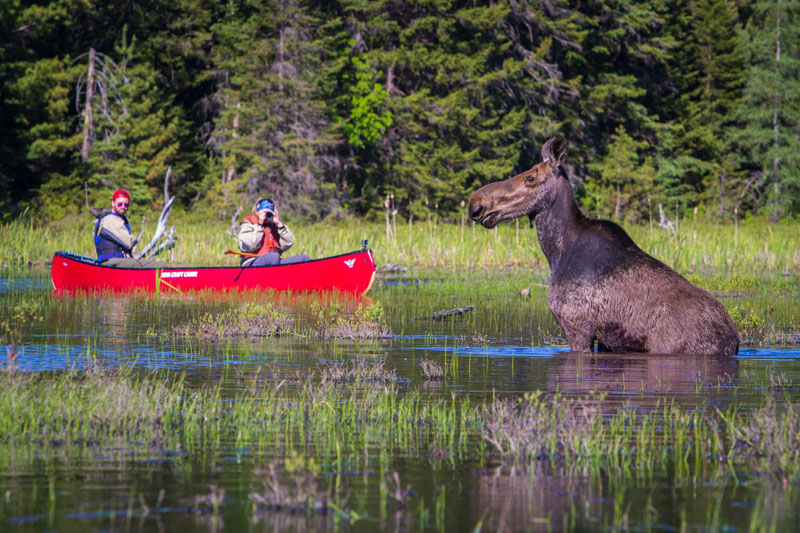 It's rare to see a mother moose with her calf but we saw one.
And it was the first time Dave and I ever saw a bull moose in the wild.
We saw other moose swimming and running through the water and we were so close to them at one point, we could see the bugs flying around their newly formed antlers.
Algonquin Park Camping
It was an incredible experience to camp on an island in the massive Provincial Park knowing that moose, bears and other wildlife were all around us.
Algonquin park houses black bears, wolves, beavers, otters, fox and hundreds of different bird species.
When you go canoeing and camping in Algonquin Park, you are truly in the great Canadian wilderness.
Leave No Trace
Everything you bring in, must go back out.
Canoes are filled with food and camping items and all garbage and waste is put back on your canoes and taken home with you.
Meals are cooked on portable camp stoves or campfires.
Bug jackets are worn to protect you at dusk and wooden toilets are placed over holes dug in the ground at the end of a path leading 100 meters from the campsite.
It's rugged and rural and absolutely spectacular.
Luxury Cabin in Algonquin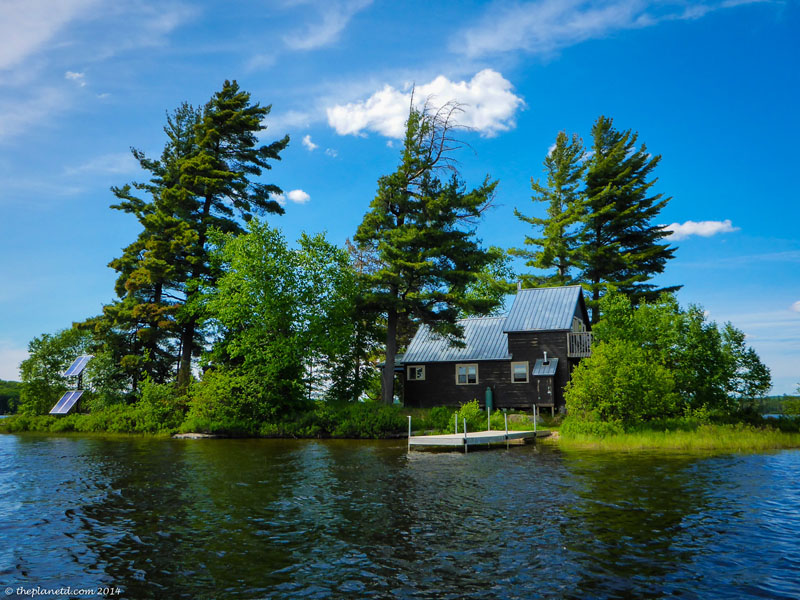 However, even the most adventurous of people love a little pampering.
After days without a shower and the smell of firewood and bug spray clinging to your skin, a little bit of luxury after our camping trip in Algonquin.
Voyageur Quest offers customers the best of both worlds. Isolated camping on Algonquin lakes ending with a luxurious cabin stay on a private island.
We had a few days outside with Rob photographing moose and glorious sunsets and then made our way to their luxury cabin in the middle of a lake.
Luxury Cabin Algonquin Park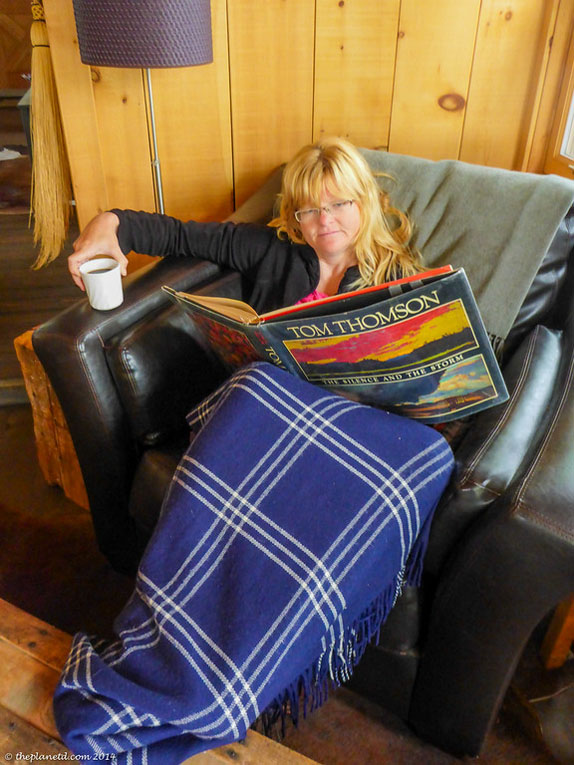 Owner, John Langford bought the historic cabin for his future retirement, but in the meantime, he offers it to guests seeking a longer trip and a nice break after their camping trips and canoe safaris
We opened the cabin door and let out an audible sigh as we explored the modern kitchen, beautiful twin lofts and cozy sitting room.
Tom Thompson History of Algonquin Park
Famous Canadian artist Tom Thompson spent time at this cabin visiting the local park ranger who lived here.
John Langford had always spotted this piece of land from his Voyageur Quest headquarters and once it became available, snatched it up, remodelled and renovated and made a quiet sanctuary for guests.
People can order meals and have food delivered so that they don't need to bring their own groceries and they have full use of the unique floating sauna.
Floating Sauna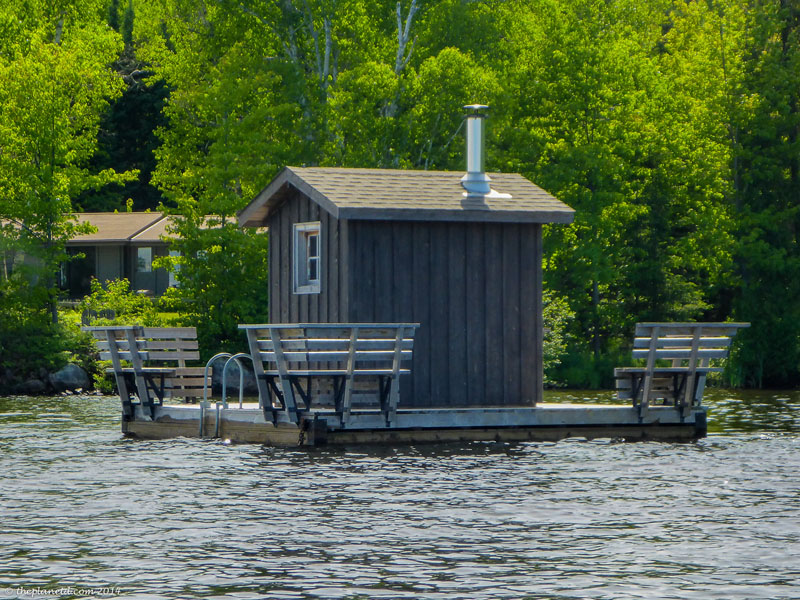 Yes, I said a floating sauna. John built a sauna right in the middle of the lake where you can either swim to from his shoreside chalets or take a boat from his private island retreat.
You can spend an afternoon here heating up in the sauna and then jump into the lake or even sunbathing on the dock.
It is fed by wood and is one of the hottest saunas we've ever visited. Don't worry if it is too hot for you, you can open a window to cool off if needed.
We had an amazing couple of days hanging out here, reading books and going for short paddles to explore the surrounding islands. I think my favourite part was reading all about the Group of Seven.
It was this area that the famed Canadian artists used as their muse for their innovating painting styles in the early part of the twentieth century.
To think, Tom Thompson, an inspiration for the group actually sat in this cabin looking out at the same awe-inspiring sunset we were looking at right now.
Moose Photography Safari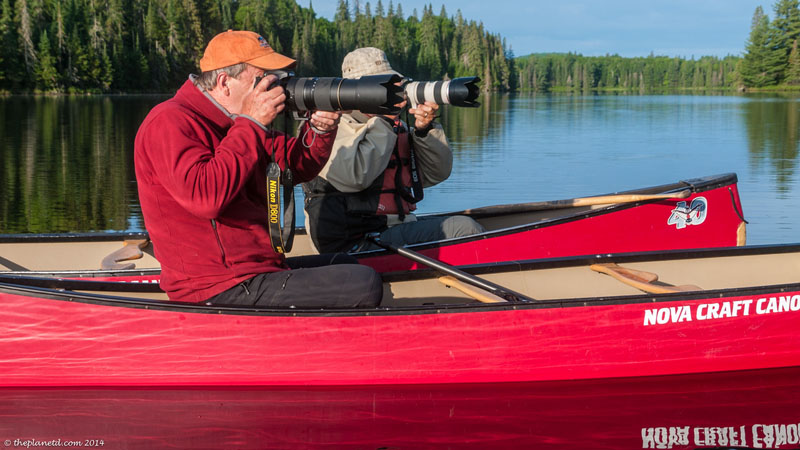 Algonquin Park is one of the premier places in Canada to see moose and we had an encounter with many.
For more information on Moose Safaris and Alquonquin Park tours visit the Voyageur Quest Website. To check out the award-winning wildlife photographs of Rob Stimpson visit his photography website.
Read More
In Search of Algonquin Moose – A Canadian Wildlife Safari
Winter Adventure on at Arrowhead Provincial Park