Who lives like that? I'm talking about the commercials, where happy couples vacation in luxury beyond our imagination.
You know the ad I'm talking about. Where cabanas with white silk curtains flow in the ocean breeze and inside a relaxed couple enjoys a private massage overlooking the sea while enjoying a spa break together. As the sun sets, they walk along the beach looking lovingly into each other's eyes and it finishes off with a champagne toast and gourmet meal lit by torches on a private patio.
We had a taste of that life during our stay at The Four Seasons Lanai.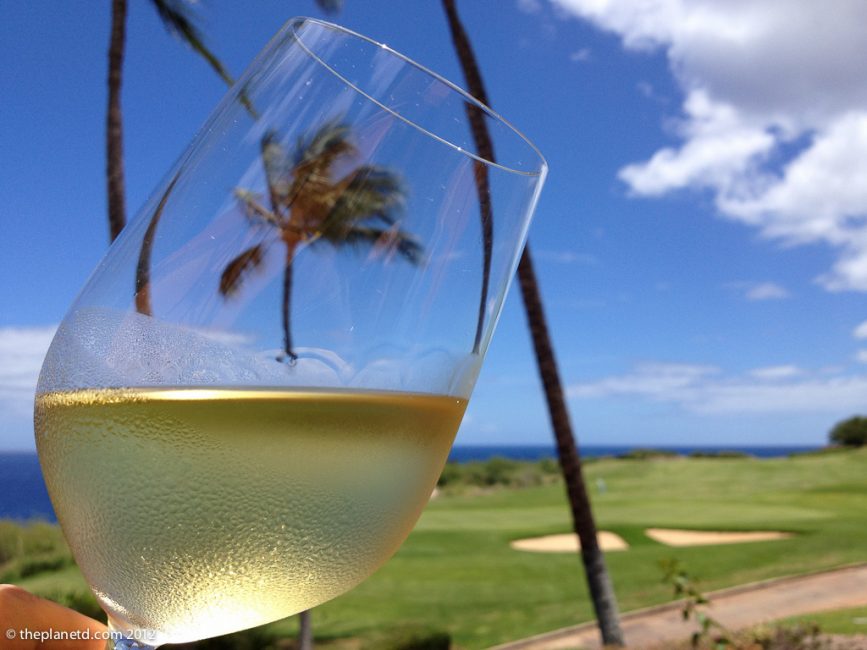 We were at the Manele Bay Four Seasons in Lanai and enjoyed one of the most romantic days of our travels.
Finding Romance at Four Seasons, Lanai
It started off at the shooting range and a UTV adventure in the morning, but once it was time for lunch, the entire mood of our vacation on Lanai changed from rugged adventure to romantic travel where we enjoyed romantic dinners under the stars, a luxury suite overlooking the ocean and one of those spa days that everyone dreams about.
Romance and Weddings Go Hand in Hand
What better way to be reminded of romance than to witness a wedding location? We took a golf cart out to the Manale Golf course's 12th tee to see where Bill Gates was married. It is a view fit for a billionaire and we could understand why one of the richest men in the world chose to start his life with the one he loves at this spot, high on a cliff over looking the Pacific Ocean.
After enjoying lunch at the clubhouse with the same billion-dollar view, we set out to the resort to start our romantic getaway.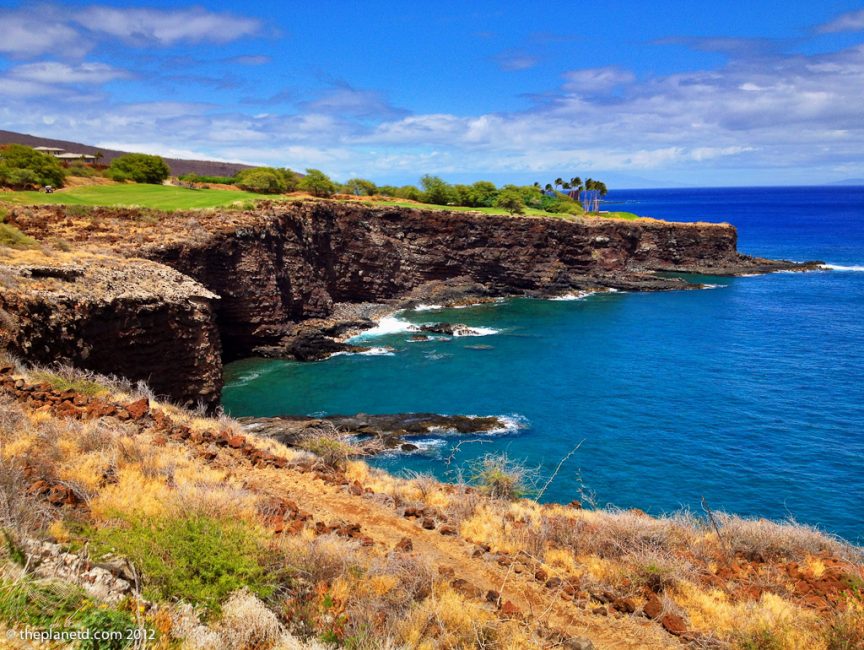 When asked what we wanted to do with our time in Hawaii, we said that we want to focus on the romantic side of the islands. Couple's come to Hawaii for their honeymoons and special occasions and since we are a couple, why can't we have a little romance in our travels too?
It all started at the spa.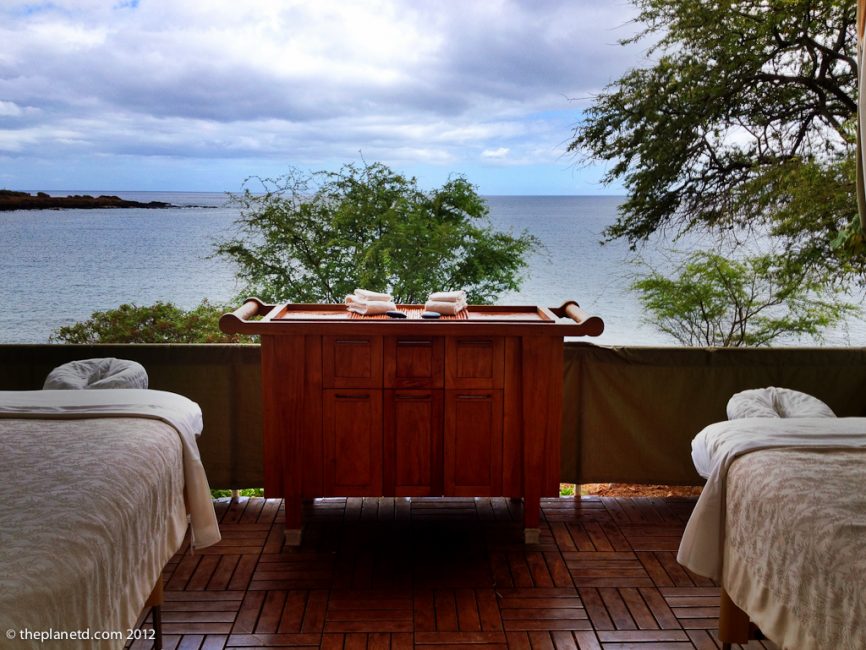 We've had many a massage in our travels, but we have yet to have one of those fairytale spa days that take place in a tent on the ocean. I always wondered what it was like to stay at a resort like this and enjoy the luxuries of a proper holiday. Today I got my wish.
We arrived early to the Four Seasons Spa to take advantage of the Sauna and steam room. We've been traveling hard this year visiting 5 continents and 12 countries before the half way mark had even come to pass. We've been feeling the wear and tear of travel on our bodies and the spa was just what we needed. Taking a cool towel from the bowl with freshly cut cucumbers, I sat in the steam and breathed in the healing powers of eucalyptus aroma while soothing music lulled me into a meditative state.
I met Dave in the reception area where we enjoyed some lemon infused mineral water as we waited for our masseurs to take us to our private cabana on the beach.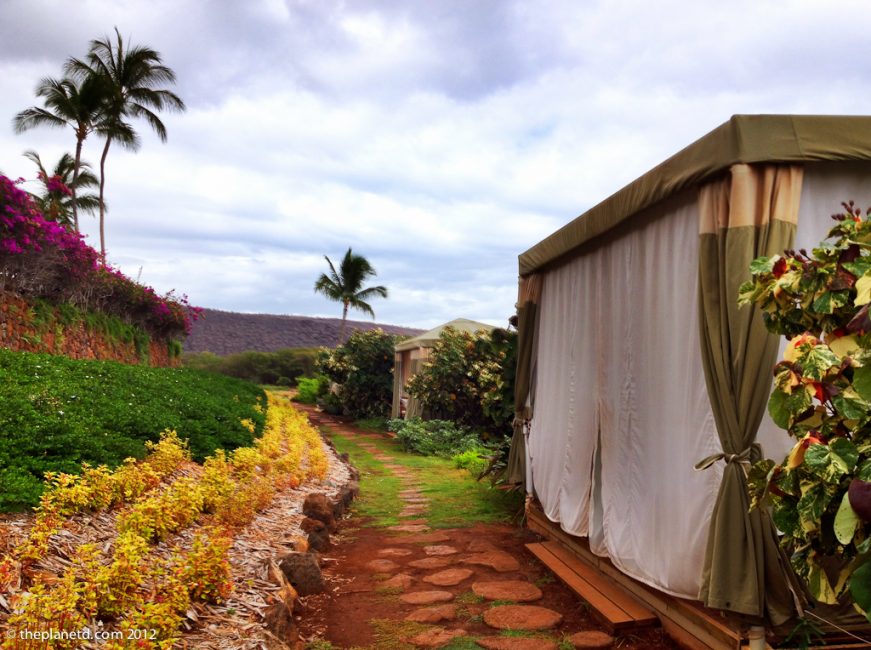 The water lulled us to that perfect place of half awake and half asleep as we felt all the stress and worries of life melt away.
Bliss for Travel Couples
Feeling the need to do nothing else, we went back to our room to enjoy our beautiful suite overlooking the beach. With a king size bed, flat screen tv, patio with day bed and complete sitting area, we could understand why so many people choose to stay in their rooms when staying at the Four Seasons on Lanai.  Michelle of public relations had told us that you never feel like there is a crowd of people at the resorts and she thinks it is because many people spend a lot of time in their rooms because they are so inviting.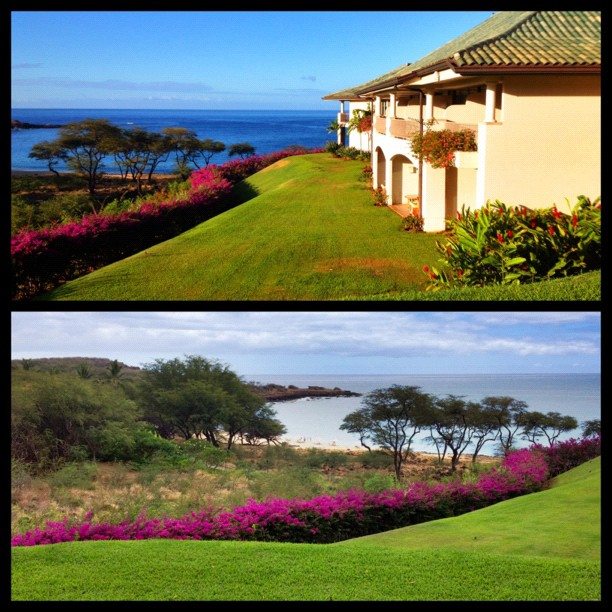 We could understand why. We loved our room so much, we didn't want to leave.
But alas, we pulled ourselves away from our relaxing bliss to join the party. For the two evenings we stayed at Manele Bay Four Seasons, we could attend  a manager's reception. This is a fantastic idea where patrons of the hotel can meet the behind the scenes staff while enjoying complimentary hors deurves and drinks in the bar. It also gives you a chance to meet other people staying at the hotel.
We chatted with the chief engineer who hails from Monaco over a glass of wine. We didn't stay for long however, because it was time for us to finish off that perfect day with a torch lit dinner overlooking the sea.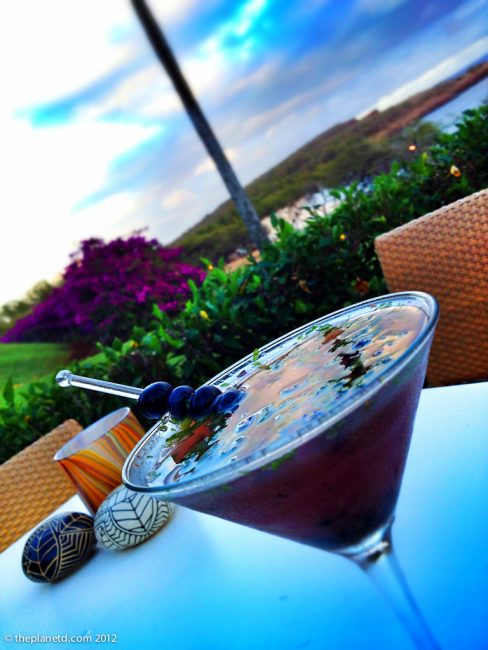 We tried their delicious signature cocktails using local ingredients as we munched on our appetizers of ahi tuna and carpaccio.
Our dinner consisted of three heavenly courses of carpaccio, jumbo shrimp, black truffle risotto, fresh ahi tuna and catches of the day. As the chef said to us when he came out to greet us, "You have had a marathon meal" Yes, yes we had.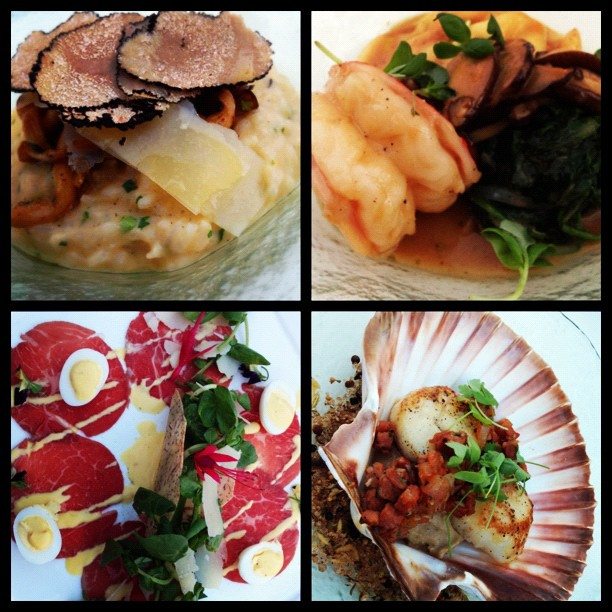 We were trying to think of a finer meal that we have had and only one came to mind. Our lunch with the gals an Ryan in Rome during our Housetrip pre-TBU getaway. That meal was outstanding and this was a close second in taste. But because I was alone with the one I love on a beautiful beach in paradise, enjoying a perfect evening of love and laughter, it goes down as the best meal of our lives.
And for one brief day, we lived our lives like a TV commercial and enjoyed every moment of being in love.
 Our trip to Lanai was made possible by the Lanai Vistors Bureau

You Might Also Enjoy