Rajasthan was everything that we ever imagined India to be. Arriving at the bus station on a cool morning, we were greeted by a friendly man named Jamil.
We always have our backs up against the wall when we arrive in a new town. Rickshaw drivers can be little schemers and we never know who to trust.
Udaipur The Most Romantic City in India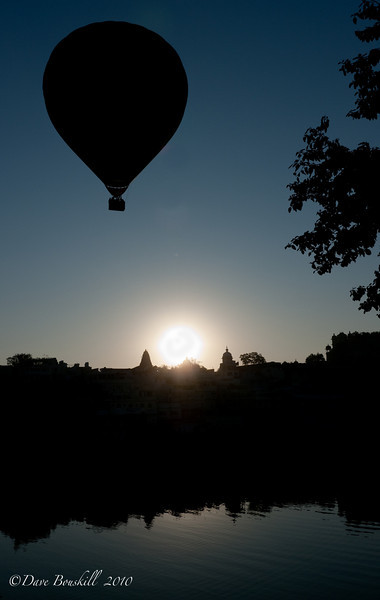 Jamil seemed nice, he quoted us a fair price to take us to the lake and he was friendly.
We loaded in our bags and off we went. As we drove he handed us his book from many satisfied customers.
We have seen this form of advertising before and it is an excellent idea.
People had amazing things to say about him and for the 6 days that we were in Udaipur, he became a great friend and we are so glad that we got in that Rickshaw on that first day at the bus station.
We knew right away that we were going to love Udaipur.
Known as one of the most romantic cities in India, it is breathtaking to look at.
Situated on Lake Pichola, buildings fit for a Maharana rise from the water with architecture dating back to the 1500's. Domed rooftops and arched windows make for a storybook setting.
Days can be spent lounging on a bed with big cushions over looking the ghats (steps leading to the water) and daily life. Tourists dine on balconies and roof top patios as they overlook the cityscape of pastel yellows and creams.
The city's main attraction is the City Palace, former home to the 19 Maharaja's of Mewar.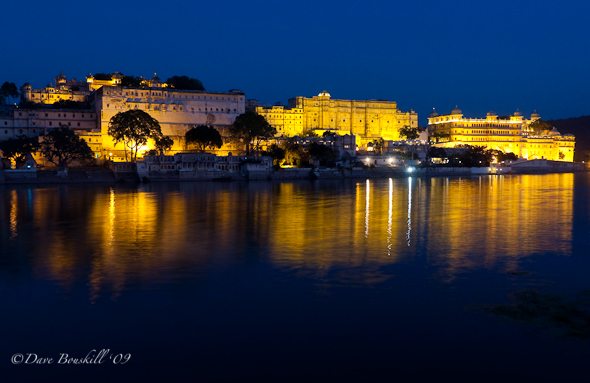 It is an imposing palace. Giant and beautiful. The buildings blending beautifully with one another.
It is so beautiful that Udaipur was used as the setting for the movie Octopussy. I can still remember the scene in the movie where James Bond stays at a hotel in the middle of the water.
I always wondered where such luxury could be sure enough it is right in the middle of Lake Pichola at the Lake Palace Hotel. An absolutely stunning site of white decadence in the middle of this fairy tale setting.
Hanuman Ghat
We stayed on the other side of the lake at Hanuman Ghat and I highly recommend this location. It is far less busy and quieter than the main old city side.
It offers magnificent views of the Old Town however and if you make your way to the far southern pier for sunset you will witness the most stunning view in town. As the sun goes down, the palace lights up and the lights of it and the city reflect in the water making for incredible photographs.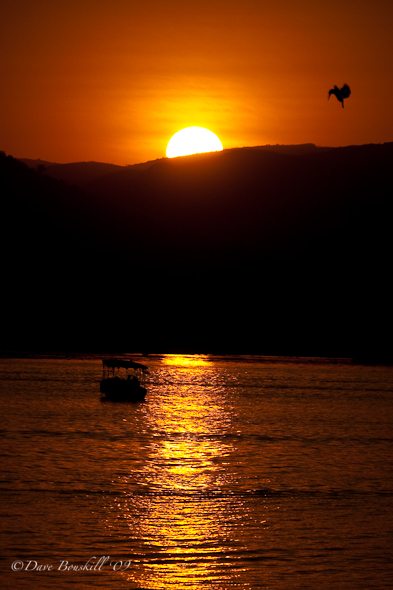 A man walks the ghats of this pier nightly. Chaupin (I think that is how he spelled his name) a retired teacher paces and does his excersizes daily at sunset as he waits for his temple to open. Have a chat with him. He is friendly and can offer excellent information about what is going on in town.
It was from him that we learned all about the two festivals that went on while we were in Udaipur. But you will have to wait for a day or two to find out about them.
Things To Do
Other sites include touring the City Palace, taking a boat ride out to the islands, seeing the God statues of Ganesh, Vishnu and Garuda at Jagdesh temple, dining at a rooftop restaurant and relaxing at Lakeshore Guest House's chill lounge on cushions and beds while looking over the river and enjoying conversations.
For now we leave you enjoying views of this wonderful city in Rajasthan India that a person can find themselves spending too long in. The people are too nice to leave and you feel that you have not only met some people on your travels, you feel that you have made a friend.
/Information
75 Rs for Rickshaw from bus station to town
Accommodation-600 Rs for large room with hot shower at Lakeshore Guest House
You can watch Octopussy anywhere at 7:00 pm and relive your childhood obsession with Roger Moore's James Bond (or is that just me?)
make sure to get a room where the windows can close. We only had screens in our windows overlooking the lake. It was safe, but noisy. Women beat their clothes daily and it is like a loud tennis match going on all day long. Plus the mosques and temples can be very loud.
City Palace charges 200 Rs for Video and camera's, entrance fee is 25 Rs.
1 USD = 44 Rs
Read More
Top 7 Things To Do In Rishikesh, India
7 Hill Stations Near Delhi: Experience True India
India Train TTravel:Tips for Navigating the Indian Railway System