We knew right away that we were going to love Udaipur. Known as one of the most romantic cities in India, Udaipur is breathtaking to look at.
Situated on Lake Pichola, Udaipur houses buildings fit for a Maharana (king of kings) that line the waterfront with architecture dating back to the 1500s. Domed rooftops and arched windows make for a storybook setting.
Days can be spent lounging on an oversized couch with big cushions gazing at the ghats (steps leading to the water) and daily life. But there are so many things to do in Udaipur it would be a shame to laze all day long! So after relaxing for a few days, we set out to see Udaipur's top attractions.
Things to do in Udaipur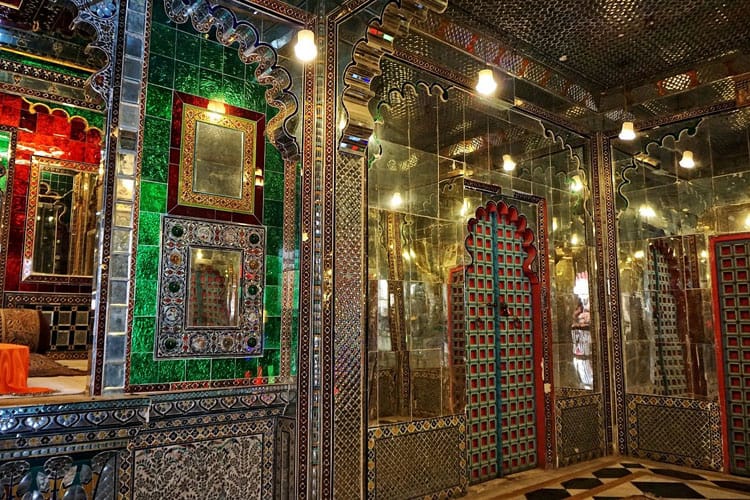 Udaipur was a place we could relax and recharge after some hectic travels throughout India. Tourists dine on balconies and rooftop patios as they overlook the cityscape of pastel yellows and whites while couples stroll the street hand in hand browsing the markets and stalls for memories to take home. But that doesn't mean there aren't a lot of amazing things to do in Udaipur besides taking it easy.
We ended up seeing a lot of the top attractions during our 10 days in Udaipur and can honestly say that Udaipur was our favorite destination in India.
Udaipur – India's Romantic City
1. City Palace Museum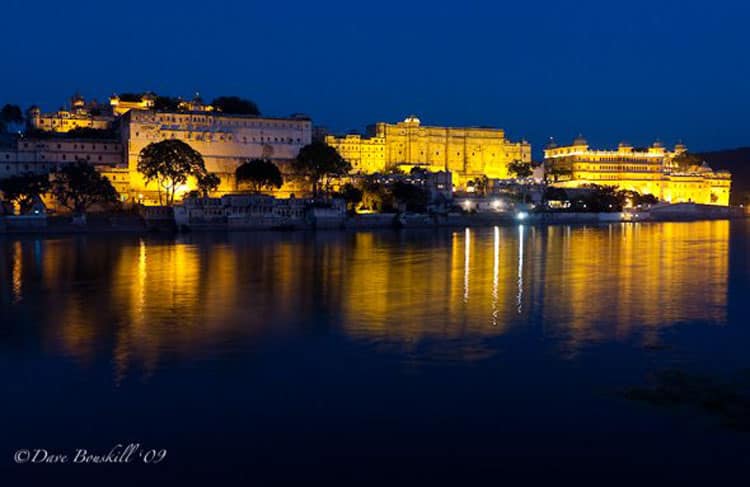 The city's main attraction is the Udaipur City Palace, former home to the 19 Maharajas of Mewar. In 1969, the palace was opened as the City Palace Museum and the public was finally allowed a glimpse into the world of the Maharajas.
The City Palace complex is giant taking more than 400 years to complete! Being so massive, there are many things to explore.
Entering from the courtyard, you'll see the Palace of Kings, the assembly hall, a gallery dedicated to the warrior Maharana Pratap, the garden palace, and many more buildings and courtyards.
The buildings blend beautifully with one another along the waterfront. Going inside the palace is a great way to spend the afternoon and it can take several hours to really explore.
Book a private Udaipur Sightseeing Tour that includes a guided tour of the City Palace Museum and Complex. Free cancellation with 24 hours notice and last minute bookings accepted.
2. Ranakpur Jain Temple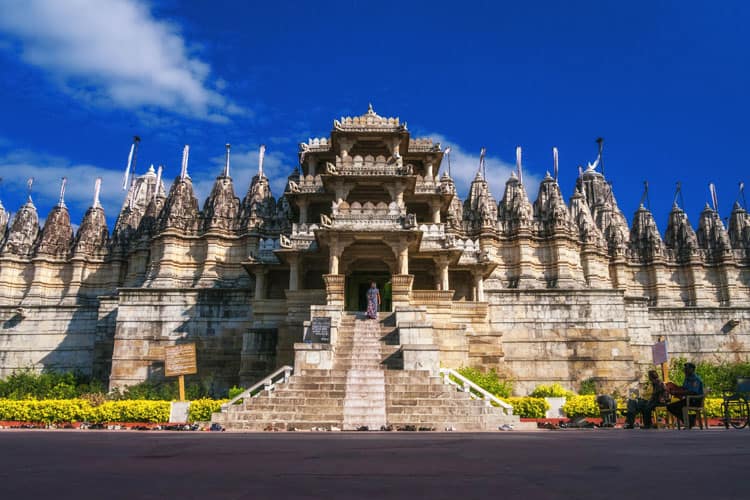 One of the most incredible places we visited in all of India was the Ranakpur Jain Temple. And it just so happens to be near Udaipur. It's cheap and easy to hire a driver for a day to take you out to the Jain Temple and we highly recommend it. (drivers cost approximate 800Rs – $10 USD for 6-8 hours)
It is astounding to witness the 1444 hand-carved marble pillars. The massive temple covers an area of 48,000 square feet making it one of the largest in all of India. Wandering the 29 halls is jaw dropping to see all the carved intricacies of the marble. The temple was started in the 15th century and took more than 50 years to complete.
Address: Desuri, Ranakpur Rd, Sadri, Rajasthan. 100km from Udaipur
3. Kumbhalgarh Fort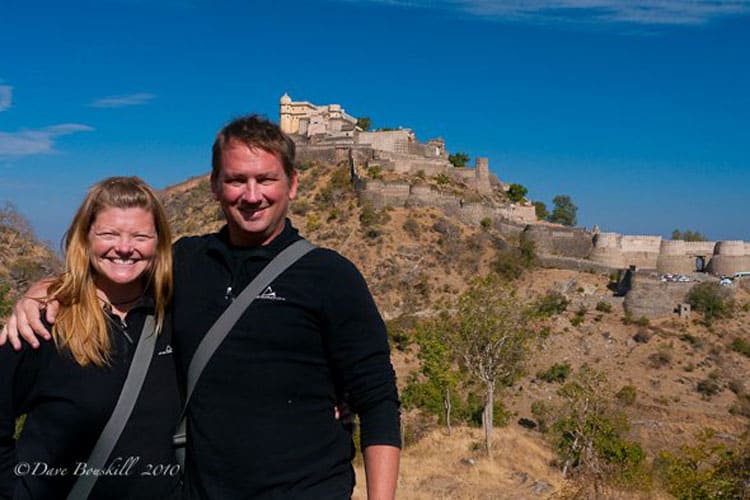 Why visit Kumbhalgarh Fort? Well, it has the second longest wall after the Great Wall of China! But more than just its wall, it is also a fascinating place to visit in India. Dating back to the 15th century, it was the guardian of Rajasthan only falling once to the Mughals. This fort was the backbone of the Rajput Kingdom.
A UNESCO World Heritage Site, Kumbhalgarh Fort is about two hours from Udaipur and can be included in a tour with the Jain Temple. You can book a day tour from Udaipur to see both the Kumbhalgarh Fort and Ranakpur Jain Temple with GetYourGuide. Free cancellation with up to 24 hours notice.
4. Lake Pichola Sunset Cruise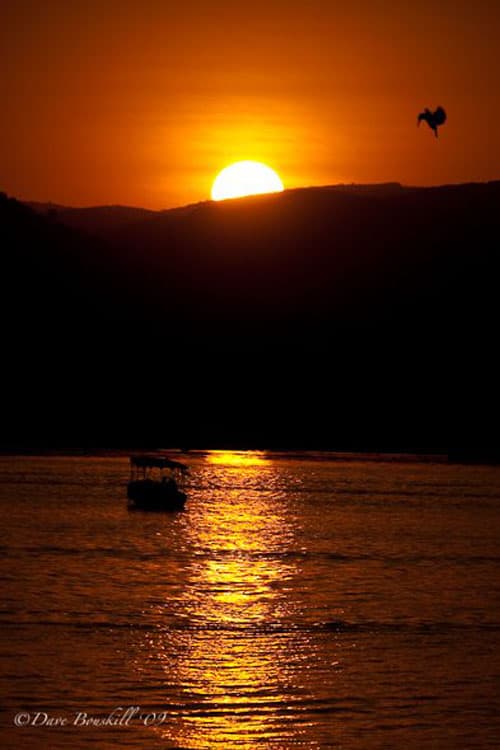 Lake Pichola was created in 1362. Yes, you heard me correctly. It was created. Lake Pichola is man-made it was made nearly 700 years ago. A boat trip along the lake is a must when visiting Udaipur.
The sunset is a beautiful time to witness the lake and boat trips take you to see Jag Niwas and Jag Mandir Palace on Jagmandir Island, Jag Niwas Island palace and of course the Lake Palace Hotel. Book a Lake Pichola Cruise A private car will pick you up from all hotels in Udaipur for a sunset cruise of Lake Pichola. Easy cancellation and last minute bookings.
5. Taj Lake Palace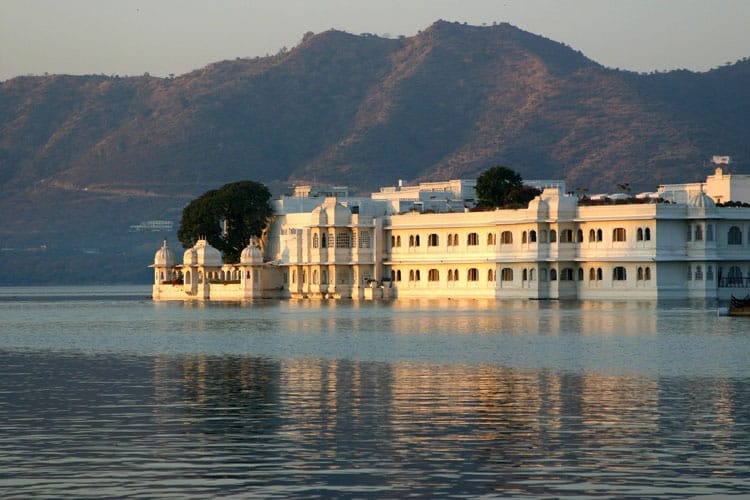 Udaipur is so beautiful that it was used as the setting for the James Bond Movie Octopussy. I can still remember the scene in the movie where James Bond stays at a hotel in the middle of the water. I always wondered where such luxury could be sure enough it is right in the middle of Lake Pichola at the Lake Palace Hotel.
Originally named Jag Niwas Palace, it is hard to believe that it was built in the 18th century by Rana Jagat Singh II. An absolutely stunning site of white decadence in the middle of this fairy tale setting.
Today it is a heritage five-star hotel. It is beautiful enough to see it from the water, but if you want to go inside, make a reservation for dinner to experience the grandeur of the Maharajas summer palace. For pure luxury, book a romantic suite at Taj Lake Palace hotel for the ultimate in luxury in a historic destination.
6. Monsoon Palace
Being a James Bond fan, I was excited to visit Monsoon Palace, another filming location for Octopussy. Also known as Sajjan Garh Palace, Monsoon Palace sits high on a hill offering panoramic views of Udaipur. It was designed to keep track of monsoons (hence the name) and it contains 9 storied astronomical domes to view the skies.
The Sajjangarh Wildlife sanctuary surrounds Monsoon Palace covering 5.19 square kilometers which we didn't go to. Book a full day Udaipur Private City Tour to see the best of Udaipur in a single day. The Tour starts with a view from Monsoon Palace (Sajjangarh Palace) then visit the Udaipur City Palace, Jagdish temple, lotus pools and fountains at Saheliyon ki Bari and ending at Lake Pichola for an optional boat rid.
7. Karni Mata Temple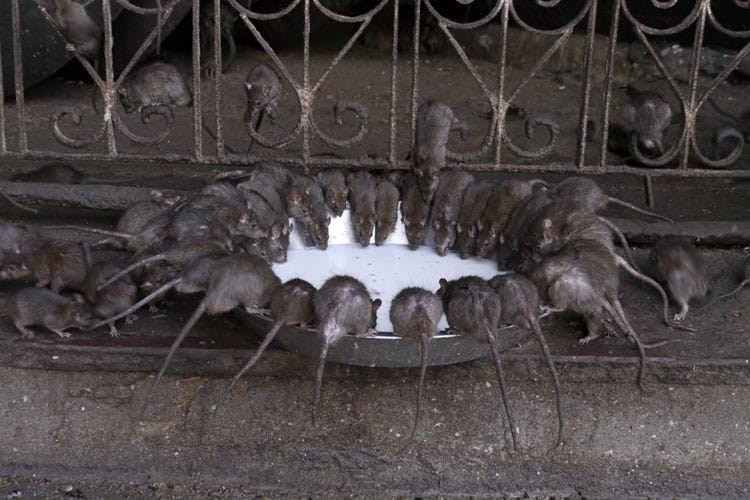 It is probably one of the strangest temples you will ever visit. And it is not for the faint of heart. But if you are looking for something truly unique to do in Rajasthan, a visit to the Karni Mata Rat Temple is a must. It is just a short drive from Udaipur and here you can visit the sacred rats of the temple who are believed to be reincarnated humans. If you keep an eye out for the white rat, you will have good luck!
8. Jagdish Temple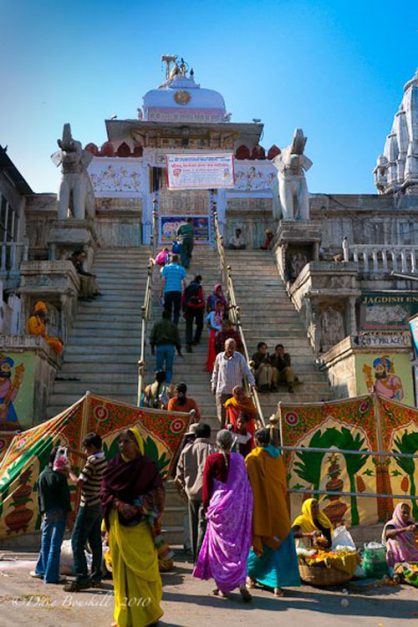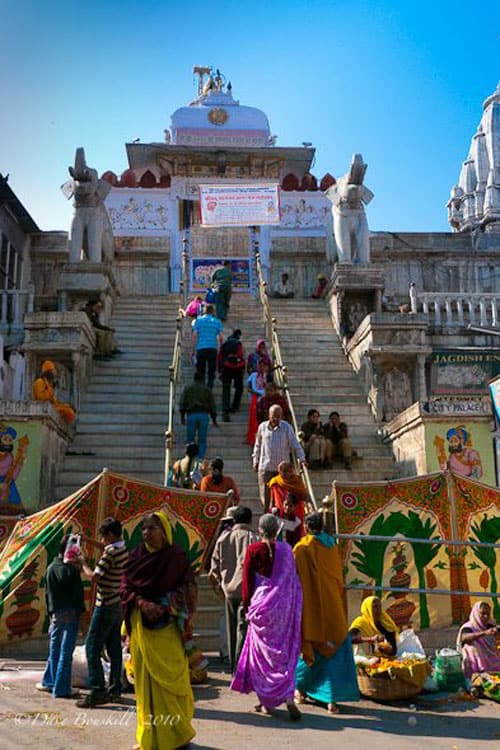 Jagdish Temple is one of the easiest temples in Udaipur as it is smack dab in the Old City. Go inside to see the God statues of Ganesh, Vishnu, and Garuda at Jagdesh temple. It is free to visit and locals with welcome you inside.
Standing 79 feet above Udaipur, you can't miss it. Like so many structures in India, Jagdish temple is old. The Maharana Jagat Singh had it build in 1651 during his reign from 1628 to 1653. Be sure to dress properly. It's a temple, so make sure your shoulders and knees are covered.
9. Shilpgram Festival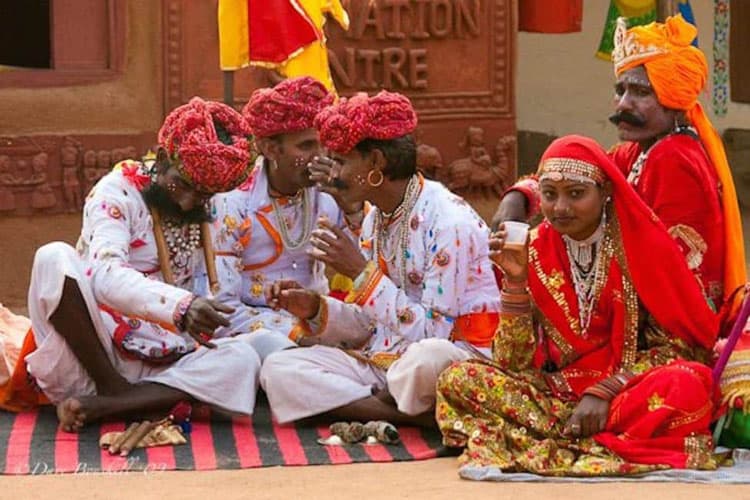 If you happen to be in Udaipur during December, you will be able to experience one of our favourite festivals of India. The Shilpgram Festival lets you see the local life of farmers, craftspeople, and villagers. Don't worry if you aren't there during the festival, Shilpgram is an ongoing craft village so you can still get a taste.
10. Lakes of Udaipur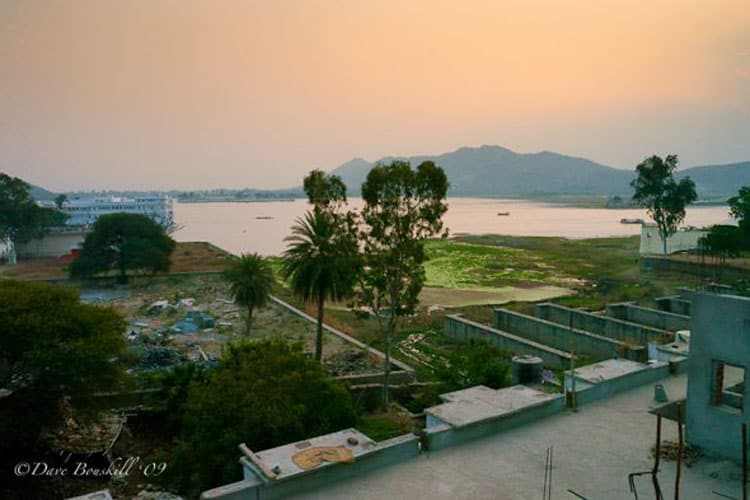 Udaipur is known as the City of Lakes. Besides Lake Pichola, there are four other major lakes, Fateh Sagar Lake, Swaroop Sagar Lake, Doodh Talai Lake and Rangsagar Lake. All of them were built by Maharajas from the 14th to the 19th centuries. You can take boat rides on the lakes to view the various palaces, luxury hotels, temples or take walks along the stone walkways for a tranquil day on the water.
11. Hathi Pol Bazaar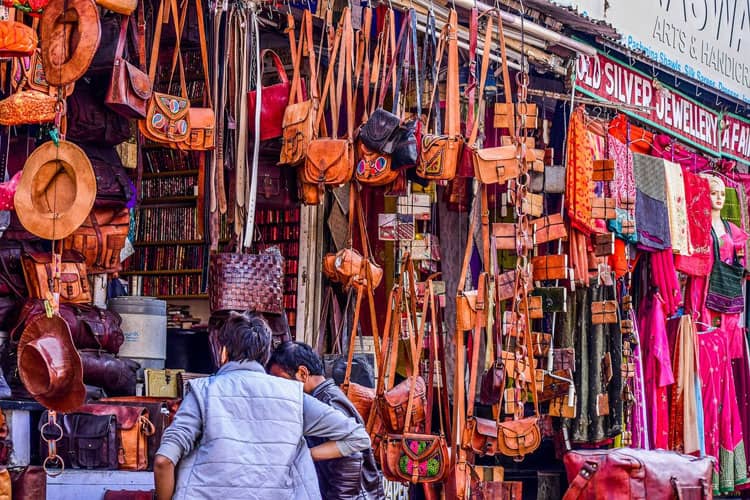 Shopping in India is not for the faint of heart. The Hathi Pol Bazaar is Udaipurs most famous market and it is a busy place. Famous for miniature paintings of Rajasthan, Hathi Pol Bazaar is a great place to get souvenirs of your stay in Udaipur. Locals visit this market too, so you can count on quality being good and prices being fair.
12. Eklingji Temple
Eklingji Temple is another cool temple to visit in Udaipur. The 72 Room Jain temple was dedicated to Lord Eklingji of the Mewar Clan. It is a very old temple dating back to 734 AD. If you are temple hopping around Udaipur and Rajasthan, include this one on your list!
13. Hanuman Ghat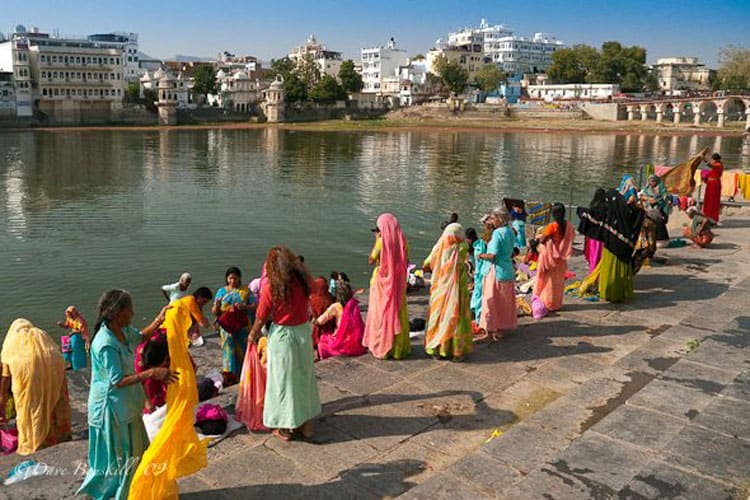 We stayed on the other side of the lake at Hanuman Ghat in the Old City and I highly recommend this location. It is far less busy and quieter than the main old city side. An early morning stroll of Udaipur lets you glimpse local live by the water. Women wash their clothes on the ghats while others mingle in the morning fresh air.
Hanuman Ghat offers magnificent views of the Old Town however and if you make your way to the far southern pier for sunset you will witness the most stunning view in town.
14. Dining at a Rooftop Restaurant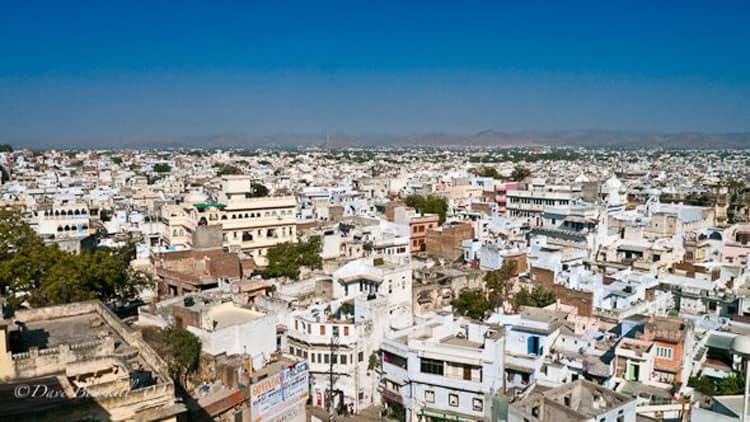 Tourists dine on balconies and roof top patios as they overlook the cityscape of pastel yellows and creams. For now we leave you enjoying views of this wonderful city in Rajasthan India that a person can find themselves spending too long in. The people are too nice to leave and you feel that you have not only met some people on your travels, you feel that you have made a friend.
Suggested rooftop bars:

Upre at the top of Pichola Hotel
Aravali Lakeview at the Radisson Blu
Baro Masi at Udai Kothi.
15. Hot Air Balloon Over Udaipur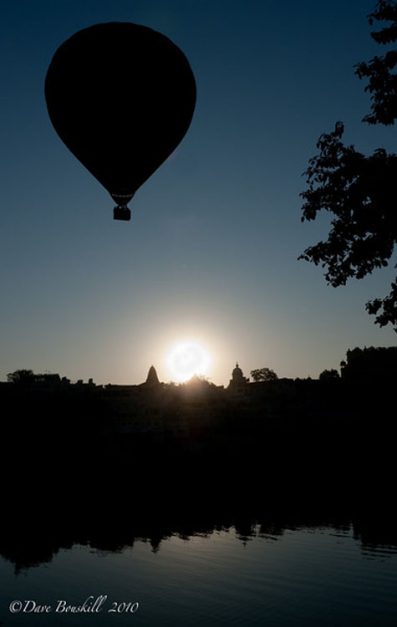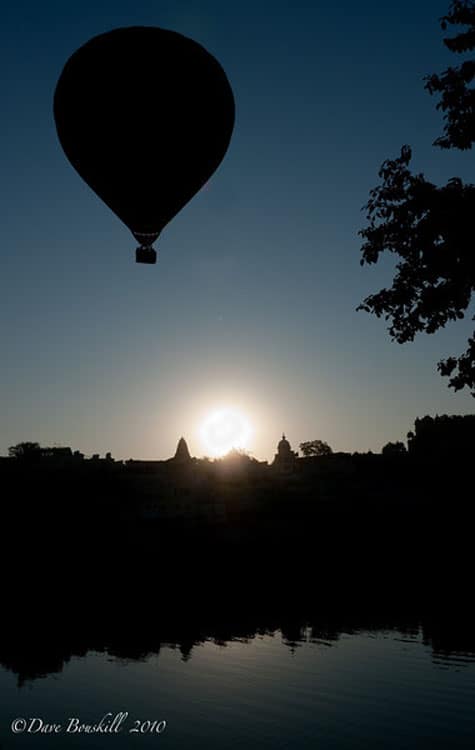 We never pass up an opportunity to take a hot air balloon ride and Udaipur offers sunrise balloon rides. If you are looking for something romantic to do in India's most romantic city, this is it!
We didn't do this but have done hot air balloon rides around the world and can say, they are very romantic. The only company we have found in Udaipur that offers them is The Great Next.
16. Get Lost in the Old Town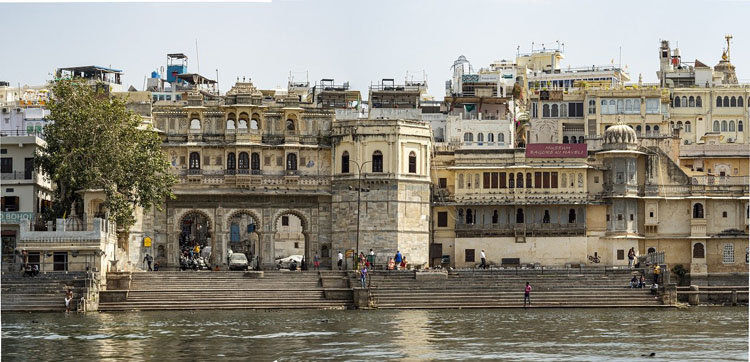 One of our favorite things to do in Udaipur was to take a stroll through the old city out to the pier. People are very friendly in Udaipur and we met many new friends.
Sunset at the pier was a great place to meet the locals. I'll never forget seeing the same man each evening and finally chatting with him. Chaupin was a retired teacher who did his evening exercises at sunset while waiting for his temple to open.
We had an excellent chat with him and learned of other thigns to do in Udaipur that we hadn't thought of. Like the Shilpgram festival we mentioned above. As the sun goes down, the Royal Palace complex lights up and the lights of it and the city reflect in the water making for incredible photographs.
Where to Stay in Udaipur
Staying in or near the old city of Udaipur is a good option as it has the best selection of hotels and is close to all of the Udaipur attractions. Along Lake Pichola is a great option as well, it is where we stayed and we loved it.
We use Booking.com or TripAdvisor to book hotels. View their Udaipur hotels to find the right one for you.
Jagat Niwas Palace Hotel, Udaipur – Affordable 3 star luxury hotel in a 17th century haveli (mansion). Offers Ayurvedic massages and rooftop dining. Check reviews and availability TripAdvisor / Booking.com
Shiv Niwa Palace – Mid Range Luxury was built during the reign of Maharana Fateh Singh and used for visiting dignitaries. Today it is a heritage hotel with swimming pool, and rooms overlooking Lake Pichola. Check reviews and availability TripAdvisor / Booking.com
Taj Lake Palace – The ultimate luxury hotel and historic site. For the true romantic Udaipur experience, a night or two here will be one you'll never forget. Located in the Middle of Lake Pichola, it includes butler service, fine dining and full amenities. Check reviews and availability TripAdvisor / Booking.com
Map of Places to See in Udaipur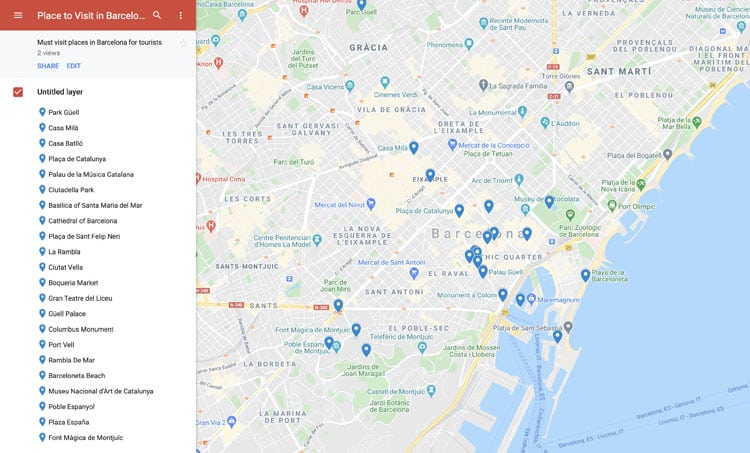 /

Information about Travel to Udaipur
Rickshaws are cheap to get around. A rickshaw can start at 800 Rupee ($10 for an entire day hire)
We hired a rickshaw from the train station for 75 Rupee. Expect to pay around 100 Rupee for a ride.
You can watch Octopussy anywhere at 7:00 pm and relive your childhood obsession with Roger Moore's James Bond (or is that just me?)
make sure to get a room where the windows can close. We only had screens in our windows overlooking the lake. It was safe but noisy. Women beat their clothes daily and it is like a loud tennis match going on all day long. Plus the mosques and temples can be very loud.
City Palace charges 200 Rs for a camera and Rs. 500 for Video Camera.
Entrance fee is 250 RS
1 USD = 74 Rs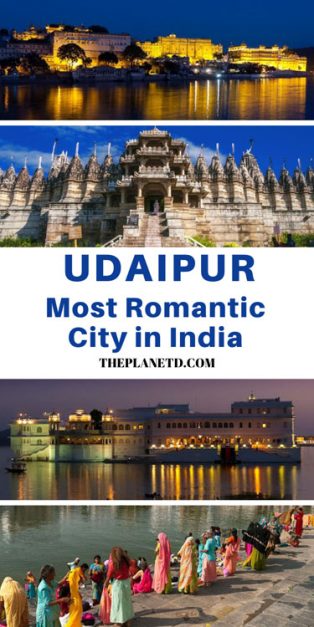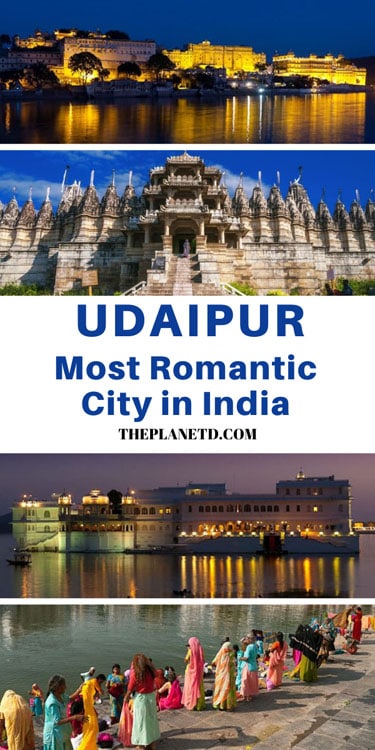 And these are the best things to do in Udaipur, India. It truly is the most romantic city in India and if you are planning to visit the country, be sure to put it at the top of your list!
Read More about Travel to India
Read our Full India Travel Guide and these Travel Tips: