We had read that the backwater tour was a must when visiting Kerala. According to The Lonely Planet It may be one of the most expensive things that you do in India, but it is well worth it.  So naturally, we booked a houseboat and splurged on a cruise to the backwater canals and tributaries of Alleppey.
First Impressions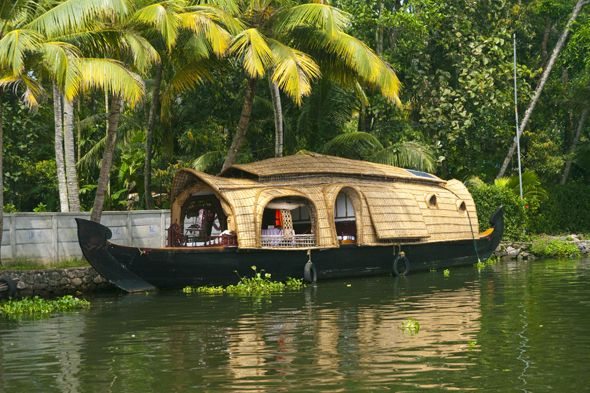 Initially the excitement was high.  We were let off at the jetty at our home for the night.  The houseboats are made from old cargo vessels transformed into traditional houseboats.  They are a beautiful design.  Made from twine, wicker and bamboo, they float down the rivers looking timeless.
We arrived on the 8:30 train to Allepy from Varkala where we transferred to our tour company to wait for our trip.  The boat leaves at 12:00 and we would be aboard for 22 hours.
What a lovely surprise to see that we actually had a great boat.  We had heard that booking outside of Alleppey was not a smart idea.  You could end up with an old rust bucket and be stuck on a terrible cruise.  But we had a good feeling about our contact at Om Shanthi Tours and decided to chance it.  It is much less hassle than walking to the jetty and haggling over a price.
The houseboat was exactly what you would want for an exotic Asian Cruise adventure.  Cushions were set up all around the bough for us to sit and view the backwaters from any direction.  A table was set up in the middle of the dark wooden frame and we were welcomed with fresh fruit and coconut juice. All of this was shaded with a bamboo cover and we sat in luxury to watch life go by on the river.
Pure Decadence
Saji, our chef got straight to work preparing our lunch as our trusty captain (Kudappen) skillfully steered us through the narrow canals and vast lakes alike.
We had the boat to ourselves. We ate grapes and bananas and lounged in the sun.  When it got too hot, we turned on the fan.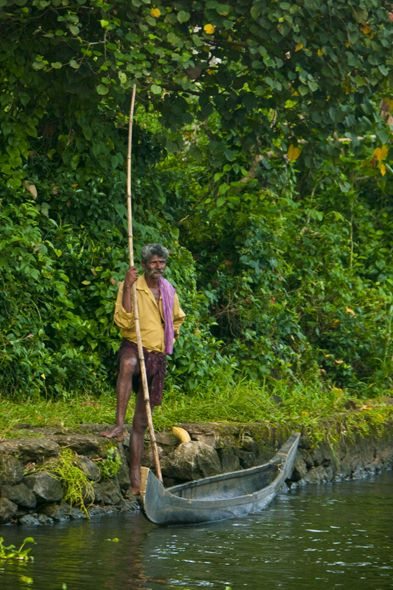 There are 900 km of waterways in Kerala and the backwaters are known as yet another Venice of the East. We have heard this before about Bangkok and other cities, but this title certainly rang true in Kerala.  People live and worked on the rivers.  Water taxis make regular runs like buses would in a city, villages are built on canals and shops and markets sit on the river banks.
People use canoes as autos and pathways are made to walk from village to village.  There didn't seem to be a reason for anyone to even leave the back waters.

Good time to Visit
Luckily the busy season is a week away and the system wasn't over crowded with house boats yet.  I hear that it can become almost gridlock in the high season and I can believe it.  On our way back, we were a part of a long line of boats heading towards the jetty.  It felt exactly like rush hour traffic, especially when we turned onto a smaller canal and all of the boats had to merge like we were getting onto a highway.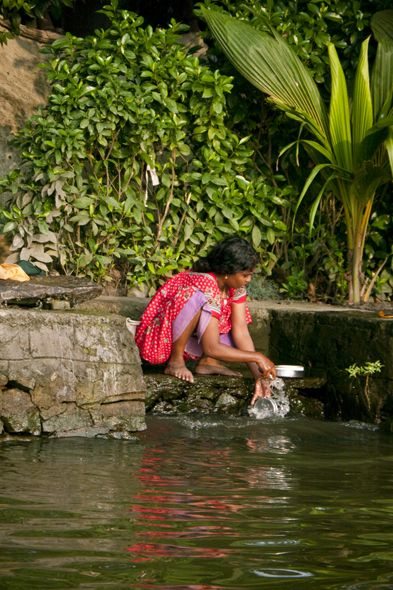 –
The scenery is quite beautiful and the food is excellent.  We were fed 3 meals.  Lunch, dinner and breakfast the following morning.  There was more food than we could possibly eat and it was an excellent assortment of Indian sauces with rice, chipatti and pappadam.  Most of it was vegetarian, but we were also served lake fish with each meal. Vendors will approach the boat and offer to sell prawns, but we declined.  We had blown the budget enough on the trip and 900 rupees was a little steep for us.
I believe that it is well worth the money though.  These fishermen work hard for the prawns.  They dive down to depths of 20 feet looking for shellfish.  That water is dark and murky.  I wouldn't want to even swim in it, let alone pull myself to great depths looking for fish.
A Long Time on a Boat
After awhile, the trip becomes a bit monotonous.  A few hours is more than enough on a houseboat. You can see what you want to see in a few hours.  We tied up for the night at about 5:00 pm, as the sun was setting and ate our dinner at 7:00.
The bugs came out in full force and you couldn't stay out and enjoy the evening for long after dinner.  By 8:00 pm we were in bed under the safety of our mosquito blanket.
I would have liked to have anchored in the lake rather than mooring up to a dock.  There wasn't much to see and there wasn't anything to do as we waited for dinner except to play a game of cards.
Over All Impression
Was it a must see destination when visiting Kerala? Definitely.  It was fascinating to see a glimpse of how every day life goes on in the area and the scenery was beautiful.  Was the houseboat tour worth the money?  Yes. We had a private boat, chef and captain.  We toured all day through the backwaters and we were fed 3 delicious meals.
Was it an unforgettable experience? Not really. We didn't love it.  We were bored quickly and would have liked to have been able to get off the boat to explore the villages of the backwaters and see the sites.
We took a similar trip in Vietnam and at the time, we laughed at the "kitcshyness" of getting off to see rice paper making factories and touring distilleries.  On this tour, we wished that we had something to do other than watching life from the sidelines.

Tour Overview and Thoughts
I cannot believe that our captain and chef had to sleep outside on the benches.  They had the cushions at least for comfort, but they should be given mosquito nets to hang from the roof.  The bugs were terrible and it would cost the operator nothing to give them a net to sleep under.
I also think that The captain suffered greatly.  The sun was hot and while the sitting area at the bow of the boat was covered, his steering wheel wasn't.  He sat at the very front of the boat and didn't have a shade to protect himself.  I saw some other drivers carrying an umbrella.  Other boats had a tarp strung out to cover the captain, but most just had the front exposed to the sun.
Would have liked to anchor on the water at night rather than mooring up to a dock.  It took away from the authenticity of the experience.
Every time we ate, we moored the boat.  It would have been so nice to anchor in the harbor or to keep driving.  We never seemed to dock at scenic areas either.  All of the boats seemed to dock in groups as well.
We recommend getting an air conditioned houseboat.  It is hot at night and there isn't a breeze.  Plus the bugs are a plenty.  An air conditioned room would take care of all of the discomforts.  We ended up having to sleep with our door and windows open and the fan on full force.
Tour Information:
Varkala: Om Shanthi Tours – Beside Cafe italiano, North Cliff Beach
Contact:Nithyananda – [email protected]

Alleppey: King Fisher Tours
Contact: Manu [email protected]

Cost:
Houseboat tours from Varkala to Alleppey
4500 Rupees ($104 Canadian) for 2 people

Includes:

Transfers from Skylark Guest house to train station
Train from Varkala to Alleppey (2 ½ hours)
Transfers from Train to Kingfisher Tours
Transfers Kingfisher Tours to boat
22 hours on boat with 3 meals, personal chef and captain.