Yoga instructor Manmohan Singh takes us to the land of divinity, yoga, and adventure in India. Explore this guide to find out the list of incredible things to do in Rishikesh.
7 Things To Do In Rishikesh
Rishikesh is one of the most famous towns in India, nestled in the Himalayan foothills beside the holy River Ganges.
The town is a fusion of devotion, thrill, love, and spirituality. Hence, it is known by many names- Land of Gods, The Adventure Capital of India, and the Yoga Capital of the world.
The shimmering beauty of the river Ganges, the soul-soothing chants of prayer ceremonies, the reviving picturesque setting and the adrenaline-pushing adventures enchant the mind, body, and soul. Rishikesh is the perfect destination for all kinds of travelers or tourists.
So here is the list of things that you can do during your visit to this holy town. But before heading there, these are the best ways of reaching this amazing destination of purity and peacefulness.
How To Reach Rishikesh?
Air- There are no direct flights to Rishikesh, but you can take a flight from the nearby airport and then travel to Rishikesh, via road.
You can travel from New Delhi (Indira Gandhi International Airport) and then take a private cab to Rishikesh or you can travel by bus from there. You can also travel from Dehradun which has a Domestic Airport (Jolly Grant) and then take a taxi or bus.
Rail- To travel via railways, you can opt for the services that end in Haridwar or Dehradun, and then travel by road.
Road- Road is another convenient way of traveling. You can hire a personal cab or you can book a bus from Delhi. You can directly go to a bus stand and book tickets or can also book in advance through the various websites.
1. Holy Places
Experience the harmony of Rishikesh by visiting its Holy places.
As mentioned, Rishikesh is known as the Land of Gods. The town is considered to be one of the divine places in India. Every year, hundreds of pilgrims visit the holy land to find solace.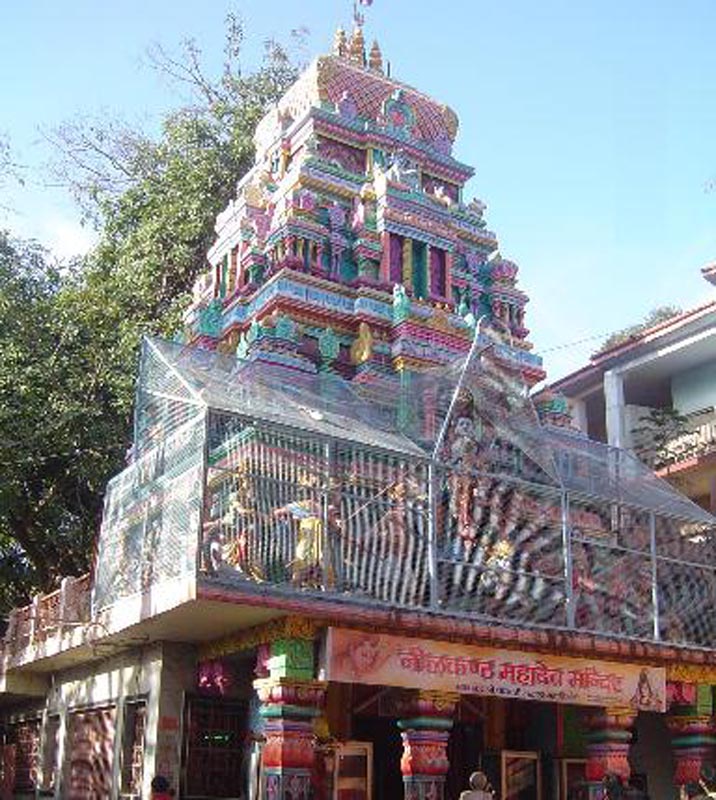 There are many spiritual places that fill you with complete bliss and ecstasy.
Visit places like Rishi Kund, Neelkanth Mahadev Temple, Parmarth Niketan, Swarg Ashram, Geeta Bhawan, Shivananad Ashram, Lakshman Temple, Kunhapuri Devi Mandir, Raghunath Temple. 

These are just a few, but ther are many more temples and Ashrams.
Visit these places to do meditation or witness the seraphic environment. You can also attend or participate in spiritual meets like Satsang or Kirtan.
2. Whitewater Rafting
Experience the True Adrenaline Rush and go Whitewater rafting in Rishikesh. 
Step out of your comfort zone and get ready to experience the thrill of the water. Rishikesh is the adventure capital of India and has a lot to offer for adventure lovers.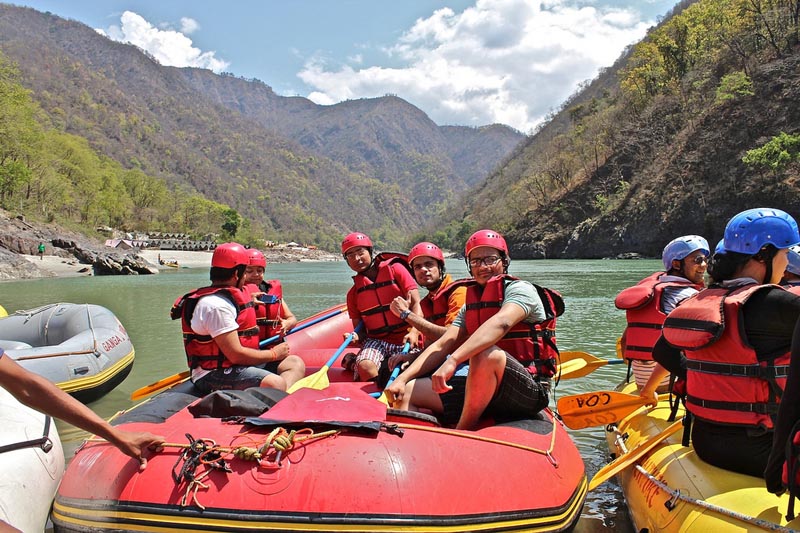 Widely known for its Whitewater River Rafting and waterfall trekking, the city is famous among adrenaline junkies and thrill seekers.
You can also do bungee jumping, cliff jumping, camping, rock climbing, body surfing, kayaking, rappelling, and mountain biking.
Places like Marine Drive, Shivpuri, Brahmapuri, Phoolchatti, and Kaudiyala are all excellent for adventure.
3. The River Ganges
Sink into The Divinity Of the River Ganges
The energy of the river Ganges is palpable and sacred. It is considered that a dip in the holy river Ganges can relieve a person from all their sins.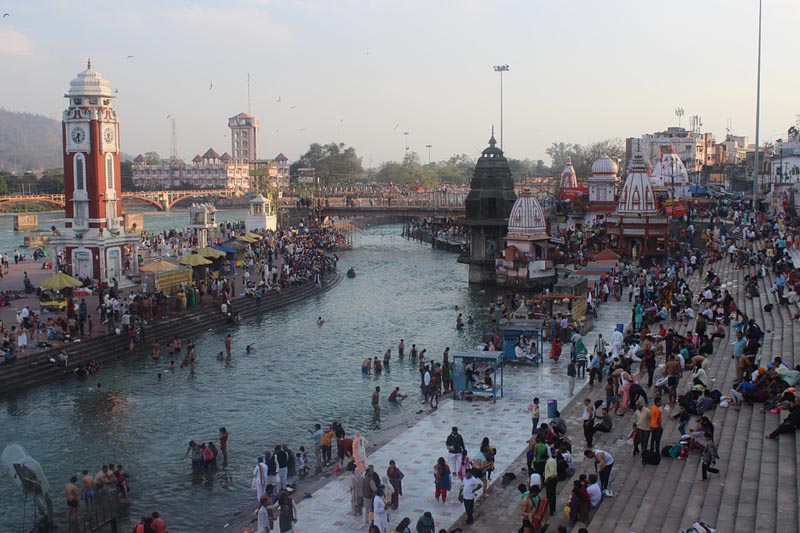 Triveni and Parmarth are the two famous Ghats in Rishikesh. Triveni Ghat is famous for the confluence of three holy rivers- Ganga, Yamuna (Jamuna) and Saraswati.
A dip in Holy River Ganges at Triveni Ghat purifies the soul. On the other hand, Parmarth Ghat is known for the enchanting Maha Aarti.
4. Yoga and Ayurveda
Unwind With The Magic Of Yoga And Ayurveda in Rishikesh
Being the yoga capital of the world, Rishikesh is the hub for many renowned yoga schools and meditation centers.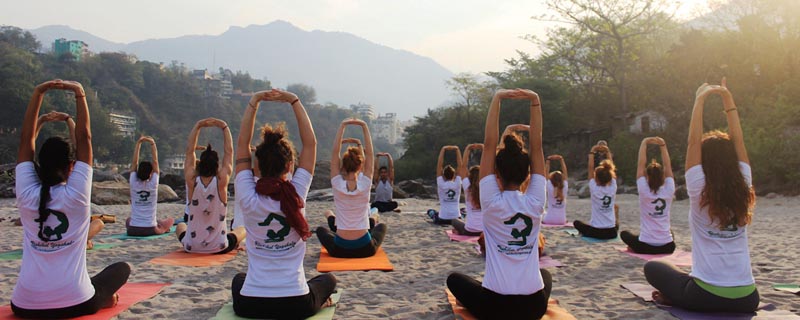 Yoga is one of the greatest gifts to the globe and many aspiring yogis visit this divine land to seek authentic and traditional teaching of yoga by the yoga aficionados.
Even 'The Beatles' visited Rishikesh years ago to attain enlightenment and spirituality through yoga and meditation. They really contributed to making this mystical practice popular around the globe.
You can undergo a yoga retreat program or yoga teacher training for an in-depth knowledge of yoga. Also, you may want to experience the relaxing therapies and healing treatments of Ayurveda for the body and mind rejuvenation.
5. Natural Beauty
Alluring and Serene Natural Beauty Awaits in Rishikesh
Rishikesh has the power to add colors and beauty to every being's life who visits it. The quaint scenic beauty of the town has is one of the reasons peple come from all around the world to visit.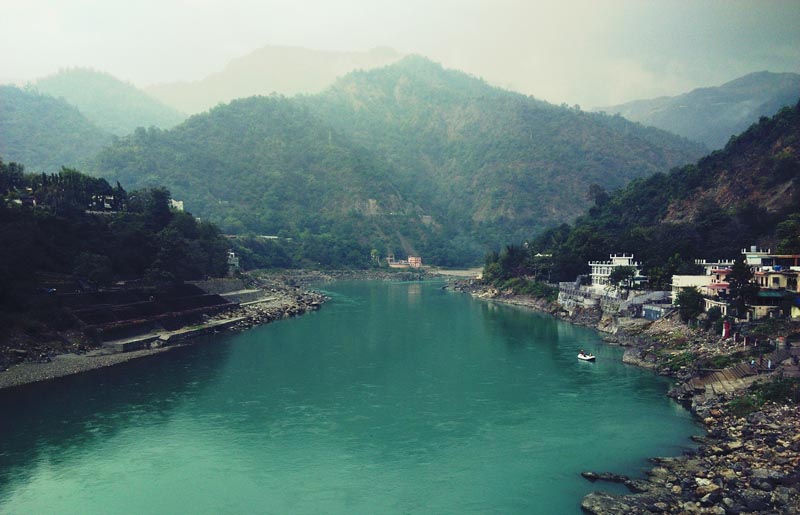 Rishikesh is situated in the Himalayan foothills. The city is surrounded by the breathtaking mountains and offers you the opportunity to enjoy leisure time in the pristine lap of nature, away from the city chaos.
Early morning walks or rides on the mountain roads, meditation besides the banks of the river, or enjoying the scenic view while having a cup of tea, etc., gives a soul-soothing experience.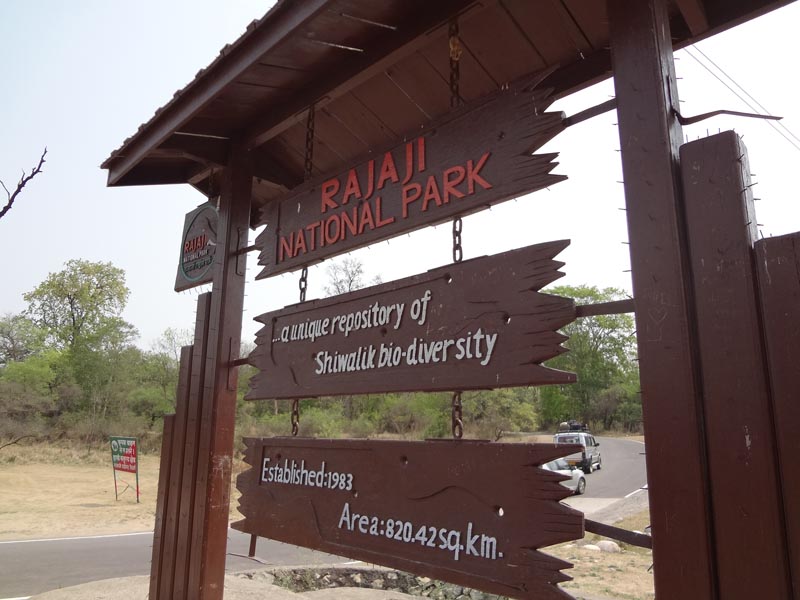 There are many waterfalls, wildlife sanctuaries, and national parks that make Rishikesh a natural town of diversity.
6. Try Some Fingerlicious Food
Hygiene and food add to the fondness of the place and the city has it all. Being a holy city, alcohol and non-vegetarian food is banned in Rishikesh.
Rishikesh offers a wide variety of delectable food from vegan to sattvic to Indian and Continental.
Being a destination that sees a number of tourists, it caters to other tastes as well. Not only can you relish the flavors of Indian cuisine, but people can also enjoy international cuisine including Chinese, Mexican, Italian, Israeli, Thai, Continental, and many more.
To enjoy these lip-smacking cuisines, visit cafes and restaurants like Bistro Nirvana, Oasis Restaurant and German Bakery, The Sitting Elephant, Little Buddha, Chotiwala, etc.
Even food served by cafes in the hostels is also quite delectable.
7. Endless Tourist Spots
You must visit the famous tourist spots of Rishikesh. 
Invest time in taking a full day tour of this beautiful town and visit places like the Beatles Ashram (Churashi Kutiya Ashram), Ram Jhula and Laxman Jhula, Rajaji National Park, and of course, the local market for a mini shopping spree.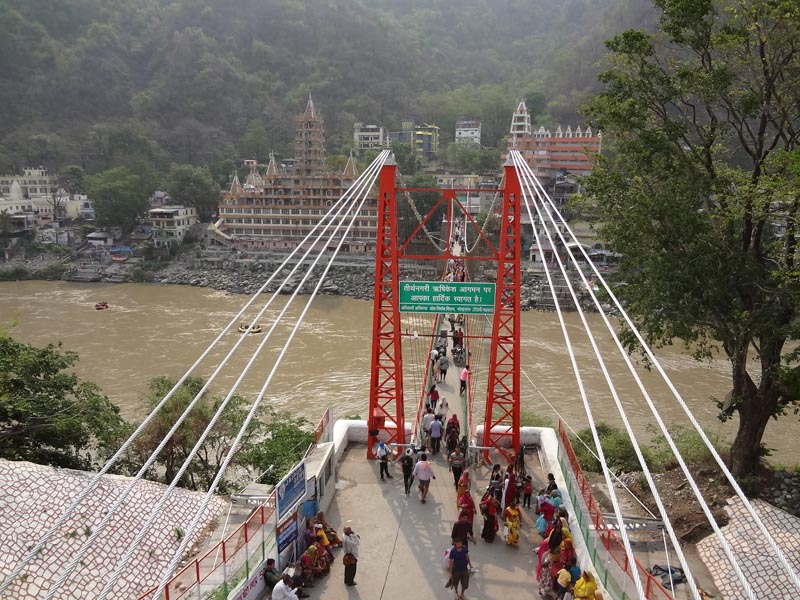 Rishikesh is the town of yoga and love -- a perfect example of a traveling treat and sundry experience. Visit any time of the year and free yourself from the anguish of daily life stresses.
Where to Stay in Rishikesh
Accommodation Facilities
There are many amazing places to stay in Rishikesh- from the luxurious hotels and resorts to budget hostels and calming Ashrams.
Rishikesh offers a variety of accommodation as per the need of the guest.
Resorts are meant for those who want to have complete relaxation, whereas the yogic environment of Ashrams is soul soothing.
For backpackers and budget travelers, who love both hustle and calmness at the same time take a look at hostels like:
Namastey Traveller's Hub
Zostel, Moustache
Shiv Shakti
Live Free
Make a prior booking to avoid last minute chaos.
Pin to Save to Pinterest:

Have you been to Rishikesh? What are your favourite things to see and do?
Author Bio :
Manmohan Singh is a passionate Yogi, Yoga Teacher and a Traveller in India.
He provides Yoga Teacher Training in India. He loves writing and reading books related to yoga, health, nature and the Himalayas.
You Might Also Enjoy