Train travel in India can be intimidating. It can be confusing to navigate the Indian Railway system, but once you figure it out, it isn't so bad at all. The thing about India train travel is that it is always overbooked and very busy.
India Train Travel Tips
#1 Book Ahead of Time
The India Railway system is very complicated.
You would be wise to know your entire itinerary and book ahead.
Unfortunately for Dave and I, we are on a very loose schedule and like to go with the flow.
We never know how long we want to stay in a place, so we don't book travel ahead of time.
This was the cause of many a headache. But we quickly figured it out and learned a lot.
So now we can share our best India train travel tips with you!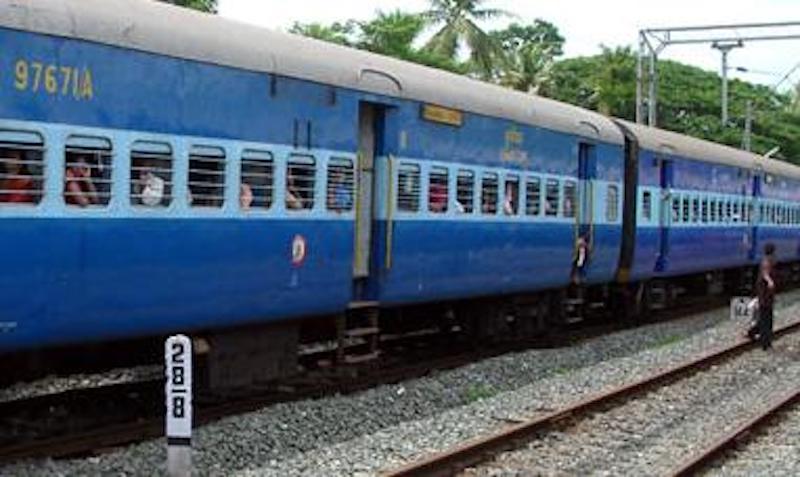 That first day we travelled by train in India, we had no idea where to stand on the platform.
We had no idea what car we should go in and we didn't have a clue how to find our seats.
Heck, we didn't even know what our ticket meant.
Best Memories of India happened on the Train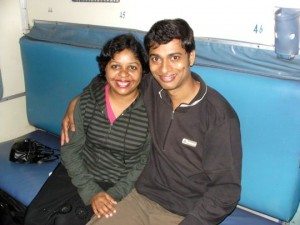 Some of our favourite experiences in India have taken place on the train.
We have made new friends, enjoyed wonderful conversations, and enjoyed mixing it up with the locals.
General Class on India Rail is always an adventure and a ton of fun.
People are a little shocked to see a tourist sitting on the seat in the General Class on Indian Railways, but they quickly embrace you and look after you. Everyone is always willing to lend a hand.
—-
How the India Railways System Works
#2 Use the IRCTC Website
The easiest way to book a ticket on India Rail is to do so online at http://www.irctc.co.in/ Make sure to have a printer handy to print out your ticket.
**Update** Since writing this article, we've learned of ClearTrip, It looks like a far more streamlined way to book tickets.
The first thing that you will need to know about train travel in India is the class system.
#3 Know What Class You Want
For overnight bookings, you will definitely want to be comfortable.
You need to know that the difference between classes when you book your ticket or you may end up on a very uncomfortable journey.
The Booking Process
Here are some tips to help make your train travel in India easier:
India Rail Classes:

1AC – Air conditioned, private room with locking doors. 2 or 4 berth
2AC – Air conditioned two tiered beds, 4 people to a berth
3AC – Air conditioned, three tiered beds, 6 people to a berth
CL – Chair Class, padded reclining seats with air conditioning
SL – Sleeper Class, non air-conditioned tiered berths
2nd class – unreserved seating, free for all

Note: 1,2 and 3 AC are travellers best bets for overnight trains.
They are clean, cool, and comfortable. Plus, they are quiet and you won't be breathing in the fumes from the trains when they enter a tunnel.
A local man from India that was riding in 3 AC with us said, "SL (Sleeper Class) is loud and you go insane listening to clickety clack, clickety clack.".
——-
#4 How to Book Train Travel in India Online
Go to http://www.indianrailways.gov.in/ to get your train number, information on what trains go to each station, and the station codes.
After you have all of the train information for your destination, go to http://www.irctc.co.in/ to book your train ticket.
You can choose from several classes, but 2AC and 3Ac are your best choices for overnight trains.
SL is a sleeper class and also a good choice, but you will not have air conditioning and you will have less security. And as stated above, it is loud.
Many countries have problems with our credit cards working. We thought that it was just us being Canadian, but we talked to others from the U.K. that had the same problem. You can get around this. When they ask you what payment system you want to use, choose Axis PG as your method of payment if you are Canadian.
For other countries, you will just have to keep trying the different methods of payment from the list to see what works for you. You will find something that works. If we did, anyone can.
Unless you book your train well ahead of time, you will most likely have a waitlist. If the waitlist isn't too long, you have a good chance of having your rail ticket confirmed on the day of departure, especially if you are on 3AC. 2AC can be a problem because there are fewer seats in that class.
Your reservation will have a PNR number. If you have an unconfirmed train ticket (meaning you bought your ticket but you are on a waitlist), you will need to check this on your travel date to see where you are sitting and to see if your seat is confirmed.
You can check this on the website http://www.indianrailways.gov.in/ You can also check by telephone; just ask your hotel reception what number to call in that city. It will also be on your eticket or railway ticket.
A confirmed train ticket will have your seat number already printed on it. A Wait List ticket will not, but when you check your PNR number, it will give you a seat and car number.
—-
#5 How to Book Your Train Ticket at the Station
A trip to the train station is always an adventure and it is sometimes better to book at the station. That way they can help you out if you have any questions.
Go to the computer reservation desk at the station.
Get a form. Go right to the front of the line and ask for a form first thing. You aren't cutting in line, you just need to get that piece of paper.
Get in line and fill out the form while standing in line. Otherwise several people will get ahead of you while you fill out your form at the table and it can be a very long wait.
Note: women often have their own line. If you are a woman, go in that line for a shorter queue and don't let the Indian men get in front of you. They don't care that it's women only and think they can stand in front of a tourist.
Know the name of the train station that you want to go to. Stops are not always the same name as the city and the ticket agent may not know the stop that you want if you simply say something like Goa or Mumbai. Because there are several stops for each.
There will most likely be a waiting list when you book your tickets. India rail tickets are always sold out and you will rarely get a seat that day.
Being 1 to 10 on the waiting list is a very good chance that you will get your seat confirmed if you are booking on 3AC class.
2Ac may be a different story as there aren't as many seats. Sometimes even higher numbers will be confirmed. The sooner you book your train ticket in advance, the better chance that you will get on the train when you want to.
At the Train Station
#6 Finding Your Railway Car
Getting in the right car of the train can be confusing.
We got on the wrong car our first train trip because we didn't know where to look for our number.
As we eventually learned, train travel in India is very well organized and if you know where to look, you will be able to find what you need.
Go to the computer or large board to confirm your booking seat number.
Punch in your PNR number and the screen will give you all the information that you need.
Write down your information on your train ticket and go to the electronic board to look for your train number and car number.
You can then figure out which platform you will be boarding from.
Proceed to the engine number that coincides with your train and car by number. It will be listed on the board as well.
Stand and wait at the engine number on the platform until your train arrives. Indian trains are very long and contain several boxcars, so you want to make sure that you wait in the right spot.
Don't take too long to board. Sometimes trains wait a while at the station, other times they leave without warning.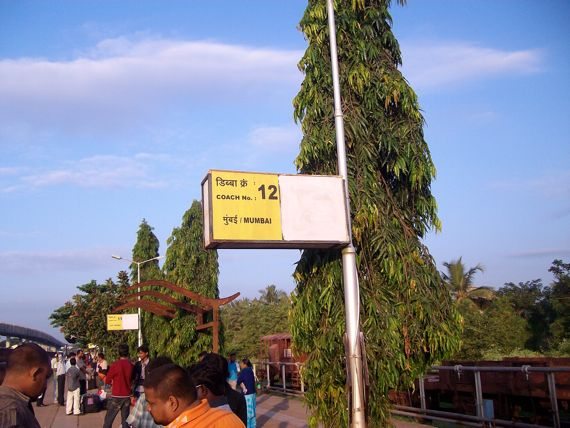 Insider Tips for platform navigation.
Trains are very long and some stations are very confusing with multiple tracks.
Sometimes train stations in India are very basic and they will only have computer printouts stapled to a board.
If it is only a board, look for your train number and class on your ticket and then match it to the board.
You will be able to find your seat number and car number
But you may get platform information and you won't know where to stand.
What to do when you don't know your platform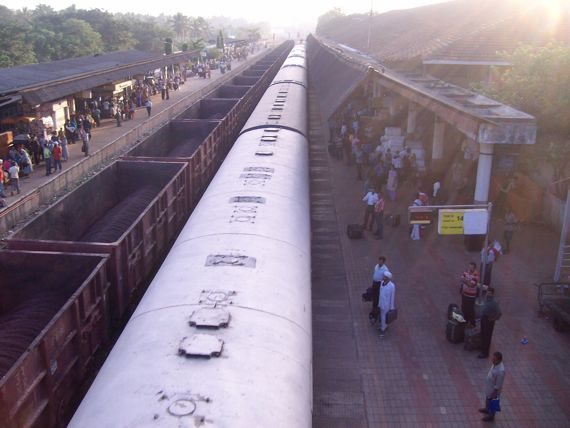 The best advice that we can give you is, find a spot in the middle of the platform and keep an eye out for your car number as the train passes.
Then get ready to run.
Normally 2 and 3 AC are at the front or the back of the train. (so be prepared to run in either direction)
This can be a problem because if you are standing at the front, your car may be at the back or vice versa. So stay in the middle.
We reiterate, trains in India are very long and if you were at the wrong end of the train when it approached, you will have a very long run to your car and will probably miss your train.
—-
#7 Boarding the Train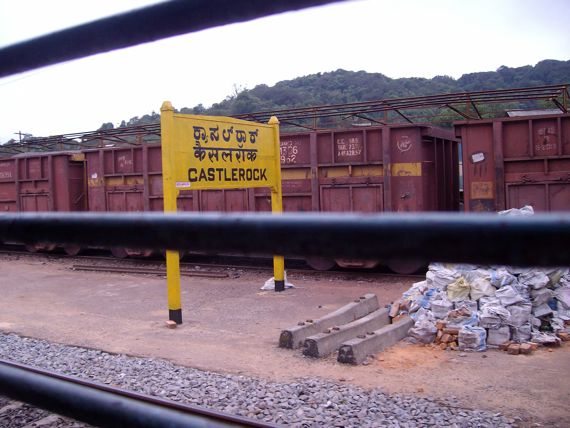 Train travel is the easiest and most comfortable way to travel around the country.
Here are a few tips to keep in mind once you get on the train.
When you get on the train, it's likely that people will be sitting in your seat. Just tell them your number and they will move or simply make room for you.
Put your luggage under your seat right away. It fills up quickly and if you set it above on a bed, you won't have a place to put it later.
Bring a chain lock or pack safe. On a 3AC Sleeper train, you could be 3 beds high and not notice anyone come into your berth. While you are sleeping, you will never know who will walk through. Having your valuables locked to a pole or bed will give you a more relaxed sleep.
Food is provided, but not included. Water, chai and sodas are available for sale. You will never go hungry. There is always someone going through offering food and drink. If you don't want to buy food on the train, bring your own snacks
Have an alarm. Nobody is going to come and wake you up when it is your stop – it is all up to you.
Know the names of a couple of stops before yours. There are no announcements on most trains and you simply have to keep an eye out for your stop. Know the time that you arrive and start watching for the stops before yours.
Gather all of your belongings ahead of time and be prepared. Trains in India can sometimes stop for a long time and other times not so long at all, barely giving you time to grab your bags and get to the door.
Train Travel in India is Fun
[embedyt] http://www.youtube.com/watch?v=rF7DshvcZJw[/embedyt]
Train travel in India can be a lot of fun and it is a wonderful way to get to know the people of India.
When you are stuck in a berth staring at each other with your knees almost touching, you have no choice but to chat and get to know each other.
By the time your stop comes, you won't want to get off the train because you will have made such great new friends in the lovely country of India.
People helped us and gave us extra information on train travel in India by showing us the ins and out and tips and tricks.
They even checked on us regularly, telling us when our stop was coming up, buying us soup and translating all the conversations going on around us.
—-
More insider tips that will make your train travel in India much easier: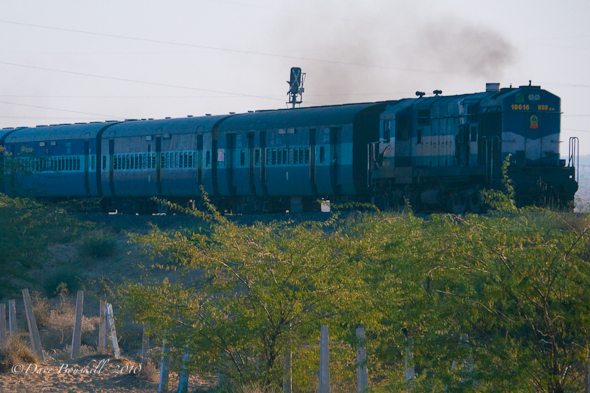 #8 What to do if You Can't Reserve a Ticket?
India's trains are always overbooked. You have to reserve your seat weeks in advance and sometimes you just can't get on a train.
It can be frustrating and difficult when you are number 2 and 3 on the wait list and your seats don't confirm.
But, there is hope. We have started doing this on a regular basis and haven't had a problem.
Go to the train station anyway.
Buy a general class ticket to the destination of your choice.
Find out where the AC Chair Class, 3 A or 2 A classes, will be arriving on the platform.
We have hopped on 3A and Chair Class without a problem.
We just ask the train captain if there are any seats available and he sticks us in an empty one.
He has the chart and he can tell you where to go.
You will have to pay the upgrade, but this is all completely legitimate.
You will receive a receipt and you can stay in your chair or bed for the duration of the train.
#9 Beware of Scams
Beware, however, because sometimes men pose as India Rail employees and try to scam tourists out of money.
Make sure you are talking to the actual train captain.
He will have a navy blue jacket, charts in his hand, and a name tag.
He will also be assisting the local people, not just the tourists. – This is the most important thing to look out for.
See our India Travel Scams for more details.
—–
#10 Know the number of the train you are booking your general class ticket, not just the destination.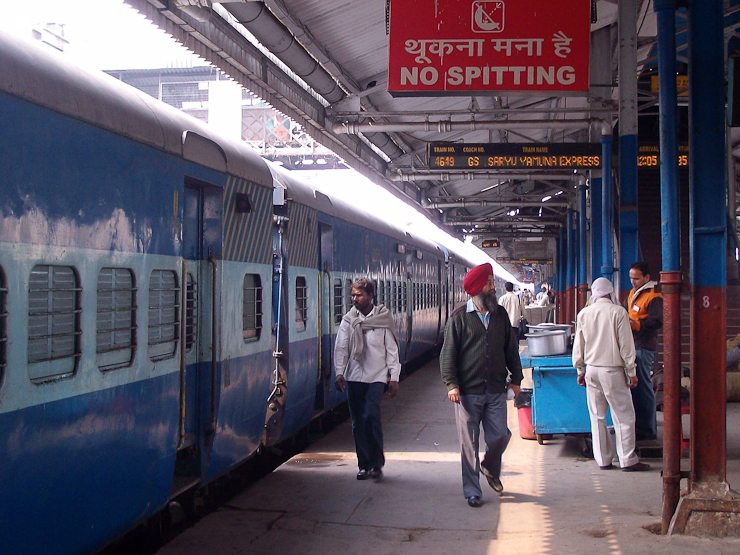 For example, when buying a ticket to Delhi, don't just buy any ticket to Delhi.
You need to know the express train number that has the AC cars.
We have made the mistake of not having our tickets confirm after booking them online and going to the train station anyway.
We saw other trains going to our destination and hopped on the first one that arrived.
Sure, it was still going to the same destination, but it was a general class train that stopped at every single remote train station in the country. Taking hours to get to our destination.
If we had stuck to the train that we tried to book online, we would have been on a more direct route and not spent hours on end trying to get to our destination.
#11 If the entire train is general seating train only, don't get on.
It is a train that, once again, will stop at every single station along the way. Sometimes we have felt that we would be fine in the general seating compartment and got on the train because it was the first one to arrive at the station.
Big mistake.
Our 4-hour journeys have turned into 9-hour epic rides.
Normally trains that have AC classes and sleeper classes stop less and are more direct.
#12 Don't be in a hurry when taking the train.
India Rail is very slow. The trains putter along and stop at stations for up to a half hour at a time.
Just take a deep breath (sometimes easier said than done) and know that you are going to be on the train for a long haul and there is nothing that you can do about it.
——
#13 Most trains stations have a prepaid taxi booth.
Don't let touts meet you on the platform to offer rickshaw rides.
They won't give you a good deal normally.
First look for the prepaid taxi booth to get a fair price; most major train stations have them.
If they don't have a prepaid booth, walk outside before getting your taxi. When there are several vying for your business you will get a better price.
The guys that meet you on the platform at your arrival always quote very high.
#14 If you know your itinerary, book all your tickets in advance.
You can book your India Rail Tickets up to two months in advance.
If you have a set itinerary and know when you will be leaving each place, it is wise to book your tickets online in advance at the IRCTC Online Passenger Reservation site.
#15. Get ready to body check someone.
We have arrived at some very busy train stations and it can be crazy trying to get off the train.
Indians have a strange habit of piling on the train before letting anyone else off.
You will have to go through hoards of people to make your way off.
Just put your head down and push and shove your way through.
Nobody will mind, they will be doing the same themselves.
We have even seen people pushing through open windows to try and get on the train.
Strange and surreal indeed.
But don't stress yourself out, this didn't happen often during our entire three months of travelling on India Rail. It only occurred a few times.
—–
#16 Don't stand close to the door with your packs on.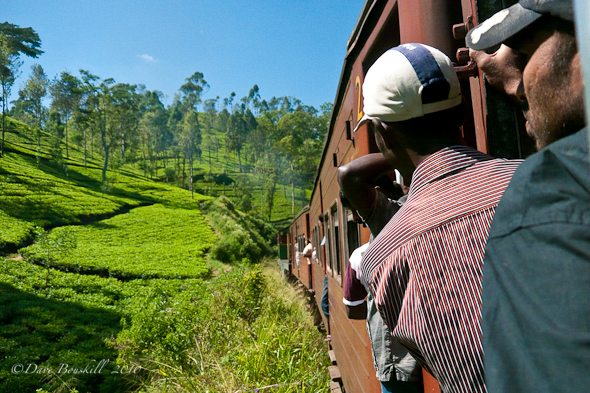 The doors remain open on the train during the trip and people hang out them and stand by them all the time. People even jump off while the train is still moving.
You would be wise to keep your distance, especially with your pack on, because you don't want to be nudged and sent flying out the door.
Just stay in or near your seat until the train stops, and then make your way through the masses once you arrive at your destination.
#17 Keep back from the tracks.
People die on a regular basis in India by falling into the tracks when a train arrives. For some reason everyone gets crazy.
They don't believe in queues so it is a free for all when the train comes.
If you have reserved seats, there is no reason to rush into the car. Stay back and wait for the train to arrive.
If you follow our advice in all of the posts above, you will know where to stand on the platform to be in front of the proper car.
After everyone is through with pushing and shoving each other, you will be able to walk in safely and comfortably. Don't fret about this too much, normally reserved seating is far more civilized anyway.
#18 Eat the food.
Some of the best food we have had in India has been on the train. India rail has guys walking the aisles selling chai, tomato soup, pakoras, chips…you get the idea.
They offer full meals of biryani, omelets, curries and sandwiches.
We love ordering from the guys that come on at the stations with peanuts, spicy nut mixtures, oranges, and samosas.
We even call the guys with the carts out the window to grab some tasty deep fried goodies for a treat. Everything costs only 5 to 20 rupees (10-50 cents) and it is all safe and delicious.
—–
And That's how to Travel by India Railways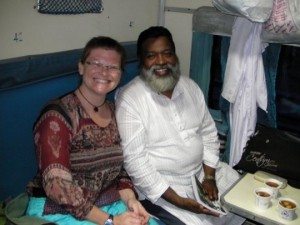 There you have it. You should have no problem navigating train travel in India. Just remember to enjoy yourself.
Indian railways can be intimidating, but they are also a wonderful experience. The scenery is beautiful, the people are friendly, and it is a moment that you will never forget.
Even though we have enjoyed our train travel experiences and we would love to travel on India Rail more often, our final piece of advice to you is to plan your route thoroughly.
Book your tickets in advance, and know where you are going and when you want to get there.
Believe the stories that you have heard. If you don't book a train ticket in advance, chances are slim to none that you will get out of a place and onto the next destination for fun and adventure in India.
Read Next:
Top 7 Things to do in Rishikesh
5 Experiences to Have in Arunachal Pradesh