–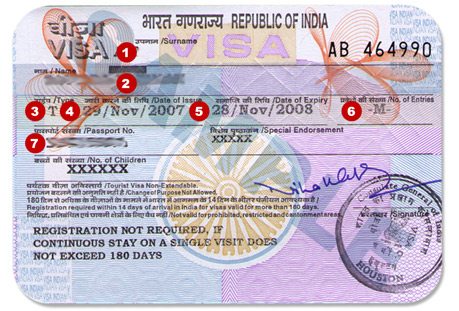 A few weeks ago we posted an article about the changes to the Visa rules in India.  India has now changed their 6 month multiple entry Visa to basically a no  re-entry visa.
You can read more about the new rules here at our post New Visa Rules for India, but to give you a little recap…
Here is what is going on.
In December, India decided to stop allowing visitors back into the country until they have been gone for at least 2 months. India has had problems with terrorism and after the arrest of an American suspected of taking part in the 2008 attacks, they have clamped down on their visa rules.
He freely traveled in and out of the country for two years without raising any alarms.
We did some research on the subject and after reading about the new visa rules in the Times of India and the India Times, we came to the conclusion that the average tourist that already has a 6 month multiple entry visa should not have a problem coming back to India.
The conclusion was that the average tourist would be fine and only people that have stayed their entire 6 months in the country or people that work in India will have a problem.  That is a pretty big problem for them, but at least the average traveler wasn't going to have to worry about re-entry to India.
If the average tourist wants to go to say Sri Lanka like us, or Nepal for a side trip, all they will have to do is keep all of their documents to prove that they have been traveling and not up to no good.  Customs and immigration will need these documents to see what you have been up to and will then let you into the country.
Great we thought, we can still go to Sri Lanka.
Well things seem to have taken a confusing turn.
We bumped into some fellow Canadians that had their entire itinerary planned before leaving for India.  They had their tickets pre-booked to Sri Lanka and they have their ticket home booked already from Delhi, India.
They were issued a 6 month multiple entry visa before the rule took place and thought that everything would be fine.
During their time in Sri Lanka, they met an American that was already turned back when he tried to re-enter India, even though he too had the multiple entry visa that should be honoured since it was issued before the rule took place.
They worried that they to would have a problem and upon further investigation, they found that their passport had been stamped with a big black notice when they exited India.  It clearly stated that they were not allowed back into India for 2 months.
They fly back to Delhi in a few days and already have train tickets and hotels pre-booked in India. Even worse,  their flight back to Vancouver is booked from Delhi.  They had all of this booked before they even left Canada.
As they said," we are not young and we are not traveling cheaply"  "We have dropped a lot of money into the India economy and we have a lot of money to lose if we are not allowed back in the country"
They went to the India High Commission here in Sri Lanka where they received no help whatsoever.  As with everything in India, they only encountered bureaucracy and frustration. That is after filling in a bunch of useless paper work, standing in long queues and being told to come back in a couple of days.
They have no other choice but to try to fly back to India.  This trip and itinerary was planned months ago. And they were issued a 6 month multiple entry visa!
Shouldn't India honour the visa's that were already issued?
Unfortunately, they are at the mercy of the whim of their customs agents.  Much of India works this way we have learned.  Ask one person one thing and they will have a completely different answer than another person.
Ask at least 3 people, average it out and you may have the right answer.
As for our last post about New India Visa Rules, I guess we should have read a 3rd newspaper before we came to the conclusion that the average tourist would be OK.  The two major national newspapers were not enough, we needed a 3rd opinion.
What will happen to us?
Like I said, India is very random.  We left the country almost at the same time as the other Canadians, but we do not have the big black stamp on our passport.  We simply have a little red exit stamp beside our visa that doesn't say a thing about not being allowed back in the country for two months.
It looks like we may be O.K.
We have followed the rules that we read about in the Indian newspapers and have kept every receipt right down to our bus, train and entry tickets.  We clearly have a 6 month multiple entry visa and we have no notice on our passport that states we cannot re-enter the country.
Luckily, Dave and I don't have our flights back to Canada booked from Delhi.  If they refuse us entry, we may just have to fly on to Nepal early or fly back to this paradise of an island that we absolutely love, Sri Lanka.
Or we could end up like Tom Hanks in the Terminal and stuck living in the Delhi Airport without visa or country.
Yikes! Now that could be a problem.
We have asked the Canadians to let us know how things go for them.  I hope they get in touch so that we can update you all on the situation.
If not, you will just have to wait until Feb. 22 when Dave and Deb try to re-enter India.
It will be an adventure.
But like Dave and I and so many other people that we have encountered on our trip have started saying on a regular basis…
That's India.
For other articles and updates on India Visa rules, check out our posts below

Links to more information

India Revises Tourist Visa Rules

No Change in Tourist Visa Norms

http://www.timesonline.co.uk/tol/news/world/asia/article6966518.ece

http://economictimes.indiatimes.com/articleshow/5388578.cms
Some Correspondence that we have received from a person that contacted an expert on the subject.
We have heard that if you provide the Indian consulate with copies of your travel documents for your time spent in India, they are allowing tourists to enter more than once, if you are visiting neighobring countries. We have clients successfully do this after going to India then to Nepal and then back to India.
Here is what we got from the Indian visa people:
Question #2:
Whether the gap of two months between two visits would apply irrespective of the duration of stay in India during the previous visit ?
Answer:
The intention behind the stipulation of a gap of two months between two visits on a Tourist Visa is to curb the abuse/misuse of the Tourist Visa. With a view to ensure that the genuine tourists are not affected by the recent guidelines, the following clarifications are furnished:
I. Foreigners holding Tourist Visas, who after initial entry into India plan to visit another country largely on account of neighbourhood tourism related travel and re-enter India before finally exiting, may be permitted two or three entries, as the case may be (need based), by the Indian Missions/Posts subject to their submission of a detailed itinerary and supporting documentation (ticket bookings). If they are already outside of their country of origin, they can also get such an endorsement from the nearest Indian Mission/Post.
II. The Immigration authorities in all the Immigration Check Posts may also allow such foreign nationals on Tourist Visas arriving in India without the specific authorization from the Indian Missions/Posts to make two or three entries into the country (need based) subject to production of an itinerary and supporting documentation (ticket bookings).
III. The total period of stay in the country counted from the date of first entry into the country shall not exceed the stay stipulation period of 180 days or 90 days, as the case may be.