One hundred kilometers south of Colombo, Sri Lanka's Capital City, the beach scene begins.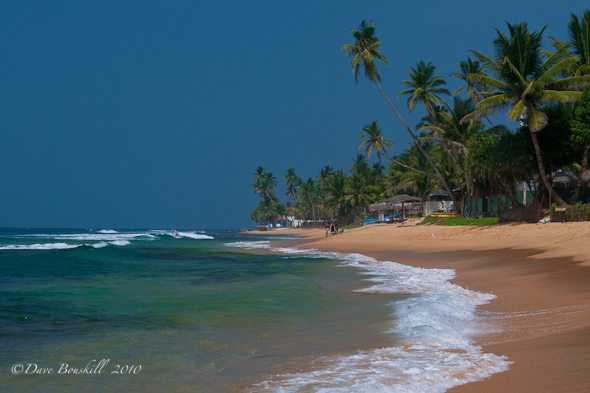 There are several beach towns to choose from in this country. Most people come to Sri Lanka for the beach and only the beach.
Hikkaduwa Sri Lanka
While there is so much more to see in the country and we will get to the sites for sure, we wanted to start out at the beach ourselves.
We decided to head to the most popular sunshine destination Hikkaduwa.  It is a beach filled with short term vacationers, Aussie surfer dudes, families and long term travelers alike.
It is the perfect winter escape and we found ourselves smack dab in the middle of resort style traveling.
We Love it!
Our reason to come to Hikkaduwa was to play in the surf and soak up some sun.  But not everyone comes here only to surf. Hikkaduwa offers an excellent choice of accommodation, nightlife and restaurants to satisfy any traveller's needs.
We made our way to the far south end of the beach to Ocean View Cottage.
It is a little out of the way, but it is quiet at night with the extra value of having a pool.  As much as we love the surf and sand, there is nothing like lazing by the pool, free from touts selling sarongs and jewelry and having the option to jump in for a dip to cool down from the hot sun free of sand and salt.
Prices start at 3500 Rs per night, but as we put our packs back on to look for another hotel upon hearing this, they offered us a room in the back for 2000 Rs. We jumped on it and were happy to find out that they had Wifi as well.
About Hikkaduwa
Hikkaduwa could be one of those world class destinations if it weren't for the main highway running through the centre of town.
On one side of the road the beach hotels, restaurants and resorts are lined up along its shoulder while the other side houses food stalls, clothing stores and markets.
–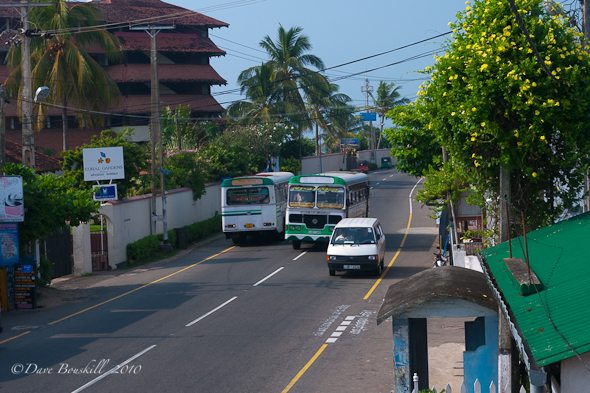 Buses, transports, jeeps and tuk tuks barrel down the road at full tilt boogie. If you don't watch where you are going, you will be plowed into oblivion by one of these speeding monsters.
Traffic is loud and dangerous and shopping can be a chore.  Even the Lonely Planet Guide book compares walking along the road to a game of Russian Roulette.
There is light however.  A new road is scheduled to open in a few months several kilometers inland.  Hopefully they will keep the traffic out of Hikkaduwa and give peace and quiet back to the locals.
When this happens I am sure that business will improve for all.
They deserve it.
The clothing stores are fantastic. They tailor make Billabong, Quicksilver and Volcom surf ware.  $5 will get you a brand new pair of shorts made perfectly to your body type.  You can't even tell the difference from the real deal.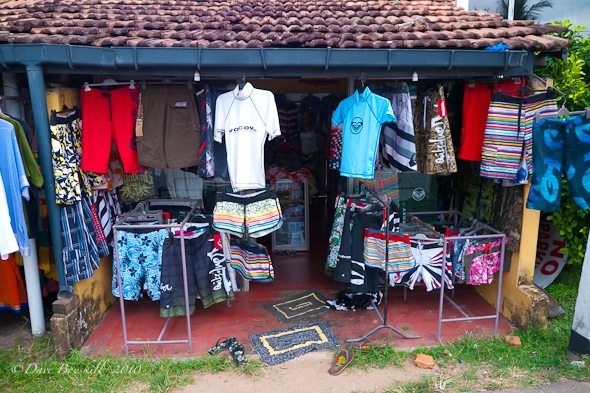 The beach is pleasant especially to the south of the resort.  The original chunk of tourist area has fallen way to overdevelopment and there is very little beach left in front of hotels built way too close to the water. Some literally are being held up by sand bags.
To the south where we are staying the beach is wide and sandy and pleasant to walk along. There are very few hawkers bothering you as well.
Activities
The surf is excellent for beginners and surf shops offer lessons and board rentals.
Fresh seafood is on the menu every night and at different hotels, you can find a different bar-b-que with a festive feel.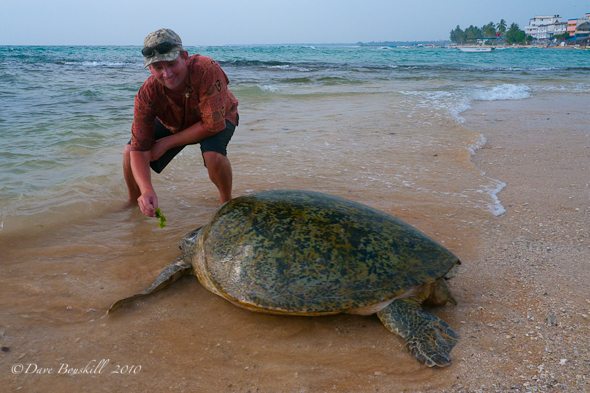 If snorkelling is your thing.  There is a coral garden right in front of the Coral Gardens Hotel.  We didn't go snorkeling as the water was pretty rough and we had heard that the coral had seen better days.
We did go for a walk to the Coral Gardens hotel though and had a chance meeting with the resident turtles of the Reef.  Obviously quite tame now, the turtles are lured to shore by seaweed provided by an entrepreneur selling it to guests.
The turtles seem to enjoy coming into shore for their daily treat and we have a chance to see these giant beauties in their natural environment, even if they have become more like pets.
Hikkaduwa is an excellent place to start your travels through Sri Lanka.  We are already feeling refreshed and relaxed and ready to see the many sites of this tropical paradise.
Tips

Bus to Hikkaduwa from Colombo 250 Rs
Surf lessons 20,000 Rs
Board Rentals 300 Rs
Tuk Tuk around town 150 Rs.
---
Read More
Sri Lanka Safari – The Best of Yala National Park
Discover the Beauty of Sri Lanka in Photos