Long term travel can be tough.  After a couple of months on the road, it becomes work.  You are no longer in that honeymoon phase of excitement you are just simply exhausted.  Every day has been one attraction, temple, trek or museum after another. Sometimes, after you have been busy being a tourist for weeks on end, all you want to do lay down and take a nap.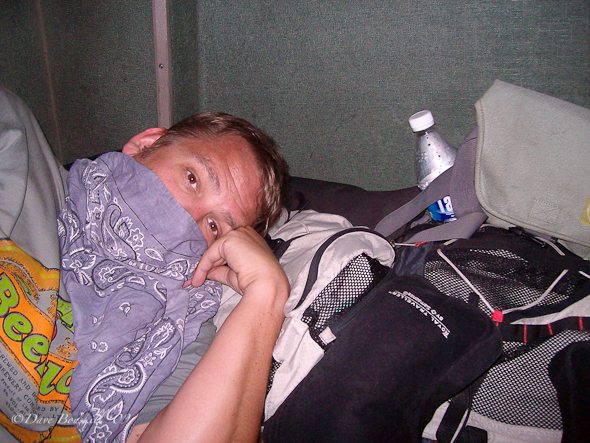 It can feel pretty strange when you are in a foreign country and other travelers are heading out in the morning for their tours and sightseeing excursions.  You think that you should be doing something too, but you just can't motivate yourself, so you give into the fatigue and enjoy some time not traveling.
Here are some signs that told Dave and I that we just may have a little bit of travelers Fatigue…

1 – You go to the Taj Mahal, its cold, misty and foggy for three entire days…
You don't care.  You don't even bother to go inside.  Instead you go to the only heated place in town…the coffee shop.
2 – You have an opportunity to see the astounding Amber Palace in Jaipur India…
Instead you go to the mall, walk around and buy some socks.
3 – Your hotel has traditional food and musicians playing on their rooftop restaurant. It has everything you would want for a night out in India…
You go to Pizza Hut instead.  Not once, but twice.
4 – Not far out of town, there is a village filled with dancers, artists and local cuisine.  They offer tours to go out there from the evening…
You choose to stay in bed and stream "Sherlock Holmes" with Robert Downey Jr.  On your computer's free wifi.
5 – You have two days in Delhi before flying out. It is pleasant outside.  It's not too cold and the sun is out.  You are centrally located close to some of the cities best attractions….
You order room service and channel surf between HBO and the BBC

6 – You should be heading east to Varanassi in central India.  You have planned to travel all the way to Calcutta…
Instead you buy a last minute ticket to escape for a month.
You've thrown the budget out the window and you couldn't be happier.
Time to lay on the beach and enjoy your travel in style.
We are now starting our Sri Lanka leg of our trip.
The excitement of travel has come back to us.
We are dealing with our funk on a beach in the southern coast.
Slowly we are recovering from our traveler's fatigue.
A few days laying in the sand, playing in the surf and relaxing by the pool, just may do the trick.

---
Read More:
Save
Save
Save
Save
SaveSaveSaveSave