If there is one thing that both Dave and I agree 100% on is that we both love to climb.  We love treks and we love the feeling of getting to the top. In the words of Edmund Hillary when asked why he wanted to climb Mount Everest.  Because it's there.
Adam's Peak Pilgrimage
When we learn about a great trek or climb in a country, we just have to climb it.  And yes, the reason is, That its there. What luck we had that it was prime season for pilgrims to make their way to Adams Peak to climb.
What is Adam's Peak?
Adams Peak is Sri Lanka's Holiest mountain and each year Pilgrims flock to climb its 5200 steps. It is said that this is the place where Adam first stepped foot on earth when he was cast down from heaven.
It is also believed that it is the place where Buddha last stepped from earth before reaching Nirvana, while others believe it is the giant footstep of Lord Shiva. What is incredibly unique about Adams Peak is that it is a pilgrimage for every religion.  We climbed beside Muslims and Buddhists, Christians and Hindus.
Maybe it is true.  Maybe this is a holy place. Where else on earth do so many religions join together as one for a festive and spiritual journey?
Our Climb
We started our climb at 2:45 am. Why do we always have to climb in the middle of the night? We awoke feeling refreshed and ready to go before snapping a quick shot of the mountain lit up with pilgrims.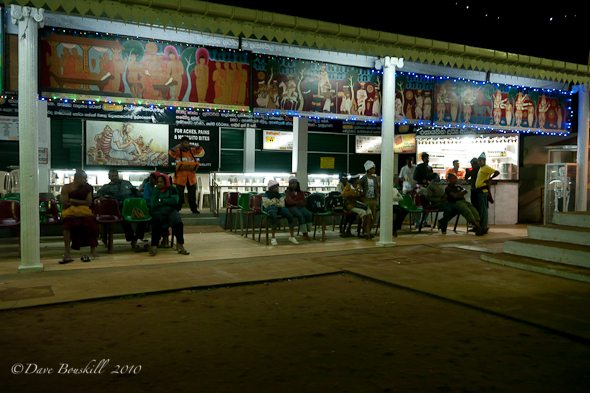 This trek is like nothing we have ever climbed before. The path is lined with food stands and tea stalls selling everything from nuts and cakes to plastic dolls and elephant statues.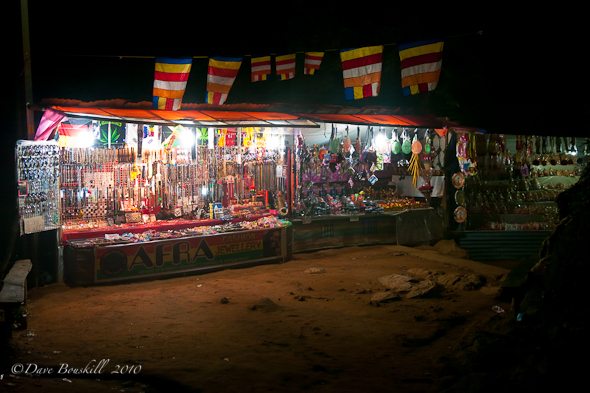 It is well marked and maintained.  Concrete steps lead all the way up to the peak at 2500 meters. While it is not the highest of climbs, it is still quite a challenge.
The steps make your legs burn and Dave and I set a fast pace since we left so late and ended up stopping often to take video and photos. We were a little worried that we may not make it for sunrise.
Slow Going
As we approached the summit, we actually ended up in a queue.  The path narrowed and a bar was put down the centre of the steps.  People were stopped to catch their breath and there was no way around.
We had come to grid lock in the middle of the jungle of Sri Lanka. We hopped over the pole making our way up through the people already coming down. This pilgrimage lasts for 2 months and it is not a priority for the Sinhalese to be up there for sunrise.  Some people start their climb at 9:00 pm while others do it in the middle of the day.
It is a steady and constant stream. We pushed on as our sweat steadily started to cool down. We were prepared for this.
We refused to put on warmer clothes until we reached the summit because they would just become drenched with sweat, but we did bring and arsenal of warm clothing.
Deb is one who sweats.  It is true.
The slightest movements causes me to break out in beads of the stuff. It is not long until it is dripping down my back and my clothes are completely soaked.
We have learned the hard way to bring a change of clothes up to the summit with us.  Wearing wet clothes in cold temperatures is not fun and in the past, I have sat for hours shivering in my wet clothing.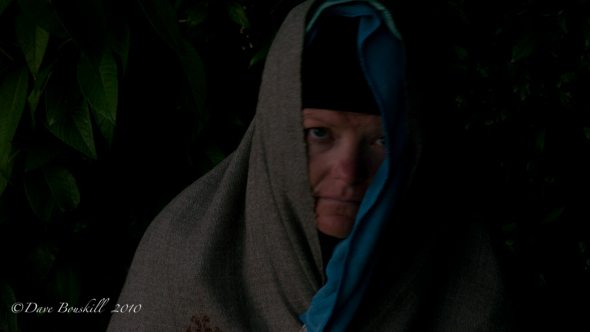 When we arrived at the top, the temple was packed with people and it was cold.  We weren't able to change quickly because the security guards were on us to get our boots off as quickly as possible.
It is a temple and no shoes allowed. It wasn't long until I was shivering.  I pulled out my sweater and stripped off my shirt underneath. I put on layer after layer as people looked on at this crazy tourist.
They were dressed in little more than a sarong and sandals and here I was shivering with a blanket and jacket.  What kind of Canadian am  I?
I looked ridiculous.
It was a long and crowded wait in the wind and cold.
Dave doesn't sweat as much as me, so he walked around the summit all smug and warm. Except for his hands that froze as he snapped away shot after shot of the beautiful sunrise.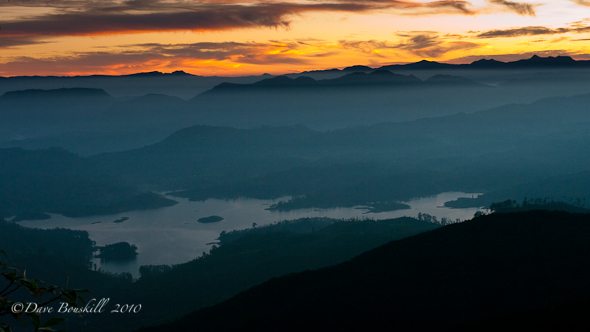 After the sun came up, we were on our way back down and Dave stopped at the loo for a quick emergency. Yes, they have toilets on this mountain, with attendants and they are very clean! He paid his 10 Rs and had a much more comfortable climb down.
I was hot again in 10 minutes flat and quickly peeled off my layers.  It wasn't long until we were both sweating our little hearts out again.
We were prepared for a tough descent.  Going down is normally the hardest part and steps can be brutal.
But it wasn't so bad on Adam's Peak.
We chatted with some Pilgrims, took some photos, stopped for a snack and were back at our guest house showered and packed in no time.
To See more photos from our Adam's Peak climb check out Adams Peak a Photo Story by Dave or visit our photo gallery at picturetheplanet.com
We were on a Tuk Tuk by 10 am to take us to the train station to Kandy and it is as if Adams Peak never happened. That is until we woke up the next day and felt the shot of pain through our calf muscles. Ouch, maybe it was harder than we thought.
Read More
Discover the Beauty of Sri Lanka in Photos
What to Expect on a South Pacific Cruise