When we first traveled to Thailand in the year 2000, we met an American traveler on the train to Chang Mai. He spoke of a mystical temple in Cambodia that was completely deserted, and how he walked around for days exploring in solitude.
We hadn't done a lot of traveling before that time and we didn't know anything about Asia. Thailand was our first step into the world of backpacking, but when he spoke of these temples, we knew that we had to visit them one day soon.
Cambodia: The Beautiful Angkor Wat Awaits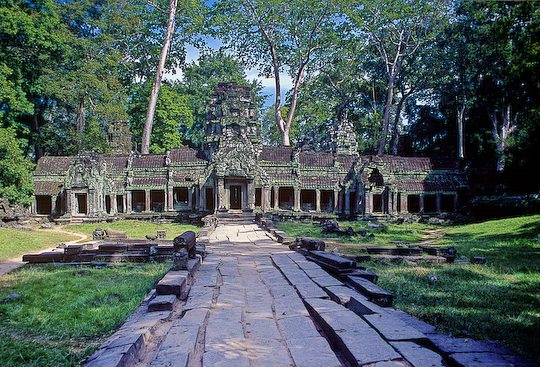 Skip ahead four years and we found ourselves on a bus from Bangkok to Siam Reap to see the legendary Angkor Wat in Cambodia. This majestic complex consists of hundreds of temples covering 500 acres of land.
Where once it was abandoned and looted of precious pieces, it is now a thriving tourist attraction receiving over a half a million visitors a year. With admission being $20 per day it is a real deal by western standards.
Ride to Cambodian Border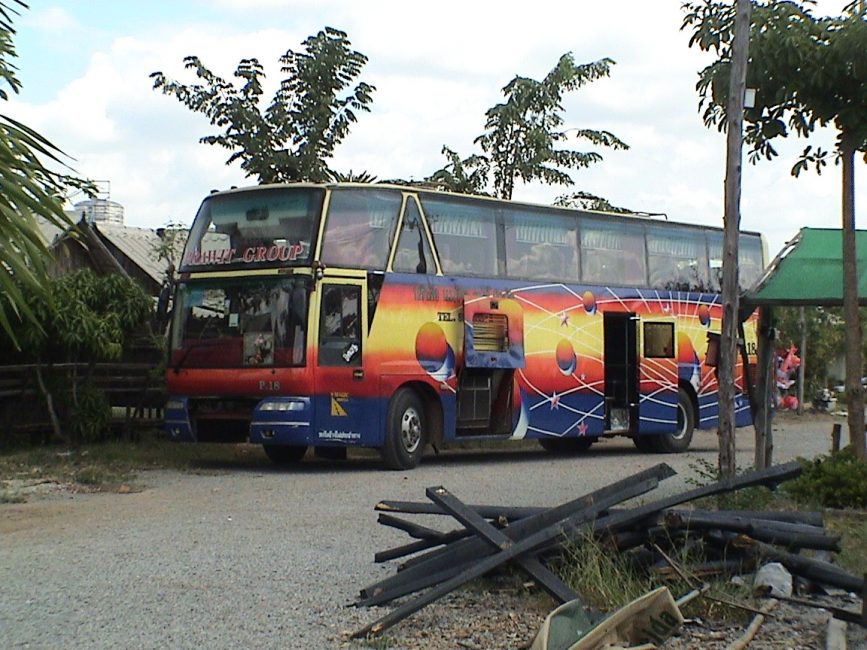 We booked the super VIP Tourist bus from downtown Bangkok and road in style all the way to the Cambodian border. But once we reached Poi Pet, it was another story.
Hassled by touts and money changers, problems and delays with our visa, we finally made it through by overpaying the customs officer for our entry and leaving behind a photo of myself that I guess he wanted for his collection.
After finally making it through, we hopped on a tuk tuk which took us on an incredibly long journey…around the corner.
It was here that we were transferred to our real mode of transportation. A van that could hold 12 comfortably, but we managed to cram in 20 people and 2 guides of some kind that stood to the side.
With luggage piled high over our heads we started the long ride to Siem Reap.
I don't know what the roads are like today, but they were completely impossible to drive on then. Giant pot holes, bumps everywhere and non existent bridges, it took hours of being jolted around until we finally made our way to town.
With a slight case of whip lash, we stopped at a guest house recommended by our driver.
Arriving at Siem Reap
We were too tired to move, so we stayed where he stopped and surprisingly, it turned out to be a fantastic place.
While relaxing over an Angkor beer, we chatted with the staff of our guest house. They told us that we should go to see the sunset over Angkor Wat first and then see the ruins the following day.
One guy offered to take us to sunset for free if we would agree to have him as our guide through the Angkor Wat complex the next day. We agreed and felt great about having things fall nicely into place.
We wrote down what we had for drinks and went to bed.
The Honour system throughout Cambodia
One thing I was amazed with in Cambodia is that every guest house worked on the honor system. You would take beer and water freely and simply write down how many you had each night. At the end of your stay you would settle your tab.
It seemed to work fine, I don't think anyone tried to cheat the owners. I noticed everyone would take their beer, go to the notebook and write down their order. With beer that cheap, why would you try anyway?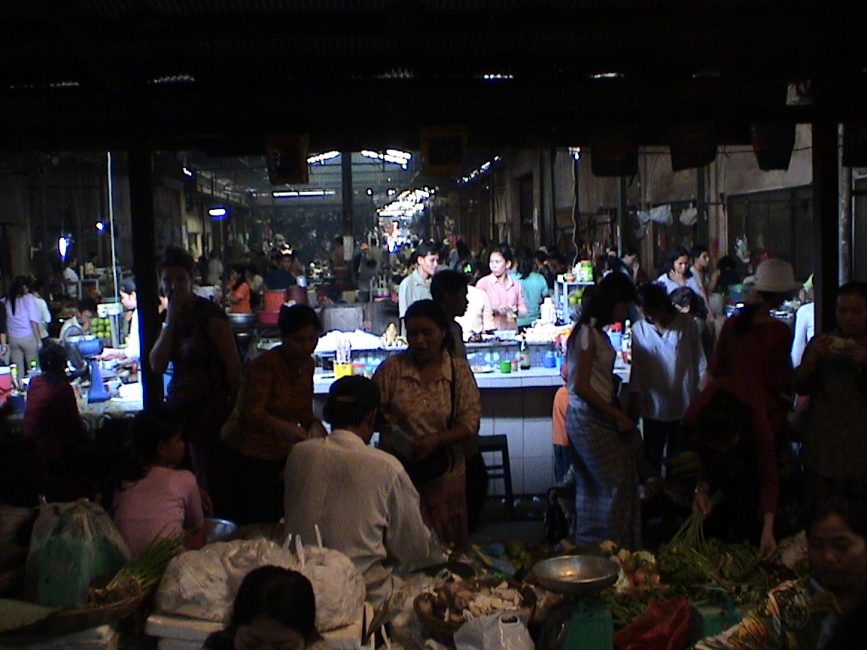 Exploring Siem Reap
The next day we spent walking around town looking at the Colonial Building in the Old French Quarter and popped into the Market. It was certainly an experience.
Live fish splashed around in shallow pools of water as women cleaned them with quick skill and speed. Stalls lined the walkway with fresh meat, fruit, herbs and souvenirs all the souvenirs that you need at a fraction the price of the stores in town or shops at Angkor.
Angkor Wat
Then we met our guide at late afternoon and hopped on the tuk tuk to the temples of the legendary Angkor Wat. The mood took a solemn turn when we witnessed the aftermath of a motorcycle accident and a dead man lay in the middle of the road with a leaf over his face.
I have never been able to shake that scene from my mind after all this time.
But we moved on and were at Bakheng Hill. It was no longer the tranquil setting that our American friend told us about. No, Angkor Wat had now turned into Grand Central Station.
Hundreds of tourists were walking the hill together, jockeying for position to see the sun go down over the temples and trying to find a clear spot to take a tourist free photo.
But the scope and beauty of the place could not be denied and as the sun went down and the hot air balloons went up, it was a magical moment in time.
Temples at Sunrise
The next day we were up bright and early for sunrise at the temples. This could have easily been skipped and if we had it to do over again, we would move on.
Standing with hundreds of other tourists waiting for the sun to come up was not worth the wait and we missed precious time discovering more of the other great temples of Angkor.
The rest of the day was spent outrunning tour buses and trying to stay one step ahead of the crowds. Luckily we had our own private guide, so we could dictate when to leave and where to go. We managed to keep away from the crowds with a lot of effort.
Best of Angkor Wat
Highlights included a climb up the main temple of Angkor Wat. It is well preserved and a breathtaking sight. Being the most famous image of the temple, its five main towers jut into the air as high as 66 meters from its 1.6km long base. The climb is steep and a little scary, but well worth the view.
We witnessed the strength of Mother Nature first hand at the temple of Ta Prom. Left in its original state, vines and roots twist trough the complex breaking apart solid rock as trees rise through its rood far into the air.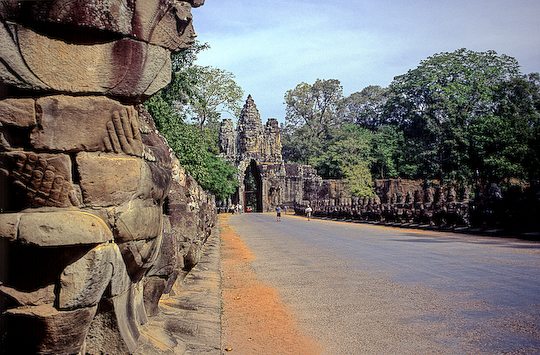 The most impressive temple of Angkor to me was Angkor Tom. Two rows of imposing statues of 54 Gods and 54 Demons line the causeway leading up to the temple.
This was the image that I saw on a travel show a couple of years earlier that enthralled me, and I couldn't believe that I was standing right in the center of it all.
Over the years, the temple had been heavily looted and heads of the statues stolen and missing, but great efforts are being made in restoration, and some of the Demons and Gods remain intact.
Too Much Angkor Wat?
One can spend days exploring the temples, but 12 solid hours of checking out ruin after ruin made Dave and I have our fill. We were officially sunburned, dehydrated and "templed out."
Our guide couldn't believe it sometimes when we would pull up to yet another grand ruin and we simply said to keep going. We had had our fill and were ready to head back to our beds.
Angkor Wat was certainly one of the most impressive structures on the planet and we were privileged to have seen her. I will never forget driving up to the complex and seeing Angkor Wat standing proudly over the water.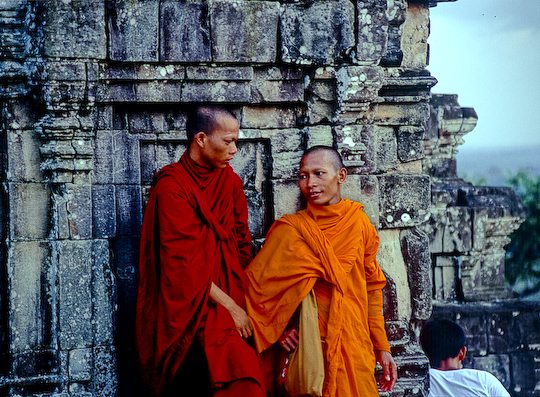 I will never forget the adorable little girl that sold us postcards as she recited our capital city of Canada. My heart broke as I watched these children try so hard to sell their books, bracelets and postcards. They were not allowed to cross the line as we explored and they weren't treated well by officials.
They told us stories of how they need to save money to go to school. It was probably a lie or scam, but still, no child should have to sell goods to grumpy tourists all day long. They should be out playing or in school learning.
But that is another story.
Read More
Karni Mata Temple – The Rat Temple of Rajasthan
Thailand Travel Tips – Things to Know Before You Go