There are so many amazing things to do in Chiang Mai. We've done a lot, but we've also had some Chiang Mai travel Bloggers offer up their suggestions too.
Anyone who is planning a visit to Thailand will most certainly have Chiang Mai on their itinerary.
There are so many unique and interesting temples, off the beaten path destinations and of course a chance to spend a day with elephants and explore the famous night market.
Top Things to do in Chiang Mai
For first timers, you must check out the popular activities, like going on a waterfall expedition, learning to cook Thai food, and spending the evening hours eating and shopping your way through the massive night market. 
But  if you are a return visitor or want to get off the beaten path a bit, these ideas will help you make the most of your stay.
By combining our Chiang Mai experiences with suggestions from Latina Abroad, Tiki Touring Kiwi and Together Wherever we've created the ultimate guide to Chiang Mai.
Chiang Mai Quick Tips
Chiang Mai is the Northern Capital of Thailand
The best time to visit Chiang Mai is from October to February.
But any time of year is a good time to visit. Just be prepared for hot temperatures in March and April.
Chiang Mai can be reached by overnight train, overnight VIP Bus or flights from Bangkok.
Thailand power voltage is: 220 V; Plugs A & C
Currency is the Thai Baht and is around 30 baht to 1 USD
Chiang Mai is
ATMs can be found everywhere but take out large sums at a time as Thailand banks charge a 150 baht ($5 USD) fee above and beyond your bank's service charges.
If you are traveling for a short time: Pre-order a KnowRoaming SIM Card to use on your travels. PlanetD readers receive 50% off using our code DDSave50: Details here.
When we were last in Thailand, we used KnowRoaming for unlimited data at $7.99 per day.
Part 1: What to do in Chiang Mai
As I planned my trip to northern Thailand, scouring dozens of lists of Chiang Mai attractions, I was deeply saddened by a finding: several lists included elephant riding as a "top thing to do."
If travelers only knew how these huge mammals are "broken" for "joyrides…"
Elephants have never gone through a formal domestication process, as dogs and horses have. Instead, they are wild animals that must go through a "breaking" process in order for them to accept a human master, so to speak.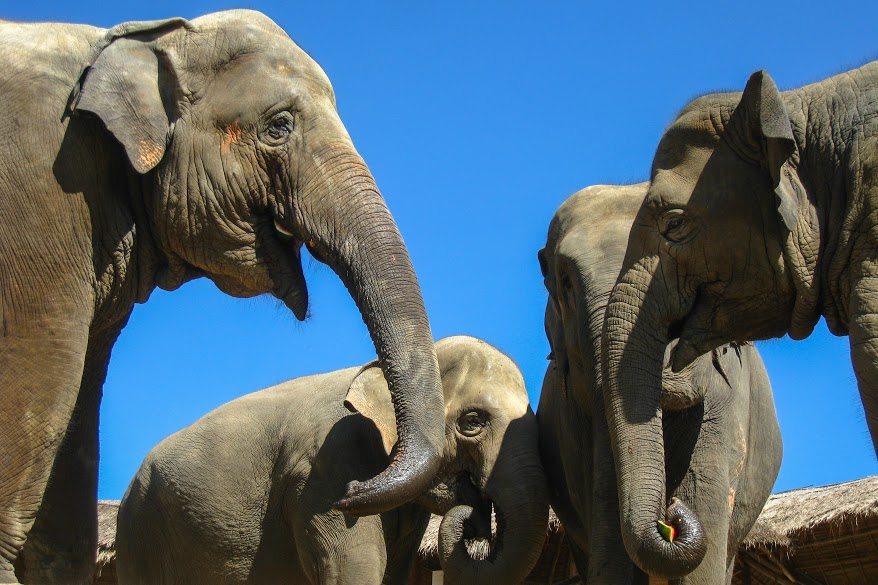 Picture a baby elephant being beaten with a sharp, bull-hook-encrusted club. That's shortly after being separated from its mother, put in a small cage, and left to starve. For days.

If a puppy were put through similar misery, I'm sure its "master" would be criminally prosecuted. Why would you give your trip savings to a business that makes elephants suffer?
1. Visit the Right Elephant Sanctuary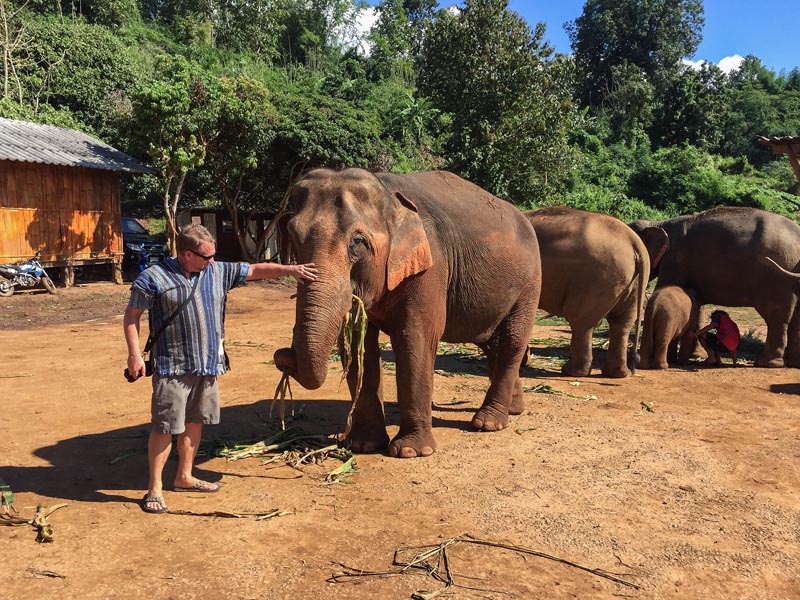 What if I told you there are many other fantastic cultural experiences and natural gems, waiting to be discovered in Chiang Mai, that don't involve animal cruelty?
Opportunities to mingle with some of those very elephants, which were rescued by a responsible organization that is now thriving to give them better lives?
Be cautious of parks or agencies that claim to be elephant sanctuaries. If they still allow you to ride elephants, they're not doing their best to protect them.
Why? Their spines are actually frail, not built to withstand the weight of an average human being.
Our Elephant Sanctuary Visit in Chiang Mai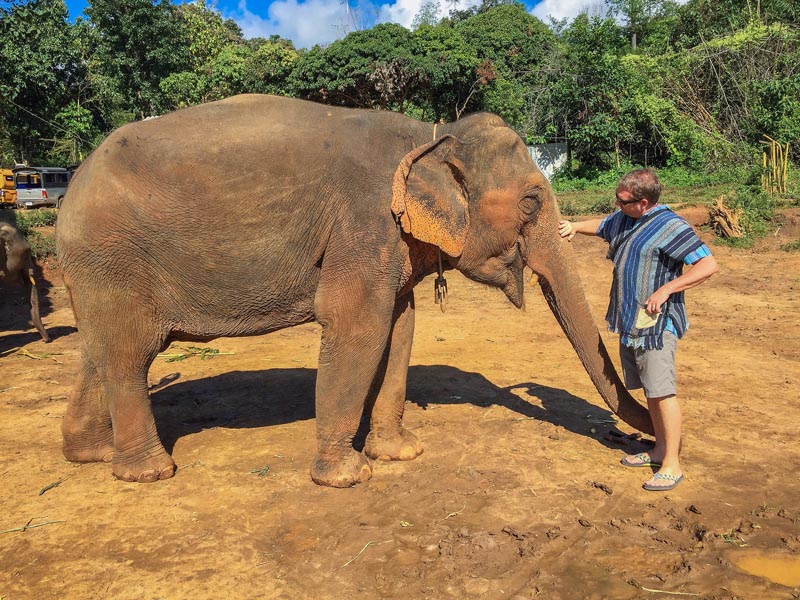 When doing your research, ensure elephants roam freely around the grounds. Bathing and playing with them side-by-side should be okay if they have been rescued or retired from riding (they've already been "broken").
Remember: the performance of any unnatural "tricks for treats" are red flags.
We have used Get Your Guide to book tours and they offer several options for ethical elephant excursions in Chiang Mai. Offering free pick up and you can cancel up to 2 days in advance for a full refund.
You can see their full list of ethical elephant tours here
The most well-known non-profit organization in the area is Save the Elephant Foundation.
Founded by Lek Chailert, any funds raised are used to buy elephants from the abusive tourist trade and give them a better home.
Better yet? Travelers are encouraged to visit their Elephant Nature Park. There, visitors are able to interact with these beautiful creatures in a natural, safe environment. Win-win for everyone!
See our experience at an Elephant Sanctuary in Thailand
Read About the Human Elephant Conflict in South East Asia
2. Wat Suan Dok
Wat Suan Dok is another one of my favorite Chiang Mai attractions. Not only is its 14th-century architecture beautifully unique, but members of the late Lanna Royal family are buried around the temple.
Better yet? The grounds serve as a monk university, holding daily monk chats and weekly meditation retreats–all open to the general public.
What could be more unique than hearing about North Thailand's culture and religion firsthand from a young monk, all he gets to practice his English with you?!
Monk Chats in Chiang Mai
Monk chats take place Monday through Friday, 5-7 PM; while meditation retreats start every Tuesday at 1 PM and conclude Wednesday by 3 PM.
Visit MonkChat.net for more details, up-to-date schedules, and other special events.
For a full list of Chiang Mai Temple Tours check out get Your Guide Day Tours. They offer last minute bookings and easy cancellations.
Extra tip: other popular Chiang Mai temples (i.e. Wat Chedi Luang, Doi Suthep, Wat Umong) also offer monk chats, so feel free to visit them all for different perspectives!

Book a temple tour with Get Your Guide:

Chiang Mai Temples and Culture - Visit the 3 Major Temples of Chiang Mai and the Chiang Mai Arts & Cultural Centre. 4 Hours. $37.27

Chiang Mai Temples and Handicraft Centre -  Visit the 4 most sacred ancient temples in Chiang Mai's old city area and visit Sankampaeng for local handmade products. 8 hours. $80.25
3. Wat Pra Doi Suthep
by Dave and Deb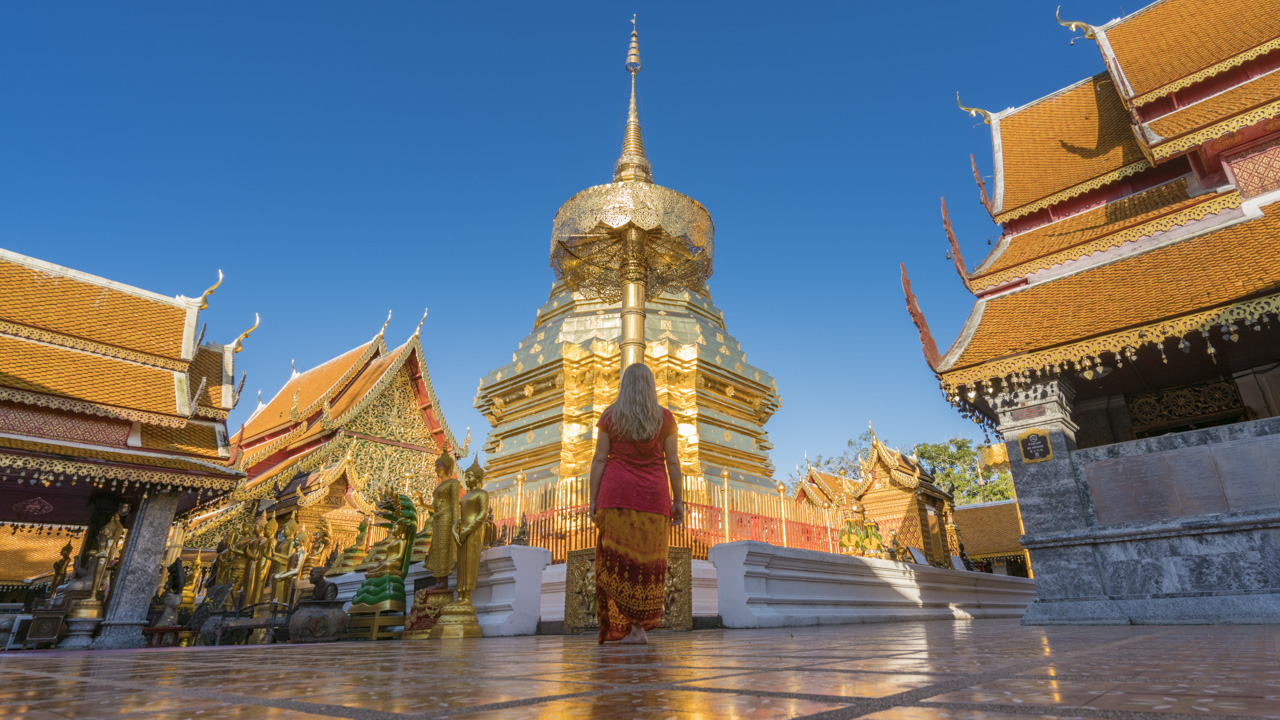 This was one of our favourite experience in Chiang Mai. We caught an early morning Uber (GrabTaxi now) to the mountain located outside of Chiang Mai to watch the sunrise over the hills.
Located 15 km from the city, we highly recommend taking a GrabTaxi and have him wait for you. We spent about two hours walking around the complex.
Getting there early in the morning avoids the crowds and you are free to explore the temples and views in solitude.
Be sure to cover your legs and shoulders and you walk the grounds with bare feet.
We were let off by our driver and walked the 309 steps to the complex where we were treated to an extraordinary panoramic view of Chiang Mai and a stunning scene of golden temples.
Legend has it that the temple was built to house a bone from Buddha's shoulder.
Other top attractions in the area include:
Chiang Rai Night Bazaar
Baan Si Dum, also known as Black House
Tad Kwan Village Park & Waterfall
4. Old City Gate and Temples
When visiting Chiang Mai there is no doubt you will visit the old city to explore its temples.
Surrounded by a moat, a brick wall surrounds the old city that is filled with an astounding concentration of temples.
Chiang Mai is the top place in Thailand to visit temples.
Monks go about their daily business. Don't be afraid to wander into a temple.
The entire fun of visiting Chiang Mai is to explore by foot and get lost.
Popular Tours in Chiang Mai
5. Lantern Festival
By Dave and Deb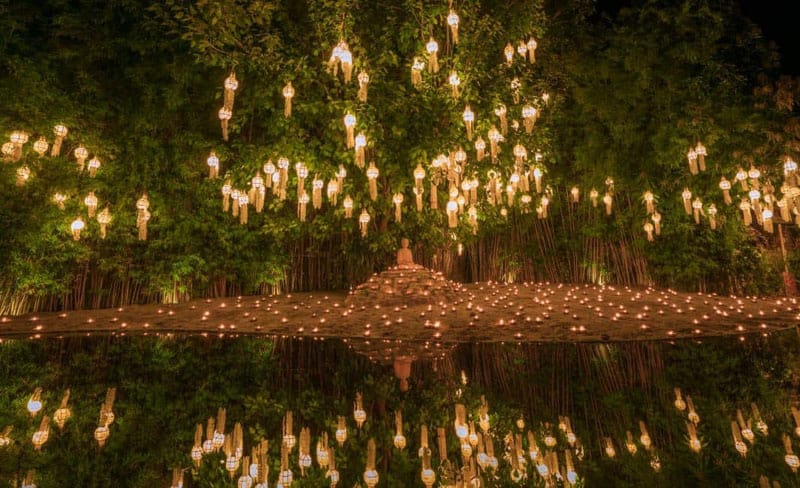 Chiang Mai is famous for its Lantern Festivals.  
Loi Krathong and the Yi Peng festivals happen in tandem and it is a magical time to be in the city.
Dave and I were there for the festival held each November as thousands of lanterns were sent soaring into the air.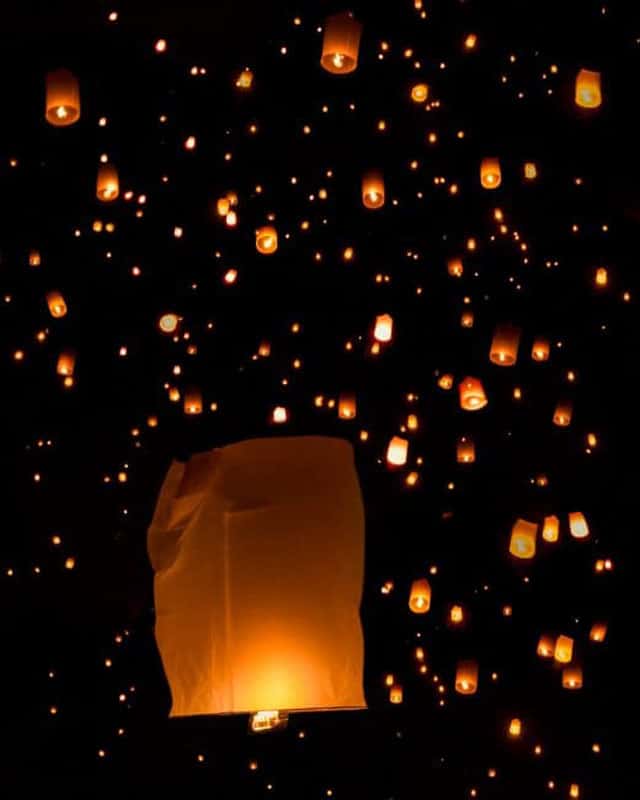 In Chiang Mai, people release thousand of lighted lanterns in the sky while making a wish.
It's a confusing event where you have to ask a lot of questions and pick a lot of brains to find out where the lanterns are being released.
No one person has the same answer. If you want to book a place in the stadium to let lanterns off with the masses, you need to book several weeks or even months in advance.
Note: We noticed the lanterns were put together by metal. Be sure to use bamboo lanterns that are environmentally friendly.
6. Cooking Class or Chiang Mai Food Tour
Chiang Mai is famous for its cooking classes and northern Thai cuisine.
Whether you book a cooking class, join an Old Town foodie crawl or simply visit one of Chiang Mai's night markets, you have to try Northern Thai cuisine. I was introduced to the region's delicacies by Chiang Mai Food Tours and have to say, it is my favorite type of Thai food!
Also known as Lanna food, regional dishes in this part of Thailand are quite a contrast from those found in the South.
Not only are dishes around Chiang Mai typically the least spicy in the country, but also commonly rich in dried spices and/or bitterness.
Don't be wary, though: Thais have an incredible ability to pair seemingly-off-putting flavors in order to create a delicious, aromatic concoction.
Some must-tries Chiang Mai Dishes include:
khao soi, a rich Burmese-influenced coconut curry soup, sprinkled with crunchy noodles
fried laab, minced meat rubbed with local dried spices
sticky rice with nam prik ong (spicy minced pork tomato dip)
nam ngiao, a tangy tomato noodle soup with pork
7.  Meditation Retreat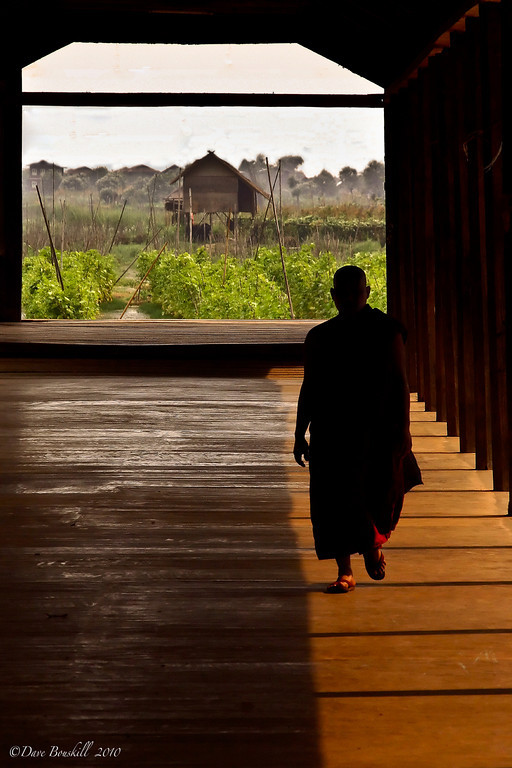 When Dave and I first traveled to Thailand, we took a meditation course.
The course lasted three days and we had a cooking class included with it.
We booked through our guest house which is very easy in Chiang Mai. You can also book tours at travel agents around town.
They are all very easy to find lining the streets.
It was a wonderful experience. Chiang Mai is the premier place in Thailand to do a meditation course.
It is the spiritual centre of the country.
There are countless meditation retreats in Chiang Mai, you can book and read reviews on TripAdvisor. 
Part 2: Unique Things to do in Chiang Mai
For those who may have already done a lot of the top things to do in Chiang Mai, or who are looking for something a bit different, this section shows the more underrated Chiang Mai things to do that are fun, unique, and fit for most budgets.
8. Stay In A Tree House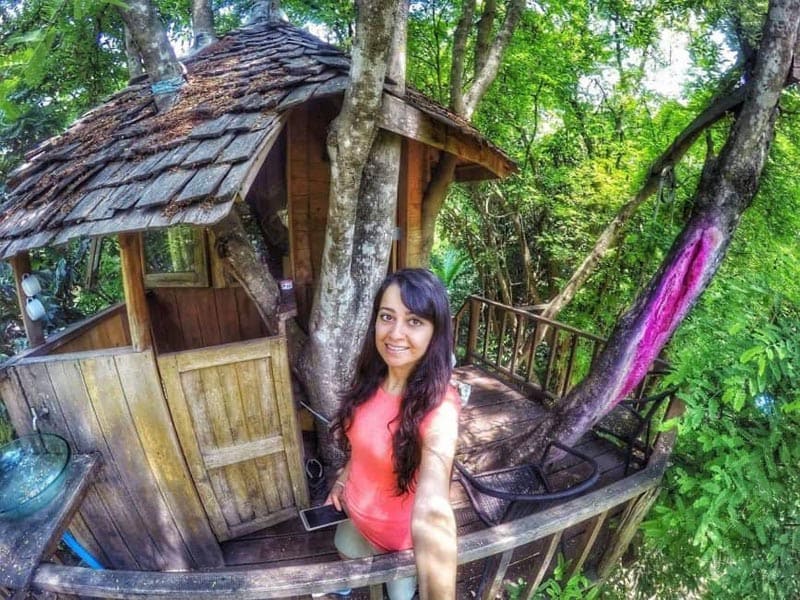 So, you are probably asking what could be so great about staying in a tree house?
Well, Hello! You get to spend the night in a real tree house. A house made on top of a tree! You can't tell us that's not tickling your inner child a bit.
Seeing kids in movies climbing a laddeer to get to their "secret" tree house and having to say the "secret" password to enter made me so envious.
This place made that fantasy come true. For those traveling families with small children, this is a MUST DO. Your kids will love it!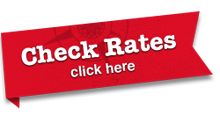 As a couple, a two-night stay was romantic, adventurous, and relaxing all in one package.
There are several different types of tree houses you can choose from when booking with them.
If you pick the Tamarind House, beware that it is the tallest, and you will definitely feel it sway in the wind (especially at night when you are in bed!).
You should take note that the Tamarind House is the most sought-after treehouse, so booking in advance is a MUST!
Why Stay in a Treehouse?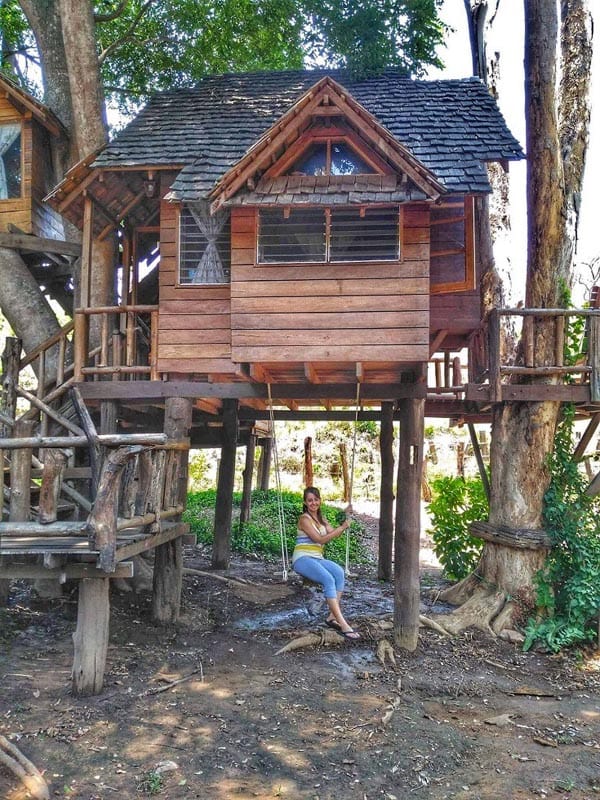 The tree houses are fully equipped with some nice creature comforts, including a bed, electricity, toilet, sink, and shower.
You get that camping feel with a bit of extra comfort.
Internet connection isn't available in the tree houses so you'll have to just connect with each other (sounds cliche, but it's a good thing!).
Read a book, play some games, tell stories, or just listen to the sounds of nature and meditate.
For those attached to social media, you'll have to do your uploads and downloads at the lobby/breakfast area/lounge by the front desk.
During your time there you can enjoy some seriously delicious food prepared by the folks that run the place.
If you get a little adventure itch, just grab one of their bicycles and go for a ride to catch some panoramic views of the valley, or explore trails that lead to some pretty cool and scary caves in the woods.
9. Infinity Pools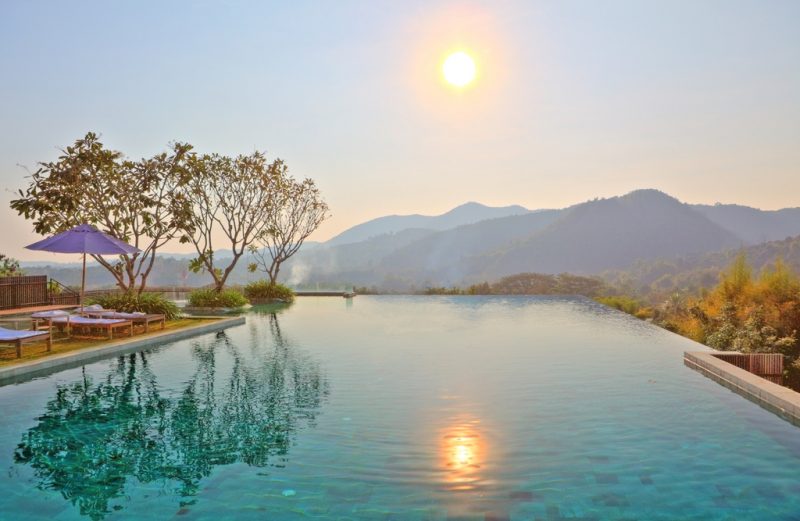 The number of infinity pools has increased massively in the last decade and it would be remiss of me not to mention the best Chiang Mai infinity pool at Veranda Hotel.
With views over a valley mixed with the hot Chiang Mai weather, you can't not like the idea of taking a dip.
There might be a pool at your accommodation, but the whole Veranda experience is memorable.
So to enjoy an infinity pool in Chian Mai, you don't necessarily need to splurge on pricy accommodation, you can visit certain pools as a guest.
Where to Stay in Chiang Mai
Ratilanna Riverside Spa Resort
We loved this luxury hotel overlooking the river. Complete with Infinity pool, traditional rooms and superb breakfast
Check out Availability & Prices
We had another amazing stay at the Legend Resort. Boutique hotel with gardens, flower ponds, a minimalist smart design on the Mae Kok Rover.
Check out Availability & Prices
You can never go wrong with the Shangri-la and in Chiang Mai it is your chance to stay in this luxury chain for a reasonable price.
Check out Availability & Prices
You Might Also Enjoy