Did you know that Thailand had tea terraces? We didn't either.
When Smiling Albino told us that we would be spending the day hiking in Thailand's tea country, our first thought was "Thailand has a tea industry?"
Tea Terraces in Thailand, An Alternative to the Opium Trade
It makes perfect sense that it does after hearing about the history of Doi Mae Salong, the region we are hiking today.
History of the Area
Settled by Chinese Nationalists of the Anti Communist movement known as the Kuomintang, these soldiers made their way out of Yunnan province in China to Burma.
They were eventually forced out of Myanmar and made their way to Northern Thailand where they were granted citizenship by the Thai Government.
Taken over by the warlord Kun Sha, Doi Mae Salong was caught in the middle of the opium trade for several years.
It wasn't until Kun Sha was forced to move his headquarters across the border to Myanmar after an assassination attempt that the rebuilding began.
Building a Road
The Thai government worked hard to integrate the Yunnan descendants into Thai society. In the 1980's a road was built to connect Doi Mae Salong to the rest of the country and a campaign was set to establish tea production in place of opium.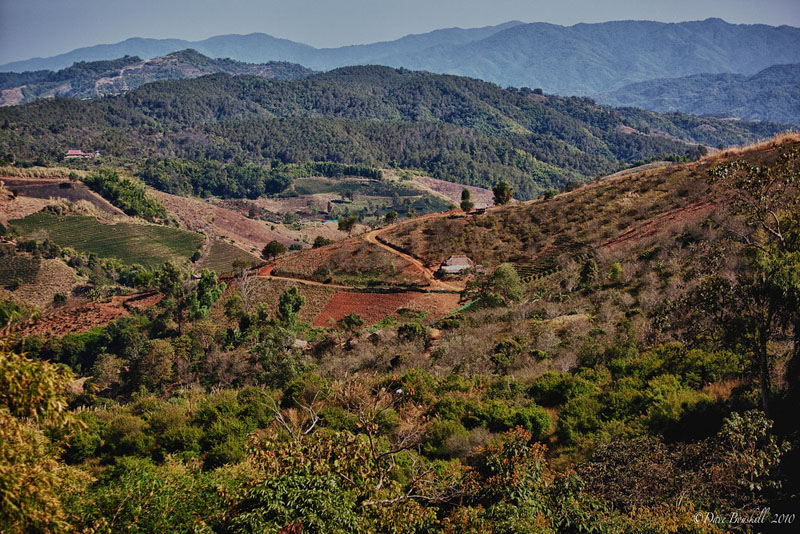 The former soldiers and descendants of the Kuomintang now live peacefully holding on to their Chinese traditions.
Similar to Mae Salong
Having come from China only a couple of months earlier, we could definitely see the similarities of Mae Salong and their homeland.
Mandarin is widely spoken, the town definitely has a Chinese feel and many aspects of Chinese heritage can be seen. The drinking of tea is one of them.
Doi Maesalong is 1800 meters above sea level and the perfect climate for tea production. Known for its Oolong Tea, Doi Mae Salong has about 28,000 hectares of Tea Plantations.
While not as picturesque as other tea countries we have visited in places like Sri Lanka and Malaysia's Cameron Highlands, it was still a pleasant hike walking through the terraces of this Northern Thai village.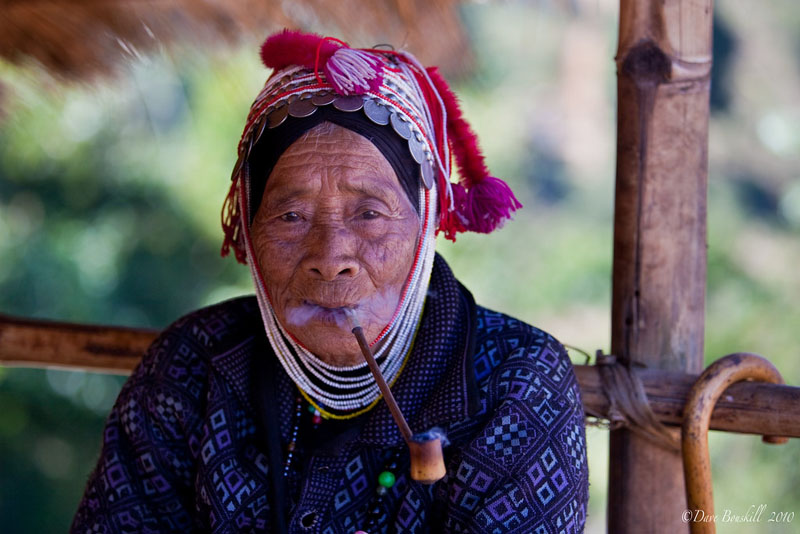 Meeting Locals
We came across a Hill Tribe Village where the eldest grandmother loved to have her picture taken. When we saw us coming, she grabbed her pipe, sat down on a bench and gave us a big smile.
Scott of Smiling Albino told us that he has visited this village before and gave her a copy of a photo once.
She has loved getting her picture taken ever since and looks forward to her visits from the Smiling Albino groups.
We promised to send Scott a copy of the photo so that he can give it to here the next time he goes through.
It was a very pleasant visit even though none of us could communicate with each other. Even Scott who speaks Fluent Thai couldn't break through the language barrier as this tribe only spoke Akha.
But we exchanged smiles and laughter as the whole family came out to say hello. It is definitely one of the few Hill Tribe Villages of Thailand that haven't seen an onslaught of tourists pass through yet.
They were genuinely happy for the visit and we were very grateful for the honour of being allowed to sit with them for a few minutes.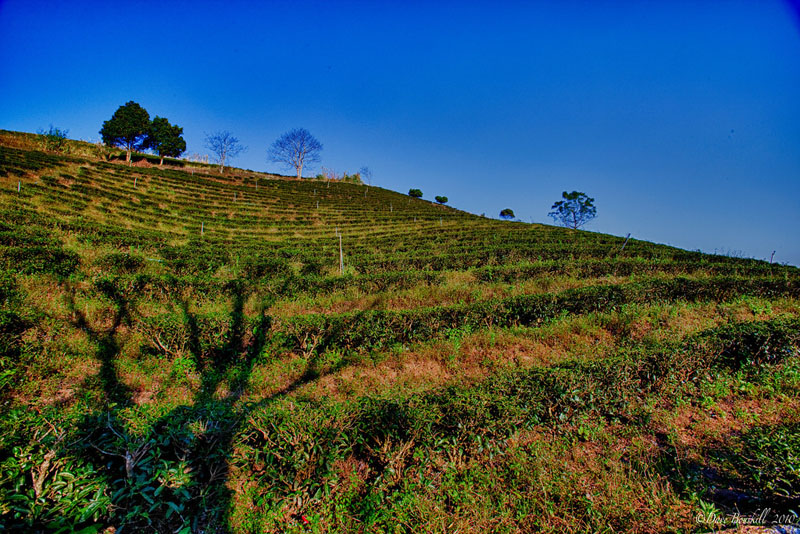 The walk through the farmland and tea terraces took us about 3 hours and ended with a couple of ice cold Chang Beers on the terrace of our hotel room.
As the sun went down we made our way to the dining room where we continued with a bottle of wine and some delicious Chinese/Thai fusion dishes. It was indeed, a very good day.
Read More
Where to Stay in Bangkok – A Guide to the Best Neighborhoods
The Importance of Responsible Tourism in Thailand