Let's face it, choosing where to stay in Bangkok is not an easy task. This a massive city and that can make it more than a little confusing when you are looking for the best area to make your base.
If you are going to Bangkok, You May Also Like:
We have found that the best advice when it comes to finding out where to stay in a city is to ask a local. So that is exactly what we did.
Former resident, international teacher, and travel writer Stella Saintis of Stella's Out shares the knowledge she's picked up over the years spent in Bangkok.
Best Places to Stay in Bangkok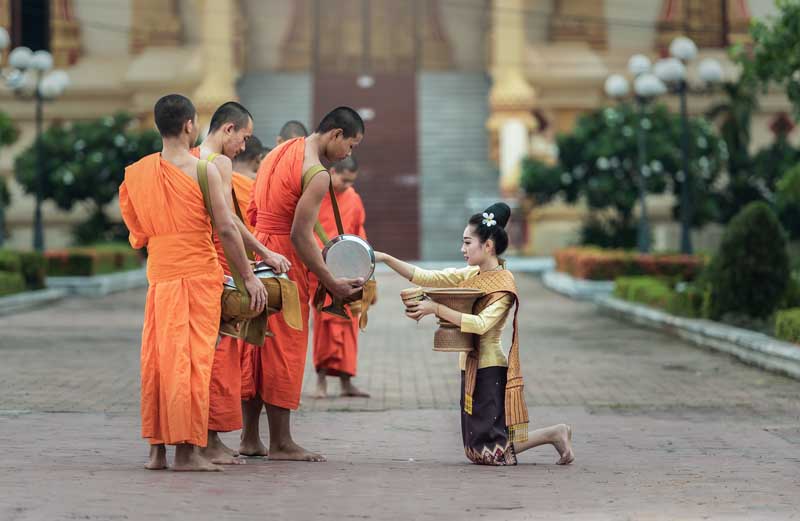 Stella will give you the low-down on some of her favorite neighborhoods as well as offering up insider tips on interesting things to see in each one.
So whether you a first-timer or a veteran visitor you are guaranteed to learn about all the most popular areas to stay in Bangkok.
Best Areas to stay in Bangkok
1. Banglamphu
Home to Khao San Road and the best area to stay in Bangkok for nightlife!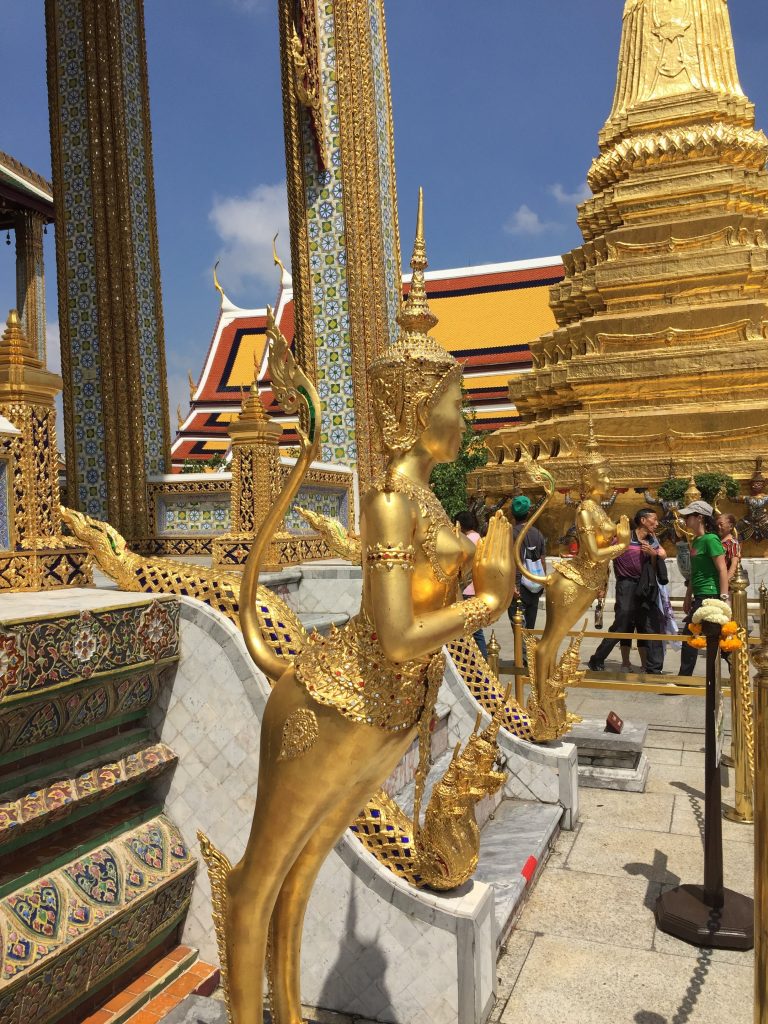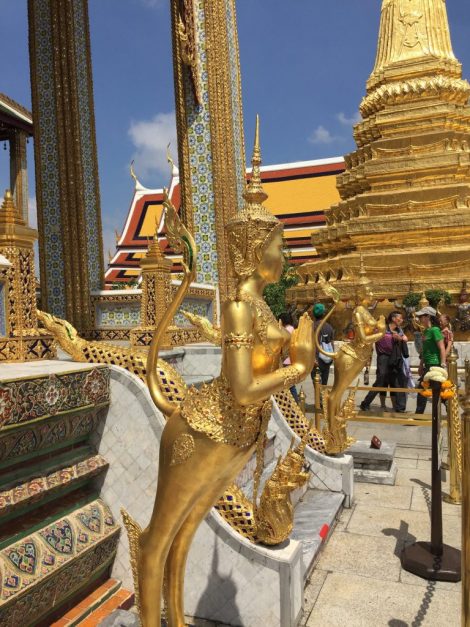 Known as the old city, the majority of major tourist attractions are located in Banglamphu, making it a great place to set up as your home base for further explorations.
If you are interested in seeing exquisite temples then I definitely recommend this area of the city.
For those looking to take advantage of Bangkok nightlife, Banglamphu is also the location of one of the most popular and well-known streets for partying – Khao San Road!
Recommended Hotels Near Banglamphu
---
One of the higher-end hotels in this backpacker dominated area of the old city. It features elegant rooms, a pool and a view of the river.
Check out Availability & Prices
---
Best Mid Range Hotel in Banglamphu: Casa Nithra
Good location, clean rooms, and a rooftop pool make this a great option for any traveler to Bangkok
Check out Availability & Prices
---
Best Budget Accommodation in Banglamphu: Thanabhumi
Private apartments for cheap! Great location that makes walking to attractions in the area very easy.
Check out Availability & Prices
---
A beautiful studio room on the 5th floor of newly renovated building along the canal which leads to Chao Praya River within less than 15 minutes walk. Including 1 queen bed and 1 sofa bed, and 1 en-suite bathroom, perfectly suited for 2-4 people.
Check out Availability & Prices
---
Things to see near Banglamphu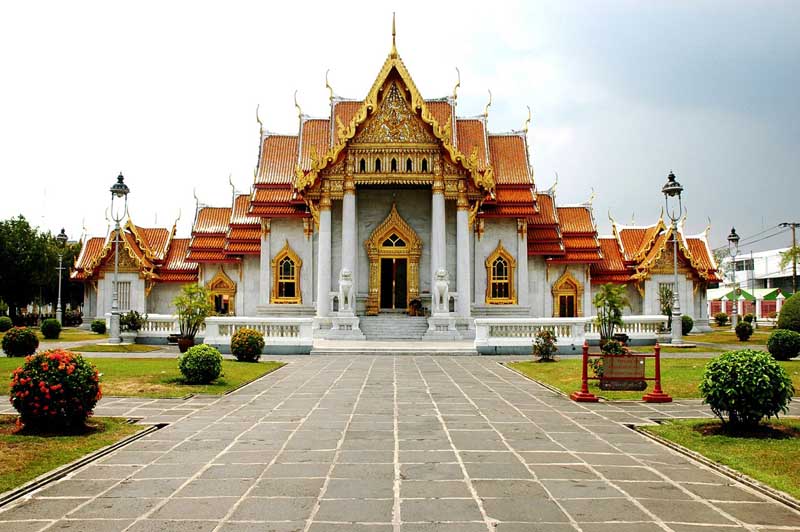 Grand Palace – A definite must-see when visiting Bangkok. The palace is full of stunning details with gold and jewels. The Temple of the Emerald Buddha is also located inside and worth a peek.

Wat Pho – Located right behind the Grand Palace, this temple is famous for the large gold statue of a reclining Buddha. The grounds are also beautiful and one of the oldest massage schools offer cheap massages to visitors.

Khao San Road – If you are a backpacker in South East Asia, you have heard and most likely been to Khao San Road. This street is full of bars and restaurants open late, making it one of the top places for nightlife in the city. Shoppers can pick up souvenir items at any of the stores lining the street.
Street food is also readily available and delicious.

Wat Arun – Located just across the Chao Praya River, this temple is technically not in the Banglamphu neighborhood. However, a 5-minute ferry ride will get you there, so I had to include it on this list.
Known as the "Temple of the Dawn,' Was Arun is another amazing example of Thai temple architecture.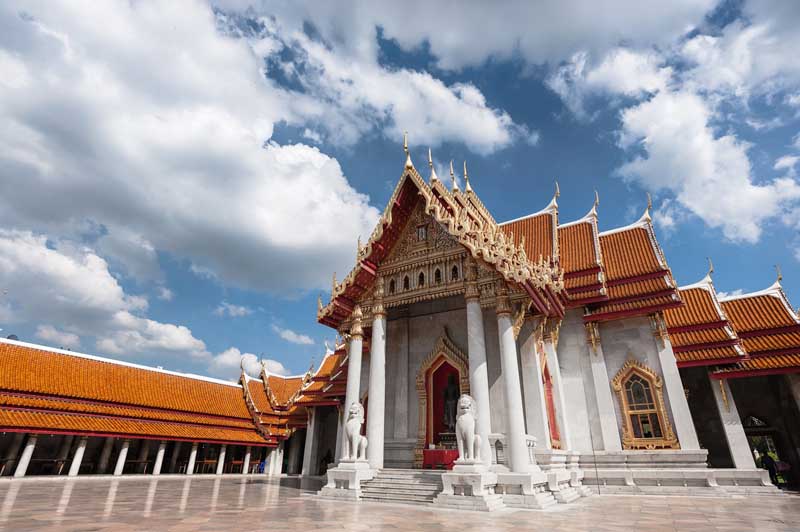 Suggested Tours
Walking Temple Tour: Grand Palace, Wat Pho, Wat Arun: Immerse yourself in the cultural and historical heritage of Bangkok by exploring the Grand Palace, the Emerald Buddha Temple and the options for Wat Pho, local markets, and Wat Arun. Enjoy this trip with an experienced, local tour guide.
Bangkok in Motion: City Tour by Skytrain, Boat and Tuk Tuk – $76.01: Discover Bangkok via its public transportation system as you travel with a guide throughout the city by Skytrain, 'tuk-tuk' (motorized rickshaw), public boat and shuttle boat — and on foot.
You'll make stops along the Bangkok riverside at Wat Pho, the Grand Palace, and the Jim Thompson House, and float down the Chao Phraya River and one of its 'klongs' (canals).
Getting There
There are no trains that run through this area of the city.
However, since it is located on the river, a ferry can take you to many of the sites and river taxis run along the Chao Praya for 10 Baht.
The BTS Skytrain station- "Saphin Taskin" is at the river just a few water taxi stops away and connects to the rest of the city.
Taxi, tuk-tuk and public buses are also options.
Google Maps and Maps.me are both good Apps to get transport information easily.
2. Silom Neighbourhood
The Best area to stay in Bangkok for amazing food.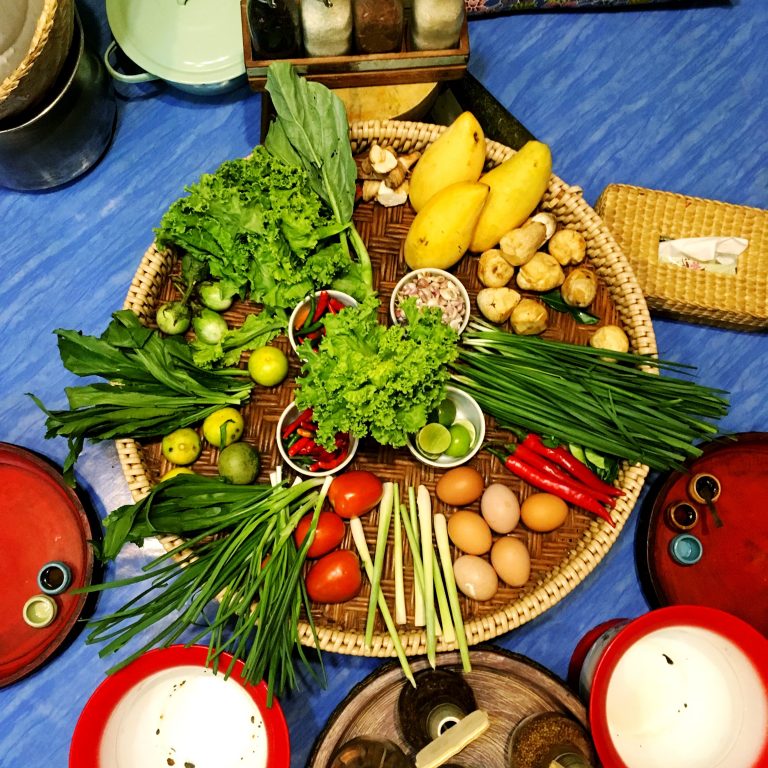 This Bangkok neighborhood is a good blend of delicious Thai food and nightlife.
There are many notable and diverse restaurants in the area, as well as beautiful hotels and rooftop bars. Several of the side streets also offer entertainment all night long.
If nature is important to you then you will love this area because it is home to the largest park in central Bangkok – Lumphini Park.
Recommended Hotels near Silom
---
This popular hotel's urban design attracts many travelers. It hosts monthly pool parties in its outdoor pool overlooking Lumphini Park.
Check out Availability & Prices
---
Located 5 minutes from the MRT and 10 minutes from the BTS. Large rooms with kitchenettes and complimentary breakfast.
Check out Availability & Prices
---
Great value for your money and nicely located. It is only a 10 min walk to the BTS Skytrain station.
Check out Availability & Prices
---
Cozy and modern one bedroom condo from $50/night in a luxury building in the heart of Sathorn financial.
Just 5 minutes to either BTS Surasak and Chong Nonsi. 2 stations to Siam Paragon the biggest shopping center. Near W hotels and international embassies.
Check out Availability & Prices
---
Things to See in Silom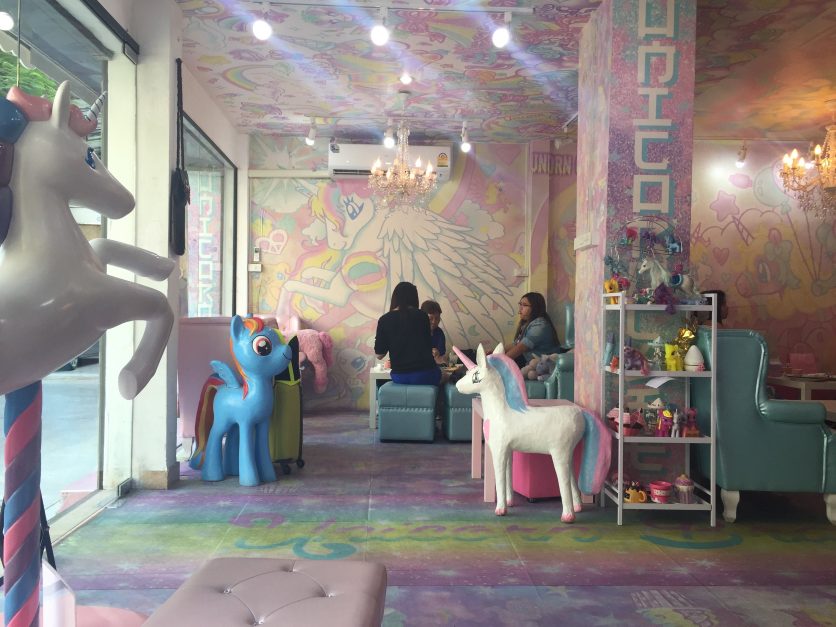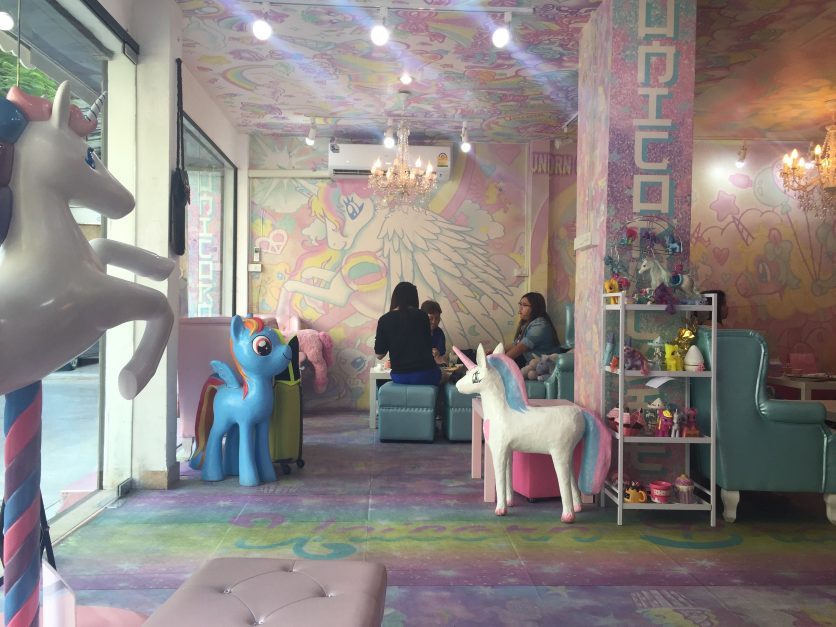 Unicorn cafe – If you love unicorns, rainbows, and sweet treats then you will love this unique title cafe tucked on a side street. You can read all about my magical experience at the Unicorn Cafe!
Patpong Night Market– This night market is located on a street lined with bars offering tickets to the infamous 'ping pong' shows. Shoppers can find typical souvenirs in the many stalls.

Remember to bargain hard.
Patpong: Bangkoks famous red light district.
Silom Soi 4 – This street is home to many of the gay bars in the city and makes for a fun night out.

Lumphini Park – This is the largest park in Bangkok. It is a great place to take a stroll and people watch. Visitors can rent a swan-shaped paddle boat and buy bread to feed the energetic fish. Be on the lookout for the large lizards that roam wild here.

Vertigo rooftop restaurant/Moon Bar in the Banyan Tree Bangkok Hotel – The 360-degree views from the top of this hotel cannot be beaten. Go for a romantic dinner or head to their bar for a drink with a view.

Silom Thai Cooking School – Want to learn how to make delicious Thai food? This cooking school is one of the best in the city (I've been 3 times!). Take home a recipe book with all of the recipes in class, and more to try on your own.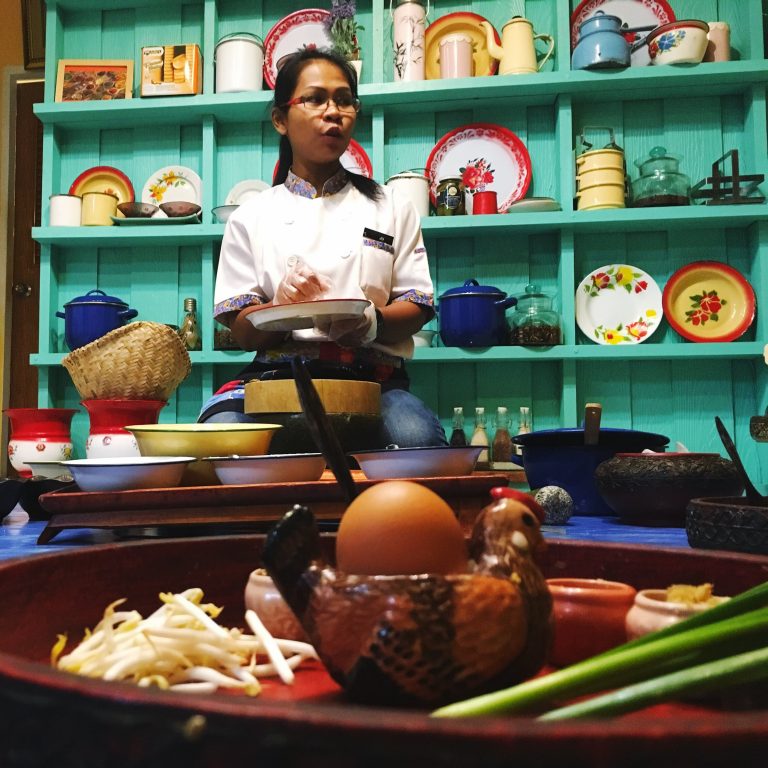 Suggested Tours
Thai Cooking Class in Bangkok: Learn how to prepare and cook traditional Thai food during a fun Bangkok cooking class. Awaken your culinary creativity, explore the world of Thai flavors, and enjoy a lot of healthy Thai food!
Private Tour: Buddhist Monks' Almsgiving Experience in Bangkok: Enjoy the special privilege of joining orange-robed monks as they perform their early morning alms rounds outside their temples, receiving food offerings from the locals. Then, sit down to share in the monks' morning meal, a truly humbling experience. This private tour is limited to a maximum of two guests.
Siam Niramit Show in Bangkok with Hotel Transfer and Optional Dinner: Enjoy a night in Bangkok savoring the excitement of the famous Siam Nirami show! Take in the breathtaking scenery, colorful costumes and revolutionary special effects as more than 150 performers take to the stage in a memorable demonstration of Thailand's rich traditions.
BKK Tours offers awesome excursions in the city.
To discover more about Thai food, check out Bangkok Food Tours
Getting There
There are no trains that run through this area of the city.
This neighborhood is easily accessible through the public train system.
The Sala Dang or Chong Nonsi stops on the Silom line of the BTS.
Alternatively, take the MRT to the Silom stop or Lumphini park stop.
Google Maps and Maps.me are both good Apps to get transport information easily.
However, since it is located on the river, a ferry can take you to many of the sites and river taxis run along the Chao Praya for 10 Baht.
The BTS train stop – "Saphin Taskin" is at the river just a few water taxi stops away and connects to the rest of the city.
Taxi, tuk-tuk and public buses are also options.
Google Maps and Maps.me are both good Apps to get transport information easily.
3. Chinatown
Visit one of the oldest areas of Bangkok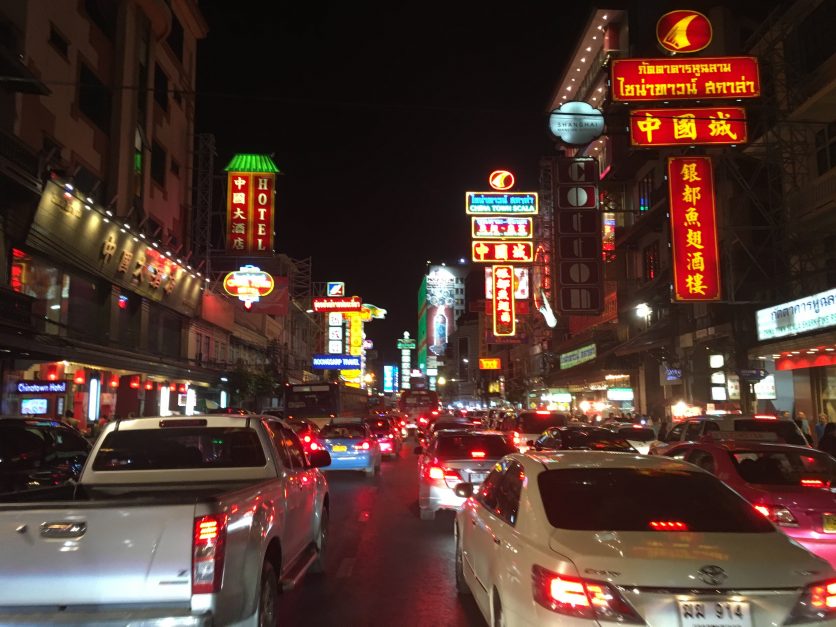 Bangkok's Chinatown is one of the largest in the world and definitely makes an exciting place to stay.
The energy is undeniable here, especially during festival times, such as Chinese New year or the Annual Vegetarian Festival.
This is one of the oldest parts of the city, and a walk through the narrow alleys will make this fact very apparent. Some say it kind of has a run down feel but I love it anyway.
Of course, authentic Chinese food abounds. Lovers of Thai food, fear not; street vendors serve up lots of classic Thai dishes on street corners once the sun goes down.
Local Tip: If you are heading out of Bangkok via rail and looking for a cheap place to stay for the night Chinatown is a great choice.
Recommended Hotels near Chinatown
---
A boutique hotel that allows visitors to step back in time. Impressive details that enhance the oriental charm.
Check out Availability & Prices
---
This hotel has many features, like a rooftop pool, perfect for beating the Bangkok heat and it is centrally located.
Check out Availability & Prices
---
Centrally located in Chinatown, near river ferry Pier 4. Popular budget option with great views of the river.
Check out Availability & Prices
---
This condo is close the main railway station (Hua lampong), MRT Hua Lampong and new station Wat Manikin, Chinatown, Temple area, Siam square and MBK mall but you will be in the middle of the old traditions of Chinatown.
Things to see in Bangkok near Chinatown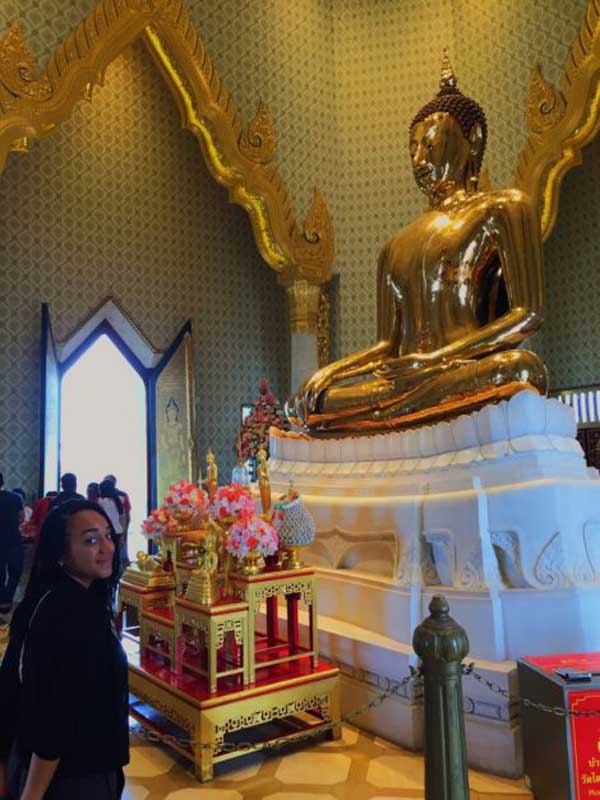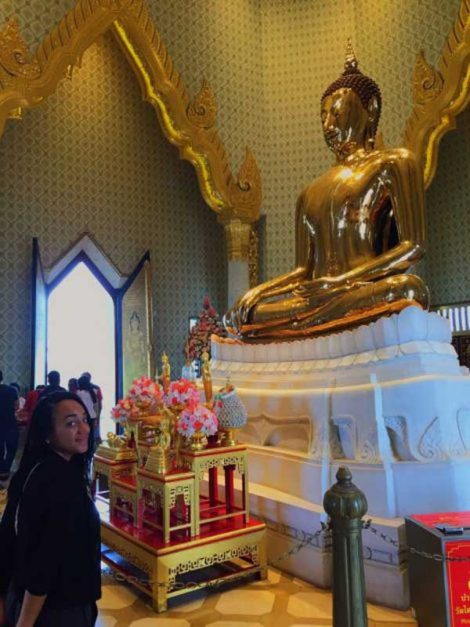 Yaowarat Road – This is the main thoroughfare in Chinatown and visitors can find plenty of restaurants and shops. While the street is busy during the day, it really comes alive at night.
Make sure to take advantage of the delicious street food sold on many of the corners. My advice – follow the crowds!
Wat Traimit – This temple is home to the largest solid gold Buddha statue in the world. Located at the end of Yaowarat road, the temple also houses the Chinese Cultural Center. Well worth a visit.
Eiah Sae – This well-known coffee shop has become something of an institution. It is probably one of the most authentic coffee shops in the area where you can enjoy a sweetened Thai coffee (with lots of condensed milk) – yum!
Sampeng Lane (Soi Wanit 1) – This extremely narrow shopping street runs parallel to Yaowarat road.
Here, shoppers can take advantage of wholesale prices on just about everything: fabric, electronics, beauty items, clothing and more.
Suggested Tours
Getting There
While there is no public train that runs through Chinatown, the Hua Lampong stop on the MRT is located just around the corner from Yaowarat road.
There are also very cheap public buses that run to Chinatown and down the length of the main road.
Google Maps and Maps.me are both good Apps to get transport information easily.
4. Sukhumvit
The best place to stay in Bangkok for the first time.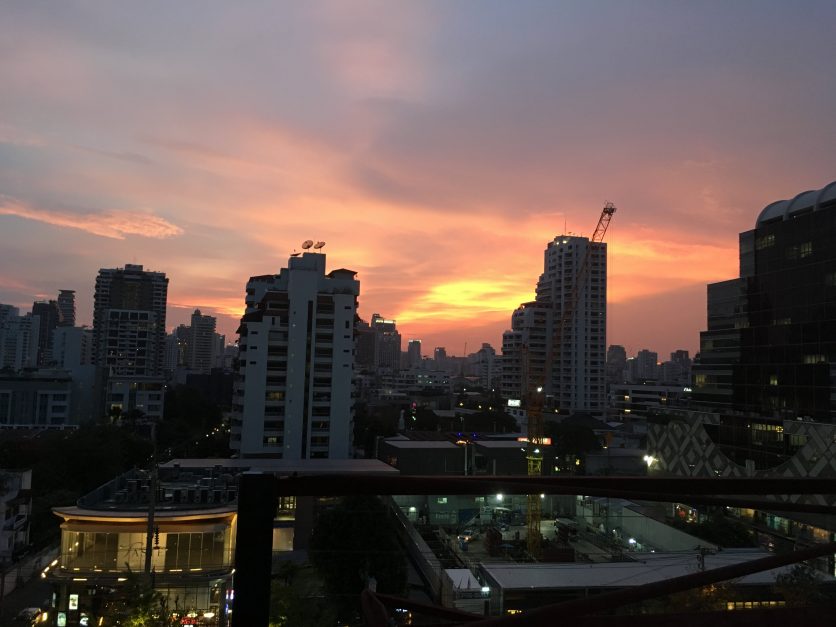 While this area of the city is not known for its traditional tourist attractions, it makes up for it in the amazing shopping, dining, and nightlife.
Many of the cities top restaurants, cute cafes, and nightclubs are located along Sukhumvit Soi that runs from the center of the city.
It really does serve as the pulse of the city, and most nights, visitors will find Thai locals and young people out enjoying all that this area has to offer.
Where to stay in Sukhumvit
---
Best Luxury Hotel in Sukhumvit: Okura Prestige
This Japanese brand's hotel sits close to the Ploen Chit BTS stop, making exploring easy.
The 35th-floor infinity pool overlooks some stunning views.
Check out Availability & Prices
---
Best Mid-Range Hotel in Sukhumvit: Novotel Sukhumvit
Just 10 minutes from Terminal 21 mall and other great shopping. The hotel offers a free shuttle to the BTS or mall. Take in the views at their SkyBar.
Check out Availability & Prices
---
Best Budget Accommodation in Sukhumvit: Analog Hostel
One of the newer additions in the area and already quite popular. Close to shopping and a park along Sukhumvit road. Great location and value for money.
Check out Availability & Prices
---
A brand new condominium at the heart of Sukhumvit, Bangkok. Directly next to Terminal 21 Shopping Mall, Underground MRT Sukhumvit Stations and in between both Skytrain BTS Asoke and BTS Nana Stations.
High floor with a Balcony overlooking beautiful Bangkok Central Business District Skyline. High speed Wifi Internet & Cable TV. 24 Hour Security Access, Full Condominium Facilities and Complimentary Amenities for your stay.
Check out Availability & Prices
---
Things to See in Sukhumvit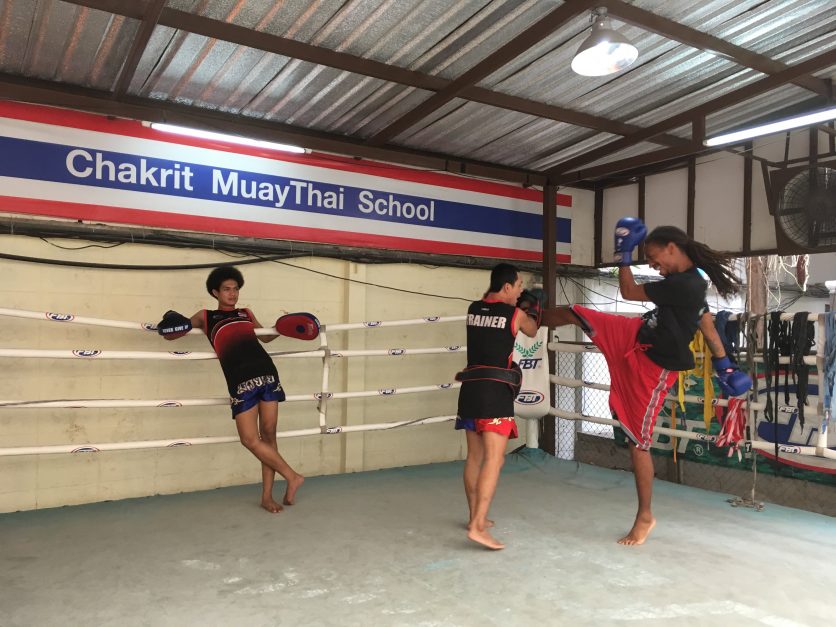 Thai Boxing Classes – For something a bit different, sign up for a boxing class at Chakrit MuayThai School. See what it was like for us to take a Muay Thai course in Thailand.
They offer individual classes or packages. A fun way to learn about an important Thai pastime!
Terminal 21 – This unique shopping mall is set up like an airport terminal and features different decor on each floor based on a country. Great for name brand stores and bootie shops.
Emporium – Luxury mall located next to Benjasiri Park. Great shops and dining options.
EmQuartier – Located across the street from Emporium with more shops, bakeries, and restaurants.
Gateway Mall – located further down Sukhumvit off the Ekkamai stop, this Japanese themed mall features many food options and fun shops, including one where you can weave your own Thai scarf.
Nana (Soi 11) – Some fun bars and nightclubs and bars are located on this street. Check out the Cuban themed speakeasy Havanas, or dance the night away at Sugar or Insanity night clubs. Above Eleven is also a great little rooftop bar.
Soi Cowboy (Soi 23) – If you want to party all night long, Soi Cowboy could be for you. Many of the bars offer 'ping pong' shows and pole dancing.
W District – Located a bit further down Sukhumvit, this nighttime hotspot is the perfect place to end the day. It is an outdoor food court with tons of different options to choose from.
Suggested Tours in Sukhumvit
Bangkok: 60-90 Minute Muay Thai Boxing Class for Beginners: Have a fun but demanding class of muay Thai and train with a professional boxer to learn about this martial art and build up or improve your boxing skills.
Spa Package at Baan Sabai Spa – $89.96: Relax into a nurturing spa package at Bangkok's Baan Sabai day spa. Slip away from city noise for a 30-minute body scrub followed by a luxurious 2-hour massage. Choose from natural essential oils or rejuvenating coconut oil, and let the spa's experienced practitioners restore your body's balance and tone.
Adventurous travelers can see more of the city by bike with Follow Me Bike Tours
For a day trip outside of the city, visit Amphawa Floating Market
Getting There
All of the locations in Sukhumvit are easily accessible on the Sukhumvit Line of the BTS.
For Terminal 21 Shopping, get off at Asok.
For Soi 11 partying and nightlife options, get off at Nana.
Emporium and EmQuartier and located off Phrom Pong.
Gateway Mall is off Ekkamai.
W District is off Phra Khanong.
Any of the stops on the Sukhumvit line have tons of restaurant options as well.
5. Siam
Where to stay in Bangkok for shopping.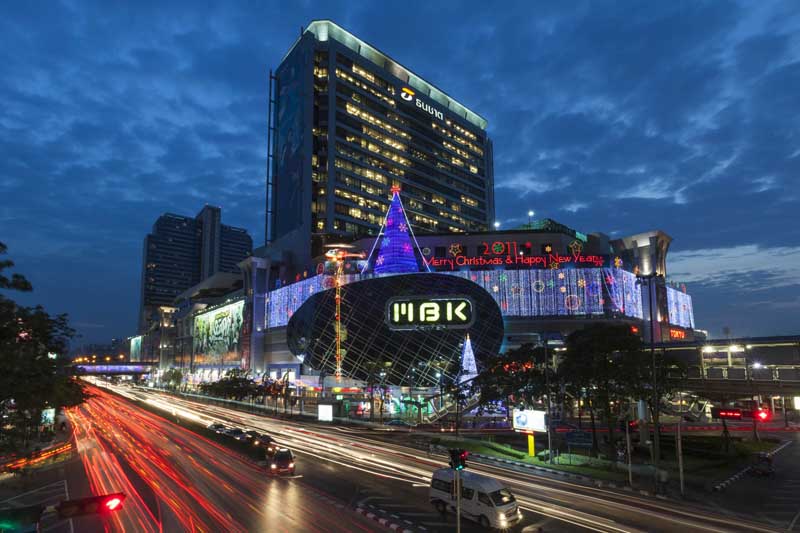 Thai people love malls and shopping.
Part of the reason may be for free air conditioning, but another is that there are so many fantastic options to choose from!
The Siam Area is a bit of a Mecca for shoppers, with malls like the Siam Discovery and Siam Center located next door and across the street from each other.
From luxury malls offering the most expensive brands, to small boutique spots where local Thai people can sell their one-of-a-kind creations, Siam has something for every shopper!
It also makes a great place to find souvenirs for loved ones back home. If you are looking for the best place to stay in Bangkok that is near the malls this is the area for you.
Recommended Places to Stay near Siam
---
Located right in the largest mall in the city, this hotel has one of the best rooftop bars in the city.
Check out Availability & Prices
---
Right next to the MBK shopping mall this hotel features a pool and complimentary breakfast.
Check out Availability & Prices
---
This hostel is an excellent choice that is conveniently located. It is very clean with coffee and snacks.
Check out Availability & Prices
---
You will stay in a peaceful place with high privacy and good atmosphere. Safe with a 24-hour security system. There will be a security guard at the front entrance door, they will ask the room number from every single person to prevent the strangers.
You will find the surprise that our place is in the midst of Bangkok's famous shopping center, No. 1 (Siam) and walking distance to many others.
Check out Availability & Prices
---
Things to see in Siam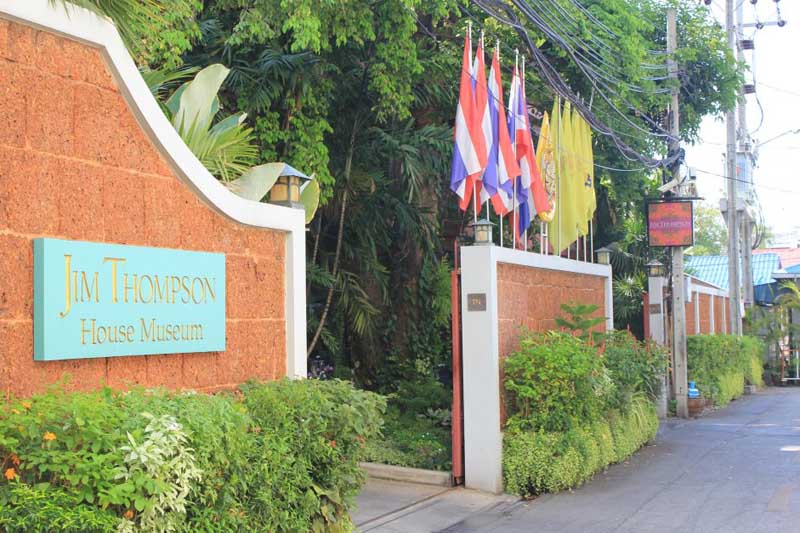 Jim Thompson House – For a look at the father of the Thai silk industry, a visit to the Jim Thompson house is a must.
MBK – The oldest shopping mall in Bangkok. Shoppers can find just about anything here at discount prices. It is massive!
Siam Ocean World – This aquarium is sure to please families and those interested in sea life. It is located inside Siam Paragon.
Thai Boxing – The stadium at national Stadium occasionally houses Thai Boxing matches. These events are a fun way to spend an afternoon and definitely not on the traditional tourist itinerary.
Bangkok Art and Culture Center – This ruling, right off the BTS Silom line, houses rotating art exhibits, small shops, and cafes. Check out the ice cream spot that has ice cream that looks like steak for a unique treat.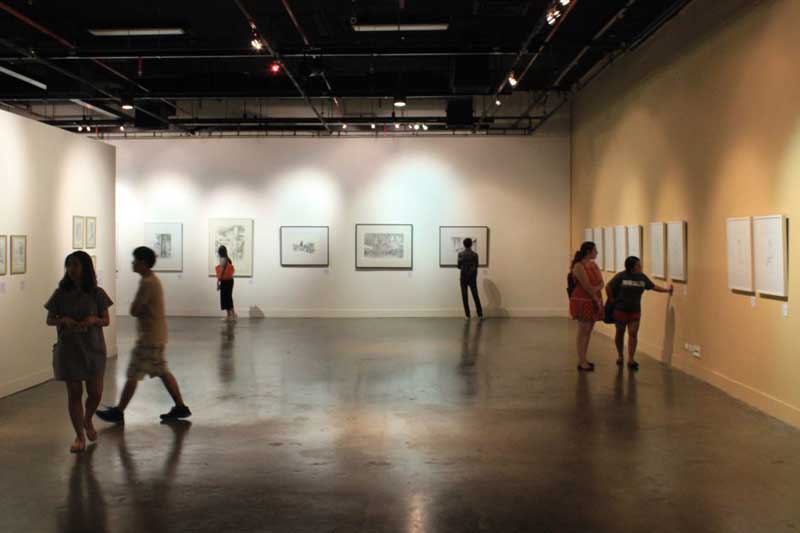 Siam Square – Some name brand shops as well as popular brands from around the globe.
Siam Paragon – Luxury stores and designer items.
Siam Square – small boutique shops with more unique one-of-a-kind items. One of my favorite places to shop.
CentralWorld – The biggest shopping mall in Thailand! You can find just about any store here.

Erawan Shrine – Located close to CentralWorld, this Hindu shrine

houses a statue of Phra Phrom, the Thai representation of the Hindu god of creation. A popular spot for locals and foreigners alike.
Suggested Tours
Muay Thai Kickboxing with Ringside Seats and Private Transfer – $134.01: Take a VIP ringside seat at a Muay Thai match at Bangkok's Rajdamnoen Stadium. You'll be up close to the action as you watch the centuries-old martial art of Thai kickboxing — now considered the national sport.
Half-Day Bangkok Shrines Walking Tour – $32.29: This 4-hour walking tour with an informative guide introduces you to several Hindu-based deities, such as Lord Indra and Ganesh. You'll learn about Thailand's cultural and religious practices and have the opportunity to light a candle at each shrine.
Bangkok Small-Group Bike Tour – $68.58: See parts of Bangkok you wouldn't normally access on this 3-hour morning bike tour with a small group. You'll ride off the beaten track on an easy 12.5-mile (20-km) route through laneways, over canal bridges and past vibrant temples.
Getting There
All of the shopping and attractions in the Siam area are located right off the BTS!
Get off at National Stadium (the last station on the Silom line) for MBK shopping and Jim Thompson house.
The Chit Lot BTS stop on the Sukhumvit line is also close to Central World for Shopping and the Erawan Shrine.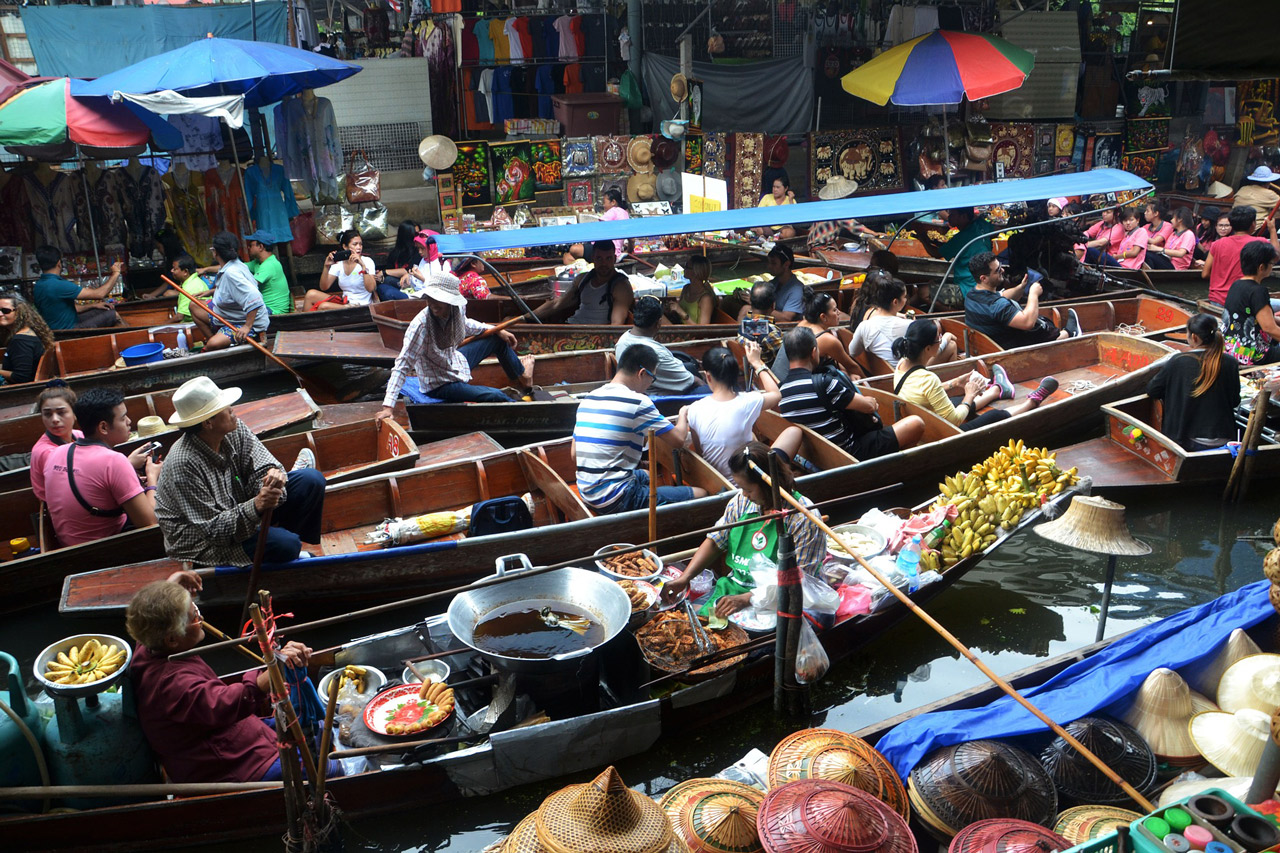 No matter how much time you have in Bangkok, you are bound to enjoy it.
Thailand is known as the Land of Smiles, and when you visit Bangkok, you will soon understand why.
Thai people are some of the friendliest you will ever meet.
In addition, the food is fantastic and the nightlife never-ending.
Book your flights for Bangkok! the 'City of Angels' awaits…
Search for the Best Price on Flights to Bangkok
Bangkok Quick Tips
What to Pack – Bangkok is a hot city all year round. Make sure to bring clothes that you will be comfortable in.
Sunblock is also essential. If you are interested in visiting temples, make sure to bring long skirts/pants to cover legs and light long-sleeve shirts to cover shoulders.
Some temples offer cover-ups for rent, but many will simply turn you away.
Thailand uses the baht. Most places will take cash. Fewer take card (most large stores and hotels will though).
Taxi Tip: Always make sure the taxi drivers turn on their meter. Some will refuse to take you places or run the meter and simply ask for a set price.
If you prefer this, agree on a price BEFORE getting in. I was often shocked by what tourists would pay for a taxi.
Don't get scammed! There are decent drivers who will run the meter and take you where you want to go; sometimes it does take some patience.
Transit: There are two train lines in Bangkok: the BTS (above ground) and the MRT (below ground).
The BTS train has two lines the Silom line and the Sukhumvit line. At connecting stations, pay attention to the direction and line you are getting on.
Getting to and from the airport: There is a train that runs to the Suvarnabhumi airport, the major international airport.
It is called the 'Airport Rail Link' and it is accessible from the BTS. From the other airport Don Muang, which is more for domestic flights and international flights throughout South East Asia, you can take a cheap local A1 bus.
It runs both to and from the last stop on the BTS, Mo Chit.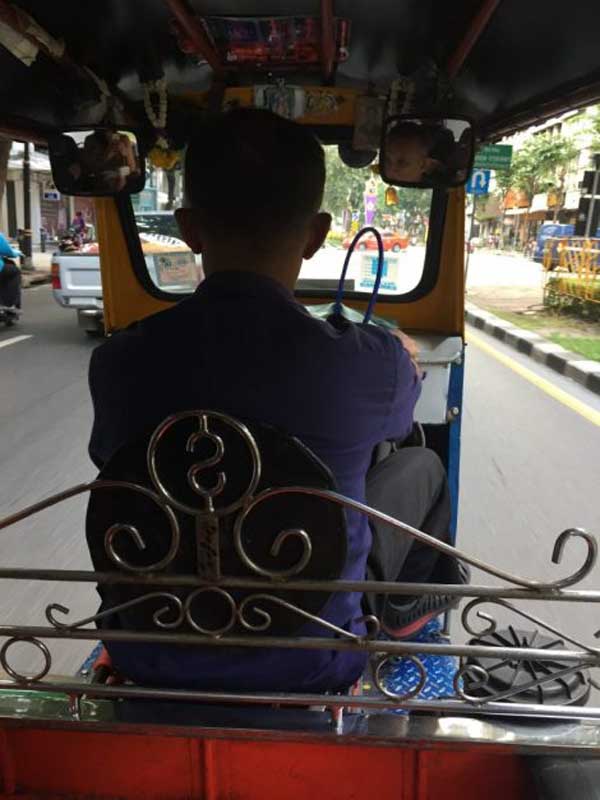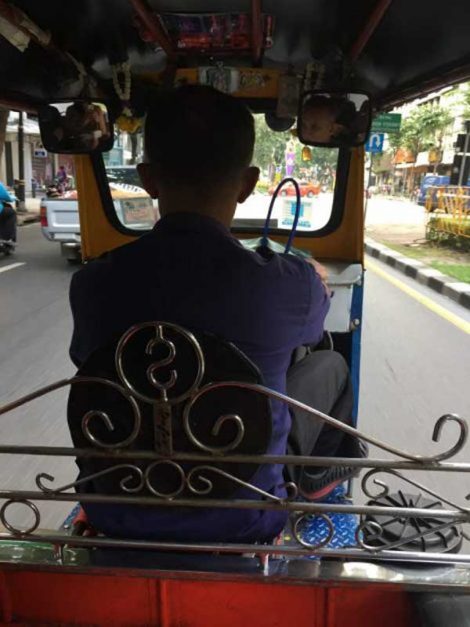 Plan Your Bangkok Trip
Bangkok uses the Thai Baht. As of July 2018, $1 = 33 baht – For up to date conversions get the XE Currency Converter App
As previously mentioned, Bangkok is hot. There really is no time of year to escape the heat. There are three main 'seasons' in Bangkok.
The hot season, which runs from March to June, with April typically being the hottest month. If you are looking to cool off, visit during 'Songkran,' the Thai New year. The holiday is celebrated with a three-day long water fight – the perfect way to beat the heat!
The rainy season runs from July through October. Expect rain most days. Thunderstorms can appear suddenly and unleash huge amounts of water that leave the streets completely flooded.
The 'cool' season is between November and February. The city is still very hot, but there are some days when the temperature dips into the 70s (that's considered freezing to the Thai people!).
International Data Roaming – Use KnowRoaming for unlimited data/cellular for $7.99 per day or a 1GB package for as low as $12 for 7 days!
Its easy application sticks to your existing SIM Card. Save 50% using promoDDSave50
There are some affiliate links in the post above where theplanetd will earn a commission if you make a purchase but there is no extra cost to you!
If you like this article why not share it on Pinterest