We've seen a lot of changes through our years of travel when it comes to data roaming.
We Canadians have terrible global cell phone plans and Dave and I have always simply bought a local SIM card whenever we land in a new country. It can be time-consuming, frustrating and pricey.
But we have finally found a solution to our overseas data roaming with KnowRoaming.
How KnowRoaming International Data Works
KnowRoaming is the easiest solution to international data roaming and cell phone usage.
It is a micro-sized sticker that you put on your home SIM card. Once you activate it, it is ready to go.
You decide how much money you want to load onto your SIM card for each trip and you can top up anytime.
It never automatically tops up your account, so you never have to worry about spending more than you want.
The KnowRoaming SIM sticker doesn't affect your home cell phone plan and only activates once you land in another country.
It remains dormant until you decide to use it. You don't have to activate should you choose not to.
The easy to use app walks you through the process each time you enter a new destination and you can choose to turn it on or leave it off.
If you don't use all the money you spent on one trip, you can roll it onto the next trip.
You have 15 months to use it again in more than 200 countries.
You can monitor your calls, texts and data usage easily within the app and as a prepaid package, you don't have to worry about racking up huge fees.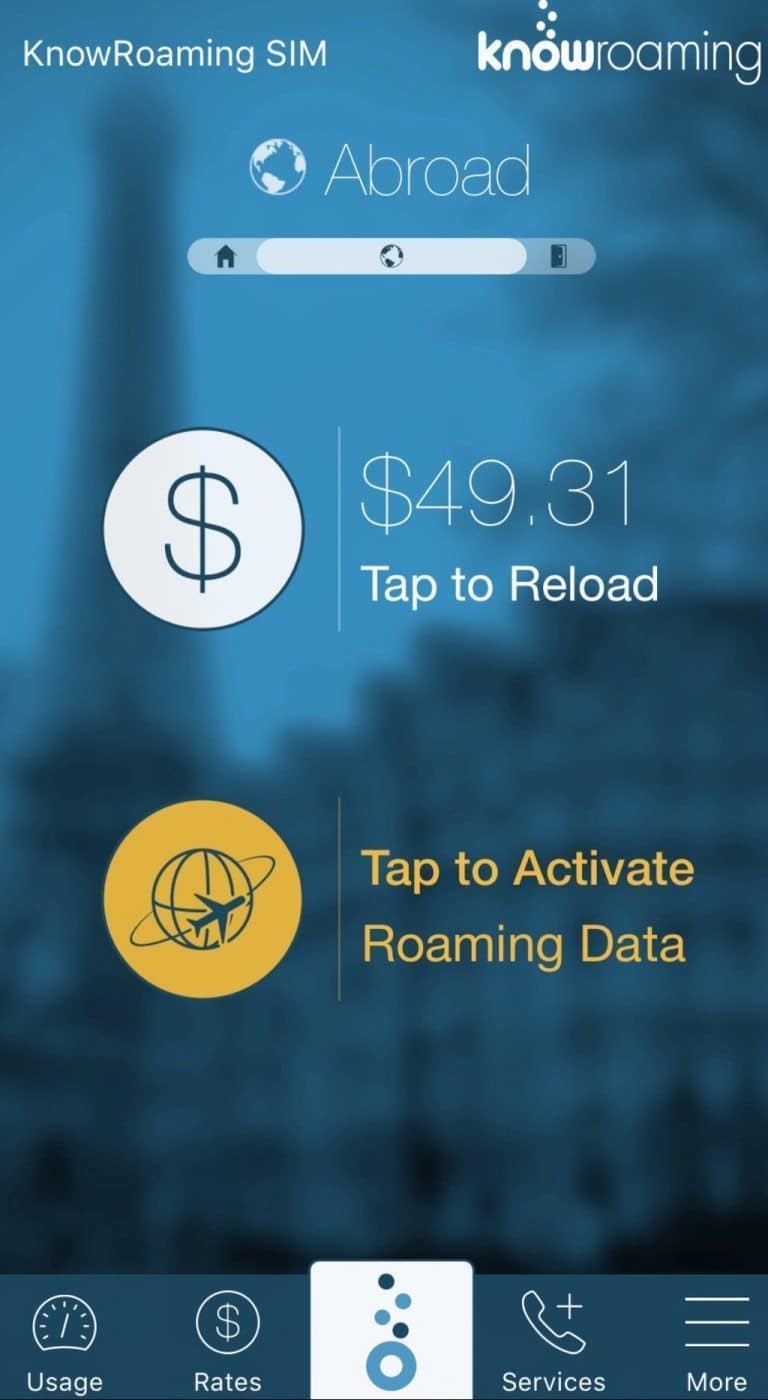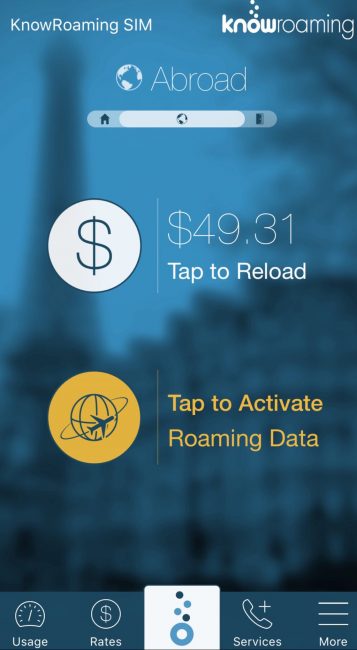 Who is KnowRoaming for?
We think KnowRoaming is perfect for anyone traveling for a week or two at a time.
Business travelers will love it because they don't have to buy a SIM card in the country if they are only staying for a couple of days.
The regular traveler will love it if they are staying in a place for a week or so.
People who tend to visit several different countries in a short time will love this too.
We have found that we often buy a local SIM card in Europe, but it only works in that country. Once we leave the country and go to the next, we have to buy another one.
It's easy to visit several countries in Europe in a short amount of time but having to buy a new SIM card each time you enter a new country can really add up.
KnowRoaming is your solution for multi-destination travel.
Perfect for layovers. Often times, we fly through airports and have to pay for WiFi if we want to check our email.
Now with KnowRoaming, we can activate our data roaming plan for the times we are stuck in a foreign airport waiting for our flight and check emails and messages.
It only costs .25 /mb, a small price to pay to remain connected on a long haul flight.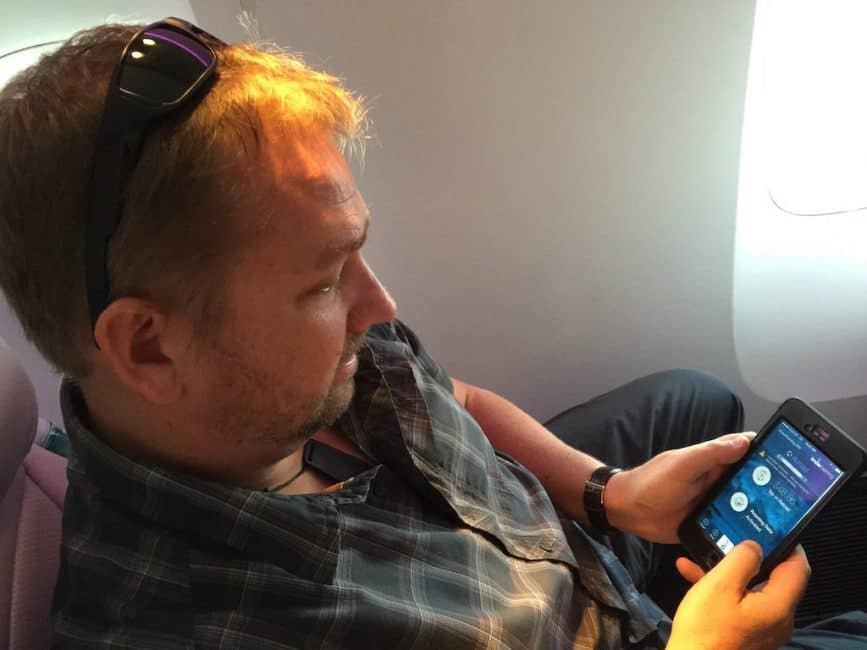 If you are a light data user and only use your phone for texts, checking email and the odd call or two, it's perfect to stay on the pay as you go rate.
If you load your SIM Card with $25 for example, you will only be charged when you use your phone to send a text, make a call or check an email.
Average rates are .25 cents per mb of data and to send a text. Receiving an SMS is free. Calls range from .30 cents to .63 cents per minute.
Order now and receive a 50% credit when you use the Promo Code DDSave50: Visit KnowRoaming for details.
Unlimited Data Package
However, if you are a big Instagrammer, Snapchatter and Tweeter like us, you'll want to go for the unlimited data package.
For $3.99 per day, it's a great deal to be able to spend hours on your phone if you choose.
$3.99/day unlimited data available in more than 70 countries around Europe, North America, Asia, Oceana and the Caribbean.
See all the rates KnowRoaming offers here.
Data Packages
Long Term Data packages start as low as $24.99 for 1 GB of data for a Global SIM.
Europe Data packages sell for as low as 9.99 for 30-day packages.
Check out Data Packages here
Who is KnowRoaming not for?
Subscribe to our YouTube Channel for Travel Videos twice a week!
I think if we are staying in a country for more than a week or so, we would choose to buy a local SIM.
Most SIM cards are usually around $20-$40 to buy and then another $20-$40 for a data and cell package.
KnowRoaming will now replace buying a local SIM for our week-long trips, but anything above 10 days, we will still buy a local SIM card.
If we are staying a month in the country, we have the time to buy a SIM and take advantage of.
But for an around the world trip, business travellers and the average vacationer, KnowRoaming is the smart data roaming and cellphone solution.
International Data Roaming and Cell Service

Not having a proper data plan when traveling keeps us offline for longer than we would like.
When online media is your job, it's not a great thing to be disconnected for a couple of days while in transit.
If we are flying to Australia or China and have a few layovers, it's nice to be able to check email and respond to a few social media updates.
With KnowRoaming, we are always connected.
Order now and receive a 50% credit when you use the Promo Code DDSave50: Visit KnowRoaming for details.
Read Next: How to Travel on a Budget